If you want to give your car a party vibe, a set of LED lights is a great way to do it. Since they draw so little power, they won't affect your battery life. They're also compact and easy to mount, which wasn't the case for old-school interior bulbs. Another major benefit of LEDs is the way you can control them. Incandescent bulbs are only one color, while you can change LED colors as desired.
But as with any trendy product, the overabundance of choices can be a bad thing. With so many options to choose from, it can be tough to sort out what's good from what's not. If you're not careful, you can end up with lights that fail or don't perform as advertised.
To help you get started, we're about to review five of the best interior LED car lights available. No time to read the whole thing? Here's the TLDR version:
Let's take a deeper dive into each of these LED light kits, and see what they bring to the table!
Best Overall: Govee Car Interior LED Lights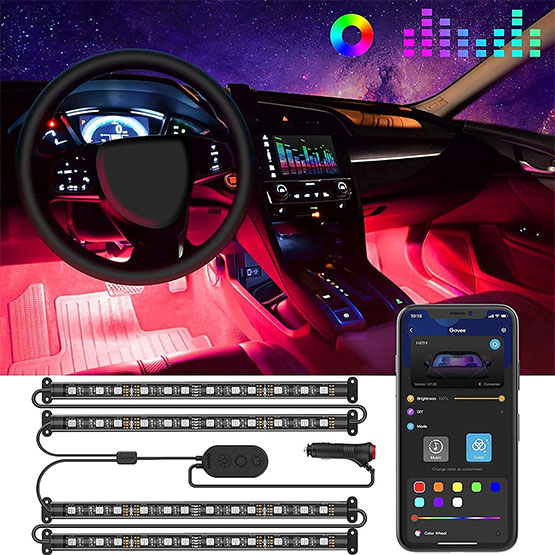 Key features:
Four LED strips.
16 million colors.
Adhesive installation plus screws and zip ties.
App and on-board controls.
Govee is a well-known LED light manufacturer that creates lights for all kinds of applications. We recently reviewed their LED TV backlights, which are among the best on the market. So when we went looking for car lighting, it made sense to take a look at theirs.
The Govee Car Interior LED Lights are a set of four individual 11.5-inch LED light strips. Instead of being made from metal, they're constructed from a tough, waterproof plastic. The plastic is also flexible, which allows the strips to conform to curved or irregular surfaces.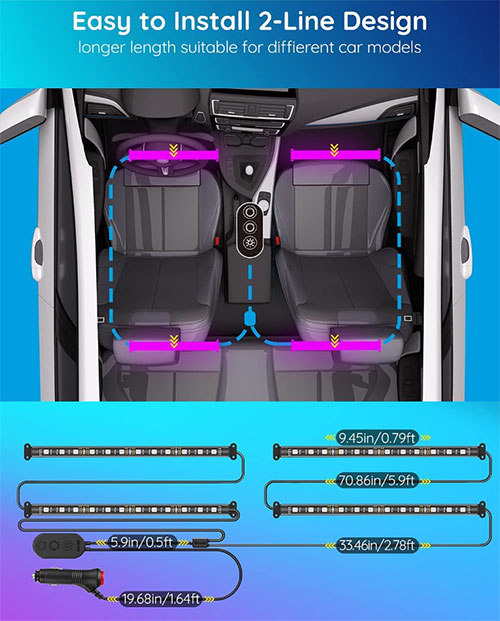 The strips are grouped into two pairs, each of which connects to the same Y-shaped cord. The base of the Y-shaped cord connects into a controller fob, which in turn connects to the DC plug. Insert the plug in your power outlet and stick the fob on the center console or your dash. The plug has a built-in replaceable fuse, so you're safe from power spikes and shorts.
The light strips themselves have a peel-away backing that covers a double-sided adhesive. Clean the area where you want to mount them, then stick them into place. The kit includes a set of small screws and zip ties that can be used for added security. You also get a set of cable clips for completing the installation.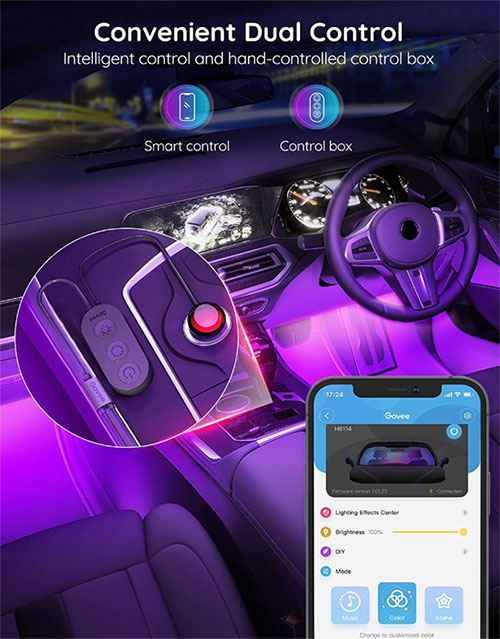 The control fob has three buttons, with the power button at the front. Behind the power button is a second button that cycles through nine preset colors. The third button adjusts the brightness when you tap it. Press and hold it to engage the music mode, which will use a built-in mic to sync the lights with any music.
You can also install the Govee Home app on your phone and control your lights via Bluetooth. In addition to the basic control functions, you can also access a color wheel. This wheel will allow you to choose from all 16 million colors in the RGB spectrum.
What we liked:
16 million colors.
Flexible, waterproof design.
Easy to install.
Straightforward on-board controls.
What we didn't like:
Lights flash in a multicolored pattern before returning to memory color.
Best Runner-Up: DR.CAR Interior RGBIC Car LED Lights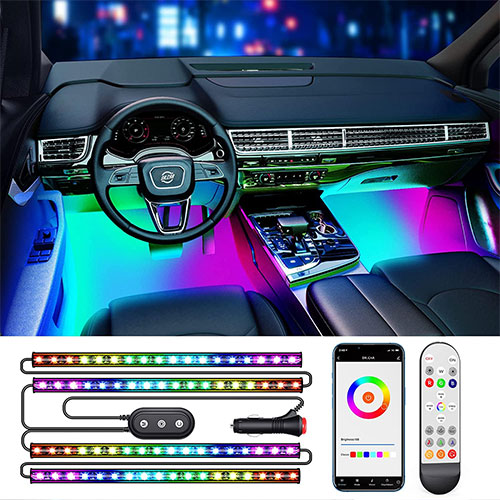 Key features:
Four LED strips.
16 million colors.
Adhesive installation.
App and on-board controls plus IR remote.
Multiple operating modes.
The DR.CAR Interior RGBIC Car LED lights are another set of four LED strips. There are two pairs, one for each side of your vehicle. The DC plug has an internal fuse, and goes into your car's 12-volt power port. Behind it is a controller fob that you attach to your center console.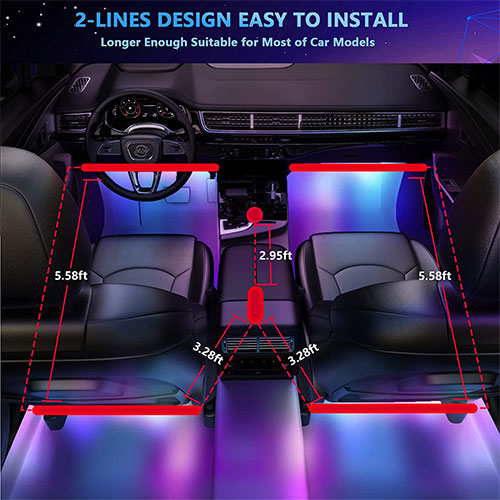 The first LED light on each side goes on the bottom back of your seats to light up the back seat area. The wires then wrap around the outsides of the car, under your doors. Then the second light on the cord mounts under your dash. The system installs well in the majority of vehicles. But if you own a large truck or SUV or keep your driver's seat all the way back, the cords could be too short.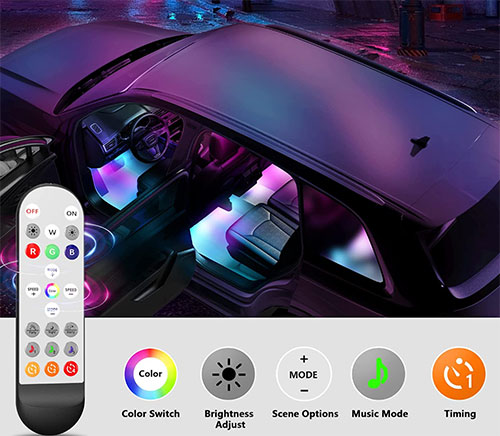 The control fob has two buttons. One switches between different lighting modes, while the other cycles through the preset colors. You'll also notice that it has a little IR sensor. This is for the handheld remote, which provides many more control options. The remote even has a built-in color wheel to access the full RGB spectrum.
Alternatively, you can use the smartphone app. There, you can choose from 16 million colors, adjust the brightness, and set different operating modes. There's a music sync option, as well as a customizable time interval. You can even activate various multicolored modes to activate rainbow-colored patterns.
What we liked:
Multicolored LED strips.
Easy to install.
Several unique operating modes.
Easy to control.
What we didn't like:
Cords are too short for larger vehicles.
A tad pricey for a set of lights.
Best Alternative: MOKITO Wireless LED Lights for Car Interior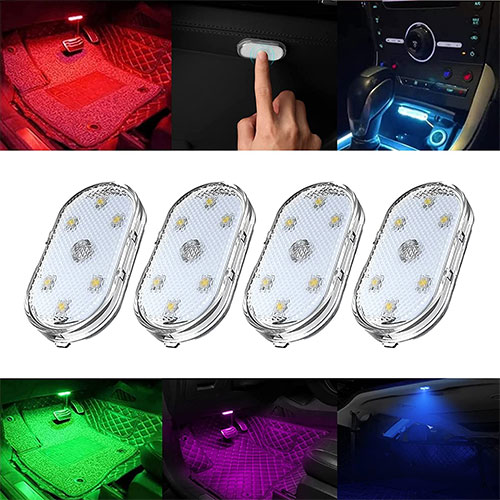 Key features:
Four LED lights.
Seven colors.
Magnetic mounting.
Battery-powered.
The MOKITO Wireless LED Lights for Car Interior are an entirely different beast. Instead of light strips, these are four individual self-contained lights. They're oval in shape, with a transparent shell that leaves the inner workings entirely visible. You can even see the individual diodes underneath the cover.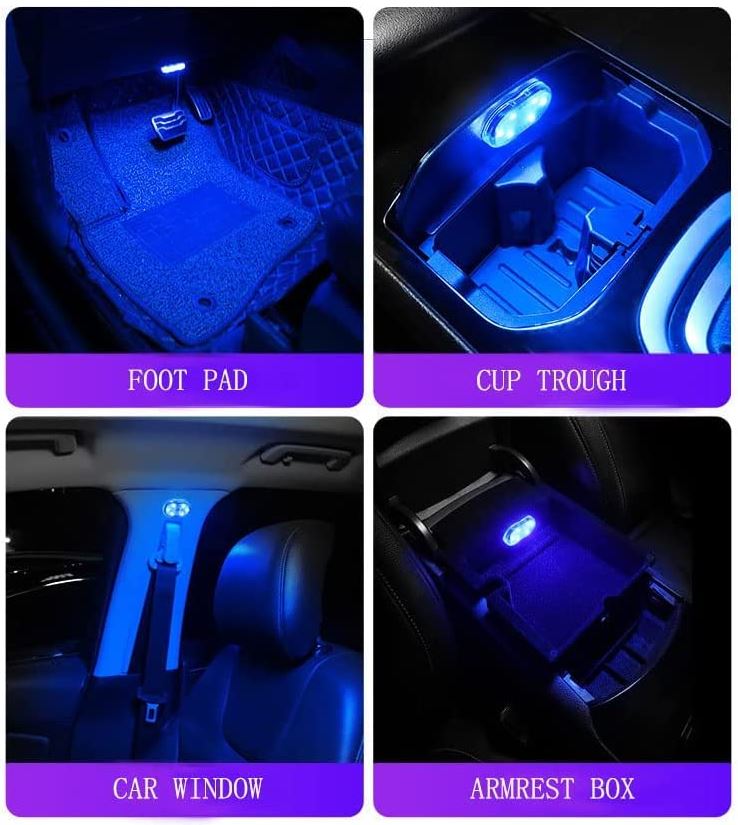 Each light comes with a magnetic base, which in turn has a piece of double-sided tape on the back. Peel away the backing and attach the base wherever you want to mount it. The light can then be removed for charging as needed, and will still be easy to reattach.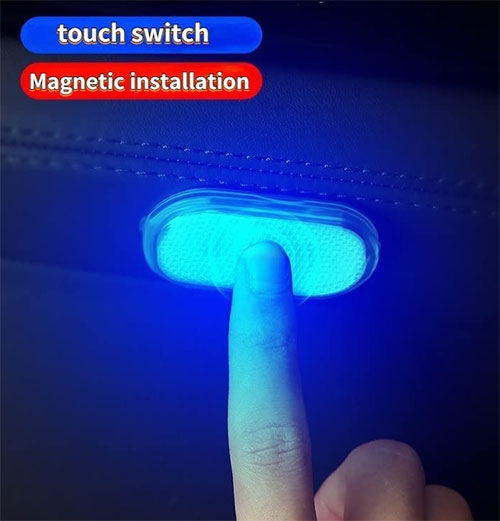 This mounting system and the wireless nature of the lights makes them very versatile. Besides being used for decorative lighting, you can put them in your glove box, trunk, or center console. You aren't even limited to your car. You can use one in your linen closet or set one up as a night light.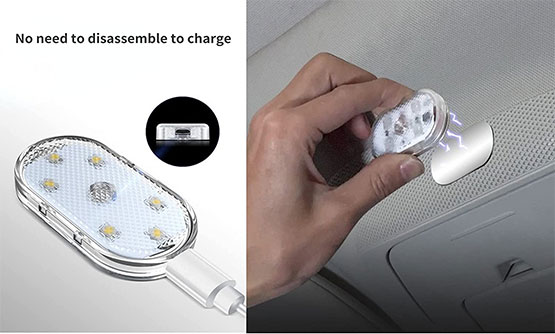 There are two versions of the MOKITO light. The standard version has seven color choices. When you tap the top of the light, it will cycle through them. Press and hold the same spot for three seconds to turn it off and on. The second version is white only, with no color cycling. Other than that, it works the same way.
The internal rechargeable battery will last for several hours on a single charge. It charges via Micro USB, and will go from empty to full in 30 to 40 minutes. A short charging cable is included in the package.
What we liked:
Can be mounted practically anywhere.
Controlled by tapping.
Easy to remove for charging.
No wiring required.
What we didn't like:
Need to be periodically recharged.
Limited color options.
Best 2nd Alternative: EJ's Super Car Interior LED Strip Lights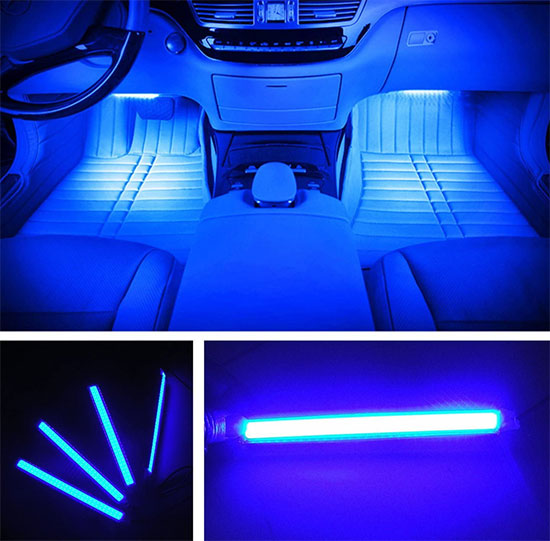 Key features:
Four LED strips.
Adhesive installation.
Multiple colors.
Multiple control options.
The EJ's Super Car Interior LED Strips is another four-strip wired set. The individual sets are IP65 for weather-resistance, so dust and water aren't a concern. If you open your door and they get rained on, it's not a big deal.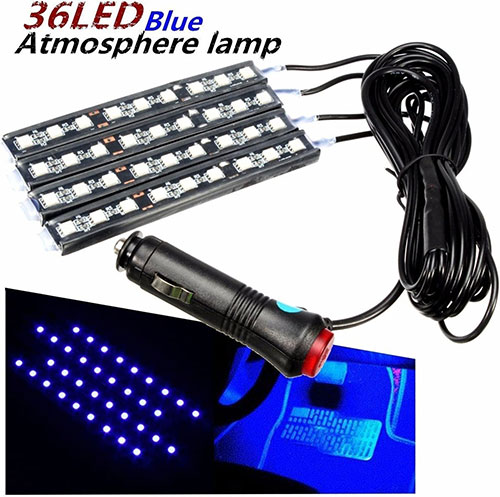 As with the other four-strip sets, there are two pairs of strips, but there's no fob. Instead, they connect directly into the DC plug. The plug has a built-in fuse to protect the lights, and a red power switch on the back. You can install the lights themselves using the included double-sided tape. In theory, it's easy. Unfortunately, the tape isn't that strong, and tends to come loose when you're driving. You'll want to buy your own double-sided tape to make sure the lights stay attached.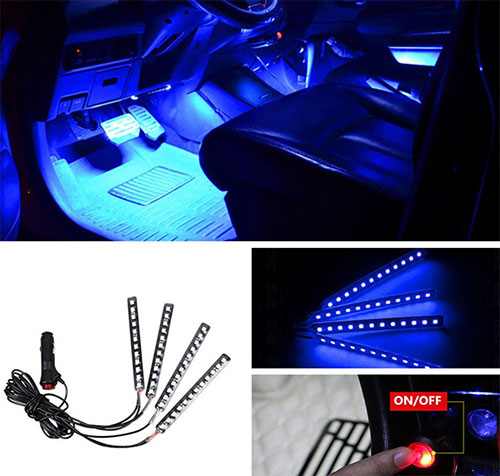 The basic version of the EJ's Super Car light is available in four colors: dark blue, light blue, red, and pink. If you want your lights to change color, you'll need to pay a few dollars more for the adjustable version. This version comes with a handheld remote for adjusting the color and brightness. Yet another version supports a Bluetooth connection for easy app control.
What we liked:
Tough, durable light strips.
Straightforward operation.
Many options and features available.
Durable design.
What we didn't like:
Mounting adhesive is not very sticky.
Questionable value proposition.
Best Budget: Winzwon Interior Car LED Lights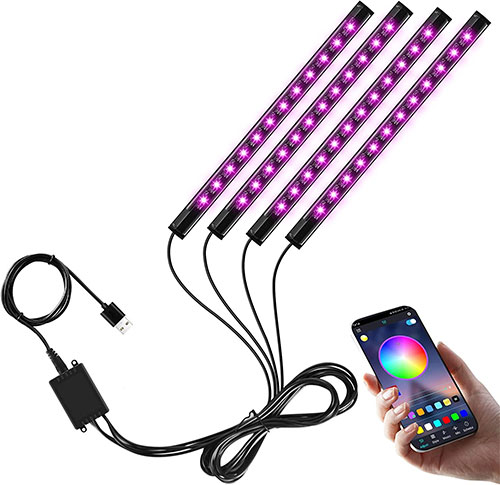 Key features:
Four LED strips.
Adhesive installation.
16 million colors.
App controls.
The Winzwon Interior Car LED Lights also come with four LED strips. That said, it installs differently from the others. Instead of a DC automotive plug, it runs on USB power. You can plug it directly into a USB port, or use an adapter if you need to. Besides that, it's much like the others we've looked at. You peel away the backing on the backs of the strips and stick them directly where you want them.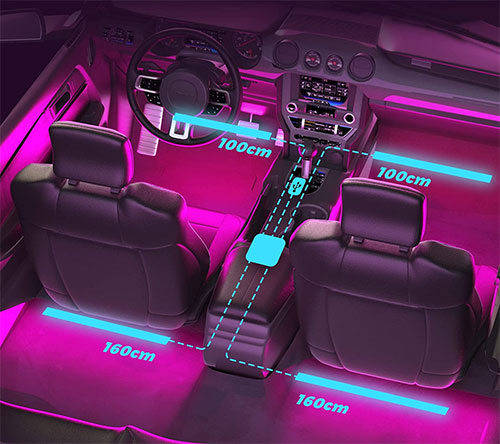 We also liked the USB power since you can use the lights around the house. They're great for lighting up bookshelves and other areas where you need good accent lighting.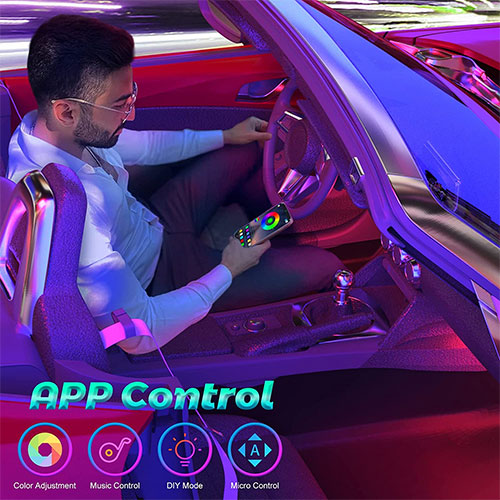 The control scheme is more of a mixed bag. On the one hand, the app is very easy to use. You can manually choose from 16 million colors, and select various cycling modes. You can even set the lights to pulse in time with your stereo system. On the other hand, there are no on-board controls or handheld remote. You have to use the app.
What we liked:
USB power supply.
Can also be used in your house.
Customizable color, brightness, and patterns.
Inconspicuous installation.
What we didn't like:
Can only be controlled via the app.
No safety fuse.
Final Verdict
These are all good quality LED car lights. Depending on your needs, any one of them could be the optimal choice. But which one is the right one for you? Let's recap what we've learned today.
We started out by reviewing the Govee Car LED Lights. These lights are flexible and waterproof, so you can install them anywhere on your vehicle. The on-board controls are pretty comprehensive, so no app is required. But the app unlocks plenty of extra capabilities, such as a color wheel with 16 million colors.
Next, we examined the DR.CAR Interior RGBIC Car LED Lights. This is the most full-featured kit of the bunch, with multiple operating modes. It's suitable for use in most – if not all – vehicles, and the individual LED diodes can be different colors. This allows for multicolored and rainbow patterns most other lights aren't capable of producing.
Third on our list were the MOKITO Wireless LED Lights for Car Interior. These battery-powered lights come with magnetic mounts, which make them easy to remove for charging. Because they don't have any wires, you can use them in places other LEDs won't go. They're great not just for accent lighting, but also for glove boxes and other small spaces.
After that, we looked at the EJ's Super Car Interior LED Strip Lights. These lights come in many variants, from single-color options advanced, app-controlled versions. They're very tough and durable, but you'll need to provide your own adhesive strips.
The Winzwon Interior Car LED Lights are the most affordable of the bunch. While you can only control them via the app, they're easy to set up and surprisingly versatile. Since they only need USB power, you can use them in your house as well as your car.