If you or a loved one is hearing impaired, it can be tough to keep in touch via phone. Texting is just fine for basic tasks, but it's not exactly conducive to in-depth conversation. Even with voice-to-text, longer messages get chopped up, and sometimes come in out-of-order. Not only that, but if your eyes aren't what they used to be, it can be tough to read an ordinary phone screen. In that case, a captioned telephone can be a better choice for you. These are landline phones that convert ordinary speech to text, and display the text on a screen. When the other person talks, you'll see their words spelled out in big, bold letters. Sort of like a big button phone for seniors, but more specialized for those who may be hearing impaired.
To be clear, these phones are accessibility devices. If you're just looking for a more convenient way to take phone calls, consider a speakerphone, like the eMeet Luna. But if you're hearing impaired, you're looking at an essential device. Even so, you're going to want a lot of the same features you want from any other phone. You want an ergonomic handset and easy-to-use controls. You want a speed dial function and caller ID. All of these features are important for a good quality phone, and you should accept no less.
We're about to take a look at three of the best captioned telephones for the hearing impaired. We'll begin with the Hamilton CapTel 2400i. This is an all-in-one captioned telephone with a backlit display and large physical buttons. After that, we'll examine the Clarity XLC8-GLT Captioning Telephone System. This is a cordless phone with high-visibility buttons and an attached caption screen. Finally, we'll check out the Hamilton CapTel 840i. This is another all-in-one phone, but with a simplified display and control scheme.
We'll look at each phone's physical design, the various functions, and how the caption function works. We'll also make note of any extra features that make a particular phone stand out. After that, we'll sum up what we've learned, so you can make an informed decision. Let's get started!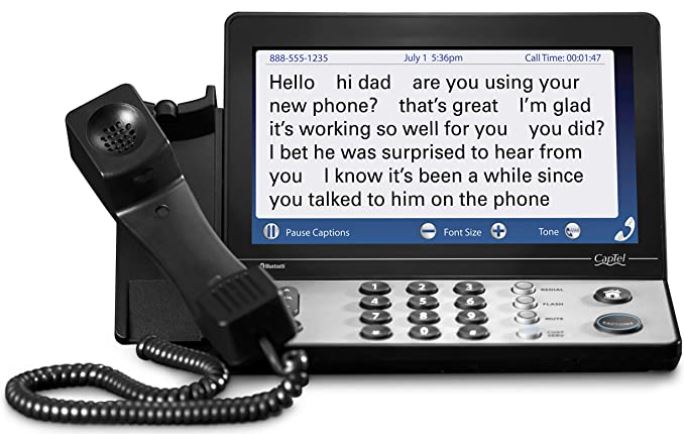 Hamilton CapTel 2400i
The Hamilton CapTel 2400i is an all-in-one corded phone with an integrated LCD display. The total size of the housing is 16.14 inches wide, 10.79 inches deep, and 4.02 inches tall. It also weighs three pounds, which is surprisingly hefty. The housing is constructed from a matte black plastic, and is easy to keep clean. The handset mount is located at the left, and the handset itself has a slightly curved, ergonomic shape. It's tethered to the housing by a standard coiled cable, which can extend to a distance of about six feet.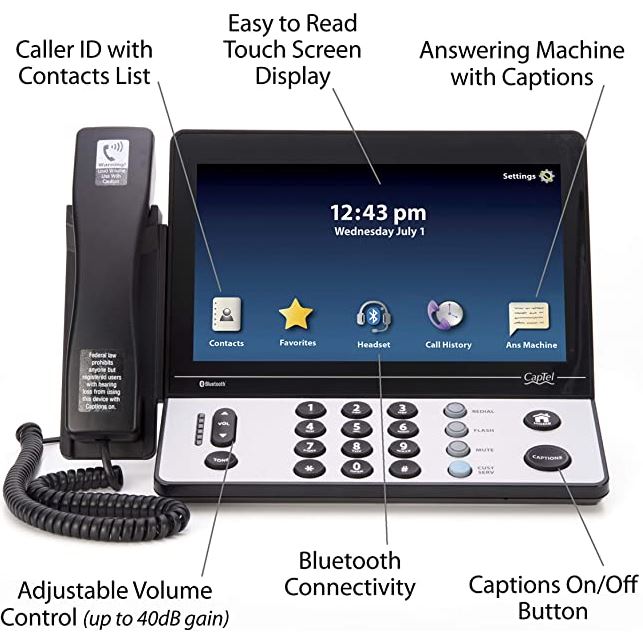 The rest of the housing is built like an old-school all-in-one computer. The screen is on the top, and angled slightly backwards. The keypad sticks out horizontally from the base, and has an attractive grey faceplate. There's a volume toggle to the left, with a set of large, easy-to-read buttons in the center. To the right of this, there's a row of standard control buttons, along with a customer service button. This will immediately connect you to Hamilton's customer service department if you're having issues. All the way to the right, a set of larger buttons serve as home and caption shortcuts for the display screen.
The screen itself is easy to read and brightly backlit – perfect if you have vision trouble. The screen does much more than just display your captions, too. It's a touchscreen, and you can tap it to bring up your contacts list, and even initiate a phone call. You can bring up your call history, or simply view the current time and a caller ID. Not only that, but the screen is very large, so you've got plenty of real estate to work with.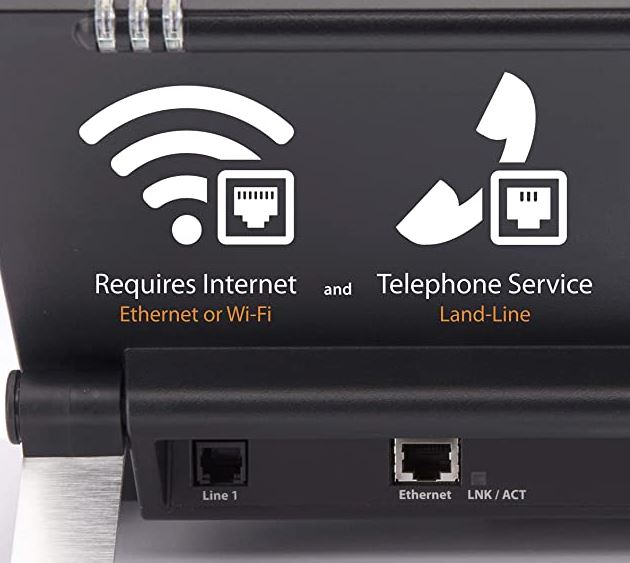 Caption System and Accessibility
The CapTel 2400i utilizes an automated captioning service that works anywhere in the US. The good news is that this service is free. You won't have to pay any extra monthly bill for the captioning to work. That said, you'll need to meet a few basic requirements. First, you need to have a landline telephone subscription. This can be any type of landline, including VoIP and FIOS, but it needs to come through a standard wall jack. The next thing you need is a high-speed internet connection. This can be an Ethernet or a WiFi connection, but it needs to be faster than wireless. Without the internet connection, the captioning function won't work. This is true for all of today's phones.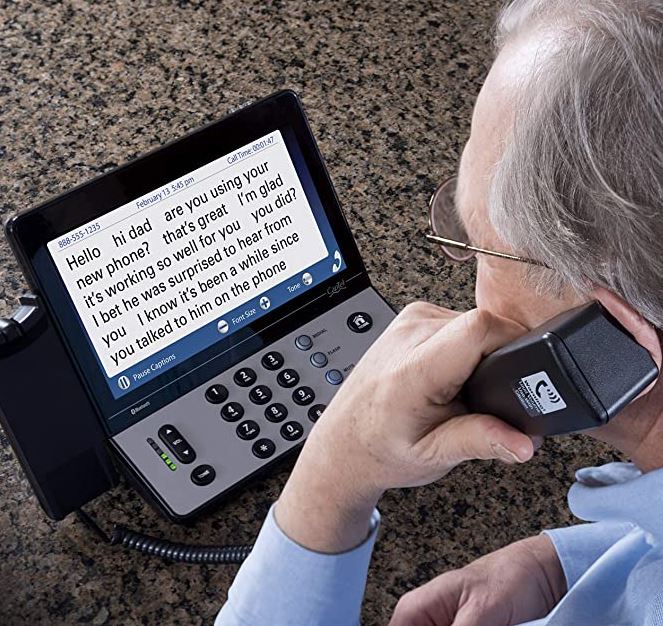 This phone can also be used without the captioning mode. Using the volume buttons, you can increase the gain by up to 40dB. That's a significant amount of boost, and it's incredibly helpful if you rely on hearing aids. That said, you need to be careful. If you have household members with normal hearing, the boosted volume could be painfully loud. In addition to that, you can connect to a Bluetooth headset, like the eMeet HS100. Depending on the exact nature of your hearing issues, this could also be helpful.
The 2400i also has a built-in answering machine to capture your messages. Even if you already have an answering machine, you'll probably want to start using this one. That's because when you play back your messages, they'll automatically be captioned on the screen. You won't get that benefit using a standard answering machine.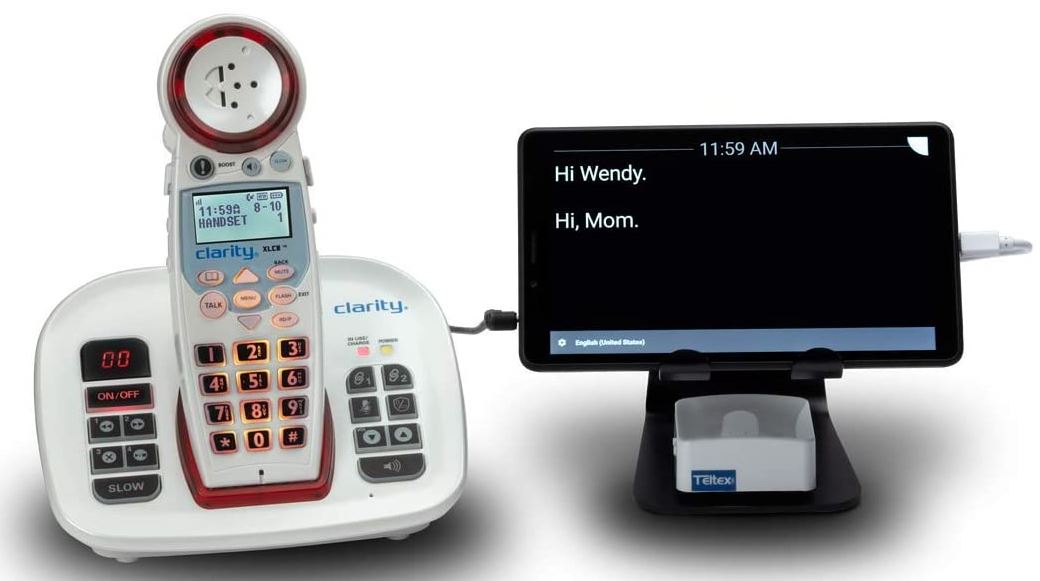 Clarity XLC8-GLT Captioning Telephone System
The Clarity XLC8-GLT Captioning Telephone System is, as its name implies, a complete system. It consists of both a phone unit and a captioning tablet, which is connected by a short wire. The phone itself has an attractive white housing, and stands vertically in an oblong-shaped base. The handset has a bowed shape that's comfortable to grip. It has large, backlit buttons which are easy to read at any time of day. There are also other buttons, such as mute and redial, built right into the handset. That way, you don't have to be next to the base station to enter any commands.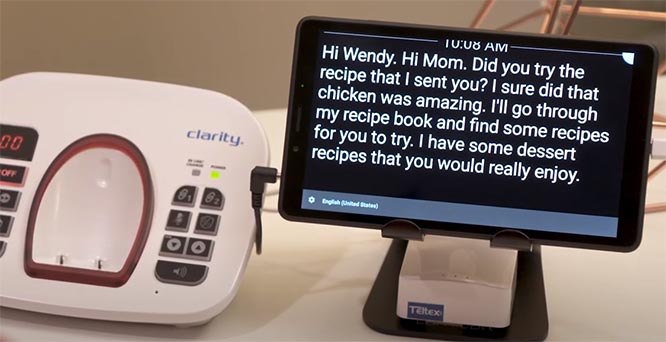 This includes access to your address book. The top of the handset has an LCD display built into it, so you can find and call your contacts. You can also view the time, the current battery level, and a caller ID. There's even a bright red light ring around the earpiece. This will flash when the phone is ringing, which helps if you can't hear the ringer.
The base measures 9 inches deep and 11 inches wide. And the total height of the unit is 5 inches, including the handset. The outline of the handset cradle houses another light ring, which flashes like the one on the earpiece. To either side of the phone cradle, you'll find a set of other controls. The ones on the left control the answering machine, and there's a display window with your number of messages. The ones to the right let you mute your call, adjust the volume, and choose your top two speed dial numbers. They're easy-to-use shortcuts for your most commonly-used functions. The entire kit is covered by Clarity's 12-month warranty, so you don't have to worry about premature failure.
Caption System and Accessibility
As we mentioned, the XLC8-GLT's screen sits off to one side. It's a simple black tablet-like device, which sits on a small stand. The white on black text is bold and easy to read in light or dark conditions. It also doesn't fatigue the eyes as much as black text on a white background. If you spend a lot of time on the phone, you'll very much appreciate this measure of protection.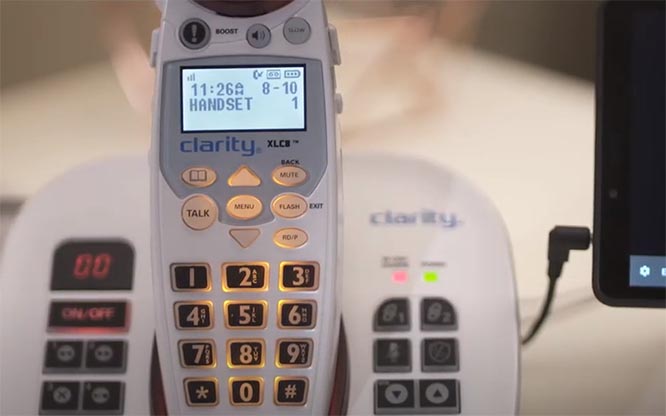 This phone has a lot in common with the Hamilton. Phone calls are automatically captioned as long as you have an internet connection. And the built-in answering machine will provide its own set of captions. You can also boost the volume on the handset, although by slightly more – as much as 50dB. This is a big help if you can still hear, but struggle with quieter sounds.
That said, the XLC8-GLT also has a couple of extra features that are worth pointing out. The first is the slow speech function. This function will actually slow down the speech of the other caller. It works not just on voicemails, but even with live conversations. By slowing down the audio, it can be significantly easier to hear the other person. In addition, you don't need to have a landline connection to use this phone. Instead, you can pair it to your cell phone via Bluetooth, and it will be able to make calls. This is an incredibly useful feature if you don't want to pay extra for a landline connection.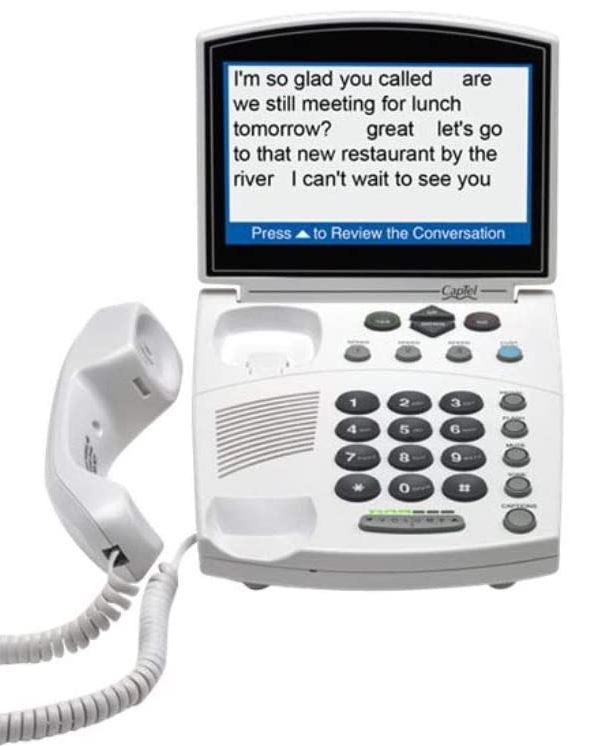 Hamilton CapTel 840i
The Hamilton CapTel 840i is a white corded phone with a relatively compact design. The length is 16.54 inches, with a width of 10.08 inches and a height of 4.02. At five pounds in weight, it's a bit hefty. Then again, it's not as if you're going to move it around all the time. The housing is a matte white plastic, which doesn't collect a lot of dust and fingerprints. The handset is positioned to the left, and connected by a traditional coiled phone cord. Above the main part of the housing is a backlit LCD display. This display shows black text on a white background, but the text is still bold and easy to read.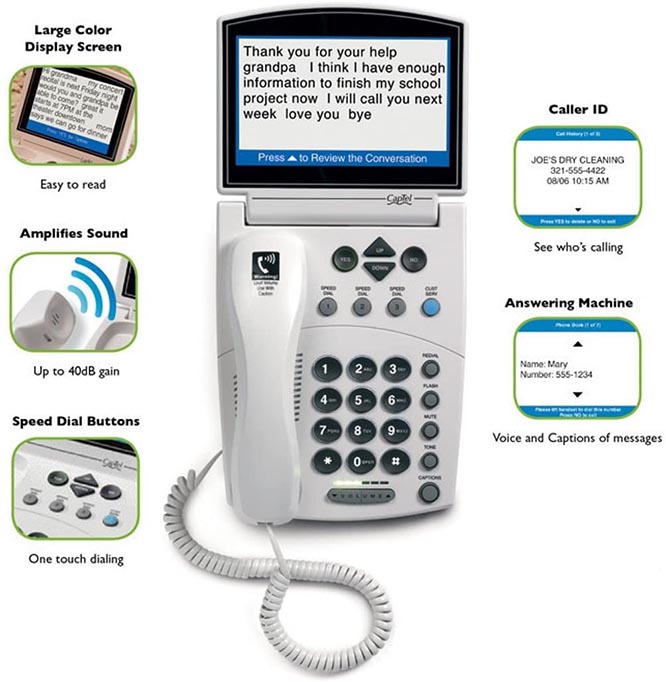 Beneath the display is the control pad, where you can enter phone numbers and input other commands. The oversized buttons are easy to read, and the concave shape makes them easy to operate. Beneath the main buttons is a pair of volume buttons to adjust the handset level. In addition to the caller ID function, you can enter up to 95 names and numbers into your address book. There are even three speed dial buttons at the top of the keypad for your closest loved ones. Other buttons, including a mute button, are lined up in a row to the right.
Caption System and Accessibility
The CapTel 840i has a 7 x 5-inch display screen, which is somewhat smaller than the last two phones. That said, the display is very simple, much like the control scheme. You simply watch the words appear, or use the arrow buttons to scroll up and down through your conversation. That's as straightforward as it gets, so there's no learning curve to struggle through.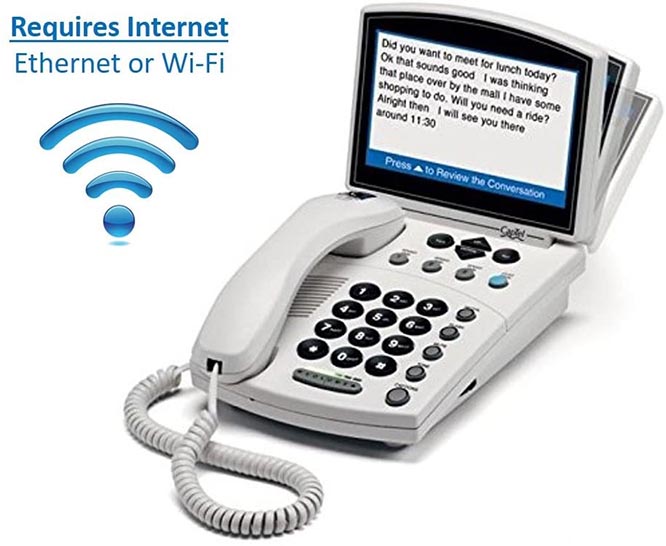 The phone volume can also be boosted to make it easier to hear. Like the other Hamilton phone, it can increase the gain by up to 40dB. This is enough for most people with hearing aids to get a clear listen to the other side of a conversation. And also like the other Hamilton phone, you can connect with a Bluetooth headset. This gives you a bit more flexibility beyond the reach of the headset.
Final Verdict
So, which one of these captioned telephones is the right choice for your needs? Let's go over what we've discussed. We began by reviewing the Hamilton CapTel 2400i. This all-in-one phone has the biggest screen of the bunch, and it's also a touchscreen. This gives you an easy control option, along with the high-visibility buttons. And with a customer service shortcut button, help is never far away.
The Clarity XLC8-GLT Captioning Telephone System is the most robust of the bunch. It's significantly pricier, but it saves you from the need to use a landline. So in just a few months, it's going to pay for itself. Not only that, but the cordless handset is easy to use, and the slow speech function is incredibly helpful.
The Hamilton CapTel 840i, on the other hand, is the most straightforward of the three. It doesn't have as many advanced features, and the screen isn't as large as the other corded phone. Then again, it's easy to use, and you don't have to worry about any kind of steep learning curve. If you want a captioned phone that just plain works, you'll be pleased.
Meet Derek, "TechGuru," a 34-year-old technology enthusiast with a deep passion for tech innovations. With extensive experience, he specializes in gaming hardware and software, and has expertise in gadgets, custom PCs, and audio.
Besides writing about tech and reviewing new products, Derek enjoys traveling, hiking, and photography. Committed to keeping up with the latest industry trends, he aims to guide readers in making informed tech decisions.