The holiday season is upon us, which means that food is on everybody's mind. Whether you're savoring leftover turkey or contemplating how much eggnog to buy, it's that time of year. Along with all that food comes a renewed love of cooking. How many of us have that one special dish that we only cook once a year? This can lead to grandiose dreams of becoming a home gourmet. But let's face it: most of us jost don't have the time to make a delicious dinner every night.
At least, that used to be the case. Nowadays, smart home devices have made their way into the kitchen, and they're revolutionizing the way we cook. We've talked about some basics in the past, like WiFi coffee makers. Now, it's time to tackle something a little bit bigger: countertop ovens.
We're about to review two of the most popular smart WiFi ovens available. First, we'll review the COSORI 12-in-1 Air Fryer Toaster Oven Combo. This is a beefier oven with several additional cooking modes. It lacks some smart features, but still allows for basic remote monitoring and operation. Next is the Tovala Smart Oven. With multiple cooking modes, including a steamer function, it has a lot to offer. It also sports a built-in barcode scanner for finding cooking instructions. Which one is the best choice for you? To find out, we'll need to take a deeper dive into what both of them have to offer. Let's get started!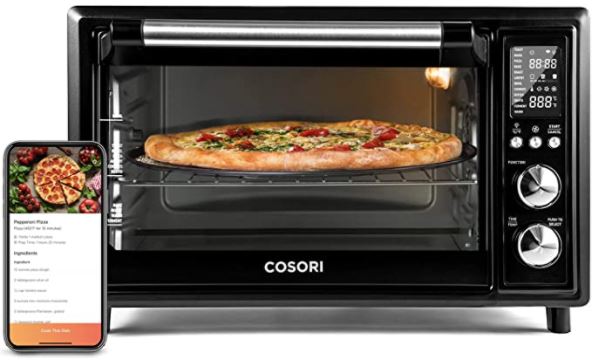 COSORI 12-in-1 Air Fryer Toaster Oven Combo
Cosori is known for their toaster ovens, as well as their standalone air fryers. Their 12-in-1 Air Fryer Toaster Oven Combo combines the best of both worlds in a single package. Available in black or silver, it's very large, measuring 20.1 inches wide, 16.3 deep, and 12.1 high. At 14.2 inches wide, 13.9 deep, and 9.8 high, the interior is similarly roomy. The stainless steel housing is easy to clean, while the tempered glass door provides plenty of visibility. At 24 pounds, it's fairly heavy, but not excessively so for the size.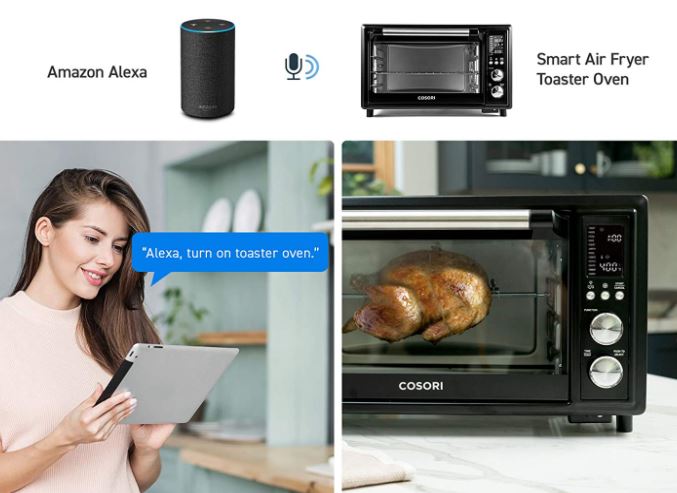 The front control panel is intuitive and easy to use. An LCD display at the top shows the current time and temperature, as well as all of your other settings. The controls are all operated with large, stainless steel buttons and dials. This doesn't just make them easy to use with wet or greasy hands. It also makes them as easy to keep clean as the rest of the COSORI oven.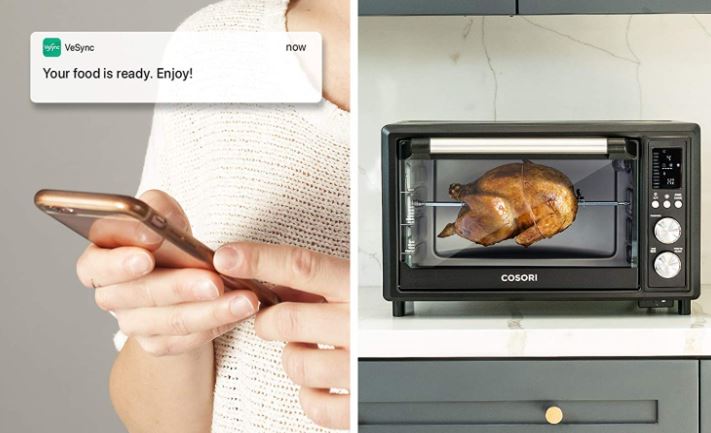 Cooking Functions
There are a few different ways of controlling the COSORI oven. To begin with, you can adjust the temperature between 80 and 450 degrees. This is useful for anything from keeping a plate warm to cooking a pizza. The timer also has a wide range, from 0 to 24 hours. You can warm up some hot pockets or slow cook some pulled pork with the same machine. We appreciated this level of versatility. Even better, you can adjust the fan speed. Running the fan on high will provide more consistent heat, but will also draw more power.
The 12-in-1 Air Fryer Toaster Oven Combo has an impressive 12 different cooking options. The toaster, bagel, pizza, bake, and roast settings should all be familiar. The ferment setting can be used for creating yogurt or sourdough cultures. The dehydrate feature can be used to make jerky or dried fruits. And, of course, there's the fast-cooking air fryer mode. As you can see, there's a lot to like here, but perhaps the most impressive feature is the rotisserie mode.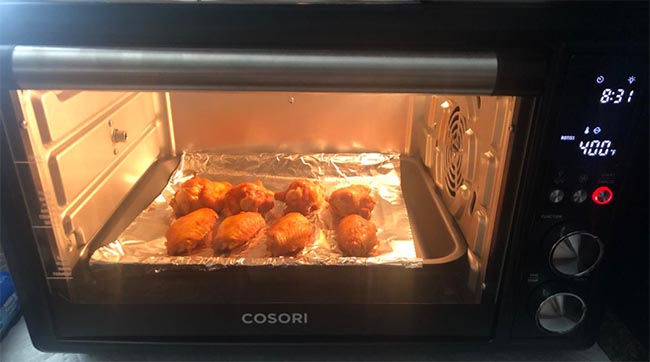 Rotisserie mode allows you to make your own rotisserie chicken, just like at the market. That said, it requires a bit of preparation. First, you'll need to install the drip tray. This is a safety feature, and the rotisserie won't operate without it. Next, you'll want to tie up your bird. The COSORI oven can nominally accommodate up to a five-pound bird. However, a lot of this depends on whether the legs and wings are flopping around. Not only that, but tying them up will provide more even cooking, and help retain juices.
Clearly, there's not much the COSORI oven can't do. But one thing no toaster oven handles well is a stew. If you want to cook a stew or other liquid dish, you'll need a slow cooker. Thankfully, we've reviewed the best smart slow cookers, so finding one should be easy!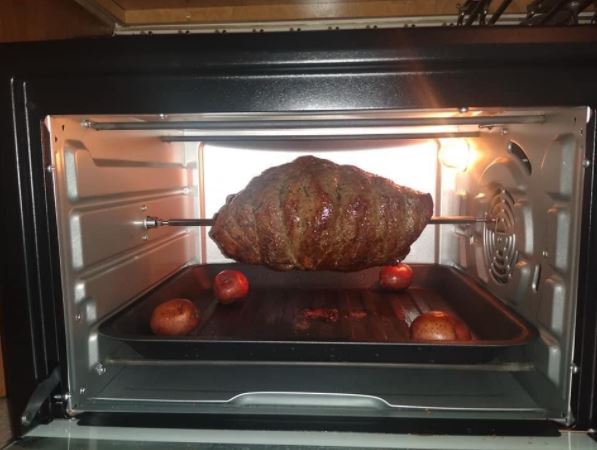 Smart Wireless Features
The COSORI toaster doesn't have quite as many smart options as the Tovala. That said, it does have a few WiFi features that are worth considering. For one thing, you can control the oven directly from the smartphone app. You can adjust the temperature, set the cook time, change the fan speed, and set notifications. You can also connect to Alexa and other home voice assistant systems.
The VeSync app is free to download on both Apple and Android phones. Once you've paired it with your oven, you'll get access to over 100 recipes for the COSORI oven. New updates are added every month, so it only gets better over time.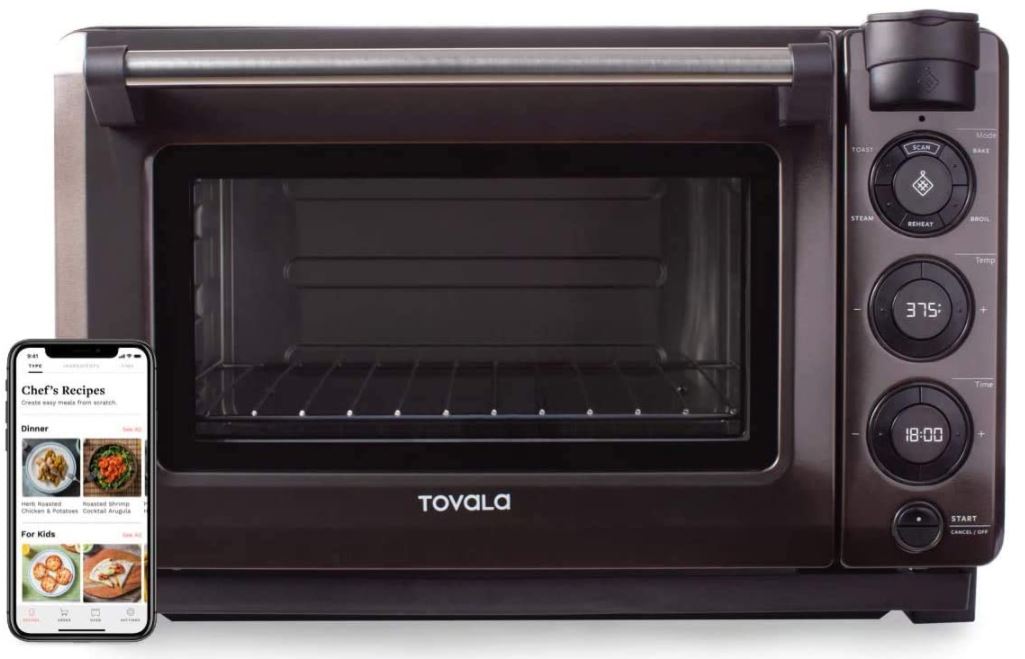 Tovala Smart Oven
The Tovala Smart Oven is a mid-sized toaster oven with several bonus features. It measures 18.5 inches wide, 12.32 inches deep, and 11.75 inches thick. This means it occupies minimal counter space, while a 20.9-pound weight makes it moderately easy to move.
The housing is constructed from durable stainless steel, with an easy-to-clean brushed back finish. The front panel houses several controls on the right. The time and temperature controls look like dials at first glance, but they're actually buttons. LCDs in the center of the "dials" display the current time and temperature. The cooking mode controller works in a similar fashion. Alternatively, you can use the simple on/off button at the bottom for manual control.
The inside of the Tovala oven measures 12.875 inches wide, 12.25 deep, and 9.25 high. This is large enough for a small personal pizza, but just barely. It's also big enough for 9-inch pies from your grocery store's freezer section. The height, meanwhile, is enough to accommodate pretty much anything you might want to put inside. The accessories are also convenient. There's a rack in the middle, with a small cookie sheet and a crumb tray. There's also a separate drain tray for liquids. Finally, you get a measuring cup for the steamer function, which we'll discuss more in a second.
The Tovala Smart Oven is covered by a one-year manufacturer's warranty. This protects you from any defects in materials or workmanship. In addition to that, there's a 30-day satisfaction guarantee. If you decide you don't like it, just send it back; no harm, no foul.
Cooking Functions
The Tovala supports five different cooking modes. Bake, boil, and toast are all self-explanatory. Reheat mode is similar to the defrost mode in most microwaves, but with air heat instead. It's designed to warm up your food without cooking it.
The really neat feature, though, is the steam mode. Measure out the predetermined amount of water using the included measuring cup. Pour it into the hopper at the top of it, and start the steamer. When you're done, any excess water will have collected in a drip tray for easy removal. This means you can steam veggies without the need for a dedicated vegetable steamer.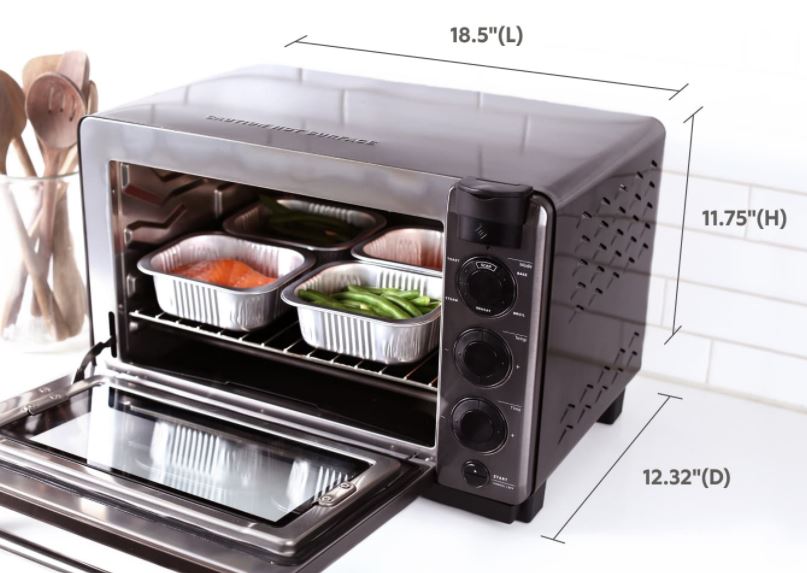 Smart Wireless Features
The Tovala's main attraction is its wide array of smart features. To begin with, you get an app to control the Tovala from your smartphone. This allows you to set the time and temperature and make other adjustments. You can check the time remaining, or view the oven's status from anywhere in the world. You can also set a smartphone alert for when your meal is done. You can start dinner, then go outside and read in the hammock, and still know when your food is done.
In addition to basic controls, the Tovala app gives you access to a full library of recipes. Each recipe provides a list of ingredients and preparation instructions. Once the food is ready, you pop it into the oven and let the app do the rest. It will automatically cook your food as the recipe requires.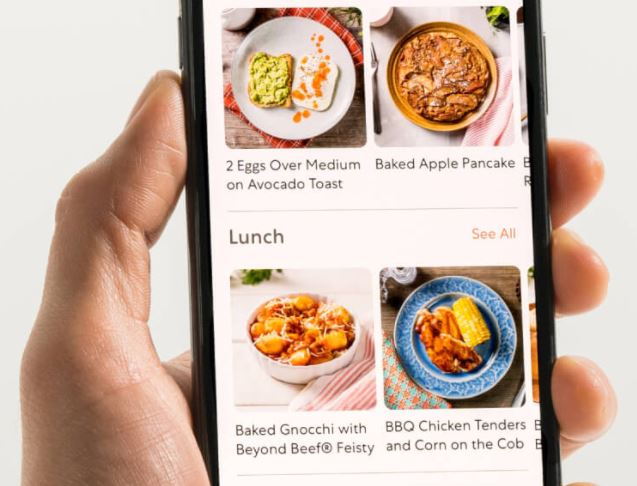 The Tovala also sports a built-in barcode scanner. With the scanner, you can take foods from your freezer, scan them, and receive cooking instructions. This system is made to work with Trader Joe's Frozen Foods, and works with any of their ingredients. Sadly, it doesn't seem to work with most other barcodes yet, so it's only really useful for Trader Joe's shoppers.
Along with all of this, Tovala also provides a meal subscription service. You can choose from recipes in the Tovala app, and have them shipped weekly to your home. Then, you put them in the oven and use the app to start the cooking cycle. This is a subscription service, and it costs extra. But if you were considering a meal service anyway, the combination of service, app, and oven is a great value.
Final Verdict
As you can see, both the Tovala and COSORI smart WiFi ovens have a lot to offer. But which one is best will depend on what you're trying to achieve. The Tovala Smart Oven is a mid-sized oven that's ideal for most counters. It has plenty of space for veggies, frozen meals, and even individual pizzas. There's also a steamer setting. However, the biggest attraction is its generous suite of smart features. How much you take advantage of these features will affect how much value you get. But if you want a complete home meal delivery and cooking service, the Tovala is where it's at.
The COSORI 12-in-1 Air Fryer Toaster Oven Combo isn't quite as "smart" as the Tovala oven. The app lets you control the oven and download episodes, but that's about it. Even so, there's a lot to like here, beginning with the enormous size. The inside can accommodate a full-sized roaster, and there's a rotisserie attachment to match. It can also accommodate a pizza up to 13.9 inches, which includes most frozen pizzas. If you're looking for a beefy, versatile oven that also allows for app control, look no further.