Coffee is an essential part of many people's morning routine, but what if you could make your coffee experience even better with a smart coffee maker?
In this article, we've gathered the best smart WiFi coffee makers on the market and tested them to provide you with our top picks. From customizable brewing options to voice control integration, here are the highlights:
If you're looking for a smart coffee maker to take your coffee experience to the next level, read on for our in-depth reviews and analysis.
Best Overall: Keurig K-Supreme SMART WiFi Coffee Maker
Key features:
Wi-Fi-enabled with Keurig app integration
Customizable strength, temperature, and size settings
BrewID technology for optimized brewing
Innovative multistream technology for richer flavor
The Keurig K-Supreme SMART Single Serve Coffee Maker is a cutting-edge, Wi-Fi-enabled appliance that caters to coffee lovers seeking versatility and convenience.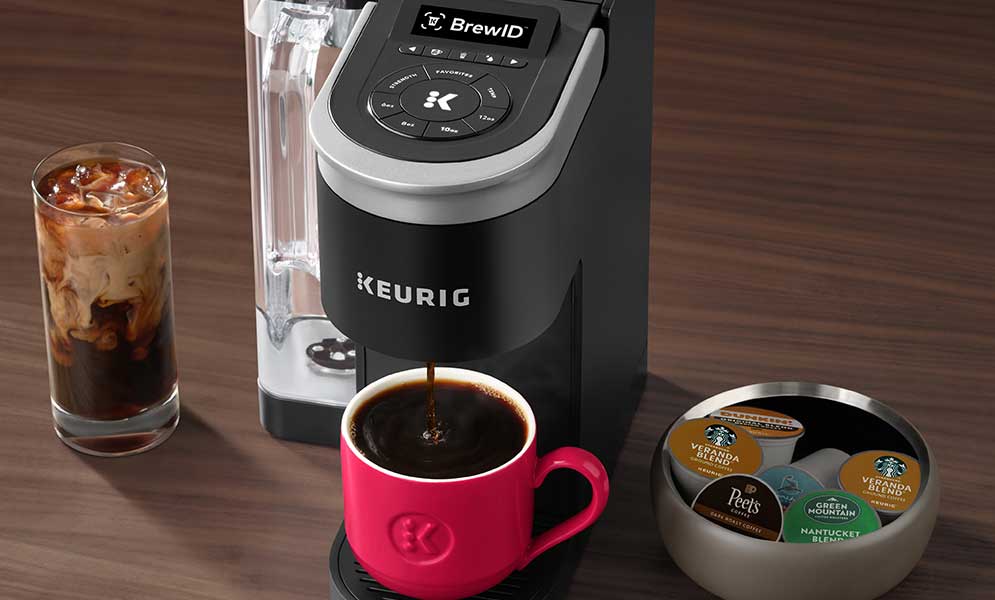 This stylish black coffee machine offers numerous features to enhance the brewing experience, such as BrewID technology, expert-crafted brewing options, innovative multistream technology, and the ability to brew hot coffee over ice.
In our testing, we experimented with various K-Cup pods and found the BrewID functionality to be truly remarkable. It identifies the specific pod type and adjusts the brewing settings accordingly, resulting in a uniquely delicious cup of coffee. The multistream technology ensured uniform saturation of the coffee grounds, delivering a fuller flavor and aroma when compared to other Keurig models. The brew over ice feature did not disappoint, as it produced flavorful iced coffee without sacrificing taste or quality.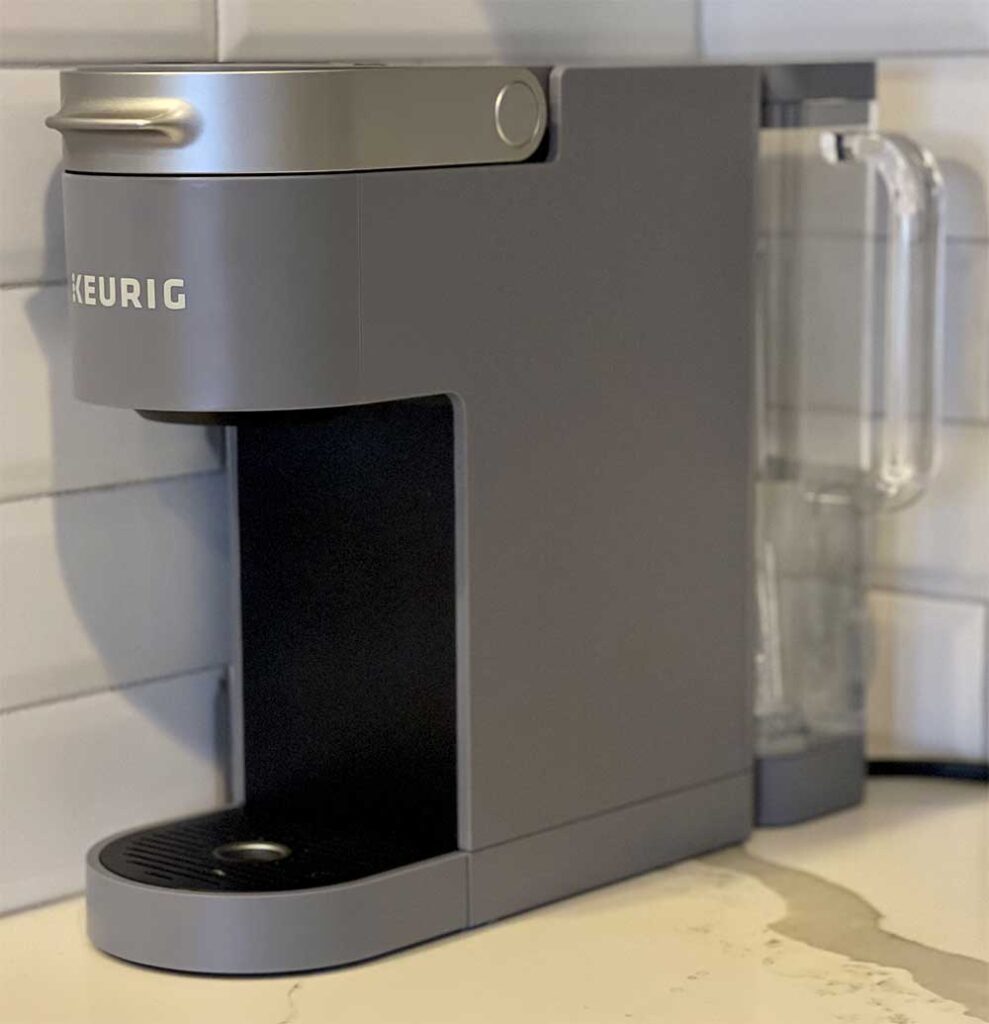 One standout aspect of this coffee maker is its extensive customization options. Users can choose from five strength settings (from balanced to intense), six temperature settings (from warm to maximum heat), and four brew sizes (6, 8, 10, and 12 oz.). This device can also store up to 10 personalized settings, making it convenient for everyone to enjoy their preferred cup of coffee.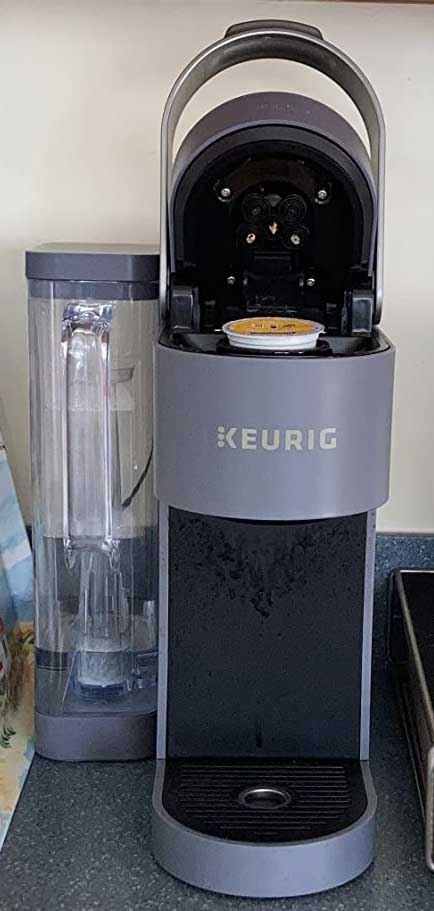 The WiFi compatibility and integration with the Keurig app add an extra layer of convenience. Users can schedule brewing times, adjust settings, save favorite configurations, and even use voice commands to initiate brewing. The app also syncs with SMART Delivery, helping manage your coffee supply as you brew, ensuring you don't unexpectedly run out of K-Cup pods.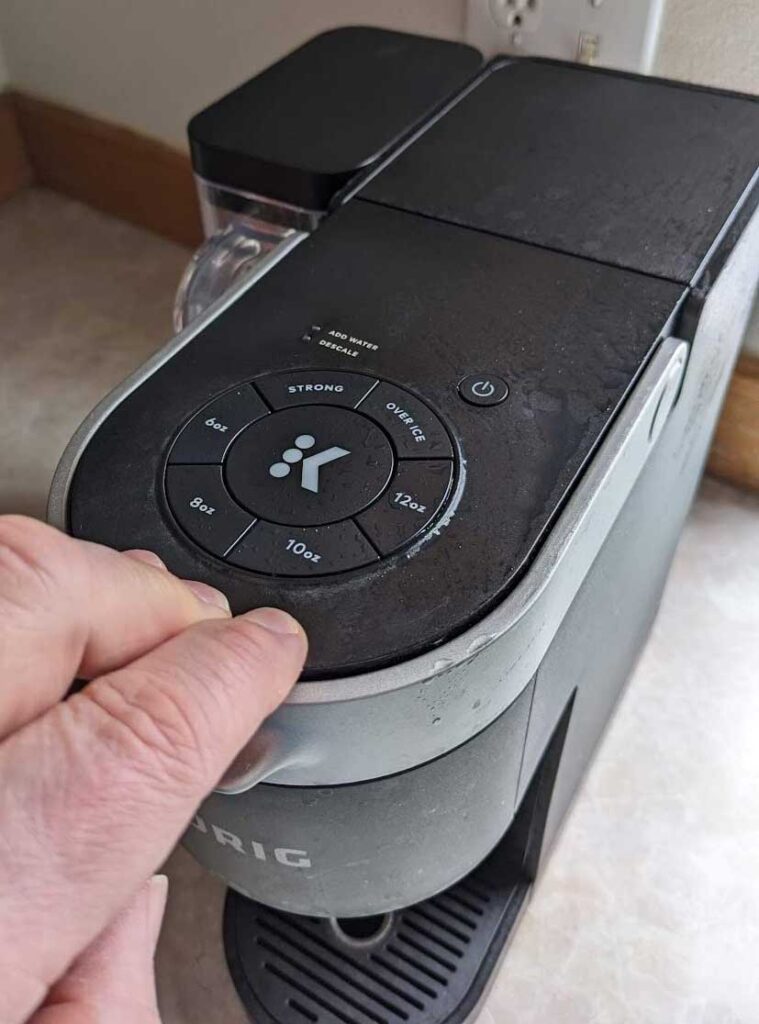 We appreciated the 66-ounce dual-position reservoir, which allows brewing up to nine cups before needing a refill. The device is also compatible with travel mugs up to 7" tall. Furthermore, it works with the My K-Cup Universal Reusable Coffee Filter (you'll need to buy this separately), enabling users to brew their preferred ground coffee.
To sum up, the Keurig K-Supreme SMART Single Serve Coffee Maker excels in recognizing K-Cup pods, offering customizable brewing options, and providing Wi-Fi-enabled functionality. It's an excellent choice for individuals who value personalized coffee experiences and connected convenience.
What we liked:
Accommodates tall travel mugs
Large reservoir
Ten custom settings storage
Brew over ice capability
What we didn't like:
Not compatible with 5 GHz networks
Reusable filter sold separately
Best Mid-Range: Hamilton Beach Smart Coffee Maker
Key features:
Alexa voice control integration
Programmable 12-cup capacity
Front-fill water reservoir
Cleaning cycle reminder
Transform your morning cup of joe with the Hamilton Beach Works with Alexa Smart Coffee Maker.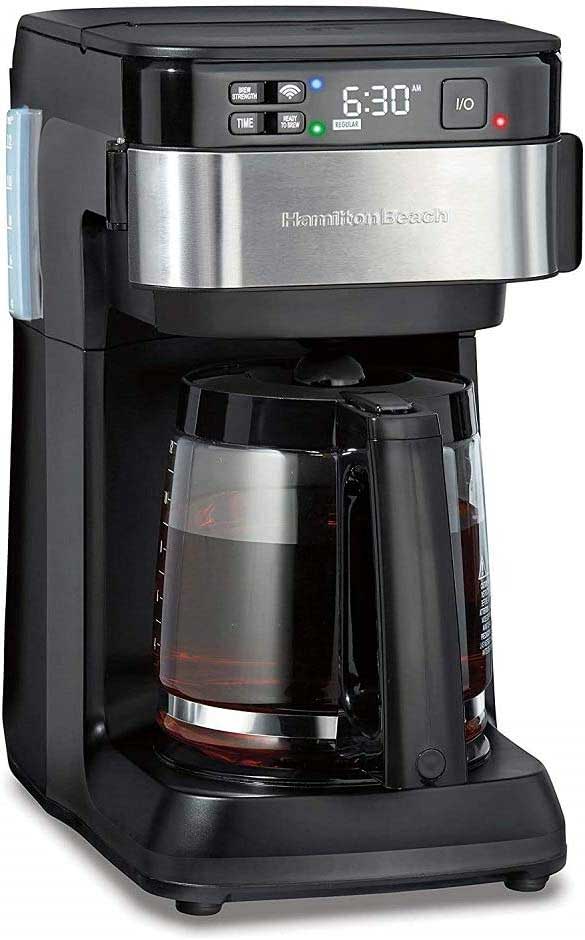 This sleek, stainless steel appliance is a perfect addition to any kitchen and provides effortless voice control through Alexa so you can start brewing in an instant. With its 12-cup capacity, adjusting brew strength has never been easier or more convenient.
After testing the coffee maker with Alexa, we were amazed at how quickly and easily it integrated. It responded perfectly to voice commands without any glitches or hiccups. It's a truly enjoyable experience. Adding routines in the app was an added bonus! We could create our own personalized command phrases for making coffee anytime we wanted. Very convenient.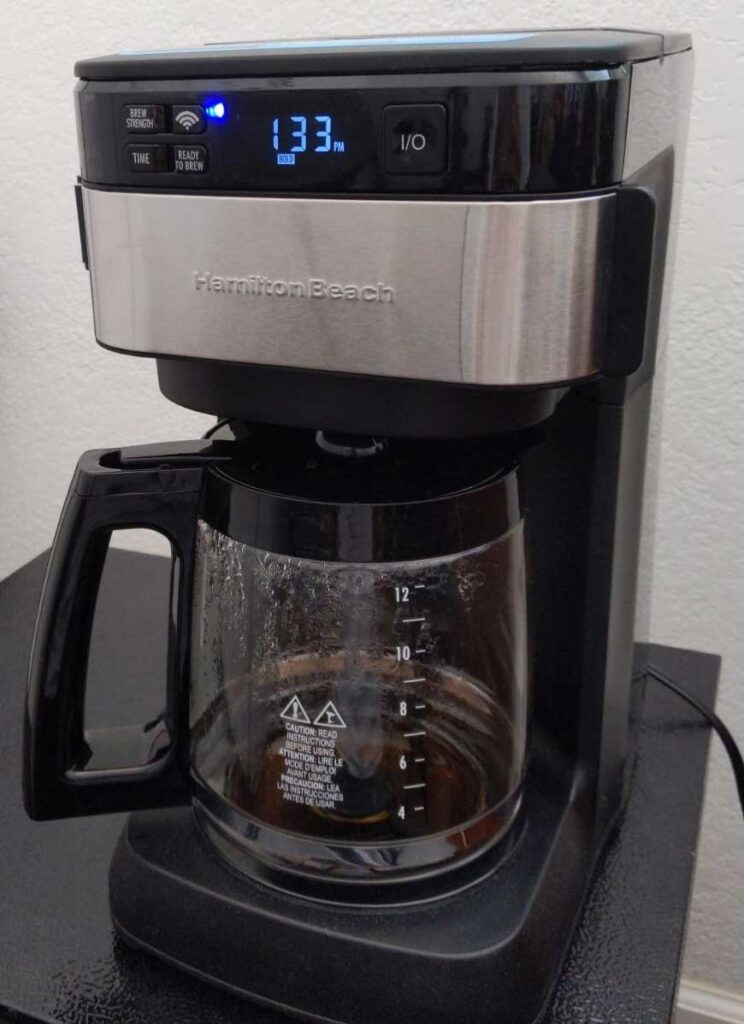 This coffee maker is designed for peak convenience, with a front-fill water reservoir and hinged brew basket that swings out to easily add your preferred blend. The added lid makes it possible to pour in the necessary ingredients without having to move the entire machine. These features make setup quick and simple so you can start enjoying delicious freshly brewed coffee right away.
With the added benefit of a cleaning cycle reminder, which displays "clean" when it's time to clean your coffee maker, you can always expect your brews to taste their best. What's more, this device also includes an automatic shut-off feature; two hours after brewing it will turn itself off. No longer do you have to worry about leaving your home with the machine still running.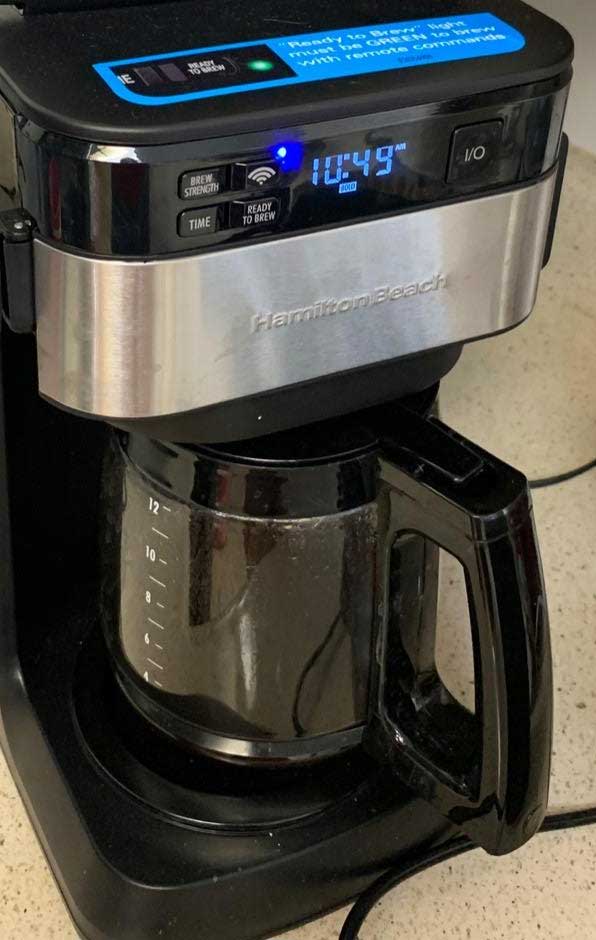 Bottom line, Hamilton Beach delivers a quality unit for its compatibility with Alexa voice control, easy-to-use front-fill water reservoir, and cleaning cycle reminder. It's an excellent choice for individuals who value smart home integration and a programmable, user-friendly coffee maker.
What we liked:
Effortless Alexa app routines
Automatic shut-off feature
Swing-out brew basket
Responsive voice commands
What we didn't like:
Limited brew strength options
Must create Alexa routines for optimal voice control
Best High-End: SPINN Coffee Maker Pro
Key features:
Centrifugal brewing
Precision burr grinder
WiFi-enabled controls
Zero-waste coffee system
The SPINN Espresso & Coffee Machine is an innovative coffee maker that promises to deliver barista-quality coffee in the comfort of your own home.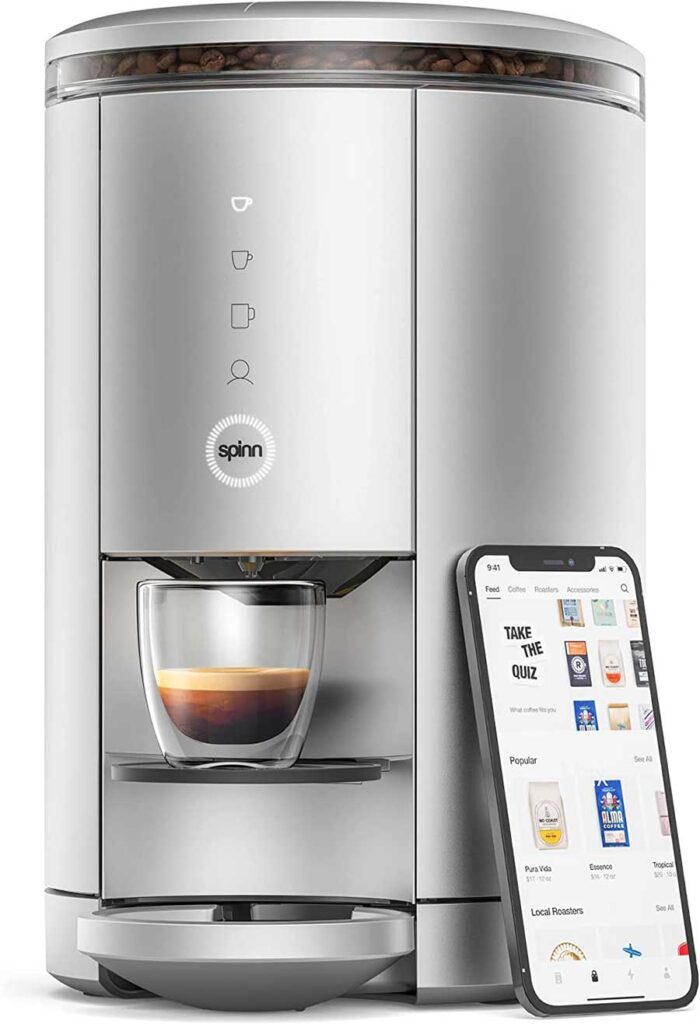 This WiFi-enabled unit is water supply line compatible, which means there's no need for refilling. Its unique centrifugal brewing system, paired with a precision burr grinder, is designed to unlock the intricate flavors of coffee and deliver a perfect cup every time.
We had the chance to test this unit, and it performed exceptionally well. The precision burr grinder grinds whole coffee beans just seconds before brewing, ensuring that the coffee is fresh and flavorful.
We also appreciated the custom brewing options that allow users to extract different flavor profiles based on their preferences. The automatic G-force centrifuge blends water and coffee at varying speeds, making it an excellent option for cold brew.
Furthermore, it offers a high level of control through its Spinn App. With this app, users can remotely brew their coffee and customize the brewing parameters to their liking. The app also has a feature where users can scan the bag of coffee beans and program the parameters directly into the coffee maker, making it easier to achieve the perfect cup of coffee.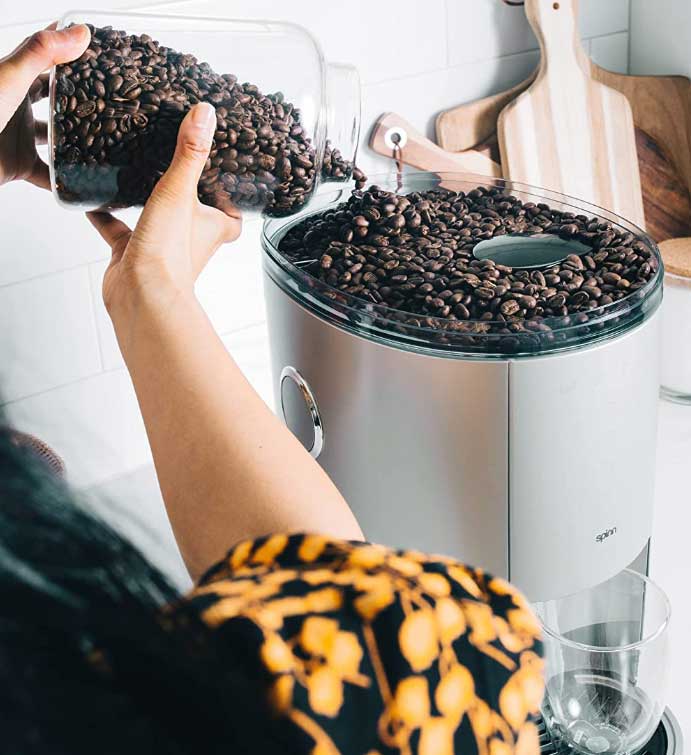 One of the standout features is the zero-waste coffee system. This coffee maker uses whole coffee beans instead of disposable filters or pods, which reduces plastic waste that ends up in landfills. Additionally, the used coffee grounds can be repurposed in gardens since they are rich in nitrogen.
SPINN's Espresso & Coffee Machine is an excellent choice for coffee lovers who want a personalized and high-quality cup of coffee in their own homes. Its unique centrifugal brewing system, precision burr grinder, and WiFi-enabled controls make it a fantastic investment for anyone who values a perfect cup of coffee.
What we liked:
Makes barista-quality coffee
Customizable brewing options
Offers remote control with Spinn App
Uses whole beans, no disposable filters or pods
What we didn't like:
Expensive compared to other coffee makers
Water supply line compatibility limits portability
Best Budget: Mixpresso WiFi Coffee Maker
Key features:
Programmable controls for easy brewing schedules
LCD touch screen for intuitive operation
Borosilicate Glass Carafe with ergonomic handle
Anti-drip system to prevent spills and mess
The Mixpresso 12-Cup Drip Coffee Maker is an excellent device for coffee lovers looking for a versatile and convenient coffee maker. The programmable controls and clear water window make it easy to use and control the brewing process.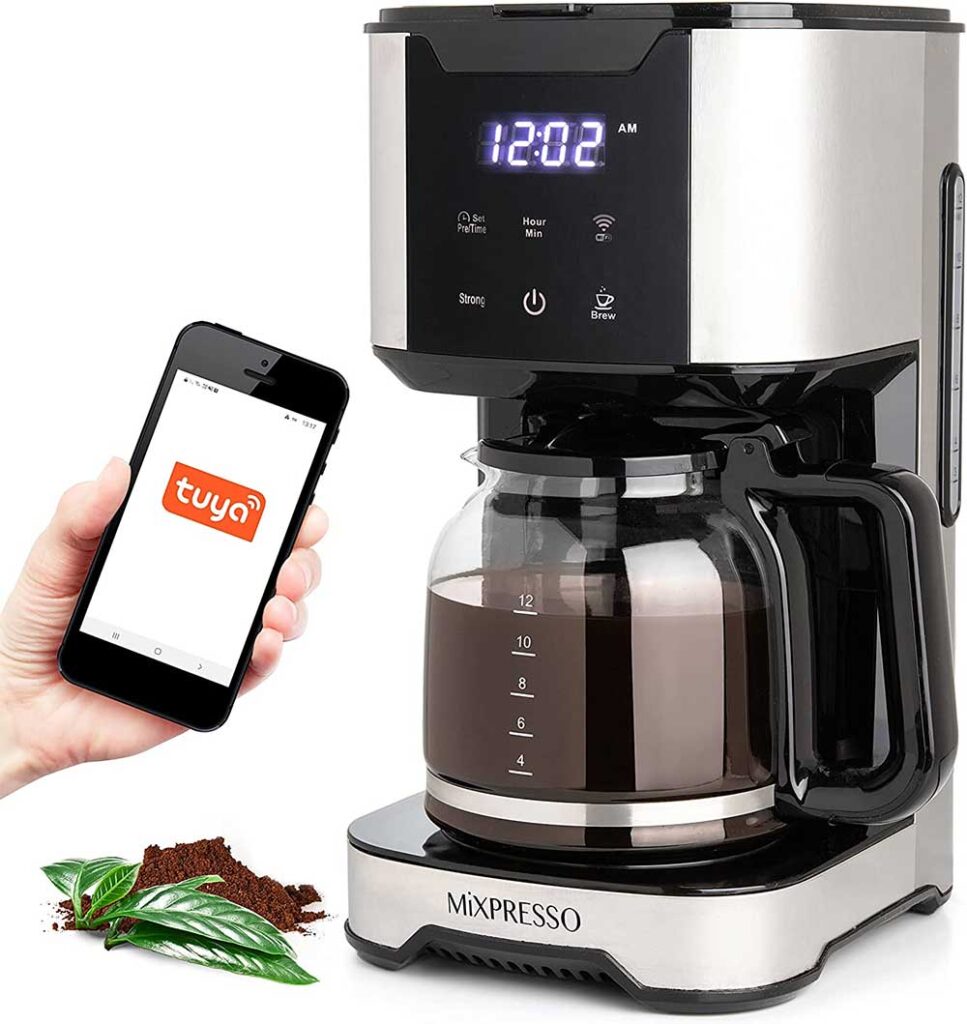 With its sleek LCD touch screen control panel, operation of this unit is a breeze. The 24-hour programmable set up time allows users to craft daily or weekly cycles for their desired coffee brewing times – making it completely customizable. After thoroughly testing the product ourselves, we can confidently say that not only was the touch screen responsive and easy to use, but also extremely accurate.
The Mixpresso coffee maker also features a Borosilicate Glass Carafe with an ergonomic handle and drip-free pour spout, making it easy to pour coffee without worrying about spills. The anti-drip system is a great addition as it prevents any coffee from spilling on the warming plate, ensuring that your coffee pot remains clean and neat.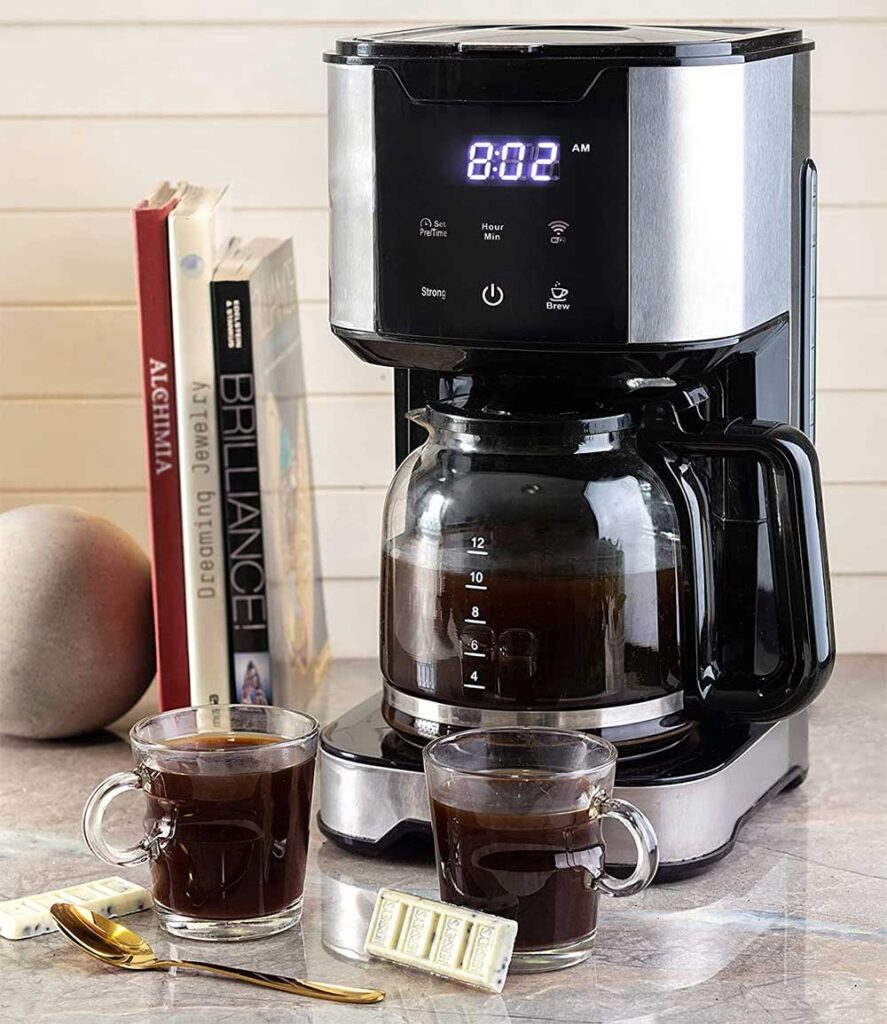 The device's compact design makes it an ideal fit for small kitchens or office break rooms. It won't take up much counter space and its modern stainless steel and black finish make it a stylish addition to any kitchen decor.
The permanent mesh filter is a fantastic eco-friendly addition that saves you money on paper filters and reduces waste. The Mixpresso 12-Cup Drip Coffee Maker is a smart automatic machine that can be controlled via a smartphone or manually.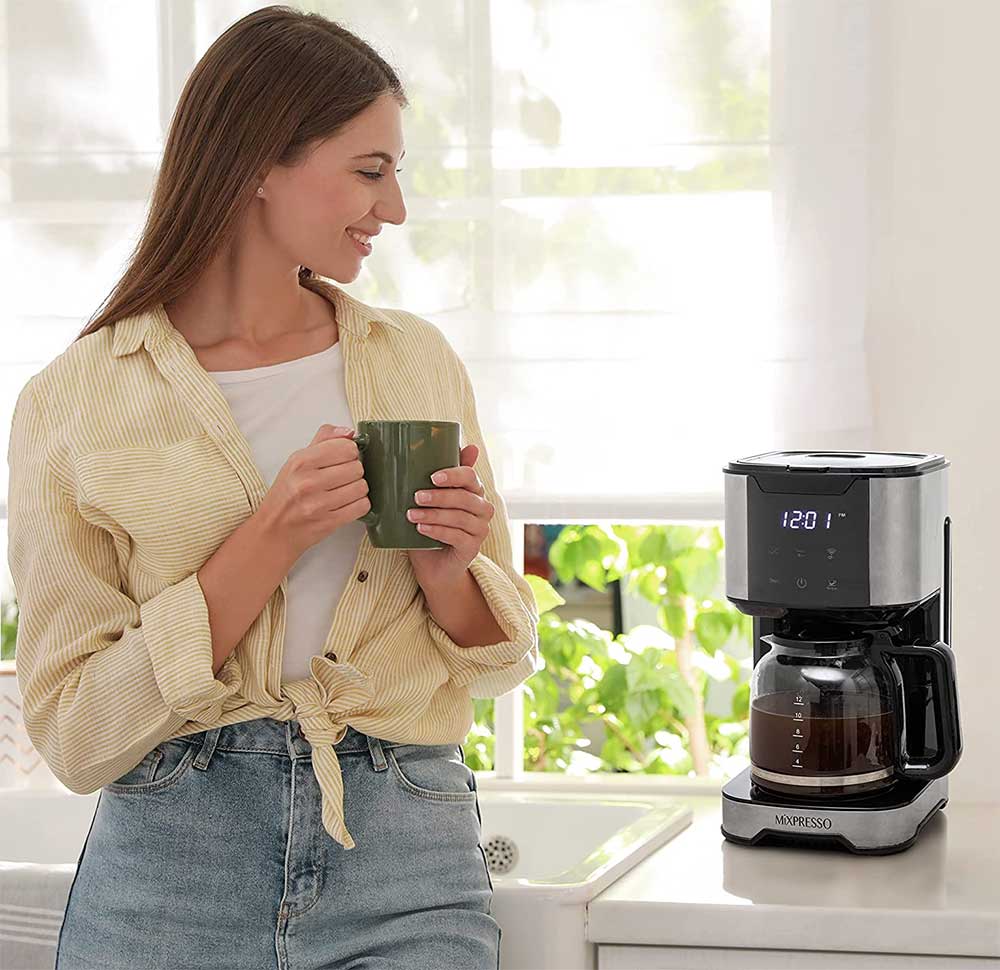 Mixpresso offers top-of-the-line customer service and a 1-year warranty policy with no questions asked. It's a testament to the company's commitment to providing quality products and services.
Overall, we like Mixpresso's coffee maker. It's an excellent investment for coffee lovers. And its convenience, versatility, and eco-friendliness make it a standout choice in the crowded coffee maker market.
What we liked:
Ergonomic handle for easy pouring
Stylish design enhances kitchen decor
Permanent mesh filter reduces paper waste
Top-notch customer service and warranty policy
What we didn't like:
Brews coffee slowly compared to other models
Can be difficult to clean the coffee maker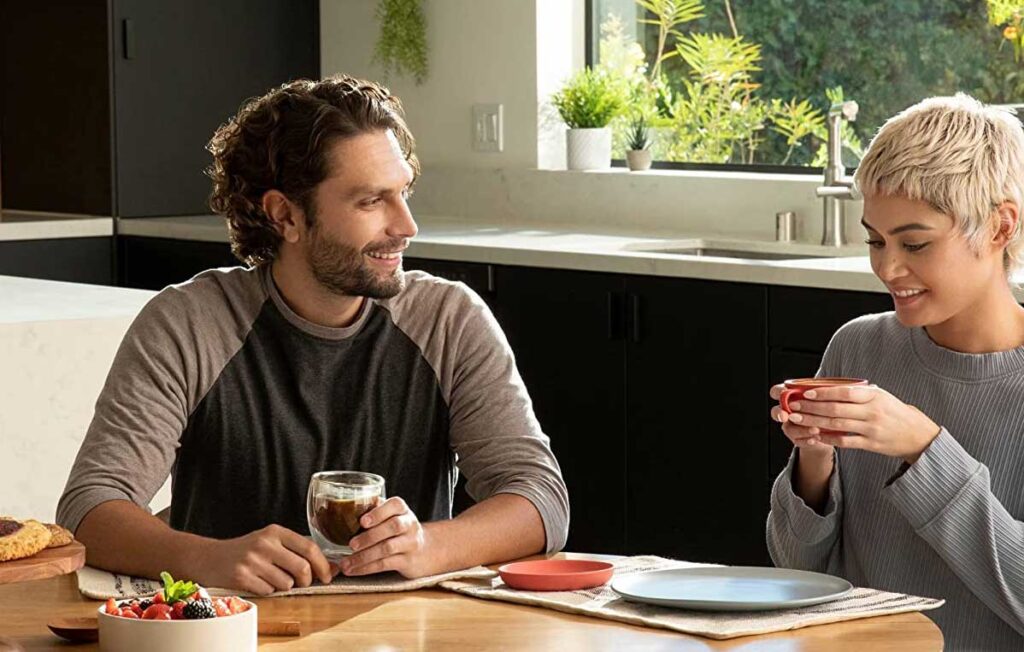 Smart WiFi Coffee Maker FAQs
What is a smart WiFi coffee maker?
A smart WiFi coffee maker is a coffee maker that can be controlled remotely through a smartphone app or a smart home assistant, such as Amazon Alexa or Google Assistant. It allows you to set up brewing schedules, monitor coffee brewing status, and control other features from anywhere with an internet connection.
How do smart WiFi coffee makers work?
Smart WiFi coffee makers work by connecting to your home WiFi network, allowing you to control the device remotely. You can use a smartphone app or a smart home assistant to set up brewing schedules, adjust temperature and brew strength, and receive alerts when coffee is ready to be served.
Are smart WiFi coffee makers more expensive than regular coffee makers?
Yes, they are generally more expensive than regular coffee makers due to the added technology and features. However, the price can vary depending on the brand, model, and specific features offered.
What are the benefits of a smart WiFi coffee maker?
The main benefit is the convenience it offers. With a smart WiFi coffee maker, you can set up brewing schedules from anywhere with an internet connection, so you can have fresh coffee waiting for you when you wake up in the morning or return home from work. Additionally, smart WiFi coffee makers often have programmable features that allow you to customize your coffee brewing experience to your liking.
Do all smart WiFi coffee makers have the same features?
No. The specific features offered can vary depending on the brand and model of the coffee maker. Some common features of smart WiFi coffee makers include programmable brewing schedules, adjustable brew strength and temperature, and alerts when coffee is ready to be served.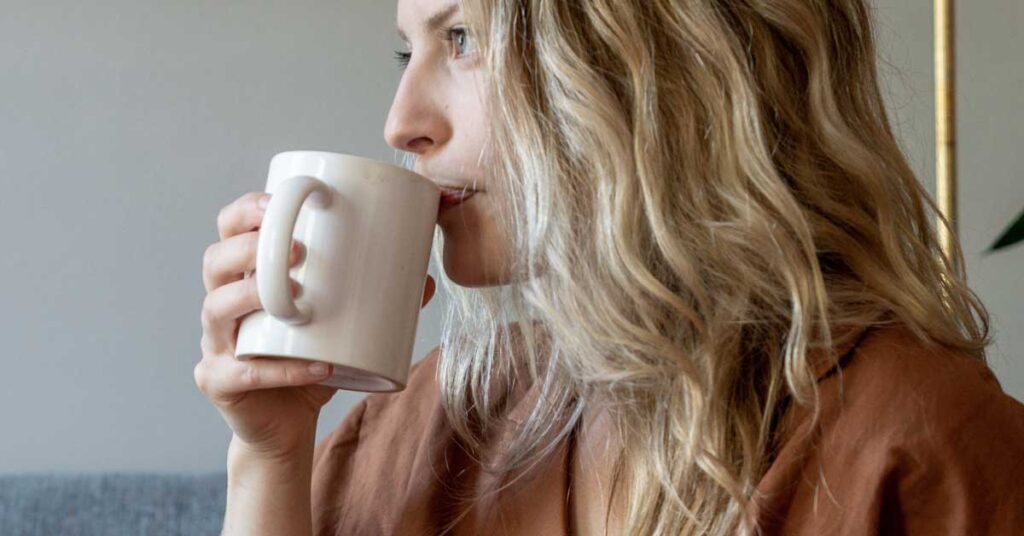 Final Verdict
Our top picks for smart WiFi coffee makers offer advanced features and convenience, catering to a variety of needs and preferences. The Keurig K-Supreme is our best overall choice, thanks to its customizable brewing options, WiFi connectivity, and innovative multistream technology.
For those looking for voice control integration, the Hamilton Beach Smart Coffee Maker is a great runner-up with its programmable 12-cup capacity and front-fill water reservoir. The SPINN Coffee Maker Pro provides the highest level of quality with its precision burr grinder and zero-waste coffee system, making it the best high-end option.
Lastly, the Mixpresso WiFi Coffee Maker is our top pick for budget-conscious users who still want a stylish design and programmable controls. No matter your preferences, we hope our recommendations help you find the perfect smart coffee maker to elevate your daily coffee experience.