If you can't start your day without a cup of coffee, you're not alone. In fact, 64 percent of American adults drink at least one cup of coffee per day. And the average American consumes 3.1 cups daily. In total, Americans consume 400 million cups of coffee per day, and 146 billion each year. Now those are some eye-opening statistics!
But in the age of smart home devices, your traditional "dumb" coffee maker might not be up to snuff. Nowadays, people are trending in two directions: old-school artisanal options like French presses, and smart coffee makers. We've reviewed several kitchen devices, including pressure cookers and toaster ovens. Today, we're going to check out some smart WiFi coffee makers.
We'll be looking at three of the hottest smart WiFi pressure cookers on the market. First off, we'll check out the Hamilton Beach Smart Coffee Maker. This coffee maker is designed specifically to work with Alexa, so controls are a snap. Next, we'll look at the Atomi Smart WiFi Coffee Maker. This option comes with an app, and sports a dishwasher-safe reusable coffee maker. Finally, we'll review the Smarter SMC01 iCoffee. This option features several smartphone features, as well as a customizable appearance. Now, let's take a closer look, and see what each of these options have to offer!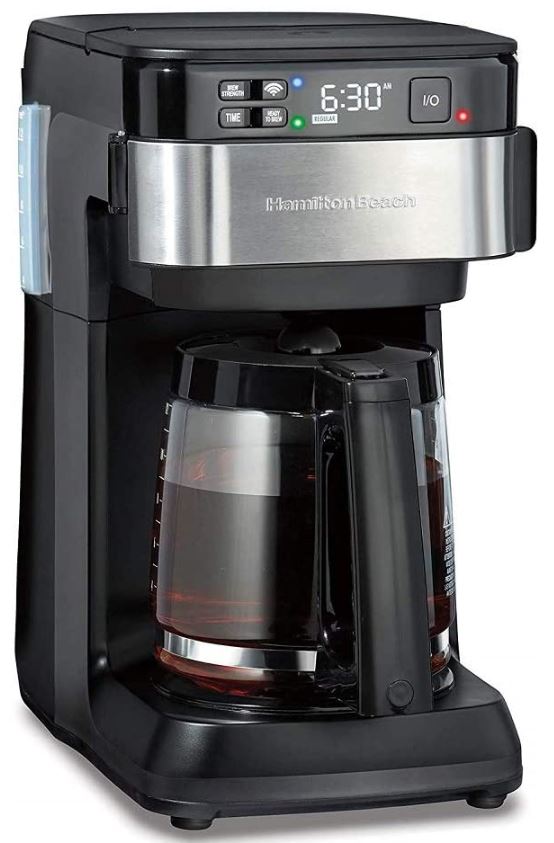 Hamilton Beach Smart Coffee Maker
The Hamilton Beach Smart Coffee Maker looks like an old-school drip coffee maker at first glance. It sports a front-fill basket and reservoir. Because of this design, you won't have to pull it all the way out from under a low counter just to fill it up. It measures 13.25 inches high, 7.95 inches wide, and 13.9 inches deep. This makes for a mid-sized footprint, which won't occupy half of your countertop. It's also short enough to fit under a low, 18-inch cabinet, with plenty of room to spare. And at a weight of only 6.78 pounds, it's easy to reposition if you need to.
The reservoir opens from the top front, which makes it easy to fill. It's mostly internal, but there are see-through windows on the sides so you can observe the fill level. The overall design is black ABS plastic, but the front of the coffee ground basket is stainless steel. It creates an attractive accent, and sports an embossed "Hamilton Beach" logo. Above the basket, there's a control panel that allows you to operate all of the functions. There's also a clock, as with many old-school home coffee makers.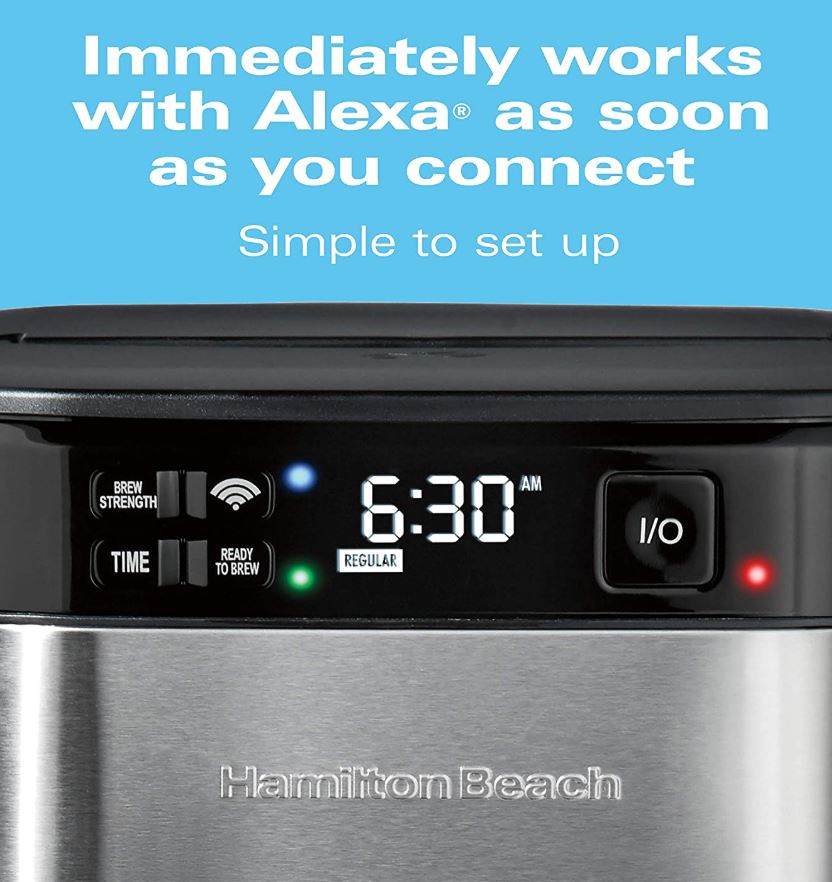 The carafe will contain a standard 12 cups, and has a tall design with straight sides. It has a drip-free spout, which makes it easy to pour. Needless to say, "drip free" is a relative term. In the end, your results are going to depend on your technique.
Functionality
You can easily adjust the Hamilton Beach Smart Coffee Maker to brew bold or regular strength coffee. You can do this with Alexa, or simply press the toggle button on the control panel. In addition, you can set a timer to brew coffee according to your daily routine. You can even set a separate schedule for weekdays and weekends. Just make sure to fill the reservoir every day, or the only thing you'll find in the carafe is disappointment.
There are also a couple of safety features that make the coffee maker easier to use. You can turn it off remotely via your phone's Alexa app. So if you forgot to turn it off, you can do so remotely via voice control. There's also an auto shutoff. If there's no activity, the heating plate will automatically turn off after two hours. In addition, you get a reminder when the coffee maker needs cleaning. Instead of the time, the clock will just say "Clean". If you're not always the best at keeping up on coffee maker maintenance, this is a useful feature.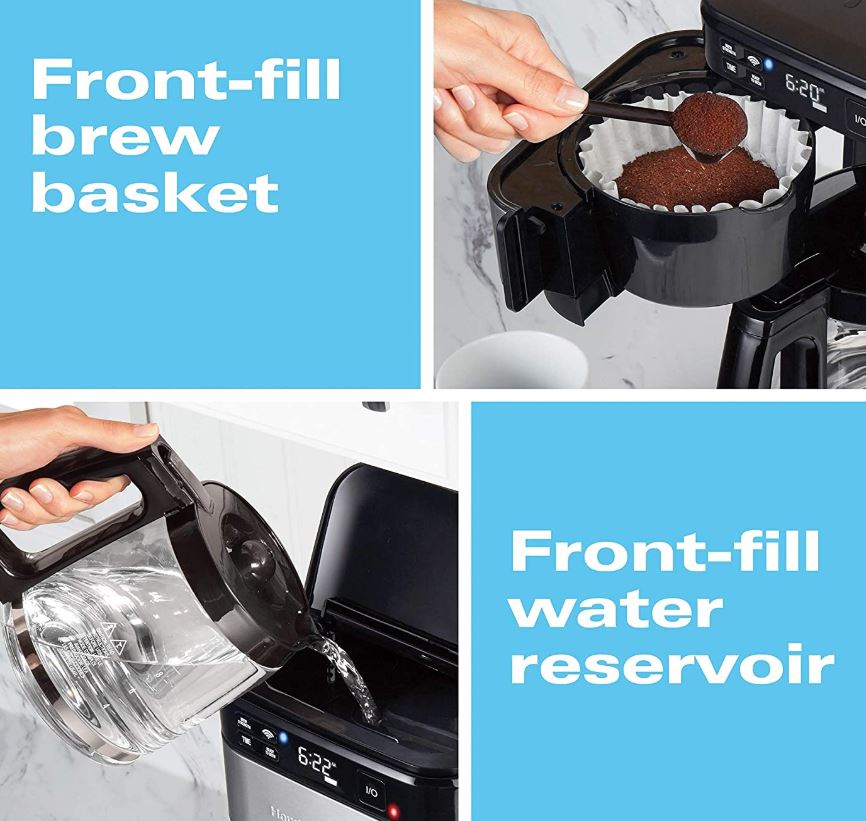 App and Connectivity
The nice thing about the Hamilton Beach Smart Coffee Maker is that you don't need to download any app. Everything you need to do can be done through Alexa. You can turn the coffee maker on or off, change the timer, and even change the brew strength. So if you don't want to mess around with manual controls, just use your voice. Pairing your coffee maker with Alexa is easy. There's a QR code on the back of the machine. Just scan it with your phone's QR reader, follow the instructions, and you're ready to go.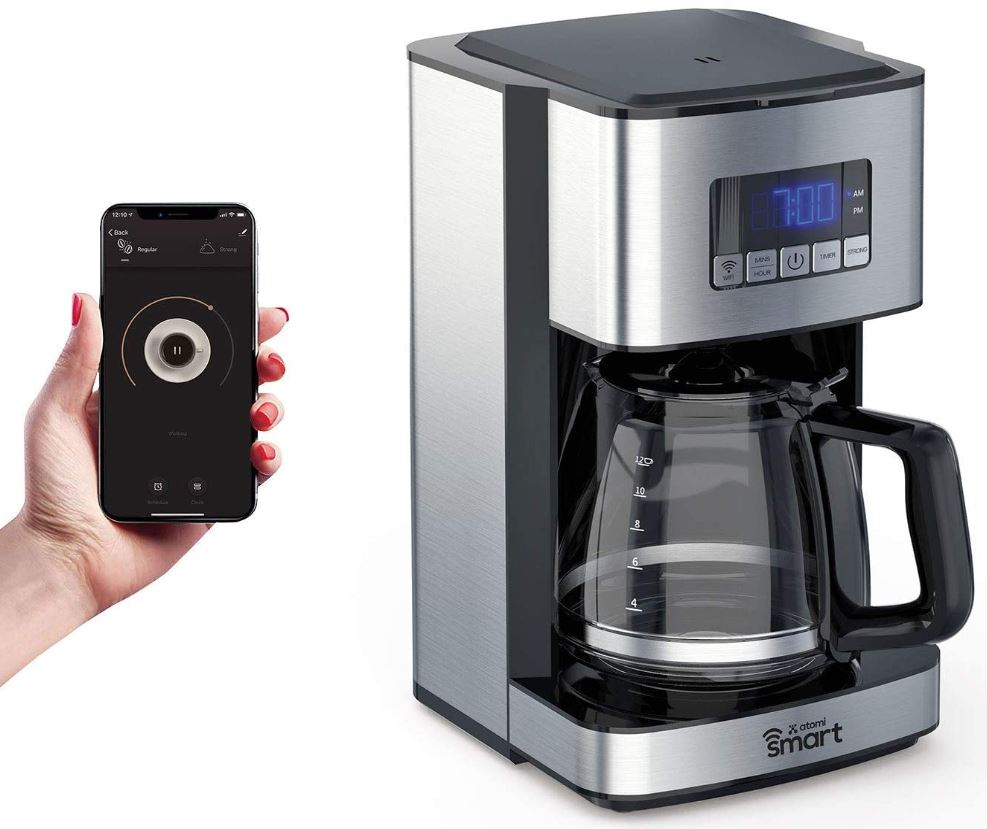 Atomi Smart WiFi Coffee Maker
The Atomi Smart WiFi Coffee Maker has a slick, modern appearance with a stainless steel finish. It measures 13.6 inches high, 8.5 inches deep, and 8 inches wide. This small form factor makes it very easy to position, even if counter space is at a premium. On the other hand, its reservoir and basket are both top-loading. As a result, if you have low-hanging cabinets, you'll need to pull it out to fill it up. But at only 7 pounds, it's not terribly heavy, so it's easy to move.
The top is easy to open, with a black ABS plastic lid that sports a tab on the front for lifting. Inside, you'll find a dishwasher-safe, reusable cone-shaped filter. As a result, the Atomi coffee maker is more environmentally-friendly than most.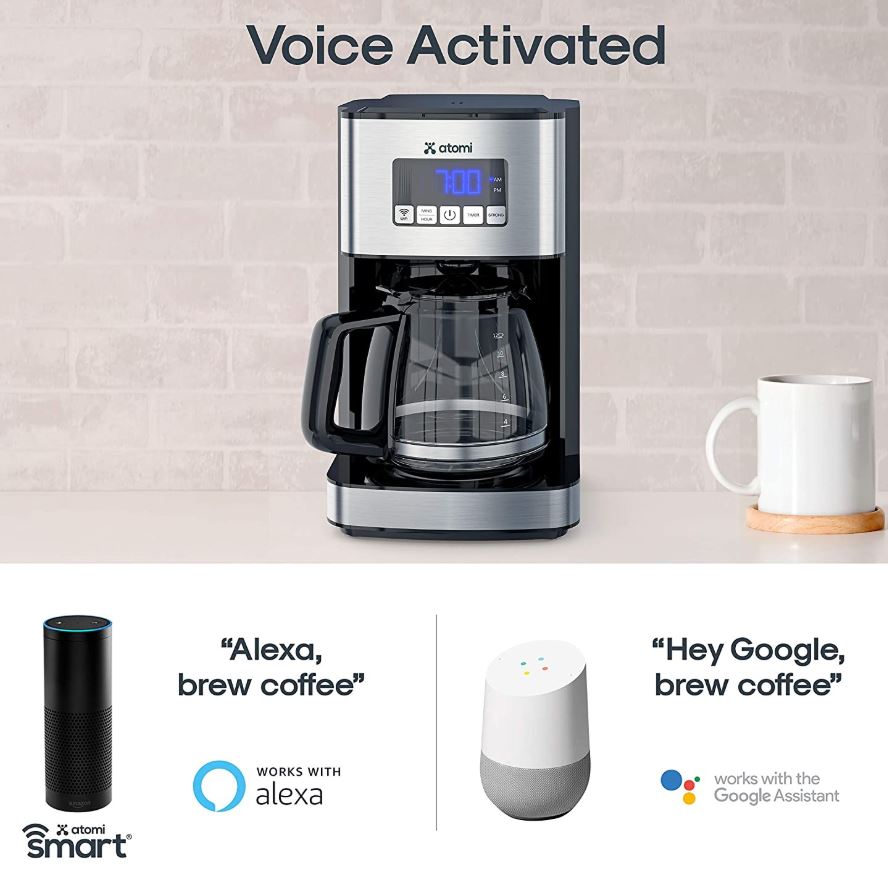 The front panel is easy to read, with buttons that match the stainless steel finish of the rest of the unit. Above the buttons, there's a blue LED clock with large, easy-to-read numbers. Underneath, the carafe has a traditional, wide-bottom design with a 12-cup capacity. The traditional form factor was much appreciated, since it's easy to replace if you accidentally break it. You also get Atomi's 90-day no-questions-asked return window. If you're not happy with it for any reason, just send it back for a full refund.
Functionality
The Atomi Smart WiFi Coffee Maker has similar features to the Hamilton Beach coffee maker. You can brew coffee in bold or regular strength, depending on your preferences. Whether you prefer bold flavor or a lighter flavor with more caffeine, you're going to get what you want.
You can also set separate brew timers for weekdays and weekends. So if you sleep in until 8 o'clock on Saturdays, your coffee will still be piping hot. Finally, you can start a brew cycle anywhere, through the app or through Alexa. If you're on your way home and need a pick-me-up, your cup of Joe will be waiting for you.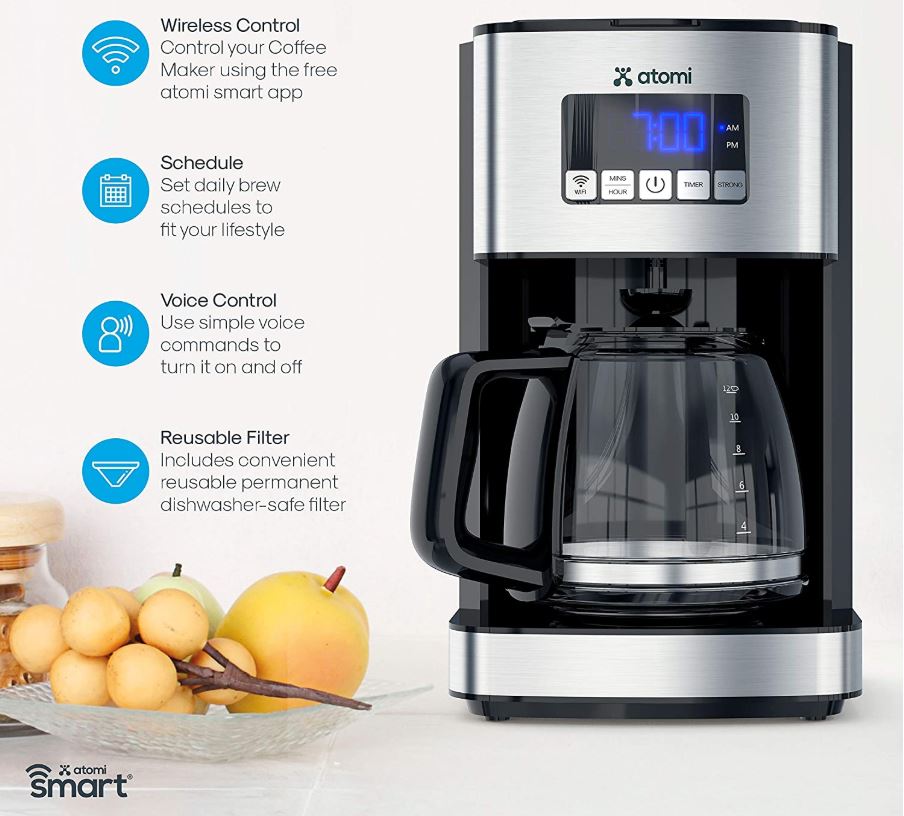 App and Connectivity
As we've already alluded to, the Smart WiFi Coffee Maker can be controlled either by Alexa or by Atomi's app. The app is available for free on both iOS and Android, and installs painlessly in just a few minutes. You need the app to set up all the initial settings, including pairing the coffee maker with Alexa. Once that's done, Alexa can be used to control most of the functions. That said, you'll need to use the Atomi app to set any timers. Fortunately, the Smart WiFi Coffee Maker automatically updates the time for Daylight Savings Time. You don't have to worry about your coffee being late because you forgot to change the clock.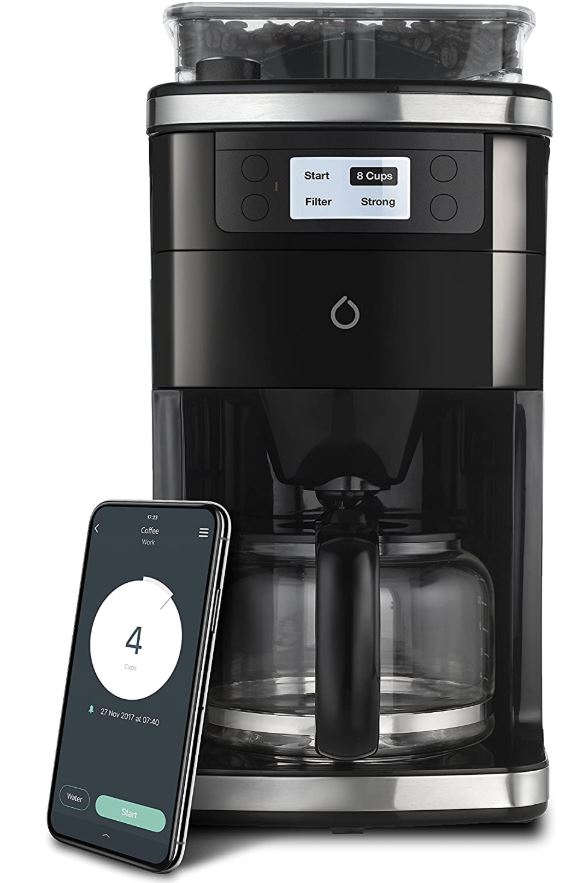 Smarter SMC01 iCoffee
The Smarter SMC01 iCoffee sports a customizable appearance. In addition to the default black finish, it comes with a set of replaceable face plates. You can change the color to white or red in just a few minutes. As a result, it's suitable to match just about any kitchen décor. The overall size is 16.7 inches high, 10.5 inches deep, and 8.1 inches wide. This height is just low enough to fit under low-hung cabinets, and the footprint is medium. As a result, placement won't be an issue. That said, it's a top-loading machine, and it weighs 15.1 pounds. So it can be a pain to move if you don't have enough clearance for easy access.
The sides of the coffee maker are brushed steel, with attractive bands across the top and bottom of the front. In the top, you'll find a bean hopper, which allows you to store whole beans. There's a built-in grinder which will grind your beans on demand. No need to choose between running a grinder every day or buying pre-ground beans. The SMC01 iCoffee has got you covered. In addition, it sports a dishwasher-safe, reusable coffee filter. Once again, you're looking at an environmentally-friendly machine.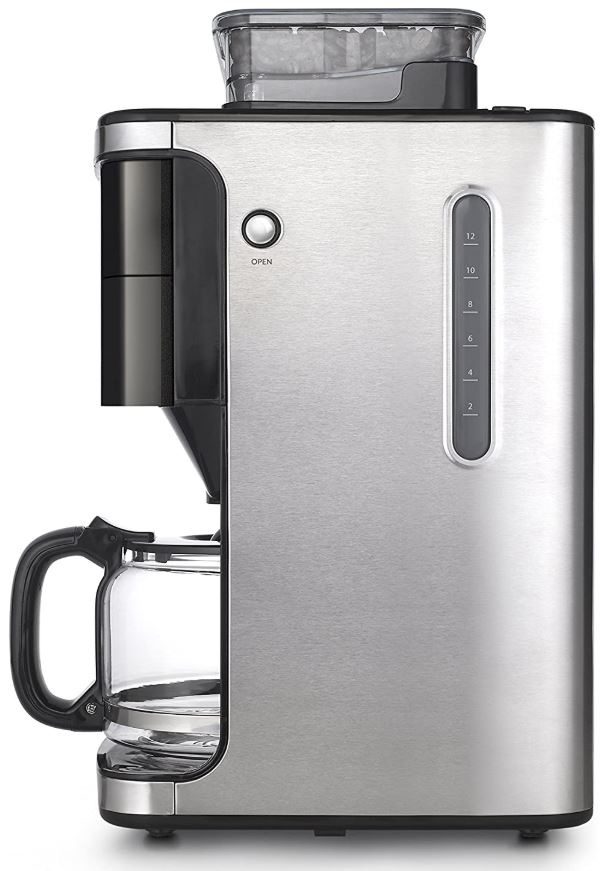 The front panel has a slick LCD display, with buttons off to the side. The LCD is mostly just for show, but it's an attractive touch that just screams modernity. Beneath the display, you'll find a short, fat, 12-cup coffee pot. The bottom of the grounds basket has a non-drip plunger. So when you remove the carafe during a brew cycle, there won't be coffee all over the hot plate.
Functionality
Like most smart coffee makers, the Smarter SMC01 iCoffee allows you to set a timer. You can make your coffee at the same time every day, or switch things up on weekends. However, you also get the ability to choose how many cups you want. Live by yourself? No worries! Just make 2, 3, or 4 cups. You can still fill the reservoir all the way, and just top it off every couple of days.
As with the last two options on our list, you can choose the brew strength. Select a strong brew for bolder flavor, or a lighter brew for more caffeine. However, you can also choose the roughness of the grind. In general, a finer grind will get you better extraction. But a coarser grind offers its own benefits, particularly if you prefer a weaker brew.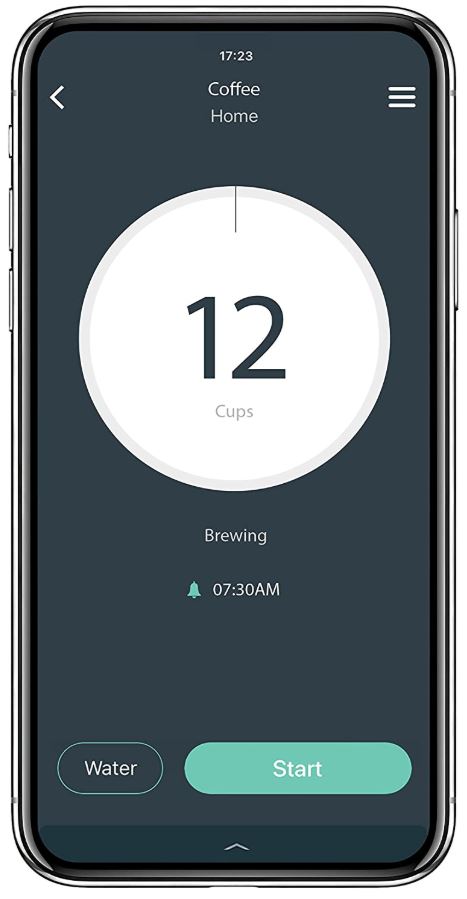 App and Connectivity
The Smarter SMC01 iCoffee does not have a WPS button for quick connectivity. On the downside, this makes it harder to set up. On the other hand, it means you won't have any issues if you have an older router with no WPS. To get it set up, you'll first need to download Smarter's app. Fortunately, the app is free, and it's available in both the Apple Store and Google Play.
Once you've downloaded the app, it's time to plug in your coffee maker. The SMC01 will create its own short-range WiFi network. Connect your phone to that network, and follow the instructions on your screen. Next, you'll need to switch back to your home's WiFi network. From there, you'll need to enter a password, which you created on the SMC01's network. At that point, you're ready to go. Of course, you may still want to adjust some other parameters. Choose your brew strength, set your timer, or adjust any other settings you desire.
Final Verdict
So, which of these coffee makers is the best? Let's do a quick recap of each of them. The Hamilton Beach Smart Coffee Maker is the beefiest unit on our list, with a mid-sized footprint. That said, its front-loading design offers some significant benefits. You don't have to worry about low-hanging cabinets making it difficult to load. Setup is also easy. Just scan a QR code, and you're ready to go. On the other hand, it only supports voice controls. If you prefer a hands-on app, you're out of luck.
The Atomi Smart WiFi Coffee Maker has a smaller profile, so it takes up less counter space. It also utilizes a traditional app alongside Alexa controls. The traditional carafe profile is much appreciated, since it's easy to replace if necessary. Moreover, it automatically adjusts to Daylight Savings Time, just as you'd expect from an ultra-modern device. That said, the top-loading design might be a turnoff for some people.
Last, we looked at the Smarter SMC01 iCoffee. The iCoffee doesn't support voice controls, but it does have an excellent, full-featured app. The connection process is a bit of a pain, but once it's set up, you'll love the features. Even better, you can use whole bean coffee instead of grounds. You can even control the amount of coffee produced on an automatic cycle. Not bad!
Was this helpful? Please consider sharing: