Summary
MECOOL's KP2 is a very capable 1080p projector with excellent image quality. Certified for Netflix with a Linux-based operating system, you can enjoy seemingly endless amounts of content, no matter what you desire. It runs cool with minimal noise, offering a fantastic experience for entertainment-enthusiasts alike.
Pros
Sharp, vivid image quality
Easy to use interface
Quick boot-up and auto-focus
Minimal noise and heat output
Included remote is nice
Cons
Built-in speakers are so-so
A bit expensive for a 1080p projector
No case or extras included
These days, everyone should own a projector. Typically a step up from a standard TV, they bring the large-scale effects of movie theater into an easily manageable form-factor for regular use. Whether you want to upgrade your home movie night or simply bring it along while you're camping, projectors offer versatility that's hard to match.
However, selecting the right one can be a daunting task. Luckily, there's a whole slew of manufacturers out there, with several decent options. Take MECOOL for example. Recently, they released their KP2 projector.
As a Netflix-certified projector with brightness up to 600 ANSI lumens, it's a mid-range option for the DIY movie theater goer. But is it all what it's cracked up to be?
Over the past few weeks, we've used the MECOOL KP2 and extensively tested it for movies, games and general use. Today we're here to share our findings. Let's get right into it.
What's in the box?
KP2 projector
AC adapter
Remote control
User manual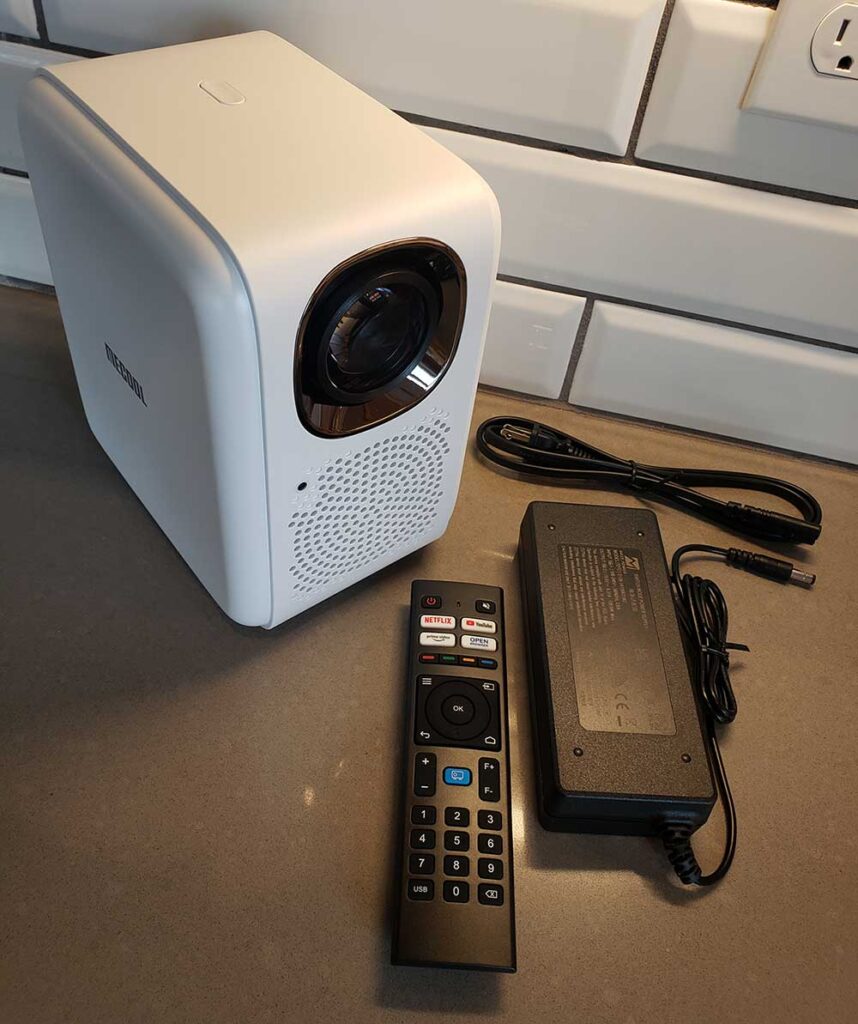 As you can see, MECOOL includes everything you need, but nothing more. It would have been nice for a carrying case, cleaning cloth, or any other small bonuses to be included, but that's OK.
Design and layout
Measuring a smidge over 8″ tall, 5″ wide and 7.5″ deep, the KP2 is relatively compact with a minimalist, matte white appearance. Weighing in at just under 4lbs, it feels solid and well-made with rounded corners and edges to give it a nice style.
On the front, you'll see the large lens, measuring about 2″ in diameter. Below this, there's the several perforations that act as the exhaust for the internal cooling fans. While in operation, warm air from inside the projector is pushed out here.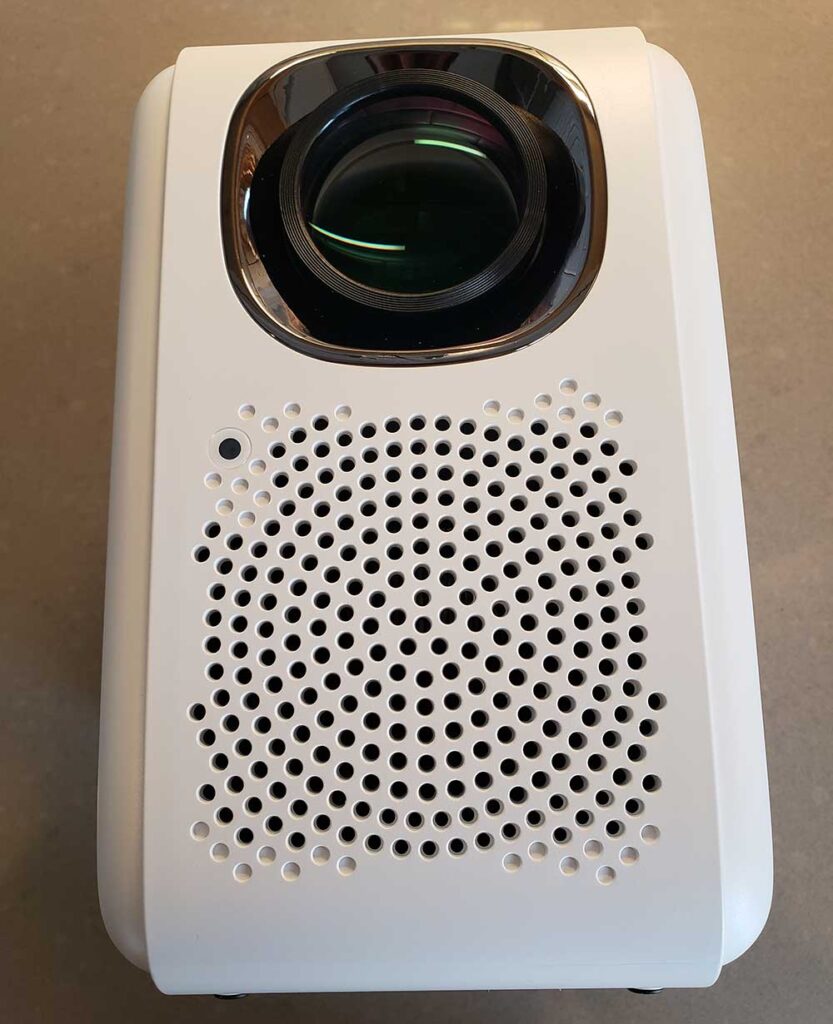 The sides of the projector are very non-descript, with the MECOOL logo included on one of them. On top, there's a single button, easily accessible for users to quickly turn the main power on/off.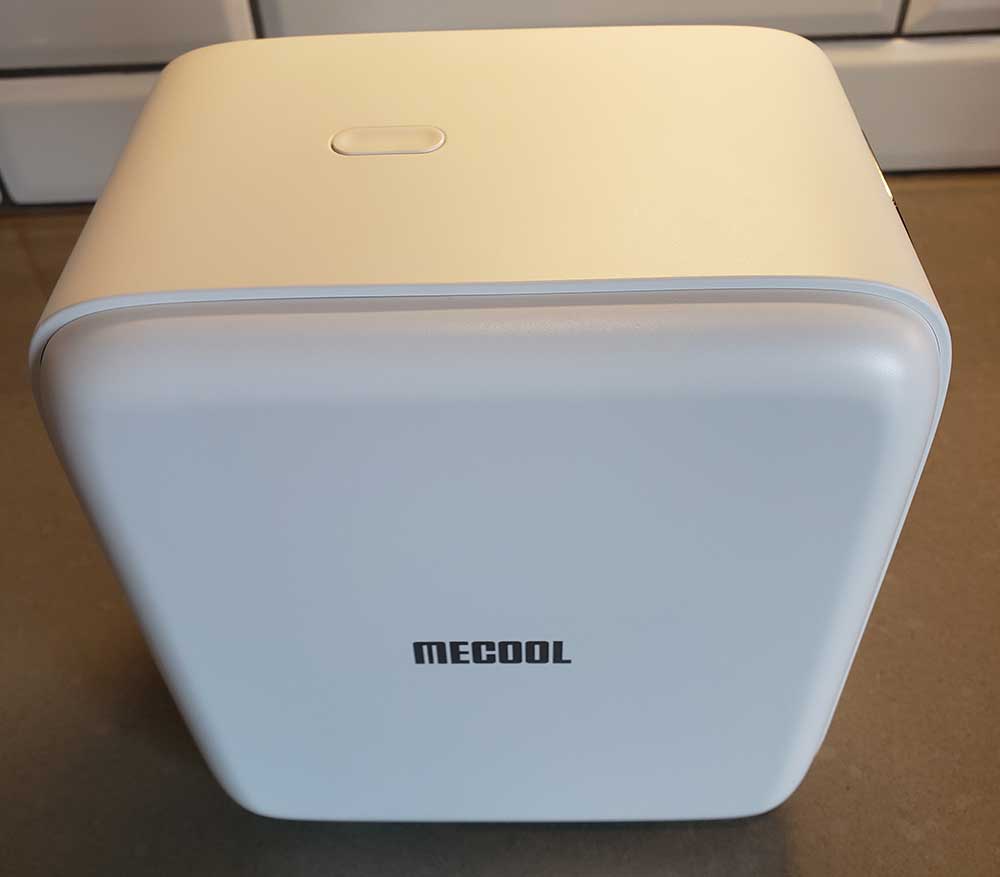 The back is where most of the action is happening. This is where the two 5W speakers are, along with the air intake and all of the available input ports. On the upper right, you have the DC port for connecting the AC adapter.
Next to this, there's a single USB 2.0 port, followed by an HDMI port. Moving on, there's a small LED indicator along with a sensor for the remote control. Lastly, there's an auxiliary input for connecting headphones or externally-wired speakers.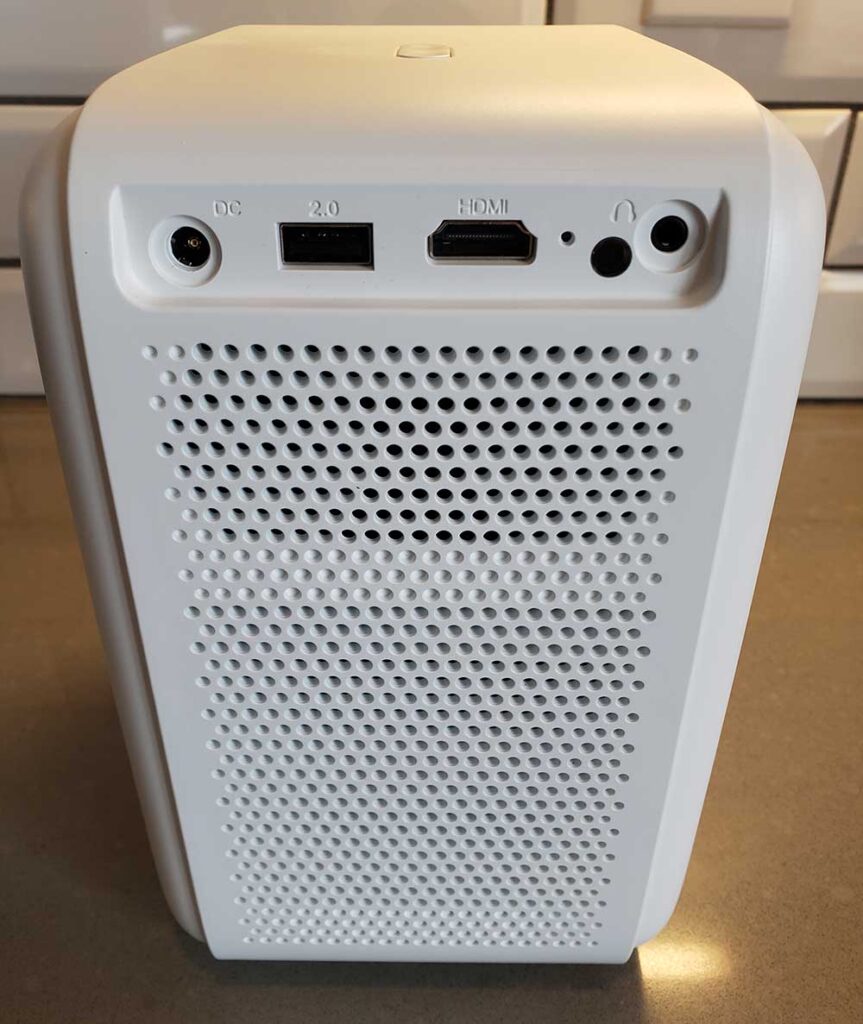 Flip over the projector and you'll see four rubbery feet and a threaded screw hole for attaching a tripod or other kind of mount.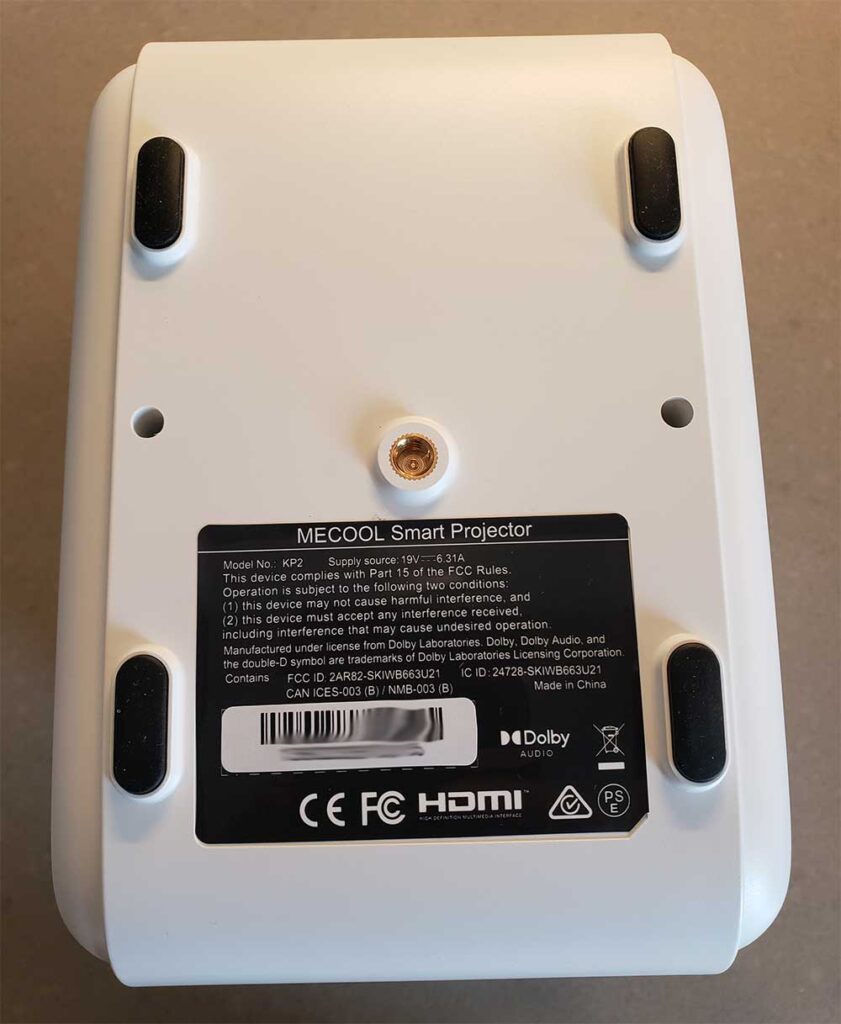 Setting up the KP2
Once you've found a nice, dimly-lit area for watching, getting the MECOOL KP2 up and running for the first time is quite straightforward. Simply plug-in the AC adapter and let it boot-up. It only takes about 10-20 seconds for this to happen.
First, it'll perform an auto-focus procedure, based on the position of the projector. It tends to auto-focus quite well, but if you notice blurry corners or edges, simply use the focus up/down buttons accessible from the remote. Best of all, it'll auto focus every time you move it, providing crisp visuals with minimal intervention.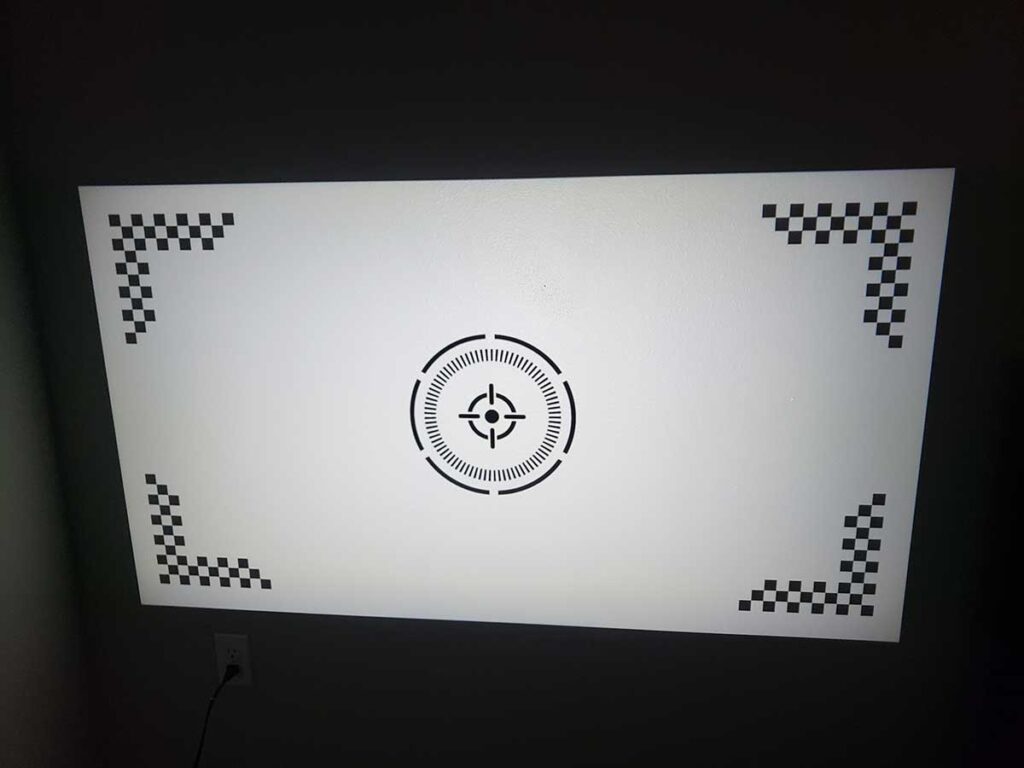 Once booted up, it'll ask to pair the remote control. Do this by pointing it towards the back of the projector and simultaneously pressing the OK and volume down button. In a matter of seconds, it'll pair successfully and bring you to the next step.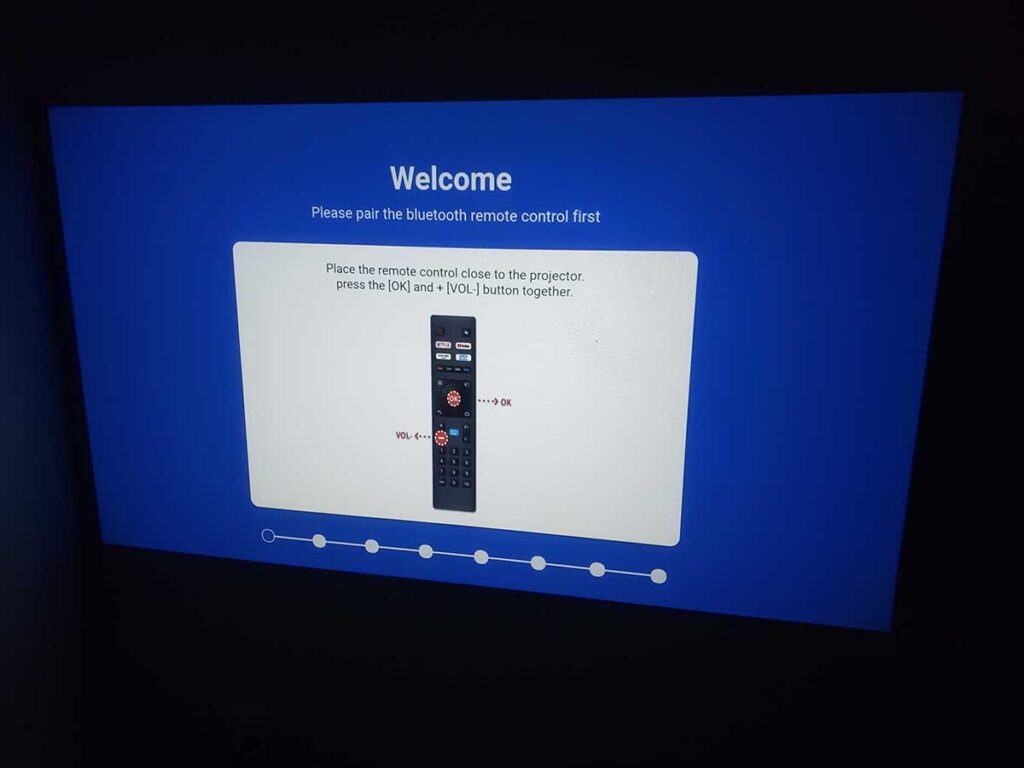 It'll then ask you how you have the projector setup. Do you have it resting on a table? Mounted to the ceiling? Or in some special orientation? You'll need to choose the best appropriate option and hit continue.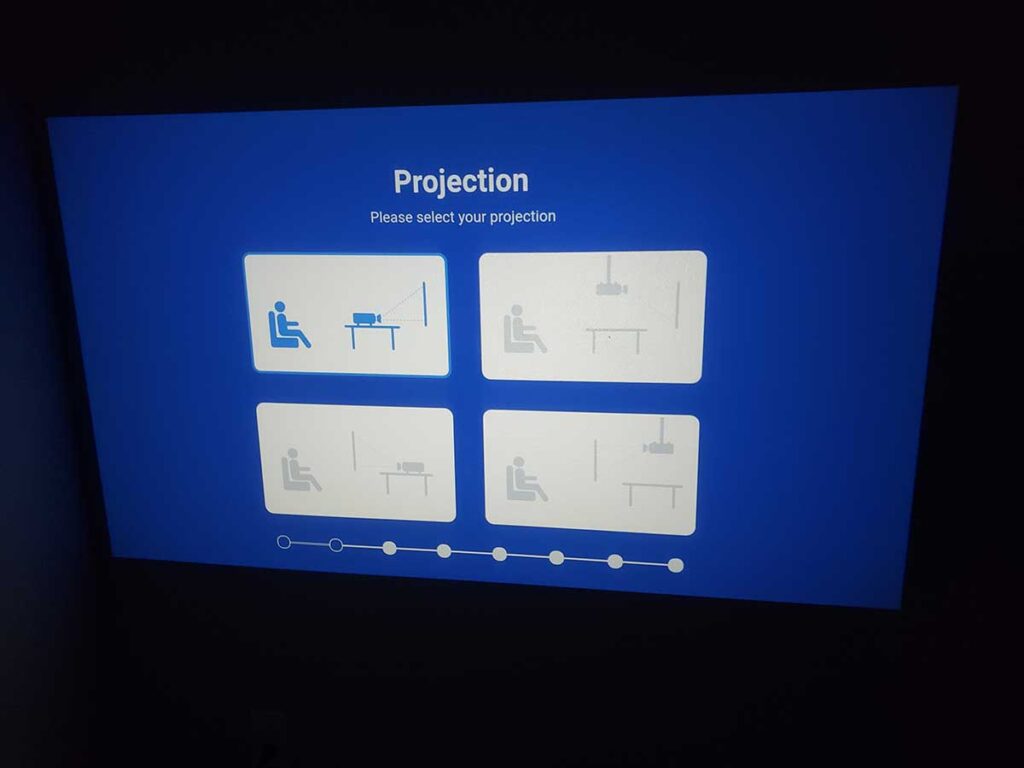 Moving on, the setup procedure will walk you through your language, region, and ask you to agree to some legal notices.
Last but certainly not least, the final step involves connecting to your WiFi network. Thankfully, both 5GHz and 2.4GHz are supported. This isn't something we tend to see on all projectors, so it's a nice inclusion. Regardless, select the appropriate network, enter your password, and you're good to go. It'll then display the main homepage and you're all set and ready to go.
I must say, the setup process involved with the KP2 is very nice. You don't need to know any technical details, other than your WiFi network credentials. That said, it's easy for anyone, even with no or limited prior experience.
User interface
The MECOOL KP2 prides itself on being easy to use and full of great features. One of them being the quick and snappy user interface that it delivers. Powered by the Linux 4.19 operating system, it's smooth, bug-free and doesn't have any issues to speak of.
The KP2 gives you access to Netflix, YouTube, Prime Video, Facebook and a massive assortment of apps and content, easily accessible via the "netrange" app store. Pretty much any kind of content can be attained here.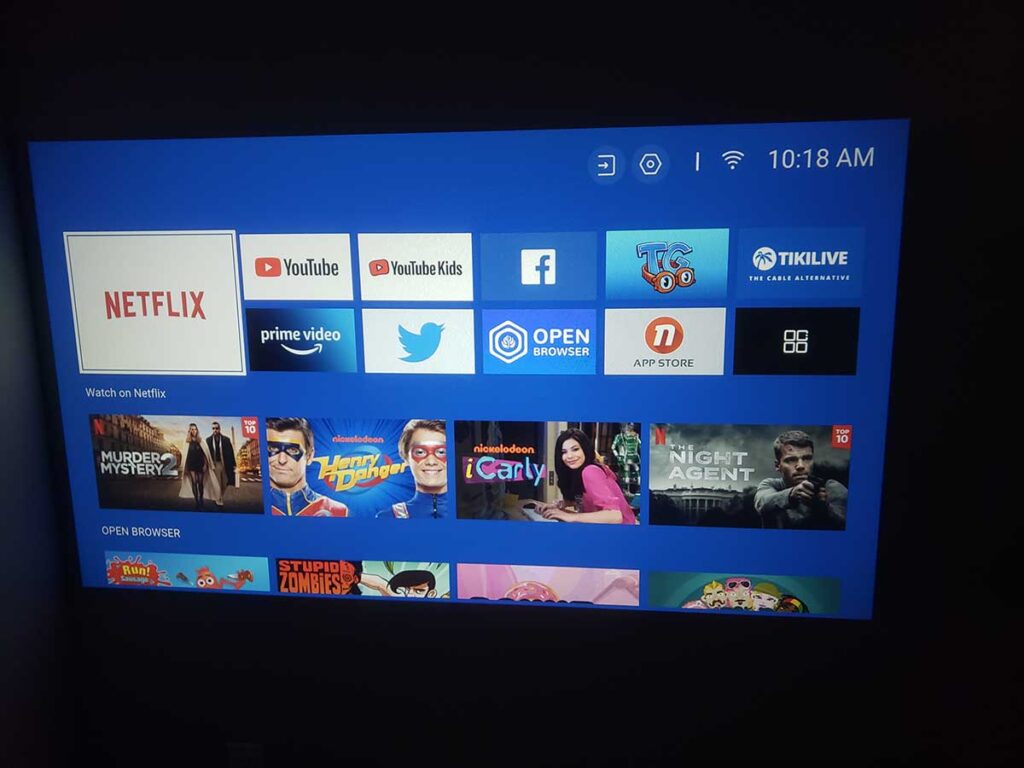 If you'd like to hook up your own device, you can easily do so. Just plug-in via the HDMI or USB port and it'll open up your options in a seemingly infinite way.
Image quality
The KP2 is stated to provide 600 ANSI lumens of brightness. In reality, the projector is very bright, but like most, it excels in areas that are dimly lit or completely dark. Simply put, it looks a bit washed-out in bright ambient light. In direct sunlight, it struggles, as do most projectors.
I found myself using it in an empty spare bedroom where I could scoot it back 108″ (9-feet) from the blank wall and maximize the screen size to a ridiculous 96″ (8-feet). At this size, the quality was still wonderful and the colors were just as rich as when I originally had it displayed at a 55″ size. We even tested it it outdoors on our inflatable projector screen, and it did well.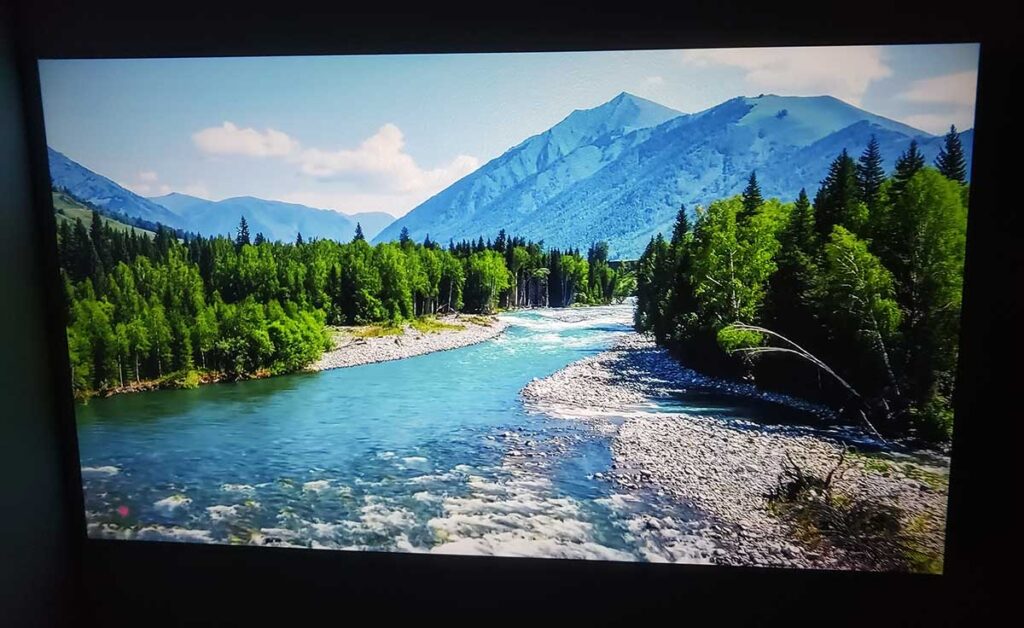 As stated earlier, let it auto-focus or at least manually focus it every time you move it. Keystone adjustments are available, but typically not needed if you let it auto-focus. These are accessible via the settings menu in the top-corner of the screen.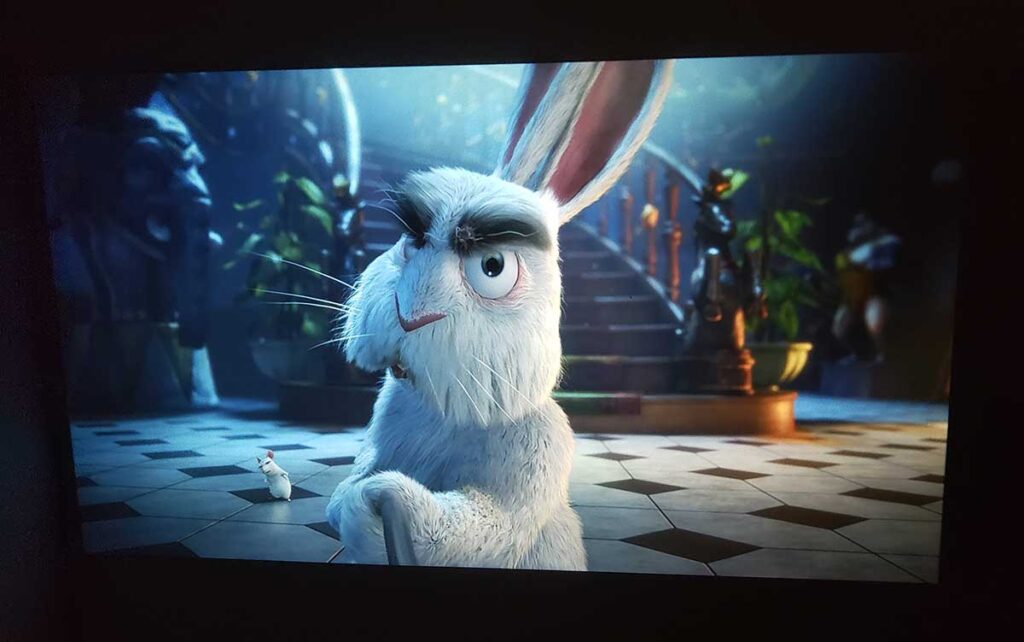 I was really impressed with the overall image quality provided by the KP2. It's sufficiently bright for most indoor or nighttime settings and the vividness is apparent from the moment you turn it on. Regardless of the kind of content you're watching, the clarity is true to life, rich and beautifully colored. Everything seems to be as accurate as a standard TV, with the freedom and versatility that a well-made projector offers.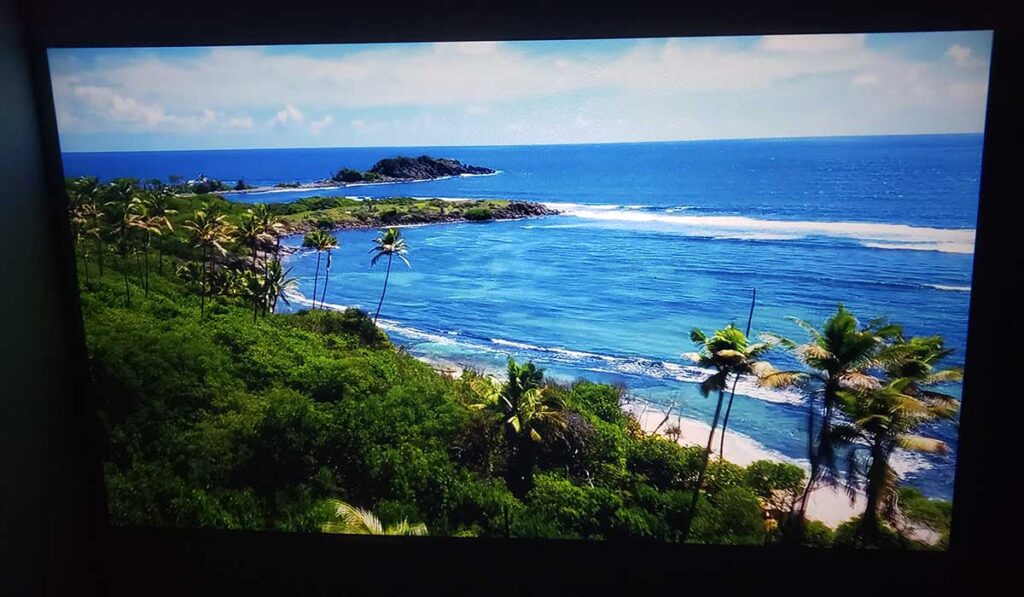 While admittedly, I didn't try Netflix, it's one of the most sought-after apps that's typically not available on your average projector. MECOOL went through all the extra hoops and jargon to make certain that the KP2 is approved for use with Netflix. In fact, it wears the badge of being "Netflix Certified", which truly sets it apart from the competition.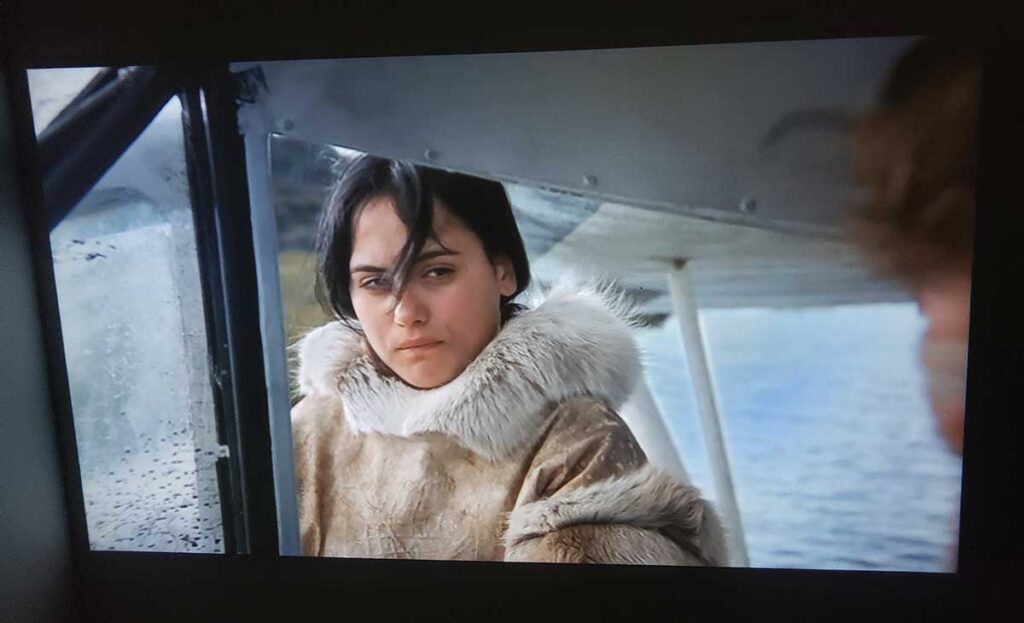 I'm a big fan of watching YouTube videos, so this is what the majority of the content I enjoyed came from. Throughout my time testing the KP2, I made sure to run it through a wide range of content in order to see what it was truly capable of.
Nature and animal scenes with greens, blues and rich color stood out the most as it seems to provide the most realism and true to life effects. Water appears incredible with trees, plants and fauna appearing almost life-like.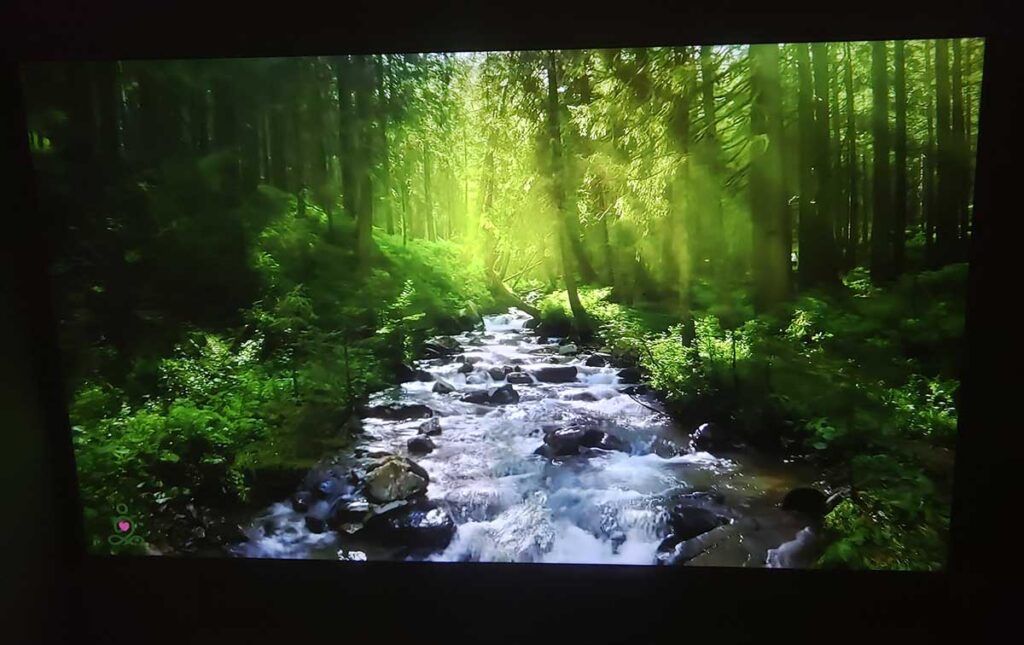 With the 1920 x 1080p resolution, the KP2 is a true high-definition projector. Although todays' golden standard is 3840 x 2160p, aka 4k, it does a great job at providing beautifully high-resolution that makes most content shine. While it can play 4k content, it'll effectively downscale it to 1080p without cutting too many corners. That said, downscaled 4k content is still wonderfully vivid, with precise accuracies that are very apparent.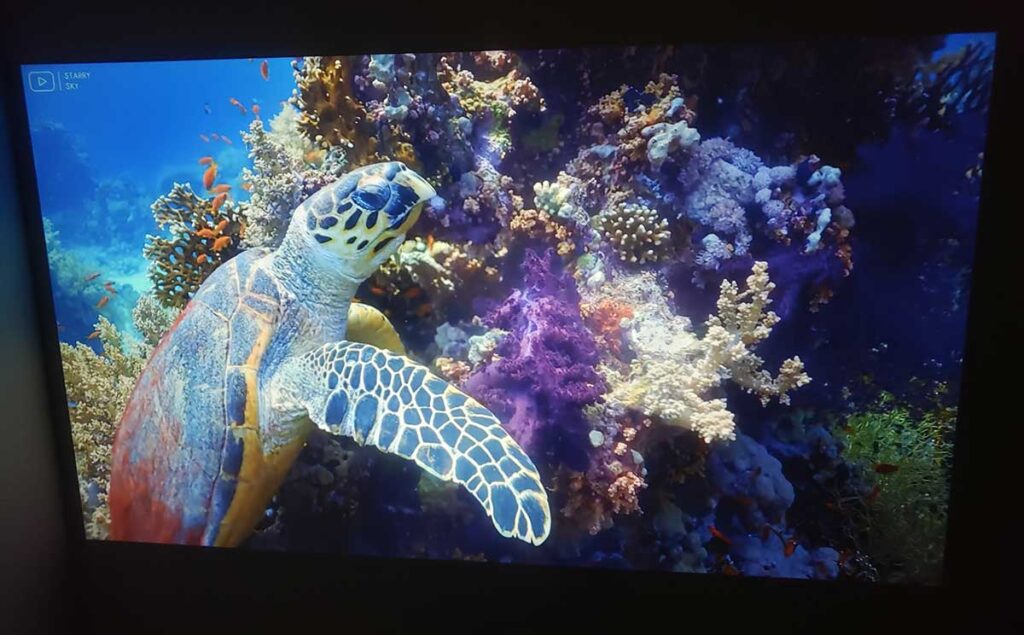 All in all, the image quality is wonderful. Whether you're playing video games, watching a full-length movie or simply browsing YouTube or Prime Video, the picture is clear, sharp and never pixelated, unless you sit too close. Colors are strikingly accurate and fast movement involves no noticeable tearing or distortion that's painfully obvious.
Sound quality
Internally, there are two 5W speakers that are a wonderful inclusion. For the most part, they're pretty loud and powerful, mostly ideal for small to medium-sized gatherings. By default, the speakers sound nicely for most content, but if you're watching anything with heavy bass, distinct dialogue or something unique, you may want to tweak how they sound.
From the settings page, you can fine-tune them to your own liking, with options to adjust bass, treble or activate surround sound. You can even select a specific sound style that may suit your preferences nicely.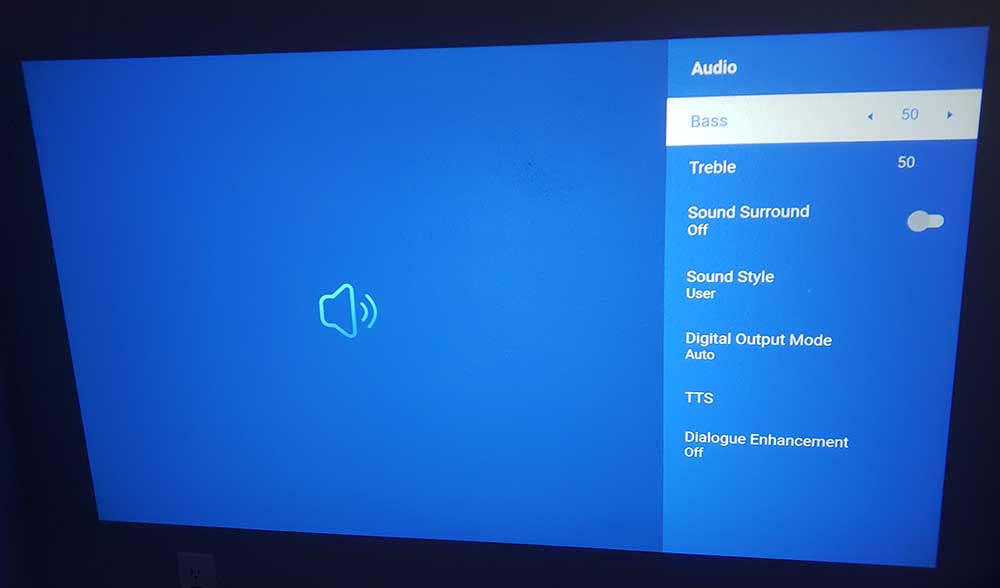 Truthfully, the built-in speakers are much better than most projectors in this price range typically offer, but they're still nowhere near as good as your own set of external speakers. They'll do the job, but your best bet is to connect either wired-in speakers or a portable Bluetooth speaker. Thankfully, both are supported and can easily be paired through the Bluetooth settings option.
Heat and noise
With any projector, the heat and noise it produces should be noted. With the KP2, it seems that MECOOL has done a fantastic job at thermally regulating the internal components. In other words, the projector doesn't have a heat problem.
The longest duration I used the KP2 for was about a 5 hour session in a constant, ambient temperature of 76 degree Fahrenheit. In this time, I casually watched YouTube and let it auto play anything it wanted. Throughout the entire time, it seemed to do a wonderful job with heat dissipation. Although the projector gets a little warm to the touch, it's nothing excessive. In fact, I'd say that it runs cooler than 90% of projectors for its size. Pretty awesome!
In terms of noise, I found the internal cooling fan to operate very quietly. Notably, it'll emit a constant "hum" but it's nothing that you can't live with. Even with low-volume entertainment, I wouldn't say that the noise produced is anything that'll thwart your viewing experience.
The remote
Last but not least, I want to take a minute to discuss the remote control. Measuring 7″ long and offering 36 different buttons, this isn't the same cheap-o remote that's included with every budget projector out there. This is a full size, real remote with quick-access buttons to Netflix, YouTube, Prime Video and even a web browser.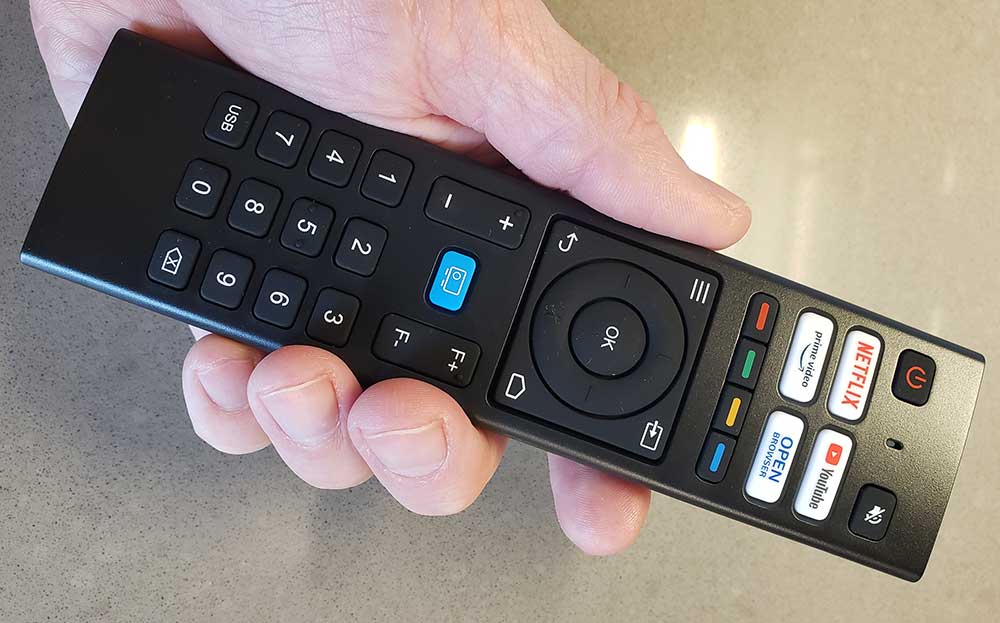 All of the buttons are firm, yet not overly squishy. Each one has a very audible "click" which not only insures confidence but feels high-quality to the touch.
The remote is connected via Bluetooth, so there's no need to precisely point it anywhere. Simply just keep it nearby and using it is as easy as it should be. It runs off of 2 AAA batteries, which are not included, but easily attained.
Final thoughts
It really seems that MECOOL has knocked it out of the park with their KP2 projector. At a mid-range price-point of $400, it's a great alternative to any television and an excellent choice for those who want a very capable, Netflix-certified projector.
The built-in interface is quick to boot, smooth to operate and very easy to navigate. Everything is laid out in a simple yet well-organized manner that makes finding content to watch, a breeze. And if you'd like to hook up your own DVD player, flash drive, set top box or laptop, doing so is easy with the inclusion of an HDMI and USB port.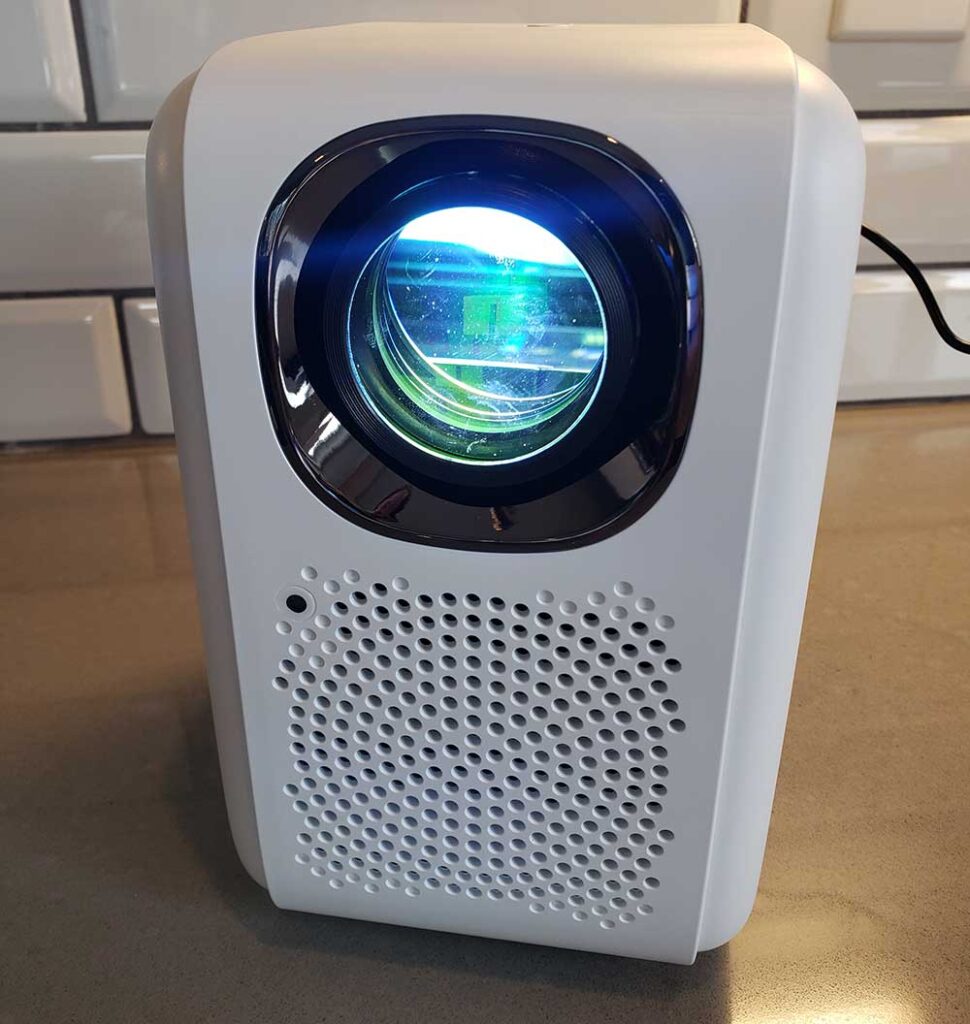 Best of all, the image quality is fantastic. No matter what kind of content you're viewing, you're assured fantastic picture quality that pops with color and clarity. Movies, games and all forms of video entertainment are a treat to enjoy on the KP2.
And with decent sound quality provided by the built-in speakers, you don't necessarily need to pair it with anything else; although it's very easy to do so, if desired.
Its quiet operation and cool performance make it an ideal choice for those looking for high-end performance at a fair price-point. Sure, it's not capable of 4k clarity, but weighing in all of the features to the minor ones MECOOL left out, I must say; it's an easy recommendation.
Best of all, the KP2 can be purchased at a 20% discount by using code "20future" on their official website.
Meet Derek, "TechGuru," a 34-year-old technology enthusiast with a deep passion for tech innovations. With extensive experience, he specializes in gaming hardware and software, and has expertise in gadgets, custom PCs, and audio.
Besides writing about tech and reviewing new products, Derek enjoys traveling, hiking, and photography. Committed to keeping up with the latest industry trends, he aims to guide readers in making informed tech decisions.