Overall Design -

7.2/10

Hard Floor Cleaning -

8.2/10

Carpet Cleaning -

5.7/10

Battery Life -

7/10
Summary
The OKP K5 is a small and affordable robot vacuum. It's effective on hard floors, but with poor performance on carpet, it may not be your everyday cleaning companion. It's fun and easy to use with a wonderful app to go with it.
Pros
Good performance on hard floors
Small size; great maneuverability
Very quiet, even on powerful mode
App interface is excellent
Does not tend to get stuck or lost
Easy to maintain
Cons
Battery life is not as long as advertised
Does not work as well on carpet
Front exterior tends to attract visible dust and hair
As an overseas brand, OKP has made a name for themselves in the robot vacuum industry. Catering towards the demographic who want affordable yet effective automated cleaning, their lineup consists of entry-level to high-end.
The new OKP K5 aims itself at being somewhere right in the middle of the pack. It's not the cheapest, but also not the priciest, but it does have a lot going for it, on paper. With an advertised 120 minute runtime, 2100pa of suction power and a compact form factor, it seemingly provides a lot. But does it really?
Over the past week, we've extensively tested the K5 and we're here to share our findings. We'll give you the run-down on whether or not it's a worthy investment or a hard-pass. Let's get right into it.
What's in the box?
K5 robot vacuum
Charging base/docking station
AC adapter
4 brushes
Extra air filter
Hair/tangle cutting tool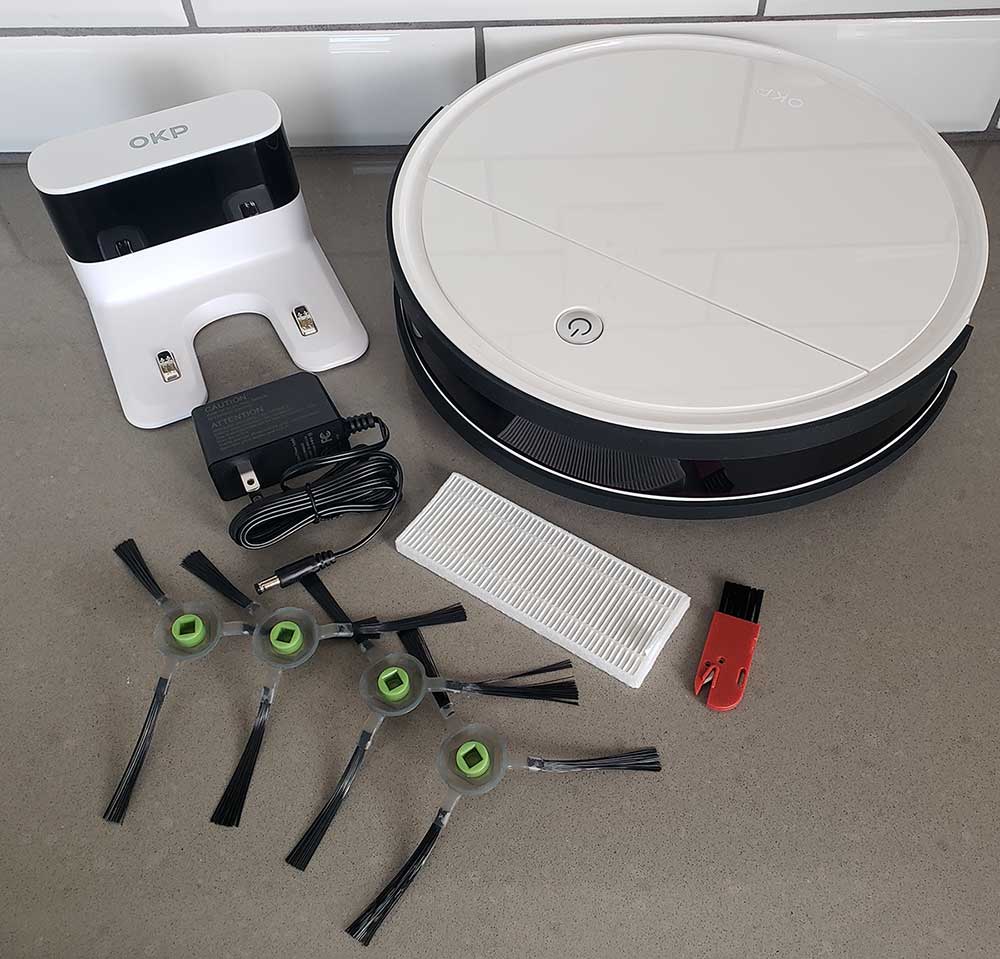 Getting started
Getting the OKP K5 up and running for the first time is a fairly simple process. First, plug-in the docking station. Turn over the robot and install two of the supplied brushes. Next, manually place the robot on the dock, making a connection with the metal contacts. Flip open the top of the robot and turn on the red switch. It'll now begin charging.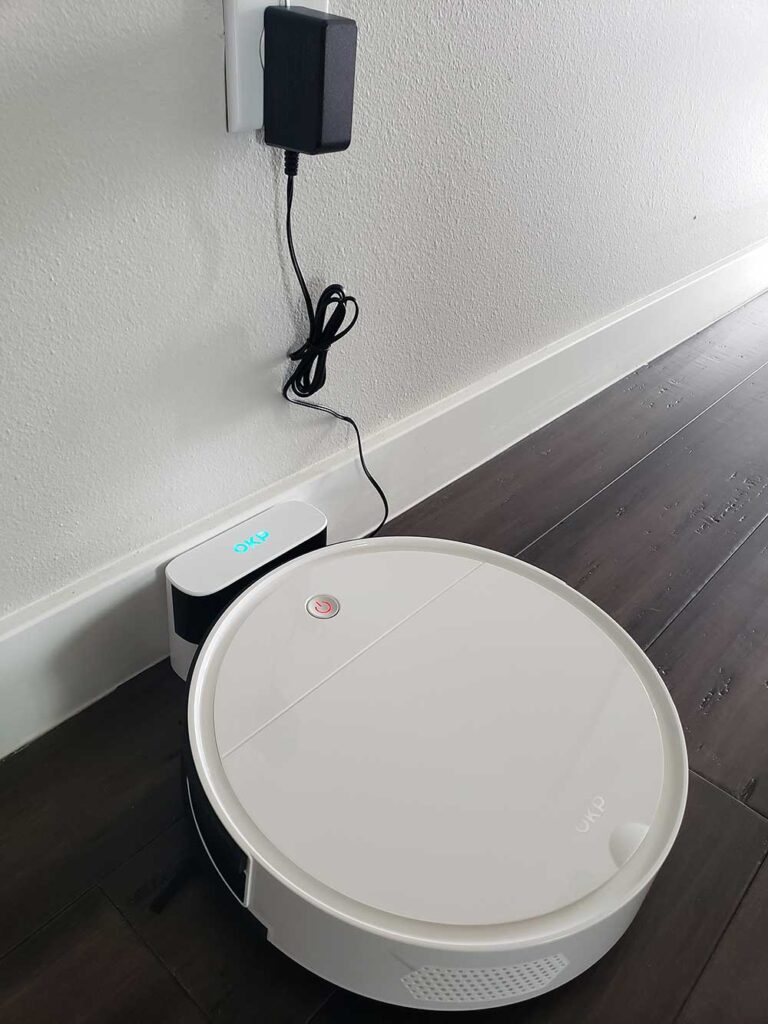 Depending on how long your unit was sitting around in a warehouse, it could take a few hours to fully charge; ours only took 30 minutes. In the meantime, using your smartphone or tablet, download and install the OKP app on the Google Play or iOS store.
Unfortunately, the app asks you for your phone number, rather than a simple email address. You'll need to verify your number through a text message. Once that's done, simply select the "K5 series" model on the list and enter your WiFi credentials. Give it a minute and it'll pair with your phone by connecting to your home network.
From the app, all of the action happens. You can name your robot, setup schedules, perform specific tasks, etc. It's all laid out in a simple, easy to digest manner that doesn't take any prior tech know-how.
Once the K5 is fully charged, use the app to start it up and let it go to town (or just around your home).
Design and layout
The OKP K5 is relatively small for its size. I was pleased to find that it measures just 11″ in diameter and only a hair under 3″ tall. Simply put, the thing is small; much smaller than your average robot vac – and that's a good thing. Its smaller stature means improved maneuverability with easier access under furniture.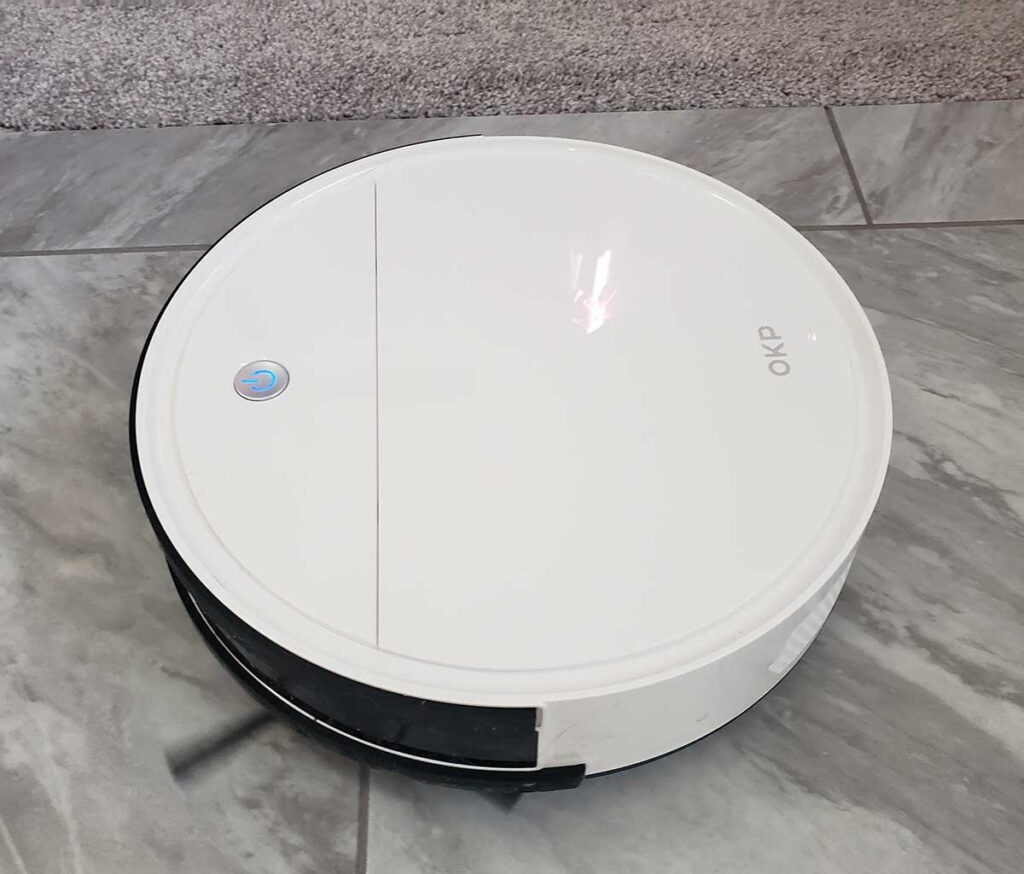 The bottom of the K5 is fairly straightforward. There's two wheels with suspension that allows it to move over edges and transitions in flooring, rug or carpet type. They provide a remarkable turning radius and grip on all types of floor; smooth, rough or bumpy.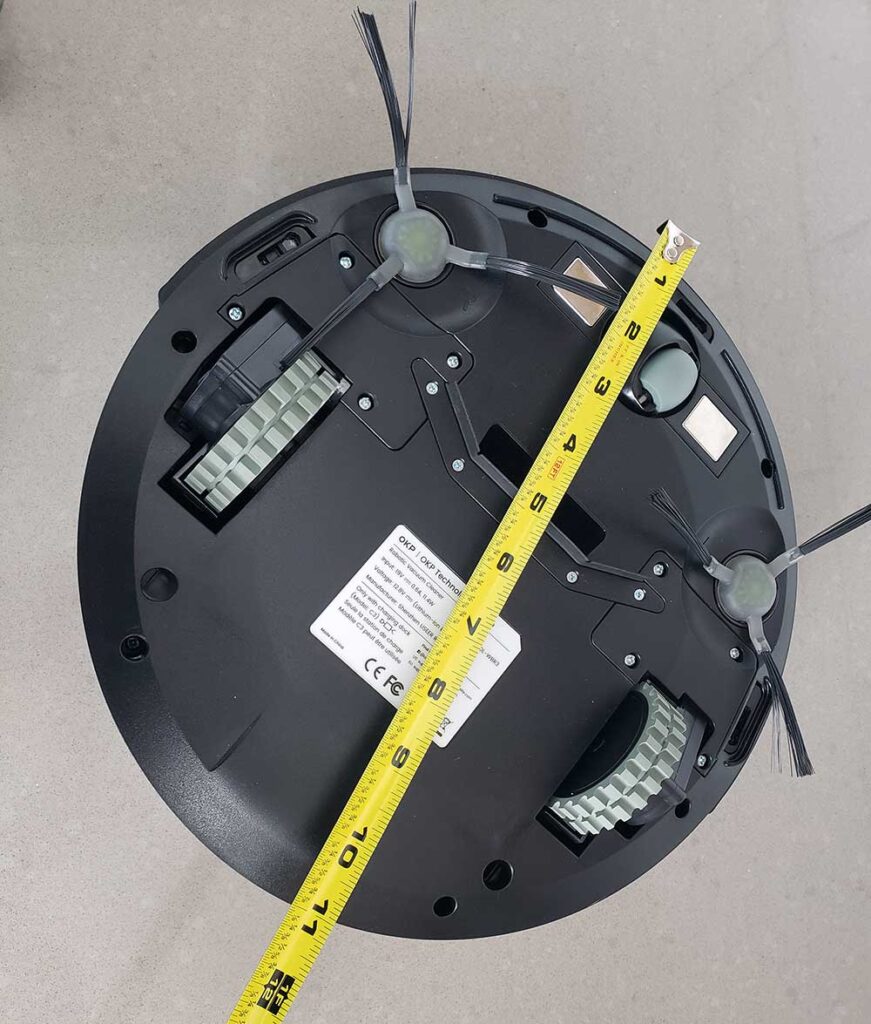 One thing that stands out the most; there's no roller brush. The lack of a roller brush means less tangled hair but it may be a slight trade-off. Without a roller brush, debris isn't drawn from deep in carpet. Rather, suction is prioritized and the primary method of cleaning, other than the two small rotating brushes on each side of the K5.
The front exterior sides are equipped with two foam pads. These keep it from scuffing anything it may come in contact with, although it typically avoids physically touching walls, baseboards and furniture. While this area does seem to become a dust magnet, it's a nice inclusion to prevent any residual damage.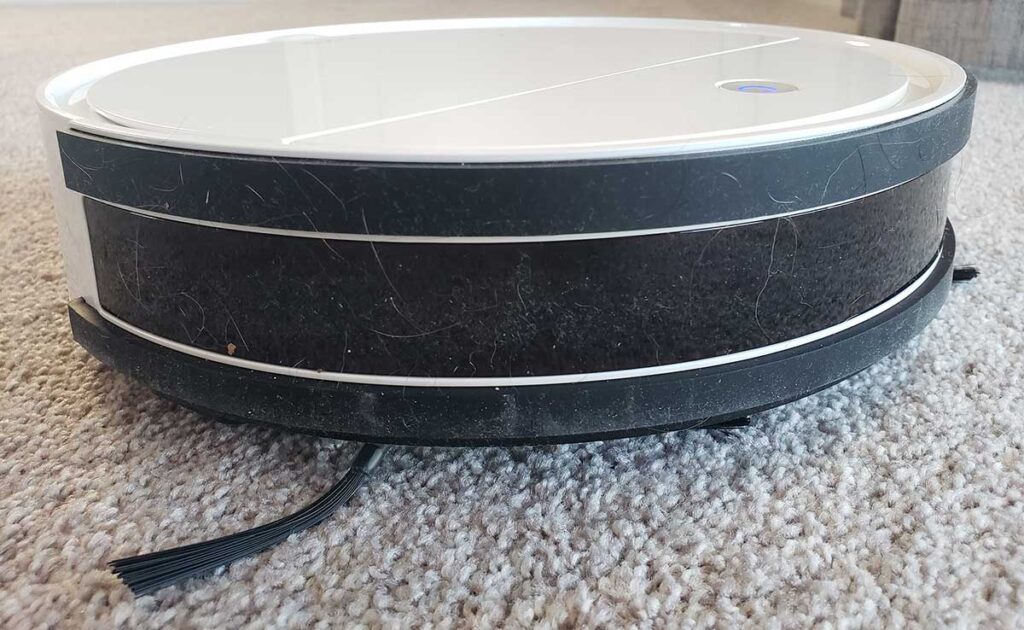 My experience using the OKP K5
Throughout a week of testing, I found myself using the OKP K5 nearly every morning, primarily in a large kitchen/dining/living room. By either pressing the physical power button on the top or opening up the app and starting a cleaning cycle, the robot gets going. Immediately, it'll begin mapping its course, visible through the app.
Through mapping the floorplan, it seemed to improve its cleaning path every time I used it, with more efficiency and less roaming around. It would work up, down, side to side throughout the main hallway, and then eventually make its way into the living area. Here, it would go underneath the couches, around each table, only lightly knocking into things, on rare occasions.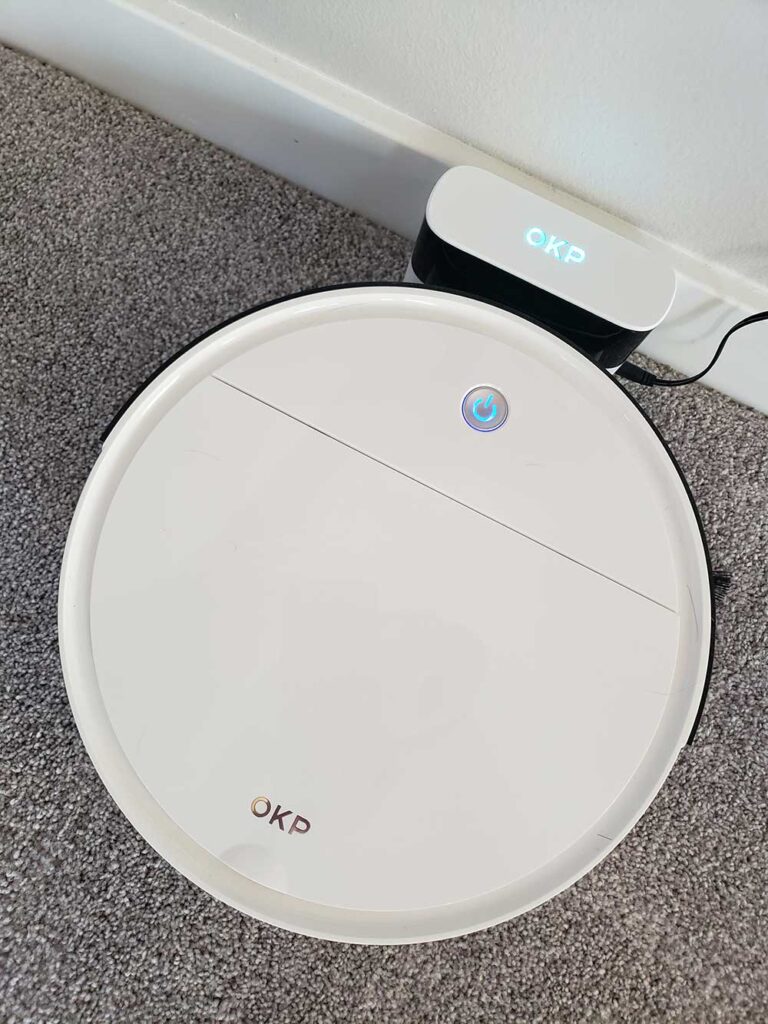 Noise level
The thing that stood out the most is the noise level. This thing is quiet! While in operation, you can't hear it in the room next door, with a door shut. In fact, I found myself constantly checking-in on it to see if it was still moving about. Each time, it was. In fact, not once did it get physically stuck anywhere. As this is a common occurrence with budget-friendly robot vacs, I'm happy to say this.
There are actually three suction levels to choose from; quiet, standard and powerful. Each one is progressively louder in order to provide more suction. With each step up, it gets louder, but not by a whole lot. Even on "powerful mode" the vac is still noticeably quieter than virtually any standard or upright vacuum and most small robot vacs in the same class.
Suction power and movement
In terms of suction power, I found it to work decent on hard floors and low-pile rugs. However, with medium-pile or plush carpet, it didn't seem to clean as effectively. Whether it's the small cleaning path or the lack of a roller brush, it didn't seem to get "deep down" even when I activated "powerful mode" in the app.
Hard floors including wood, tile and linoleum is where it seemed to shine the most. The two spinning brushes work the edges and overlap on each pass, scooting loose debris directly into the middle suction path. I could literally watch it draw-in hair, crumbs and dirt particles and leave nothing in its path. Even though the actual suction opening is only 5 inches wide, the mechanics of the spinning side brushes move everything right to it.
As stated, the three suction levels each progressively increase the amount of power it has behind it. I found myself keeping it in powerful mode through nearly every cleaning cycle. This provided the strongest suction which resulted in the best cleaning power possible. Each level provides a noticeable upgrade, so unless you're trying to maximize its runtime for a large area, I actually recommend keeping it on powerful mode as often as possible.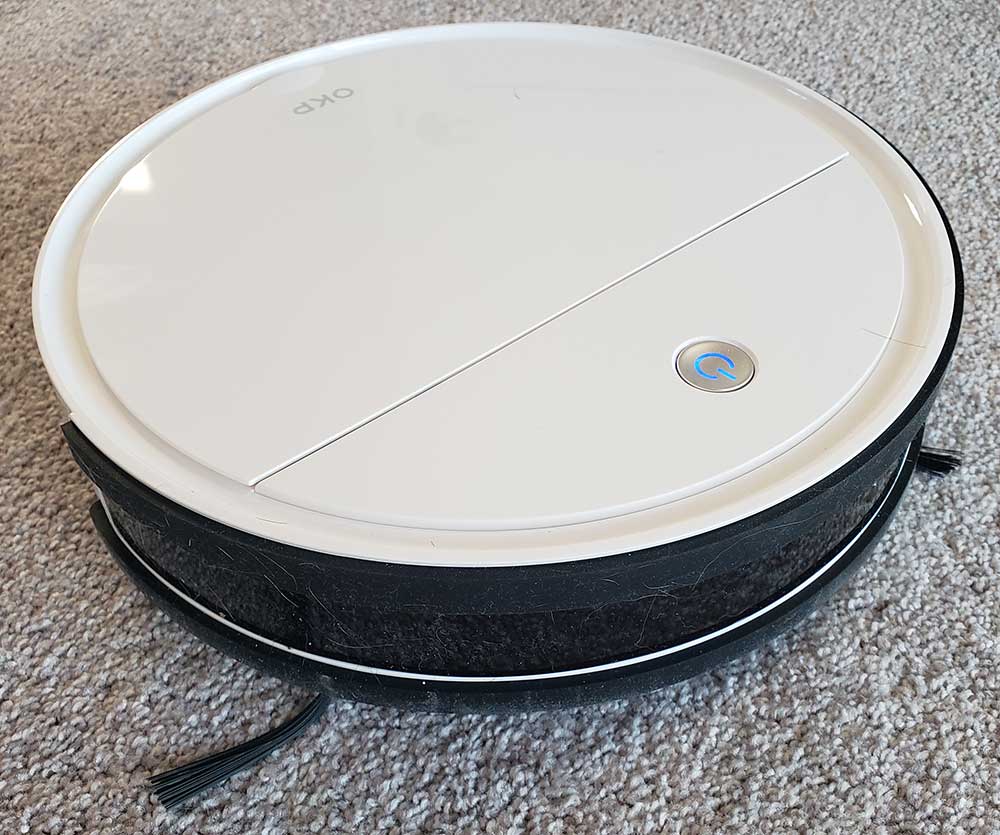 In regard to moving about, the K5 didn't have any trouble with transitions, stairs or changes in floor types. It effectively overlaps its pattern, even though at times, it may seem to move about in a random pattern.
Rest assured, when you take a closer look at the map in the app, you'll see the reason for this. Internally, the K5 is simply looking to fill-out any white areas it hasn't already mapped. While it may appear random, let it do its thing! After time, it'll usually always come back and sweep up areas it seemingly missed during the first pass.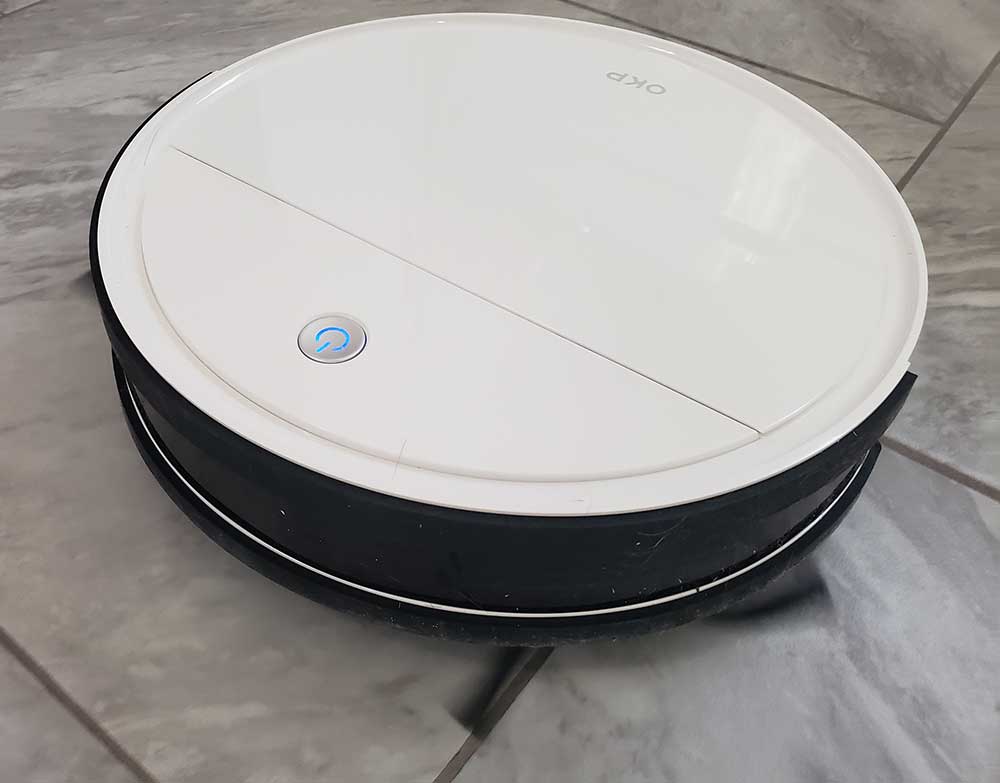 I watched it head straight for the stairs and eagerly watched-on as it teetered above them. Here, it made miniscule, precise movements that carefully avoided catastrophe. Impressive.
On bumps or uneven changes to floor types, it may have been slow at times, but it was always precise. In fact, there wasn't a single occurrence of it getting stuck, lost or confused.
Dust bin and maintenance
By flipping up the top lid, the dustbin is exposed. It's 500ml in capacity, but this is more than enough space for several days of use. Of course, depending on how dirty your floors actually are.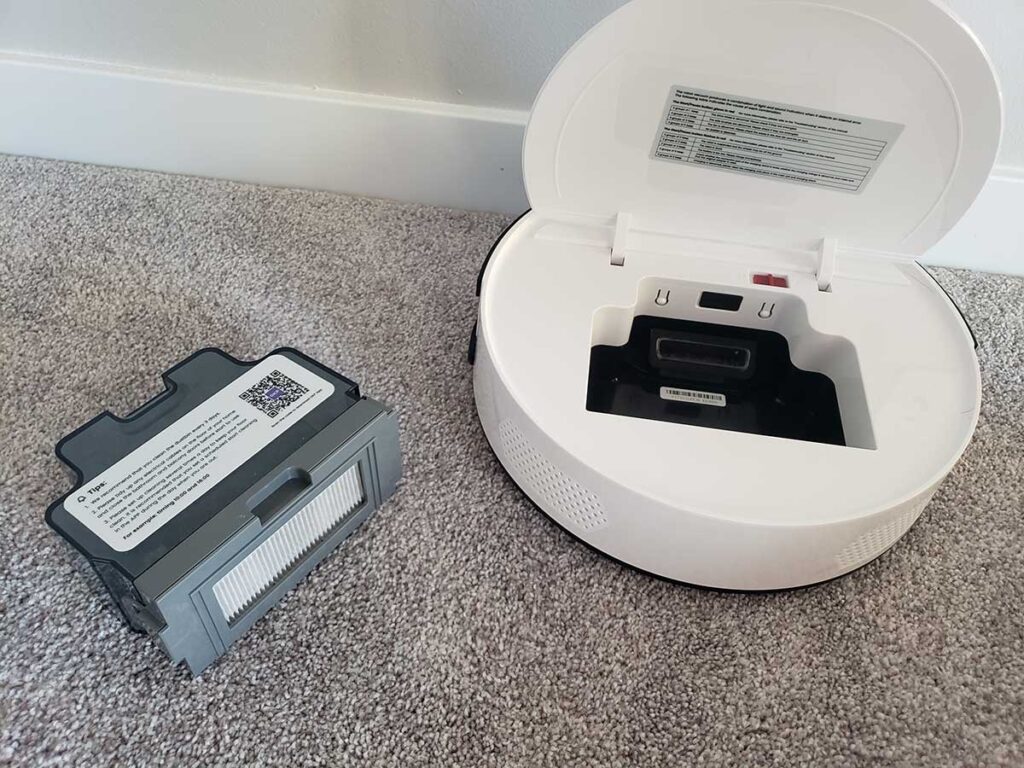 Thankfully, cleaning the dustbin is simple. Just lift it up, out of the robot and empty it over a waste basket. Careful as to not touch the small plastic flap when doing so; it'll spill debris all over the floor you just cleaned up! The first time I emptied it, I made this mistake; so do take note!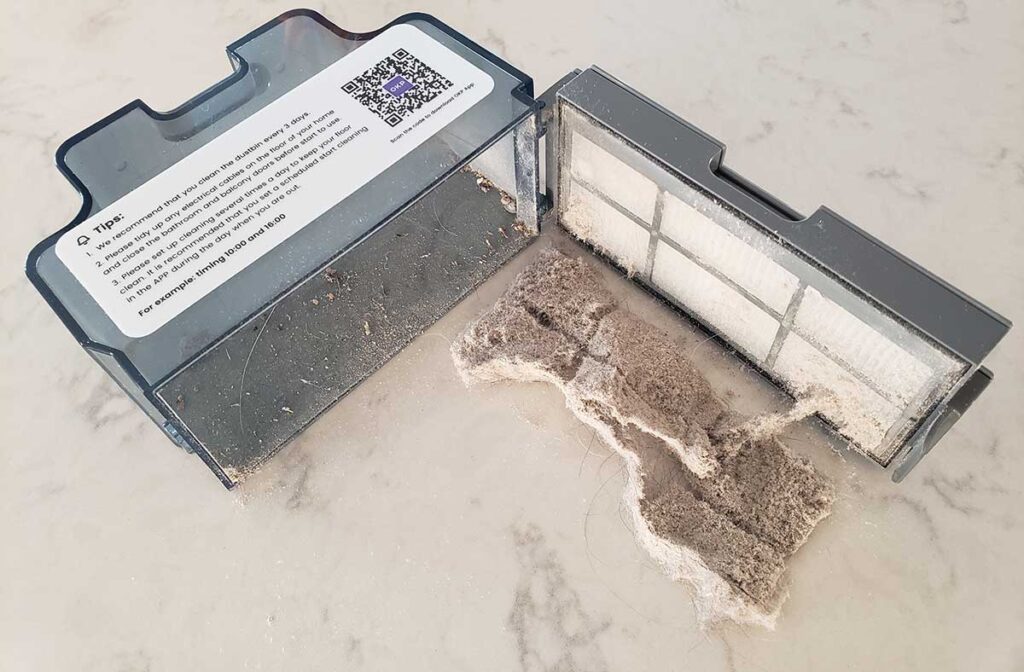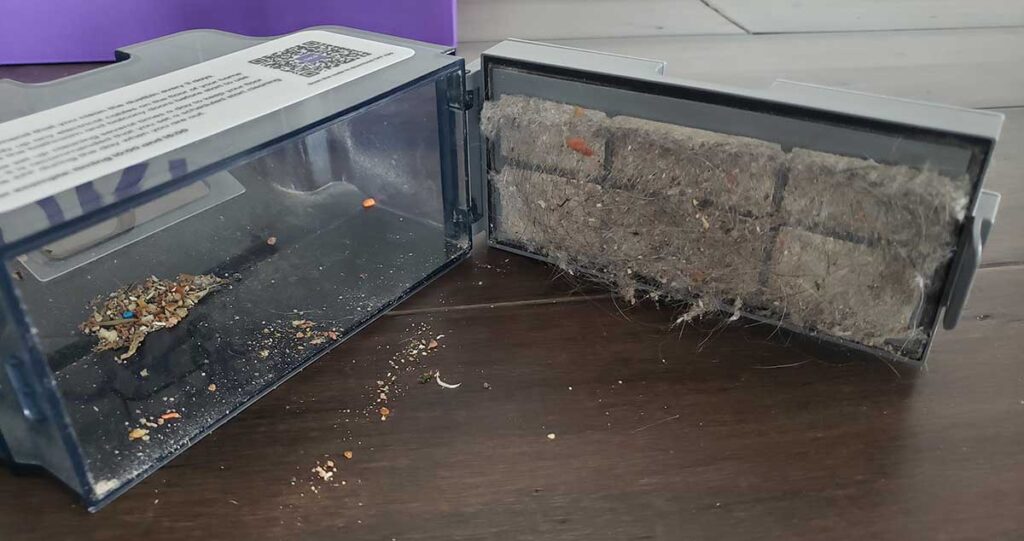 Other than emptying the dustbin after every 3-4 cleaning cycles and occasionally wiping it clean, the only other maintenance item involves the air filter and side brushes. These will need to be maintained over the life of the robot, but probably not all that often. In my week of using it, the brushes showed a small amount of fraying but they were still very usable. Additionally, the filter appeared bright white, clean as can be, since most debris is effectively trapped in a pre-filter instead.
Tangles with hair don't happen all that often. Since there's no roller brush, hair only has one place to get tangled; the spinning side brushes. But by manually removing each one, you can easily pull-out any tangled hair without needing to cut it.
Battery life
OKP advertises a 120 minute runtime. Unfortunately, I typically never experienced a runtime over 90 minutes. Even when I kept it on quiet or standard mode, it could never achieve the full 120 advertised runtime.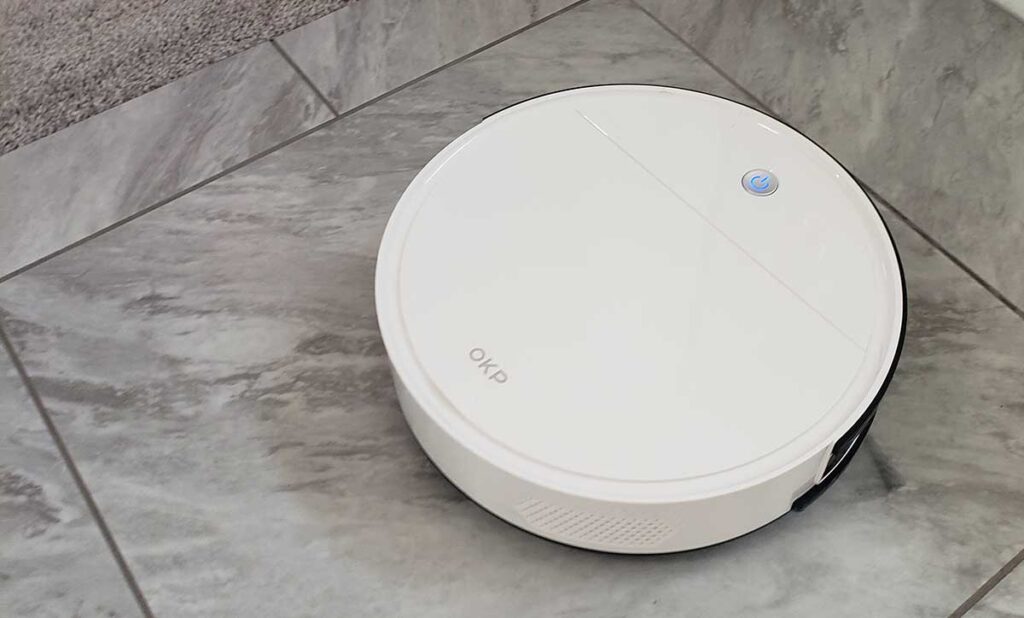 In my opinion, it's not that big of deal. 90 minutes is still plenty of time for it to clean up most large rooms without skipping over things. While it probably won't have enough "juice" to clean your entire home, it's more-ideal for keeping specific, high-traffic areas tidy.
Charging is relatively quick. From a fully drained robot to 100% charged, it takes around 4 hours on the dock. That said, it's enough time that you could theoretically use it 2-3 times during the entire day with constant use, only charging when needed.
App
The OKP app is very straightforward and simple to use. Although it does require a phone number for registration, the app lays everything out in a intuitive, easy to access manner. There's a wide range of settings to play with that add an element of fun to an otherwise mundane task.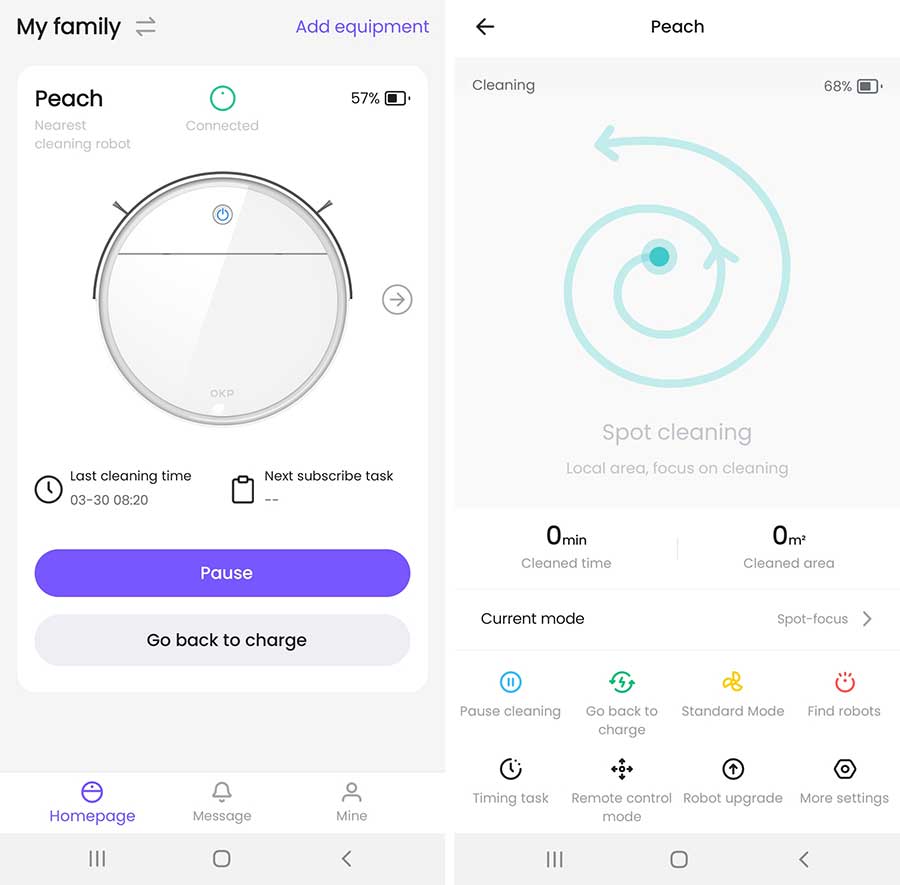 Among a slew of other things, you can configure specific schedules, instruct it to find its way back "home" and even manually remotely control it. You even gain insight into current clean time and area cleaned with access to prior cleaning sessions and maps for each.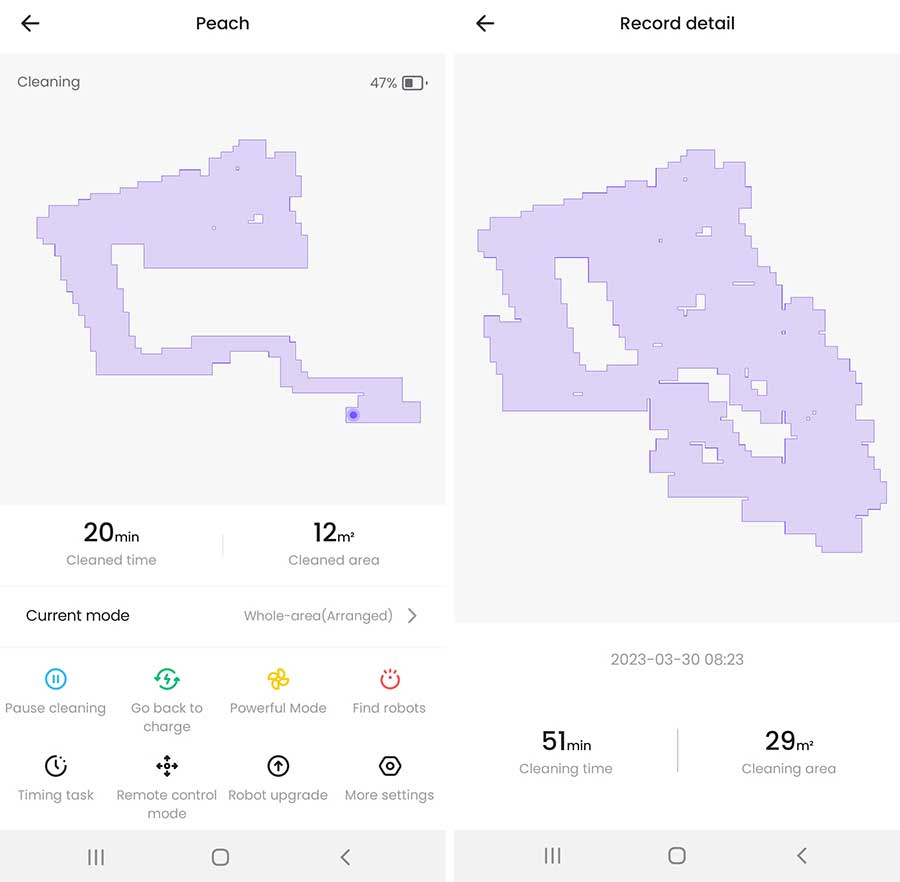 Not once did the app crash or lock-up on us. This is re-assuring. I find that a lot of these overseas apps are rarely use, not supported or simply coded poorly. Ultimately, this can result in bugs and errors that dampen the user experience. Not the case here.
While I didn't try any of the voice activation features, it's nice to see that these are included. There's support for Alexa and Google Home if you're someone who has that integrated in your home.
Final thoughts
As you can see, the OKP K5 is a small, albeit capable little robot vacuum. It may not have the kind of suction power that you're used to from a standard upright vacuum, but it's perfect for daily tidiness. It excels at cleaning hard-floors but doesn't really perform that well on carpet. I'm not sure if it's the lack of a true roller brush, or a lack of suction.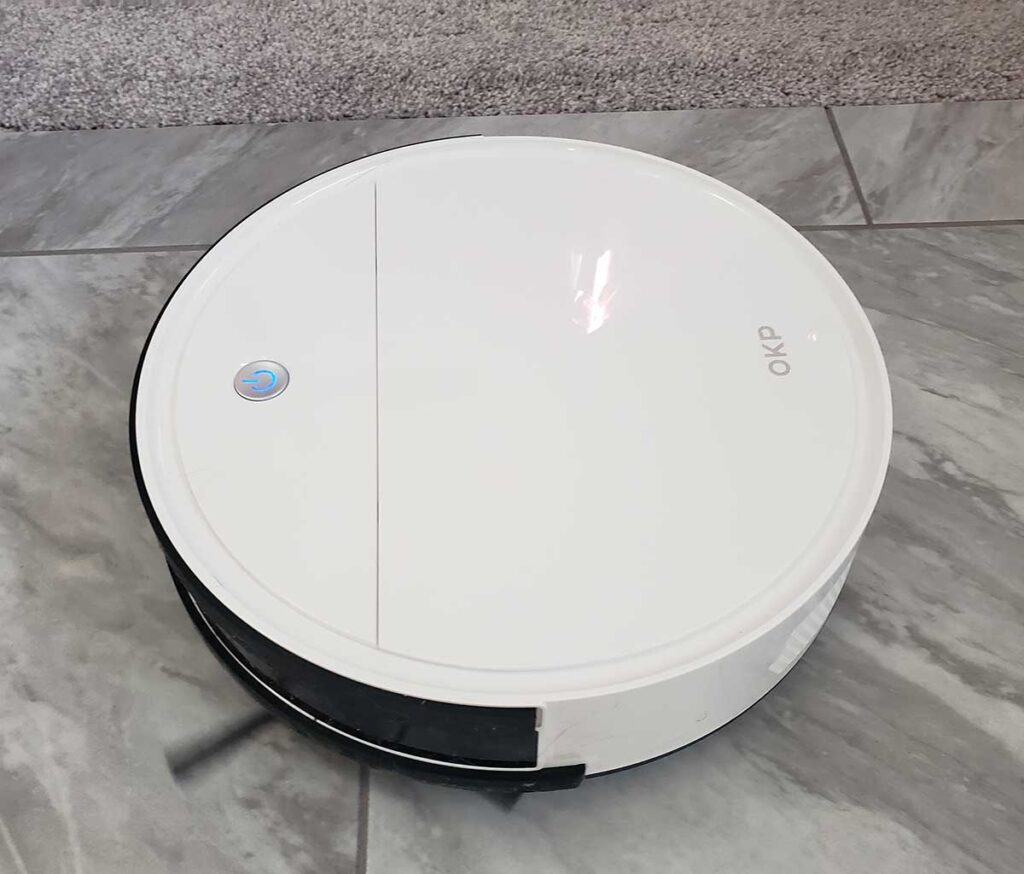 I wouldn't count on it to effectively clean every square inch of your home. However, it's a great option for medium to large-sized, high-traffic areas that may need daily attention.
The app works fantastically well. In fact, it's probably one of the more useful apps, in terms of robot vacuums. The slew of features, stats and customization it unlocks makes this not only a useful cleaning tool, but also a very fun one.
While the battery life isn't anywhere near 120 minutes, regardless of the setting you have it on, it's still acceptable for most tasks. And since it smoothly navigates without the need for constant intervention, it's not frustrating like other budget-friendly robot vacs in the same category.
Be sure to take advantage of the 80% discount that OKP is now offering on the K5. Use coupon code "80FUXN1V" at checkout when you purchase on Amazon.
Meet Derek, "TechGuru," a 34-year-old technology enthusiast with a deep passion for tech innovations. With extensive experience, he specializes in gaming hardware and software, and has expertise in gadgets, custom PCs, and audio.
Besides writing about tech and reviewing new products, Derek enjoys traveling, hiking, and photography. Committed to keeping up with the latest industry trends, he aims to guide readers in making informed tech decisions.