These days, it's only logical to be concerned about your home's indoor air quality. Over the past several decades, our homes have gotten far more energy efficient. Drafty old windows have been replaced with high-efficiency upgrades with double-paned glass. Our doors are better sealed, with weather stripping at every entrance.
And modern new homes are being built with house wrap and advanced polymer flashing. While all of this has been great for the planet, it's had some unintended consequences. Because your air doesn't cycle in and out of the house as much, it can tend to get dirtier. This is bad news if you have allergies, or if you have a chemical sensitivity. It can even cause odors to worsen and build up over time.
For these reasons and more, home air purifiers have been getting more and more popular. A good air purifier will remove allergens, odors, smoke, and a host of other airborne contaminants. That said, a lot of home air purifiers can only purify a small or mid-sized room. That's just fine if you're looking for a bedroom purifier. But what if you want to purify a larger area, like a living room? In that case, you're going to want a bigger purifier. At the same time, many air purifiers also add ozone to the air. This is medically controversial, and you may want to use a purifier that produces zero ozone.
We're about to review three of the best ozone-free air purifiers for large rooms. These are big, powerful devices that are designed to cover large areas of space. But what else do they bring to the table? To find out which one is best, we'll need to look at a number of features. We'll have to look at how they're built, and how they distribute the air throughout your room. We'll have to talk about the control scheme, and how you operate them from day to day. And of course, we'll have to discuss their effectiveness. What kinds of contaminants can they remove, and how much coverage are we talking about? Let's take a closer look, and find out!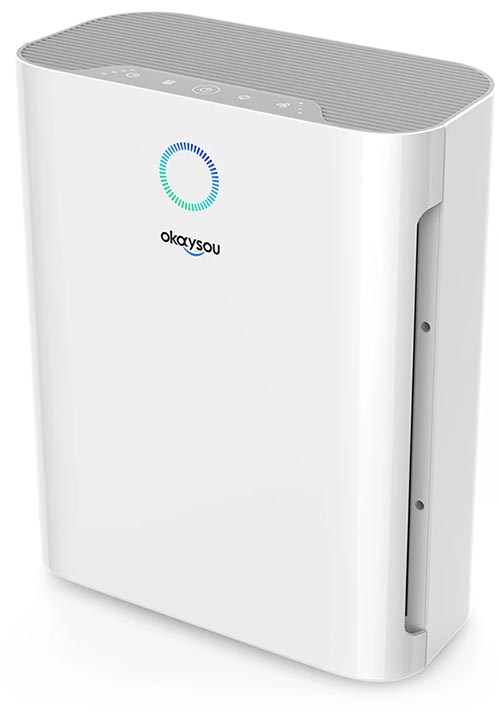 Best Overall: Okaysou Apollo 718
Okaysou is one of the most well-known manufacturers of modern air purifiers. Among their most high-performing models is the Okaysou Apollo 718.
The Okaysou Apollo 718 is built to cover as much area as possible. It's accordingly big and beefy, at 17.32 inches tall, 13.78 inches wide, and 8.47 inches thick. It also weighs 9.68 pounds. That's the lightest of today's three options, but it's pretty sturdy as air purifiers go. The white housing has a glossy finish, and a rectangular profile with rounded corners. The intake vents are located just behind the front panel, near the front of the sides. Meanwhile, clean air is released through vents in the top of the housing. As long as the intake and outflow vents are unobstructed, you'll get excellent air flow and distribution.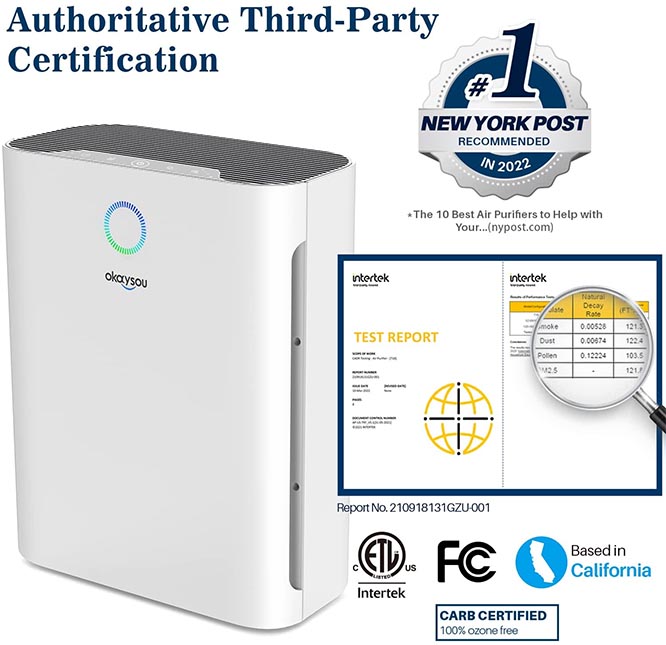 There's an LED light ring on the front panel, which changes color based on the current air quality. The rest of the user interface is located at the top of the housing, at the front of the outflow vent. Here, a row of five backlit soft touch buttons gives you all the control you'll need. The leftmost is a timer button, which is used to add time in 2-hour increments, up to eight hours. The next button is a filter reset, which lights up when the filter needs to be changed. The third button is a power button, which is self-explanatory. The fourth button is used to shut off the backlights, an essential function for the bedroom. The fifth button can be tapped to adjust the fan speed.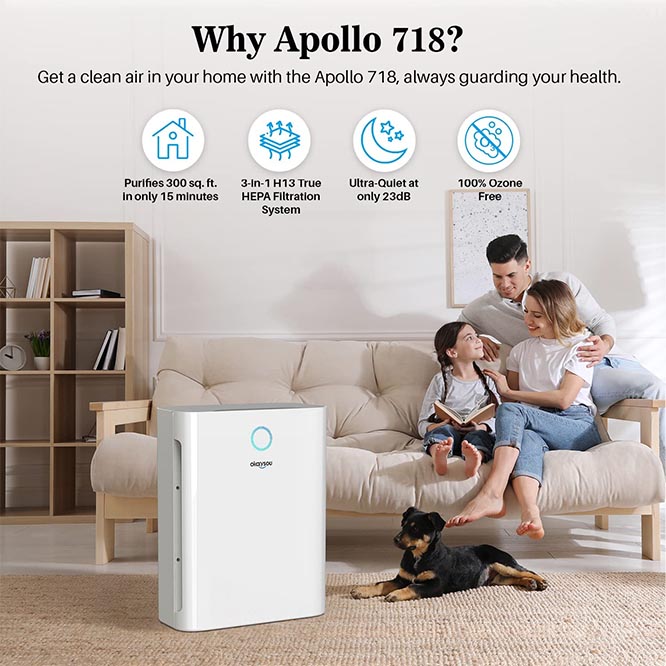 Performance and Effectiveness
The Apollo 718 can either be left on or used in a timer mode. In either mode, you can switch between three different fan settings. In addition, there's a fourth sleep mode which will drop the motor to a whisper-quiet 23dB. At higher settings, you'll have a correspondingly higher volume.
This purifier is rated to cover 800 square feet of space. That's a very large area, more than almost any home air purifier on the market. You can cover multiple rooms with ease, and you can completely cover most one-bedroom apartments. Keep in mind, though, that this rating assumes standard 8-foot ceilings. If you've got cathedral ceilings, you'll get 25% less coverage.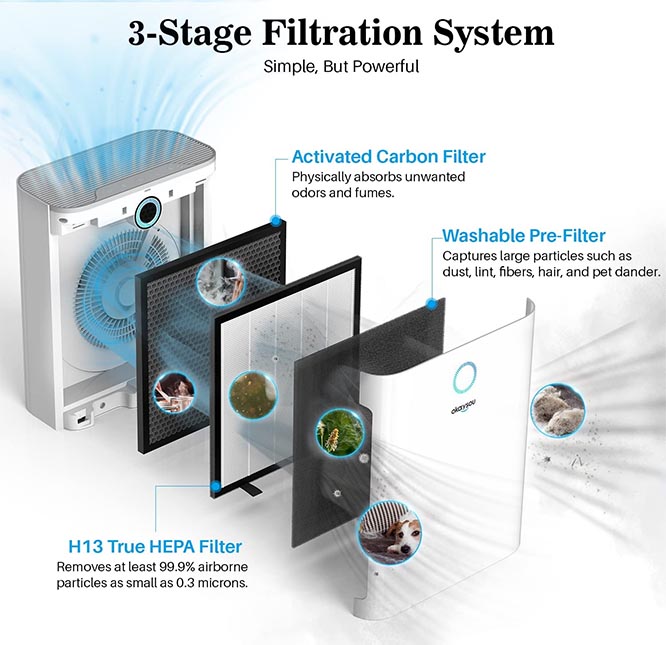 The filtration system consists of three layers, with a pre-filter on the outside. This pre-filter collects most dust, pet fur, and other large debris that could clog the main inner filter. The inner filter is a HEPA 13 filter, which removes 99.9% of particles as small as 0.3 microns. Pollen, mold spores, and other allergens are no obstacle.
The third layer is activated carbon, and removes many odors and VOCs. It's particularly effective for animal odors, such as rodent cages and litter boxes. All three layers can be removed and replaced separately. This offers significant savings over a cartridge-type system, where all components are replaced simultaneously.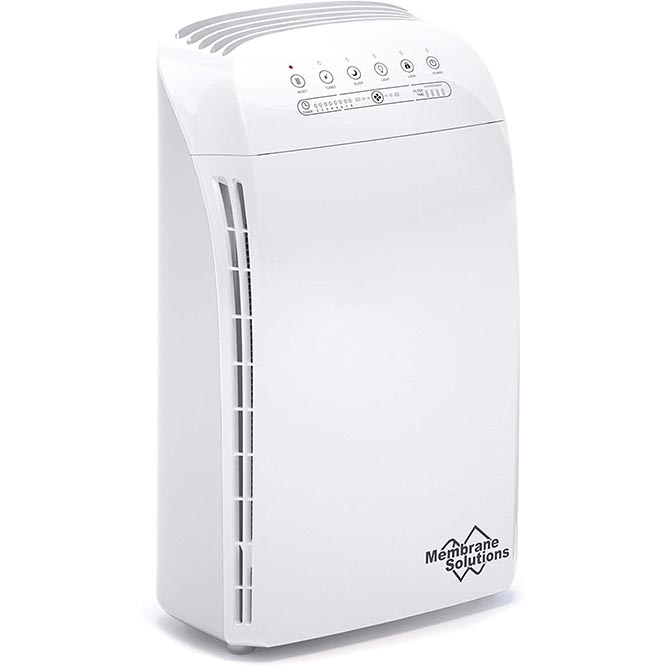 Best Runner-Up: Membrane Solutions MSA3
The Membrane Solutions MSA3 Air Purifier has a large housing constructed from glossy white plastic. The shape is irregular, with a largely rectangular profile and a curved, swept-back front and top. The overall size is 21.4 inches high, 13.1 inches wide, and 7.6 inches thick. At 13.6 pounds, it's heavier than our other two options, although not by much. Like the Okaysou purifier, it has intake vents around the front sides, and clean air flows out through the top. This allows for even air distribution, provided the vents are left unobstructed.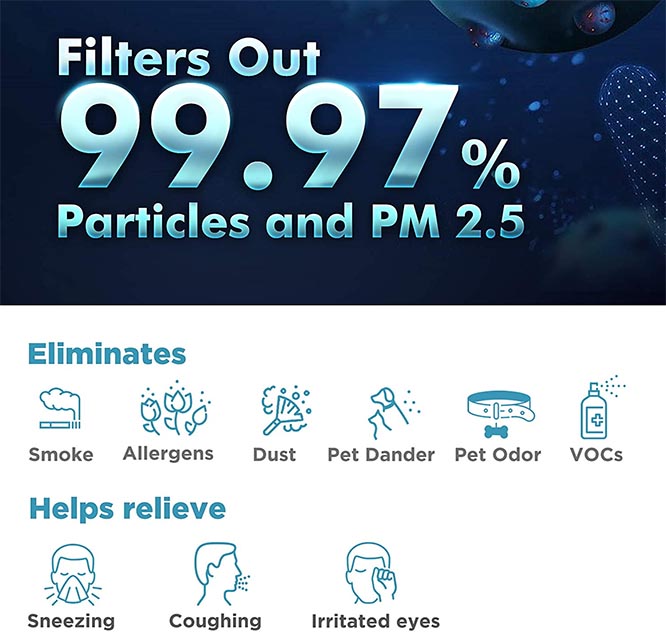 Near the top, there's a control panel with a row of six soft touch buttons that perform all the controls. The far right button is a power button, while the second from the right activates the child lock. The third from the right turns the indicator lights on and off, which is useful when you're trying to sleep. The third button from the left activates the actual sleep mode, and the second activates turbo mode. The far left button serves as a filter reset.
Beneath all these buttons, there's a display, with a row of lights that indicate your current status. To begin with, there's a timer display, so you know how many hours are remaining. In the middle, there's a fan strength meter, with a speed control button in the center. At the right, there's a four-bar meter, which estimates how much filter performance you have remaining.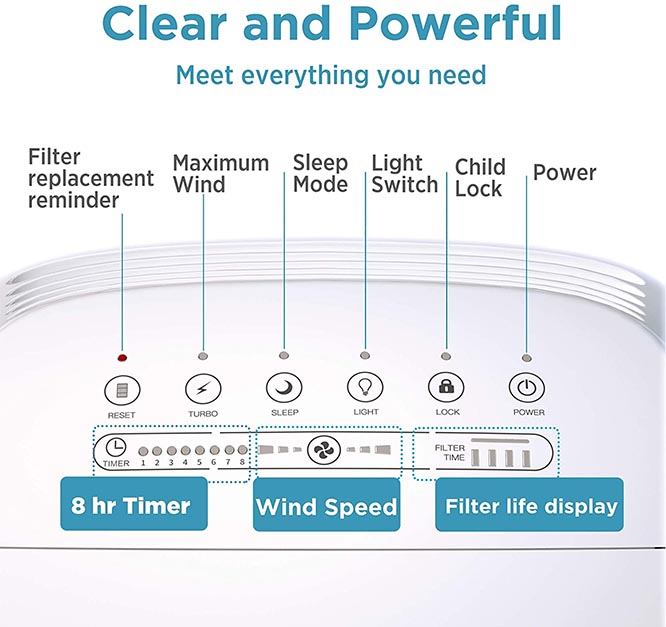 Membrane Solutions offers a two-year warranty, so you're well protected from any premature failures. Along with that, you get a 90-day no-questions-asked return window. If you decide you don't like it, simply ship it back.
Performance and Effectiveness
The MSA3 has three different speed settings, with correspondingly different noise levels. On the lowest setting, the volume is only 25dB, literally whisper-quiet. On the highest setting, it's 47dB. That's still quieter than ordinary conversation, so it's not distractingly loud. The total coverage area is a maximum of 840 square feet, which is pretty impressive. If you want much more than that, you'll have to use a whole house air purifier.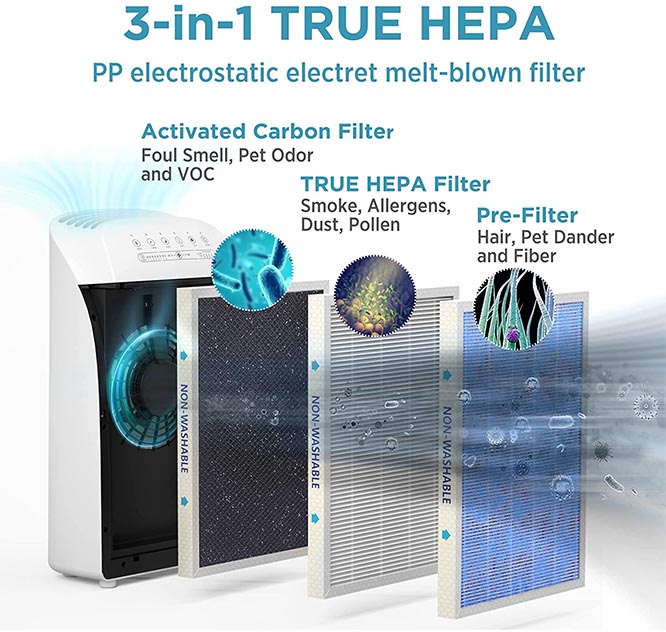 You're looking at a very effective filter system, with a three-layer assembly. The pre-filter removes most dust, dander, and other large debris. Meanwhile, the HEPA filter is almost as effective as the Okaysou purifier's. It removes an impressive 99.97% of particles down to 0.3 microns. This includes pretty much any kind of particle or allergen you can think of. There's also a charcoal filter, which works the same as the last purifier's. And like the Okaysou, all three filter sections are separate, so you can replace them individually as needed.
But what if you want to trigger your air filter remotely? In that case, you'll want an app-enabled purifier like the Xiaomi Mi Air Purifier 3C. This filter comes with app controls, as well as remote air quality monitoring. On the downside, it's not as powerful as the MSA3, and the filter comes as a single all-in-one cartridge.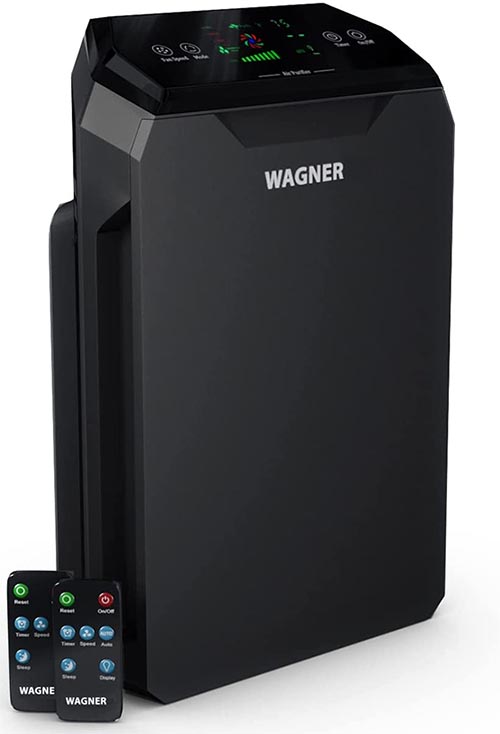 Best Alternative: Wagner & Stern WA777
The Wagner & Stern WA777 comes in black and white options, and has a truly unique design. It's largely rectangular, but there are multiple cutouts and angles that make it look like a modern art piece. The overall size is 24 inches high, 16 inches wide, and 9 inches thick, so it's bigger than the others. Also like the others, it sucks air in through vents in the front sides, and expels it through the top. That said, at 12.5 pounds in total weight, the WA777 is slightly lighter than the MSA3.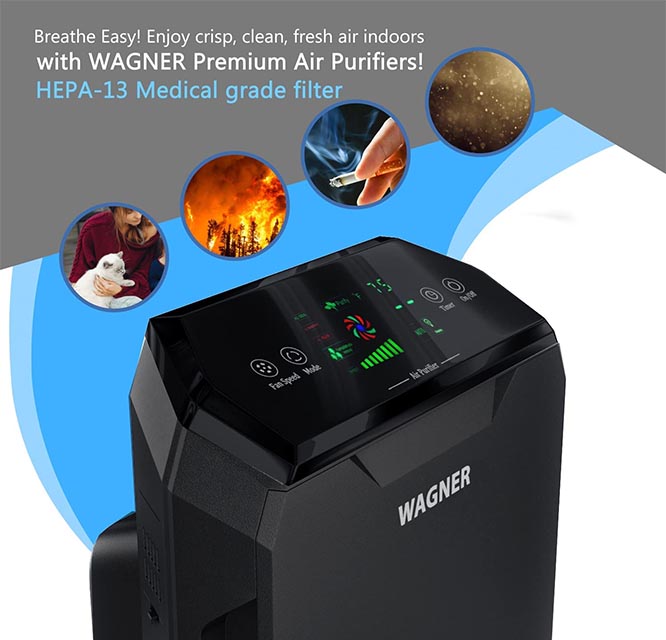 The display panel is colorful and futuristic. Instead of a simple LCD or indicator lights, there's a slew of data in green, blue, and red. Here, you'll see the current fan speed setting, as well as the current operating mode. There's also extra data, including the temperature and air purity. As a result, you're getting a complete readout of your current air quality.
There are four control buttons, split to the sides of the display. All four have a soft touch design, so they're easy to activate, but there's no tactile feedback. On the left, the first button controls the fan speed, and the second controls the operating mode. On the right, the first button changes the timer setting, and the second turns the power on and off. The kit also includes a set of small wireless remotes, with all the same functions. If you'd rather control your air purifier from across the room, you'll be able to.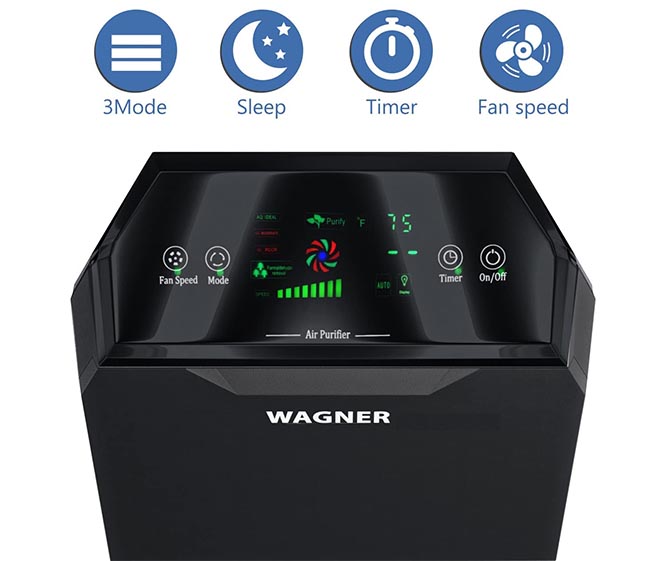 The WA777 comes with an impressive three-year manufacturer's warranty. This gives you the confidence that it will last at least as long as any of the competition.
Performance and Effectiveness
The Wagner & Stern WA777 has a little bit less coverage area than our last two options. In total, it's rated to treat 500 square feet of space. That said, you're looking at an impressive amount of filtration. Instead of going down to 0.3 micron, this HEPA filter removes 99.97% of everything larger than 0.1 micron. This includes bacteria, and even the vast majority of viruses. It's important to point out that this does not make the WA777 a medical-grade air purifier. Medical-grade purifiers have additional requirements, which this one doesn't necessarily meet. That said, you're getting an extreme level of filtration.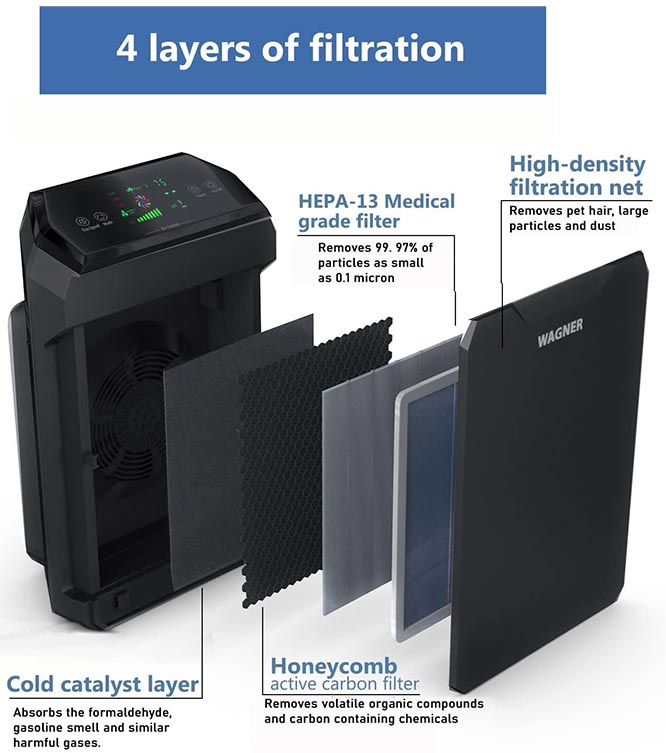 The pre-filter doesn't bear much mentioning, nor does the activated charcoal layer that comes after the HEPA filter. However, there's an additional component that we should mention. Following the charcoal filter, your air flows through a special catalyst that removes odors. It also removes many harmful gasses from the air. Like the other two purifiers, the WA777's filter layers can be replaced separately. This is even more important with a four-step system than it is with a three-step system.
Of course, odor removal is just the first step of making your home smell good. The next step is to provide a soothing aroma to replace the stink. If that's what you're looking for, consider the Elechomes OX300. It has relatively limited coverage, but the built-in essential oil diffuser is great for bedrooms.
Choosing the Best Ozone-Free Air Purifier
So, which of these ozone-free air purifiers for large rooms is the best of the bunch? Here's what we've found. The Okaysou Apollo 718 has 800 square feet of coverage, which is enough for most people's needs. Its HEPA 13 filter is extremely powerful, and the three stages can be replaced separately. We also liked the ultra-quiet sleep mode, which is quieter than most purifiers with similar functions.
The Membrane Solutions MSA3 Air Purifier has the largest coverage area, at up to 840 square feet. It's also easy to use, with straightforward controls and soft buttons. The design is contemporary, and the filter system meets True HEPA standards. And with its quiet motor, it won't keep you up at night.
The Wagner & Stern WA777 has less coverage than the others, at "only" 500 square feet. However, the ability to filter particles down to 0.1 micron is a huge point in its favor. Not only that, but the fourth odor-removing filter stage was a welcome bonus.