Gloves are an essential part of any cold weather wardrobe. Especially in extremely cold conditions, having something to protect your hands is very important. To get around the need for bulky gloves that are hard to maneuver, a growing number of people are opting for thin heated glove liners.
Heated glove liners are thin gloves that are designed to be worn underneath a pair of regular gloves. They're equipped with heating elements that can be activated to provide warmth to the hands in cold weather. This means you can still use your favorite pair of gloves regardless of how cold it actually gets.
Benefits of Using Thin Heated Glove Liners
Efficient warmth and comfort in cold temperatures.
Easily worn underneath your favorite pair of heavier gloves.
Adjustable heat levels for different environments.
Use low-voltage batteries for efficient, long-lasting heat.
Can be worn as a standalone pair of gloves.
Factors to Consider When Selecting the Best Pair
Size: Make sure they fit well while being comfortable for extended periods.
Heat level: Adjustable heat levels let you select the proper amount of warmth.
Battery life: Consider how long the batteries will last and whether they can be easily replaced or recharged.
Durability: You'll want a pair that's made with durable materials and are built to last.
Price and Value: Compare prices from different retailers and consider the features and benefits of different options.
Brand reputation: Research the brand and read reviews from other customers to get an idea of the quality and reliability.
Best Overall: Sun Will Heated Glove Liners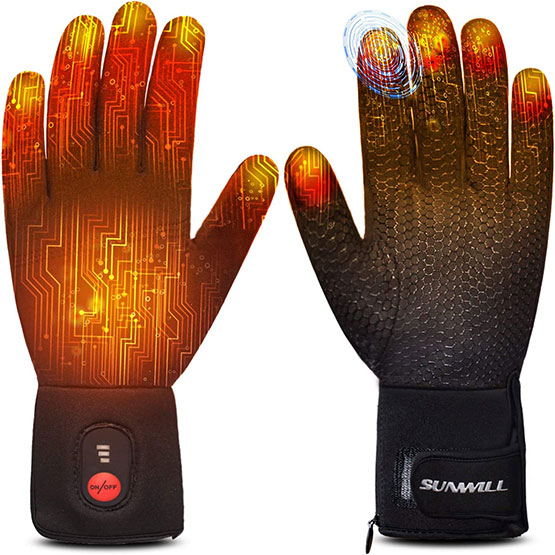 Key Features:
Polyester, Lycra and fleece material.
Machine washable.
Rechargeable 2200mAH batteries.
Storage bag included.
Touch screen compatible fingers.
Up to 7 hours on the lowest setting.
The Sun Will Heated Glove Liners provide a solid all-around option that offer the greatest versatility of the many options we tried. With a large heating element along the back of the glove that extends to the fingers, they provide a fully immersive heating experience. There are three temperature settings that are easily controlled by a single button the inside of the wrist strap.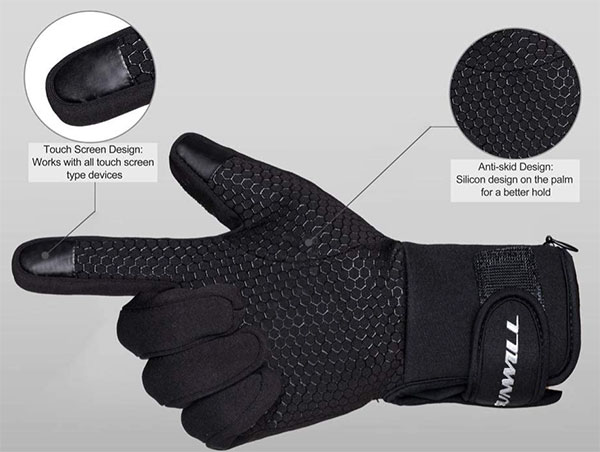 The interior is lined with a soft fleece material that gives enough breathability to reduce excess sweating. The outside is comprised of a combination of polyester and lycra that provide the right amount of grip for most things. A unique feature is the adjustable wrist strap that locks the liner in place. Most heated glove liners don't have this. Thankfully, the wrist strap is strong but has enough flexibility to avoid any issues with circulation.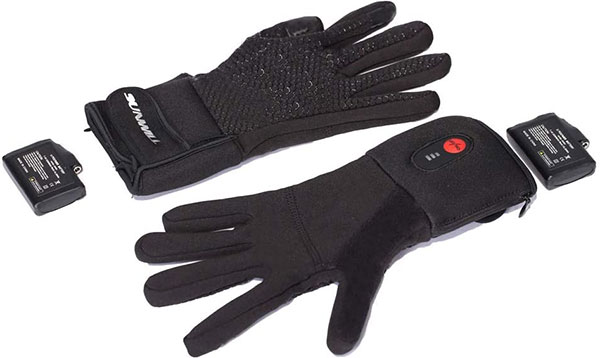 For those that want quick access to their smartphone, the fingertips are optimized to work with screens. This allows you to check emails and text messages without exposing your hands to the elements. These provide a high level of responsiveness and work equally well with all touchscreens.
Each glove comes with a 2200mAH rechargeable battery that can last up to 7 hours on the lowest setting. Our testing showed that heating time dropped drastically when it was left on the highest setting but still lasted longer than others we put through the same tests. Best of all, charging them from empty to full took just over an hour with the provided AC adapter.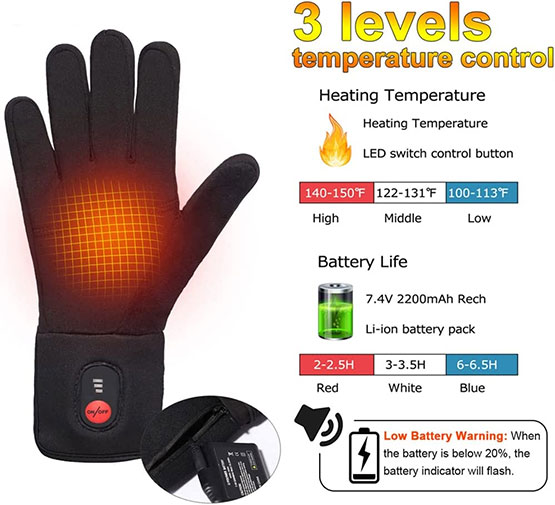 The Sun Will Heated Glove Liners come with all the items you'll need to put them to work right away. The kit comes with a dual charger, two batteries, a carrying bag and simple instructions. Overall, we feel that they're a great option for most situations including outdoor sports and extreme weather camping. Best of all, they pack a lot of heat into a small form factor, making them a great complement to whatever gloves you place overtop of them.
What We Liked:
Breathable material.
Fleece-lined interior is comfortable.
Single button control is easily accessible.
Wrist strap is easy to adjust.
Compact battery size.
Optimized to work with touchscreens.
What We Didn't Like:
No sizing guide provided.
Best Runner-Up: Dr.Warm Heated Gloves Liners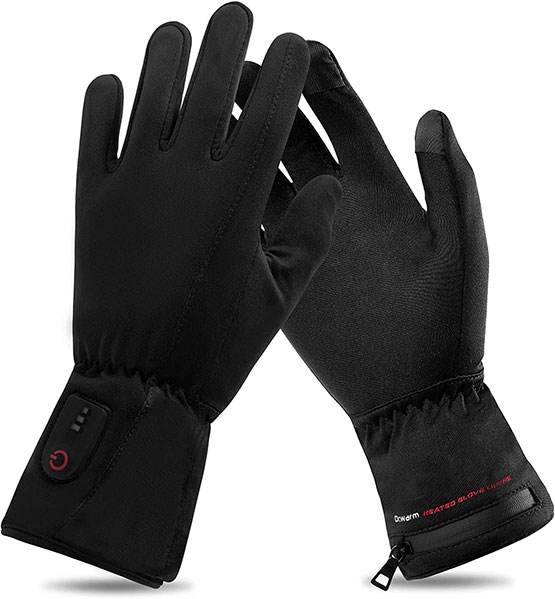 Key Features:
100% polyester.
Far infrared fiber heating elements.
Three temperature settings.
Touchscreen compatible.
Rechargeable 2200mAH battery.
Heats up to 8 hours on the lowest setting.
As another great choice, the Dr.Warm Heated Gloves Liners are extremely low profile from fingertips to wrists. These may be a better option if you're looking for a pair that's less bulky around the wrist. While they don't come with a wrist strap, they use an elastic band to keep them steadily in place. Additionally, the materials have an elastic feel to them, providing a snug fit all around the fingers and hands. We feel that this easily offsets the lack of a wrist strap.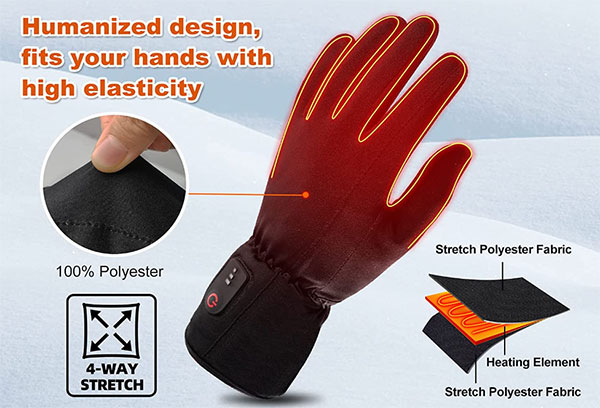 The infrared fiber heating elements are impressive. The fibers are thin and laid out in a way that provides maximum flexibility in the areas where you need them the most, tapping into the full capabilities of the elastic fabric. Overall, this made a big impact on the resulting fit and comfort. Like the Sun Will gloves, these have touchscreen compatible finger tips for using your phone's screen without the need to take them off. Even when using them in sub-zero temperatures, the fingertips still offer a responsive experience.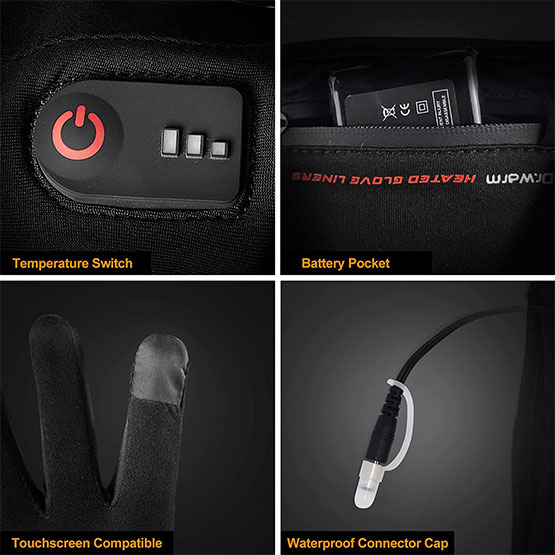 For heat and battery life, at the lowest setting, the Dr.Warm provide up to 8 hours of heat on a single charge. One benefit we noticed was that the "all over" layout of the heating elements made even the low setting setting suitable for most freezing conditions. In fact, we rarely felt the need to go higher than the medium temperature setting. Simply put, this can be an enormous advantage for battery life.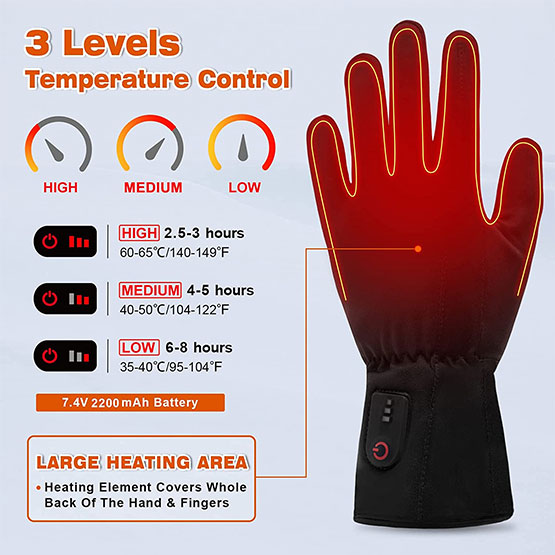 The form factor of the 2200mAH battery is smaller than most of its competitors and it slides easily into the battery pocket. In situations when you want the liners as an extra layer and don't necessarily want to use the heating function, the waterproof connector cap keeps the battery cable sealed while not attached to a battery. We feel that they handle low battery levels well, providing an even heating experience until completely empty.
On the Dr.Warm Heated Gloves Liners, the power and control button have three LEDs to clearly indicate which heating setting is activated. The single button design makes it easy to control without hunting around for the right button to press. Keep in mind that the power button sits on the top of the wrist as opposed to underneath. Depending on your preference and uses, this may be a better option.
What We Liked:
Elastic glove material provides ideal flexibility.
Energy efficient heating elements.
Easy to operate temperature settings.
What We Didn't Like:
Lack of a wrist strap may not be ideal for high intensity activities.
Best Alternative: Savior Heat Heated Glove Liners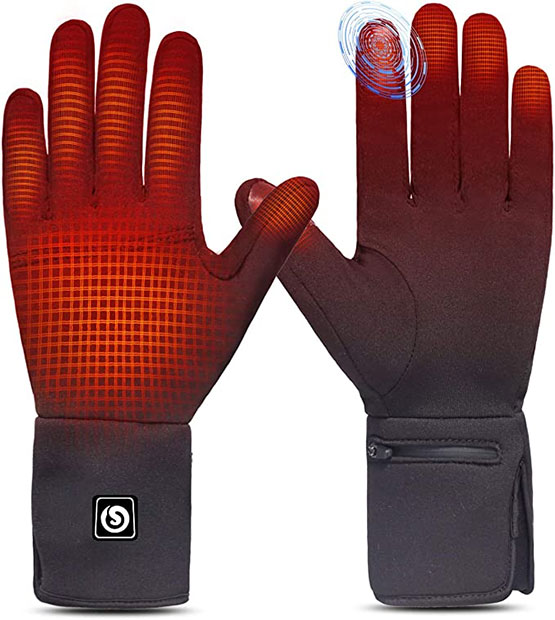 Key Features:
Lycra and fleece material.
2000mAH rechargeable Li-ion battery.
Three temperature settings.
Touchscreen compatible.
Heats up to 5-6 hours on the lowest setting.
With the Savior Heat Heated Glove Liners, the first thing we noticed was how soft the interior fleece lining was. Glove liners need to be comfortable and able to be worn for long periods of time. We were impressed how the combination of Lycra and fleece could wick moisture away from your hands, even after several hours of outdoor activities.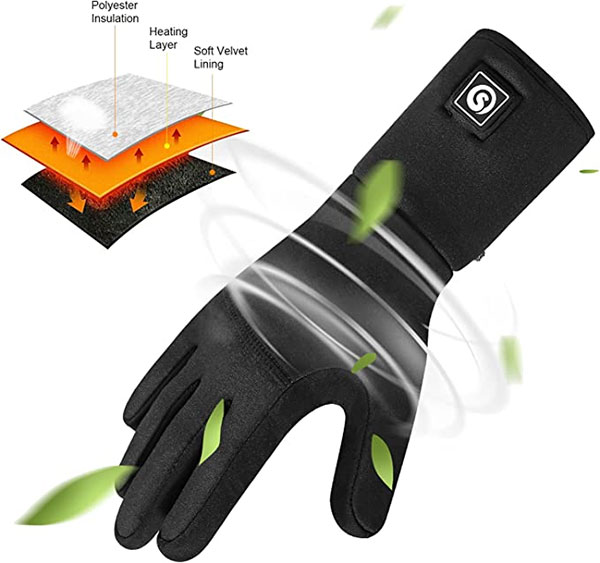 These glove liners are one of the thinnest options available, which is great if you intend to layer them with other gloves that are on the smaller side. Just like the two aforementioned options, the fingertips are touchscreen compatible. However, some users mention responsiveness issues at lower temperatures below ten degrees Fahrenheit. It's worth mentioning that there were only a few users that had this issue.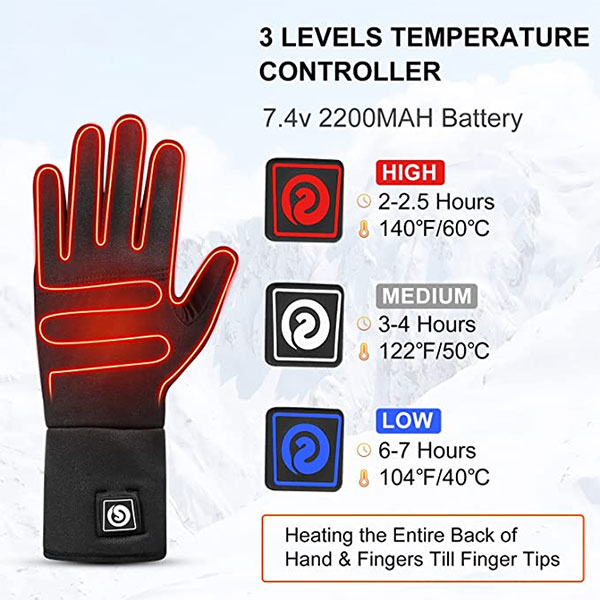 Like the Dr. Warm glove liners, the Savior Heat places the power and control button on top of the wrist area. While the control is highly responsive, it isn't overly sensitive, where you could accidentally press it while moving around. Even though they don't have a wrist strap, we feel these liners are able to stay in place with little issues, especially if you select the proper size. The form factor of the battery is relatively slim and located on the inside wrist of each glove.
At 2000mAH, the battery capacity is slightly less than our previously featured liners. When directly compared, this equates to a loss of up to two hours of run time. That said, many users state that they prefer the comfort and lack of bulkiness that comes with the smaller battery size. We found that the lowest temperature setting performed very well and we rarely felt the need to use the max setting.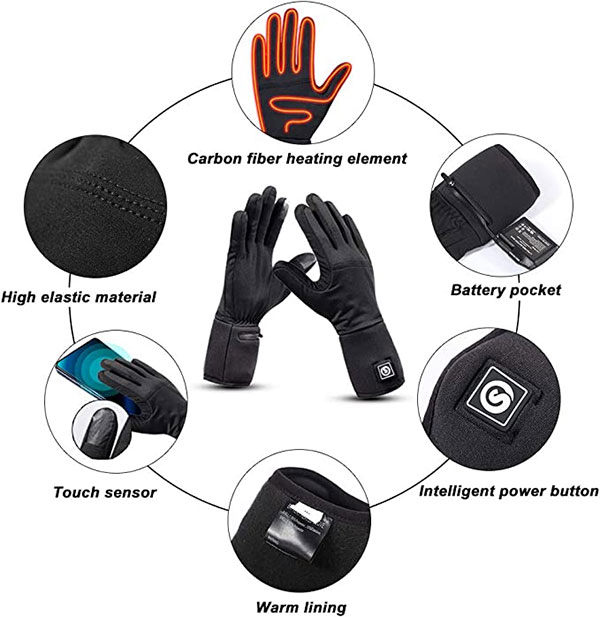 Overall, the Savior Heat Heated Glove Liners are a solid option for anyone looking for a slim-fitting glove liner that can easily be worn for extended periods of time. With the ability to naturally wick-away moisture and one of the smallest form-factors, they make a great choice for those who prefer a minimal form factor.
What We Liked:
Materials are very efficient at wicking sweat away.
Battery is slim and low profile.
Power button is easily accessible without being too sensitive.
Ideal for extended wear.
What We Didn't Like:
Re-charging times are a bit slow.
Best 2nd Alternative: MATKAO Heated Glove Liners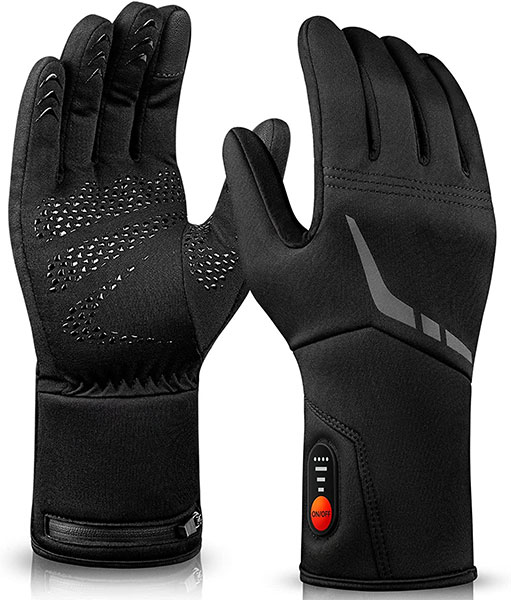 Key Features:
93% Polyester, 5% Spandex, 2% PU material.
2500mAH rechargeable Li-ion battery.
Three temperature settings.
Touchscreen compatible.
Slip resistant.
Heats up to 7 hours on the lowest setting.
The MATKAO Heated Glove Liners are a great option for those that need a durable, high performance glove liner that can stand up to heavy use. One of the first things we noticed was how contoured the fit was. Incorporating Spandex into the blend provides an ideal combination of flexibility and support which can be very important. We appreciate the focus on fit with these liners. MATKAO includes detailed measuring instructions with their size guide to make sure that you get the ideal fit.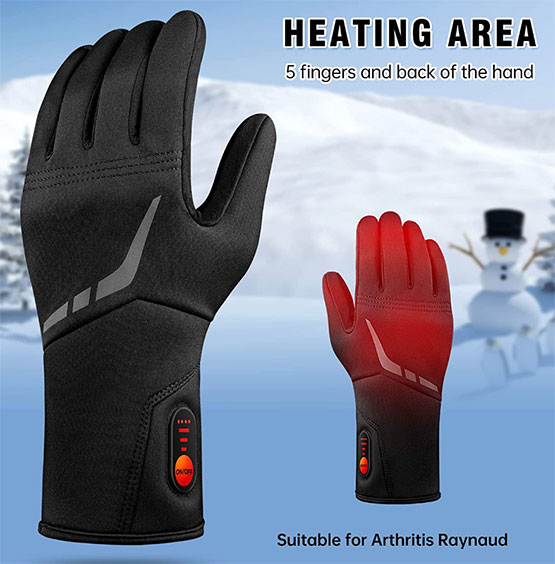 Touchscreen compatible tips on the forefinger and thumb providing compatibility for all touchscreens. In addition to this, anti-slip PU material is located on the palm and the remaining fingers for excellent performance while using them independently, without heavier gloves over them. Simply put, we found they did a great job maximizing grip when worn alone or increasing adhesion to the outer glove.
Battery life is impressive, with up to 7 hours of heating time on the lowest setting. There are even battery life indicators visible from the exterior which we feel is rare for gloves, especially at this price point. It's a minor feature that can make a big difference if you're in the cold for extended periods of time and need to ration the remaining heating power.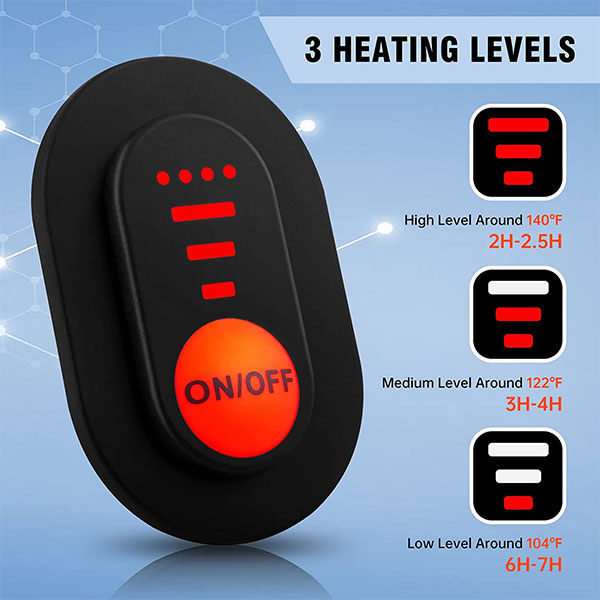 Best of all, MATKAO allows you to buy additional batteries at a reasonable price. It's a small convenience that prevents you from having to hunt for third party batteries that may or may not be compatible. Keep in mind that these are bulkier than the other options we covered in this article. That said, they may not fit as easily under smaller pairs of gloves you own. However, there are few options that are as durable or come with as many features right out of the box.
What We Liked:
Anti-slip PU material on the palms keeps grippy.
Visual battery life indicators on each wrist.
Touchscreen compatible tips work well, even in low temperatures.
Contoured fit.
Long battery life.
What We Didn't Like:
Thicker material may be more difficult to fit under smaller gloves.
Meet Derek, "TechGuru," a 34-year-old technology enthusiast with a deep passion for tech innovations. With extensive experience, he specializes in gaming hardware and software, and has expertise in gadgets, custom PCs, and audio.
Besides writing about tech and reviewing new products, Derek enjoys traveling, hiking, and photography. Committed to keeping up with the latest industry trends, he aims to guide readers in making informed tech decisions.