Home automation is certainly an attractive technology, but there's a pretty steep barrier to entry. First, you're going to have to select devices that work together. Then, you'll need to have your smartphone on hand at all times. Without it, you might not be able to control basic household functions. If you're only looking for a simple way to turn electrical devices on and off, remote control electrical outlets are a great choice.
Instead of a smartphone or complicated home automation panel, you're given a simple remote. With the touch of a button you can instantly turn any electrical device on or off. The best part of all? These outlets cost just a fraction of what you'd pay for a proper smart-home setup. The problem with affordable electronics is that it's hard to separate the high-quality units from the overseas knockoffs. We've done the research for you, and compiled this list of the best remote control outlets you can own today.
Etekcity Wireless Remote Control Electrical Outlet
Although they have a broad line of consumer goods, Etekcity has made a name for itself with industrial and commercial electrical equipment. They're known for reliability and simplicity, making them a brand that we trust.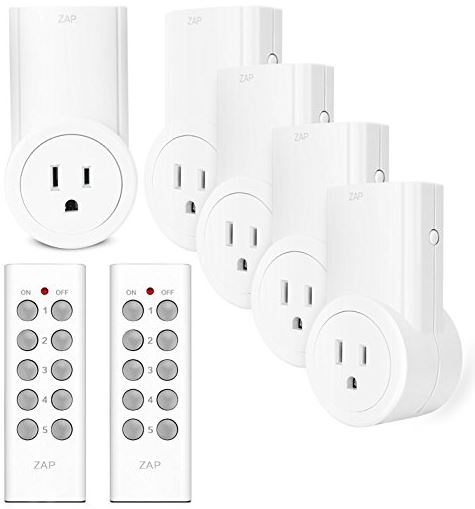 Design
Although it looks a little different than your average plug, the Etekcity Wireless Remote Control Outlet certainly won't draw any unnecessary attention to itself. It's a little larger than your typical outlet, about the same size as a surge protector. Above the round faceplate you've got the housing for the antenna. This means that it works best on the upper socket, as it will cover anything above it. On the right side of the unit you'll find the learning button. This easy to use feature allows you to control the way it operates. This keeps the device simple, making it easy for anyone to use.
You get a total of two remotes and five sockets in the package. Like the outlet itself, the remote is incredibly easy to use. It's got five rows of buttons, each one turning a specific socket on or off. Every component is solidly designed, making us feel confident in the build quality.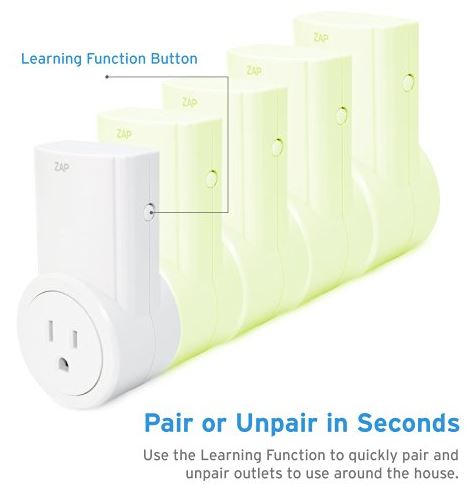 Customization
One of the biggest selling features of this wireless outlet is its ability to be adjusted. Many systems are quite simple in design. The first button always controls the first outlet, and vice-versa. While this one comes pre-set this way, you can change it any way you see fit. The process is simple. First, you push the learning button on the side of the outlet. Then, you press the button you would like to control it. Simple enough?
With the learning function, you're able to do things like program one button to multiple outlets. Want to turn on your entire home theater system with a single button? No problem. You can also divide up the two remotes however you see fit. If you like, they can both control the same devices. Alternately, you can set up the remote to perform different functions. It might look simple from the front, but this system has unlimited possibilities.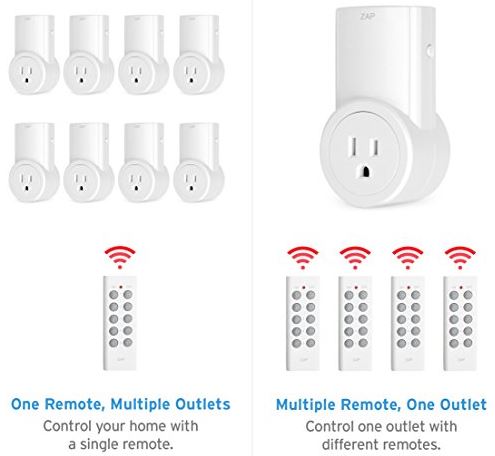 Range
The manufacturer states that the range is up to 100 feet. This is pretty standard for remotes using RF technology. In our tests, the performance was a little less than their advertised range. 100 FT will work great if you have direct line of sight, but if you're going throw multiple walls you'll get closer to 70 feet.
Additional Features
One of the biggest reasons you might want a remote-control outlet is to reduce your power consumption. Most electronics in your house use what they call "phantom power". Even though it may be turned off, it's still consuming electricity. For the average consumer, phantom power can account for over $100 a year in unnecessary electrical charges. Because this remote control electrical outlet uses such a low power RF signal, it's extremely efficient. Just attach one of these to each of your electronics, and the system will have paid itself off in as little as 3 months.
Goronya Wireless Remote Outlet Switch
Goronya has been supplying consumers with automation and control devices for many years. Their products are simple in nature, and are designed to play well with all product lines. Whether you're looking to control a single outlet or a number of them, they've got you covered for almost every scenario.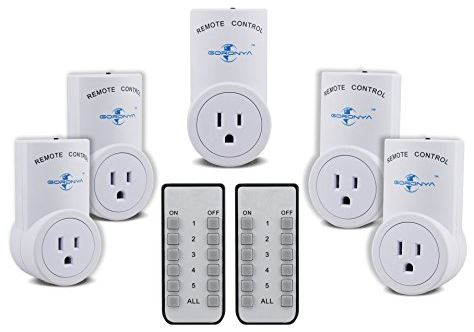 Design
From a distance, the Goronya Wireless Remote Outlet Switch looks similar in design to the previous model. But once you get up close, you'll notice some unique design elements that make it much more unique. The casing is manufactured from a much smoother plastic. It has a matte-like finish, so it doesn't show dust or fingerprints. It feels very solid in the hand, leaving us confident in its ability to withstand day-to-day use.
One of the main difference between this model and others is the remote. It's much more compact than anything else on the market, making it easy to slip into a pocket or purse. In addition to the five sets of buttons, they added an "all" button. This is a surprisingly nice feature to have. Heading to bed? Just one button, and you'll be able to turn off every light in the house.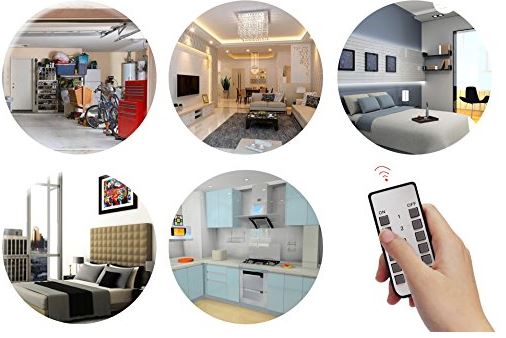 There are two different kits you can choose with this model. For most users, you'll want the one that contains five outlets and two remotes. If you only want a single outlet, you can purchase them individually as well. These can be combined and used with an existing kit, or it will operate fine on its own. Although most people will only be purchasing the single outlet as a way to expand, there will be the occasional person who really only wants to control a single item. For this reason, they include a free remote with just a single on and off switch on the face.
Customization
These outlets are fully programmable, just like other high-end models on the market. These outlets are commonly used by the mobility challenged, and it's clear that the manufacturer took the time to make them easy to use. In this model, the programming button is located right on the top of the outlet. This means that it will always be within reach, and you'll be able to change your settings with the touch of a button.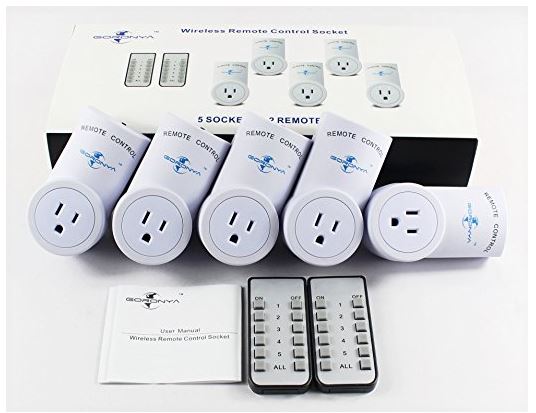 Range
With a maximum range of 30 meters (100 feet), this is one of the more powerful remote control outlets on the market. We had no problem using it from other rooms, through walls, and even on a different floor of the house! If you're living in a massive 2500+ square foot home, or you live in a concrete building, then you might notice a slightly reduced range. But for most users, the range will be more than impressive.
Additional Features
The remote is designed to last a very long time without having to change the batteries. It's low power system runs off two CR2032 button cell batteries, and a pair is included with the package. You'll get over a year on just a single set, saving you both money and time.
Aukey Remote Control Switch
Mostly focusing on high quality battery backup systems, Aukey decided to branch out a little when they developed this remote-control switch. As a new manufacturer, they wanted to set themselves apart from the rest of the competition. For that reason, this particular unit has a few unique features that you won't find anywhere else.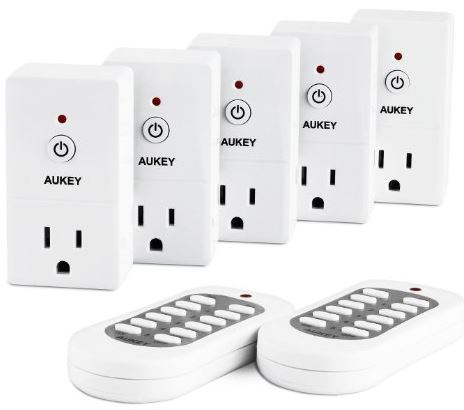 Design
When designing the Aukey Remote Control Switch, they went for a design that was a little more modern and a little easier to use. Its boxy shape makes it easy to handle. It's also very lightweight, and sits firmly in its socket. Above the outlet, you'll notice a large, clearly labeled power switch with an LED above it. If you don't keep the remote on you at all times, this is a simple way for you to turn the switch on or off. Remote control outlets are often purchased for electronics that are frustrating to use. For example, lamps with those awkwardly placed in-cable switches, or things like Christmas lights that may not even have a switch. Not only does Aukey give you a remote, but they'll make physically locating the power button much easier.
The remote is much more ergonomic and pleasant to look at than any other model we've seen. But just because it looks good doesn't mean it's difficult to use. For starters, it's much larger, and fits comfortably in the hand. Each of the buttons are wide and clearly labelled, so you'll never press the wrong one by accident. On the top, there is an indication LED. It illuminates whenever you successfully turn a switch on or off, so you've got some visual confirmation.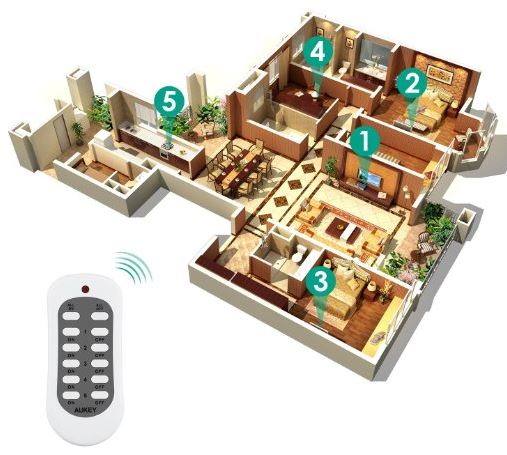 Customization
In order to keep this system easy to use, it only comes pre-programmed with specific commands. Each outlet you receive will be labelled one to five, and this corresponds to the last five rows on the remote. Along the top, there is an "all on" and "all off" buttons that do exactly what they say.
If you need five or less outlets, you'll be happy that you can just plug them in and go. There is no configuration procedure beyond attaching them to your devices, which makes for a frustration-free setup.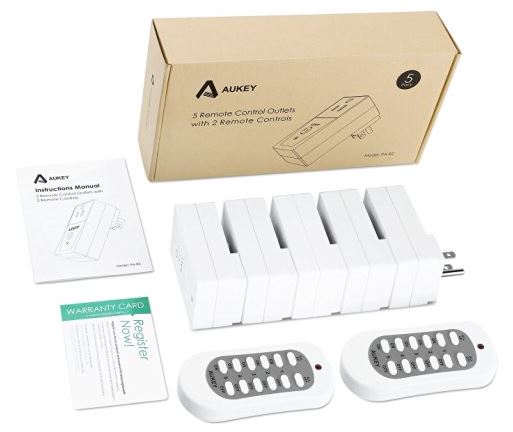 Range
As usual, these switches are restricted to the maximum theoretical range of 100 feet. However, we found that this unit had the best signal penetration of them all. If you're looking for something you can use to shut down your home when you head to bed, the last thing you'll want to do is press the button only to find that you were out of range, and all your lights stayed on. The LED at the top gives you a confirmation that the signal was received. With just a quick glance, you can be sure that you were in range.
Additional Features
Aukey designs things that make your life easier, and this one is no exception. They clearly took their experience building battery backup systems and put it to use. The first additional feature this outlet has is a current limiter. This is a bit like a surge protector, designed to mitigate damage caused by issues with the electrical system. Examples could be faulty wiring, or a problem with another electrical device connected to your home. But it doesn't just keep your electronics safe, it also protects your children! The built-in safety system shuts the outlet down if it detects a short. Even if you insert a metal object into the outlet, you won't experience a shock.
Which Remote Control Electrical Outlet Should I Buy?
Each of these outlets performs a pretty simple function. If all you're looking to do is turn electrical devices on and off remotely, you'll be happy with all of them. But each one has a few key features that make it unique.
The Etekcity Wireless Remote Control Outlet is the most power efficient of the bunch. If you're looking to stop ghost power in its tracks, this is the one you want. Although each of these outlets use a little power on their own, this one is by far the most efficient. Whatever power it does use will be significantly less than your average device.
The Goronya Wireless Remote Outlet Switch is ideal for people who want to have full control over their household electronics at all times. It's got the most compact remote, making it easy to carry around.
Last but not least, the Aukey Remote Control Switch was designed with users in mind. It's got the best range of them all, and the handy LED will give you a visual indication that the signal was successfully transmitted.