In today's world of digital tracking and tracing, you can't be too careful about your personal privacy. Whenever your wireless devices are powered on, they're vulnerable to intrusion by hackers and other bad actors. And if your car has a wireless ignition, you're vulnerable to someone stealing your fob information – and your car. For these reasons, it's smart to keep your electronics as protected as powerful. And a faraday bag is a great way to do that.
A faraday bag works on the same principles as a faraday cage. Faraday cages were invented in the 1800s as a way to shield electronic devices. By arranging a conductive metal cage in a certain configuration, EMF radiation cannot penetrate. This includes radio waves, WiFi, Bluetooth, and any other wireless technology. Large faraday cages are used today to shield data centers from interference. They're also used by the military in the construction of top secret facilities, to help prevent surveillance.
Faraday bags, on the other hand, incorporate a special fabric with a wire mesh sewn into it. This wire mesh serves the same function as the bars in a full-sized faraday cage. The only difference is that you're working on a smaller scale. Keep in mind, though, that this technology only works if your device is completely enclosed. When a faraday bag is open, it's not completely shielding your device.
Today, we're going to review four of the best signal-blocking faraday bags for key fobs, smartphones, tablets, and other devices. We'll start out by taking a look at the Mission Darkness Faraday Bag for Keyfobs. This is a compact, affordable key fob pouch that comes in a two-pack. Next, we'll check out the OffGrid by EDEC Cell Phone Faraday Bags. This is an ultra-durable bag for smartphones, tablets, or laptops. Third up, we'll review the Silent Pocket Quick Access Smartphone Faraday Bag. This is a rugged laptop or smartphone pouch with an external transparent window. Finally, we'll examine the POWR Faraday Bags. This is a two-pack of reliable key fob protectors. But which one is the best for you? Let's take a closer look at all four, and see how things shake out!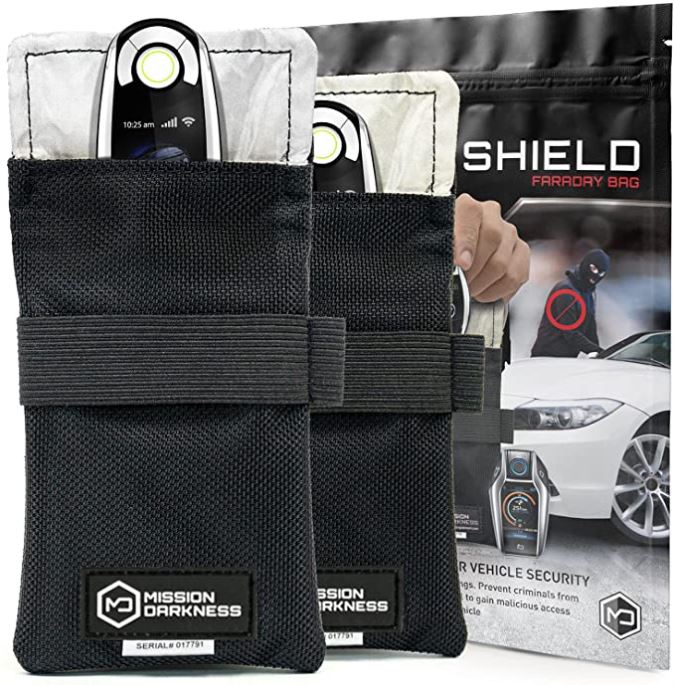 Mission Darkness Faraday Bag for Keyfobs
Mission Darkness is a company with a lot of experience with faraday cloth. A while back, we reviewed their radiation shielding throw blanket, and we liked what we saw. So when it came time to look for faraday bags, we knew we would give theirs some serious consideration. The Mission Darkness Faraday Bag for Keyfobs comes in a two-pack. This makes it great for cars, since you'll probably have two different fobs to protect. Each one is constructed with a durable black nylon exterior that can take some significant abuse.
The ballistic nylon is also water-resistant, so a little rain is no concern. Keep in mind that the bag isn't watertight, and will fill with water when immersed. But you don't have to worry about most sources of moisture. With an internal usable space of 3.5 x 5.5 x 0.1 inches, it's fairly small. You won't be able to use these pouches for smartphones or anything larger. But they're perfectly-sized for key fobs.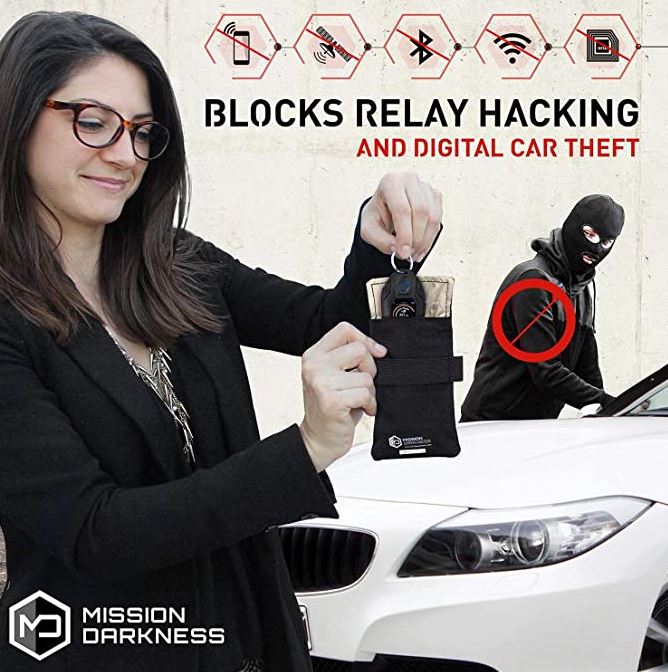 The inner material is made from three layers of powerful faraday fabric. This makes the pouch surprisingly thick, considering the small internal dimensions. It's correspondingly durable, though. There's double-stitching around all the edges, so tearing and fraying are not a concern at all.
The front of each pouch sports a Mission Darkness logo tag at the bottom. Towards the top, there's an elastic band that stretches from side to side. This band holds the closure flap shut, while making it easy to open in a moment. On the back of each pouch, you'll find a belt loop. This makes them easy to carry without having to cram them into a pocket. Alternatively, you can use the key ring loop to attach to your keys, or to a carabineer.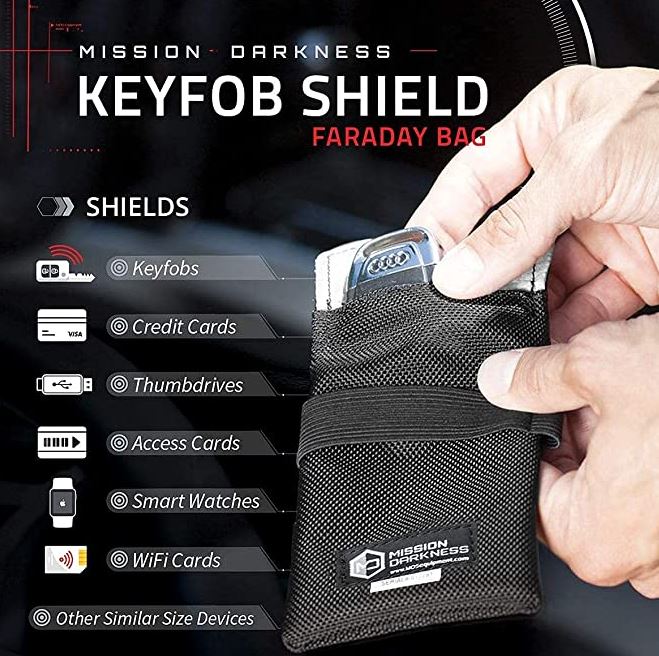 Effectiveness
We've established that the Mission Darkness bag has a sturdy design. But how well does it actually work? As long as the flap is properly closed, it performs very well! It effectively blocks WiFi, Bluetooth, your phone signal, RFID tags, and other EMF radiation. On average, you're looking at an overall signal reduction of 90dB, at frequencies up to 40GHz. All in all, we didn't have any complaints about this bag's effectiveness.
On the downside, the faraday fabric seems to wear out easily, as the bag is repeatedly opened and closed. After a few weeks to a few months, you may see some drop in effectiveness. Then again, these are very affordable bags, so you're still getting a good value.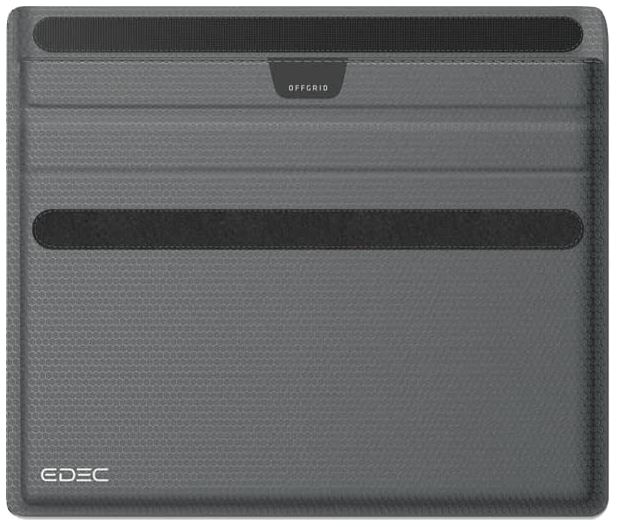 OffGrid by EDEC Cell Phone Faraday Bags
The OffGrid by EDEC Cell Phone Faraday Bags ship individually, but they come in six different varieties. For one thing, you have a choice of black or grey material. For another thing, you can choose three different sizes. The smallest has a capacity of 5.49 x 8.03 inches, big enough for a large smartphone. The medium has a capacity of 8.35 x 11.44 inches, and it's designed for tablets. The largest, laptop-sized bag has a capacity of 11.98 x 17.89 inches. If anything, we'd ay the smallest bag is too big, since it won't fit in your pocket. But then again, it's big enough for even the largest modern phones.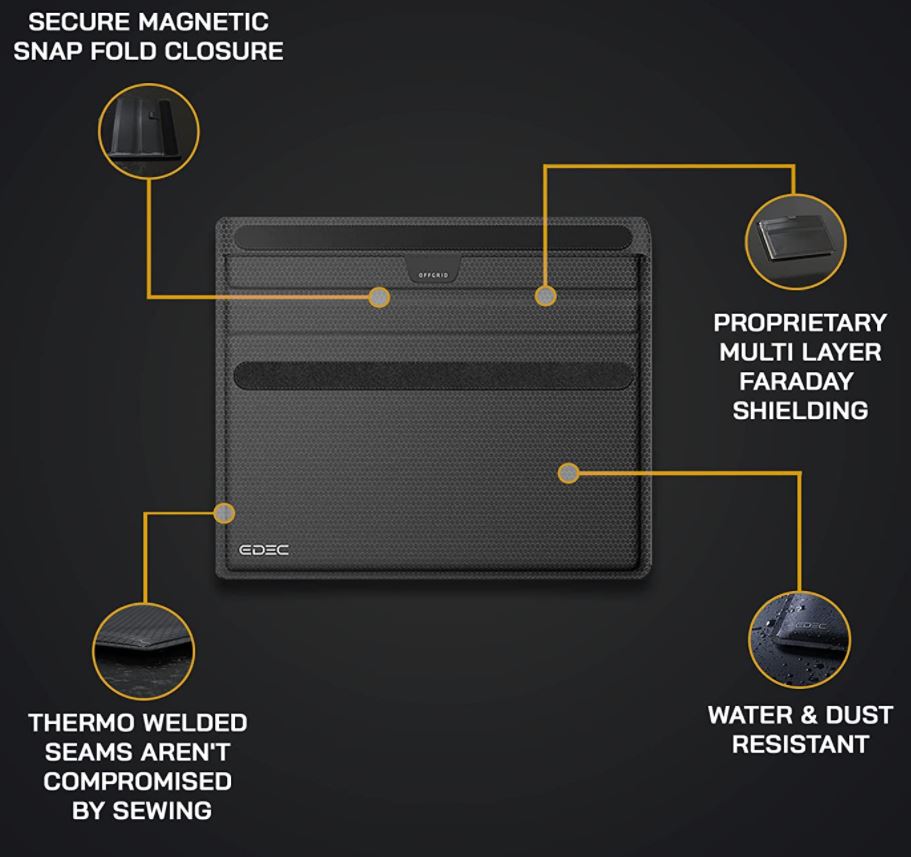 The material itself is very high quality. The outer shell is made from a tightly-woven material that's so smooth it almost looks like plastic. This material is exceptionally strong, and resistant to both tearing and slicing. The seams are thermally welded, which has a couple of different advantages. For one thing, it makes for a more secure bond that ordinary stitches. For another thing, it prevents the faraday material from being compromised during the stitching process.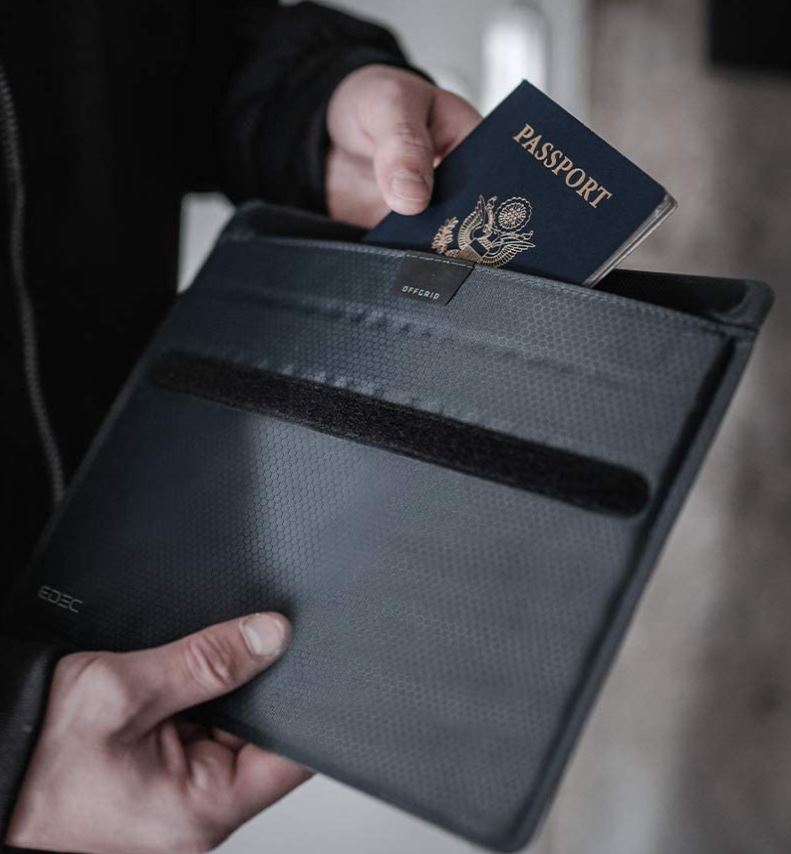 The top of the pouch closes with a dual magnetic and velcro closure. The magnet makes for a quick, snap-together closure. The velcro, on the other hand, provides a little more security if you press it down. The inner faraday material is military-grade, with four layers for plenty of thickness. It's also reasonably soft on the inside, so it won't scratch any screens.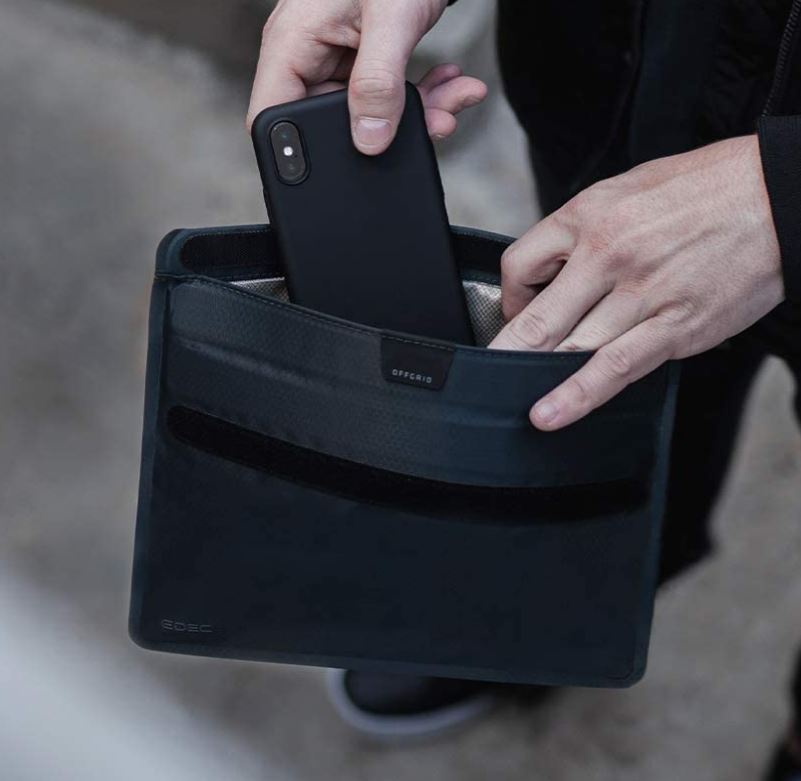 Effectiveness
The OffGrid bag is designed to block all kinds of EMF radiation. It's very effective for WiFi, cellular data, Bluetooth, RFID cards, and more. If you're looking for complete wireless protection, it's tough to find a better option. It's also exceptionally durable and reliable. You don't have to worry about it failing on you prematurely.
In the past, we've reviewed a number of similar signal-blocking devices. If you want to apply the same technology to your router, you can, by using an EMF-blocking router cage. These fit over your router, and reduce or eliminate your wireless signal. If you're concerned about someone sniffing out your WiFi traffic, you can gain some peace of mind.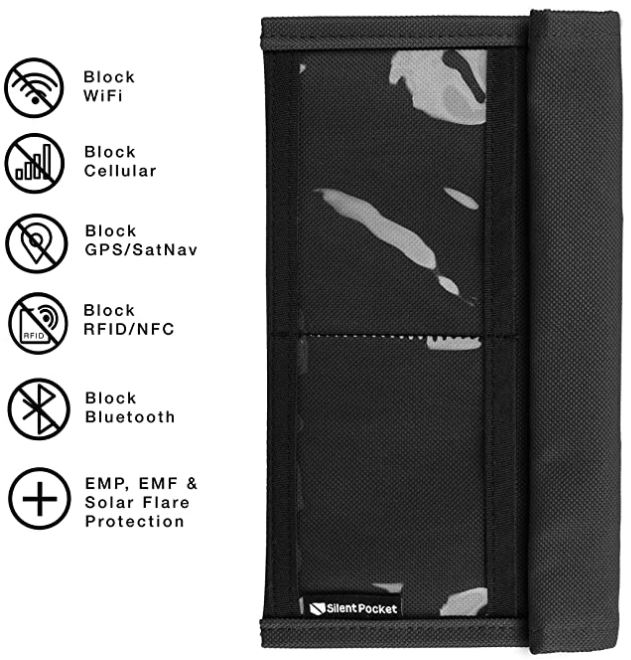 Silent Pocket Quick Access Smartphone Faraday Bag
The Silent Pocket Quick Access Smartphone Faraday Bag is just what it claims to be. It's a faraday bag specifically designed for smartphones. It's a bit big for key fobs. And if you have a tablet or laptop, it's going to be too small. That said, you'll have a handful of different options. To begin with, you can choose between two sizes. The small has a capacity of 6.1 x 3.5 inches, and the large measures 7.5 x 4.5 inches. Depending on the size of your phone, you might be able to save space by using a small. Both sizes are also available in three different colors: black, charcoal grey, or blue. To be fair, that's a purely cosmetic consideration. But if you're carrying this bag around all the time, looks are important.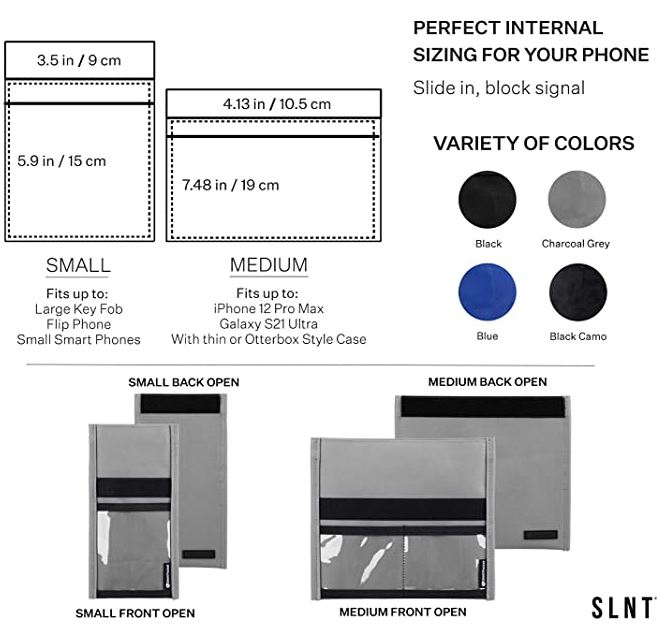 The outer shell is constructed from a durable ballistic nylon. It's almost as tough as the OffGrid bag, but the weave isn't quite as tight. It's still water-resistant, though. As long as you're not submerging the bag, your phone will stay nice and dry. Inside, there are multiple layers of soft, durable faraday cloth. It has a simple velcro closure, which is easy to open and close.
On the outside of each bag, on the front, there's a clear window sleeve. This is great for keeping your driver's license, or other documents you need quick access to. The small pouch has a single, vertically oriented sleeve; the large has two sleeves, which are horizontally oriented.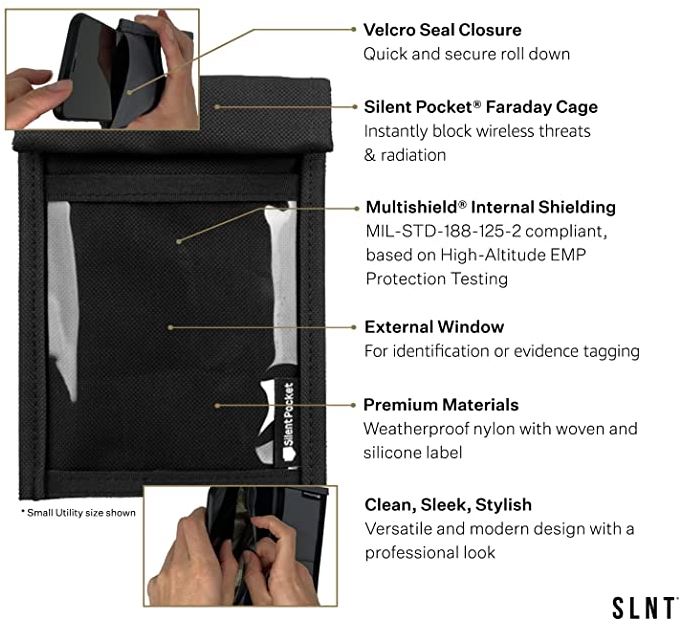 Effectiveness
The Silent Pocket Faraday bag seems to work as well as can be expected. It shields RFID tags, and blocks WiFi, Bluetooth, and cellular data signals. As long as your phone is inside and the bag is closed, it's completely protected. Keep in mind that no bag is foolproof. If you're standing 10 feet from a cell tower, you'll still get some signal. But for the most part, you're getting complete protection.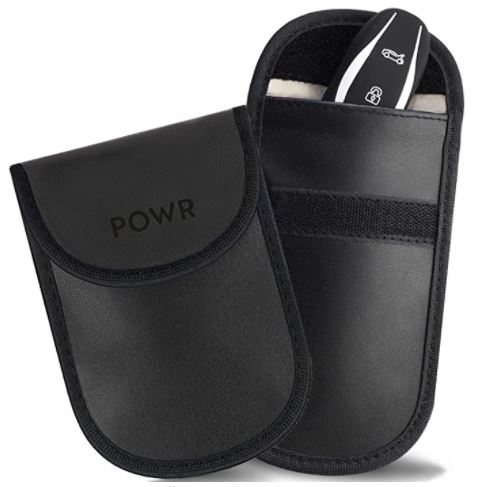 POWR Faraday Bags
The POWR Faraday Bags are designed for your car's wireless fobs or keys. It comes in a two-pack, so you can protect both copies of your key. The outer shell is constructed from tough carbon fiber, with a velcro closure at the top. This makes it easy to access, as well as durable and water-resistant. The overall shape is a long oval, and you can choose from two different finishes. One is smooth, and the other is textured, more like traditional carbon fiber. The interior lining consists of two layers of mesh fabric, which are surprisingly soft to the touch.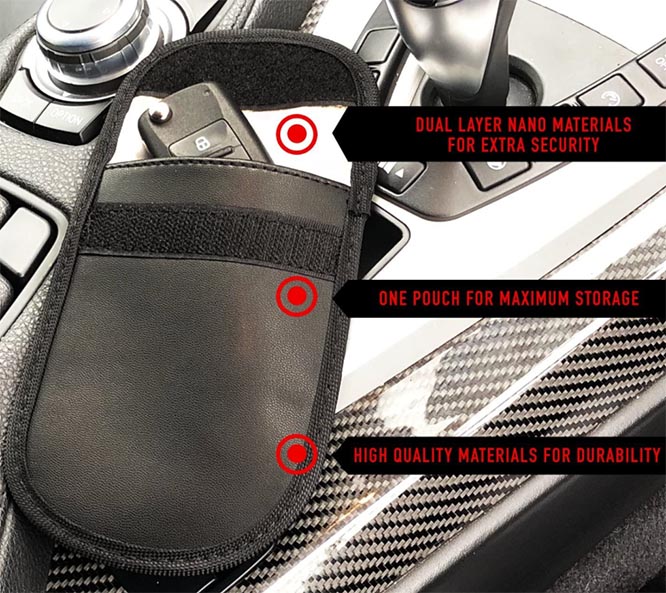 The inside capacity is 5.5 inches long, 3.5 inches wide, and 0.2 inches thick. That's plenty for any key or fob. That said, because of the design, the overall length is almost 8 inches on the outside. This makes it awkwardly large for most pockets. You'll have to carry it in your back pocket, or find some other way to transport it.
As an added bonus, these bags come with a manufacturer's warranty. In addition to the 90-day guarantee, you can register, and it will be extended to 12 months. That's not super long, but it's longer than we've seen for a simple faraday bag.
Effectiveness
Despite being very affordable, the POWR Faraday Bags can block all types of EMF radiation. Your key or fob won't work when it's inside, and nobody will be able to read it.
But what if you want to reduce EMF radiation throughout your entire house, not just in your pocket? In that case, you won't be able to use a bag. You'll want to use a whole house EMF neutralizer, which has a much larger coverage area.
Final Verdict
So, which one of these faraday bags is the best? A lot depends on what you're looking for. The Mission Darkness Faraday Bag for Keyfobs is exactly what it sounds like; a key fob bag. It won't protect your smartphone or anything larger. We also had some concerns about its longevity. On the plus side, it's easy to use, easy to access, and easy to carry. And it's affordable enough that no matter how you cut it, it's a good value.
The OffGrid by EDEC Cell Phone Faraday Bags are by far the most rugged of the bunch. They're also highly versatile. With sizes for smartphones, tablets, and laptops, you can protect almost any electronic device. We also liked the magnetic closure, which is both highly secure and easy to open and close.
The Silent Pocket Quick Access Smartphone Faraday Bag is nearly as durable, with a tough nylon weave shell. And with two sizes to choose from, chances are good that there's one that will fit your device. What we really appreciated, though, was the clear window on the back. This is great if you want to carry your driver's license along with your phone.
The POWR Faraday Bags are a bit large for their capacity, which makes them tough to carry. That said, they're an ultra-secure way to protect your car's key fob. You also get a warranty, which you don't get with any of the other options.
Meet Derek, "TechGuru," a 34-year-old technology enthusiast with a deep passion for tech innovations. With extensive experience, he specializes in gaming hardware and software, and has expertise in gadgets, custom PCs, and audio.
Besides writing about tech and reviewing new products, Derek enjoys traveling, hiking, and photography. Committed to keeping up with the latest industry trends, he aims to guide readers in making informed tech decisions.