As technology advances, some things change while others remain the same. Take the humble video switch. Many of us grew up with switches for coaxial cable. TVs of the day used a single channel, either three or four, for all signals other than antenna or cable. If you had a VCR, an early game console, or other device, you'd need a switch to plug them all in. When you wanted to use one of your devices, you'd tune the TV to Channel 3 or 4. Then you'd use the switch to choose which exact device you were using.
Modern TVs don't strictly require this type of setup. You can often connect three or four different HDMI sources and cycle between them. That said, there are times and places you might want to use an HDMI switcher. These work similarly to old-school coaxial switches, except with HDMI instead of coax.
So, why would you do this instead of plugging directly into your TV? For one thing, you might want cleaner cable management. If your devices are in a shelf and the TV is up on the wall, there's negative space in-between. And if you're plugging in five devices, there are five cables crossing that negative space. If you plug those devices into the switch, you'll have one cable from the switch to your TV. That's a much cleaner look. For another thing, your needs may simply exceed the number of HDMI ports on your TV. A switch lets you connect several more devices, so you'll have plenty of ports.
We're about to look at three of the best 4K HDMI switches available today. We'll begin with the Kinivo 550BN. This is a 5-in, 1-out switch with a slick design and Dolby Vision and 3D support. Next, we'll examine the Awakelion HDMI Switcher. This is a slightly slimmer switch an old school vibe, and can be used 100 percent manually. Last but not least, we'll review the TESmart Fast Switch. This switch has four inputs instead of five, but provides multiple audio features. Which one of these switches is the ideal choice? To find out, we'll need to take a closer look at each one, and go over their features. Let's begin!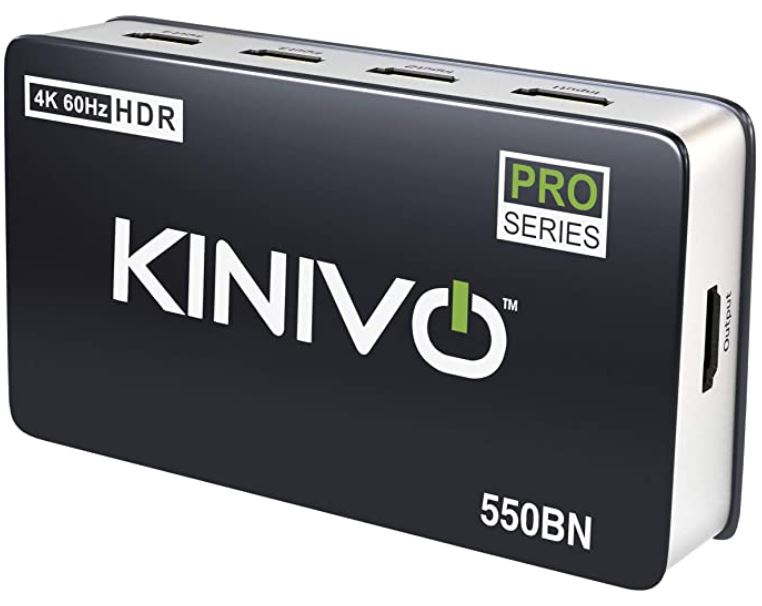 Kinivo 550BN
Kinivo is a manufacturer who's known for their adapters and switches. We've reviewed their Bluetooth USB adapters in the past, and they performed fairly well. So it made sense to give the Kinivo 550BN HDMI switch a shot. This is a compact switch that measures 4.6 inches wide, 2.5 inches deep, and an inch thick. The body has a two-tone design, with silver, powder-coated aluminum sides and a black top and bottom. It has slightly rounded corners, so it doesn't present a poking or jabbing hazard.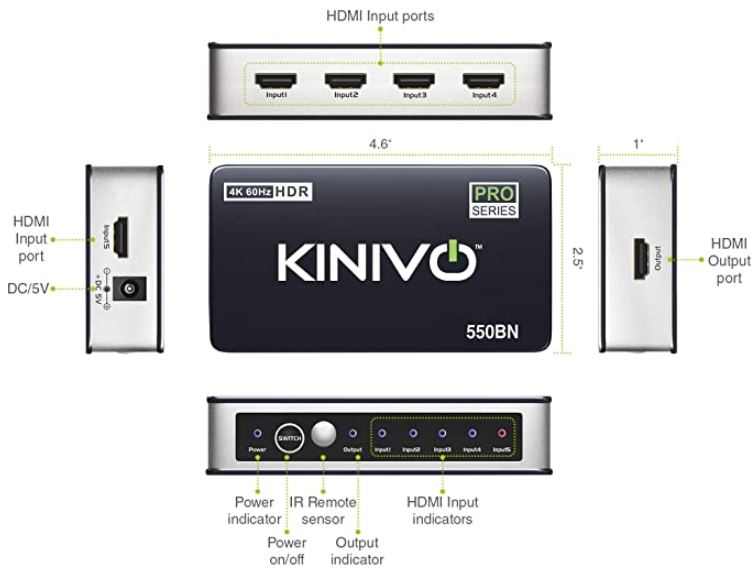 Pretty much the entire outside perimeter is put to use. There are four HDMI inputs on the back, with the HDMI output port located on the right side. The fifth HDMI input is actually located on the left, alongside the DC power port. It accepts a barrel-style DC power adapter, and a block-style power supply is included in the package. The front of the unit houses a row of display lights that let you know which input is active. There's also a manual switching button, as well as a round sensor for the infrared remote.
One thing we appreciated about the design is that it does a good job of heat dissipation. The various aluminum components meet together well, preventing hot spots and keeping the unit as a whole cool. The design is also nice and sturdy. If your switch gets knocked over or dropped, it's not going to crack open. To back this up, Kinivo provides a two-year manufacturer's warranty, better than the industry average. They also provide 24/7 customer support if you need help setting the switch up.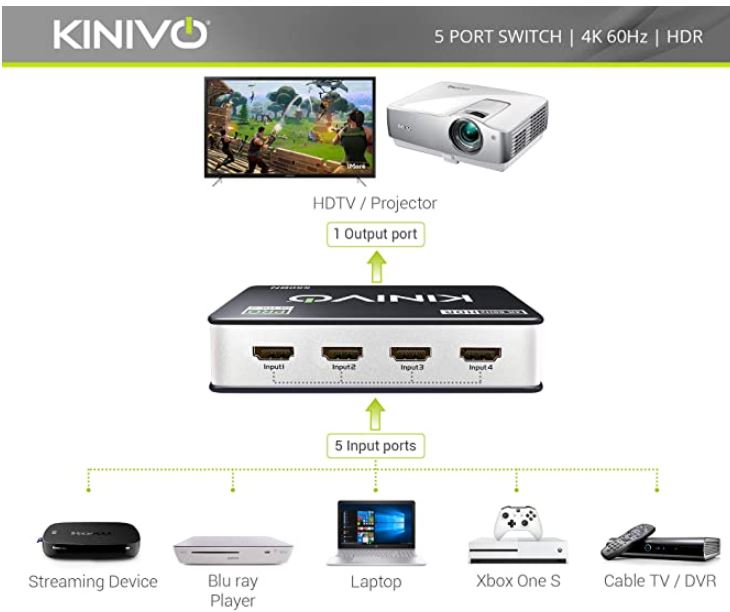 Video Quality and Extra Features
The 550BN supports video signals of up to 4K and 60 frames per second. That's not as impressive as 120 FPS, but it's still very good when you're introducing a switch into the mix. For older hardware, the switch also supports 4K at 30 FPS, and even ordinary 1080p video. For newer hardware, you get support for Dolby Vision and 3D. There's a caveat to that, though. For those last two features to work, you have to be using an HDMI 2.0 cable. If you're not, or if you're using a non-compatible extension cable, you'll get some janky results.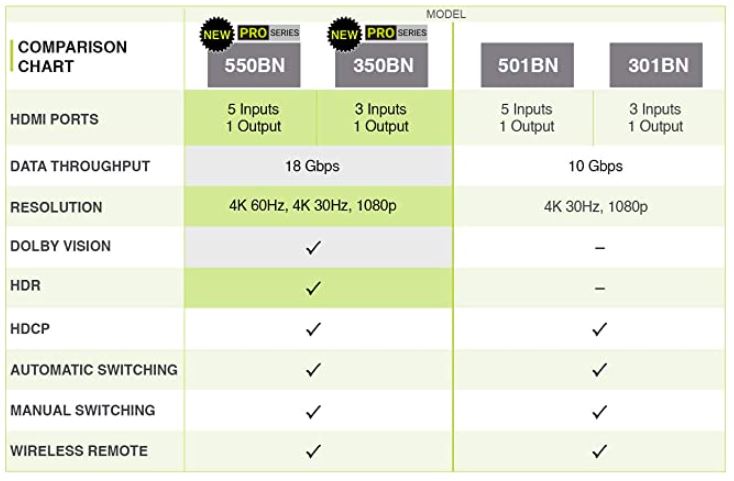 Another time you might get weird results is if you're connecting certain types of device. See, the 550BN has an auto-switching feature. When it detects that an input device has been turned on, it will immediately switch to that device. Unfortunately, a large number of modern devices never actually turn off. Xbox and PlayStation consoles and Apple TVs among others simply go into sleep mode. The problem is that the switch can't understand the difference between these devices being asleep and being on. Either way, the device is drawing some amount of power. And since there's no way to turn off automatic switching, there's no real solution.
That said, you can still switch your devices manually. Pressing the "Switch" button on the front of the machine will cycle through all five inputs. Alternatively, you can use the line-of-sight infrared remote. There's not much to it. There are up and down arrows for cycling through inputs, and five buttons for choosing them directly.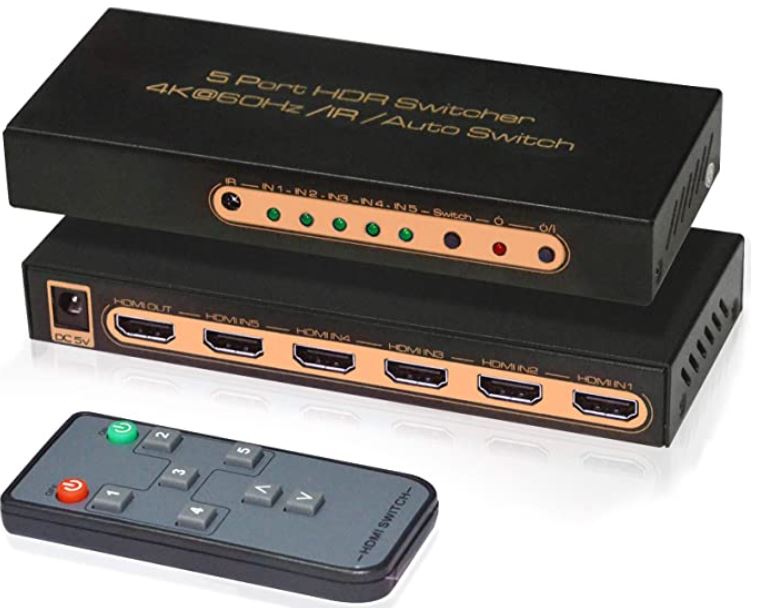 Awakelion HDMI Switcher
The Awakelion HDMI Switcher is a wider, flatter switch that measures 6.3 inches wide and only 0.87 thick. The housing has an old-school black finish, with copper tone text and highlights. It's constructed entirely from aluminum, with a matte finish that won't collect fingerprints. Both sides are vented, which allows for plenty of air flow. You don't have to worry about this switch overheating. In addition to that, there's a metal internal frame that provides added rigidity and crush-resistance. This is a tough, durable switch. If anything, it might be over-engineered. Regardless, it comes with a one-year warranty, so manufacturing issues are also not a major concern.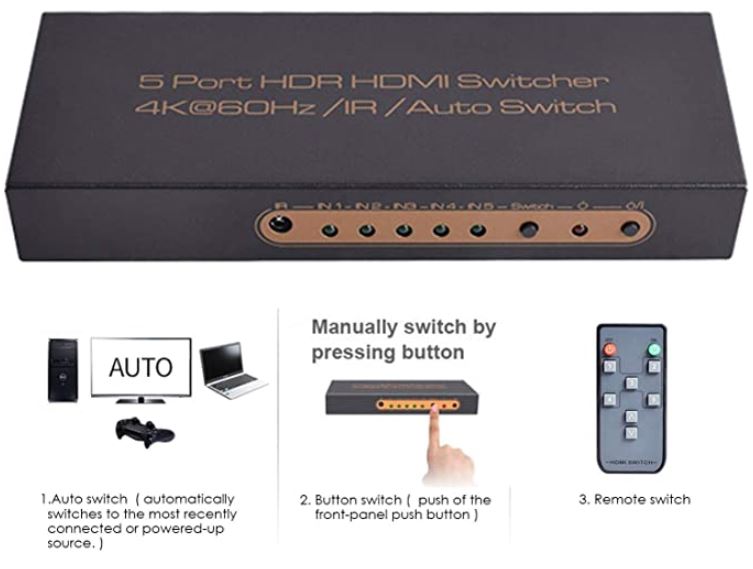 Like the Kinivo switch, this is a five-in, one-out switch. You can connect up to five devices, and they all share a single output. All six ports, both the inputs and the outputs, are lined up in a row on the back of the housing. Next to them, you'll also find the DC power input. This is another barrel-style input, complete with an external power supply for your AC outlet. The front of the housing contains all of the switch's indicator lights. There's a row of five green LEDs, corresponding to the five different inputs. There's also a red power light to let you know the unit is on. A power button, switch button, and infrared remote receiver round out the front panel.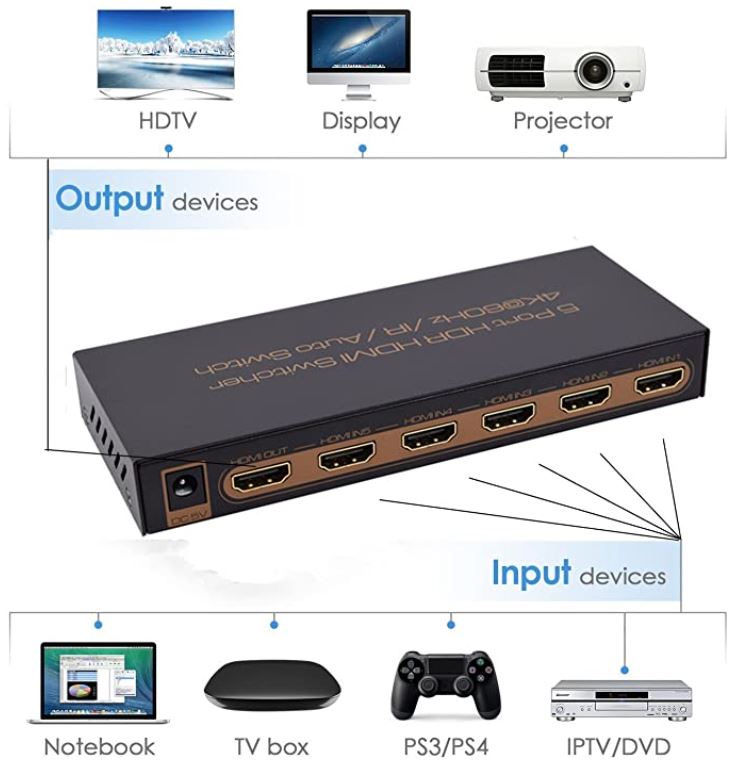 Video Quality and Extra Features
The maximum video quality of the Awakelion switch is 4K at 60 frames per second. That's the same as the Kinivo, and you also get similar support for lower resolutions. In practice, you won't have compatibility issues with any modern devices. You'll also get full support for the latest HDCP encryption technology. This switch supports HDCP 2.2 as well as 1.4, so playback issues should be nonexistent.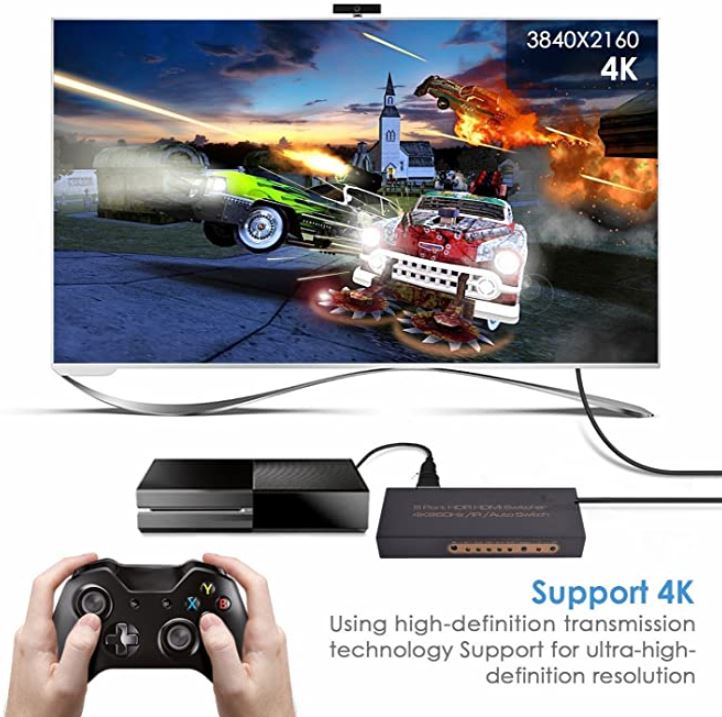 One thing we appreciated about the control scheme is that the automatic switching function can be turned off. All you have to do is hold down the switch button for several seconds. This gives the Awakelion a significant edge for gamers and streaming stick users. And if you don't use any always-on devices, you can leave auto-switching active and reap the benefits. It's a win-win design decision that works well for everybody. Keep in mind that auto-switching will be turned back on if you power off the switch. The same is true when the switch has power restored to it after an outage. So it's not perfect, but it works reasonably well.
In addition to auto-switching, you can use the manual switch button on the front of the unit. And just like the Kinivo, you get a handheld infrared remote. It sports big, chunky buttons, and even has a power button as well as buttons for your devices.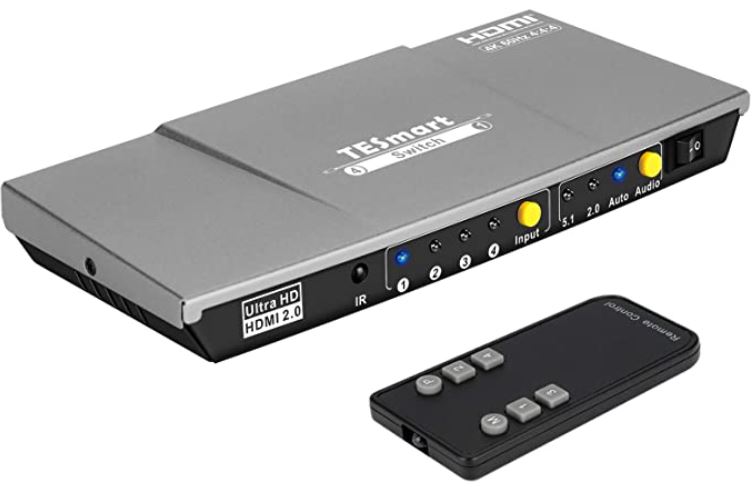 TESmart Fast Switch
The TESmart Fast Switch is a little bit different from our last two options. It's a bit larger, measuring 7.7 inches wide, 3.1 deep, and 0.94 inches thick. It also has fewer HDMI ports, with four inputs instead of five. That said, there are a couple of extra ports that make up for the lower number of inputs. These are the S/PDIF and 3.5mm analog audio output ports. These are very useful if you're using a soundbar or other external speakers. You won't have to route everything through your TV first, which can further cut down on wires. All of the ports are located on the back, along with a barrel-style DC power input.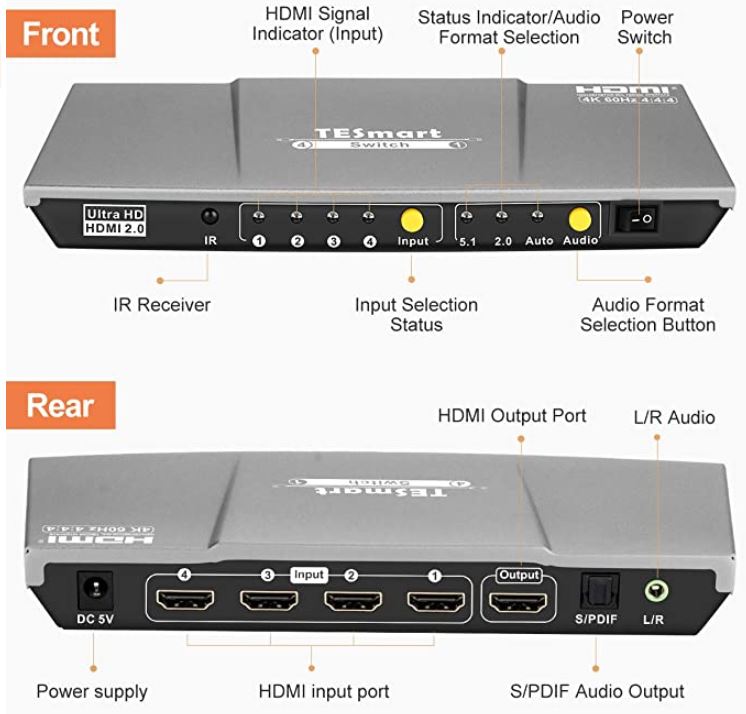 The front of the housing is occupied mostly by rows of indicator lights. There are five for the input channels, three for the audio options, an IR receiver, and a power switch. There are also bright yellow buttons for making selections manually. All of this is well-protected by the aluminum housing, which is exceptionally sturdy. It's also protected by a 12-month manufacturer's warranty in the event that anything goes wrong.
Video Quality and Extra Features
Like our last two options, the TESmart Fast Switch supports up to 4K video at up to 60 FPS. This makes it compatible with pretty much any device you might want to use. In addition, it supports a number of enhanced audio formats. These include Dolby Digital, Dolby TrueHD, DTS-HD Master Audio, and AC-3. As with the Kinivo switch, though, you'll need to use an HDMI 2.0 cable for these features to work. They won't work with an older cable, since those cables were not designed with enough bandwidth.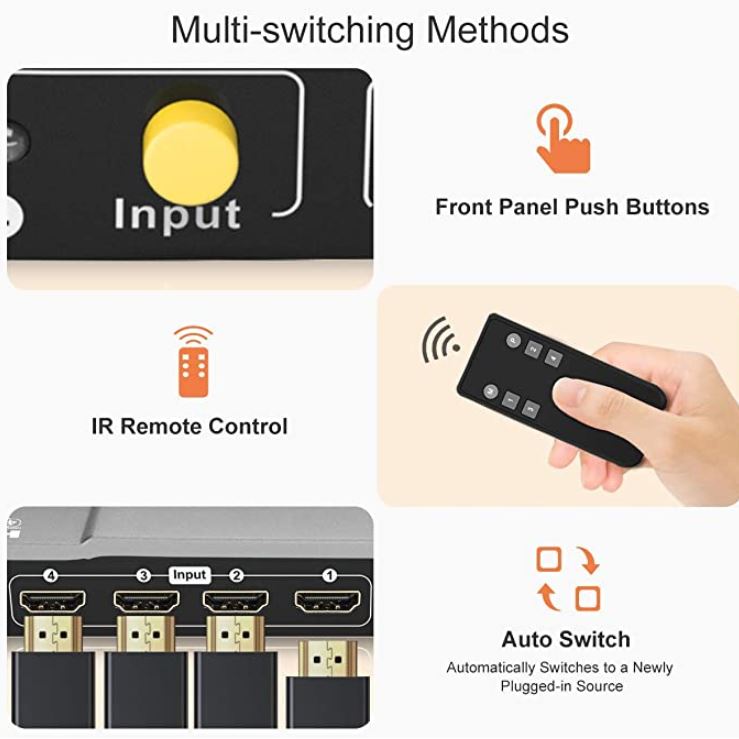 We already discussed the multiple audio outputs, but you can also choose the format. Using the manual switch on the front of the housing, you can choose stereo or 5.1-channel surround sound. You can also set the audio option to auto, so it will attempt to detect the correct format.
The video input can be switched in a few ways. By default, it will switch automatically when devices are turned on. If you're using any always-on devices, though, you'll need to change inputs manually. To do this, press and hold the switch button until the lights all blink in unison. As with the Awakelion switch, you'll have to do this again every time the switch is powered off.
Final Verdict
As you can see, each of these individual HDMI switches has its own unique strengths and weaknesses. Let's quickly recap what we've learned. We began by looking at the Kinivo 550BN. In theory, this is the most powerful of the three. It supports Dolby Vision and 3D, both major features on newer equipment. It's also very compact for what it does, so it won't occupy a ton of space. That said, it's not an ideal choice for console gamers. Because the auto-switch function can't be turned off, it can randomly switch inputs when you don't want it to. On the other hand, it's perfect for connecting your cable box, Blu-Ray player, or similar devices.
The Awakelion HDMI Switcher is a much better choice for gamers. In fact, it's better for anyone who uses always-on devices, since the auto-switching can be turned off. It doesn't provide Dolby Vision support, but it does provide 4K video at 60 frames per second. For most applications, including gaming, it's going to work very well.
The TESmart Fast Switch gives you a bit more flexibility when it comes to audio. You can use different types of outputs for soundbars and stereo systems. You can also choose between stereo and 5.1-channel surround sound. Not only that, but the support for multiple Dolby formats is another big plus.