Wireless technology has changed the way we all live and work. With smartphones in our pockets and WiFi in our homes and businesses, we're always connected. In most respects, this has been a good thing. Just think of all the apps on your phone. You can do your banking, watch movies, connect with friends, and send business emails, all from one device. This opens a world of possibilities that no one could have imagined a few decades ago. And that's not to mention the other devices, like tablets and computers, that also connect via WiFi.
But all of these signals, from cell phones to WiFi to 5G, utilize electromagnetic waves to transmit data. In and of itself, this isn't necessarily bad. The type of waves involved are non-ionizing, like radio waves, which means they don't damage your cells. This is what makes them different from X-rays and microwaves, which can cause serious damage. That said, there are some people who are particularly sensitive to EMF waves. For these people, even otherwise-harmless radiation like WiFi can disrupt sleep and cause other issues. Not only that, but wireless devices can be vulnerable to hacking. For these reasons, many people choose to invest in EMF-blocking technology.
Today, we'll be reviewing three of the best EMF and 5G radiation blankets that money can buy. We'll begin by examining the DefenderShield Organic Bamboo Shielding Blanket. This blanket consists of two layers of EMF shielding, sandwiched in organic, hypoallergenic bamboo cloth. Next, we'll look at the Radia Smart EMF Blanket. This is a soft, heavy cotton throw blanket, designed for babies or for covering your lap. Last but not least, we'll check out the Mission Darkness TitanRF Radiation Shielding Throw Blanket. This is a lush, reversible plush throw blanket, and it's also machine-washable. But which one is right for you? We're about to take a closer look, and see how all three of these blankets perform.
EMF-Blocking Blankets Explained
So, what makes an EMF blanket different from a regular blanket? The answer is Faraday fabric. Faraday fabric is a metal-embedded fabric that's woven along the principles of a Faraday cage. A Faraday cage, in turn, is designed to block EMF radiation. The first Faraday cages were actually designed in the 19th century, to block electricity. The intention was to protect scientists and engineers working on early electrical equipment. But as it turns out, electricity is just one of the things that Faraday cages can block. They can also block X-rays, radio waves, microwaves, and any other type of EMF radiation.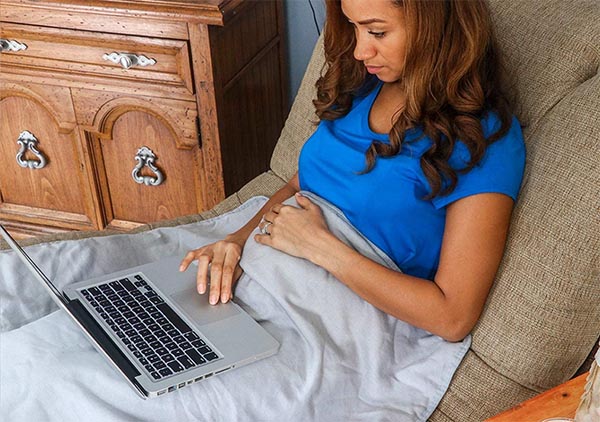 As you might have guessed from the name, early Faraday cages were just that – cages. They were rigid metal structures, and we still see this type of cage in use today. For example, hospitals use Faraday cages to shield sensitive testing equipment. The military uses them in top secret facilities, to protect against wireless surveillance.
But to achieve this type of "perfect" shielding, you need a perfect enclosure. Any gaps will create a space through which EMF radiation could penetrate. Not only that, but the cage needs to have the proper configuration. The metal has to be organized in a certain way. You can't just use any old metal frame to block radiation.
This is important to remember, since it means not all Faraday fabrics are equally effective. Not only that, but if you aren't completely wrapped up, you're not "fully enclosed." As a result, don't expect an EMF-blocking blanket to block 100% of EMF radiation. What you should be looking for instead is a reduction of radiation underneath the blanket.
Another good example of this is an EMF-blocking patch for your smartphone. They can block radiation from going directly into your head, while still allowing you to receive a signal.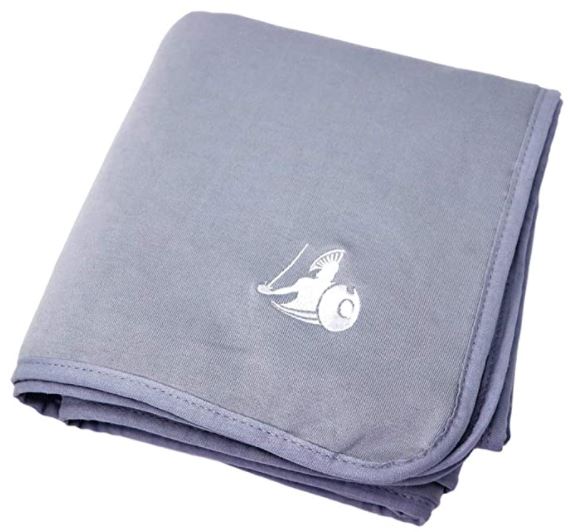 DefenderShield Organic Bamboo Shielding Blanket
The DefenderShield Organic Bamboo Shielding Blanket is stitched from a soft, light grey material. It's lightweight and soft, and is comfortable for use on moderately-cool days. Think of this as a spring and fall blanket, rather than a cozy winter quilt. The neat thing about the outer shell is that it's no ordinary polyester, linen, or cotton. Instead, it's made from a bamboo-based fabric that's 100 percent organic, as well as hypoallergenic. It's surprisingly soft and smooth, and if no one told you it was bamboo, you would never have guessed.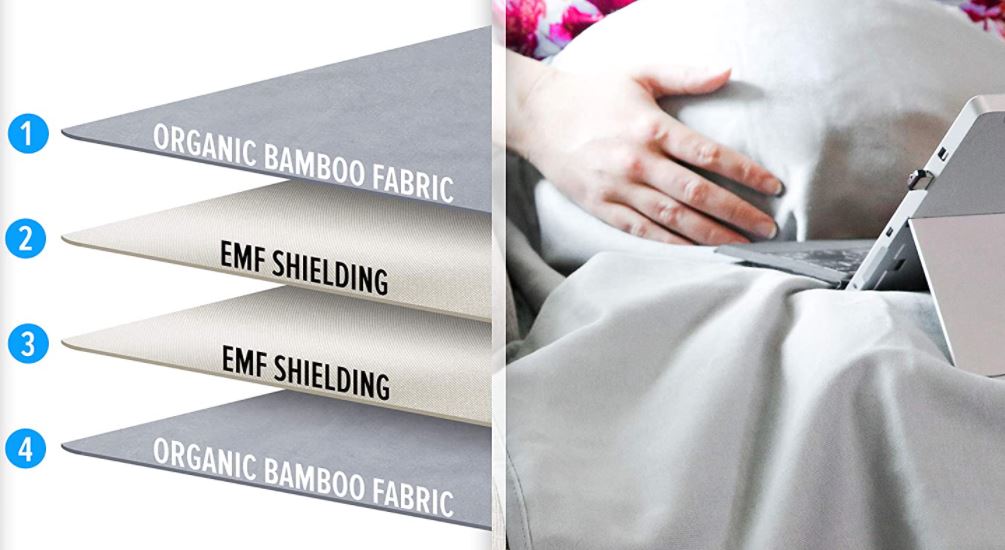 Sandwiched between these two layers of bamboo are two layers of Faraday cloth. This is what allows the blanket to block EMF radiation. That said, most Faraday cloths are delicate, and can't stand up to the rigors of machine washing. In that regard, there's nothing unique about this blanket. It can't be machine washed, and you shouldn't machine dry it, either. That said, unlike a lot of Faraday blankets, it can be dry cleaned. The other alternative is to hand wash it with gentle detergent, and hang it to dry.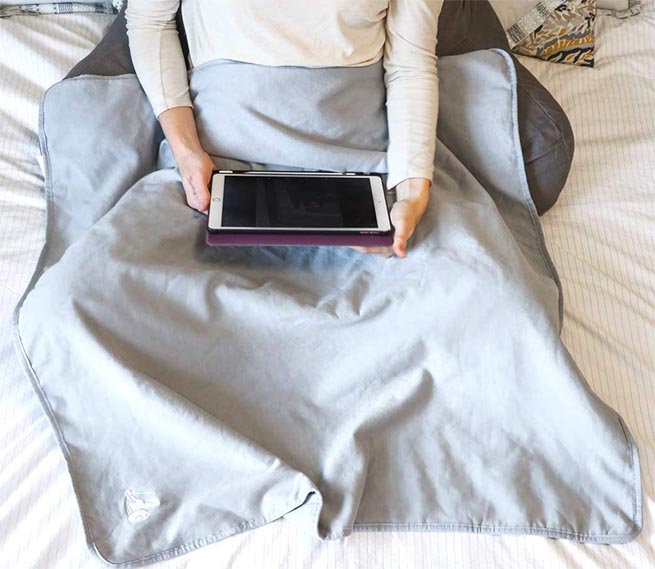 The DefenderShield blanket is available in three different sizes. The smallest is a simple 36 x 35-inch throw blanket, for covering your legs or holding a baby. The next is a full-sized blanket, measuring 53 inches long and 75 inches wide, for a full bed. The largest is queen sized, measuring 60 inches long and 80 inches wide. If you and your partner both have trouble sleeping due to EMF, you can both be protected.
In terms of actual effectiveness, we were a bit disappointed. On the one hand, given the nature of an EMF blanket, we weren't expecting perfect signal blockage. But on the other hand, we were hoping for more than what we got. Depending on how far you are from your cell tower, your phone may lose one bar of signal, if you're lucky. So while we can say that the DefenderShield blanket at least does something, it's not as effective as we'd hoped. Keep in mind that there are even more accurate ways of finding a blanket's effectiveness than using your phone. If you want the ultimate test of EMF blocking, you need to use an EMF meter. But for most applications, a smartphone will be good enough for the task.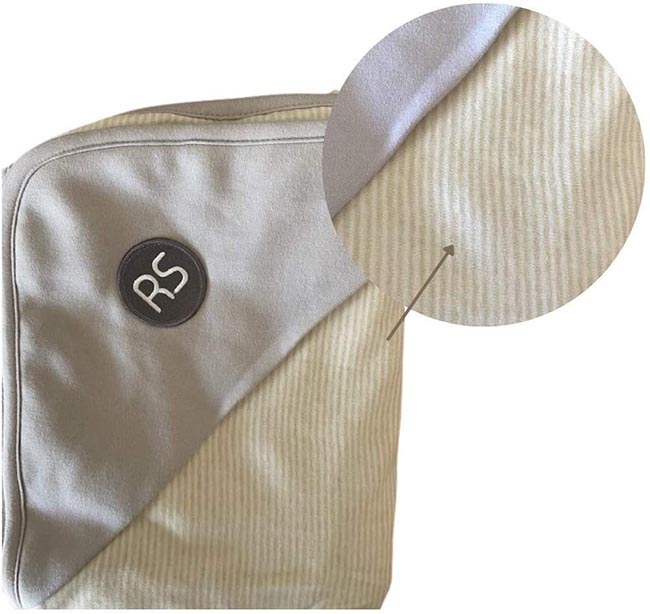 Radia Smart EMF Blanket
The Radia Smart EMF blanket is designed to be a small throw. It's 35 inches wide and 43 inches tall, enough for one person to take a short nap. The shell is exceptionally soft and comfortable, with a grey top and a striped, cream-colored backing. On the striped side, there's a small pocket sewn into one corner. This isn't big enough to roll the entire blanket inside. However, it could be used to hold a TV remote while you relax in a recliner. The thing that surprised us the most was just how warm this blanket is. It's very cozy, although it would have been cozier if it were bigger. It's also not very breathable, so you won't want to use it on a warmer day.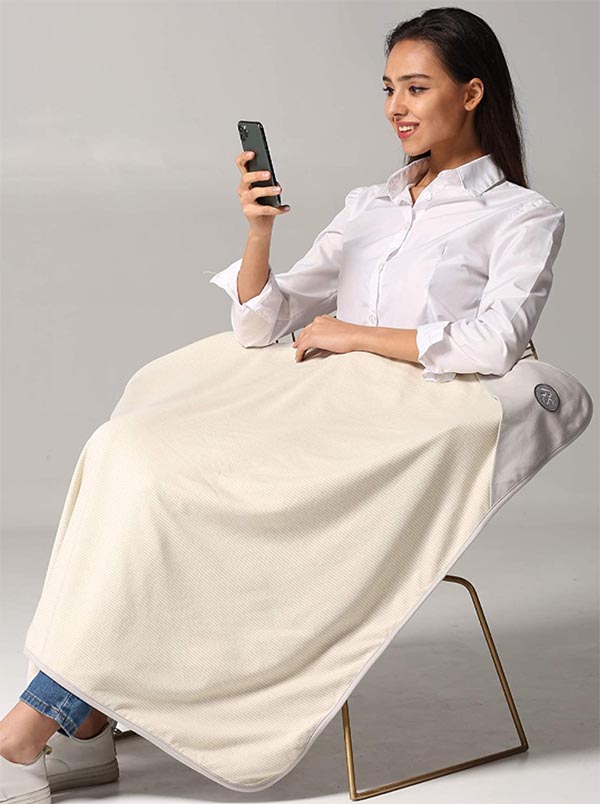 As with the DefenderShield blanket, the EMF fabric is sandwiched in-between the two outer layers. And as with the DefenderShield, you need to be careful about cleaning it. In fact, it's so delicate that it can't even be dry cleaned. It needs to be hand washed in cold water, with a phosphate-free detergent. It also needs to be hang dried, so as not to damage any of the Faraday cloth.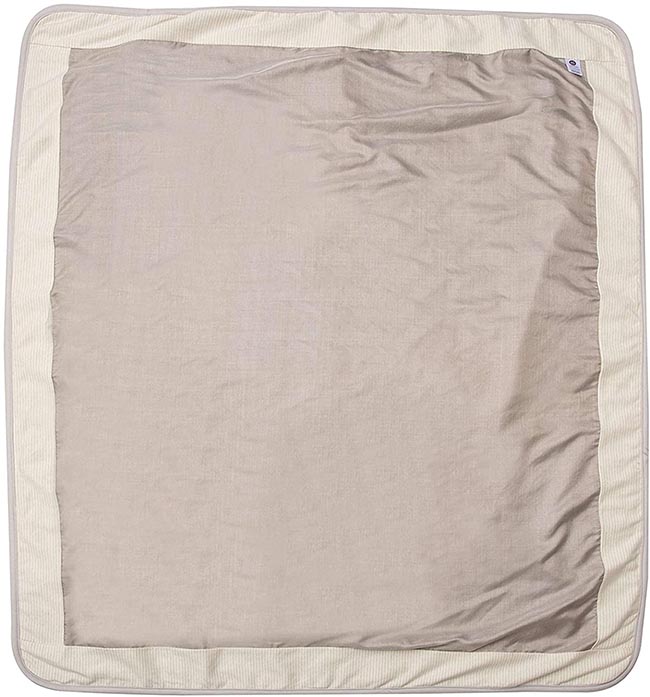 On the plus side, the Radia Smart is easily the most effective blanket of the bunch. It's exceptionally powerful, and can reduce your cell signal and WiFi by as much as half. Obviously, your mileage may vary depending on how you're positioning the blanket. But no matter how you cut it, we're talking about a fair degree of protection.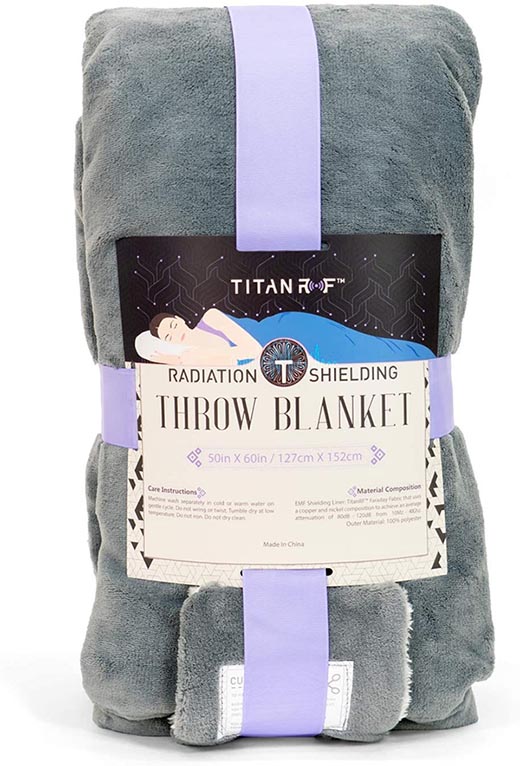 Mission Darkness TitanRF Radiation Shielding Throw Blanket
The Mission Darkness TitanRF Radiation Shielding Throw Blanket is the softest of them all. Instead of a simple fabric shell, this one is polyester fleece, with a two-sided design. The grey side is a standard, short fleece like you'd find on a fleece jacket. The white side is far plushier, almost like faux fur, and so soft you'll want to rub your face in it. The size is 50 x 60 inches, which makes it a large throw blanket. It's even large enough to use on a single bed, albeit a tad short.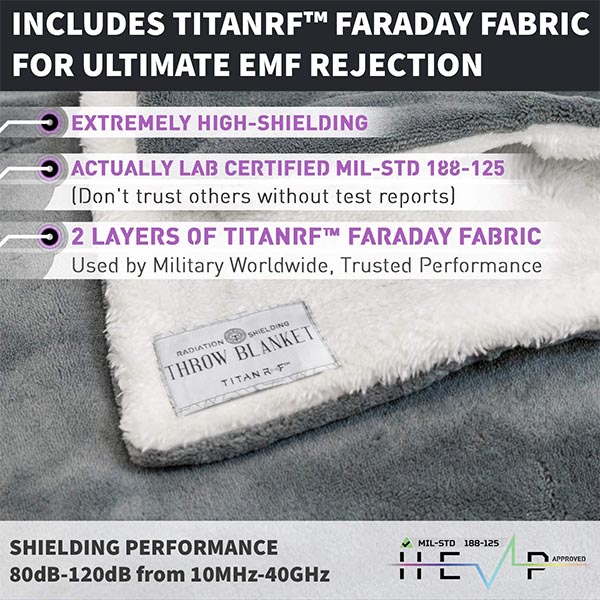 One thing we really liked about this blanket is that it's machine washable. Instead of having to wash it by hand or dry clean it, you can simply wash and dry it like your clothes. That said, we'd still recommend using cold water and the delicate dryer setting. You don't want to push your luck and end up damaging the blanket.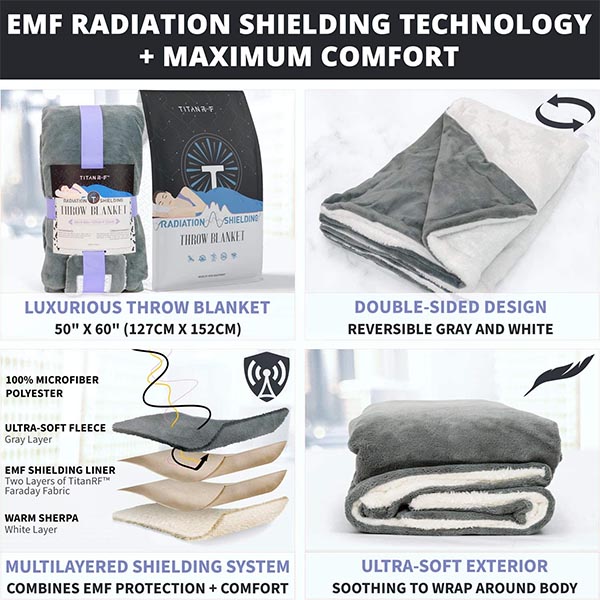 The two layers of EMF fabric fit loosely inside the shell, and can crinkle when you move the blanket around. This reassured us that it was of good quality, and we were excited to see how it performed. Sadly, it doesn't actually seem to do much. It will slightly reduce the strength of a WiFi signal, but that's about it. If you need powerful protection, you're going to be disappointed.
Final Verdict
So, which of these blankets is the best choice? Let's recap what we've learned. To begin with, we looked at the DefenderShield Organic Bamboo Shielding Blanket. This blanket is great for moderately cool conditions, and it's also very soft. Not only that, but the bamboo fabric is hypoallergenic, as well as Earth-friendly and organic. We weren't quite as pleased with the performance, which is less than we'd hoped. But if you need a large, queen-sized EMF blanket, this is going to be your best choice.
The Radia Smart EMF Blanket is by far the most effective of the bunch. When used properly, it has a significant impact on EMF radiation. It's also very warm, with a thick, soft cotton shell and a two-sided design. The only downside is that it can only be hand washed, not dry cleaned or machine washed.
The Mission Darkness TitanRF Radiation Shielding Throw Blanket is the best choice if you value comfort before all else. The fleece shell is soft and warm, and it's big enough to snuggle up in if you want to. Not only that, but it's easy on the eyes if you're using as a throw. The only thing we didn't like was the performance, which was minimal.
Meet Derek, "TechGuru," a 34-year-old technology enthusiast with a deep passion for tech innovations. With extensive experience, he specializes in gaming hardware and software, and has expertise in gadgets, custom PCs, and audio.
Besides writing about tech and reviewing new products, Derek enjoys traveling, hiking, and photography. Committed to keeping up with the latest industry trends, he aims to guide readers in making informed tech decisions.