Electromagnetic waves are all around us. From cellphone towers to power lines, any electronic device emits some form of EMF. Many people have sensitivity to these waves, and high levels of EMF radiation can interfere with wireless communication equipment. But without the proper measurement equipment, there is no way to know how much EMF is around you.
And EMF meter is the best way to get a specific measurement of radiation levels. There are many different meters available, but each of them are designed for a specific purpose. Some high tech meters are for professionals who have knowledge of the EMF spectrum, and need an exact reading. Others are designed to be simple to use, made for consumers who want to have more awareness of the environment they're living in. How do you know which is which? And what exactly do these meters do? In this guide, we'll be taking a look at the three best EMF meters on the market. We'll be going in-depth and exploring what each of these three meters has to over, then we'll help you decide which one best suits your needs.
Trifield 100XE EMF Meter
If your motto is "if it a'int broken, don't fix it", then the Trifield 100XE EMF Meter is for you. This device has been around for many years, and is still considered an industry standard in many professions. At first glance, the meter may seem a little dated in appearance. But don't let that deter you. The internal hardware is still up to modern standards, and still does just as good a job as many modern designs.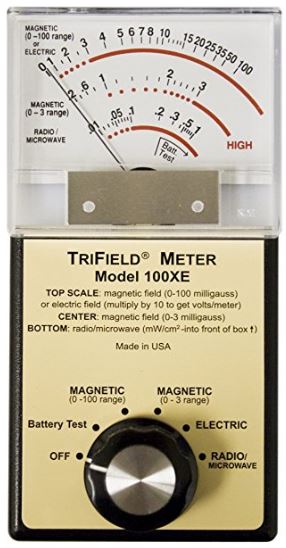 Layout & Controls
This meter is extremely simple to use, suitable for both professionals and general consumers. On the top you've got what's called a VU meter. You may recognize it from an old stereo you have kicking around. The way they work is simple. When the needle is on the left, you've got a 0% reading. When it's on the right, you've got a 100% reading. The more the needle moves to the right, the more EMF is being detected.
There are three different scales. Depending on which mode the meter is in, one of these scales will give you a number that tells you the exact EMF. Below the VU meter is a handy guide that tells you how to read these scales, and what unit the readings are measured in.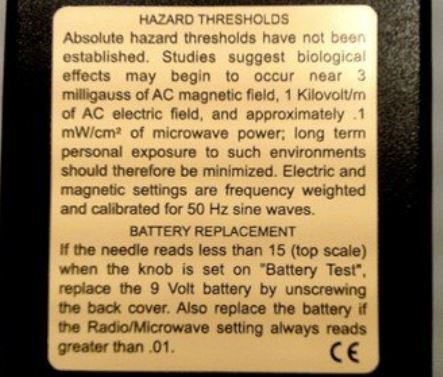 At the bottom of the meter is a small dial that lets you select the mode. There are many different types of EMF radiation. Some meters measure them all at once, but this meter lets you scroll through each mode one by one. For many, this will be a huge advantage. And the large dial is the simplest way to choose.
There is one additional option on the dial that is handy to have for an analog device. The "Battery Test" mode simply moves the dial all the way to the right hand side of the meter. When the dial is pinned at the top, you know that your battery is good. If it's less than 80% of the total dial span, you know that it's time to replace. With a single 9 volt battery, you get about 40 hours of real measurement time, so you're not going to have to change the batteries all that frequently.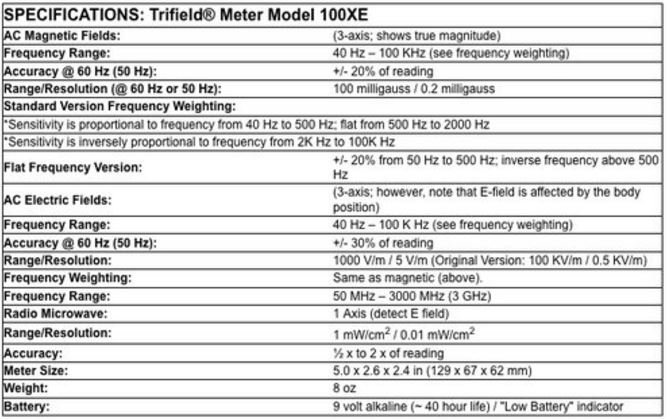 Measurement
There are three different types of EMF that can be measured. You can detect both Magnetic and Electric fields, both of which are commonly produced by high voltage sources. For example, the electrical system in your home, nearby power lines, and motors found in your clothing dryer. The magnetic measurement system is split into two different scales. There is one that measures low power magnetic waves, and one that measures high power waves. Splitting up the measurement system like this is quite helpful. It allows you to measure only the frequencies that could cause interference with your equipment, or determine the level of influence if you're using the meter for health reasons.
Aside from magnetic and electric waves, this meter also measures radio frequency waves. It measures the entire spectrum, from FM to VHF to UHF. So you can be sure that any radio waves in your area will be displayed on this meter.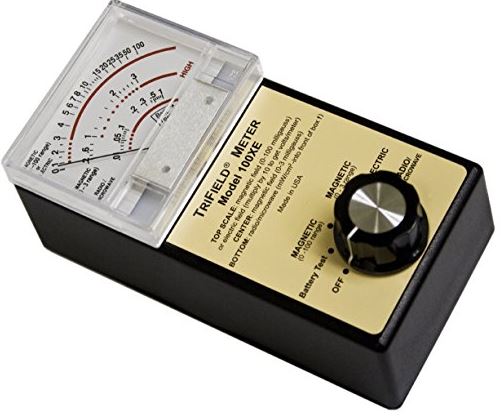 Accuracy
On paper, this meter has a 1% accuracy. In the real world, it's closer to 5%. The main issue is that it's hard to read an analog meter exactly right. For example, if you're not looking at the screen exactly dead on, you might misread the gauge. For most applications, this is fine. Additionally, because you have two different scales to read off, you will be able to "enlarge" the reading, so to speak, in order to get a more accurate idea of the actual measurement.
But the accuracy when reading the meter is only one part of the equation. What's really important is how accurate the actual measurement is. And this is one of the areas where the Trifield 100XE really shines. It's got a 3 axis sensor that detects EMF radiation from all directions. With this sensor, you'll get an accurate reading no matter which direction the meter is oriented. This is a very important feature that we always look for in a high quality EMF meter, but it's surprisingly uncommon.
Cornet ED78S
When your task requires accuracy, you've got to to have something modern and high tech. This is where the Cornet ED78S comes in. It's still reasonably priced, but packs a digital punch that you can't find elsewhere.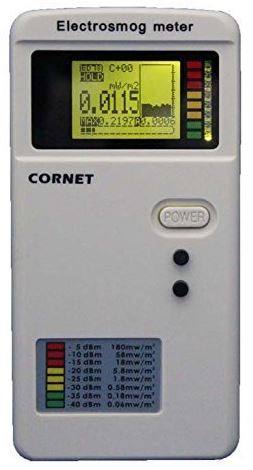 Layout & Controls
The control system on the ED78S is extremely simple and easy to use. Realistically, you only need a single button to use it – power. Turn it on, and everything you need to see is on the screen right in front of you. On the right side, you've got an LED bar that tells you the total amount of EMF radiation averaged over the previous few seconds. This is a great way to get a general idea of how much EMF yourself and your equipment are exposed to, although it's a little generalized.
If you want a more specific reading, just look at the digital display towards the left of the bar. The number tells you the exact amount of measured EMF at a specific point in time, while the graph next to it shows you how the EMF has changed over time. Nothing else on the market gives you a more specific reading, with very little user input required. You are given two buttons which are used to adjust the brightness of the screen, but these aren't essential to the devices operation.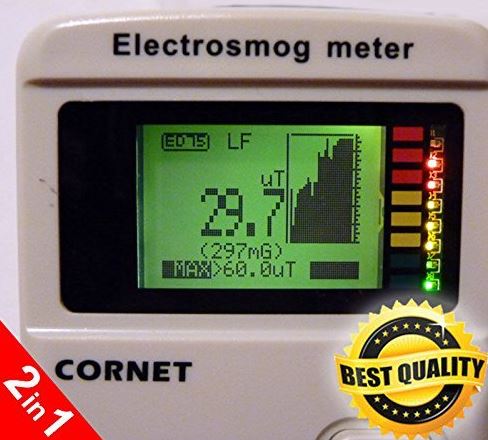 Measurement
This EMF meter measures magnetic, electric, and radio EMF all at the same time. It doesn't give you the ability to tune into a specific type of EMF, but it does give you an excellent overview of all the EMF that you are currently exposed to. The manufacturer advertises that it also measures microwave and 'paranormal' EMF, but this isn't necessarily a special feature of this meter. Both of these types of radiation are typically electric radiation, so these are simply different terms for the same thing.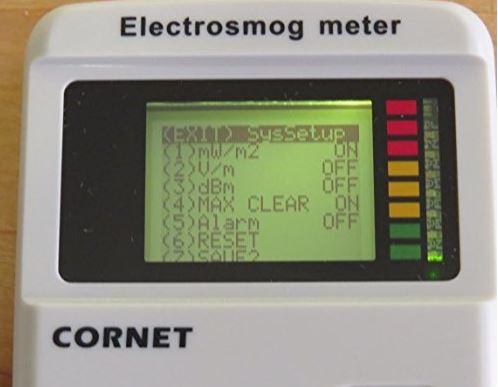 Accuracy
This is, without a doubt, one of the most accurate EMF meters on the market. It gives you not only a specific "point in time" reading of the current EMF, but also a historical view. It measures across multiple axis, so you always know exactly what you're being exposed to at any point in time.
EDI Plus
The EDI Plus is an EMF meter at heart, but there are many more features included. This specific meter is designed for ghost hunting, and includes everything you need to detect paranormal activity.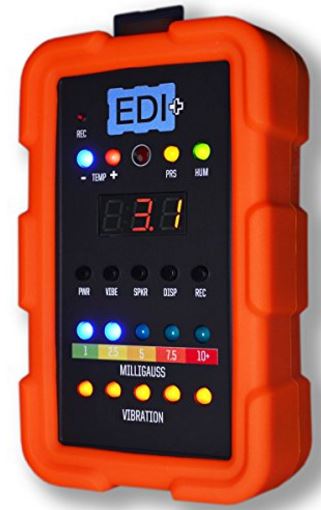 Layout & Controls
There isn't much required in terms of controls for this meter, but the reading system is quite advanced. For EMF, you are given a specific reading on the digital gauge written as Milligauss. There is also a large scale along the bottom that gives you an idea of the total amount (on a scale of 0 to 5) of EMF measured. The same scale is provided for vibration. EMF is in blue, while vibration is in orange.
On the top, you've got two LEDs for temperature. This doesn't show you the current temperature, but rather the change. If the temperature drops or rises, you'll know. There are also two individual LEDs that light up when there is a change in pressure or humidity detected.
Measurement
Measurement is spread across five different sensors, giving you a large array of things to interpret for ghost hunting. You get to see EMF radiation, but only along the ultra-low EMF frequency. You've also got a temperature sensor and vibration detector, both of which are very sensitive. There are more simplistic sensors for air pressure and humidity, giving you the complete kit for ghost hunting.
Accuracy
In the ultra-low frequency, this is one of the most accurate EMF sensors on the market. It's accurate to within 0.1%, which is hard to find. By restricting the portion of the frequencies that are actually measured, they're able to use a much more accurate sensor. So you're really getting something that you can't find elsewhere with the EDI Plus.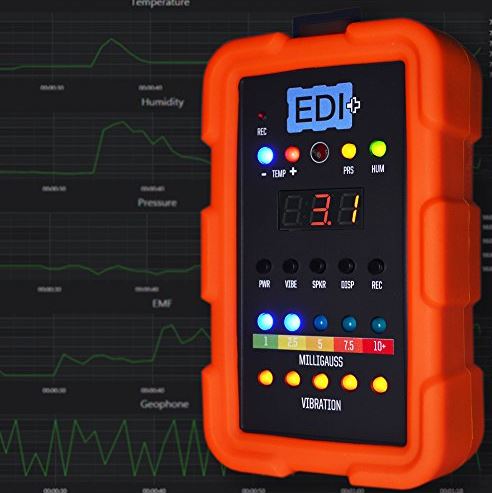 Both the temperature and vibration sensors are incredibly accurate, with a 1% error margin. Humidity and air pressure sensors are quite a bit simpler. They will only detect sharp changes, rather than gradual ones.
Which EMF Meter is Right for Me?
Depending on how you intend to use these meters, some will perform much better than others. If you're concerned about the amount of EMF radiation you're exposed to for health reasons, your best bet is to go with the Cornet ED78S. This EMF meter gives you extremely specific readings, but also summarizes it into an "exposure over time" measurement. This lets you make the proper health choices for yourself and your family, leaving very little room for error.
If you're trying to diagnose issues with equipment that is sensitive to EMF radiation, then the Trifield 100XE is the tool for you. This tried and true piece of hardware lets you adjust the reading to the exact scale you want, so you can measure only the types of EMF that actually affect your equipment.
On the hunt for paranormal activity? EMF meters are an essential item for any aspiring ghost hunter, but EMF isn't the only thing that you need to measure. The EDI Plus measures only the specific ultra-low frequency that is associated with paranormal activity, and also gives you the full range of temperature, pressure, humidity, and vibration measurement that true ghost hunters are looking for. If that isn't enough for you, the EDI Plus logs all of this data over time, so you can review it and look for any unnecessary spikes.
No matter which option you choose, there are plenty of great EMF meters on the market. By taking the time to select the correct one, you'll be well on your way to completing the task at hand.