The world around us is full of invisible electromagnetic fields and RF signals. These come from our smartphones, our routers, and other electronics. For the most part, EMF fields are harmless. But they can create interference when you're operating sensitive electronics. The presence of an unexpected EMF source can also be an indicator of a hidden camera or microphone.
An EMF meter can be a useful tool for detecting these fields, and has many applications. A sound engineer might use one to track down the source of interference. Or maybe you spend a lot of time at Airbnb rentals and want to scan for hidden cameras. Many people even keep one as part of an emergency kit in case of a major disaster.
Today, we're going to review four of the best EMF meters and detectors that we could find. Each one has a number of important features that we'll need to discuss. But if you're pressed for time, here's a quick overview:
Want to learn more about these EMF detectors? Let's take a closer look, and see how they stack up!
Best Overall: TriField TF2 EMF Meter and Detector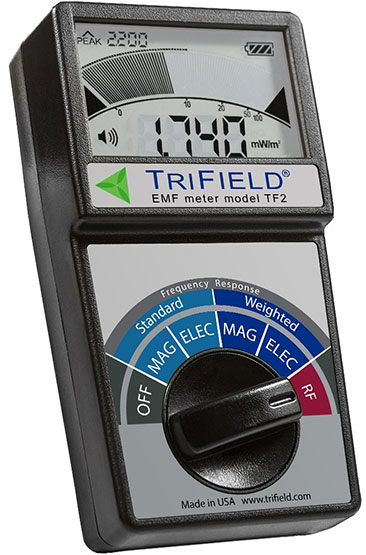 Key features:
Detects 0.1 to 100mG.
20-hour battery life.
0.1mG sensitivity.
The TriField TF2 EMF Meter and Detector is a handheld rectangular device with a black housing. It tips the scales at 13 ounces, and measures 5.2 inches long, 2.8 inches wide, and 1.5 inches thick. At the back end is a grey display, with a visual arc-style meter along with a digital readout. The readout will show RF signal readouts in mW/m (milliwatts per meter). EMF fields will be displayed in mG (milligauss). There's also a little battery meter at the top right.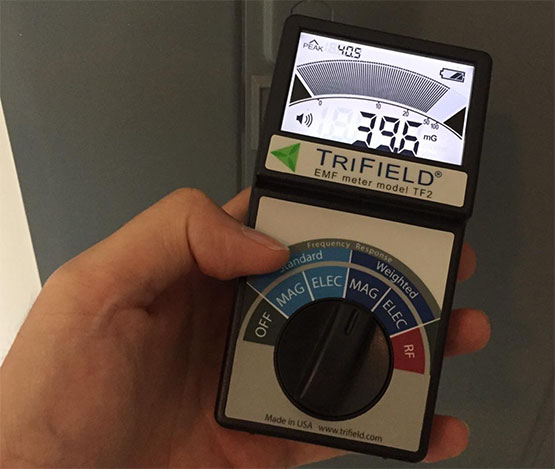 The display has an adjustable backlight, which makes it easy to read under a variety of circumstances. It creates a higher contrast along the visual meter, which jumps up and down quickly. As a result, you can easily keep track of your peak readings. This is less important for EMF readings than for RF readings, since RF signals cycle in intensity.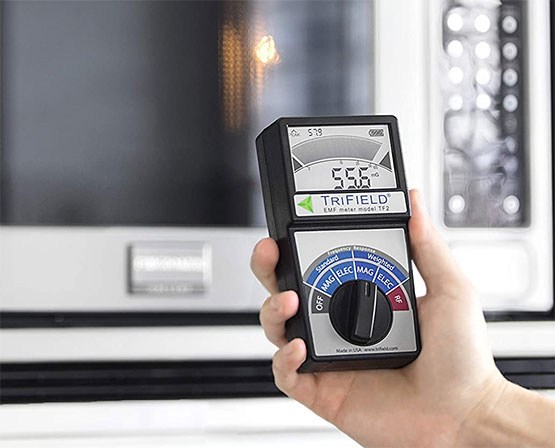 There's a large black dial at the front of the housing, directly in front of the screen. It has six settings, starting with "off." The next four settings are for electromagnetic readings. Two are standardized, while two are weighted – meaning the baseline is set to account for any ambient field. The last setting is for detecting RF signals. All of the settings are color-coded, which makes them very easy to identify. If you always use the same setting, you won't have trouble locating it on the dial.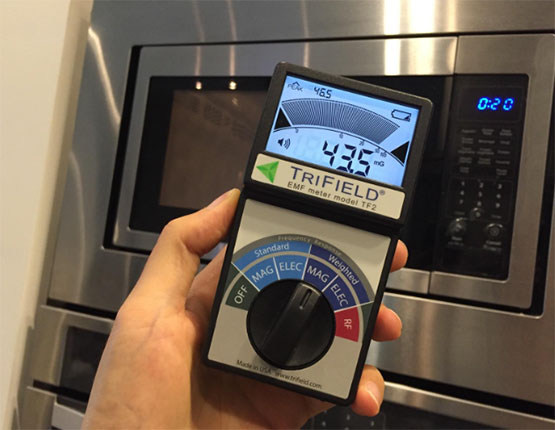 The TF2 is very versatile, with a sensitivity of 40Hz to 100kHz. That's enough to capture virtually any signal. It's also a "three-axis" detector, which means it detects RF signals, AC electrical fields, and AC magnetic fields. If that's not enough, you can lock in the peak reading during any session. As a result, you can capture brief spikes in a field that would otherwise be invisible.
The detector itself is precise to 0.1mG. That's not sensitive enough for use inside a laboratory. But unless you need ultra-precise readings, you'll have plenty of sensitivity. It's certainly accurate enough to tackle any everyday household tasks and installations.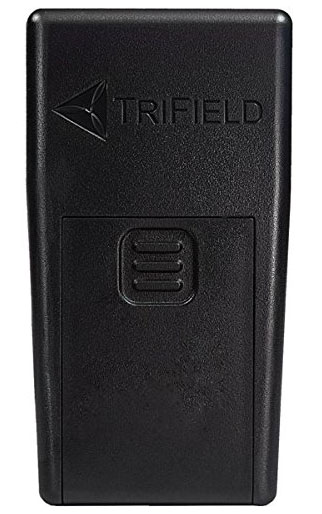 The TF2 requires a 9-volt battery, which you'll need to provide for yourself. The detector is capable of running for 20 hours on a single battery. But when you turn on the backlight, this drops to around 12 hours depending on the brightness. So if you want to get the most out of your battery, you'll want to limit your backlight use.
TriField backs the TF2 with a 12-month manufacturer's warranty. If it fails prematurely, you'll be fully protected.
What we liked:
Simple dial-operated design.
Long-lasting battery.
Accurate, consistent measurements.
Peak hold function can easily capture spikes.
What we didn't like:
Backlight drains the battery quickly.
Best Runner-Up: LATNEX AF-3500 EMF Meter and Detector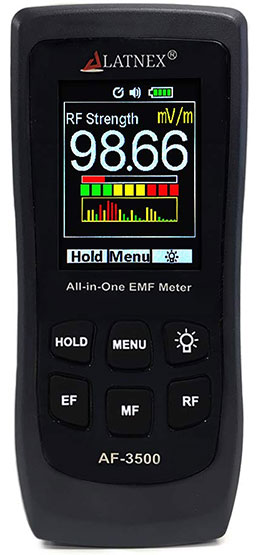 Key features:
Detects 0.02 to 2,000mG.
Takes 3x AAA batteries.
0.01mG sensitivity.
The LATNEX AF-3500 EMF Meter and Detector is constructed from a matte black plastic. The housing seems to be a little flimsy, but it does have an ergonomic shape. The center is slightly tapered, which makes it comfortable to hold in your hand.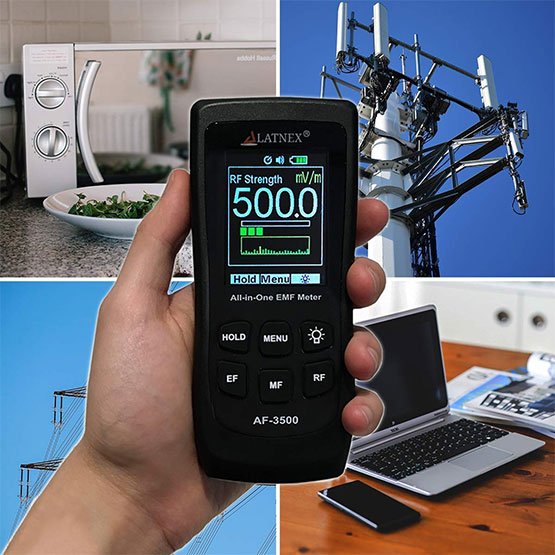 The back half of the front surface is occupied by a bright LCD display. It's colorful, with a bar graph underneath a digital readout. You can display electrical fields, magnetic fields, or RF signals on the primary display. Underneath is a more complicated bar graph that shows all of your readings at once. It can be a bit confusing at first, but once you get used to it you can read a lot of information simultaneously. There's also a little battery bar graph at the top right.
Beneath the display is a set of black rubber buttons. These can be used to change between different types of readings. They can open the menu to adjust your settings, or turn the backlight on and off. There's also a "hold" function that will lock the highest reading into memory.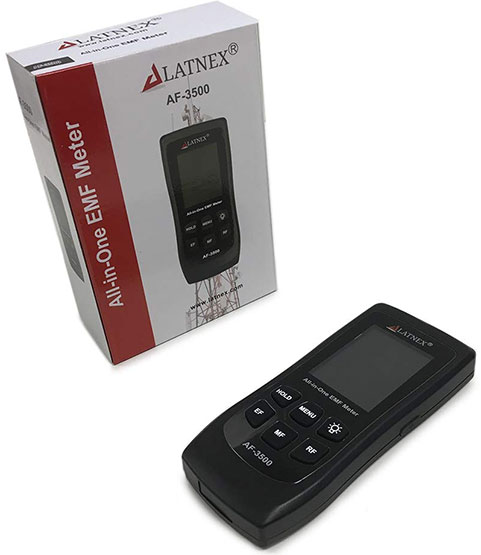 The EMF functions work very well, and the RF meter can detect from 50MHz to 3.5GHz. This makes it useful for most signals, but it can't pick up 5GHz WiFi. On the plus side, you get a sensitivity level of 0.01mG. That's an order of magnitude more precision than the TriField meter.
The AF-3500 also has an alarm function. You can set a maximum level for electrical or magnetic fields or RF signals. If the meter detects that that level has been met, an audible alarm will sound. This is useful if you're calibrating equipment or just trying to see if a signal exceeds a certain threshold.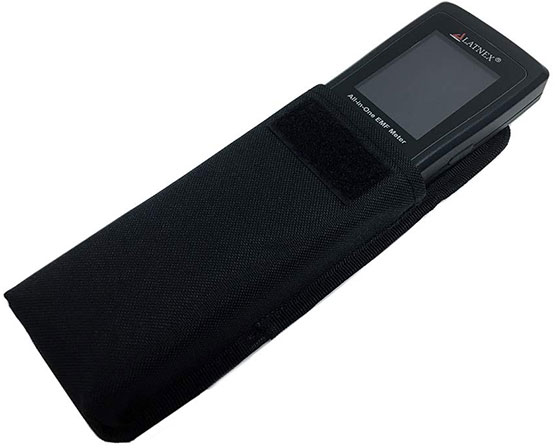 The kit includes a set of three AAA batteries, which will provide hours of use. You also get a black nylon carrying sleeve with a velcro closure. It's not exactly bulletproof, but it keeps the meter safe during storage and transport. Last but not least, you get a two-year manufacturer's warranty.
What we liked:
High level of sensitivity.
Replaceable AAA batteries.
Bright, colorful display and easy-to-use buttons.
Optional alarm function.
What we didn't like:
Can't detect 5GHz WiFi.
Questionable build quality.
Best Alternative: GQ EMF-390 EMF Meter and Detector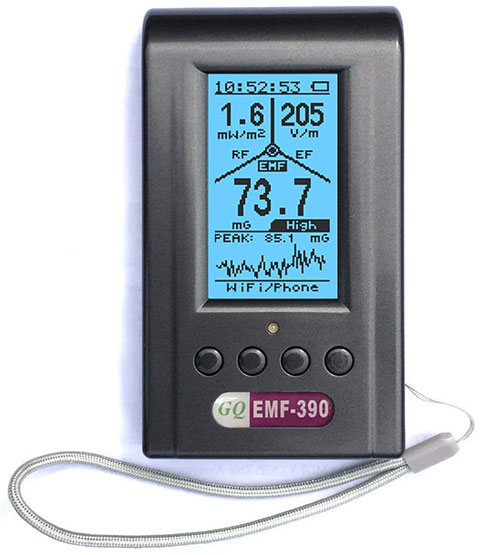 Key features:
Detects 0.0 to 500mG.
18650 battery.
0.1mG sensitivity.
The GQ EMF-390 EMF Meter and Detector is made out of grey plastic. It weighs 9 ounces, and measures 5.5 inches long, 3 inches wide, and 1 inch thick. It's also fairly blocky, but it's just the right size to fit in the palm of your hands.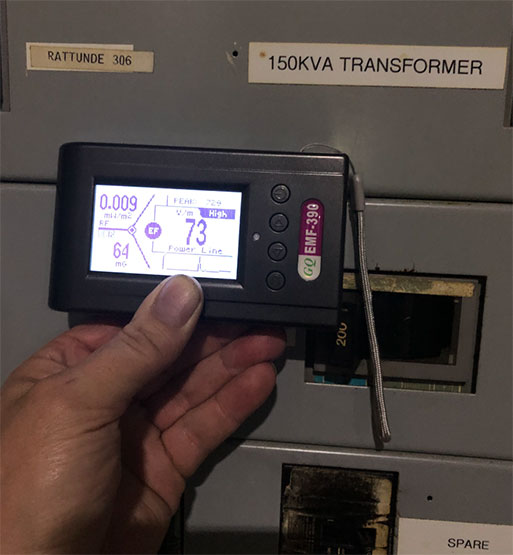 The display is a black-on-blue LCD, which measures 1.2 inches wide and 2.6 inches tall. It looks like an old-school graphing calculator, but it gets the job done. You'll see electrical, magnetic, and RF readings all at once, which can be confusing at first. The same is true for the controls, which aren't labeled. You'll have to spend some time tinkering with them at first to get the hang of things.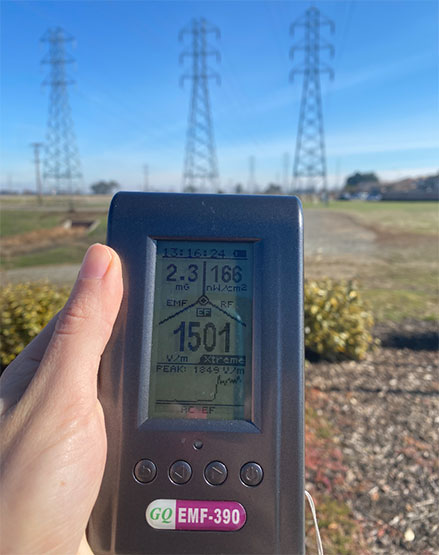 Beneath the real-time readings, you'll see a graph that shows the last 45 seconds' worth of measurements. This graph will also show a readout of your peak measurement during that time period. If you dig into the menu, you'll even find an RF spectrum analyzer. This can show which peaks are coming from which frequencies, so you can pinpoint the source. For example, you could distinguish between a cell phone signal and a WiFi router.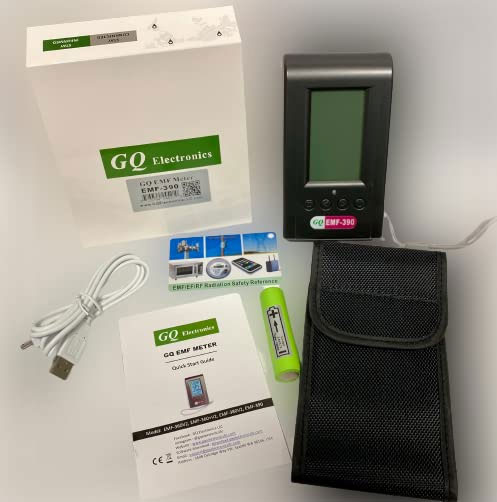 Like the LATNEX meter, the EMF-390 has a built-in alarm function. When your readings exceed a given threshold, an audible and visual alarm go off. You can even disable the audible alarm and rely on the less obtrusive visual alarm. All of your data is logged in the on-board flash memory. You can then transfer this data to your PC or Mac for later analysis. And with RF sensitivity up to 10GHz, detecting 5GHz WiFi is no issue.
Power is provided by an 18650 battery. You can recharge it via USB, or replace it with a new one when it runs dry.
What we liked:
Can download and store data history on your PC.
Battery is both rechargeable and replaceable.
Very good at monitoring WiFi signals.
Built-in alarm function.
What we didn't like:
Struggles to detect short pulses.
Display can be confusing.
Best Budget: ERICKHILL EMF Meter and Detector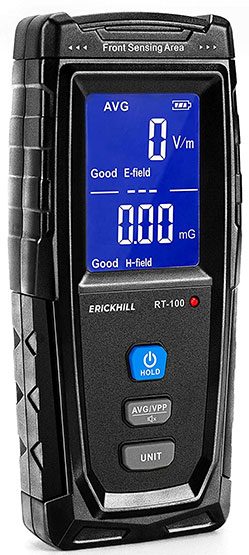 Key features:
Detects 0.1 to 999.9mG.
6 to 7-hour battery life.
0.01mG sensitivity.
The ERICKHILL EMF Meter and Detector is an affordable option with a black plastic housing. There are ridges along the edges to provide for a better grip, and the sides are flared for ergonomics. At the front is a white-on-blue LCD display that shows your electric and magnetic field readings simultaneously. Magnetic field readings are shown in mG, while electrical field readings are shown in Volts per meter. This detector only detects EMF fields. It will not detect RF signals.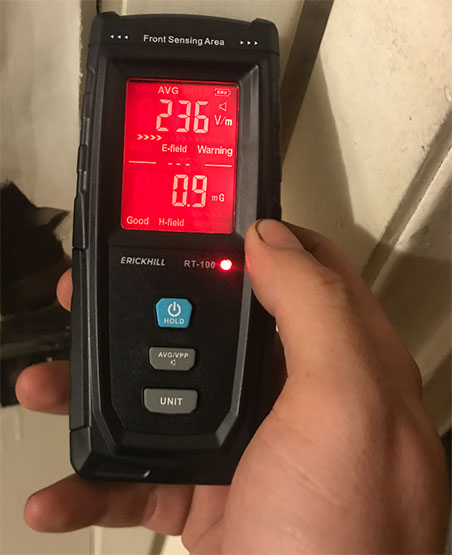 There's a built-in alarm, set to 4mG and 40V/m. When your reading exceeds those thresholds, a buzzer will sound and the screen will flash red. You can also turn off the buzzer and rely on the flashing screen if you don't want to disturb others.
The ERICKHILL meter can display either your average your peak value for a given period. A single press of the hold button will lock in a peak value for later reference. Meanwhile, the display is easy to read, with large numbers and a bright backlight.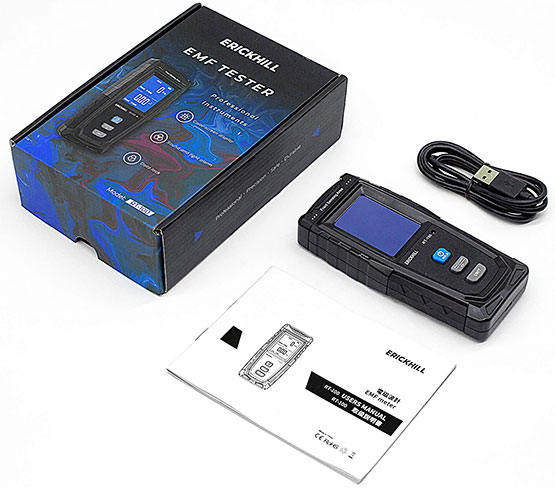 Power is provided by an 1,000mAh internal battery. It will run for around 6 to 7 hours depending on whether you're using the backlight or not. If you don't press any buttons for five minutes, the system will automatically shut down to save power.
You also get the benefit of a 36-month warranty. If anything fails prematurely, you'll be covered.
What we liked:
High level of sensitivity.
Very easy to use.
Built-in alarm function.
Auto-off function helps conserve battery life.
What we didn't like:
Battery cannot be replaced.
Does not detect RF signals.
Conclusion
All four of these EMF meters and detectors are well-engineered and perform well. But which one is the optimal choice for you? Let's go over what we've learned today.
We began by looking at the TriField TF2 EMF Meter and Detector. This is the easiest of the bunch to operate, thanks to the straightforward control dial. At 0.1mG sensitivity, it's accurate enough for everyday use if not for a laboratory. It also runs on a simple 9-volt battery, which is easy to replace when it runs dry. And with its bright backlight, the screen is very visible.
Next, we evaluated the LATNEX AF-3500 EMF Meter and Detector. This detector isn't quite as rugged. But the display is large and colorful, and it shows a lot of information all at once. The alarm function lets you determine whether or not an EMF field has exceeded your chosen threshold. And with 0.01mG sensitivity, you'll get ultra-precise readings.
After that, we checked out the GQ EMF-390 EMF Meter and Detector. This meter shows all of your readings at once, and stores them in flash memory for later recovery. The alarm function can be customized to set off a visual alert only. And the 18650 battery is both rechargeable and replaceable.
Finally, we reviewed the ERICKHILL EMF Meter and Detector. This is a more affordable meter that doesn't capture RF readings. But if all you need is a barebones EMF detector, it will get the job done.