So you have your PC gaming area all set up. You have an awesome computer full of RGB, a gaming mouse, and a mechanical keyboard.
You're a fan of RGB on everything you can get it on, and you always want to be able to see it while gaming. Your keyboard is a focal point. You may have keycaps that allow some light to shine through, but don't you want more? That's what pudding keycaps are for.
What are pudding keycaps?
Pudding keycaps are functionally the same as a normal keycaps. Where they differ is the design. The top is typically textured solid plastic, but under that is semi-transparent plastic.
This allows for a cool dampened lighting effect under each key. It shows way more RGB than a keyboard straight out of the box normally would. They come in all different colors for the tops of the caps, however white and black are the most common.
Why would I want pudding keycaps?
Gamers don't want setups that are just like everyone else's. You'll usually want something (or a lot of things) unique to your setup. Pudding keycaps are a great way to do that.
Their ability to let RGB shine through all angles of your keyboard makes them a great choice. They're also usually made of high-quality materials. They make great replacements for any keyboards with lower-end keycaps that come with them.
Can all pudding keycaps fit all boards?
No, they can't. The challenging part about buying a keyboard and replacing them with any secondary keycaps is that they won't all fit. Sometimes it can be due to the type of switches used. However, more common than that is the actual board size.
They all typically follow certain layouts, but some individual manufacturers change what sizing they use for individual caps. We have also seen keyboards that change how keys function entirely (like splitting the space bar into three buttons). To make sure you don't waste your hard-earned money, you have to do some research to make sure your board is compatible with the keycaps you want.
Is it hard to install pudding keycaps?
Not at all. If you've never replaced the keys on a keyboard it may feel a bit weird at first. However, once you get the hang of it it's really simple. Most keycap kits will come with an included cap puller. This is typically a plastic device that you put over either side of a key. Once it's secure, simply pull up and your keycaps should pop right off.
Now, is it possible to remove keys without a keycap puller? Sure. Should you try to change them out without one? Probably not. Stick with what the standard way is and you likely won't break anything on accident.
Best Overall: SteelSeries PRISMCAPS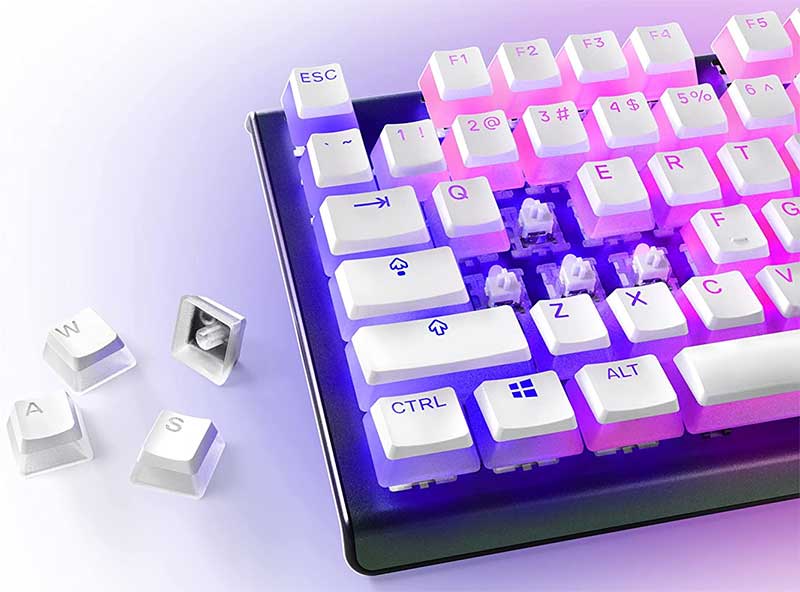 Key Features:
105 keycaps included
2 colors available
The SeelSeries PRISMCAPS are a fantastic option to choose from. They're made out of double-shot PBT thermoplastic to ensure maximum durability over long periods of use. The tops are made with textured plastic similar to the HyperX option, to make sure you don't slip off keys while gaming.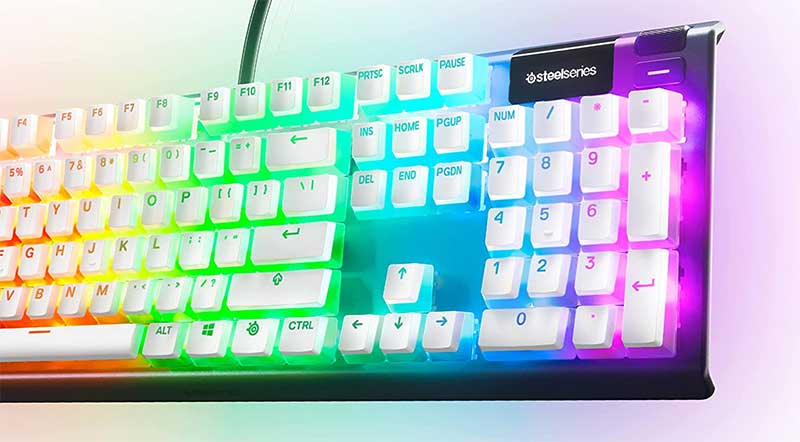 These offer the lowest range of colors so far, with only the standard black and white available. However, their design is great. They feature a premium pudding look. Additionally, they have large lettering that allows RGB to shine through. They also have some unique lettering used on some keys like shift and caps lock, it's a nice touch.
There are 105 keycaps included in the package, with no expansion options available. However, included in each pack are two additional sets of bottom-row keycaps. This helps to make sure it will fit any mechanical keyboard that uses a unique bottom row. Brands such as Corsair, Ducky, and Razer shouldn't have any issues.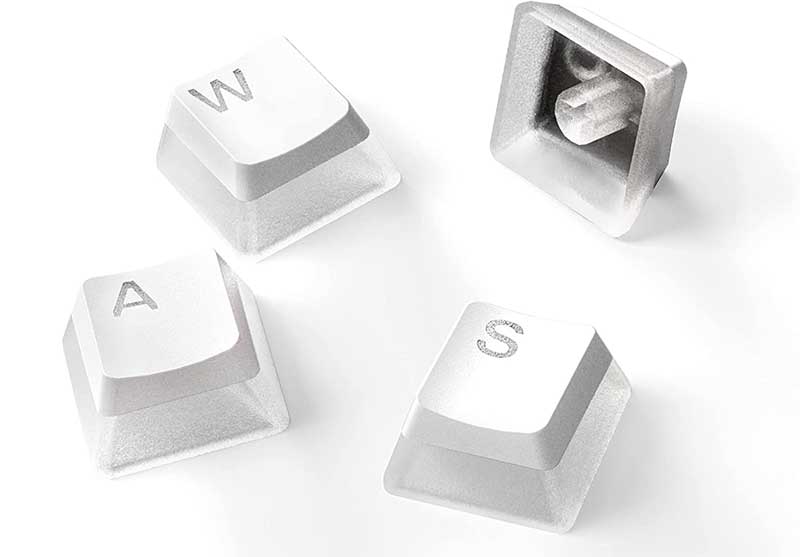 The fact that they think ahead and include multiple bottom rows is something we like. Pair that with an already impressive included amount of 105 keycaps, and you have a great option. No matter if you have a full-sized, tenkeyless, or 60% board, the SeelSeries PRISMCAPS are a great choice for you.
Pros:
Unique lettering
Multiple bottom rows included
Cons:
Best Alternative: HyperX Pudding Keycaps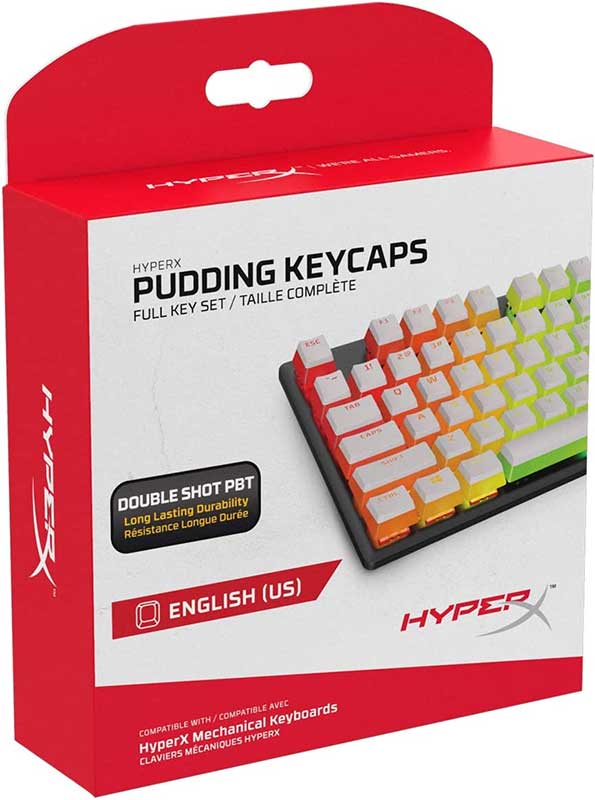 Key Features:
104 keycaps included
3 color options
The HyperX Pudding Keycaps are another great choice when it comes to durability. They're a popular brand and made from double-shot PBT. The tops have a matte finish which helps with durability and grip while gaming. They're made with thick walls and are resistant to solvents.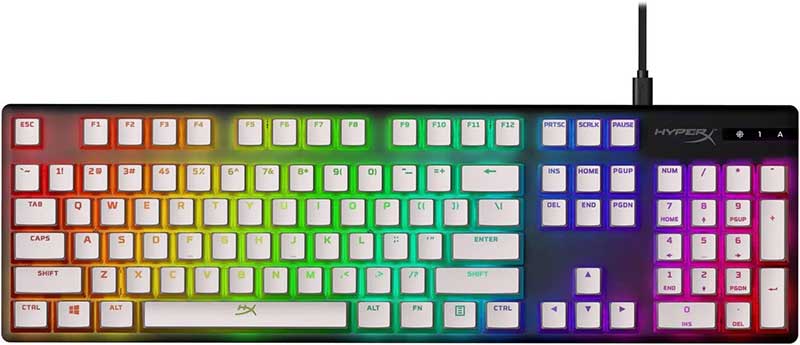 They're available in three different colors. You can choose from white, black, and pink tops. All of them feature semi-translucent material underneath. Additionally, the tops have shine-through letters to allow more RGB showing. The lettering itself is a specialty HyperX font that's large and easy to read.
Included in these kits are 104 keys, making them fit most keyboards. However, if yours has more than that it isn't the best option as no expansion packs are available. They can be put on any US layout keyboard with a standard bottom row. Companies like Corsair and Razer that use a different bottom row will not work for some of the keys.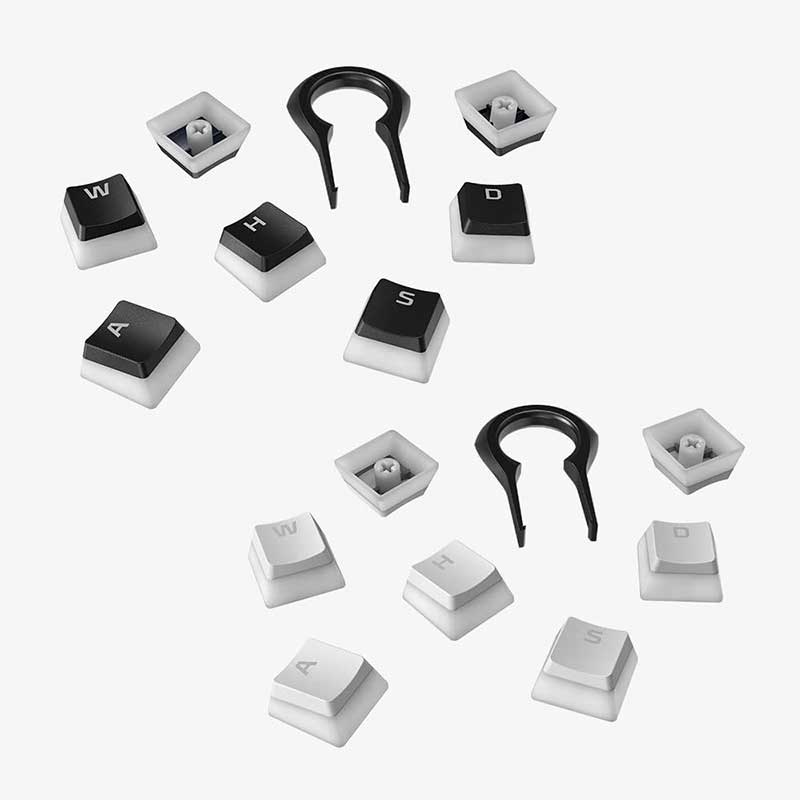 They're a definite upgrade over most stock keycaps on the market. As long as you have a standard keyboard, putting these keycaps on should be simple. In our opinion, as long as they all fit, the HyperX Pudding Keycaps are a great option to pick.
Pros:
High build quality
3 colors available
Cons:
No alternative or expansion packs are available
Best Multi-Color Option: YMDK Doubleshot Shine Through Pudding Keycaps

Key Features:
Multiple options for the amount included
Four color variations
PBT doubleshot
The YMDK Doubleshot Sine Through Pudding Keycaps are a great durable option. They're constructed with PDB and are double-shot. This keeps them from breaking down over time. They're about 1.1mm in thickness. The top of them is also plastic, with the appearance that they're on the shinier side rather than textured. They also have a shine-through legend, so seeing the RGB from the top is possible as well.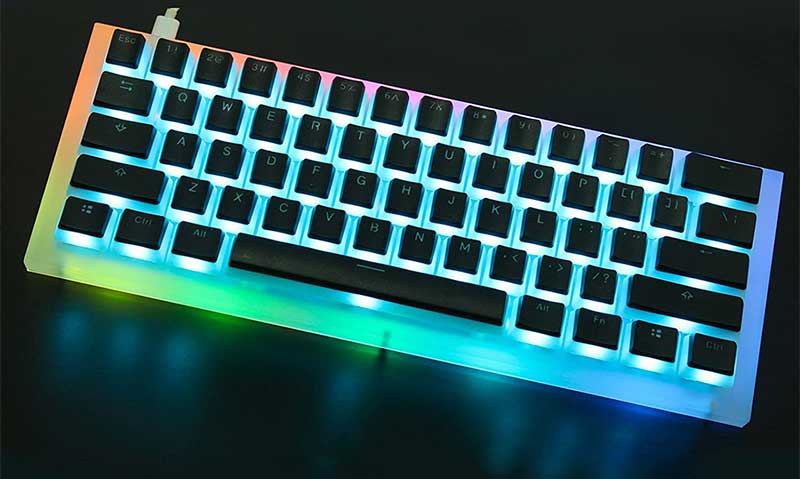 They come in a few different color options. They have the standard black and white that most companies offer. They also have a grey-and-white variation and a grey-and-black variation. These feature grey keys for most of the middle of the board, while the surrounding edges are black or white.
They come in multiple different variations for sizes and compatibility. They offer sets that include keys for boards with 87, 117, 128, and 145 keys. This makes sure that no matter what board you have at home you can find an option that will waste as few caps as possible. Additionally, they're compatible with a wide range of keyboard brands. You can also purchase separate bottom rows for both Corsair and Razer, as they have different lengths used for keys on the bottom rows.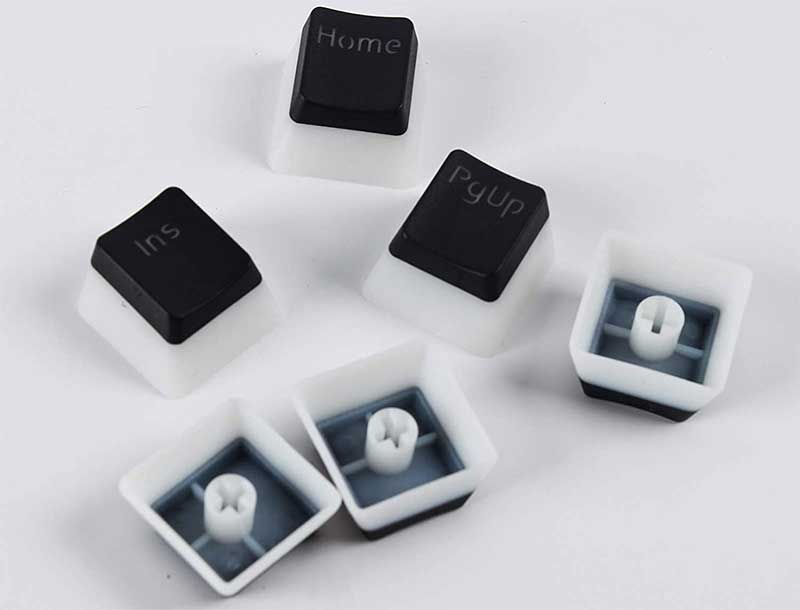 Overall, the YMDK Doubleshot Sine Through Pudding Keycaps are a great choice to get started with pudding keycaps. The company is very helpful, with a ton of information available for which boards they will work on and which ones they won't. They also offer great service, replacing any broken or missing keycaps.
Pros:
Wide variety of compatibility
Multiple color choices
Cons:
Only usable on US keyboards
Best ISO Option: Glorious Aura V2 Pudding Keycaps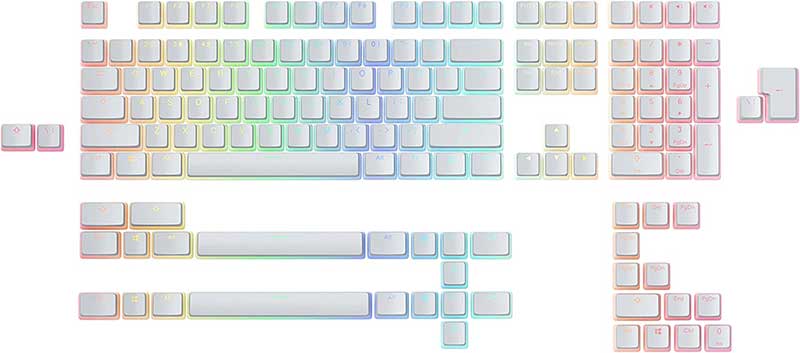 Key Features:
145 included keycaps
2 color options
The Glorious Aura V2 Pudding Keycaps are designed to outlive your keyboard. They're made out of double-shot PBT material (we're starting to see a trend here). This is a popular choice because of the durability needed on gaming keyboards. They also feature an ergonomic design with textured plastic on top.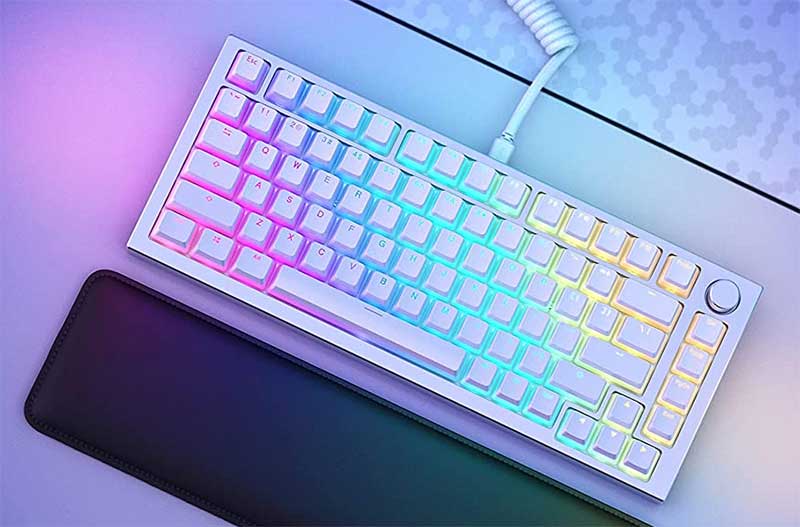 They're available in white and black, which is sufficient but lacking compared to other options on the list. Additionally, the top lettering is a large, clean font that won't be hard to read. Additional shine through on the top for more RGB is included.
This set comes with 145 keycaps. It's compatible with full-size, tenkeyless, 70% or 60% keyboards. Additionally, any board using ANSI or ISO layouts should be compatible. While we know some keyboards are unique, Glorious includes extra versions of multiple keys to help increase board possibilities.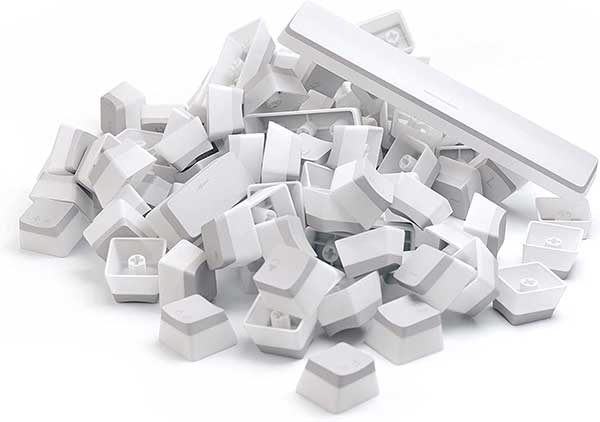 The Glorious Aura V2 are a great, high-quality set of keycaps. They come with plenty of options with extra versions to make sure you can put them on your board. The additional support for ISO is a great feature, making them more usable outside the US.
Pros:
ISO support
Plenty of keycap variations included
Cons:
Best Compatibility: XVX Pudding Keycaps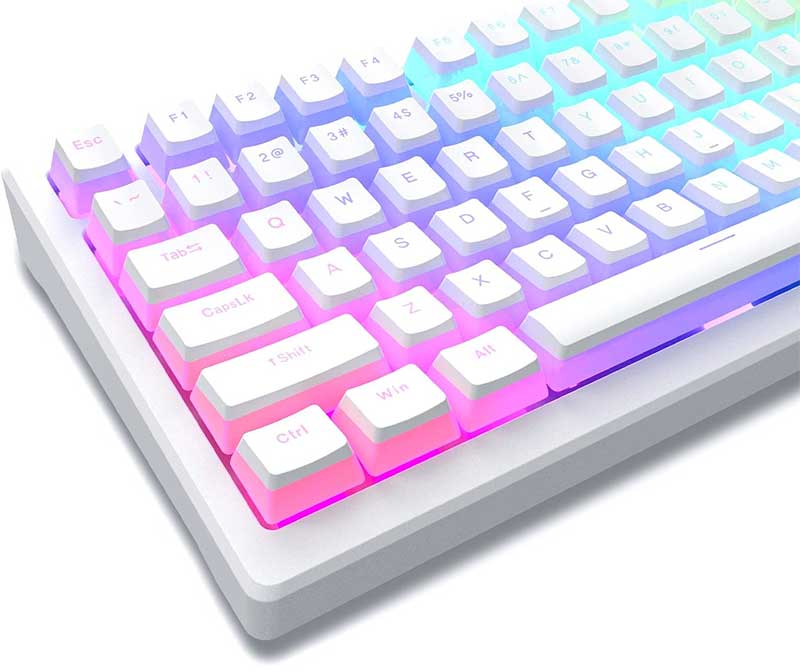 Key Features:
165 keycaps included
3 color options
The XVX Pudding Keycaps are a versatile choice. They feature PBT construction with extra thick walls to make sure they won't break. The top has a textured finish, and all the lettering is closed. This makes sure that the lettering won't wear off over time.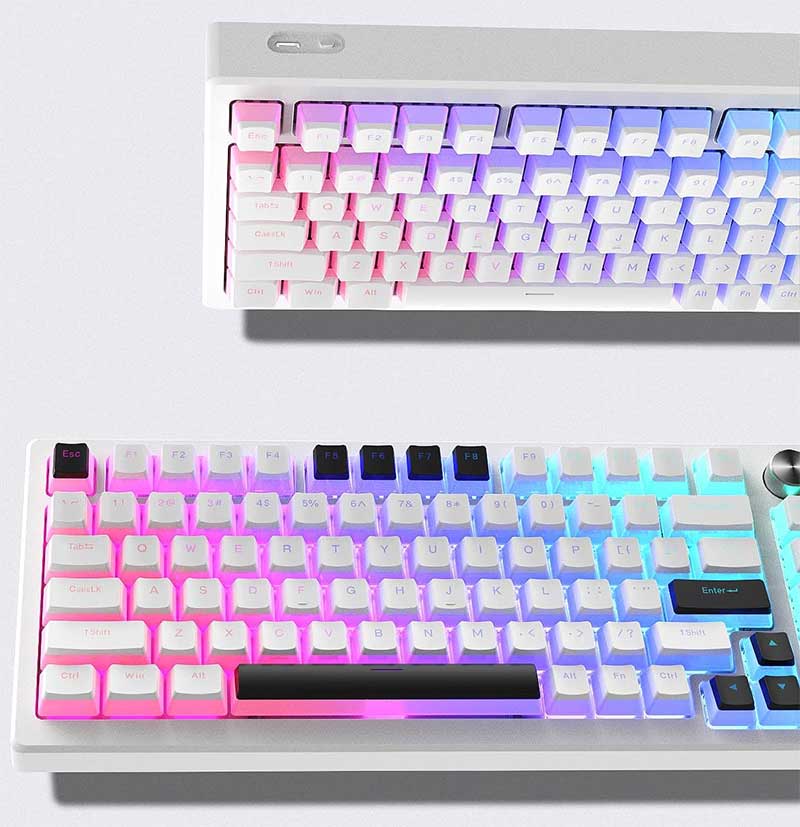 They're available in three different color variations. They have the standard black and white tops that most companies offer. However, a first for this list is the additional black translucent pudding bottom. This allows for the same pudding glow you know and love but with a darker tint. The lettering is large and legible and allows light through.
Included in the kit are 165 keycaps. They're designed to fit as many 100%, 75%, 65%, and 60% keyboards as possible. If you aren't sure if they will fit your board, they offer customer service to talk to and ensure you get what you need.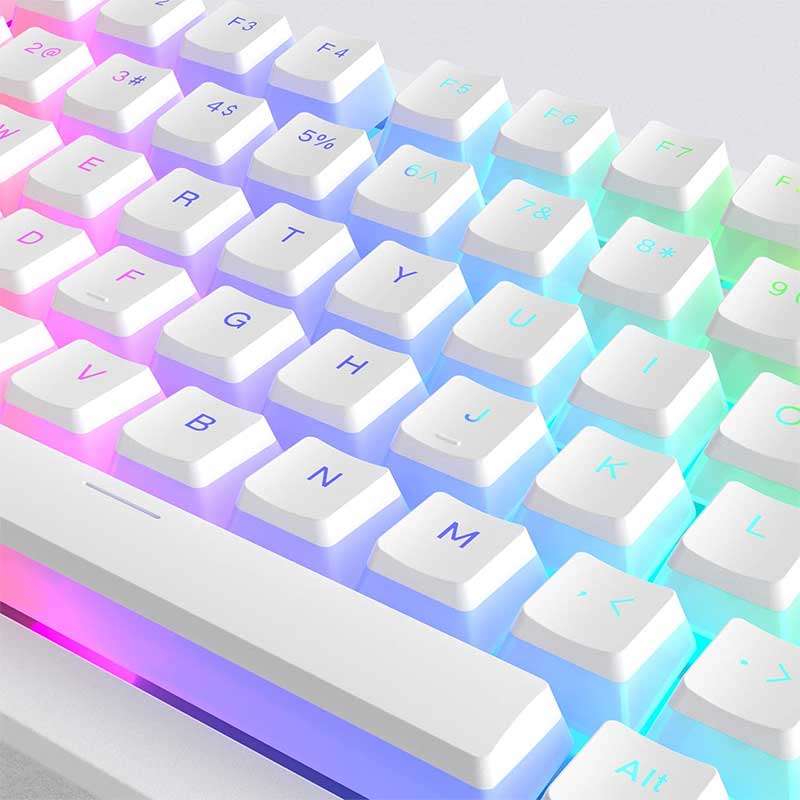 Featuring the most keycaps out of the box on this list, you can be confident that they will likely fit your keyboard. The XVX Pudding Keycaps have a premium look and feel and would be a great addition to any setup that wants the awesome pudding effect.
Pros:
Black pudding color available
Closed lettering
Cons:
Black pudding color only comes with black tops
Best Color Variation: LTC LavaCaps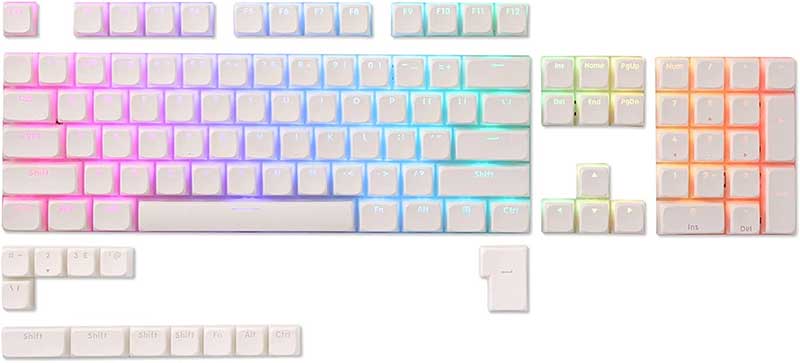 Key Features:
117 keycaps included
7 color choices
The LTC LavaCaps are (you guessed it) made out of double-shot PBT material. They're highly resistant to oil, friction, temperature, and corrosion. The tops of the keycaps feature textured plastic. The actual size of the normal letter keycaps is 18mm x 18mm.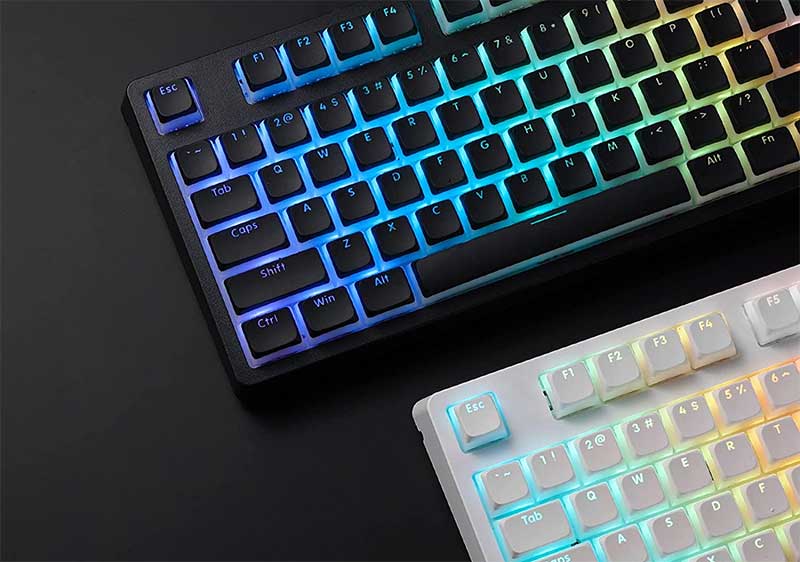 The color choices are what set this set apart. It offers seven different color options. This includes two different whites, black, light pink with pink pudding, two different pink with pink puddings, and yellow with yellow pudding. The various colors should help them fit into your setup no matter what your style is. Additionally, the various colors are available in various keycap profiles. This alters the shape and user feel of the keycaps.
Included in the kit are 117 keycaps. They're compatible with both ISO and ANSI layouts. To help ensure they will work with your board, 17 alternative keys are included. Most 60%, 65%, 75%, tenkeyless, and full-sized keyboards should work with them.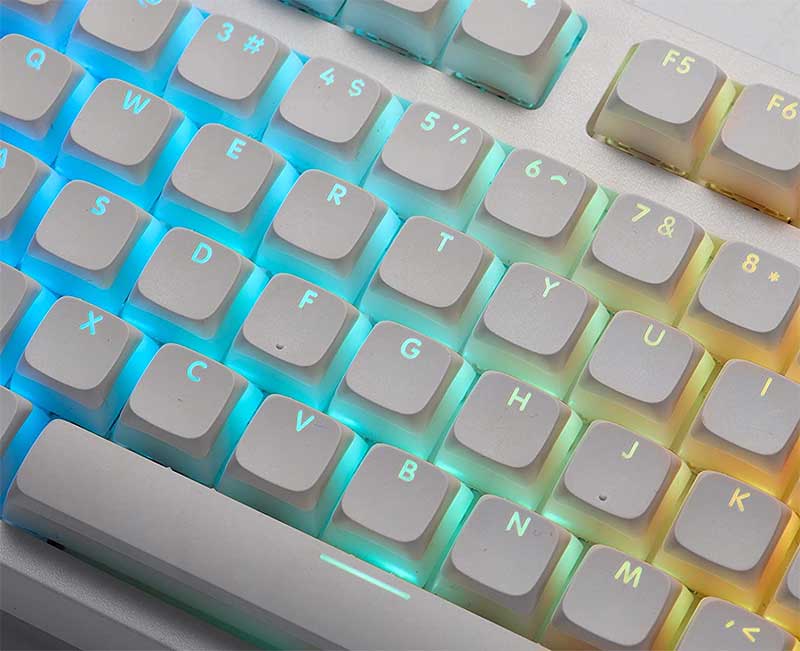 If you're looking for the widest range of colors and compatibility, the LTC LavaCaps are a great choice. No other option on the list comes with as many different pudding material color choices, so they're sure to be a unique addition to your keyboard.
Pros:
Widest color selection
Multiple keycap profile options
Cons:
Lettering is a bit smaller than other options on the list