If you're an avid gamer or computer user you may have thought about customizing your keyboard. Typically, people will just buy a keyboard because they have to and call it good. As time goes on, your style and preferences evolve.
But what if there are some parts of the keyboard that you want to keep the same? You don't have to buy a whole new keyboard. You can simply change your keycaps or keys to fit your new desires and aesthetics. However, we don't recommend just ripping these pieces out by hand. You'll want to use a keycap or switch puller tool.
What is a keycap and switch puller tool?
These tools are small and usually made out of plastic or metal. They are designed specifically to be able to pull the switches and keycaps out of your keyboard. There are various versions that all remove your keys or keycaps safely. Without a tool like them, you run the risk of damaging your keyboard (don't do that).
Are there options that can pull both switches and keys or do I have to buy multiple tools?
Well, it depends. There are many options out there that allow you to pull both with one tool. There are also a lot of choices that only do one or the other. Sometimes these are sold as individual products, and sometimes they come as a package deal.
Will I only need to use these when I want to replace keycaps or switches?
Nope! While that is one of the main use cases, there are many reasons why you'd want to remove your keys or keycaps. One of the most common is for cleaning your keyboard. Sure, you can buy the canned air and spray dust out of your keyboard.
You could even get one of the mini-vacuum cleaners that can get in between your keycaps. However, the best way is to completely take off the keycaps and give the board a deep clean every once in a while. The best way to do that is with a keycap-removing tool.
SYIDINZN Keycap Puller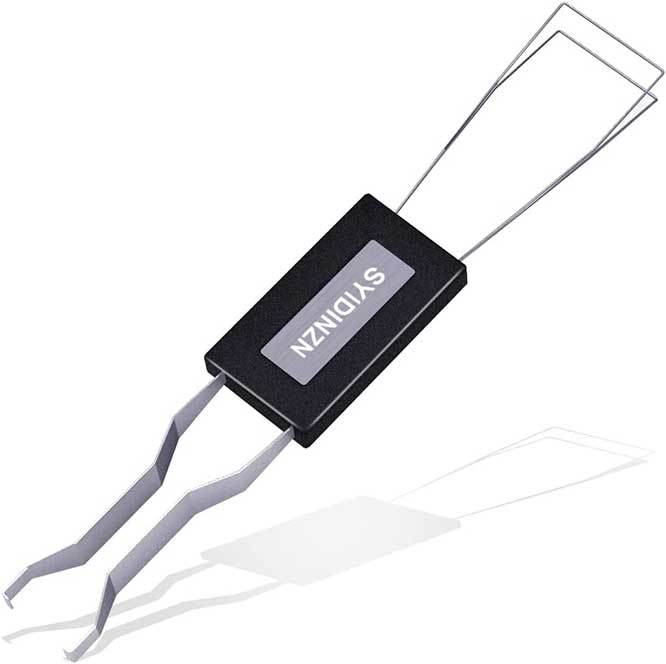 Key Features:
Pulls keycaps and keys
Plastic and steel construction
Works with most mechanical keyboards
The SYIDINZN is a keycap puller with a great overall design. The main handle is made of black plastic, and either end has metal components. When you're using these tools ergonomics is important (especially with full layout keyboards). This tool keeps that in mind as it's very comfortable to use.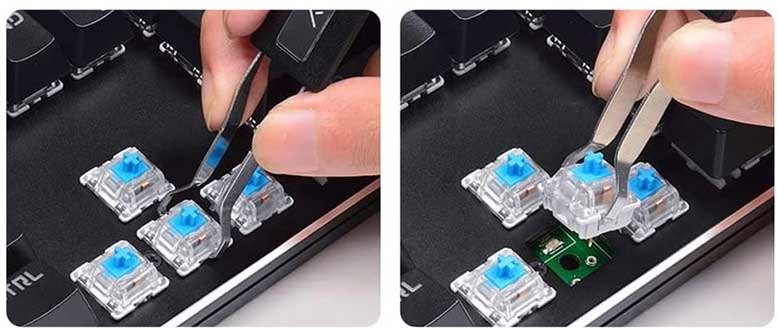 The SYIDINZN is designed to help you easily remove both keycaps and switches from your mechanical keyboard. It can do this safely using the stainless steel components designed specifically for both switches and keycaps. These parts are thin and flexible but also sturdy enough to get the job done.
While there are plastic aspects to the SYIDINZN, it doesn't lack durability. Using plastic in the handle and steel in the tool parts allows this tool to be lightweight and durable at the same time. Additionally, you won't have to worry about bending or breaking the ends while pulling apart your keyboard.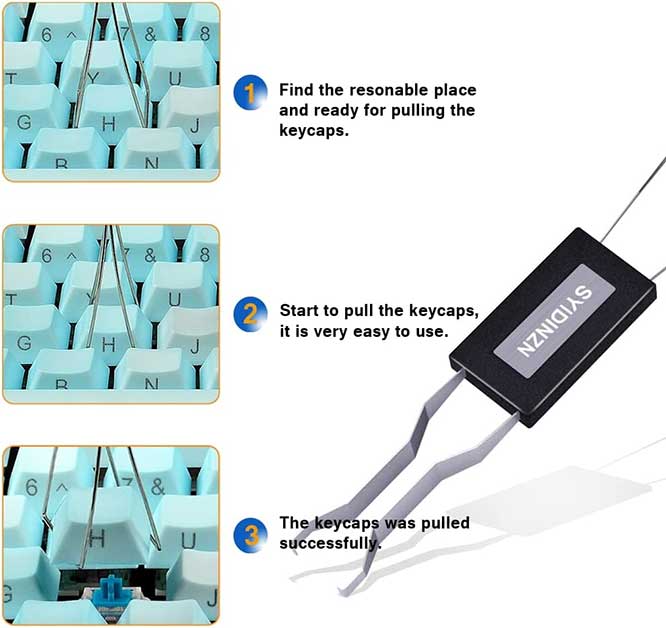 In our opinion, the SYIDINZN is a great choice for those who are looking for a tool that can remove keycaps and switches all in one compact package. It's compatible with most of the popular switches on the market. However, you'll have to avoid scissor-type switches.
Pros:
Durable construction
Pulls both keycaps and switches
Cons:
Not compatible with scissor-type switches
Glorious Keycap Puller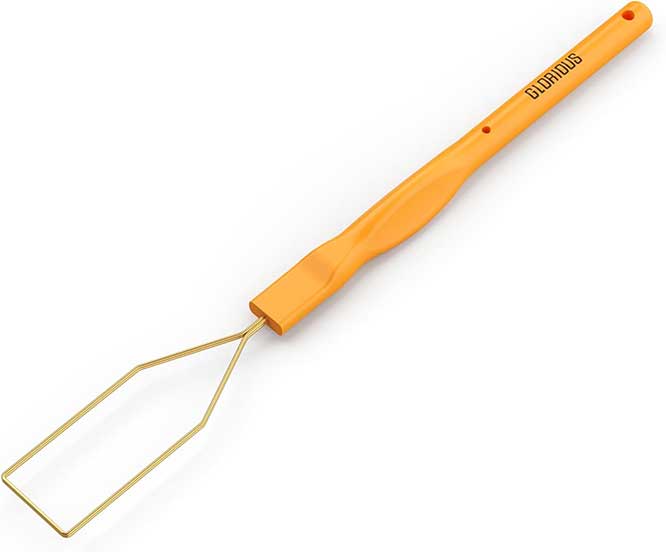 Key Features:
Gold plated wire
Keycap puller only
Compatible with all keycap profiles
The Glorious Keycap Puller does a phenomenal job at just pulling keycaps. It's available in a yellow handle and even has a gold plate over the wire end. The handle has an ergonomic design to reduce fatigue in your wrist and fingers. The finish on the handle is matte, which helps you hold and control the tool better.

The Glorious Keycap Puller does exactly what its name suggests, it pulls keycaps. Simply put the wire underneath your keycap, apply some force through leverage, and the keycap will come right off. The steel wire is plated with gold to help reduce damage to your keycaps. Additionally, the wire is rounded to help it roll off the surface of both ABS and PBT keycaps.
This tool is very durable. It's made with a combination of plastic and steel. This gives it a similar strength to the SYIDINZN option. Additionally, the gold plate on the wire will help to protect the tool as well.

In our opinion, the Glorious Keycap Puller is a great option if you're just looking to remove keycaps. It's an absolute joy to use and has been designed extremely well. You won't get fatigued and you won't damage your keyboard or keycaps while using. Best of all, it's compatible with all keycaps so you won't have to do additional research to make sure it will work.
Pros:
Gold-plated wire for the puller
The matte finish on the handle
Ergonomic handle
Cons:
Glorious Switch Puller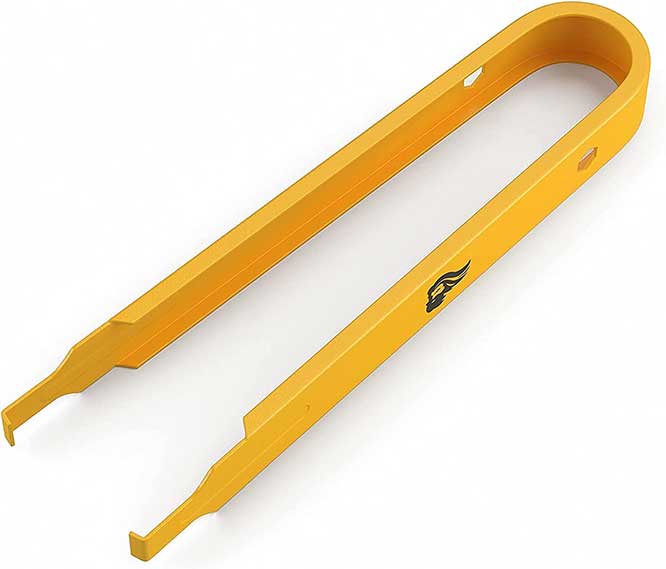 Key Features:
Only pulls switches
Tweezer design
Stainless steel construction
The Glorious Switch Puller has a very simple look that makes it a great modern tool. The design makes it look like a set of large tweezers and is available in a yellow color. It's specially designed to remove switches and is made entirely from stainless steel. Additionally, the tool keeps ergonomics in mind so you won't get tired after a long day of modding your keyboard.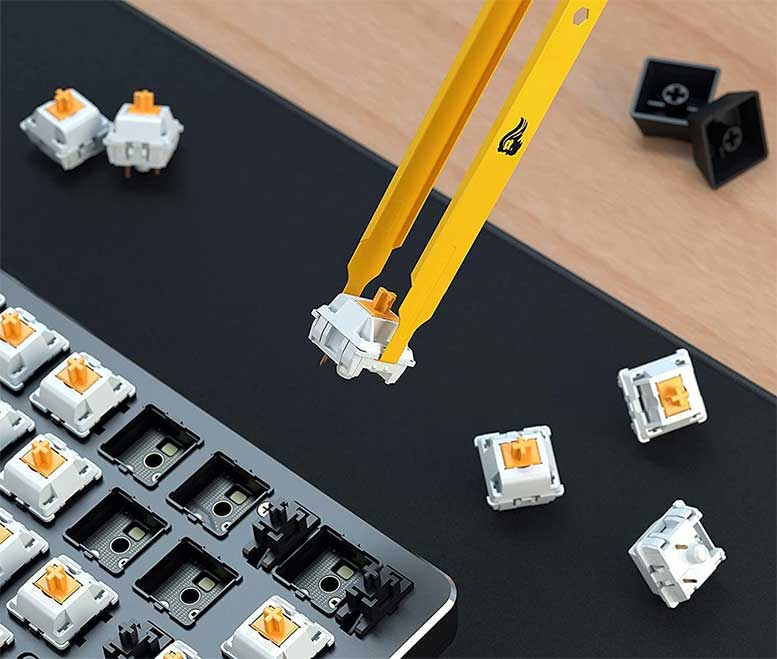 Just like the previous product from Glorious, the name really says it all when it comes to what the Glorious Switch Puller can do. There are two ends to the tweezer design that both have metal pieces going 90 degrees inwards. These metal pieces grab onto your keys and help you safely remove them from the keyboard.
Since it's made out of stainless steel, durability won't be an issue. It's sturdy enough to last a long time, yet flexible enough to give you a great grip on the switches. The arms are reinforced to ensure they are bend-proof no matter how much you use them.

In our opinion, the Glorious Switch Puller is a great option if you just want to pull the switches out of your keyboard. It's ultra-durable with its 100% steel construction. Additionally, it can bend enough to give you a great grip on your keys without breaking. Pair all of that with an ergonomic design and you have a tool you'll love using.
Pros:
100% steel construction
It's easy to pull switches with
Cons:
Not designed for keycap removal
SAVITA Mechanical Keyboard Switch Puller Set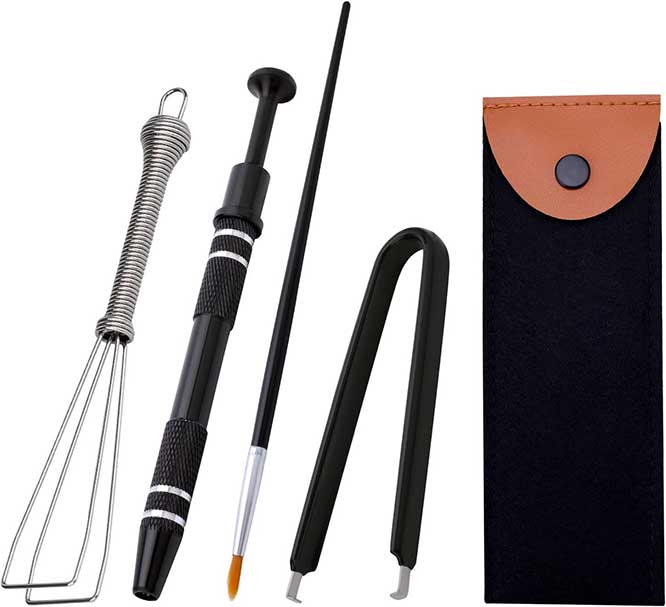 Key Features:
Multiple tools included
Storage case provided
Two color options
The SAVITA differs from anything else on the list, providing you with multiple tools in one package. It comes with a keycap puller, switch puller, stem holder, and lube pen. This gives you a ton of options for a full keyboard maintenance day. These tools are available with black or blue as the main colors used. Each tool is designed to be easy and comfortable to use.
The kit allows you to do a full maintenance cycle on your mechanical keyboard. Both the keycap puller and switch puller function just like the option from SYIDINZN. They each go on either side of the part you're trying to pull and grab it securely. Then you can just simply lift upwards and the keycap or switch comes right out. Where this set differs is the additional stem holder and lube pen included. These allow you to provide additional maintenance to your switches.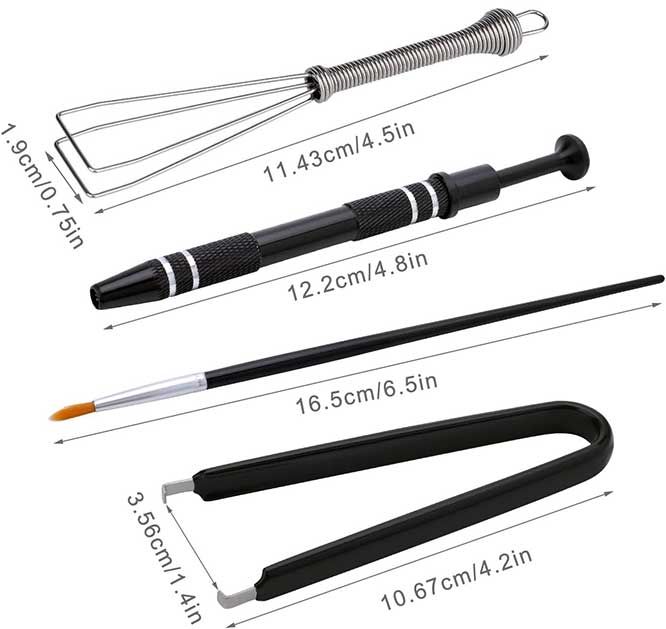 Each tool from SAVITA is constructed using a mix of steel and high-quality PVC material. These materials make them extremely sturdy and durable while in use. Additionally, the keycap puller uses curved steel to help with grabbing the keycaps more securely. They each have either a textured or matte finish to allow you to keep a good grip.
In our opinion, this is the most versatile kit on our list. Not only can you pull keycaps and switches, but you can also perform cleaning and maintenance with the additional tools. They're all made out of high-quality materials and work as they should.
Pros:
4 tools in one kit
Stainless steel and PVC construction
Cons:
Switch puller can be difficult to use
Magicforce Keycap Puller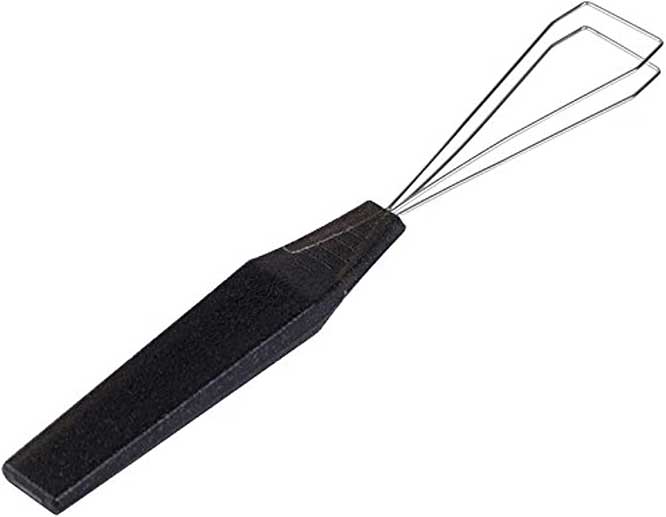 Key Features:
Slim design
Only pulls keycaps
Stainless steel and plastic construction
The Magicforce is an extremely slender tool designed for keycap removal. It's made with a non-slip plastic handle and a steel wire for pulling caps. The tool comes in one available black colorway. The small size and design allow you to use it very comfortably.

The Magicforce is only designed to pull keycaps. However, it does this very well, as it can hold up to 3 caps at once to speed up the whole process. Compatible keycaps include Cherry MX, Alps, and topre styles. It functions just like the SAVITA and SYIDINZN keycap pullers by putting the wire on opposite sides of the cap and pulling upwards.
As for durability, the Magicforce is a great choice. The plastic used in the handle is strong and has a non-slip texture applied to it. This helps you keep a good grip on it while in use. The wire used to grab onto the keycaps is made out of stainless steel. The wire is also rounded and can be bent enough to grip keycaps without breaking.

In our opinion, if you're looking for a very budget-friendly tool that only pulls keycaps, the Magicforce is a good option. It has one function and performs it well. The non-slip handle and stainless steel wire make pulling keycaps a breeze. Best of all, the wire bends enough to hold 3 keycaps at once which makes this tedious task more efficient.
Pros:
Can hold 3 keycaps at once
Non-slip handle
Cons: