Key Takeaways:
The nostalgic allure of the NES, SNES, and Sega Genesis is undeniable. These iconic consoles shaped countless childhoods, introducing us to worlds of pixelated adventures and timeless characters.
But as time marches on, original accessories, especially power adapters and AV cables, may have gotten lost, worn out, or damaged. Reviving these classic systems often requires finding a trustworthy power source with accompanying audio/video cables.
Regardless, we're here to introduce a few notable replacements that are worth considering. Whether you own the NES, SNES, Genesis 1, or all three, these AC power supplies and AV cables are capable of the task at hand.
CHILDMORY 3-in-1 AC Power Adapter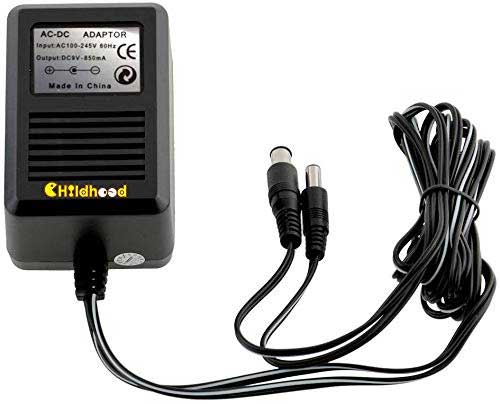 Key Takeaways:
Powers the NES, SNES, or Sega Genesis.
Two different-sized plugs in one.
Works with US consoles only.
Feels cheap but works great.
After having the chance to use the CHILDMORY 3-in-1 AC Power Adapter, we can offer some insights based on our experience. The very first thing that caught our attention was its compatibility. It's not every day you find an adapter that supports the iconic trio: SNES, NES, and Sega Genesis (version 1). This immediately presented a feeling of convenience, especially for retro gaming enthusiasts like us who have multiple consoles.
The design incorporates two distinct plugs, which are simple to distinguish. The bigger plug caters to the NES, while the smaller one is designed for both SNES and Genesis. However, it's crucial to note that you shouldn't plug in both simultaneously.
Given its wide input range of AC 110-245V 60HZ, it offers a fair amount of flexibility, but it's important to note that it only supports US-version consoles. European gamers would need to utilize an adapter like the Unidapt.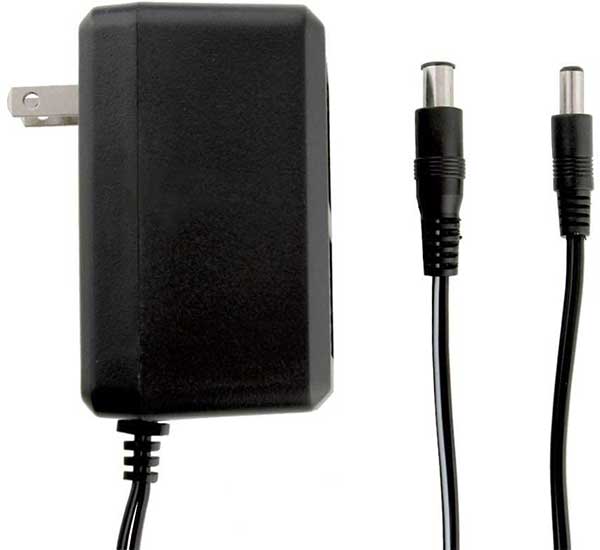 In terms of build quality, it's true that the CHILDMORY adapter feels a bit on the cheaper side and is lightweight. We were initially skeptical about its longevity. But to our surprise, it performed flawlessly on all three vintage consoles. One major relief was noticing that the adapter doesn't seem to run hot. Overheating is a common concern with third-party adapters, but this wasn't the case here.
While the CHILDMORY 3-in-1 might not win any awards for build quality, it's a cheap, reliable and practical solution for replacing the original AC adapter. It efficiently bridges the gap between the past and present, allowing gamers to revisit their favorite classic titles without fuss.
CSTESVN SNES Power Adapter & AV Cord Bundle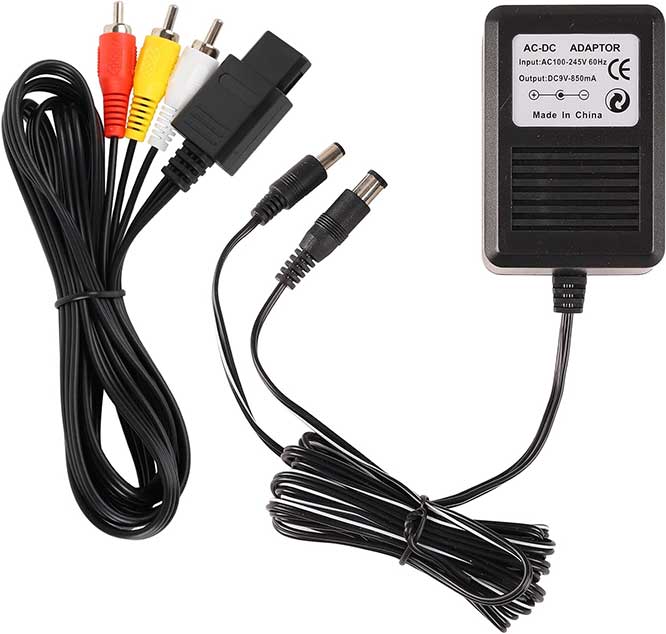 Key Takeaways:
Includes an AC Adapter for SNES and RCA cables.
Overcharge, overvoltage, overcurrent, and short circuit protection.
Backed by an 18-month guarantee.
Compatible with US consoles.
After taking the CSTESVN SNES Power Adapter & AV Cord Bundle for a spin, it's another option we can recommend. At first glance, it bears an uncanny resemblance to the CHILDMORY adapter, sporting the same 3-in-1 design that caters to the SNES, NES, and Genesis. This universality is a boon for retro gamers who, like me, have an array of consoles from yesteryears.
But what truly sets the CSTESVN bundle apart is the inclusion of AV (RCA) cables specifically designed for the SNES. This is a thoughtful addition for those who might have lost their original cables or are in need of a quality replacement. The 6-foot AV cable is particularly nice. Made from a thick yet supple PVC material, it bends and flexes smoothly, free from any annoying kinks.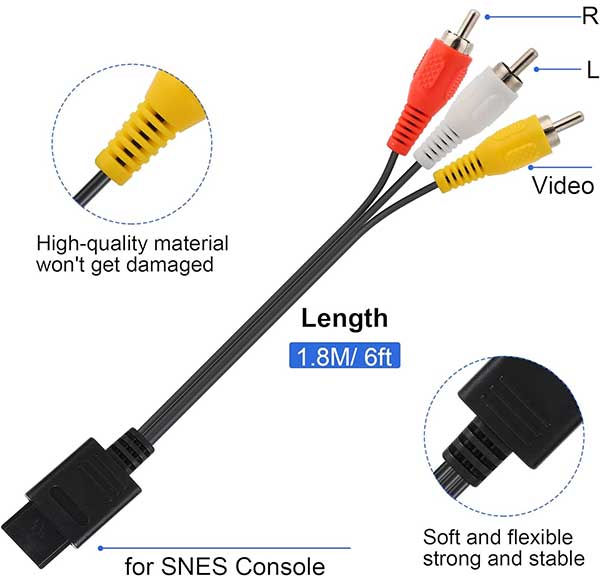 Now, speaking of the AC adapter, while it may look and feel like the CHILDMORY, there are notable differences beneath the surface. The overcharge, overvoltage, overcurrent, and short circuit protection features are a testament to CSTESVN's commitment to safety. Given the vulnerability of older consoles to electrical fluctuations, having these protections in place provides an extra layer of assurance.
The only drawback, similar to the CHILDMORY, is its compatibility restricted to US consoles. However, the 18-month guarantee that comes with the bundle is a generous touch, offering peace of mind against any potential defects or issues.
Gam3Gear Replacement NES AV Cables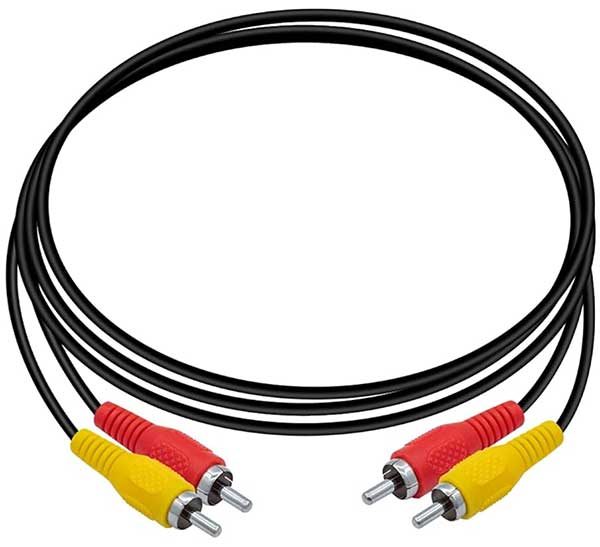 Key Takeaways:
Perfect replacement for audio/video NES cables.
Measures 5.5′ long.
Copper core, nickel-plated plugs.
Thick cord.
The Gam3Gear Replacement AV cables are a straightforward and economical choice for anyone looking to revive their original NES setup. It's evident that they've been designed with a focus on functionality over frills, making them an unpretentious yet dependable pick.
One of the most significant highlights is the cable's length. At 5.5 feet, it provides ample distance from the console to the TV, offering flexibility in positioning the NES. In addition, the copper core is a commendable feature. In our experience, it genuinely seemed to ensure a stable and clear signal, making gameplay crisp and free from any annoying glitches or signal interruptions.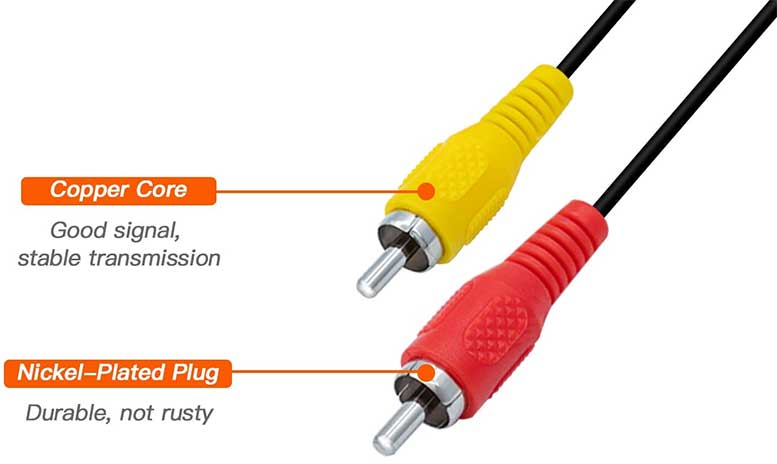 The nickel-plated plugs are another nice touch. They not only exude durability but also are resistant to rust and corrosion. This is particularly beneficial for those residing in humid climates or for users who, due to the nostalgic appeal, might store and then retrieve their NES from storage over the years.
In our opinion, what truly differentiates these cables from many of the alternatives is their thickness. They're seemingly robust and designed to endure. Even after repetitive bending and handling during our gaming sessions, the cables remained resilient without any signs of kinks or fraying.
Unidapt European Plug Adapter

Key Takeaways:
Converts US plug to EU plug.
Accepts both 110V and 220V with a max output of 6A.
CE and ROHS certified.
Not compatible with UK.
After exploring multiple power adapters, we came across the Unidapt European Plug Adapter. It's a simple yet effective solution for those wanting to use their CHILDMORY or CSTESVN power adapters with European version consoles.
The Unidapt is compact, but don't let its size deceive you. This European plug adapter, while designed with simplicity in mind, boasts both CE and ROHS certification, ensuring that it meets the strict standards set for electronic devices.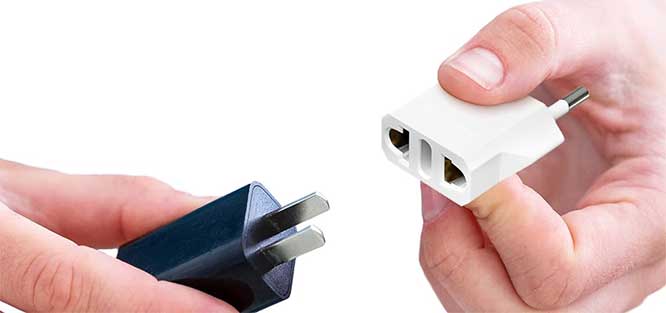 With an output max of 6A 100-250V and the ability to accept both 110V and 220V, it's versatile and can be paired seamlessly with the aforementioned power adapters. This essentially bridges the gap between the US and most of Europe, granting gamers access to a broader range of classic titles and consoles.
However, a crucial point to remember is its incompatibility with UK sockets. If needed, go with something like this if you're in the UK. While this might be a slight inconvenience for some, its compatibility with a vast majority of the European continent still makes it an invaluable tool.
One of the things we genuinely appreciate about the Unidapt is its user-friendliness. Even if you're not tech-savvy, the plug adapter is straightforward to use: simply connect your power adapter to the Unidapt, and then plug it into a European socket. And for those wary of potential malfunctions or defects, the 2-year warranty offers solid reassurance.
Meet Derek, "TechGuru," a 34-year-old technology enthusiast with a deep passion for tech innovations. With extensive experience, he specializes in gaming hardware and software, and has expertise in gadgets, custom PCs, and audio.
Besides writing about tech and reviewing new products, Derek enjoys traveling, hiking, and photography. Committed to keeping up with the latest industry trends, he aims to guide readers in making informed tech decisions.