After using your computer keyboard for weeks on end, it eventually gets dirty and full of dust. But what's the best way to clean it? It's not the best idea to dunk it in water, and you probably can't just blow on it to get all the dust. In our opinion, you should use a keyboard vacuum or duster. When choosing the right one for you, there are a few options you should consider.
Size, Weight, and Looks
Size and weight are important for keyboard vacuums because of what you need them to do. You don't want something huge and heavy because it's just not necessary and will be hard to store. Something handheld and lightweight is perfectly sufficient. Looks are less important, but hey, you might as well have it look great, too, right?
Attachments
The attachments for these keyboard vacuums are where everything starts to come together. There are plenty of options for tiny crevices or huge areas. Some are just plain plastic, while others have bristles to help broom as well. Make sure to identify what your keyboard will need in order to clean it, and then pick one with attachments that will work for it.
Power and Battery
Different vacuums and dusters are going to have different amounts of power they can utilize to clean. Depending on how frequently you plan to use them and how dirty your devices get will determine how powerful they need to be. Additionally, battery life is important. If you do a deep clean, you don't want to have to sit around and wait for it to recharge, so make sure you take note of that as well.
Extras
Each keyboard vacuum duster is going to have something special that sets it apart. It's always important to thoroughly look at what they're designed to do and see what features they have. If you're stuck between two, sometimes that extra thing that one does will set it apart.
Best Overall: MECO ELEVERDE Compressed Air Duster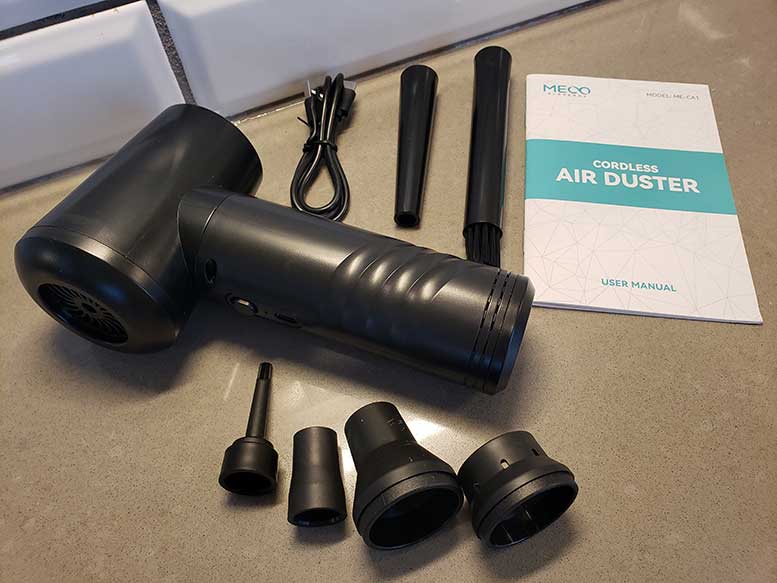 Key Features:
6 attachments
30 minutes of continuous use
Multiple power modes
The MECO ELEVERDE Compressed Air Duster is one of the best options on the market. It's a compact device weighing only 1.3 pounds. It's small enough to easily store away, but if you can't, it doesn't look like an eyesore either.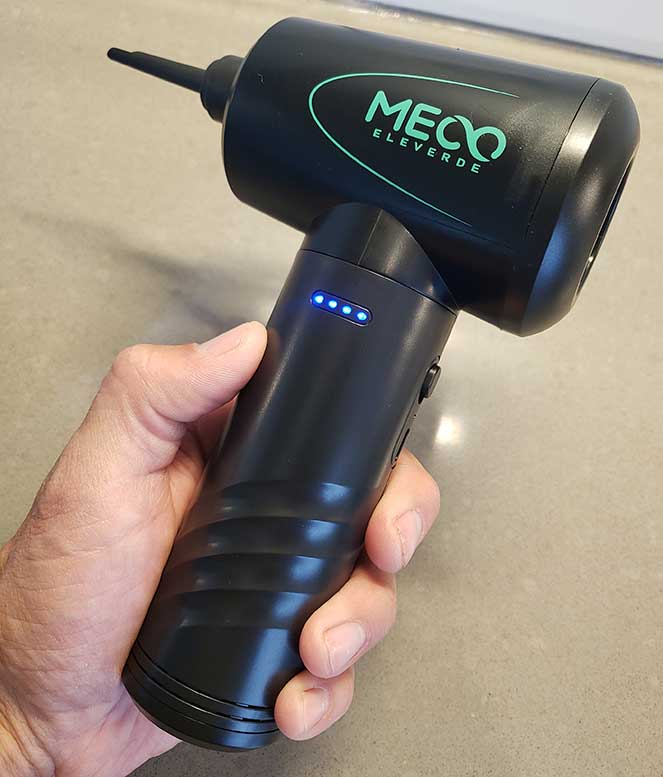 This duster comes with a variety of attachments for your needs. They include:
Blow nozzle for general dusting needs
Brush blow nozzle for precise dusting needs
Air bed blow/exhaust nozzle for filling up your air mattresses
Swimming ring blow nozzle for most outdoor inflatables
Vacuum bag nozzle for sealing vacuum bags with ease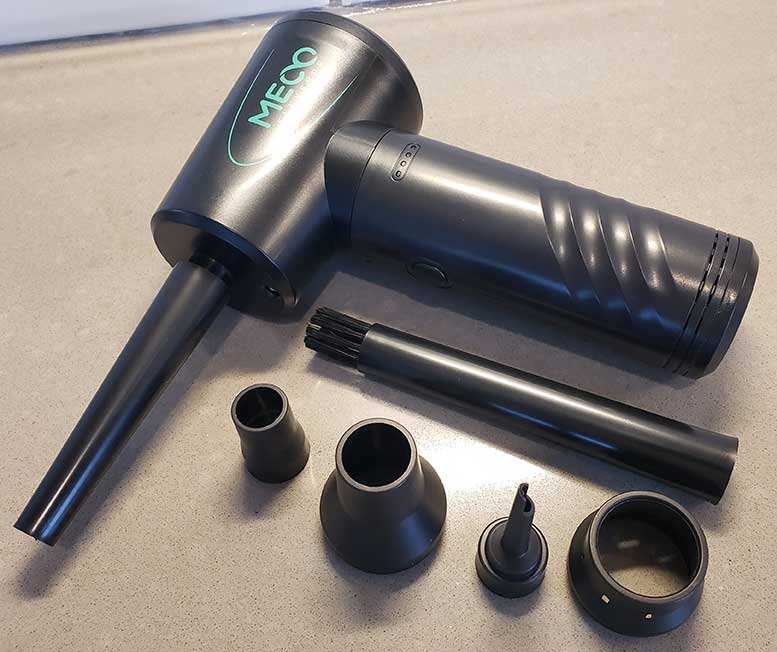 Whether you need to dust off your computer, keyboard, or fill up a pool floatie, the MECO ELEVERDE can tackle the job.
This air duster has a lot of power inside of it. There are three adjustable speeds to choose from. The low setting is 50,000 RPM, the medium setting is 70,000 RPM, and the high setting is 100,000 RPM. Each is designed to take on varying levels of cleaning needs. While in continuous use, the battery will last for 30 minutes. To fully charge this device, simply plug in the USB-C charger and wait two hours.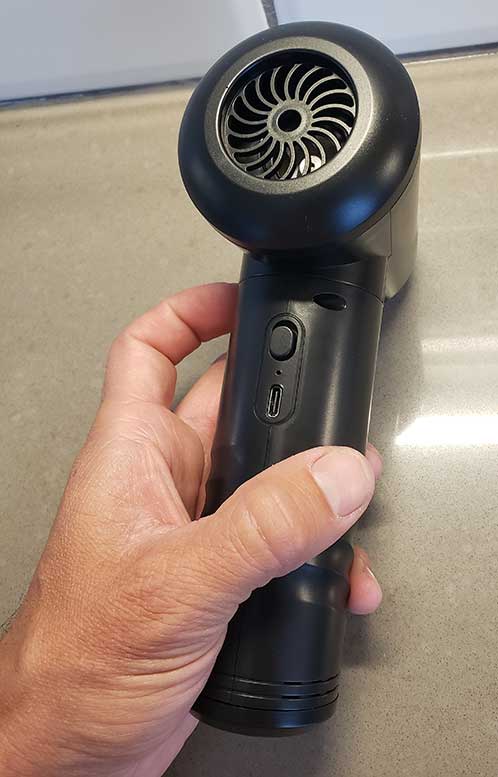 There are some great quality-of-life features within the MECO. One is the smart control design. This allows you to simply turn it on and set the power level to get it to work, rather than holding a button continuously. Additionally, it has a built-in LED light to help you see dust in cramped spaces. Best of all, it comes with a 12-month guarantee, so if you have any issues, you can simply communicate with the manufacturer to find a solution.
Pros:
12-month guarantee
Up to 100,000 RPM
Multiple attachments for various needs
Cons:
Lacking great vacuum features
Best For Vacuuming: Hayousui Mini Keyboard Vacuum Cleaner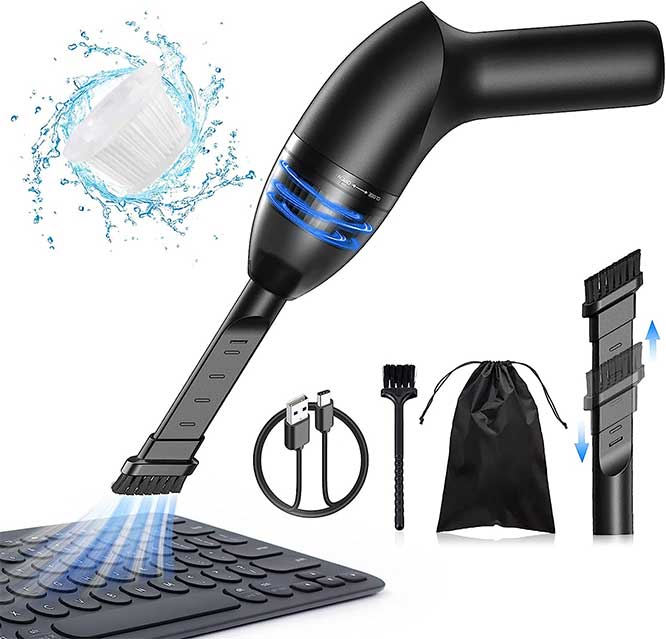 Key Features:
2 attachments
15-20 minutes of battery life
Easy clean design
Differing from the MECO, the Hayousui Mini Keyboard Vacuum Cleaner puts an emphasis on vacuuming rather than dusting. It's another compact device designed for travel, only weighing 1 pound. It's perfect for using in your car as well as using with keyboards and electronic devices.

The attachments aren't high in number but are flexible enough for most use cases. You can use it without any for a larger area of vacuuming. The first attachment to add is a flat attachment, perfect for tough-to-reach corners. You can add a brush head to the flat attachment in order to make it great at cleaning in between keycaps on a keyboard.
The Hayousui has a battery life of 15-20 minutes on a full charge. It uses two rechargeable battery packs to achieve this. Once depleted, it will take 3-4 hours in order to fully charge it again. It's suction is rated at 4.3Kpa, allowing it to easily vacuum paper scraps, dust, and pet hair. To make cleaning even easier, it has an included LED light on the front.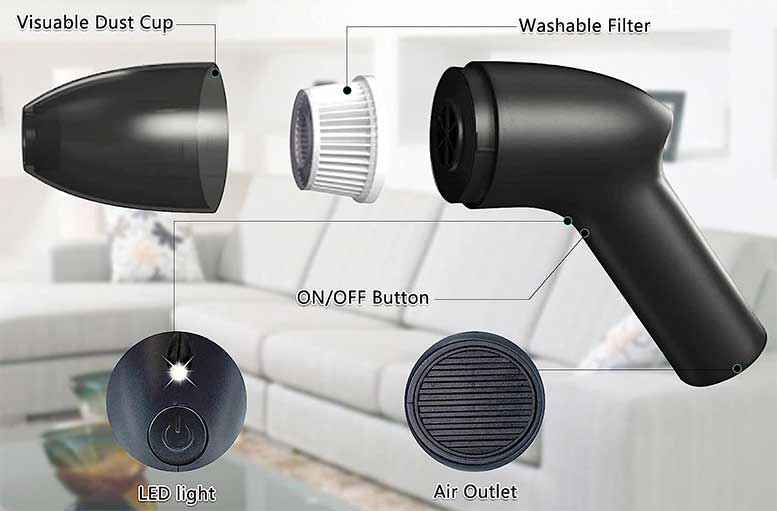 Perhaps the best extra feature the Hayousui has is its easy clean design. Once full of dust and debris, simply unscrew the dust cap and take out the filter. Then empty out the dust, clean the filter with an included brush, and reassemble.
Pros:
2-in-1 nozzle attachment
Great for use in cars as well
Designed to be easy to clean
Cons:
Best 2-in-1: SUNPOLLO Air Duster & Vacuum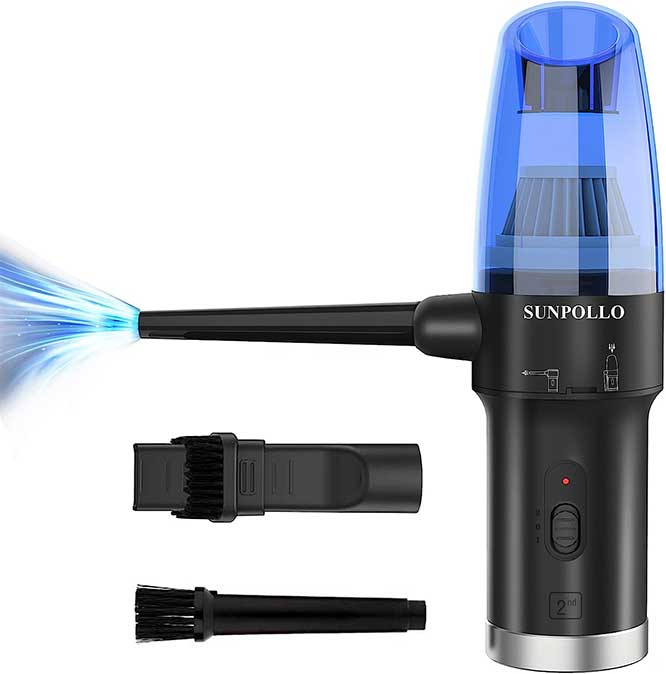 Key Features:
3 attachments
30 minutes of battery life
Dusts and vacuums
The SUNPOLLO is the best option for both dusting and vacuuming in one device. It's designed to be portable, being only 2.5 inches wide and 8 inches tall. Additionally, it weighs less than one pound. It mixes things up with colors a bit, with a black body and a clear blue head nozzle.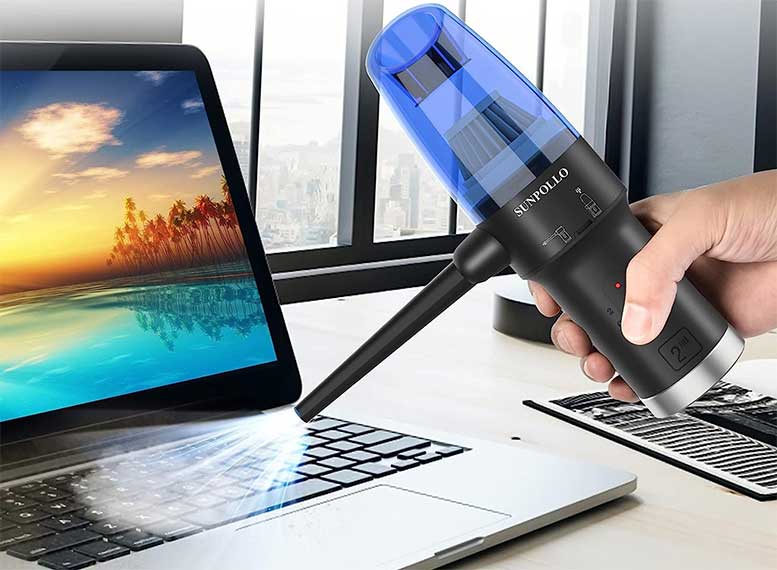 There are three included attachments for the SUNPOLLO. The first two are designed with brushes on them. One is used for blower mode and one for vacuum mode. The other nozzle is a round nozzle designed for blowing mode. Additionally, you can use the device without any attachments on it for a wider area of airflow.
Internally, it has a 6000mAh battery. This can fully power the SUNPOLLO for nearly 30 minutes of continuous use, either blowing, vacuuming, or a mix of both. Once dead, it will take about 3 hours to fully recharge. It's designed to be easily switched between blower mode and vacuum mode by turning the head of the device. There are also two speeds for both modes, high and low. High speed operates at 77,000 RPM, and low speed operates at 44,500 RPM. This allows it to move air at 30m/s on blower mode and suction at 10KPa.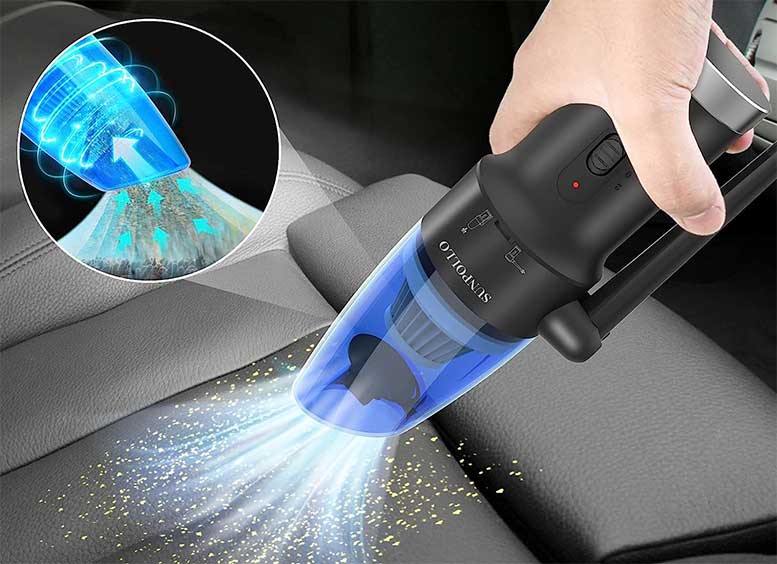 One additional feature that makes the SUNPOLLO great is its' dual-purpose design. It's great at cleaning keyboards and computers, but it can also clean cars well. The attachments all serve purposes for car use, and it can even fit snugly in a cup holder.
Pros:
It dusts and vacuums
Weighs less than one pound
Cons:
A few more attachments would be nice
Best Alternative Duster: ZARIMI Compressed Air Duster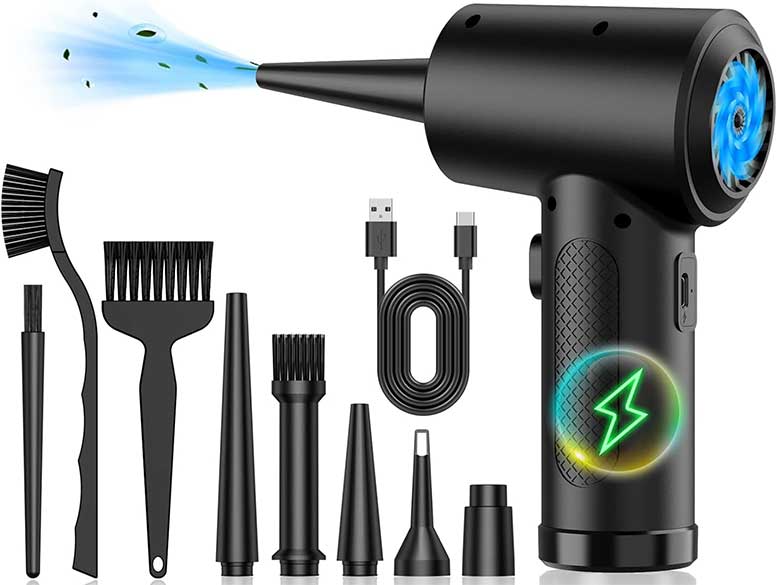 Key Features:
Attachments: 8 attachments and accessories
Battery Life: Up to 35 minutes of continuous use
Extra: Up to 91,000 RPM
The ZARIMI Compressed Air Duster is another solid choice for your dusting needs. Its main body is small enough to keep on your desk or hide away in a drawer. Similar to the MECO, it's an all-black body to help it blend in and look clean.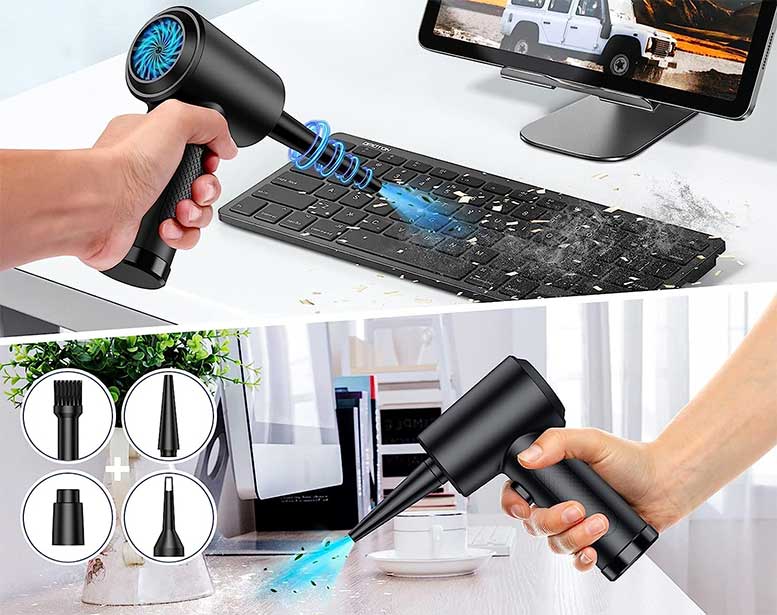 What set this duster apart is the number of attachments and accessories it comes with. Included in the box are five attachments and three brushes. The attachments vary in size, shape, and design to allow you to use the device for a variety of reasons. The included brushes are great for doing a deeper clean when necessary to break the dirt and grime off your keyboard to be dusted later.
The battery life of the ZARIMI will vary depending on the power settings you use, but you can expect anywhere from 20-35 minutes of continuous use. Internally there is a 7600mAh battery. This allows it to be high-efficiency and is also recharged via a USB-C cable. As for blowing power, you have three settings to choose from. They include Gear-1 at 51,000 RPM, Gear-2 at 71,000 RPM, and Gear-3 at 91,000 RPM.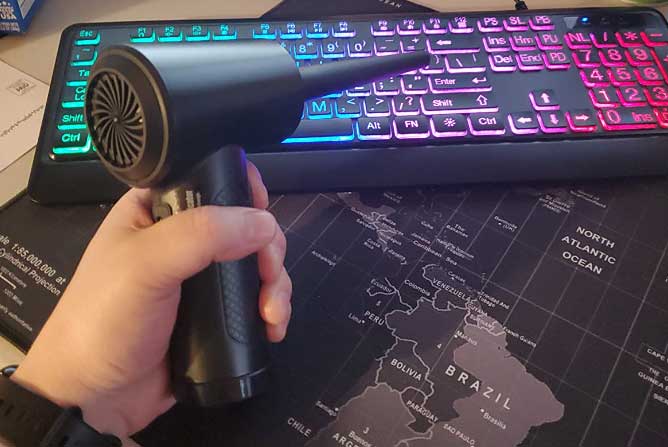 One aspect of this air duster to note is when to recharge it. Rather than running it completely dead and charging right away, you'll have to wait. After using it, wait 10 minutes before plugging it in. The manufacturer notes that the battery is too hot to plug in right away and could cause damage, so let it cool off a bit.
Pros:
Plenty of attachments and accessories
Up to 35 minutes of use
Cons:
Best 3-in-1: ATEngeus TAD053 Compressed Air Duster & Vacuum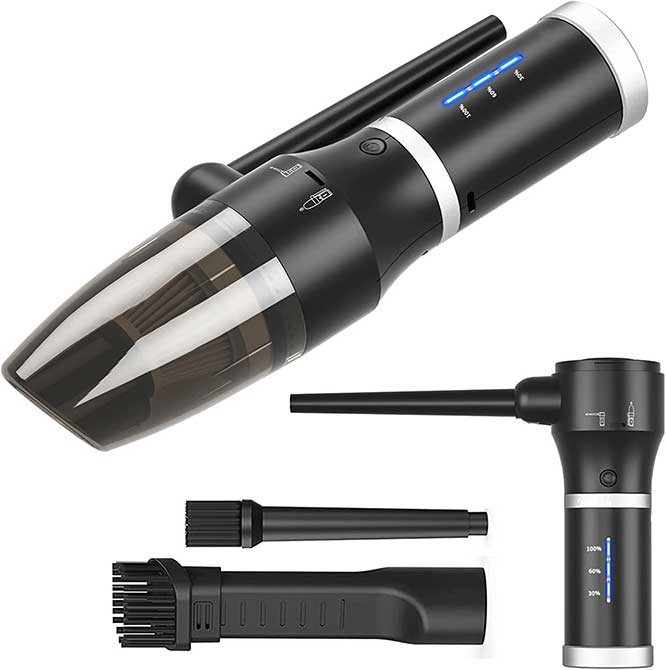 Key Features:
3 attachments
30 minutes of battery life
Vacuums, dusts, and recharges mobile devices
The ATEngeus TAD053 Compressed Air Duster and Vacuum is extremely similar to the SUNPOLLO. It, too, is designed to be compact and portable, especially in cars. This device only weighs 1.1 pounds. The main difference is in looks, with the translucent cover being gray instead of blue.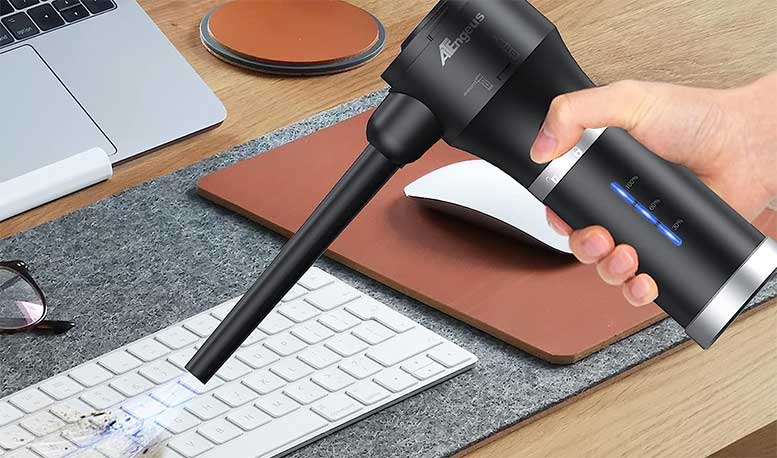 For vacuum mode attachments, you'll get one flat brush nozzle to get into tight spaces. Blower mode attachments include a slim brush nozzle and a regular slim nozzle. These are both great for dusting in different scenarios. Additionally, you can use it with no attachments for much higher airflow.
Power and battery: The ATEngeus uses a 15,000mAh rechargeable battery for power. This allows it to operate at high settings for up to 30 minutes. Once depleted, you'll have to recharge for 9 hours to get back to 100% charge. There are two modes for power in both blower and vacuum mode. The lowest is 44,500 RPM, and the highest is 77,000 RPM. At high, it can reach a maximum suction of 13,000 Pa.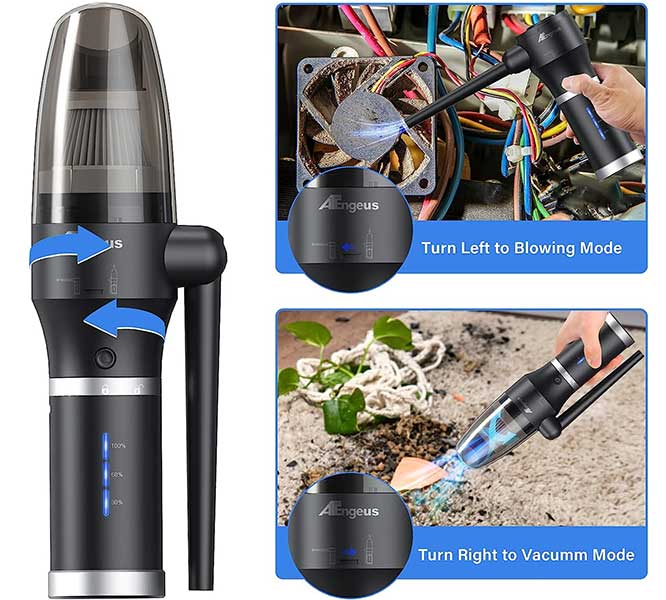 The most unique feature of the ATEngeus is its third function. In addition to dusting and vacuuming, it can also operate as a portable charger for your phone. Simply take out the battery and connect it to your phone or other electronic device that needs some power, and you're good to go.
Pros:
3-in-1 design
30 minutes of battery life on the highest settings
Cons: