Ever wondered what sets a great membrane keyboard apart from the mundane? Welcome to NerdTechy's definitive guide, where we unravel the top-performing membrane keyboards in the market, tested and approved by us.
Key Takeaways:
A membrane keyboard utilizes a flexible layer made of rubber or silicone situated underneath the keys, serving as the foundational typing mechanism. Upon pressing a key, this pliable membrane gets pressed down, establishing an electrical connection and consequently recording the keypress.
Membrane keyboards stand out due to their sleek profile, reduced weight, and budget-friendly price point compared to their mechanical counterparts. Numerous factors contribute to their enduring popularity, with one significant aspect being the silent nature of their keystrokes.
Differences – Membrane vs. Mechanical Keyboards:
| Aspect | Membrane Keyboards | Mechanical Keyboards |
| --- | --- | --- |
| Key Mechanism | Pressure pad system, less tactile | Individual switches, varied tactility |
| Feedback | Soft and quiet | Ranges from quiet and smooth to clicky |
| Durability | Lower; tends to wear out faster | Higher; longer lifespan |
| Customizability | Limited | Extensive |
| Price | More affordable | Wide range, generally more expensive |
| Maintenance | More challenging to clean | Easier to clean |
Whether you're a gamer, a writer, or someone who spends hours typing away, finding the right keyboard is paramount. Membrane keyboards have stood the test of time, evolving to meet modern demands.
Join us as we showcase models that offer not just exceptional comfort and responsiveness, but also durability and style. Discover your next best typing companion right here.
#1 – HyperX Alloy Core RGB Membrane Gaming Keyboard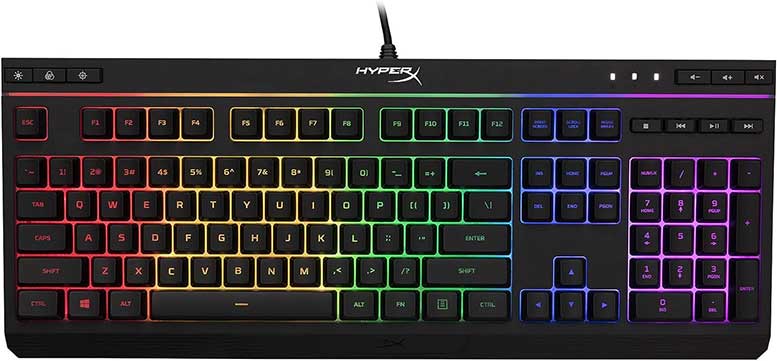 Key Takeaways:
Sturdy build, stays put during use.
Clear, easy-to-read keycap font.
Bright, customizable five-zone LED lighting.
No software required for settings adjustments.
Features a premium-feeling braided cable.
ABS keycaps, easy to clean.
The HyperX Alloy Core RGB Membrane Gaming Keyboard truly left a lasting impression on us. Right out of the box, we noticed its solid construction, ensuring the keyboard stays put on your desk. Even when we intentionally applied pressure to test its flex, it only gave in when an excessive amount of force was applied to the center.

The keycaps on this keyboard are a breath of fresh air. They feature clear and easily readable characters without any of that flashy 'gamer' font. It's straightforward and user-friendly. Perfect for both gaming marathons and long typing sessions. Speaking of aesthetics, the LED lighting on this keyboard is wonderful. It's bright, vibrant, and customizable across five different zones, allowing for plenty of personalization.
The tactile feel of the keys is comparable to Cherry Brown switches. From our hands-on experience, we can confidently say they even outperform some of the knockoff Cherry Brown switches we've tried from less reputable brands. The keystrokes are satisfying, and the keyboard operates very quietly. You won't hear any jittering noise from the keycaps, nor any noise when a key is pressed down fully or when it returns to its original position.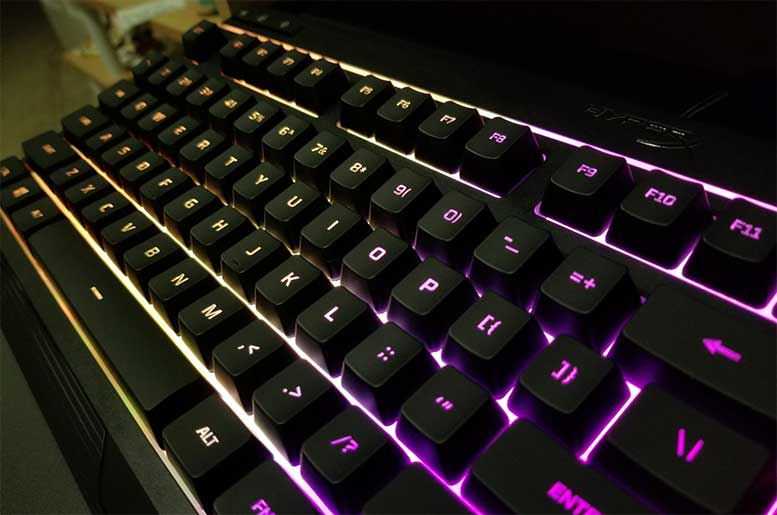 Setting up and managing this keyboard is a breeze since it doesn't require any software. All settings, including lighting and Windows key lock (game mode), can be easily adjusted using the function keys. The braided cable is a subtle yet nice touch, adding to the overall premium feel of the keyboard without making it seem cheap.
The inclusion of media keys is a fantastic feature, especially considering the price range. This is something you don't often find in other keyboards within the same category. Although the keycap material is ABS, not PBT, and might accumulate oils from typing, a quick wipe down every now and then keeps it clean and good as new.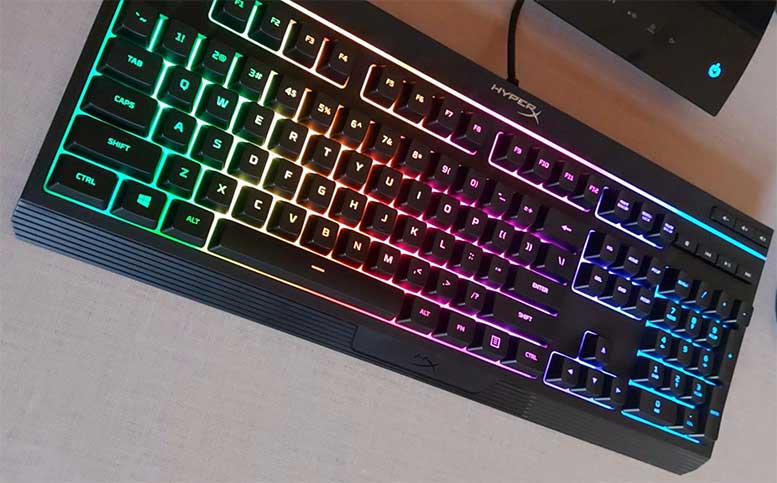 What sets it apart from some other options, particularly no-name Chinese brands found on Amazon, is its warranty. Offering a two-year warranty backed by a reliable customer service department, this keyboard provides peace of mind and assures you of its quality.
However, it's worth noting that the indicators for Caps Lock, Num Lock, and Game lock could have been executed better. Instead of being easily identifiable, they are somewhat hard to read due to the use of white LEDs with embossed text. Despite this, it's a minor issue in what is otherwise a stellar keyboard for its price range.
#2 – ROCCAT Magma Silent Membrane Switch Keyboard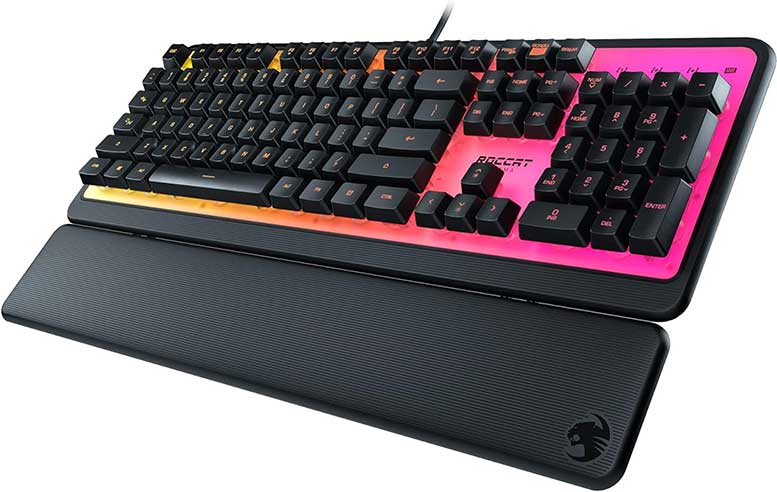 Key Takeaways:
Rubber dome keys are silent and responsive.
Advanced anti-ghosting for accurate gameplay.
AIMO illumination offers extensive color options.
Detachable palm rest adjusts to comfort.
Sealed surface ensures low-maintenance cleaning.
Our second pick is the ROCCAT Magma Silent Membrane Switch Keyboard. We were immediately drawn to the silent yet responsive nature of its rubber dome keys. They strike a perfect balance, not too spongy and not too slow, providing a satisfying typing experience that feels both reliable and efficient.

In the heat of gaming, the advanced anti-ghosting technology proved to be a game-changer, ensuring that every keystroke was registered, no matter how intense the action got. This feature made a real difference. It let us focus on the game without worrying about missed inputs.
The AIMO illumination is a standout aspect. The vivid lighting scenarios it created right out of the box, without the need for extensive configuration, was a visual treat. Rather than individual keys being lit, the entire underside is illuminated. The full backlighting offers endless color possibilities.
That said, with the ROCCAT Swarm software, the level of customization is through the roof. From setting specific sounds to key typing to adjusting key sound volume and changing the colors of the backlight, the options are plentiful. You have literally millions of colors to choose from.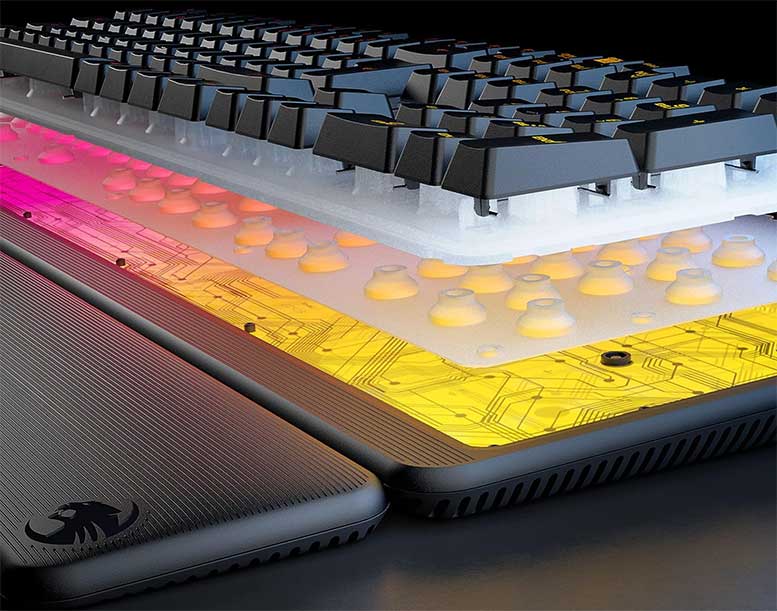 The detachable palm rest is a thoughtful bonus. It caters to different user preferences, whether you're typing for hours or engaged in aggressive gaming. The plastic material feels surprisingly sturdy, though it may be on the harder side for some users.
On the practical side, the low-maintenance design is a big plus. The sealed surface created by the high-quality membrane layer and translucent top plate keeps dust and dirt out. Needless to say, it makes cleaning a breeze. And while it's priced more affordably than many competitors, we feel it doesn't compromise on quality or features.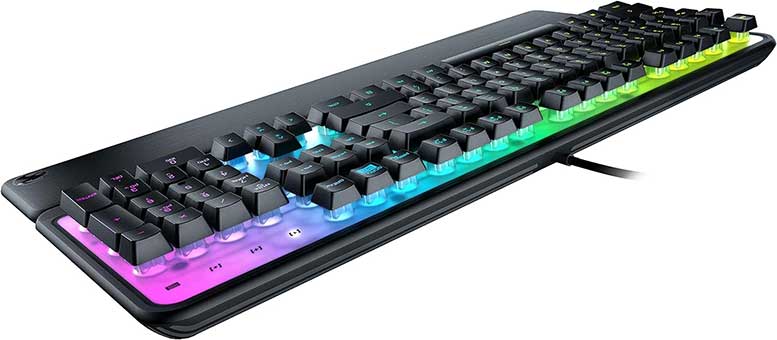 However, it's worth mentioning that some might find the number keys a bit challenging to read. This is due to the positioning of the numbers towards the top of the keys' faces. But for the majority, this is a minor issue and doesn't detract from the overall positive experience the ROCCAT Magma offers.
#3 – Corsair K55 PRO LITE RGB Wired Membrane Gaming Keyboard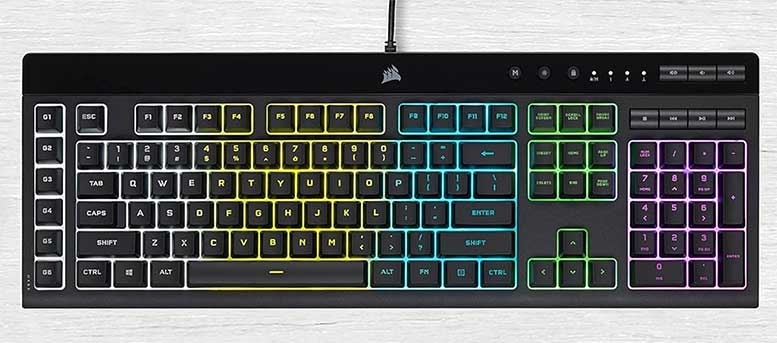 Key Takeaways:
Responsive and quiet key performance.
Slightly pricier than other membrane keyboards.
Dynamic, customizable RGB backlighting.
Anti-ghosting and key rollover features.
Dust and spill-resistant design.
Dedicated volume and media keys.
The Corsair K55 PRO LITE RGB Wired Membrane Gaming Keyboard is another standout option. While unboxing, it was immediately clear that this new release for 2023 had a lot to offer. The keyboard felt incredibly responsive, yet it maintained a level of quietness that was very impressive. Despite its excellent build quality, it's priced a bit higher than most other membrane keyboards.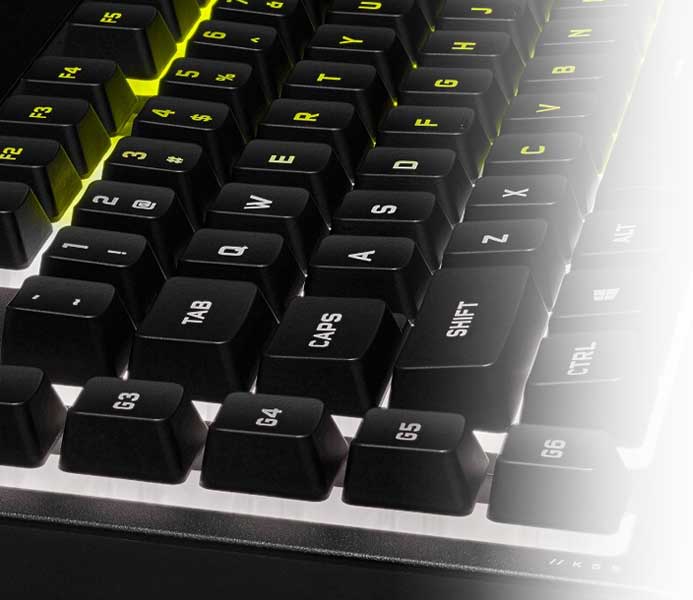 Diving into its features, the dynamic RGB backlighting caught our attention. It has ability to light up using six onboard lighting effects. Users can assign colors to different zones, or even create custom lighting effects across five RGB zones using CORSAIR iCUE software.
It's worth noting that the zones aren't individually lit and the customization isn't as extensive as the others. But thankfully, after setting it up, you don't actually need software for it to function. We did, however, notice that the red lighting appeared more pink than true red.
In terms of performance, the anti-ghosting and selective key rollover features ensured that our critical inputs were delivered accurately. We found this to be a must-have for serious gamers.
The six dedicated macro keys were another highlight, making it easy to activate functions, shortcuts, or key presses with just one stroke. Setting these up through CORSAIR iCUE software was straightforward. And although we didn't personally use it, integration with Elgato Stream Deck software for instant streaming commands was a nice touch.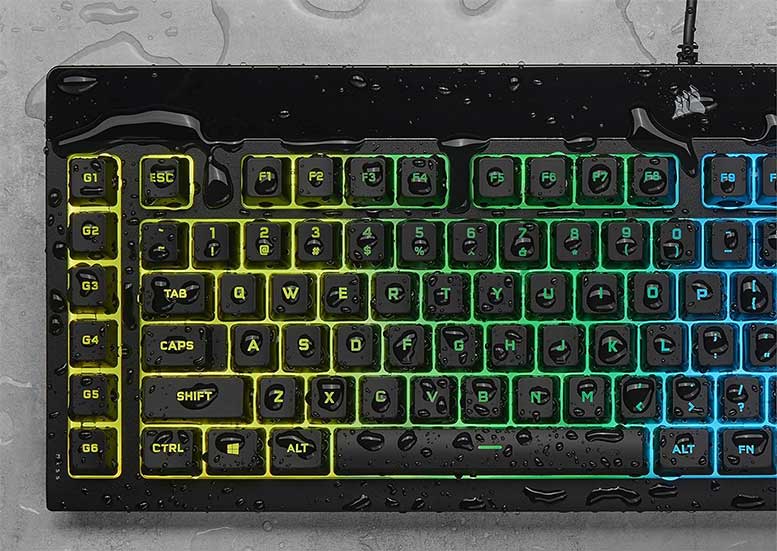 The keyboard's durability also stood out, thanks to its dust and spill-resistant design, featuring an IP42-rated protection. This meant that accidental spills and dust wouldn't affect anything. On top of that, cleaning it up was a breeze.
We also loved the dedicated volume and media keys. These were also ultra-quiet and provided convenient control for media playback and volume adjustments on-the-fly. The quiet yet responsive keys offered a comfortable typing experience for both work and play. We especially appreciated the tactile bump for responsive gaming performance.
#4 – Loigys Wireless Membrane Keyboard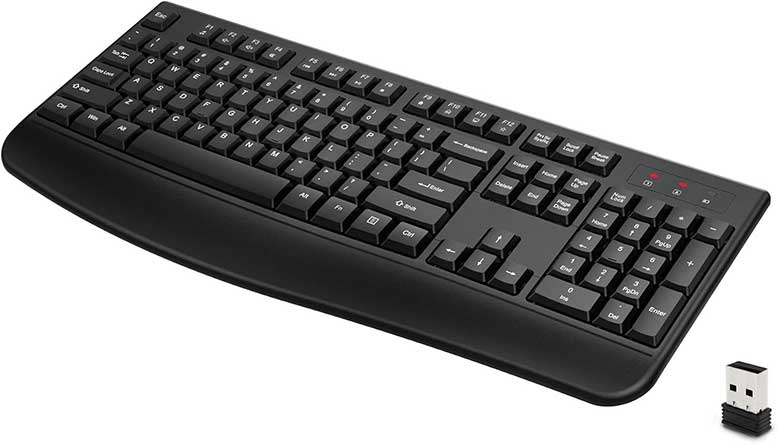 Key Takeaways:
Simple, affordable wireless option at $26.
Comfortable, responsive key feel.
Quiet Crater-switches reduce noise.
Easy setup with no software.
Ergonomic design with palm rest.
Not as durable as premium brands.
Upon discovering the Loigys Wireless Membrane Keyboard, we were pleasantly surprised by its affordable price tag of just $26, considering it offers a fully 2.4 GHz wireless connection. It didn't take long for us to appreciate the feel of this keyboard.

It felt just right under our hands, embodying how we believe a real keyboard should feel. Unlike other flatter models, the keys on the Loigys are well-spaced, minimizing the risk of accidental presses. Each keystroke provided tangible feedback, ensuring us that the key was indeed pressed. This is a stark contrast to some other keyboards where you might find yourself uncertain if you've pressed hard enough.
Available in both black and white color options, it offers a touch of personalization to fit different user preferences. The Crater-switches equipped in this model are impressively quiet, and are said to make it approximately 70% quieter than a standard keyboard. While it may not be as silent as the ROCCAT, HyperX, or Corsair models we've tested, it still stands out as a decent option.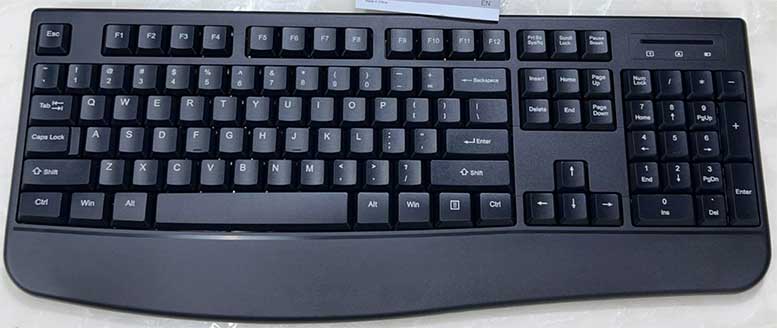 The ease of setup is another highlight, eliminating the need for any software downloads. Simply insert the battery and USB receiver, and you're good to go. It offers a fully wireless and reliable connection up to 33 feet without any input delays that commonly occur in Bluetooth connected models.
Running on a single AA battery (not included), the keyboard smartly enters sleep mode after 30 minutes of inactivity, automatically extending its battery life. However, it's worth noting that there is no physical off/on switch, a feature that would have been nice.
Ergonomically designed, the Loigys keyboard features a comfortable palm rest. Although mostly sufficient, it's not quite as nice as the ROCCAT's. Conversely, its classic 104-key design, complete with a number pad, and adjustable rear height cater to a wide range of preferences.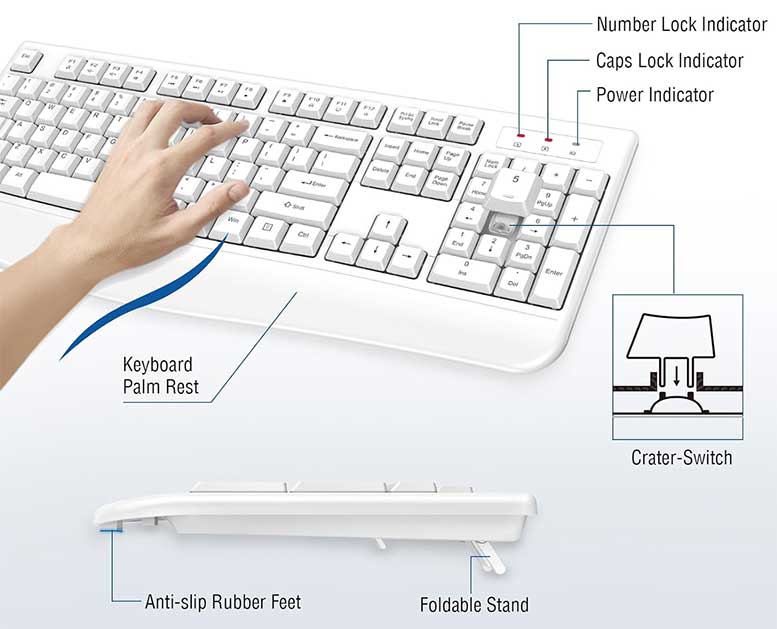 Compatibility is another strong suit of this keyboard; it works seamlessly with all versions of Windows and is also compatible with most Mac and Linux operating systems. In addition, the super grippy rubber pads on the underside ensure that the keyboard stands firm and doesn't slip around on the desk.
Keep in mind, it's important to point out that it doesn't match up to the durability and water resistance of some of the higher-end models like ROCCAT, Corsair, or HyperX. Nonetheless, considering its price point and the array of features it offers, the Loigys Wireless Membrane Keyboard presents itself as a compelling option for budget-conscious users.
Membrane Keyboards FAQs
What is a membrane keyboard?
A membrane keyboard uses rubber or silicone layers beneath the keys to create a pressure pad that registers keystrokes. When a key is pressed, it pushes down on the membrane layer, completing an electrical circuit to send the keystroke to the computer.
How do membrane keyboards differ from mechanical keyboards?
Membrane keyboards are generally quieter, lighter, and more affordable than mechanical keyboards. Mechanical keyboards use individual switches for each key, providing a tactile and often louder typing experience. Membrane keyboards have a softer feel, and the keys cannot be individually replaced like they can on a mechanical keyboard.
Are membrane keyboards good for gaming?
Membrane keyboards can be suitable for gaming, especially if you prefer a quieter setup. However, they might not provide the same level of precision and tactile feedback as mechanical keyboards. Some gamers prefer the faster response and tactile feedback of mechanical switches for intense gaming sessions.
How long do membrane keyboards last?
Membrane keyboards typically last for 5 to 15 million key presses. While this is less than the 30 to 70 million key presses that mechanical keyboards offer, it is still enough for several years of heavy use.
Can you clean a membrane keyboard?
Yes, membrane keyboards can be cleaned, but care must be taken to avoid damaging the membrane layers. You can use a can of compressed air to blow out debris and a cloth lightly dampened with isopropyl alcohol to wipe down the keys and surface. Most of the keyboards we featured in this article are fully water resistant, so you can rinse them as needed.
Do membrane keyboards require software?
Some membrane keyboards come with optional software for customizing lighting, macro settings, and other features. However, most membrane keyboards do not require software to function and can be used as plug-and-play devices.
Can you replace keys on a membrane keyboard?
Unlike mechanical keyboards, keys on a membrane keyboard are generally not replaceable. If a key stops working, it usually requires replacing the entire keyboard.
Meet Derek, "TechGuru," a 34-year-old technology enthusiast with a deep passion for tech innovations. With extensive experience, he specializes in gaming hardware and software, and has expertise in gadgets, custom PCs, and audio.
Besides writing about tech and reviewing new products, Derek enjoys traveling, hiking, and photography. Committed to keeping up with the latest industry trends, he aims to guide readers in making informed tech decisions.