With winter setting in, it's time to go through your wardrobe and make sure you've got the right gear. And when you're trying to stay warm, a good scarf is a key part of the equation. You want to keep your neck warm, where it sits exposed between your collar and your hat. And nowadays, with battery technology getting smaller, you can even order a heated scarf. A heated scarf works a lot like an electric blanket or a heated jacket. Wire coils are strung through the material, and connected to a battery. When the power is activated, the coils heat up, safely warming the scarf as well as your neck.
A heated scarf doesn't just have to be for cold weather, either. If you suffer from neck stiffness and pain, you can use a scarf the same way you would a heating pad. And since they're smaller than heating pads, you won't have to heat up your whole back on a hot day. At the same time, you may be more worried about appearance than you are with a heating pad. A heated scarf isn't just something you use in the privacy of your own home. It's meant to be worn when you're out and about. So you'll want to buy one that at least roughly approximates your sense of style.
Note: At no extra cost to you, we may earn a commission for purchases using our links. Learn more.
We're about to review three of the best rechargeable electric heated scarves that money can buy. We'll start by examining the AKASO Heated Scarf (Neck Wrap). This is a grey or blue cotton scarf with a mid-sized heating area and a 5,000mAh battery. Next, we'll look at the JOYTEK 2021 Upgraded Heated Scarf. This is a grey polyester scarf with a soft flannel backing and its own drawstring carrying bag. Last but not least, we'll check out the JISULIFE Heated Scarf. This scarf is made from faux suede, and comes in grey, blue, or brown, with an oversized heating area. But which one is the right choice for you? To answer that question, we'll have to look below the surface and see how all three scarves compare. Let's begin!
AKASO Heated Scarf (Neck Wrap)
AKASO is a well-known electronics manufacturer, but this electric scarf is a first for them. Normally, they focus on entertainment-related gizmos like the AKASO Brave 7 action camera. By comparison, the AKASO Heated Scarf is pretty low tech.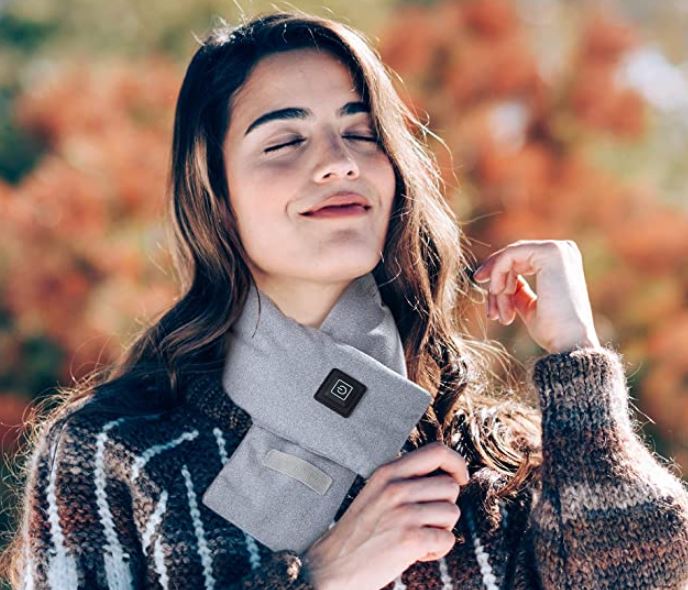 This scarf is woven from soft cotton, with a similar feel to a pair of sweatpants. It's available in grey or blue, depending on your tastes, and measures 34 inches in length. For most people, that's more than enough to wrap around behind your neck and cross over in the center. Near one end of the scarf, there's a rubbery black power button, which is used to activate the heating function. When it's on, the button will light up blue to indicate low power, white for medium, and red for hot.
Behind the power button area, there's a wide loop on the backside of the scarf. This is designed for you to tuck the other end of the scarf through it, to keep it neatly in place. At the opposite end, there's a small tag with the AKASO name printed on it. In between, near the back of your neck, you'll find the heating area. This isn't visible from the outside, but it measures 8.26 inches long and 2.36 inches wide. In other words, it will heat the back and sides of most people's neck without any issue. Keep in mind, though, that this heating area contains electric coils. To keep them safe, you need to hand wash the scarf; it's not machine washable, and should be hang dried.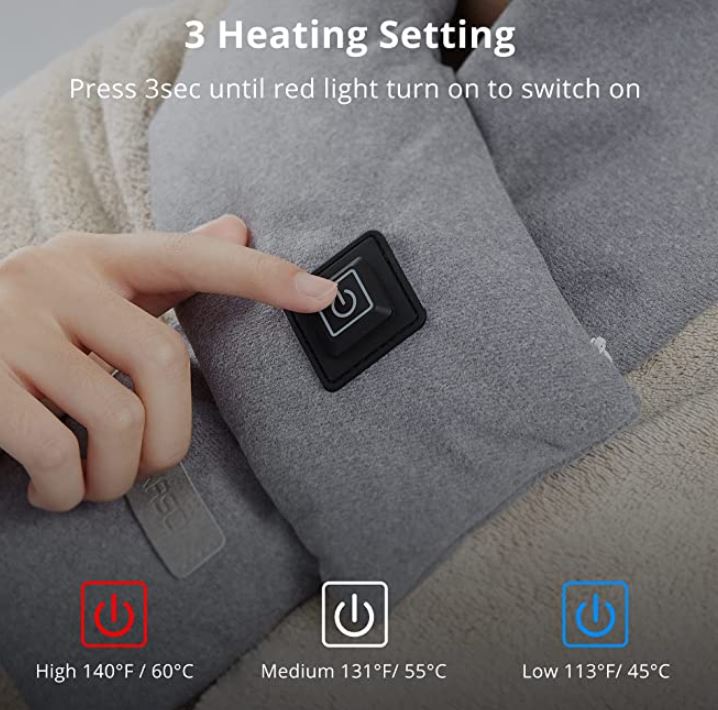 The battery unit is small, white, and rectangular, about the size of a deck of playing cards. It has a plastic housing, with rounded corners to keep it from jabbing you. To install the battery pack, look for a small zipper to the side of the power button. This reveals a hidden compartment, with a small USB pigtail inside. Plug the pigtail into the battery, put the battery in the pocket, and zip it shut. At that point, you're ready to go.
Heater Function and Performance
The AKASO Heated Scarf utilizes graphene heating technology to efficiently distribute power. This means you get better battery performance than you would with more traditional silicon circuitry. The coils also produce far infrared radiation in addition to heat. This can penetrate the skin and help stimulate circulation in your neck muscles.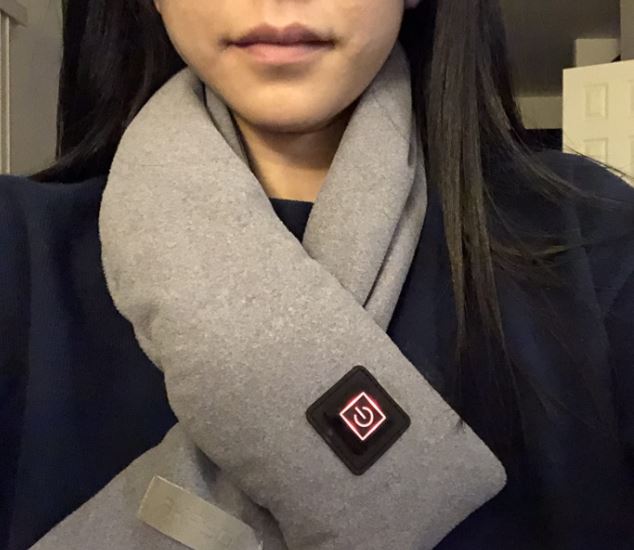 To use the heater, you first need to press and hold the power button for three seconds. The button is easy to press, and large and rubbery enough to operate even when you have gloves on. Pressing the button again will turn the heat up to medium. Pressing the button a third time will turn it to the highest power. A fourth press will shut the heater down altogether. The temperature of the coils will be set to 113 degrees at low, 131 at medium, and 140 on high. This heat dissipates somewhat through the material, so it's never enough to burn you. All it does is warm you up.
The 5,000mAh battery performs very well. On the lowest heat setting, it will last for as much as six hours. On higher settings, it will last for shorter periods. But even on the highest heat, it will last for at least 2 ½ hours. That's longer than most people will ever want to use it. That said, you may need to reactivate the heater from time to time. It shuts off automatically after 45 minutes, for safety and power savings. It also has a temperature sensor, which will turn off power if the scarf starts to overheat.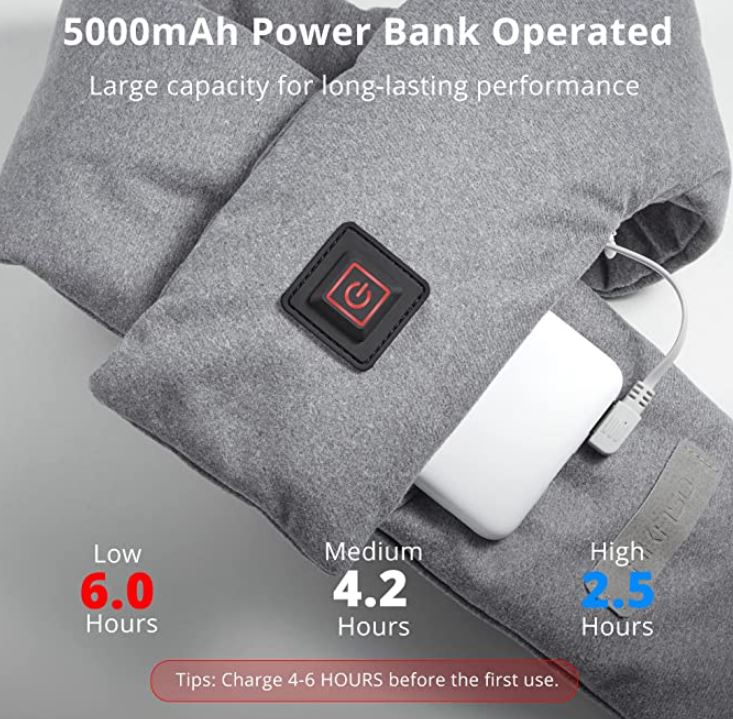 The battery pack itself will charge in about three hours, using the included Micro USB cable. However, the first time you use it, it might take as long as six hours to fully charge. Make sure to wait for all four indicator lights to remain solid before you plug in for the first time.
As an added bonus, there are two USB Type-A ports on the side. So when you're using the scarf, you can plug your phone or tablet into the other port for charging. You can also use the battery as a standalone power bank, and charge two devices simultaneously. Keep in mind, though, that 5,000mAh is only about 1 ½ charges on an iPhone 13. If you're fully charging your phone, your battery life will suffer accordingly.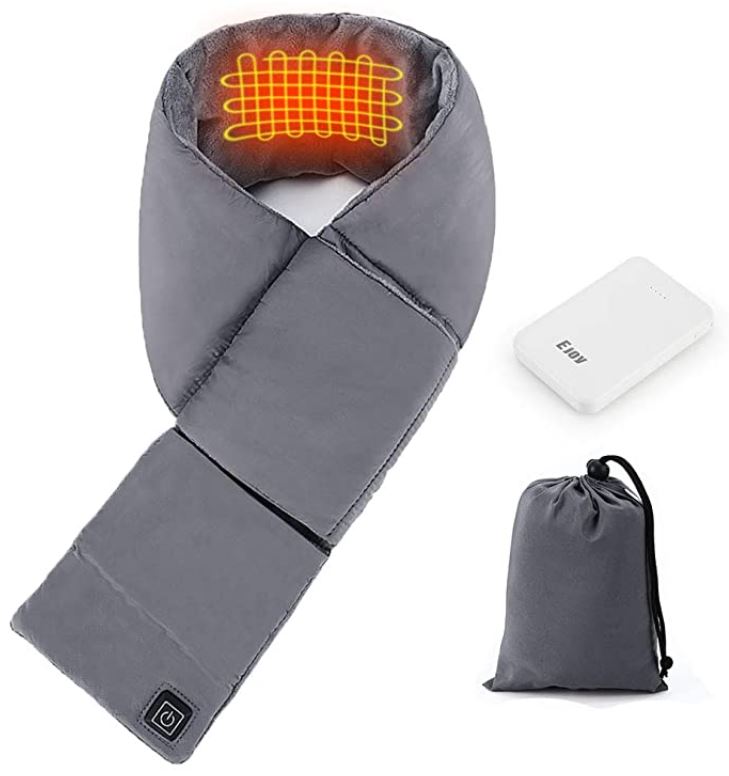 JOYTEK 2021 Upgraded Heated Scarf
The JOYTEK 2021 Upgraded Heated Scarf is made from polyester, but with a different finish on both sides. On the outside, the finish is smooth, similar to the polyester used in a windbreaker. The inner surface – the side that touches your body – is a softer flannel. This makes it soft and comfortable to wear, as well as very warm even with the heater off. This scarf is larger than the other two, measuring 40 inches long and 5.5 inches wide. That said, the heating area is the smallest, only 6.5 inches long ad 3 inches wide. If you have a larger neck, it won't wrap all the way around the sides.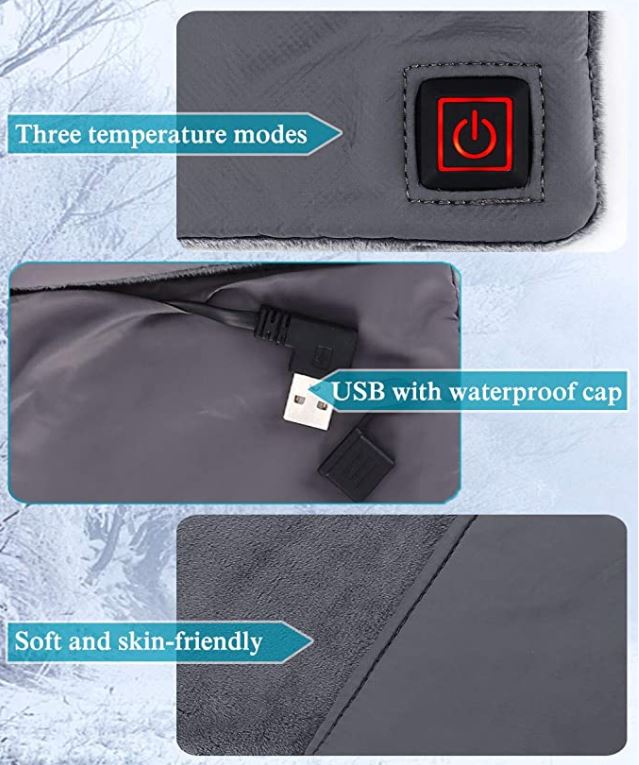 The power button is located at one corner of the scarf, and has a light-up design. On low, it turns green; on medium, blue; and on high, it turns red. Like the AKASO scarf, the battery is a small white power pack, which fits in a zippered pocket. It also connects via a little USB pigtail, but in this case, the pigtail has a waterproof cap. This should be inserted when you wash the scarf, but keep in mind that it's still not machine washable. You need to wash any electric scarf by hand.
On the opposite end from the battery, the JOYTEK scarf forms a large loop, so it can be tucked through. The kit also includes a drawstring carrying pouch, made from the same nylon as the scarf shell. It's not much, but it's convenient for holding everything together during travel.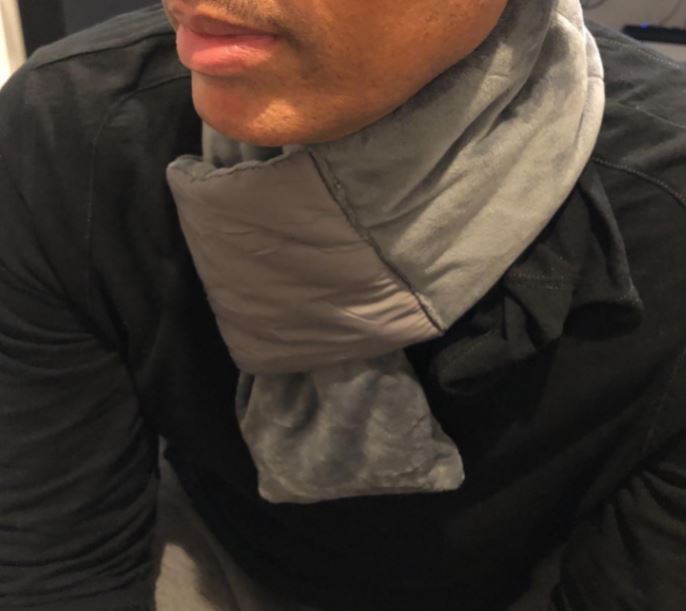 Heater Function and Performance
The heating function of the JOYTEK scarf works much like the AKASO's. You hold the button to turn on power, and press it again to change the temperature level. The maximum temperature of 140 degrees is the same, but the minimum temperature is higher. At 122 degrees, it's warmer than the AKASO's minimum setting, which could be good or bad. It all depends on what you need. The power bank has the same 5,000mAh charge, and also has two USB Type-A ports. However, the power delivery is a bit more efficient. Even with the higher low-end temperature, the maximum battery life is a full six hours. And at the highest power level, you'll get somewhere in the neighborhood of three hours.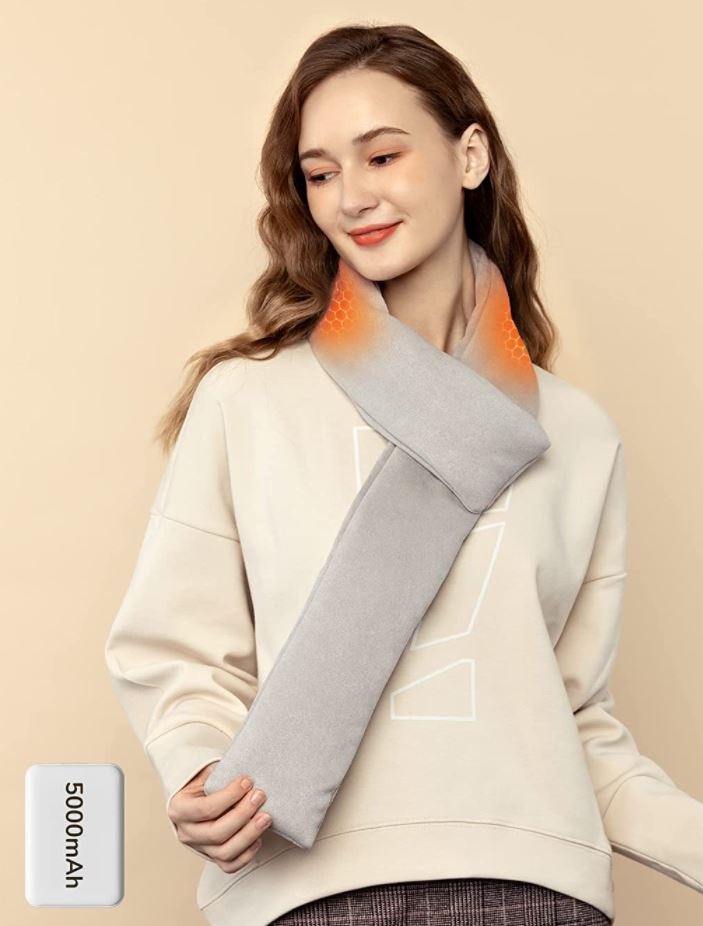 JISULIFE Heated Scarf
The JISULIFE Heated Scarf is the shortest of the three, at only 30.31 inches in length. That said, it also has the largest heating area, at 11.81 x 2.36 inches. This makes it great for snuggling up with a book, or stepping out for a short errand. The material is a soft faux suede, which feels smooth and gentle against your skin. It's also available in three different colors: grey, blue, or brown.
At one end, you'll find a rubbery power button, with a light-up design. It turns blue on the lowest power setting, white on medium, and red on high. The neat thing about this button is that it's concealed inside a loop on the back of the scarf. This serves two purposes. First, the loop hides the power button, which makes it more fashionable. Secondly, it allows you to tuck the other end of the scarf through, to secure it around your neck.
As with the first two scarves, this one is also powered by a small white battery pack. It installs in a zipper pocket behind the power button, and plugs in with a short USB tether.
Heater Function and Performance
Using the JISULIFE scarf is easy. Just press and hold the button to turn the heater on high (140 degrees). Further presses will change the temperature to medium (122 degrees), or low (104 degrees). This gives you a wide temperature range to work with.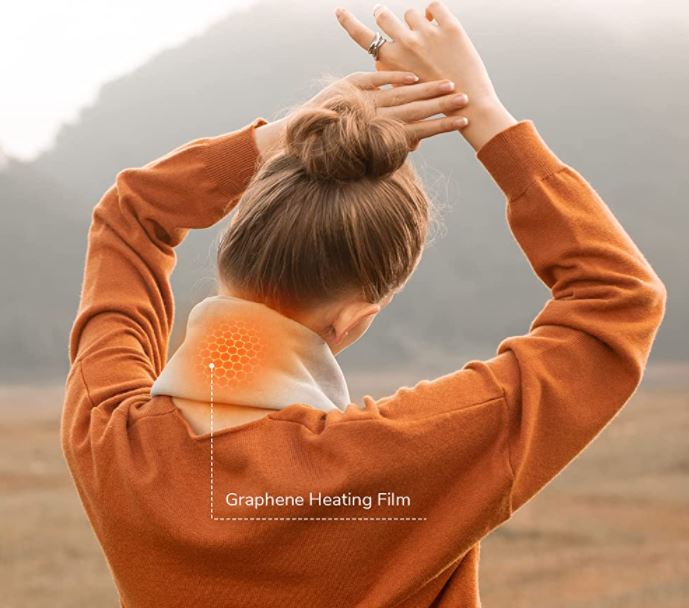 The battery is slightly smaller, at 4,500mAh. It also only has a single USB Type-A port, although it can still be used as a power bank. On the highest power, it will last for about 2 ½ hours, or five hours at the lowest setting. It charges in less than three hours via Micro USB, and a charging cable is included. However, like the AKASO's battery pack, it will take longer to charge the first time around.
With all of that being said, a scarf is just one piece of equipment you need for the winter. If you're looking for more electronic accessories, check out some Bluetooth headphone earmuffs. They're a great way to keep your ears warm, while still enjoying your favorite tunes.
Final Verdict
Without a doubt, each of these rechargeable electric heated scarves has its own advantages. But which one is right for you? The AKASO Heated Scarf (Neck Wrap) has a mid-sized design, which makes it suitable for a variety of people. It also has a reasonably wide temperature range, along with far infrared radiation for deep tissue relief. And the battery life is surprisingly long-lasting, with up to six hours of total heating performance.
The JOYTEK 2021 Upgraded Heated Scarf is the longest scarf of the bunch. This makes it better suited for outdoor use, where you want to bundle up a little bit more. We also liked the outer polyester shell, and the ultra-soft flannel liner. On the downside, the small heating area doesn't cover as much as the other scarves. But on the plus side, you get longer battery life – as long as three hours on the highest heat setting.
The JISULIFE Heated Scarf is the antithesis of the JOYTEK scarf. It's the shortest of all, but has the largest heating area. So where the JOYTEK is ideal for outdoors, the JISULIFE is optimal for indoor use. The soft, faux suede material is very comfortable to wear, although the battery life is mildly disappointing. Even so, it's not often that you'll need to run a heated scarf for longer than five hours.
Note: At no extra cost to you, we may earn a commission for purchases using our links. Learn more.