As the cold weather approaches, many people are looking for ways to stay warm. This is for a good reason. Failing to protect yourself against cold temperatures can increase the likelihood of hypothermia or coming down with an illness.
Putting on powerful and efficient "cold gear" is a simple way to put your body in the best position to thrive, cold-free. It's for this reason so many people have added heated scarves to their winter uniform.
What is a Rechargeable Electric Heated Scarf?
Think of them as a battery operated heated blanket that's portable and only for your neck. An electric scarf leverages a series of heating elements woven into the core of the material to produce heat.
It does not rely solely on the heat produced by your body to keep you warm. This is a game changer, especially for people that run cold and have a hard time generating adequate amounts of external body heat.
These electric scarves come in a variety of shapes and sizes that can match any situation or aesthetic. In fact, the options can get overwhelming and it's hard to determine whether these products match the marketing hype surrounding them.
To help you wade through the bevvy of options and advertising jargon, we've leveraged our expertise and love for cold weather gear to create a comprehensive guide on the best rechargeable electric heated scarf on the market.
We based our selection on a wide criteria, including:
Battery Life: There's a difference between advertised battery life and real-world battery life. We scoured the user feedback on the products on this list to verify that the actual battery life on these units matched closely to what was advertised.
Comfort: Scarves tend to be worn for long periods of time. This roundup includes products that have tremendous levels of comfort because of their stitching, materials and weight. We've excluded scarves that are excessively heavy because of heavy, poorly designed heating elements.
Quality of Materials: From the battery to the heating elements, we only wanted to feature heated scarves that had quality components to last for the long haul.
Real-World Feedback: We looked over hundreds of user reviews to identify the scarves that performed best in the real-world. Our team examined comments from users that lived in extreme weather to see how they held up. We paid attention to things like wind protection, heat up times and battery length.
We're going to go through the top choices we've uncovered next. Afterwards, we will walk you through some key considerations you should keep in mind when making the best decision for you. Let's dive in.
Best Overall: JOYTEK Upgraded Heated Scarf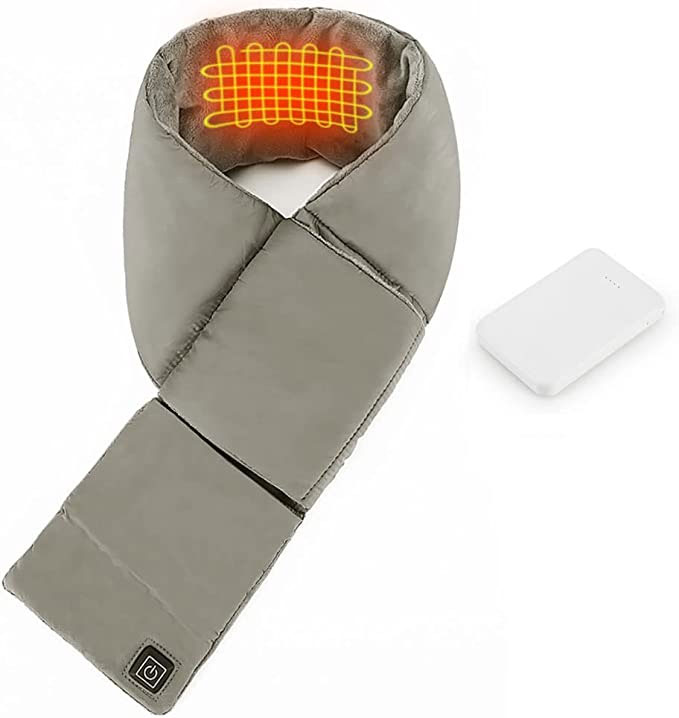 Key Features:
100% Polyester.
Adjustable Closure.
Machine Washable.
Three Temperature Settings.
Rechargeable.
Carbon Fiber Heating Elements.
Waterproof.
40" x 5.5" Size.
Newly upgraded, the JOYTEK heated scarf tops our list for the best overall. Made of 100% polyester and equipped with carbon fiber heating elements, it is very lightweight and lacks a lot of the bulk found in other heated scarves.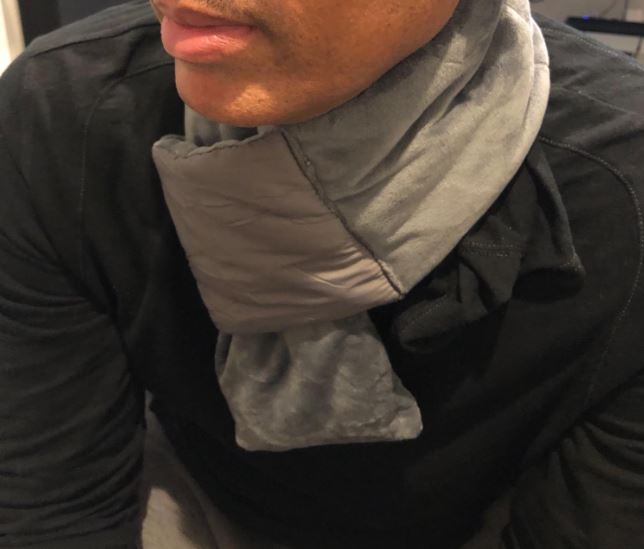 The heating elements have wide coverage, which allows more surface area to be heated at once. The JOYTEC has three temperature settings to choose from. The high setting goes to one hundred and forty degrees and the low setting one hundred and twenty-two degrees. The battery can give you up to nine hours of use, which is well above average compared to other models.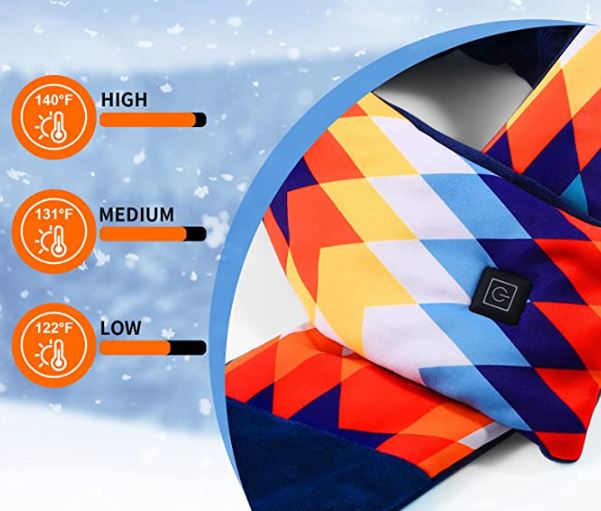 The design of the scarf is a good mix of traditional elements and clear sports tech influences. The aesthetics work for both sports and everyday clothing. The JOYTEK heated scarf is a great overall option.
What We Liked:
Color light indicators for the three temperature settings.
Carbon fiber heating elements keep things light.
Great aesthetics.
Warms up quickly.
Waterproof.
Nine hours of battery life.
What We Didn't Like:
Fabric may feel a bit thin to some.
Customer support is slow to respond.
Best Runner-Up: FLEXWARM Heated Scarf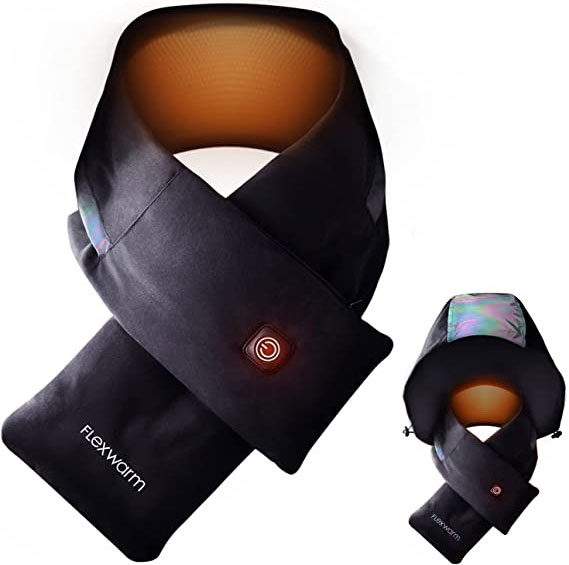 Key Features:
Polyester Fiber and Dupont Cotton.
Far-Infrared Rays.
Heats in 3 Seconds.
Waterproof.
Three Temperature Settings.
Auto Shut Off Safety Feature.
The FLEXWARM Heated Scarf takes the win for the best runner-up. Made of a comfortable mix of polyester fiber and Dupont cotton, this scarf uses built-in nano heating film that provides a larger coverage area and faster heating time than others on the market.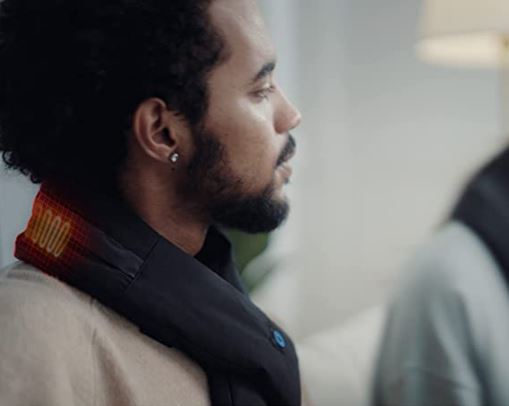 Because the heating film rests on the back of the neck, it can double as a heating pad for muscle and pain relief. The FLEXWARM emits far-infrared rays, which can also promote circulation and facilitate muscle relaxation. There are three heat settings to choose from with a safety shutoff in the case of overheating.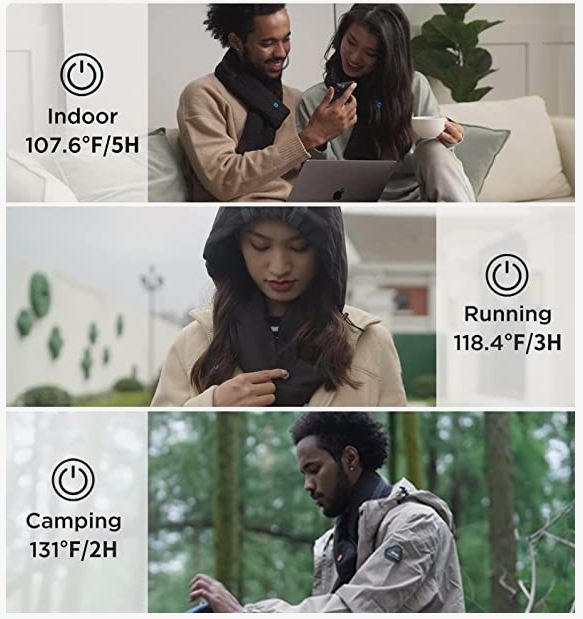 In reality, it does everything just as well as the JOYTEC except when it comes to battery life. The battery life on this scarf runs between two and five hours with a full charge which is nearly half as much as the JOYTEC. In regards to aesthetics, the FLEXWARM heated scarf looks very nice with normal clothes and winter gear alike.
What We Liked:
Large heating area.
3 second heat up.
Can use it for pain and muscle relief.
Safety shutoff feature.
Adjustable heat settings.
Great looking.
What We Didn't Like:
Battery life could be longer.
Best High-End: Heated Scarf by VOLT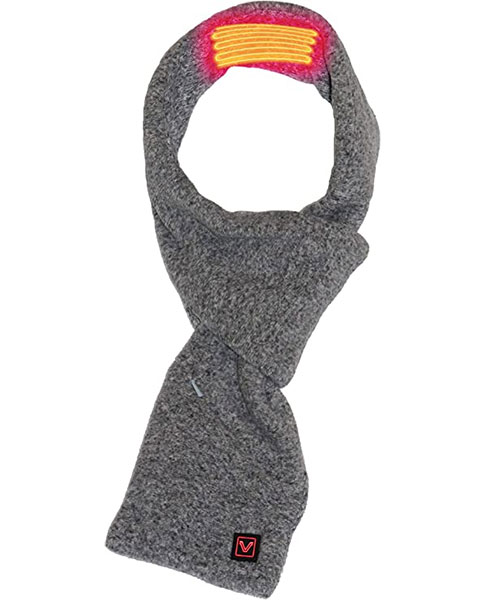 Key Features:
100% Micro Polyester Fleece.
Machine Washable.
5 Volt Rechargeable Battery.
3 Level Heat Control.
This heated scarf by VOLT is the most luxurious scarf in this guide. From its modern heather gray micro fleece, exquisite stitching and aesthetic dimensions, the VOLT is hands down the best high-end electric scarf on the market.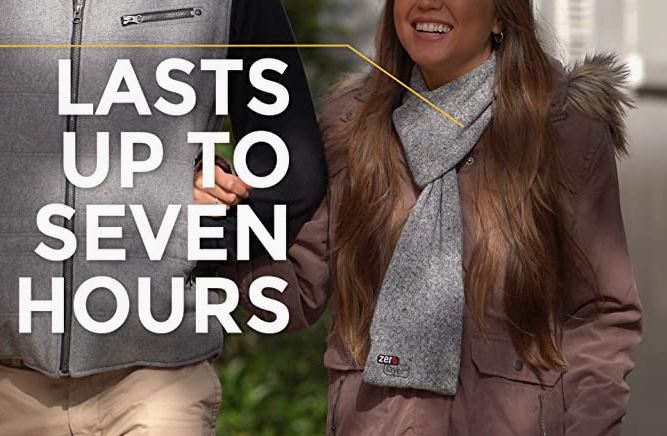 On the inside are heating elements that are powered by a 5 volt rechargeable battery. Although they advertise seven hours, users report being able to get between three and five hours from a full charge. The coverage of the heating elements helps to provide fast heating times and even distribution.
The VOLT also has three adjustable heat settings to choose from that are easily accessible from the front of the scarf. Paired with the comfortable micro fleece material, this scarf can provide hours of heat even in the coldest conditions.
What We Like:
Luxurious micro fleece material.
Machine washable makes it easy to maintain.
Slip knot closure for secure fit.
Rechargeable battery that lasts for up to five hours.
What We Didn't Like:
Expensive.
Vague warranty.
Best Alternative: JODNO Portable Neck Warmer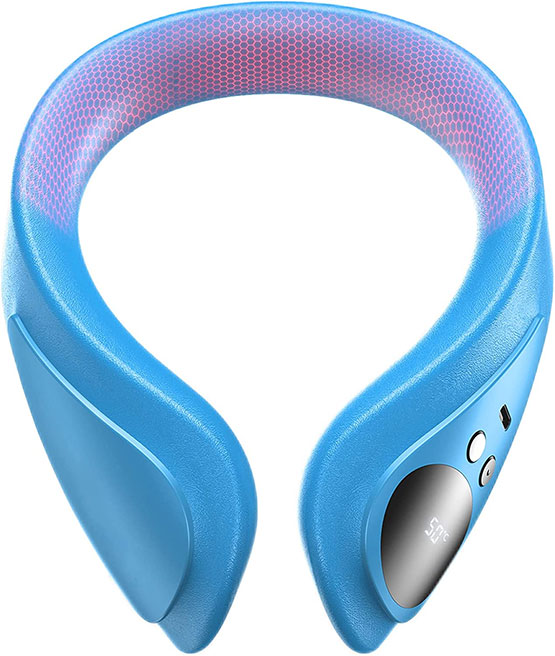 Key Features:
Three Colors.
Neck Wrap Enclosure.
Twelve Levels of Heat.
3-6 Hours of Battery Life.
The JODNO neck warmer tops our list as the best alternative because it's not a traditional electric heated scarf. It's technically a neck warmer, but a growing number of people are turning to this product to pull double duty.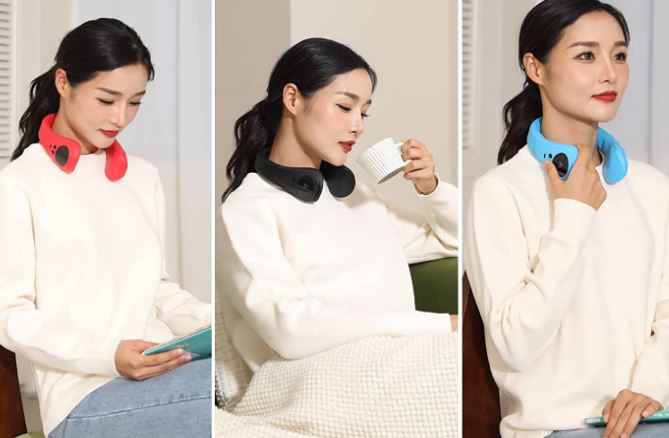 A neck warmer is a great alternative that can keep you warm while out by being placed under your sweater or non-heated scarf. When you are indoors, the neck warmer can remain around your neck to keep you warm throughout the day.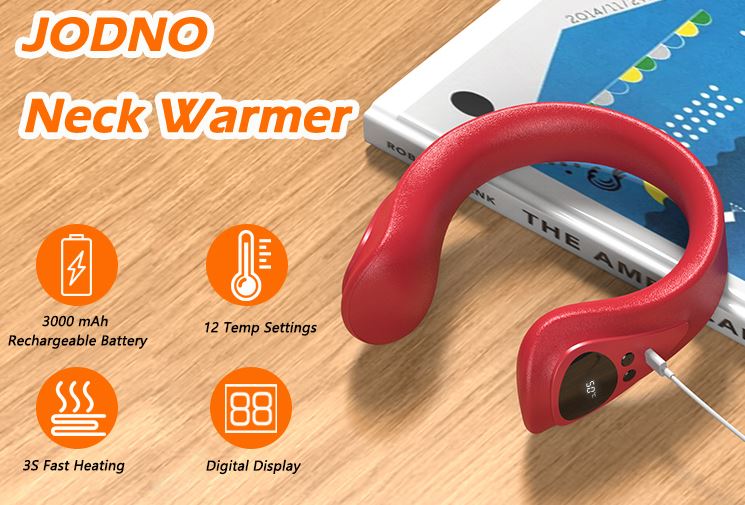 While you can do the same thing with a heated scarf, a neck warmer allows for more granular control over temperature. A heated scarf has only three settings while the JODNO provides twelve levels of heat control. Neck warmers reduce the likelihood of getting overheated, as may be the case with a heated scarf. If you spend most of your time indoors, this alternative may be something to consider.
What We Like:
Twelve levels of temperature control.
Provides muscle relaxation.
Battery lasts up to six .
Soft, premium materials.
What We Didn't Like:
Can be hard to view temperature settings when being worn.
Best 2nd Alternative: ORORO Heated Scarf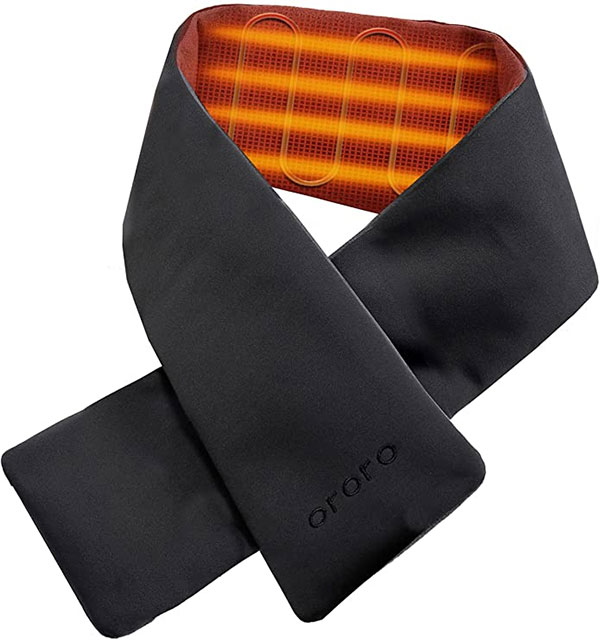 Key Features:
9 Hours of Battery Life.
3 Heat Settings.
Large Heating Area.
Smart Heat Control.
Water and Wind Resistant.
3M Thinsulate Insulation.
Built to withstand the cold winters of the Midwest, ORORO heated scarf has cultivated a long track record of producing sleekly designed, high performance cold weather gear. They craft their products under the assumption that you will spend long hours in harsh conditions and cold weather. This approach helps them plan for every scenario you might encounter in our daily life.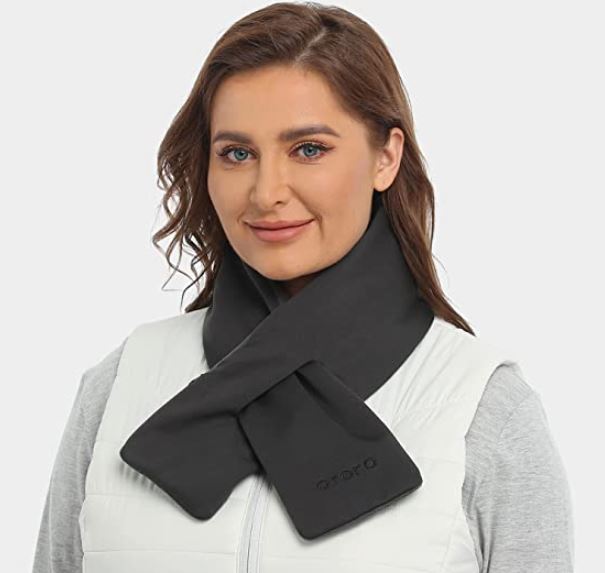 With the ORORO heated scarf, we could not be more impressed. The first thing you will notice is its minimal, low-profile design. It achieves this by utilizing 3M Thinsulate insulation, which does a fantastic job of retaining heat without adding bulk. Powerful, light carbon fiber heating elements provide three heat settings to choose from. The wide surface area of the heating elements provides even distribution of warmth.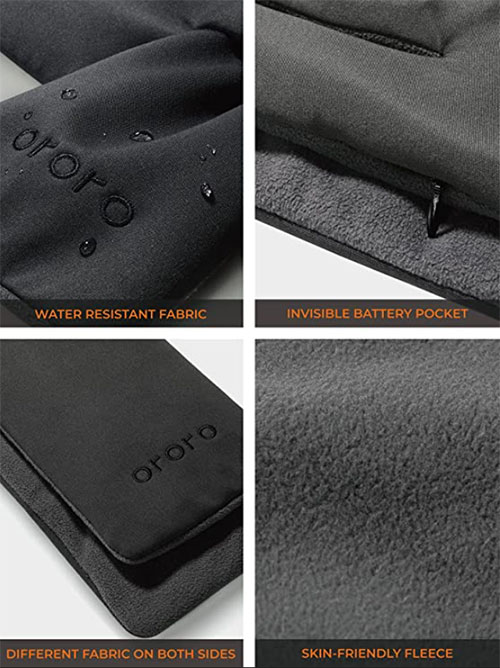 The battery life on this model is one of the most impressive features we have seen on any scarf. Battery life for this scarf clocks in at nine hours. Three hours longer than most other scarves on the market. Even if you don't stay out in the cold for that long, the large battery life means fewer times you have to charge it between uses.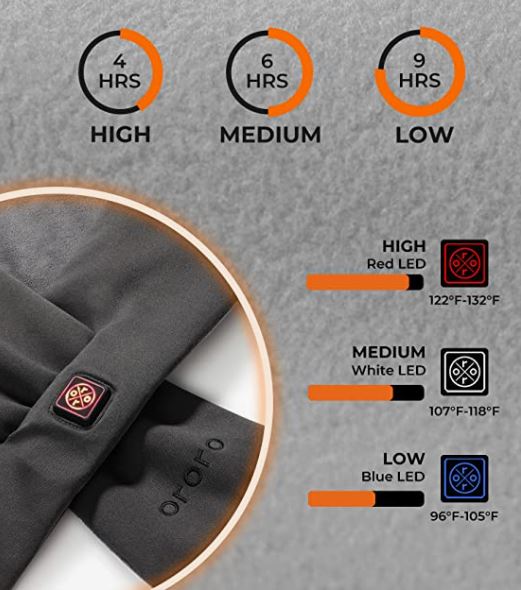 Another thing to keep in mind is that the ORORO heated scarf must be hand washed only. This can make it a little more difficult to maintain. A lot of owners mention that a simple wipe down with a clean cloth is all that you need to keep it fresh.
What We Like:
Low-profile design.
3M Thinsulate insulation for maximum heat retention.
Smart heat control.
Water resistant.
9 hours of battery life.
What We Didn't Like:
Final Thoughts
When looking at the scarves in this roundup, here are some recommendations on who they might work best with.
For users that want a great looking overall scarf that puts out even heat for long periods of time, you should consider the JOYTEK heated scarf.
The FLEXWARM heated scarf is a great option if you want a scarf that helps with relaxation and recovery. The specific placement of the heating element can do wonders for relieving the muscles around the neck.
If your budget will allow, the VOLT provides the best looking heated scarf on the market. It's soft material, low-profile heating elements, easy care and small finishes make it a high end option that's worth the price.
The JODNO and ORORO heated scarves are great alternatives that provide powerful features and all day comfort. If you need long hours of heating, the ORORO provides up to nine hours.
Each of the options on this list would be a superb partner in fighting off the cold weather. We hope that the information presented in this guide will help you make the best choice for your specific needs.
Meet Derek, "TechGuru," a 34-year-old technology enthusiast with a deep passion for tech innovations. With extensive experience, he specializes in gaming hardware and software, and has expertise in gadgets, custom PCs, and audio.
Besides writing about tech and reviewing new products, Derek enjoys traveling, hiking, and photography. Committed to keeping up with the latest industry trends, he aims to guide readers in making informed tech decisions.