When you think of a spy pen, your first inclination might be to think of James Bond. And, to be fair, there are plenty of "espionage" jobs that might require a spy pen. A good private detective, or even a police detective, might want to carry one. But there are also a number of more mundane reasons you might want a spy pen. Let's say you're a student. You want to record lectures, but you're self-conscious about using a visible tape recorder. A spy pen is a great solution to your problem! The same also applies in the business world, where you may want to record a seminar or presentation. Spy pens can also be used for recording interviews. Job interviews can make any applicant nervous, and a visible recorder may increase their anxiety. A discreet spy pen can help you keep interviews straight without intimidating your applicants.
Spy pens, or something similar like spy camera glasses, can even be used for your own protection. If you're a rideshare or delivery driver, you're not often working near a surveillance camera. If a customer complains about your service or there's a dispute, it can be their word against theirs. Having video evidence can be the difference between maintaining a spotless record and no longer driving for that company.
Note: At no extra cost to you, we may earn a commission for purchases using our links. Learn more.
Today, we're going to review a few of the best spy pens available in 2022. We'll begin by looking at the iSpyPen Pro (2022 model). This is a top-of-the-line spy pen that's packed with some of the most desirable features we've seen. After that, we'll examine the Peachtron Spy Pen Camera. This pen camera comes with an SD card, extra ink, and all the accessories you need. Next, we'll review the SIRGAWAIN Spy Pen Camera. This camera has a simple, one-click button for easy operation, and transfers data via a USB cable. Finally, we'll check out the FUVISION Camera Pen. This pen plugs directly into your computer's USB port for easy data transfer. Which one is the right choice for you? Let's see how these spy pens stack up!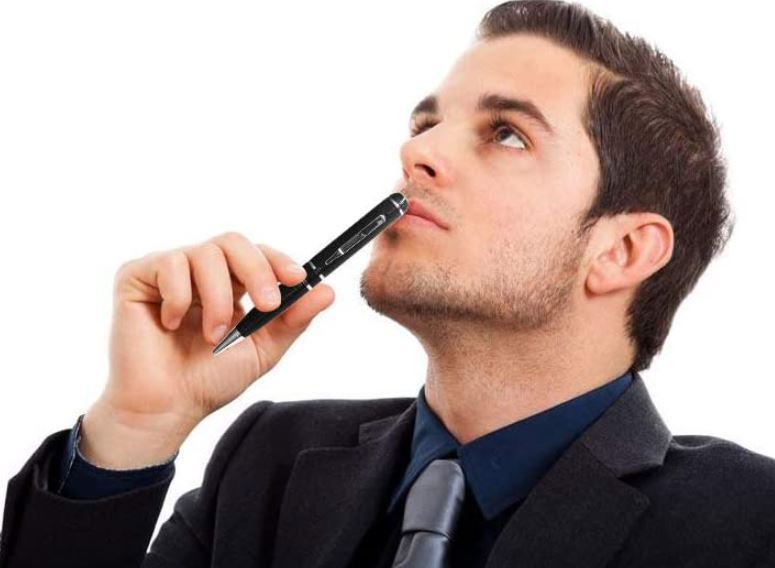 How to Choose the Right Spy Pen
So, what makes one spy pen better than another? There are a handful of features to consider, and none is necessarily the most important. For instance, some people need crisp, clear audio. Others couldn't care less about audio and want the longest-lasting battery.
However, there's one thing all good spy pen cameras have in common: they're discreet. If your spy pen looks like a hidden camera, it's not doing its job. At the same time, there's only so small you can make a good camera. If nothing else, you need a lens, and that lens needs to be fully exposed. For this reasons, you won't find a lot of spy pens that are slim, plain, or cheap looking. Instead, they tend to be fatter, and have at least a few decorative touches to help the lens blend in. That said, consider carefully how well you need to conceal your camera. Some spy pens are more discreet than others.
Video Quality
Video quality is the area where spy pens have made the most advances in recent years. Just a few years back, cameras this small were grainy, like security camera footage from an old true crime show. 480p was considered a luxury. As recently as last year, a number of respectable spy pens came in 720p. But time marches on, and you should no longer accept anything less than 1080p. If you really need 2K or 4K, it can be found. But it's still expensive, and the technology just isn't "ripe" yet. For most purposes, 1080p spy pens will be best.
Audio Quality
When it comes to audio quality, even the best spy pens are a bit of a mixed bag. The microphone, if there is one, is going to be an afterthought. Don't expect to use one of these to record your next jam session. That said, a decent spy pen microphone should at least be able to pick up intelligible audio. If you can't understand what people are saying, there's no point in even having a mic.
Battery Life
Because of its small size, a spy pen's battery won't last as long as a smartphone or full-sized camera. That said, battery technology has come a long way in recent years. In the past, 30 minutes of battery life would be impressive. Now, spy pen batteries routinely last for two hours. There's a lot of variation, though, so make sure to pay attention while you're shopping.
Data Storage and Transfer
Different USB spy pens store and transfer data in different ways. Some have internal flash storage, but most use Micro SD cards so you can archive your recordings if needed. All of the pens we're reviewing today use Micro SD storage. Keep in mind that spy pens don't have any kind of monitor. To review your videos, you'll have to transfer them to your PC or Mac. For this purpose, some require you to remove the card, while others will plug into your computer.
How Good is the Pen?
At first, it might seem silly to consider how well the pen portion of your spy pen performs. But these aren't cheap Bic pens. You want to hold on to them and be able to use them. For instance, if you're using your pen to record a lecture, you may also want to be taking notes! In that case, why not use the spy pen you're already carrying? A good spy pen will come with replacement ink cartridges, or a refillable one. At the very least, the pen should be able to accept some kind of aftermarket replacement.
At the same time, though, not everyone actually wants to use a spy pen. Maybe you prefer a thinner pen for writing. Or maybe you need to keep the camera still in your front pocket. In that case, the actual pen function will be a moot point.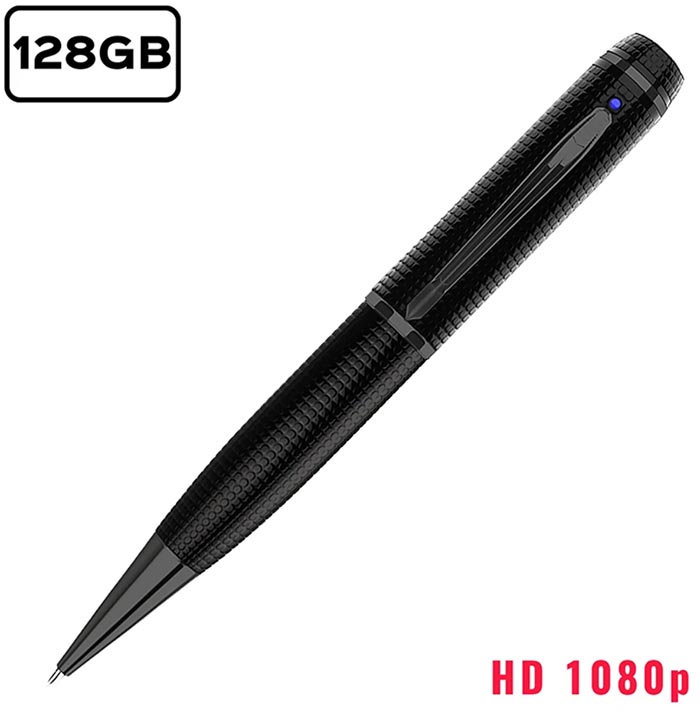 iSpyPen Pro – 2022 Model
In 2022, the iSpyPen Pro has been completely revamped from earlier models to provide some of the most favorable features you could ask for in a spy pen. It's designed to make hidden recording as easy, practical and reliable as possible. From first glance, you'd never realize that there's actually a hidden lens near the top-end silver clip. In our opinion, it's one of the most realistic and fully functional spy pens currently available on the market. It's even a fully functioning ballpoint-pen with a heavy-duty, solid feel that screams quality.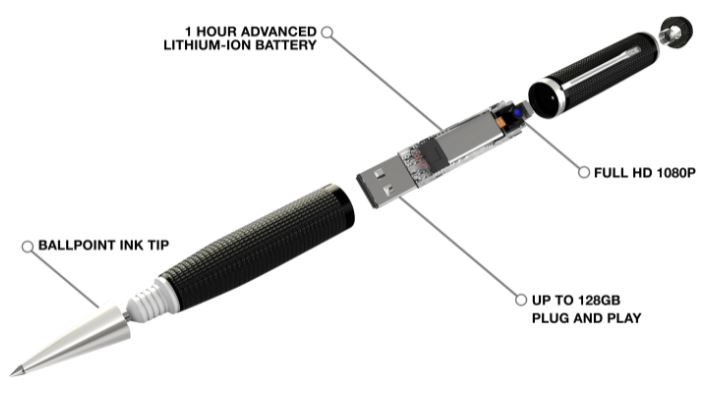 With a price starting at $59 and available in capacities between 16GB and 128GB, users can store anywhere between 3 to 24 hours worth of footage with the ability to record on the fly. Best of all, the memory is stored inside, so you're left with a clean and discreet looking recording device that isn't very obvious. In addition, the pen comes apart in the middle to reveal a standard USB-A thumb drive that lets users quickly drag and drop their video clips onto a computer within a matter of seconds; no drivers or special software required.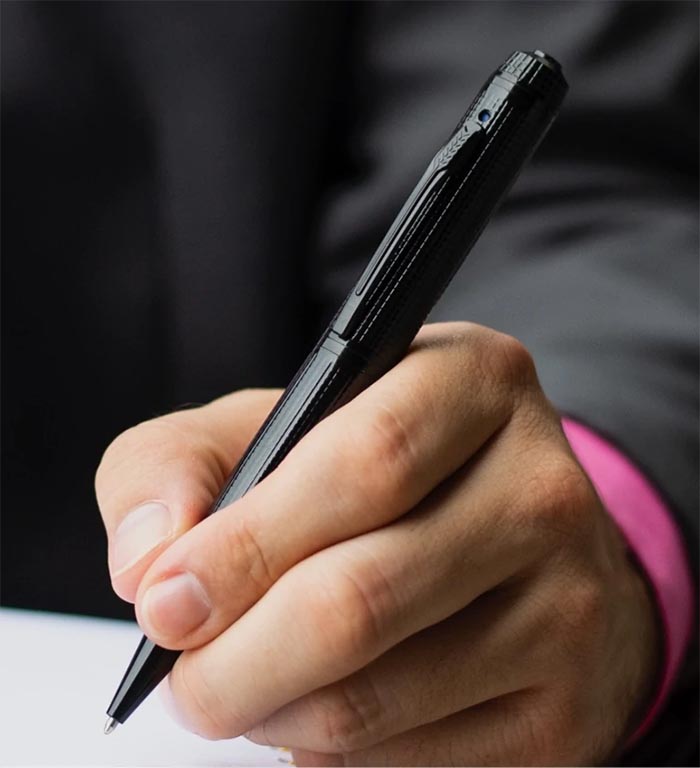 Inside of the iSpyPen Pro is a rechargeable lithium-ion battery that lets users record for up to 60-75 minutes before the battery needs to be charged-up. While this may not seem like a fantastic amount of battery life, it's sufficient for most scenarios. What's more is that you can plug-in a small power bank and keep using it while recording. While it may not be practical for all environments, it's a nice additional feature that we haven't seen in a spy pen before.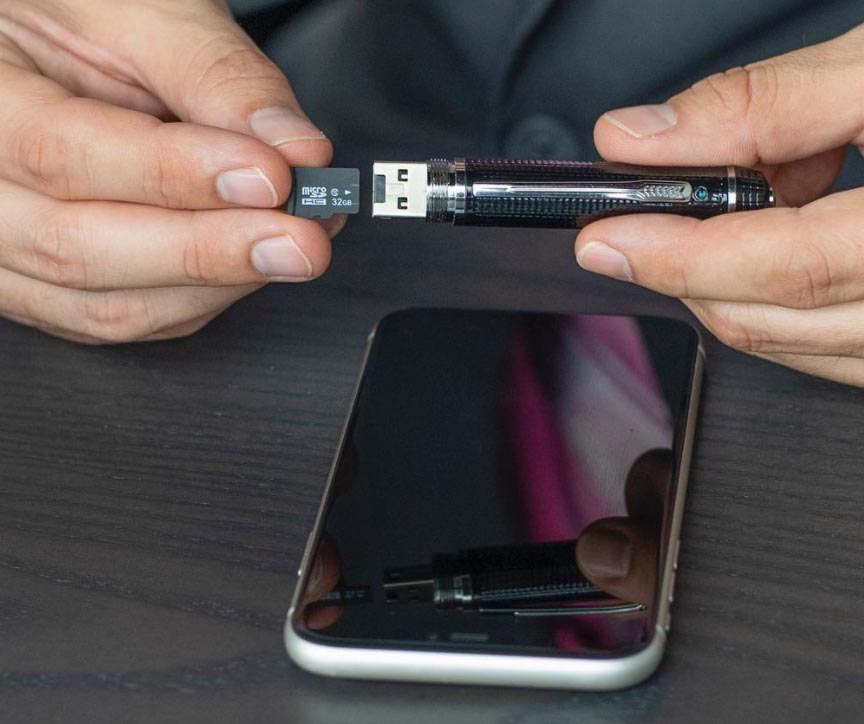 On the top of the pen is a small button that clicks to start recording both 1080p video and crystal-clear audio. One small press and recording begins instantaneously. There's no LEDs or visual indication that it's recording, which keeps it unobvious to bystanders so they'll never realize you're actively recording. Additionally, users are able to place an optional timestamp overlay on each recording, so you're always aware when a specific recording took place. Speaking of, the recording quality is superb. Video files are crystal clear and even in low-light situations, video quality is excellent. We never experienced any issues with the audio recording, either. Voices never seemed to be distorted as it effectively picks up audio without any lag or muffled effects.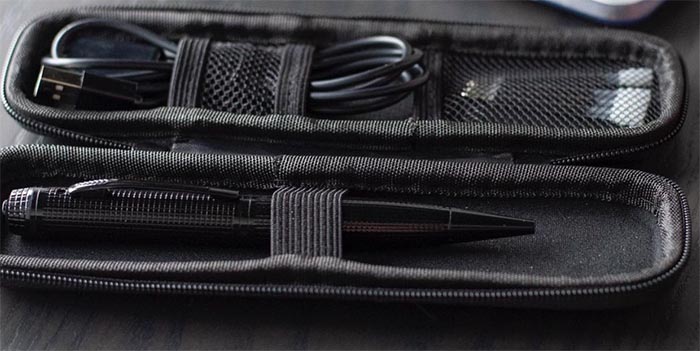 All in all, the iSpyPen Pro delivers a high quality product on all fronts. It's built well, feels solid and even works well as a fully functional ballpoint pen. In addition, it's covered by a 180 day warranty so in the unlikely event that it malfunctions, you're fully covered. Best of all, iSpePens is a USA-based company that offers free shipping and fantastic customer support that's always there if you need it. If you're looking for a well-engineered spy pen with great features, the iSpyPen Pro delivers.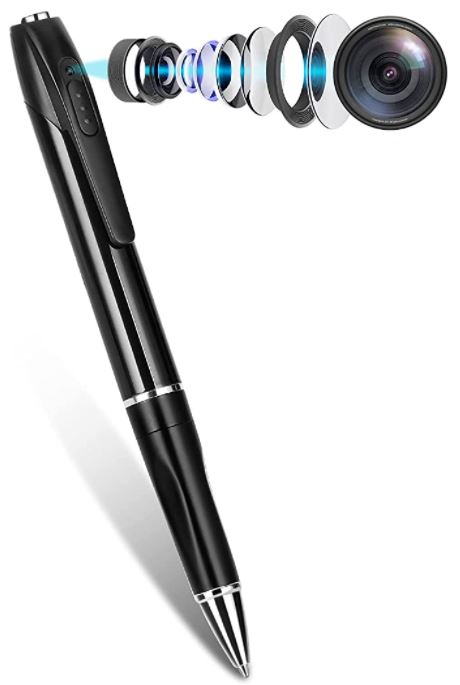 Peachtron Spy Pen Camera
The Peachtron Spy Pen Camera is a plain black pen with a mostly gloss-aluminum housing. The top portion is made of a matching plastic, and houses the actual camera. This portion sports a clip, which can be easily attached to a shirt or briefcase pocket. Inside the clip, you'll notice the lens itself. There's a small slide built into the front, which can be used to cover the lens when needed. To activate the camera, you simply slide open the cover and press the button on top. Pressing the button twice will take a picture.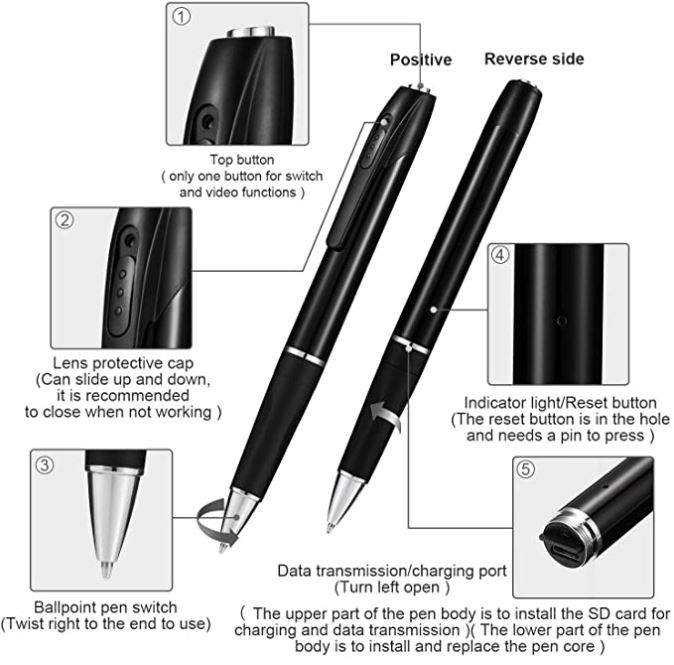 The bottom portion of the pen twists to extend and retract the tip. This rubbery grip is separated from the main housing by a stainless steel ring, and can be unscrewed. When it's removed, you can easily replace the ink cartridge. The package includes five replacements, so you'll have enough ink to write thousands of pages by hand.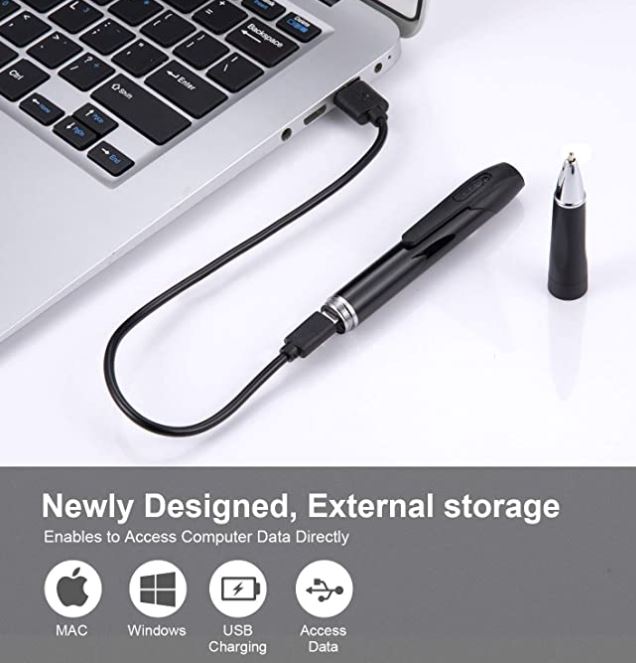 Meanwhile, removing the bottom of the pen will expose the SD card slot and Micro USB port. The kit includes a 32GB card, which can be installed and used immediately. The Micro USB port is used both for charging and for data transfer, and a cable is included. Plug it into any PC or Mac, and you'll be up and running in no time. When fully charged, the battery will last for around 2 ½ hours. That's towards the high end for any spy pen, and we definitely appreciated the long life.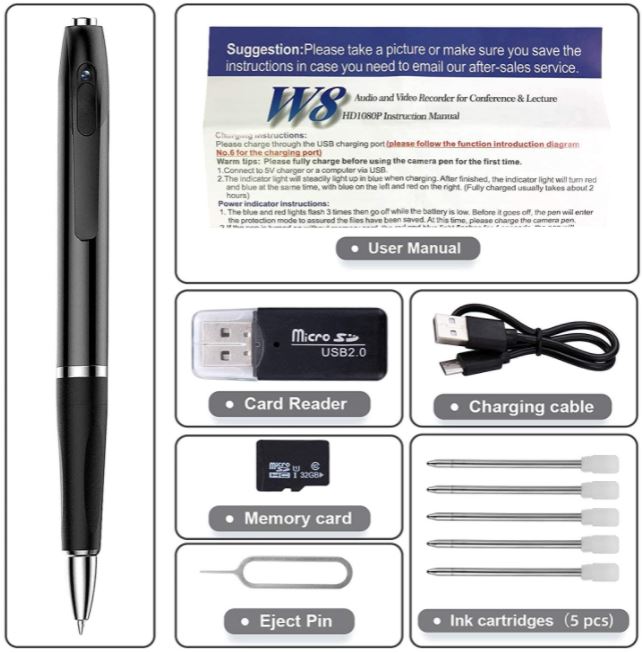 The Peachtron spy pen records video in full 1080p. This is in line with modern standards, and it's plenty for most purposes. Not only can you recognize faces, but you can also easily take legible pictures of documents. For the purposes of a spy pen camera, that's all you're really ever going to need. As for the audio quality, it was better than we expected. We're not talking about studio-quality sound here, but voices come through just fine. If you're trying to record a lecture, you'll be able to understand it later.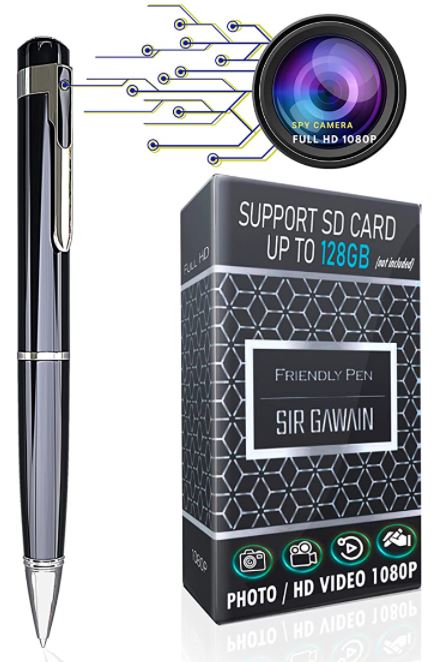 SIRGAWAIN Spy Pen Camera
The SIRGAWAIN Spy Pen Camera has a similar design in many respects to the Peachtron. However, instead of a rubberized grip, the grip section is black aluminum like the top. Similarly, there's not as much plastic in the design, for an overall more rugged build. As with all three of our camera pens today, the lens is built into a clip on the front.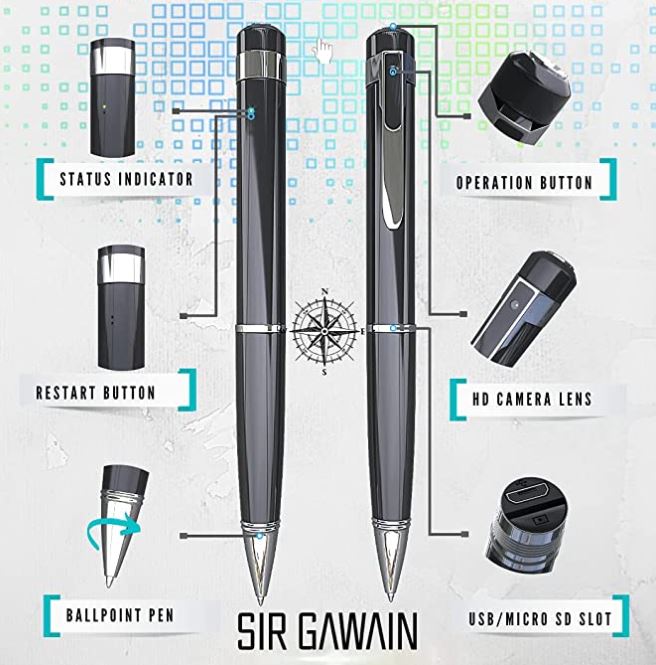 The SIRGAWAIN's clip is stainless steel, so the shine from the lens doesn't really stand out. That said, there's a bright green indicator light on the back of the pen. This light comes on whenever the camera is on, and cannot be deactivated. It's an odd choice for a device that's designed to be concealed.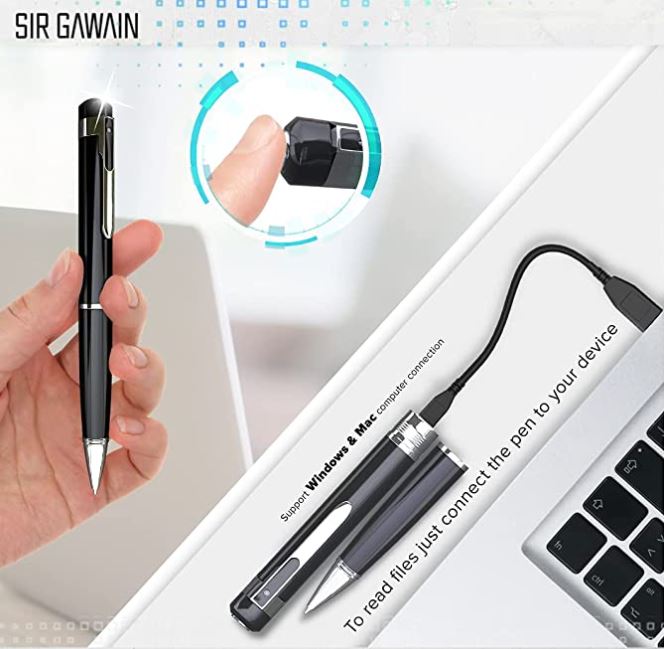 One thing we like about the design is that it has a simple, one-click control scheme. A single button lets you take videos or pictures without needing to break out the owner's manual. The camera records in 1080p, and the brightness and color clarity are excellent. Unfortunately, you can't record any audio. As a result, this spy pen is useless for recording lectures or interviews. It does, however, come with five ink cartridges, so you'll get plenty of use from the pen itself.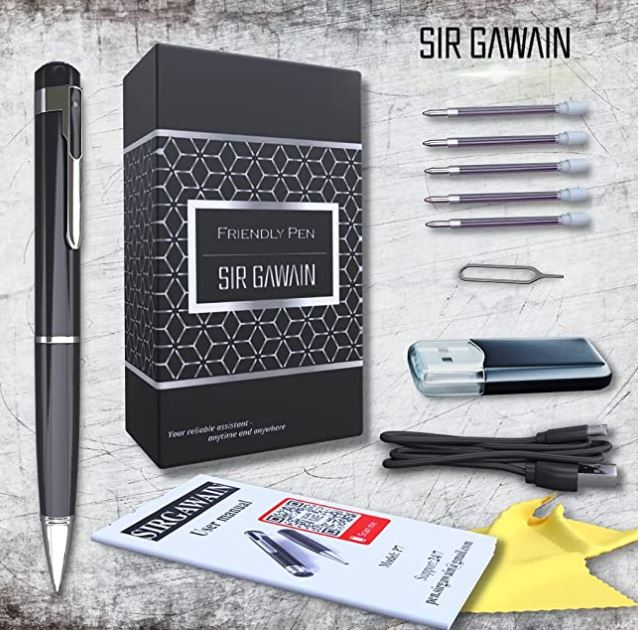 With no audio, we'd hoped the SIRGAWAIN camera would last longer than the Peachtron. However, it only lasts for 70 minutes per charge, which was a bit disappointing. On the plus side, the Micro SD slot will support cards with up to 128GB capacity. But no card is included in the kit, so you'll need to buy your own. Data transfers to your computer via a Micro USB cable, which comes with the pen.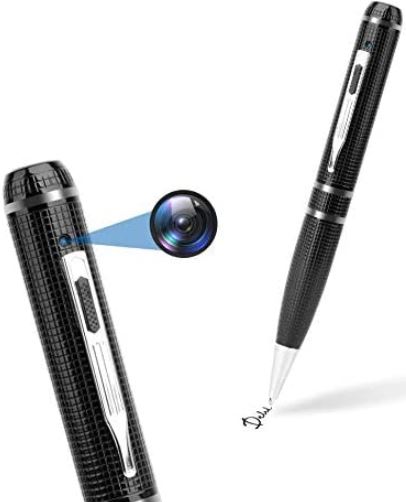 FUVISION Camera Pen
FUVISION is an experienced surveillance gear manufacturer. Among their other offerings, we've reviewed – and enjoyed – their wall outlet pinhole cameras. The FUVISION Camera Pen is built to a similar standard, with a quality black aluminum housing. Unlike the last two camera pens, the finish is subtly textured, with fine vertical grooves. This both makes it easier to hold and adds a decorative touch. There's also a stainless steel clip.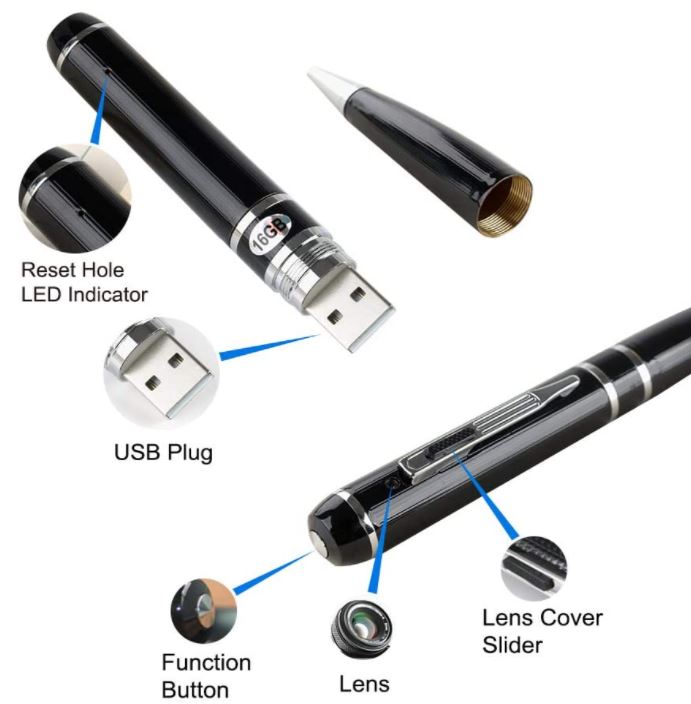 Operation is quick and easy. Just slide open the cover and click the back of the pen. When you do, it will start recording 1080p video. A quick double-click will snap a still photo. The audio quality is marginal at best. When it works, you can clearly understand what people are saying. But all too often, it sounds choppy and disjointed, and can be difficult to understand. The internal battery will last for two hours on a charge. This should be long enough for most people's purposes, and is in line with modern spy pen standards.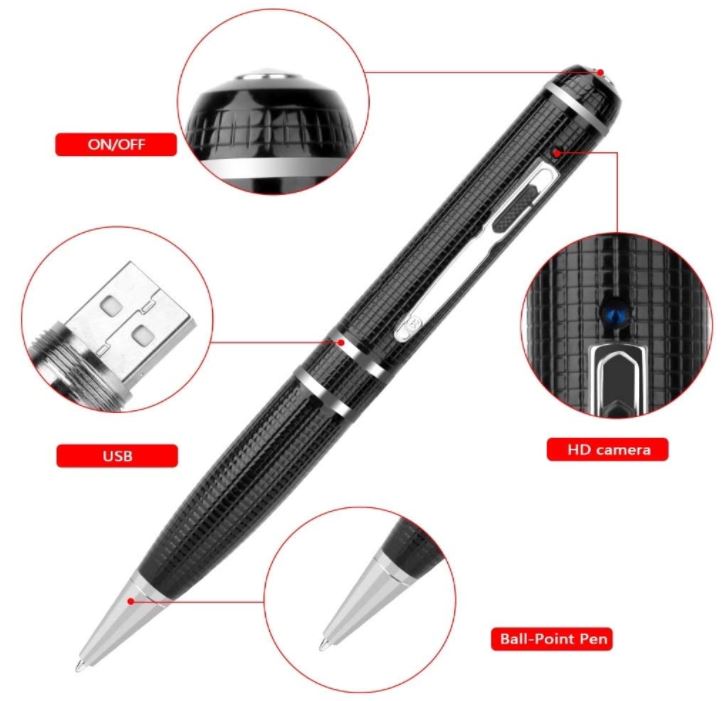 Recordings are stored on a 32GB SD card, which is included in the package. When opened, the pen reveals a USB plug, which inserts into your computer like a flash drive. This allows you to easily transfer recordings to your PC and Mac. The kit also includes three ink refills and a USB charging cable.
Final Verdict
So, which one of these spy pen cameras is the best choice for you? Let's go over what we've learned. We started out by looking at the iSpyPen Pro (2022 model). In our opinion, this is the best spy pen that your money can buy. It's well-made, discreet and capable of excellent video/audio quality. It's reasonably priced, plug-n-play and the most popular on our list.
Next, we examined the Peachtron Spy Pen Camera. This spy pen camera does just about anything we could ask. It records in 1080p, it offers reasonably good audio quality, and the battery lasts for 2 ½ hours. It also includes an SD card, so you don't need to supply your own. That said, the appearance is relatively plain, which could be a deal breaker for some.
The SIRGAWAIN Spy Pen Camera has a sleeker design and a more formal profile. It also has a sturdy design, with a proper steel clip, and the video quality is good. That said, there's no audio, no SD card included, and the battery only lasts for an hour and 10 minutes.
The FUVISION Camera Pen has a unique aesthetic, with an attractive, grooved design. It also includes an SD card, and plugs directly into your computer for data transfer. The only real downside is the choppy audio, which might be problematic for some people. That said, the design and the battery life make it an all-around good choice.
Please consider sharing:
Note: At no extra cost to you, we may earn a commission for purchases using our links. Learn more.