In the world of discreet surveillance and recording, spy pens have become increasingly popular due to their compact design and inconspicuous appearance.
To assist you in finding the perfect one, we've tested and reviewed the top spy pens available on the market. Here's what we picked:
Check out our full reviews below to learn all about these spy pens and what they're capable of.
1. iSpyPen Pro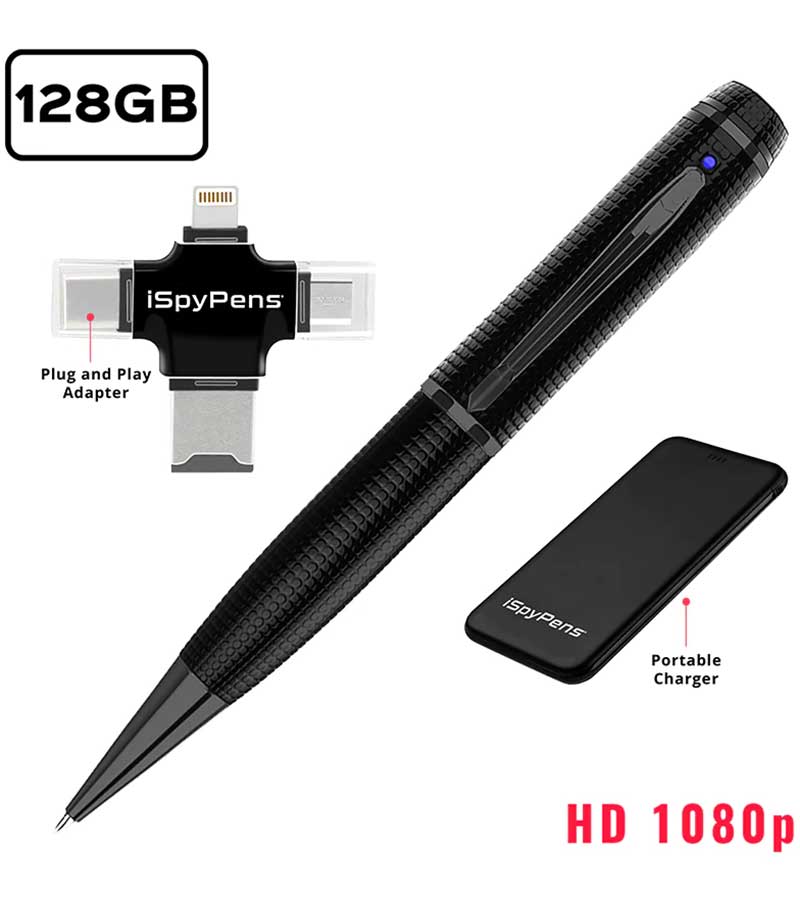 Key features:
Full HD 1080p camera
4-hour recording per session
128GB storage capacity
Plug-and-play functionality
The iSpyPen Pro stands out as a high-performance HD camera pen. The latest 2022 model we tested has been revamped, making recording not only practical and reliable but also affordable.
It is designed to cater to users of any age or technical background, ensuring widespread usability. Thanks to its sleek and classy design, the pen can effortlessly blend into various settings while capturing important moments in high definition.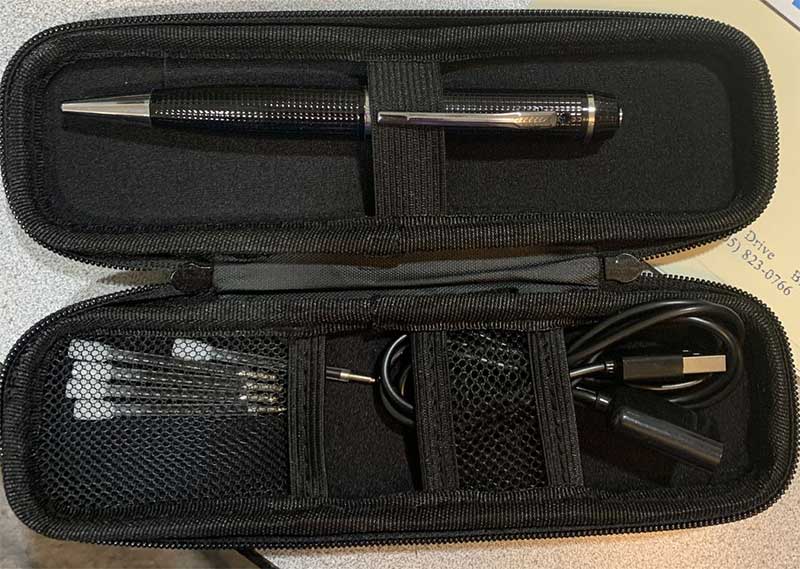 One of the most appealing features of this spy pen is its ability to record up to 4 hours per session. Not only that, but there's an optional timestamp overlay, so users can easily track when the footage was captured.
Both audio and video are recorded, eliminating the need for additional equipment. On the one hand, the lack of a memory card is nice in that you don't have to keep track of external storage. But on the other, you have to work with the onboard memory, and that's it. iSpyPen offers several options, so you can choose how much memory you want (up to 128GB).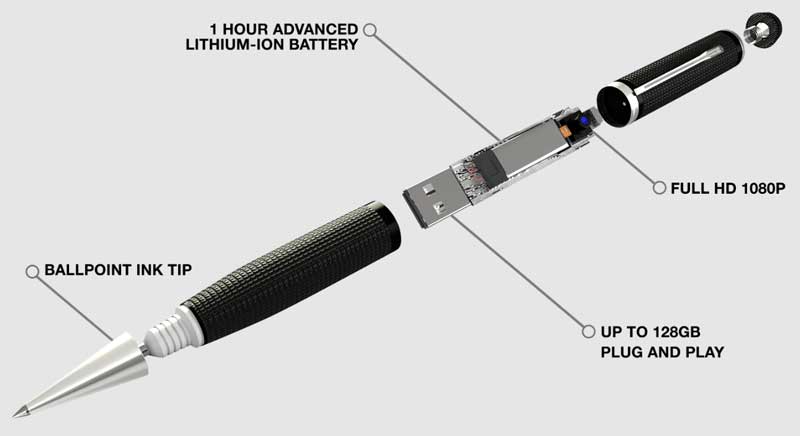 It comes equipped with a 1-hour advanced lithium-ion battery for fast charging. And if you use the camera function intermittently, you can expect the battery to last about a week. But with constant recording, you're looking at about 4 hours before needing to recharge.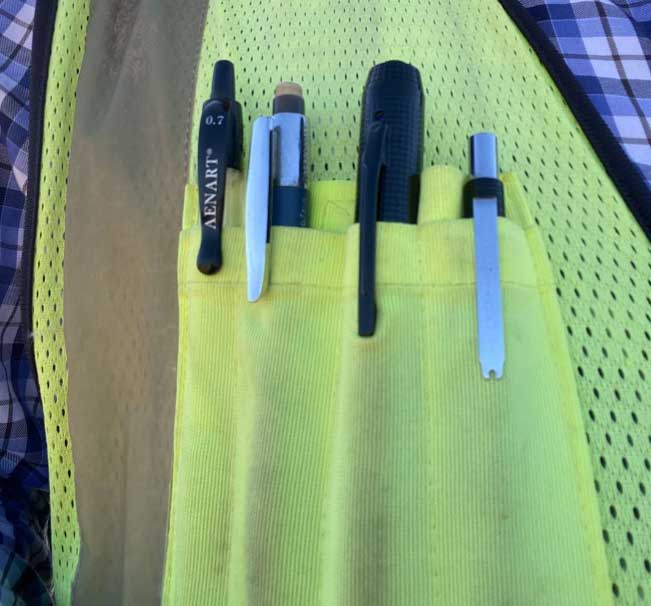 Aside from that, its ballpoint pen ink tip functions as a regular pen, so users can maintain a low profile while recording. The full HD 1080p camera ensures that the captured footage is of the highest quality. With up to 128GB of storage, users can save up to 24 hours of footage without worrying about running out of space.
The plug-and-play feature simplifies the process of transferring files from the device to a computer. There is no need for additional software or drivers, making it user-friendly and convenient.
Users can also look forward to fast, friendly customer support and a 5-minute file integrity preservation feature, which safeguards your recordings.

You can choose either silver or black, and there's an offer for an optional bundle that includes a plug-and-play adapter and a portable battery. It is also available with discreet shipping for an additional fee, ensuring complete anonymity.
So what's the bottom line? The iSpyPen Pro is an excellent choice for those seeking top-notch video quality, recording time, playback reliability, and ease of use. Its extensive list of features, coupled with its sleek design, makes it a top choice among spy pen cameras.
What we liked:
Discreet and sleek design
User-friendly for all ages
Optional timestamp overlay
Audio recording
What we didn't like:
Learning curve for some users
No memory card flexibility
2. Hasako Spy Pen Camera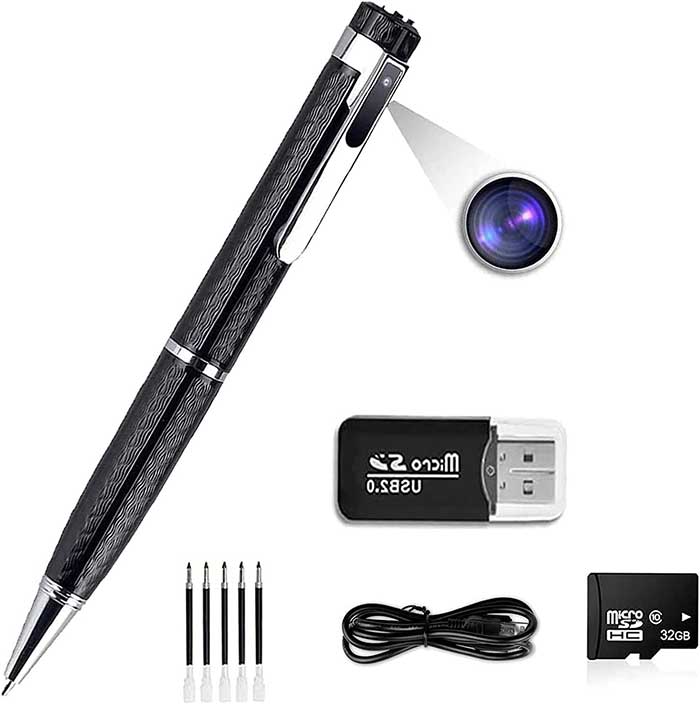 Key features:
1080P FHD video recording
One-button operation
Motion detection capability
Fully functional writing pen
Next is Hasako's Spy Pen Camera, an innovative and multifunctional device that combines a high-quality writing pen with a powerful spy camera. This discreet camera pen is designed for indoor use, making it ideal for home security, business meetings, or even legal forensics.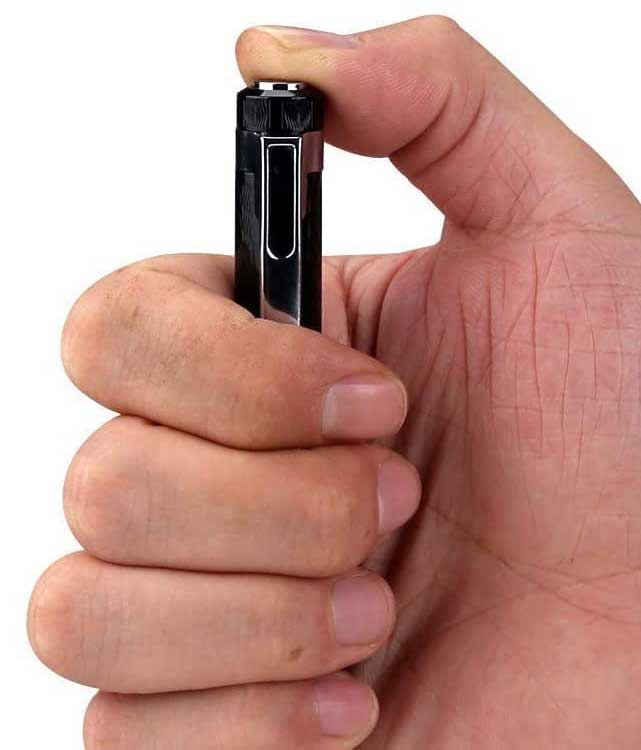 Its sleek black design and lightweight build (a mere 2.89 ounces) make it an inconspicuous tool for any situation. Equipped with a 1080P FHD camera, this device captures smooth, 30-FPS video and stores it on the included 32GB SD card. The camera's 90-degree angle recording ensures a wide field of view.
Note that due to Amazon's no audio policy, this spy camera pen only records video. And since more brands are vying to sell on the platform to increase their bottom line, you'll find this to be a recurring theme.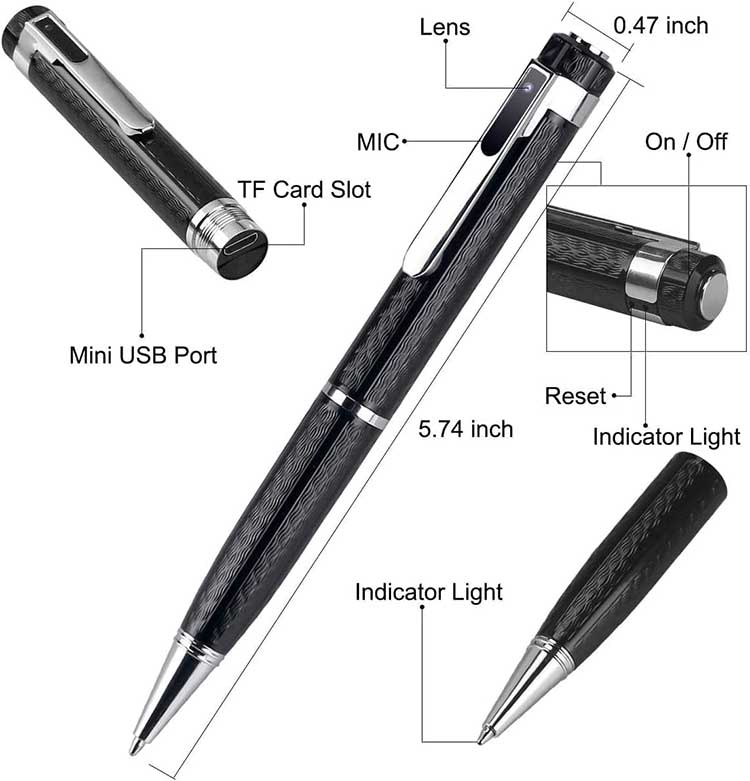 No matter, though. There are plenty of features that more than make up for this one caveat. For one, it boasts a simple one-button operation, making it easy to switch between video shooting and camera mode with a simple thumb press.
Another welcome feature is the motion detection capability, which ensures it records only when activity is detected. The loop video recording function ensures that you won't miss any crucial moments, as it overwrites old recordings when the SD card is full.
The device's 350mAh battery provides an impressive 180 minutes of operation when fully charged. If you're continuously recording for that length of time, the battery will deplete after 180 minutes.

But if you're using the camera sporadically, the battery can last close to a week, based on your use. Additionally, the camera pen can be easily clipped onto your pocket, making it convenient to carry and capture videos or photos whenever needed.
Aside from its spy camera features, this gadget functions as a fully operational pen, complete with five replaceable pen cores and a thimble. It is compatible with both Mac and PC, and desktop operation is easy enough.
To view recorded files, simply plug the pen into your computer's USB port and use VLC media player. If you've never done this kind of thing before, it might sound complicated. But it really doesn't take long to get the hand of it.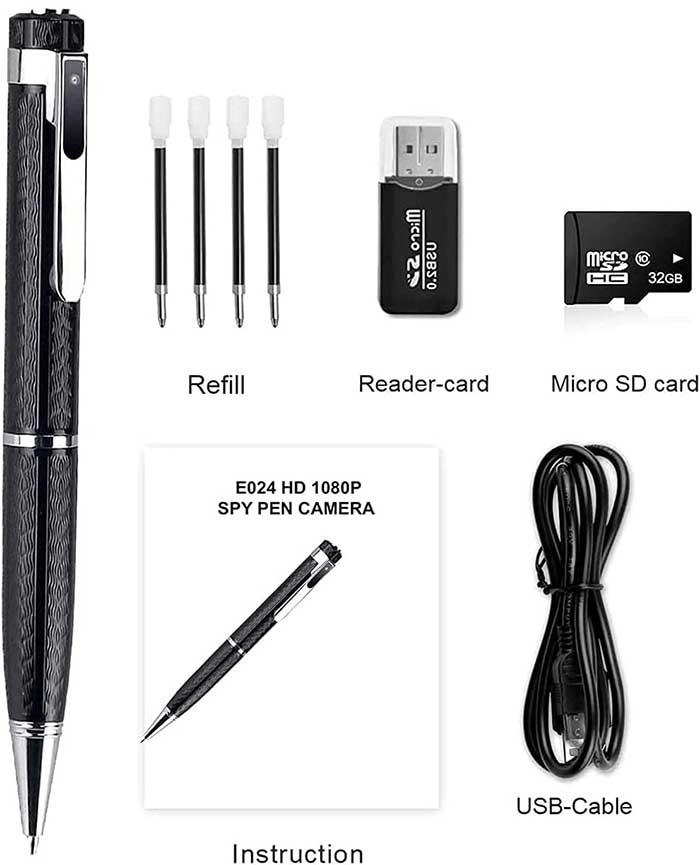 Included in the package are a camera pen, 32GB SD card, USB reader, USB data cable, and five ink refills. With its combination of high-definition video, motion detection, and user-friendly operation, Hasako's Spy Pen Camera provides a versatile solution for anyone in need of a discreet recording device.
What we liked:
Discreet and portable design
180 minutes battery life
32GB SD card included
Compatible with Mac and PC
What we didn't like:
No audio recording
Limited to indoor use
3. abyyloe Portable Spy Pen Camera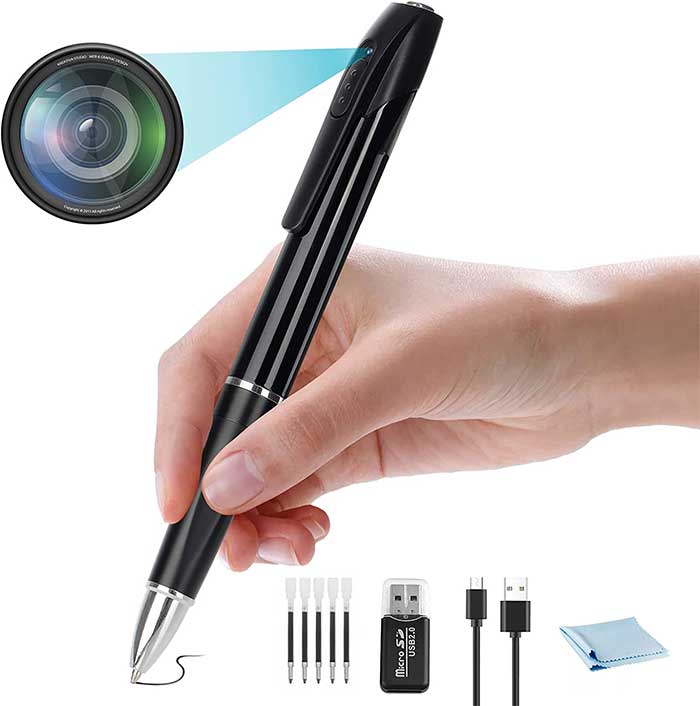 Key features:
Discreet pen design
1080P HD wide-angle camera
Built-in 32GB memory
Fast-charging lithium-ion battery
The abyyloe Portable Spy Pen Camera offers a unique and innovative solution to discreet recording needs. This 1080P HD body security camera pen combines the simple design of a pen with the advanced technology of a wide-angle camera.
With its unassuming appearance, no one would suspect that this pen is actually a recording device. The unit's compact design, measuring 6.54 x 2.2 x 0.94 inches and weighing a mere 2.39 ounces, allows it to be easily carried in a shirt pocket, clipped to a notebook, or placed on a table.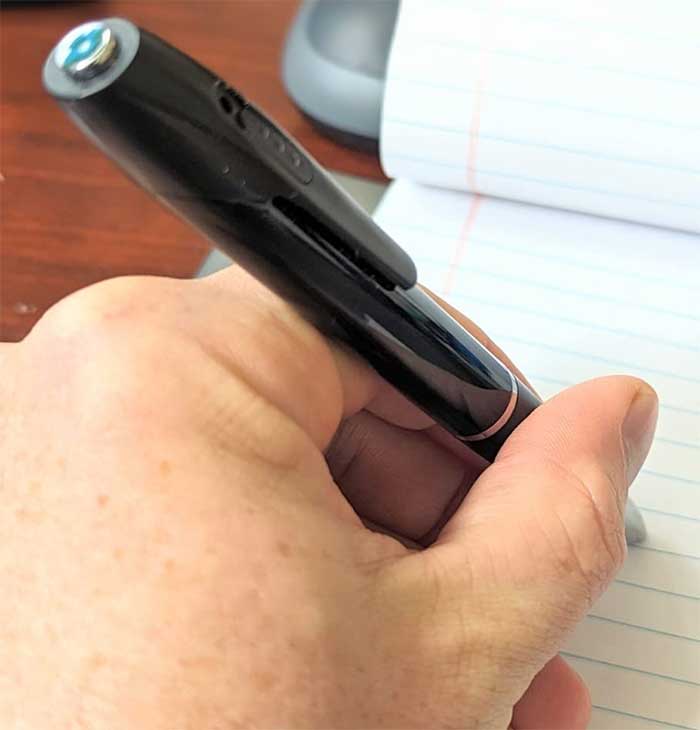 A standout feature of this device is its upgraded video recording capabilities. The camera has been upgraded from 720P to 1080P, providing true HD video recording with a resolution of 1920 x 1080 and 8 megapixels.
The device is user-friendly, with a simple click-to-start and click-to-stop recording feature. As with similar pens, we like that there's 32GB of built-in memory. That means there's no need to purchase additional memory cards or fumble with tiny SD cards, as the device is ready to use upon receipt. This feature also eliminates the hassle of purchasing and managing external storage devices.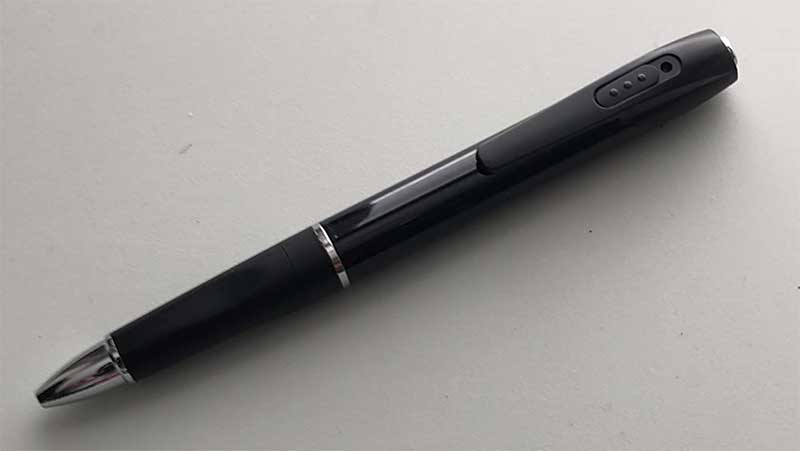 That said, you're handcuffed to its limited storage capacity. If you never exceed 32GB, it's not a big deal. But holding into several recordings at one time is basically out the window. You'll have to routinely dump your files onto your computer, which can get tiresome. It's not a deal-breaker, at least for us.
But we can see this being a problem for some users. Battery life is another crucial consideration for any recording device. And this one has a built-in, fast-charging lithium-ion battery that provides up to 70 minutes of continuous recording.
This is nice, as it ensures that users can capture important moments without constantly worrying about recharging the device. Moreover, the battery should last 4 to 5 days on a single charge and with occasional use.
Constant recording, however, will require a recharge after a little over an hour. We like that you get five replacement ink refills, as they add value and convenience to the overall package.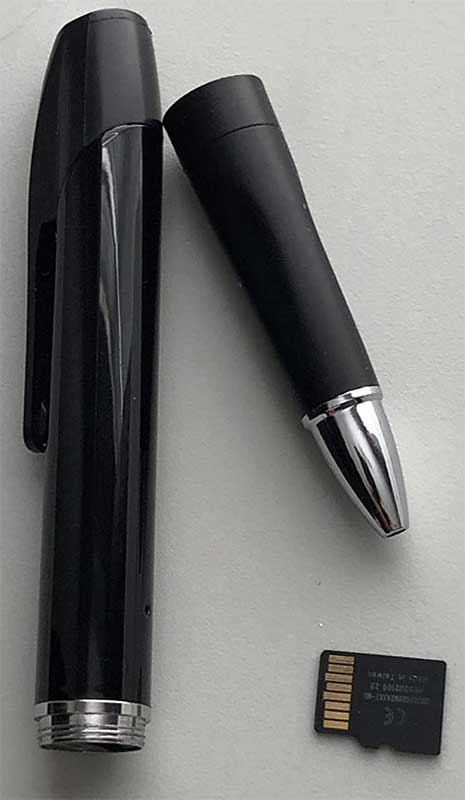 Abyyloe's Portable Spy Pen Camera is a discreet and highly functional recording solution. While you won't find any audio recording capabilities present, the pen makes up for it with upgraded 1080P HD video recording, 32GB of memory, and a user-friendly design. Even better, it's a budget-friendly option, so you can record discreetly without breaking the bank.
What we liked:
Easy click-to-start recording
70 minutes continuous recording
Indoor and outdoor usage
Includes five ink refills
What we didn't like:
Limited to 32GB storage
No external memory support
4. SIRGAWAIN 2023 Upgraded Spy Pen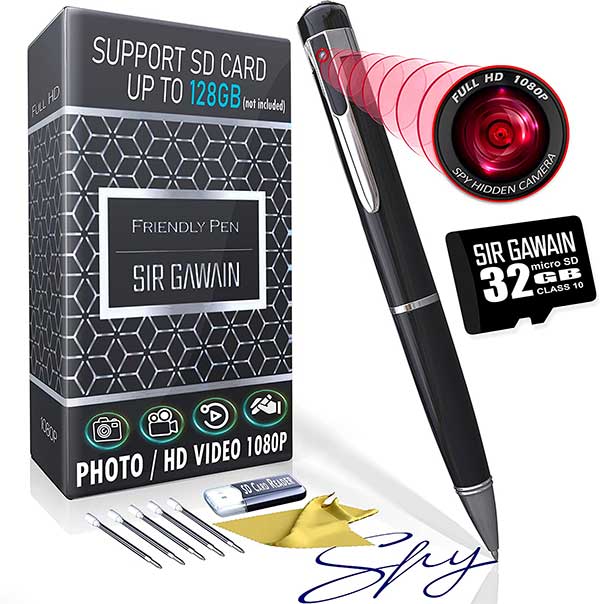 Key features:
Discreet 1080p HD video recording
Wide-angle 90-degree lens
Quick USB file transfer
Functional writing pen
In the ever-evolving world of discreet recording devices, SIRGAWAIN brings an upgraded version of their Spy Pen for 2023. This compact device functions as both a high-quality camera and a functional writing pen, providing the ultimate combination of discretion and utility.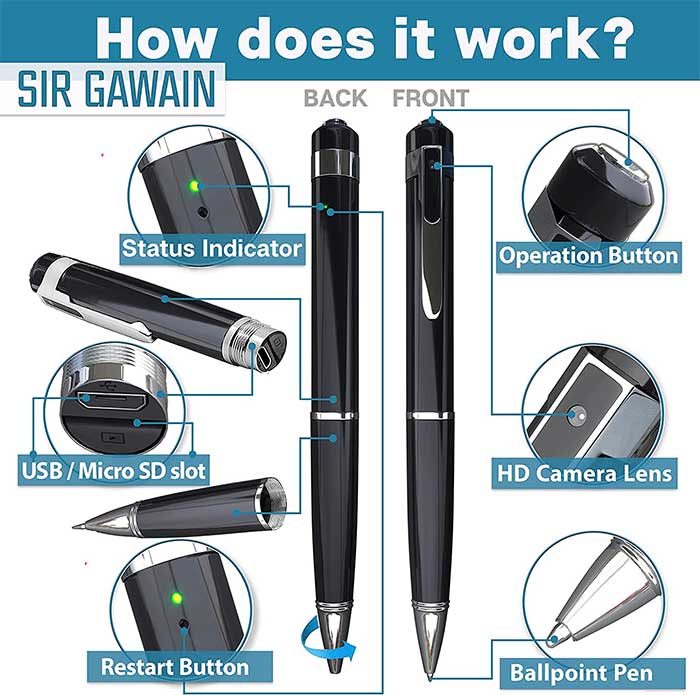 This spy pen camera is capable of capturing 1080p full HD video in real-time, utilizing a simple one-click system for seamless operation. We found that the video quality was impressive, given the pen's small size.
Moreover, the included 32GB SD card provides ample storage for capturing crucial moments here and there. But if you wish to record frequently and longer, you'll need to supply your own SD card. The pen accepts up to 128GB.
The design of this one is both discreet and portable, making it ideal for various situations. We tested it by clipping it onto a shirt pocket, attaching it to a notebook, and using it on a desk – all without drawing attention.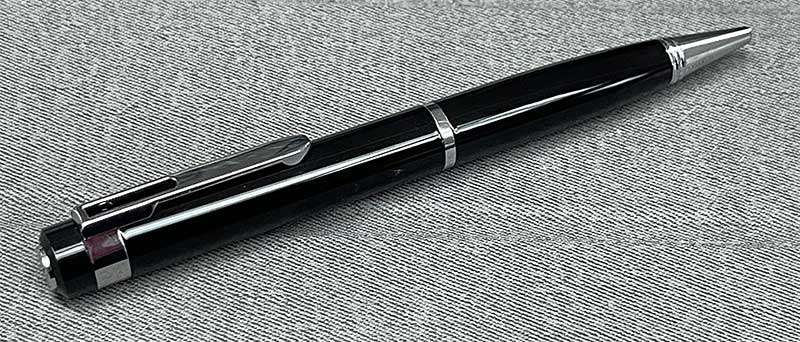 The wide-angle lens offers a 90-degree recording angle, so you're treated to a comprehensive view of your surroundings. Compatibility-wise, it works with both Mac and PC devices. You get a user-friendly USB plug-in and a USB reader for easy data transfer.
The internal lithium-ion battery is designed to provide up to 70 continuous minutes of recording. After that, you'll be forced to recharge. We were pleased with the pen's fast recharging capabilities, which ensured that the device was always ready for use when needed. In about 30 minutes, it's good to go.
Keep in mind that the battery lasts much longer than 70 minutes if you're only recording occasionally. It can last several days (about 5) before needing a recharge.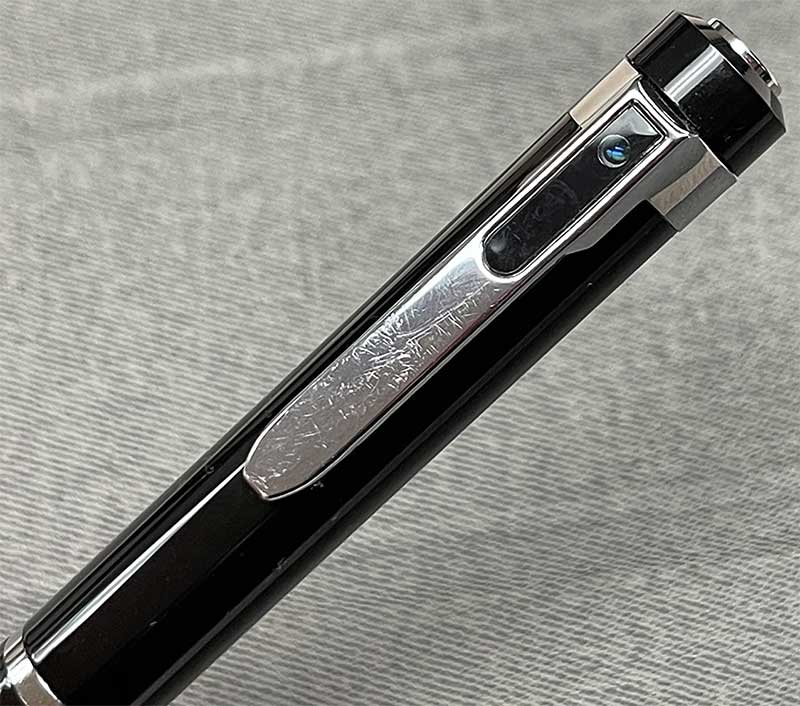 As a functional writing pen, this device can be used for taking notes, jotting down schedules, or simply remembering important information. The package includes a charging cable, an SD card reader, five ink cartridges, a cleaning cloth, and a pin – making it a comprehensive set for various applications.
The one-click operation of this pen camera simplifies its use, with just a thumb press required to turn it on or off. The device also offers a loop recording feature, automatically overwriting old footage when the 70-minute recording limit is reached (unless you dump it first).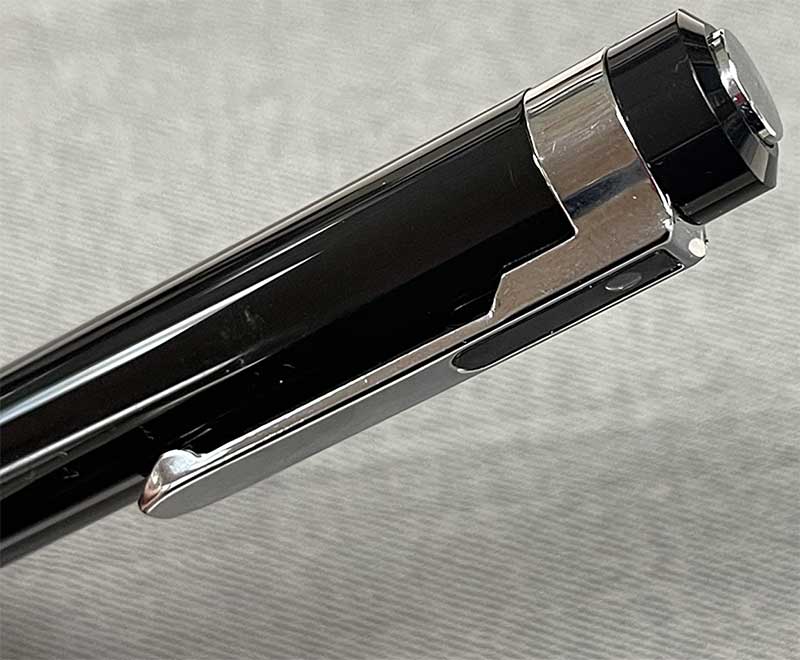 Suitable for personal, educational, and professional use, this spy camera pen can help you remember essential lectures, stay safer during business meetings, or capture crucial moments during travels.
With dimensions of 5.71 x 0.51 x 0.51 inches and weighing only 4.9 ounces, SIRGAWAIN's Spy Pen is a versatile and discreet recording solution for various situations.
What we liked:
Simple one-click operation
Up to 70-minute continuous recording
Portable and unobtrusive design
Fast rechargeable battery
What we didn't like:
Limited battery life
No audio recording
Spy Pen FAQs
Can I use a spy pen camera in low-light conditions?
Some come equipped with low-light recording capabilities to help enhance the video quality in dimly lit environments. However, the performance in low-light conditions will vary between different models.
Are spy pen cameras waterproof or water-resistant?
While some spy pen cameras may be designed to withstand minor splashes or accidental exposure to water, they are generally not waterproof or water-resistant.
Can I live stream videos from my spy pen camera?
Most spy pen cameras are designed for discreet recording and storage of video footage rather than live streaming. Typically, you will need to transfer the recorded files to a computer or compatible device to view or share the content.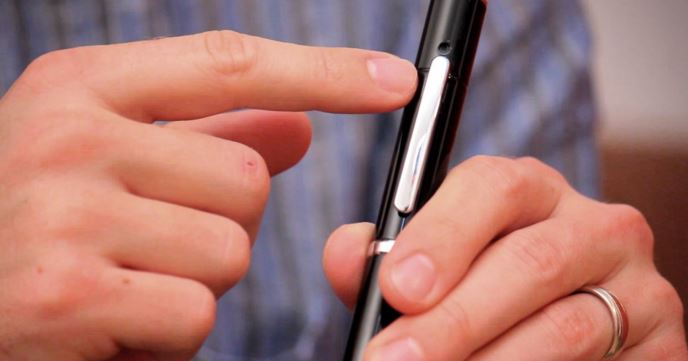 Final Verdict
We had a lot of fun testing these spy pens, and each one brings something unique to the table.
The iSpyPen Pro is a popular choice due to its exceptional video quality, extended recording time, and user-friendly design. It provides a sleek and discreet option for users of all ages and technical backgrounds.
Hasako's Spy Pen Camera is a solid option that comes with motion detection and a long battery life of 180 minutes.
The abyyloe Portable Spy Pen Camera offers an upgraded 1080P HD wide-angle camera and a built-in 32GB memory. It's also the cheapest!
Lastly, the SIRGAWAIN 2023 Upgraded Spy Pen stands out with its wide-angle 90-degree lens and quick USB file transfer. Its one-click operation makes it a great fit for users of all levels.
So, which one is best suited to you? To help answer that, consider the features that are most important to you, such as video quality, recording time, and ease of use, and choose a spy pen that best meets those criteria.