If you're looking for a discreet, portable camera, it's tough to do any better than a spy pen. Not only are these devices compact, but they don't even look like cameras. They're great for retail managers, whether for monitoring employees or quietly scouting the competition. They're equally useful for insurance adjusters, private investigators, and anyone else who needs a tiny camera.
If you're looking for home security, though, a home security system might be a better choice. We recently reviewed the Defender 4K, a wired security system you can install yourself. It comes with four 4K cameras, along with a central control unit.
Today, we're going to be looking at three of the highest-rated camera pens available online. But before we begin, let's talk about the features you should be looking for. Once we've covered the basics, we can take a closer look at those cameras. Let's get started!
Factors to Consider
Depending on how you're going to use your spy pen, you may want different features. But there's one thing you definitely need: concealability. In other words, it should look like a pen, not like a camera. That said, there are some limits to size. A lens, for example, even a small one, is going to stand out on a cheap-looking pen. As a result, most camera pens have a fat profile. They tend to look more like a "nice" pen, and less like something you'd buy in a 10-pack. Still, keep concealability in mind when you're shopping. If the lens on your pen camera is big and obvious, people are going to notice it.
Video Quality
Video quality is another significant concern. Not too long ago, spy camera quality was grainy. It was barely good enough to make out someone's face from a few feet away. But nowadays, spy pens are available in better quality. While 2K and 4K technology is just starting to creep into the market, 1080p is widespread. And 720p is nearly ubiquitous. Don't let anyone sell you a 480p pen camera.
Sound
Audio quality is also important. Now, you're not going to get studio quality sound; that's not what pen cameras are designed for. But what you should be looking for is a microphone that's crisp and clear. You should be able to hear and understand anyone who's being recorded. Otherwise, what's the point?
Storage Options
For data transfer, you've got a few different options. Some pens use a Micro SD chip, which you'll need to retrieve to transfer your data. Others have internal storage, and plug into a Micro USB port for data transfer. Still others actually open up to reveal a Micro USB plug, which you simply need to insert into your PC.
Battery Life
This is one of the biggest restrictions on a camera pen. A built-in camera, microphone, data storage, and mechanical pen components all take up space. As a result, there isn't much room left for powerful batteries. Typically, you can expect about 2 hours of recording time. That said, there are pens that offer significantly more and significantly less.
Build Quality
Finally, you should look at the quality of the pen itself. Does it write well? Is the ink cartridge replaceable or refillable? These are all important considerations. After all, if you're going to be carrying a spy pen around, it ought to at least write. Keep in mind, though, that camera pens tend to be fat. If you prefer a more slender grip, you might want to carry a smaller pen for writing with.
You might be looking for a camera that's "just for fun". In that case, a spy pen is a great choice. But there are other great options, like the Kodak Smile Classic. This digital camera has a built-in printer, and prints instant photos much like an old-school Polaroid camera.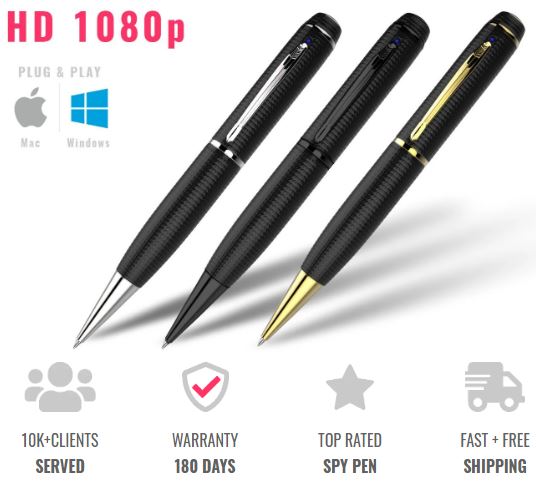 iSpyPen Pro
The iSpyPen Pro is the new and improved version of the original iSpyPen. This spy pen was invented by a college student named Andrew Gilliland, and quickly sold thousands of units. It's exactly six inches long, with a two-piece black barrel. There are two different accent options available: black and silver. When you unscrew the barrel, you'll find the ink cartridge and ballpoint tip in the bottom half. In the top half, you'll find all the camera components, including the removable USB storage unit. It's available in four different capacities: 16, 32, 64, or 128GB.
The built-in Lithium-ion battery lasts approximately 75 minutes on a single charge. However, with the accessory bundle and its included battery adapter, you get up to four hours of life. This is very impressive, and about twice what we'd typically expect from a pen camera. You can either take the pen apart and simply plug it into a USB port to recharge. A USB to AC adapter is included in the kit, so you won't necessarily need a computer for charging.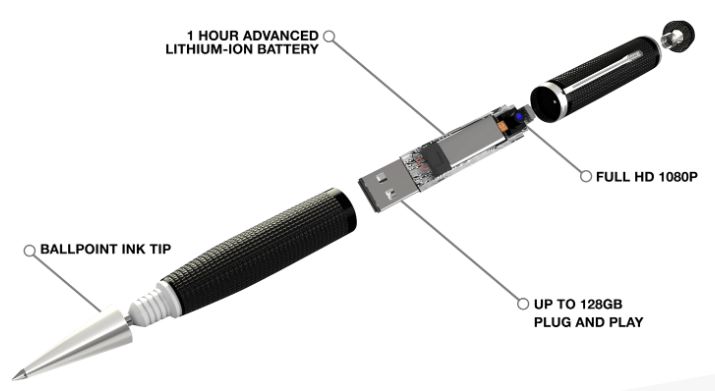 The video quality on the iSpyPen Pro is 1080p, which is the top of the line for cameras of this size. But resolution isn't everything. Color clarity and vibrancy are just as important. Once again, the iSpyPen Pro delivers. You get excellent clarity for the size. That said, it's important to keep your expectations in perspective. In a digital camera, each pixel requires its own light receptor, and smaller receptors capture less light. As a result, performance in low-light conditions is a bit spotty. This isn't only true of the iSpyPen. It's true for all pen cameras, and it's something you need to keep in mind when you're carrying one. The video framerate is 30 FPS, which is respectable for a camera of this size.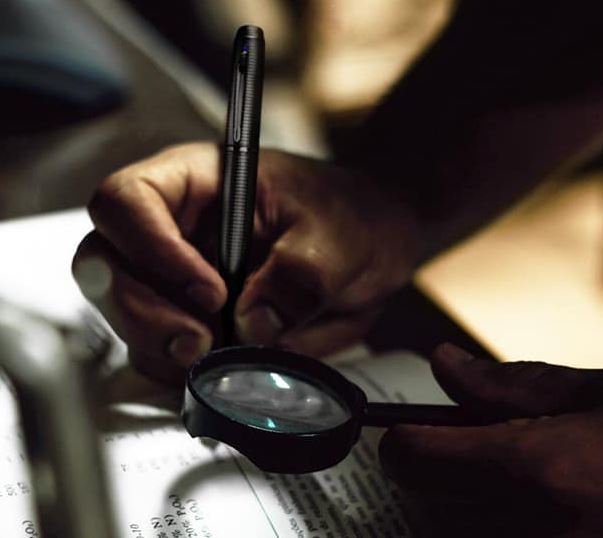 One feature we appreciated was the fact that all the videos have a date and time stamp. Keep in mind that the iSpyPen will "forget" what time it is when the battery runs dead. To re-set the time, you'll need to plug it into your PC. Make sure to do this before you take your iSpyPen out for the first time. Otherwise, the date and time stamp aren't going to be accurate.
While the pen is only capable of recording video files, it's easy to grab still image screenshots and audio files from these clips. This is for simplicity sake, as adding audio-only or image-only features would make it a bit more cumbersome to operate. iSpyPens offers an easy to follow step by step tutorial on this, if this is something you'd like to achieve.
Obviously, there are better options if you want a dedicated audio recorder. But in a pinch, it's nice to have the versatility. Whether you're using the microphone by itself or with the camera, the audio quality is respectable. Provided there isn't much background noise, you can clearly hear someone from 20 feet away. With more background noise, you'll need to get closer.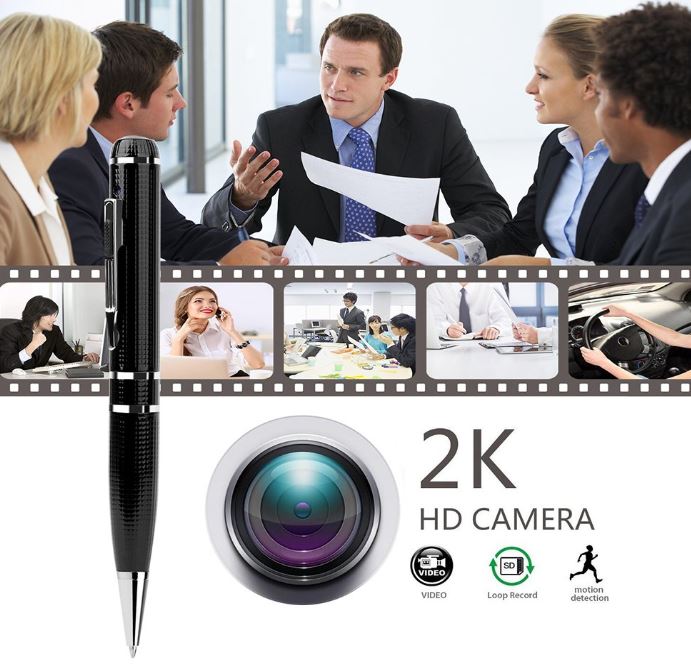 Letown Hidden Spy Camera
The Letown Hidden Spy Camera has a similar, split-barreled design to the iSpyPen. The bottom half contains all of the mechanical components, while the top half houses the camera itself. The pen screws apart at the middle, providing you with easy access. One thing you should be aware of is that the kit does not include a memory card. You'll need to purchase a Micro SD card separately, up to 32GB in capacity. The kit does, however, include a pair of replacement ink cartridges. This is a convenient addition, since you won't have to hunt down replacement cartridges down the line.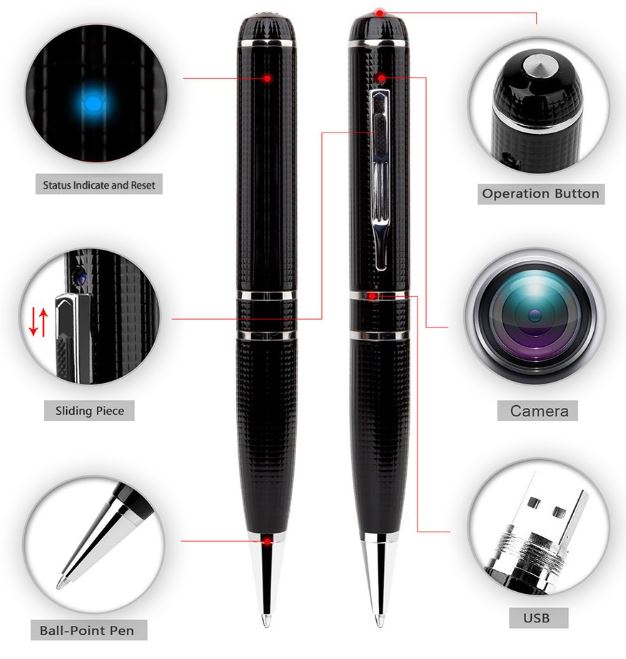 The Letown operates in three different modes. In standard mode, it's exceptionally crisp, with ultra-sharp 2K resolution. However, 2K takes up a lot of memory, and it isn't always necessary. If you'd like to save space, you can record in 1080p. Finally, there's actually a 60 FPS mode, although resolution at that framerate is limited to 720p. We're not sure why you would need 60 FPS spy camera footage, but it never hearts to have the option. The 2K option was most impressive, since it's just not something you see very often in a small camera. Whatever you end up choosing, you'll get plenty of clarity, with beautiful colors.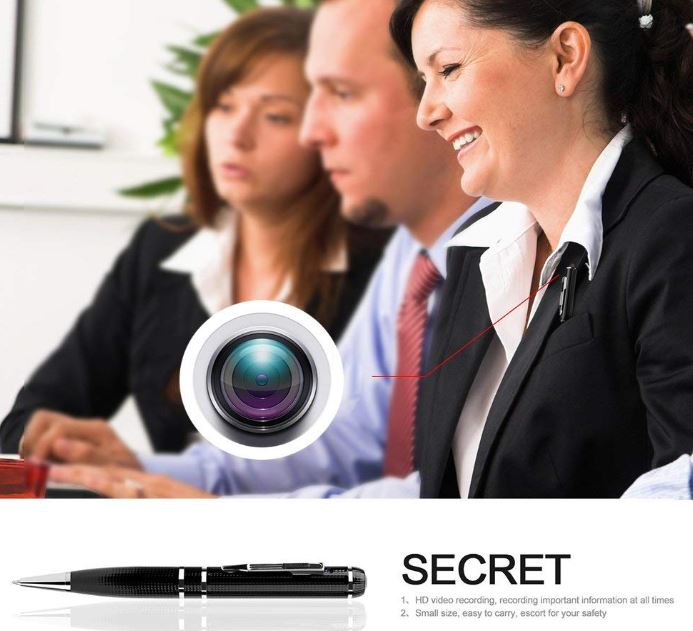 Battery life will depend on what mode you're in. If you're recording in 1080p, you'll get an impressive 3.5 hours of recording time. In 2K, performance drops to 110 minutes, slightly less than average. That's understandable, though, since the higher resolution will do a number on any battery.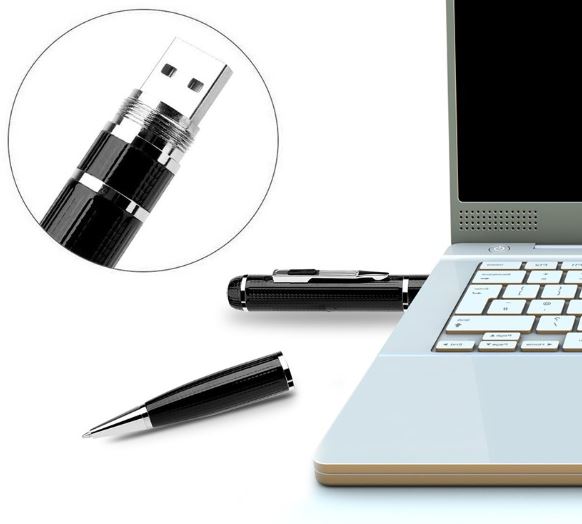 You can also apply a date and time stamp to your videos. Even better, you can apply a custom label or overlay, perfect for police agencies. All videos are encoded as H.264 MOV files, perfect for Mac and still viewable on Windows systems.
Photo resolution is even more impressive than the video camera. The photos have a resolution of 4352 x 3264, which is even more detailed than 4K Ultra HD. In total, it offers 20 megapixels, which is better than any leading cell phone camera. Considering the small package, that's very impressive. Like the iSpyPen, though, the Letown encodes pictures as JPEGs. This can result in some small loss of detail, but nothing you'll notice.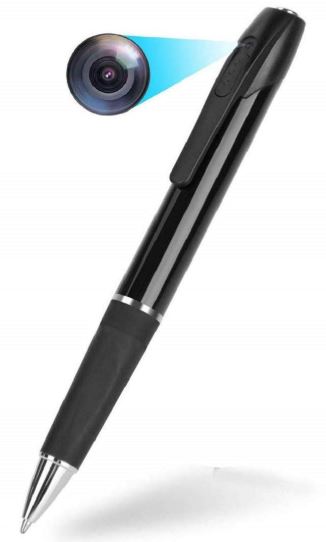 LKcare Mini Spy Cam
The LKcare Mini Spy Cam is a 6-inch pen that has a wide barrel. The barrel is black, with a textured finish and chrome accents. Like the others, it screws apart at the middle, allowing for easy access to the camera and memory. All your recordings will be encoded on a 32GB Micro SD card, which is included in the kit. Battery life is better than average, with about 2 ½ hours of use on a single charge. Charging takes about 45 minutes, so you can get your camera back up and running fairly quickly.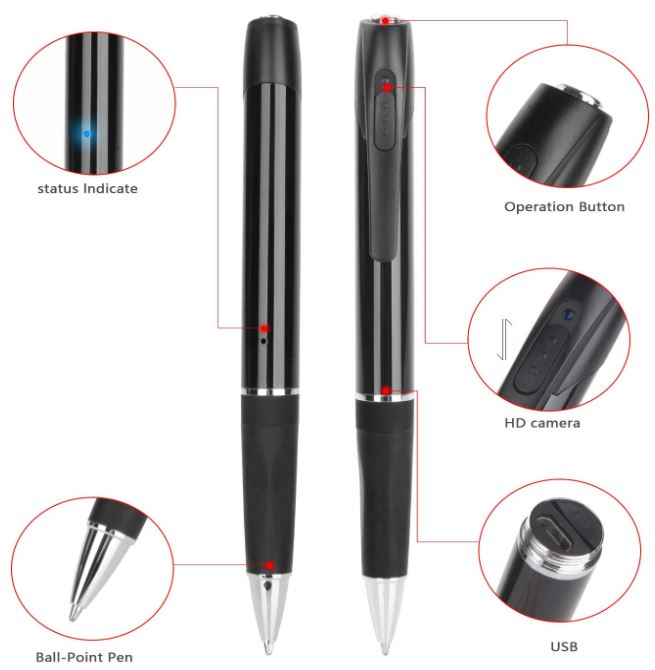 The camera records in 1080p at 30 frames per second. Image quality is good, with clean colors and plenty of brightness. That said, it's still a pen camera, so you won't be able to record in low-light situations. The lens is easy to protect and keep clean, since the pocket clip slides up to cover it when it's not in use. Keep in mind that there's an indicator light built in. While the light will remain off while you're actively recording, it will blink three times when it first turns on. This can make it difficult to activate discreetly.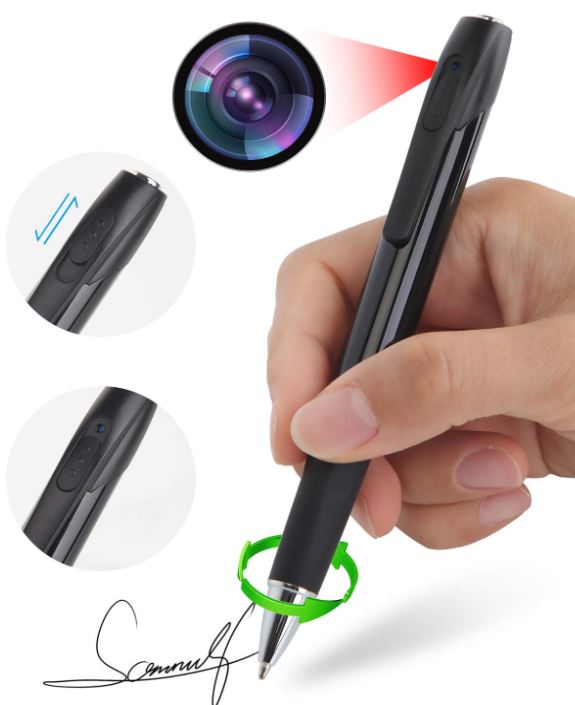 Videos are stored in AVI format, which is more or less universally supported these days. The accompanying audio is clear, although you might have some issues if there's a lot of background noise. Still, it's easy to understand under normal conditions, and can record from over 20 feet away.
The LKcare offers good photo resolution. While not as impressive as the Letown, it has a 12-megapixel camera with a resolution of 4032 x 3024. That's more than good enough to read a photograph of a printed page.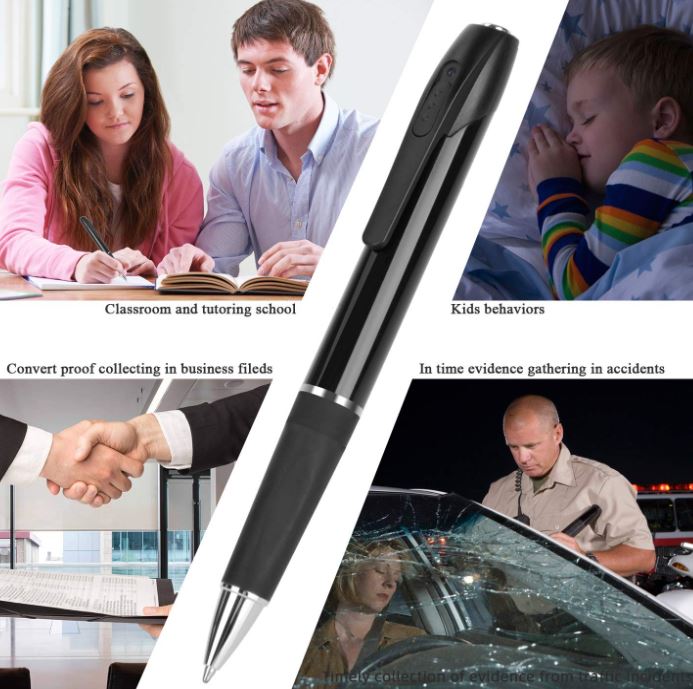 For easy, at-home recording, a WiFi camera might be more up your alley. The TP-LINK Kasa Spot is a great example. It's a three-camera kit that's easy to set up, and it uploads recordings directly to the cloud.
Final Verdict
Which one of these cameras is the best for you is going to depend on what you're using it for. For overall versatility, we prefer the iSpyPen Pro. It has 4 hours of battery life, which is impressive. The 128GB storage option is also impressive. If you want to use your camera for a long time without having to clear the memory, you'll like the iSpyPen Pro. And the ability to use it as an audio recorder is a great added bonus.
The Letown Hidden Spy Camera gets top marks for quality. Not many pen cameras are capable of recording in 2K, and Letown has produced one. The 20 megapixel still photo camera is also impressively powerful. Just keep in mind that recording in 2K will drain your battery quickly.
The LKcare Mini Spy Cam isn't as powerful as either of the last two, but it more than holds its own. With a 1080p camera and built-in microphone, it will be more than good enough for most purposes. The short size is also a plus for writing if you've got smaller hands.