Ever wondered what it's like to hold a tool of espionage in your pocket? Spy pens are your answer. Discreet gadgets that double as writing instruments and covert recording devices.
They're designed for stealth, slipping unnoticed into everyday life while capturing audio, video, or both. Whether it's for personal security, journalism, or just a touch of 007-style intrigue, spy pens offer a slice of undercover operations at your fingertips.
| | #1 – iSpyPen Pro X | #2 – SIRGAWAIN | #3 – abyyloe |
| --- | --- | --- | --- |
| Price Range | $99 – $199 | $35 | $27 |
| Design | Mont Blanc-inspired | Professional look | Simple, functional |
| Color Options | 6 swappable choices (included) | All-black or black/silver | Black with silver accents |
| Video Resolution | 2K HD | 1080P HD | 1080P HD |
| Memory Included | 16GB – 128GB (built-in) | 32GB (microSD card) | 32GB (microSD card) |
| Maximum Memory | 128GB | 128GB | 128GB |
| Recording Duration | Up to 4 hours per clip | 60 minute clips | 5 minute clips |
| Battery Life | 75 minutes | 65 minutes | 60 minutes |
| Audio Recording | Yes | Yes | Yes |
| Plug and Play | Yes | Yes | Yes |
| Ink Refillable | Yes | Yes, 5 refills included | Yes, 5 refills included |
| Warranty | 1 Year | None | None |
1. iSpyPen Pro X (2024 Model)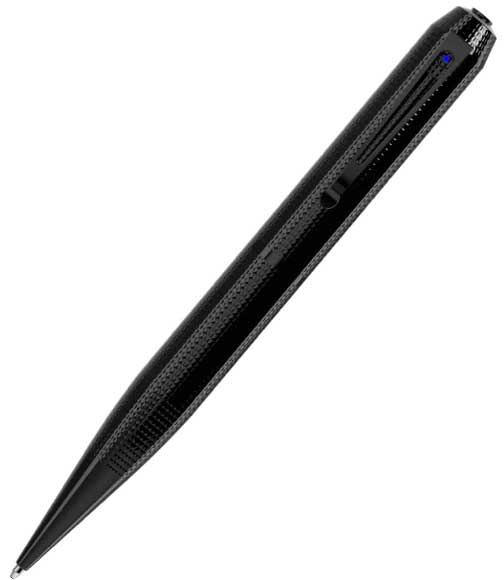 Key Takeaways:
2K video with crystal-clear audio.
Six swappable color choices included, Mont Blanc-inspired design.
Records up to 4 hour clips.
Playback on smartphones and tablets without any extra app.
Charge while recording.
One-year worry-free warranty.
When we got our hands on the iSpyPen Pro X, we were eager to see if it lived up to the hype. This is the latest and greatest 2024 version. It looks like something straight out of a high-class pen collection.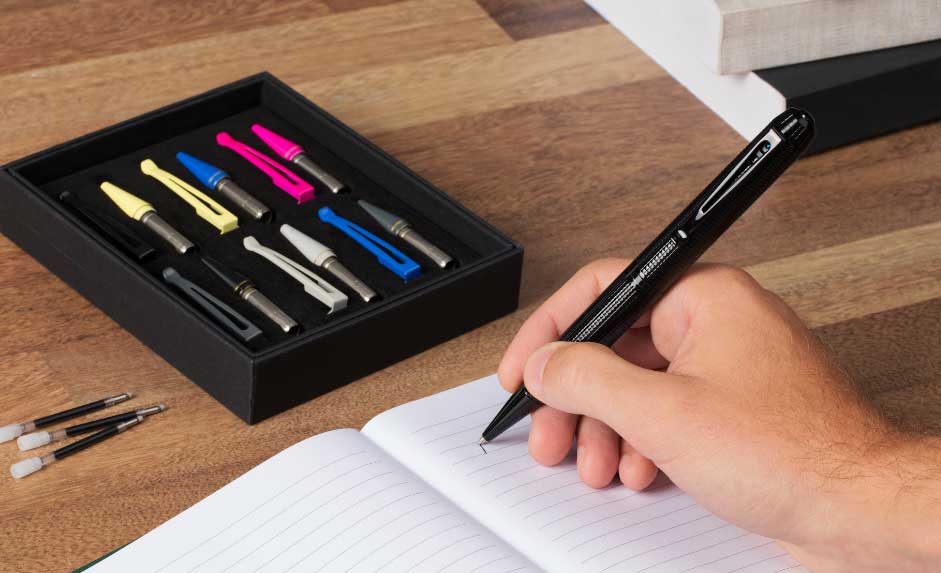 In fact, it mimics the style of a high-end Mont Blanc pen, but with a secret – it records in 2K. We took it for a spin and, let me tell you, this is definitely the best spy pen, overall. The visual quality is stunning. Colors are true, vibrant and the image is rich in detail.
They didn't just stick to one look; with six colors and a mix-and-match of combinations, the pen felt uniquely ours. All of the color options are included and swappable at any point in time. It's not all about looks, though.
The audio? Crystal clear. We tested it across a room, about 40 feet, and each word was captured just fine. Voices picked up nicely and you could easily discern fine details without distortion.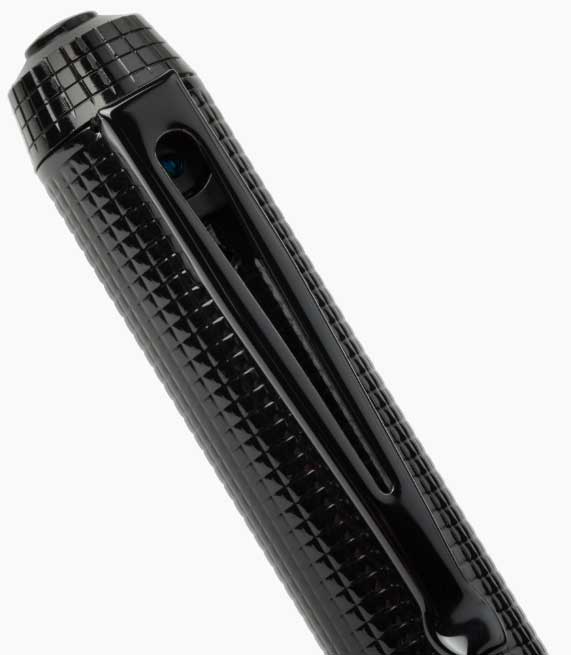 Pricing is pretty straightforward, depending on how much file storage you want. 16GB (3 hours storage), 32GB (6 hours storage), 64GB (12 hours storage), 128GB (24 hours storage). We opted for the largest capacity because who likes running out of space?
The Pro X starts at $99 and can go up to $199, which isn't bad for a spy gadget that feels like a premium pen. Recording is a breeze too. Just hit the discreet button and you can record single clips up to four hours long.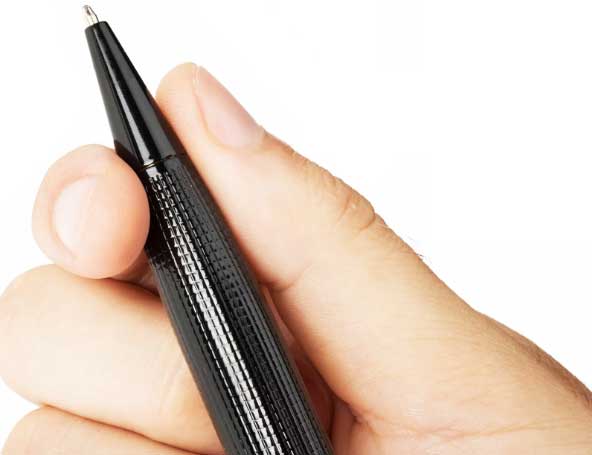 Plug and play operation was nice to have. No cables needed, thanks to the built-in USB connector – it's just like a flash drive but it also charges the pen. You can also opt to purchase it with an adapter that directly connects it to your smartphone or tablet, without an app. Video clips are then easily accessible through the "Files" app.
In terms of battery life, you can expect around 75 minutes of recording on a single charge. Pretty impressive!
And it's a true plug-and-play experience, with no drivers or software to hassle with. The storage is built-in, so you don't have to fiddle with memory cards either. Take note – you cannot add your own SD card, which some may find a bit annoying.
The pen is tough, too. We clipped it onto everything – shirts, bags – and the clip is obviously reinforced. It's built to last. Choosing a color was fun; they've got everything from jet black to rose gold. There's even an optional timestamp for the recordings.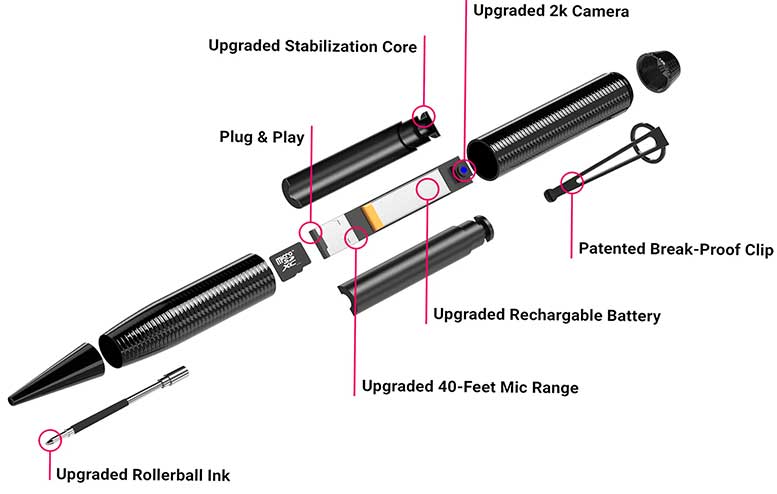 Plus, it actually writes. We scribbled away, and when the ink ran out, it was easy to swap in a new rollerball refill. Oh, and a little spy-level bonus: you can charge it while it's recording. This is something others simply aren't capable of.
If you're in the market for a spy pen that doesn't skimp on quality, the iSpyPen Pro X is definitely worth checking out. While it may come in at a steeper price than most, it's for good reason. It writes smoothly, records sharply, and comes with a warranty.
2. SIRGAWAIN Upgraded Spy Pen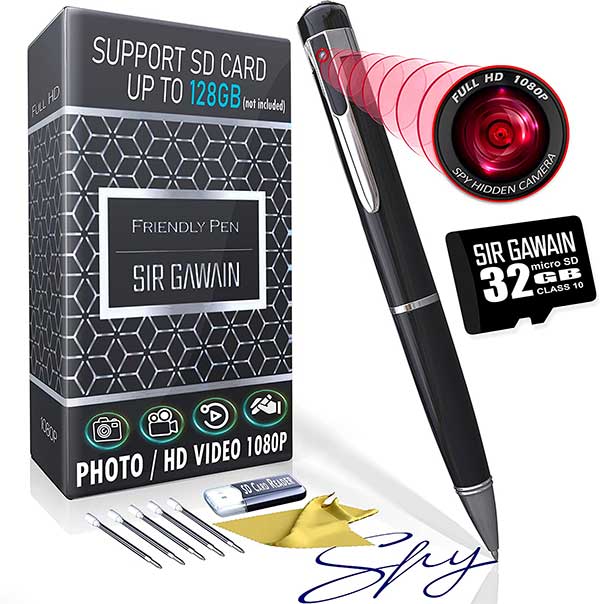 Key Takeaways:
Two sleek color options, professional look.
HD 1080P video with one-click recording.
Supports up to 128GB microSD storage.
Records both audio and video.
65 minutes of recording on a single charge.
Affordable price point at $35.
The SIRGAWAIN Upgraded Spy Pen is another excellent choice. Right off the bat, its sleek design caught our eye. It comes in two color schemes, classic all-black or a snazzy black with silver accents, giving it a professional look that wouldn't be out of place in an office setting.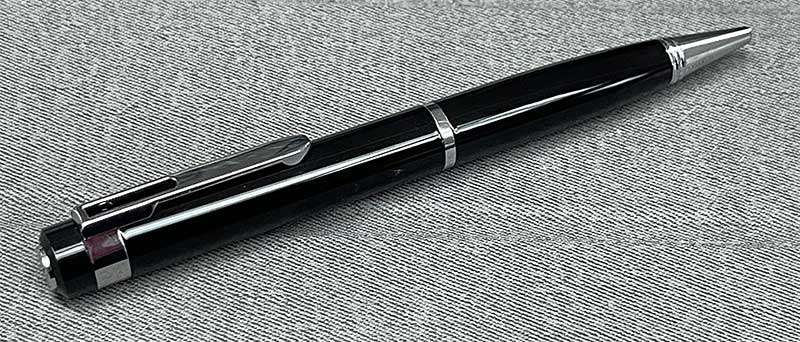 The separate 32GB Micro SD Card that comes included was a nice touch. No built-in storage means you can swap out cards on the fly. And knowing it supports up to 128GB means there's plenty of room to capture HD 1080P videos.
Sure, it's not 2K, but the footage still looked sharp and clear. Its one-click system made it a breeze to start recording videos or snapping pictures. The pen's camera, tucked away in its design, was wide-angled and discreet.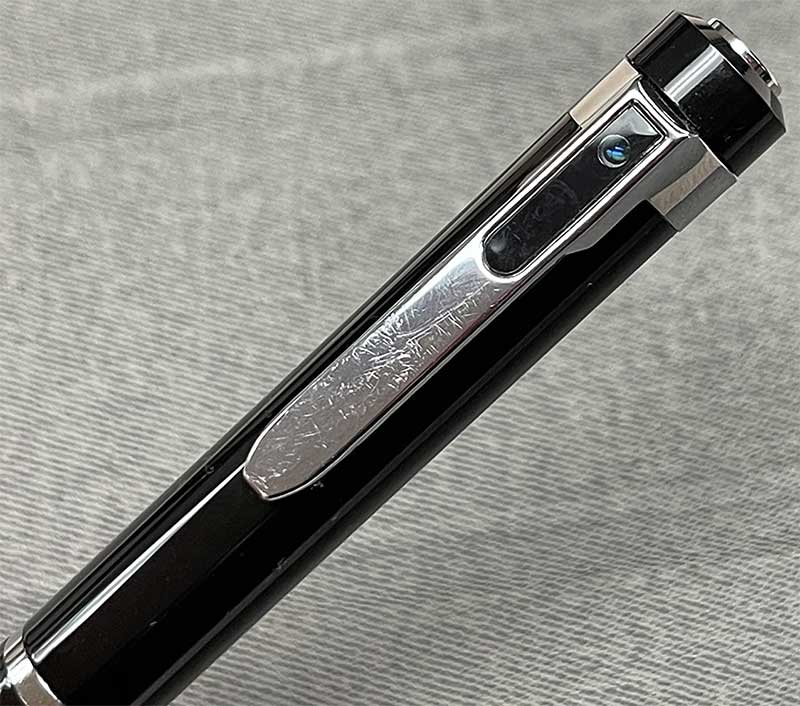 It's a bit lighter than the iSpyPen Pro X, and while it doesn't feel quite as robust, it's definitely sturdy enough for everyday use. Similar to it, it's plug-and-play compatible with both Mac and PC. No tricky setup, just pull out the microSD, pop it into the included reader, and you're good to go for viewing and transferring data.
The internal lithium-ion battery recharged quickly with the included USB cable, and we got a good 65 minutes of recording time out of it. Not too shabby for such a compact device. When it's not in spy mode, it writes quite smoothly, doubling as a real pen for your daily tasks.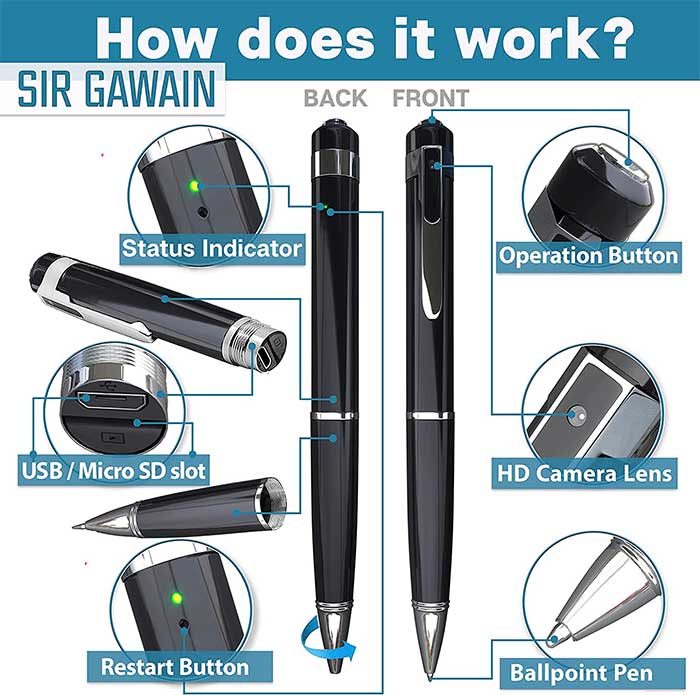 An LED indicator lets you know when it's recording, which is super handy. While it might be a dead giveaway that it's a secret recording pen, it's located discreetly on the back. That said, nobody will see it if the pen is in your front pocket.
If anything goes awry, there's a tiny restart button on the back, easily pushed with the included pin. And if you're worried about running out of ink, fear not. They've thrown in five extra ballpoint refills.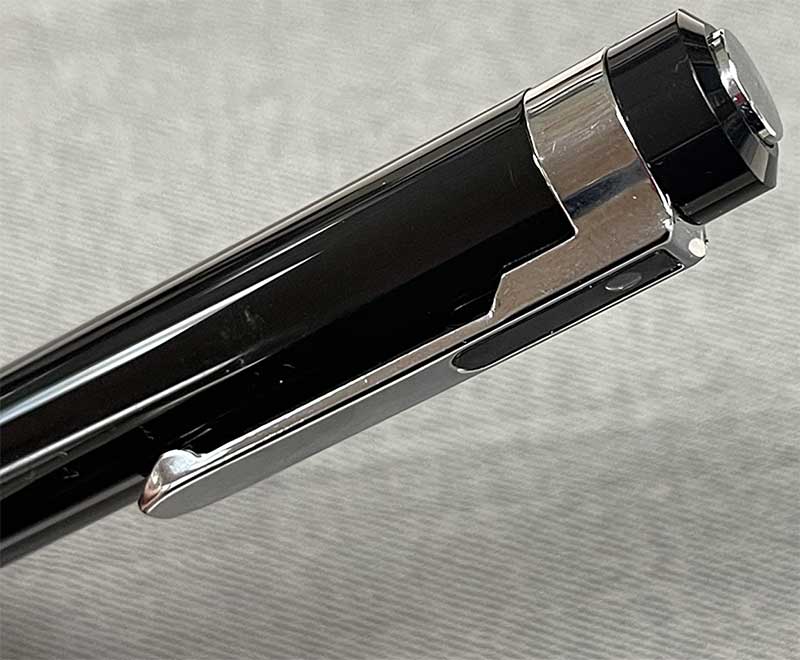 The real kicker? It's priced at just $35. That's a steal, especially when compared to pricier models like the iSpyPenX. Sure, it's a bit less high-end, but for its cost and features, the SIRGAWAIN Spy Pen holds its own as a nifty little gadget for budding spies on a budget.
3. abyyloe Spy Pen Camera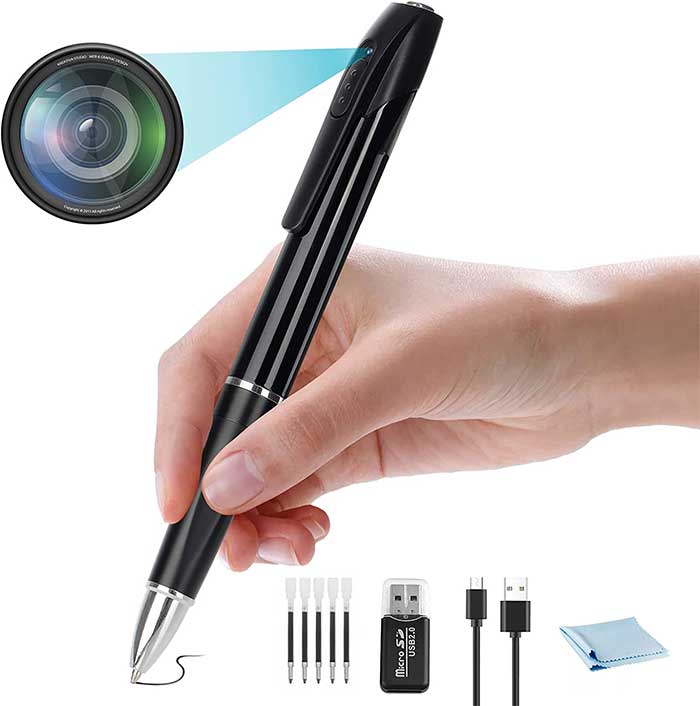 Key Takeaways:
Cost-effective at only $27.
Simple black and silver design.
1080P camera captures video and photos.
60 minute battery life.
32GB microSD included, supports up to 128GB.
Easy file transfer with plug-and-play functionality.
When the abyyloe Spy Camera pen arrived, we were intrigued by its budget-friendly promise. At $27, it's even easier on the wallet than the SIRGAWAIN model. We were keen to see if it performed just as well. Its design is straightforward – a classic black with silver accents.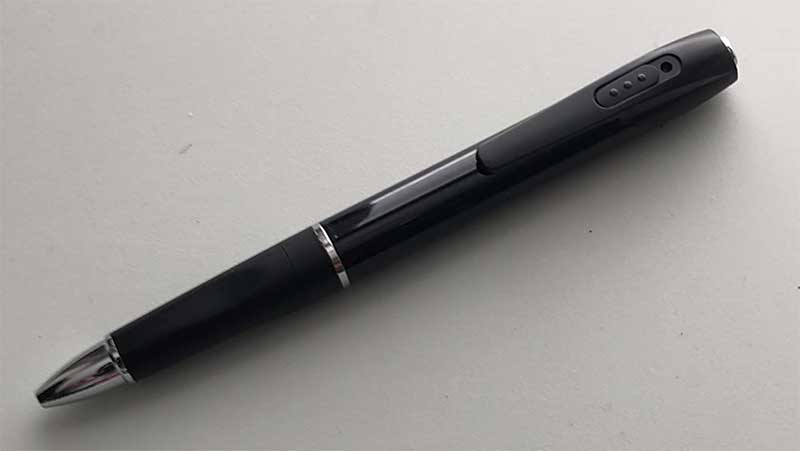 The built-in 1080P camera was impressive for the price. With a simple press and hold of the top button, a blue light flashed, and we were recording.
The videos and still photos came out clear, and the audio pickup was surprisingly strong. We could easily hear conversations from up to 20 feet away, which is more than enough for most situations you'd use a spy pen in.
The integrated battery duration was commendable. Lasting around one full hour of recording on a full charge, slightly better than the SIRGAWAIN. That's plenty of use!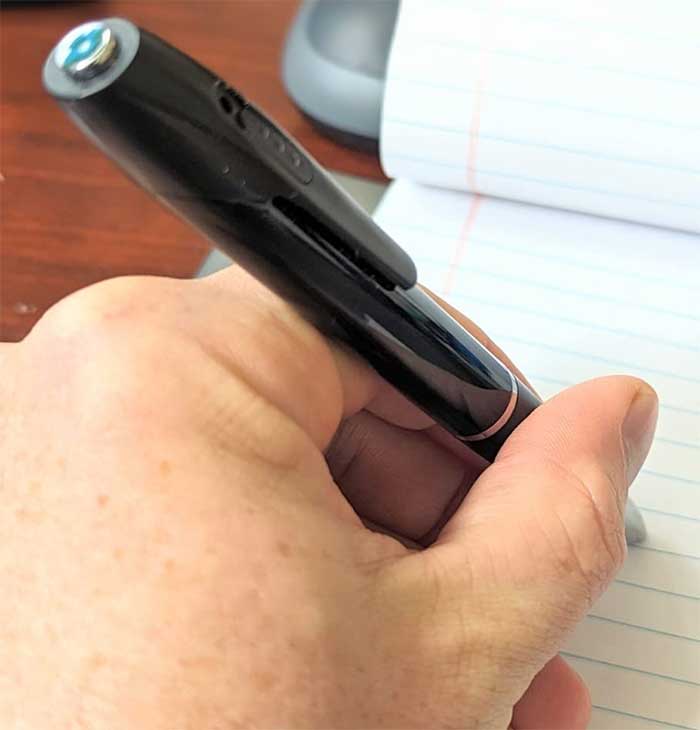 It records onto a microSD card rather than internal memory. And like the SIRGAWAIN, you get a free 32GB card included in the package. Although it can handle up to a hefty 128GB if you need more space. The beauty of external storage like this is that you can freely swap out memory on a whim.
That said, transferring files to our computer was a breeze. No special software or drivers required. Just plug and play. The videos are neatly organized into 5-minute clips, making it easy to find the exact footage you need. While some may find this annoying, it's an easier way to sift through your recordings, each with their own timestamp.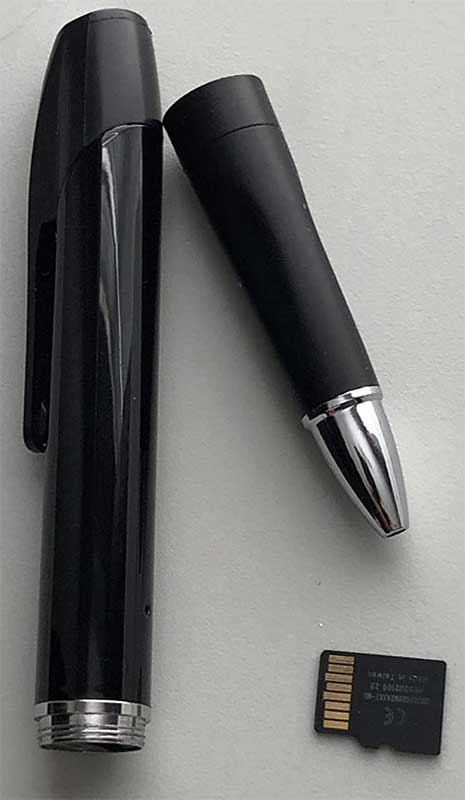 Just like the SIRGAWAIN, it came with five extra ink refills, ensuring the pen's cover as a normal writing instrument remains intact. Sure it may feel a bit cheap and bulky, but the functionality is there.
While the pen's construction felt a bit less sturdy compared to others, it's hard to argue with the price. It's the most affordable option we've tested that still gets the job done. All in all, the abyyloe is a great pick for those who don't want to spend an arm and a leg.
Spy Pen FAQs
What is a spy pen?
A spy pen is a discreet device designed to look like a regular writing pen but equipped with a hidden camera for recording video and audio. It's used for covert surveillance and personal security.
How do you use a spy pen?
To use, you typically press a button to start recording video or audio. Some models have a one-click system, where a single press activates the camera, and additional presses can either stop recording or take still photos.
Can these spy pens record audio clearly?
Yes, all of the spy pens we've introduced in this article can record clear audio within a certain range. Quality varies by model, but some, like the iSpyPen X, can capture legible audio from up to 40 feet away.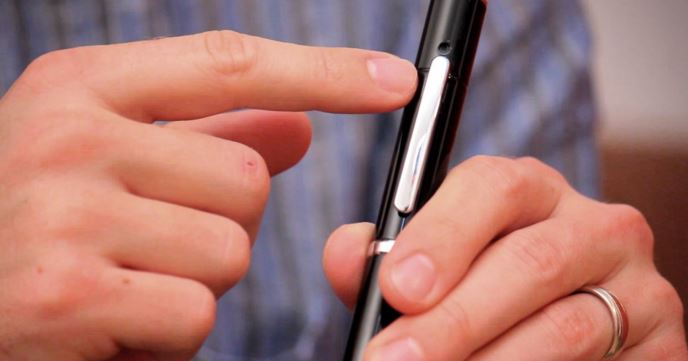 Do spy pens work as regular pens?
Yes, they come with ink and function as regular pens for writing. This helps maintain their disguise as ordinary writing instruments.
Are spy pens legal?
They are legal to own and use for personal security and within public areas, but recording private conversations without consent can be illegal in many jurisdictions. Always check local laws regarding privacy and recording.
How do you charge a spy pen?
Most are charged via a USB cable, which can be connected to a computer or a USB adapter. Some models, such as the iSpyPen X, allow charging while recording. It also charges via the USB thumb drive – no cable needed. This is a great feature to have.
Can spy pen videos be played back on any computer?
Yes. Spy pens are designed with plug-and-play functionality, so videos can be played on most computers without needing special software, as long as the operating system recognizes the device. All modern-day computers should be able to support playback of these files with any installed video player.
Meet Derek, "TechGuru," a 34-year-old technology enthusiast with a deep passion for tech innovations. With extensive experience, he specializes in gaming hardware and software, and has expertise in gadgets, custom PCs, and audio.
Besides writing about tech and reviewing new products, Derek enjoys traveling, hiking, and photography. Committed to keeping up with the latest industry trends, he aims to guide readers in making informed tech decisions.