Aerofara Aero 2 Pro
Pros
Ultra-compact design.
Great for streaming and office work.
Connect to almost any monitor or peripheral.
Excellent value.
Good build quality.
Cons
Not ideal for gaming.
Fan tends to run a bit loud.
No Ethernet status LEDs.
Computers have changed a lot over the past few decades. They've gotten considerably more powerful, with exponentially more processing power. At the same time, they've gotten cheaper, as manufacturing costs have declined. And yes, they've also gotten smaller. To be fair, you can still buy a big PC tower and pack it full of upgrades. But you can also use a tablet, a laptop, or a mini PC. And as the variety of gaming laptops on the market demonstrates, "small" doesn't always mean "slow." As a matter of fact, you can find some fairly powerful machines in some very small packages.
Another great thing about modern computers is that even a mid-range PC will be good for several years. Back in the 1980s, you could pay thousands of dollars for a top-of-the-line PC. But no matter how much you spent, within a couple of years, you'd probably want a new computer. To be fair, you still want a new PC to run the latest and greatest software. But if you're just web browsing and watching Netflix, you can run a 10-year-old PC and still do just fine. And for all of that performance and durability, you'll pay much less than you used to spend.
We're about to review the Aerofara Aero 2 Pro Mini PC. As its name implies, this is a tiny computer with a surprising amount of power. It's ideal for situations where you don't have a ton of space, but you want to use an external monitor. In that regard, it's a good balance between the features of a laptop and the features of a desktop. But what is it actually capable of, and what software can you run with it? To answer that question, we'll have to dig deeper into the system specs. We'll discuss the processor, the memory, the graphics, and more. Along the way, we'll also want to talk about the physical design, and what peripherals you can use. Let's take a closer look, and see what we discover!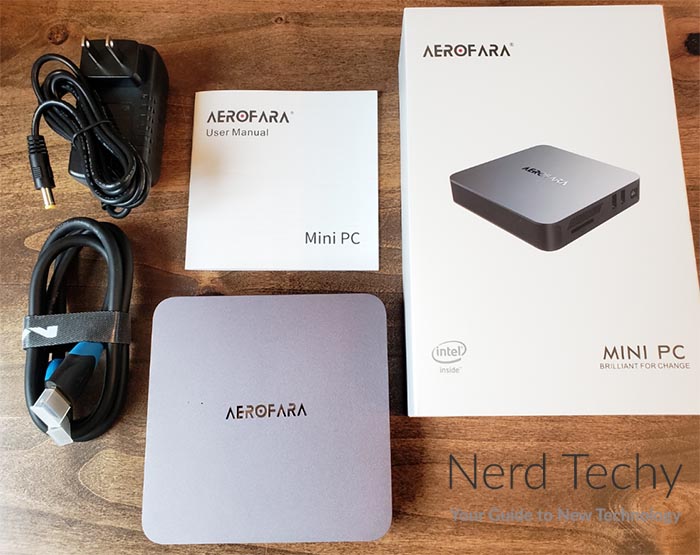 Design & Construction
The first thing you'll notice about the Aerofara Aero 2 is just how tough it is. This little machine has a durable aluminum alloy housing, and is able to take a beating. It's also exceedingly compact, at 4.72 inches square and less than an inch thick. And at a weight of only 12.8 ounces, it's a great choice for travel. The housing itself is grey in color, with a black plug panel on the back edge. The only real decoration is a silver Aerofara imprint on the top center.
As you can see, this is a very small, very lightweight computer. But what if you want one even smaller? In that case, you'd be well-served to look at some mini PC sticks. These tiny machines are small enough to carry around in your pocket. Then again, they're not very powerful, and they're only really useful for streaming.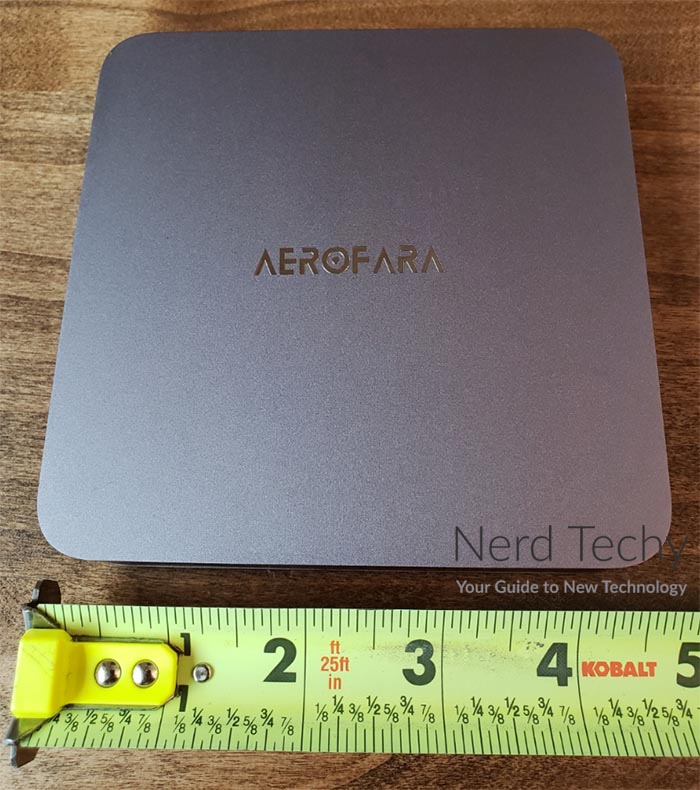 The sides of the Aero 2 are vented across the front two thirds of their surface. This allows air flow to keep the machine cool, similar to the vents on a full-sized PC. And just like full-sized PC vents, they should remain unobstructed whenever the computer is powered on. The internal cooling system consists of an integrated fan and heat sink. The heat sink has copper piping for increased efficiency, and the fan is surprisingly large. At 60mm in diameter, it's almost as big as a small desktop PC fan. As a result, you can expect some powerful cooling performance. On the downside, this can be surprisingly loud for such a tiny machine.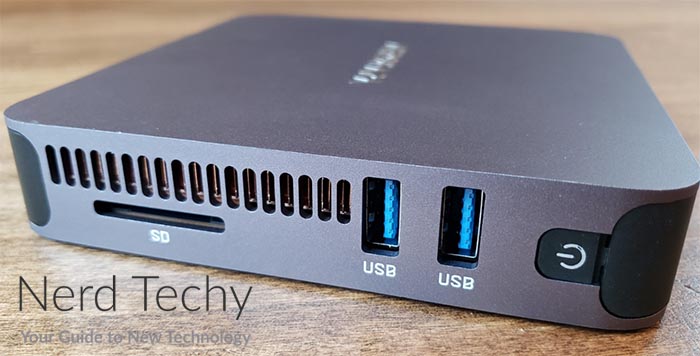 Also on the sides of the housing, you'll find some of your inputs and outputs. On the right, there's a pair of USB ports, just behind the vent. These ports have blue tabs inside instead of black, so you can easily orient your plugs. Just beneath the vent, there's an SD card slot. And to the very back of this side, there's a black rubber power button. On the left side of the housing, the same area is occupied by the VGA display output.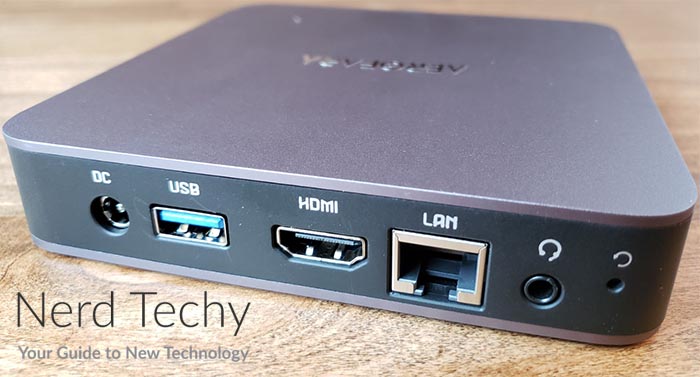 The rest of the inputs and outputs are located on the back of the housing, in the black panel. To the far left, there's a round DC power port, where the power cord plugs in. Next, there's a third USB port, which has a blue tab like the ones on the sides. Following that is your HDMI port, then an Ethernet port for connecting to wired internet. There's also a headset jack, and a tiny reset button that has to be operated with a paperclip.
One thing you won't get with the Aero 2 is any kind of mounting capability. If you want a mini PC that can attach to the back of your monitor, check out the Minisforum X35G. It's pre-drilled and tapped for VESA mounting, so attaching it is very easy. On the downside, it's not as powerful as the Aero 2.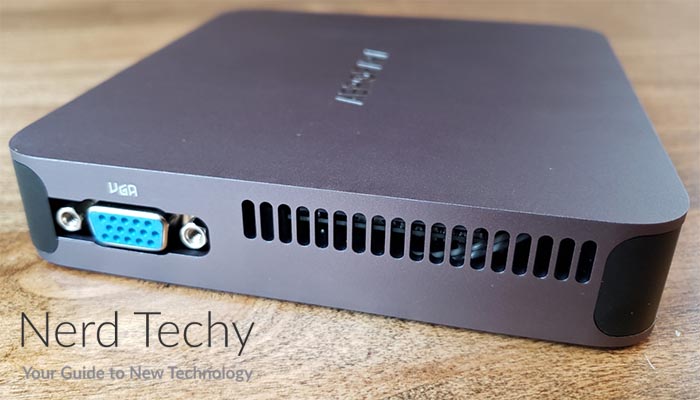 Graphics & Performance
We've established that the Aero 2 is rugged, compact, and well-designed. That's all well and good, but what kind of performance should you expect? Let's start with the processor, the heart of any computer. This mini PC runs on an Intel Celeron N5105 processor. It's a quad core, with up to 2.9GHz per core. Considering the size of the machine and the low power draw, this isn't half bad. You're not going to be running Adobe Creative Suite or anything processor-intensive like that. But for email, streaming, and office applications, you're not going to have any trouble. Just try not to leave a ton of programs running, and the machine should run as smooth as butter.
The Aero 2 does not have any dedicated graphics card. This is par for the course with mini PCs, due to the size limitations. Instead, you'll have to rely on the Celeron N5105's integrated graphics. As far as integrated graphics go, they look pretty good. In fact, this system is capable of 4K graphics (3,480 x 2,160 pixels), at a framerate of 60Hz. That's great for watching videos, streaming, or even basic gaming emulators. That said, you'll have to keep your expectations realistic. You won't be running any new AAA games, unless they allow for very low graphics settings. Even simpler games like Minecraft can bog down when there's a lot going on onscreen. You also won't be able to run most video editing software, at least not with any degree of efficiency.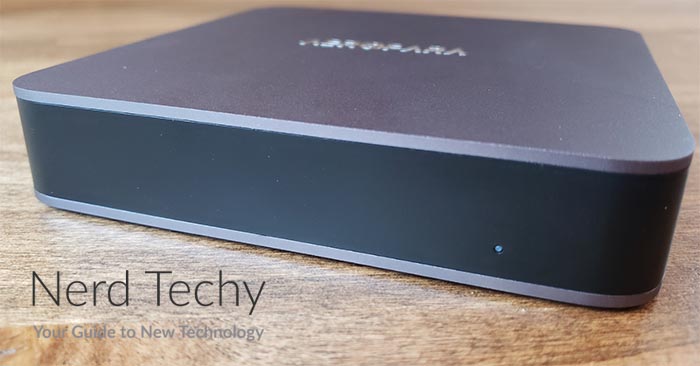 For storage, you get a 256GB SSD. Because it's an SSD, it's significantly smaller than a traditional hard drive of similar capacity. It's also far faster at reading and writing. Even with the Aero 2's pedestrian processor, your machine will start up very quickly. You'll also find that programs open faster than they would on an older PC. For memory, you get 8GB of DDR4 RAM. This is par for the course for an affordable modern computer. You'll be able to run most apps without your RAM being a bottleneck. That said, if you're primarily looking for gaming, you might prefer a system with 16GB of RAM.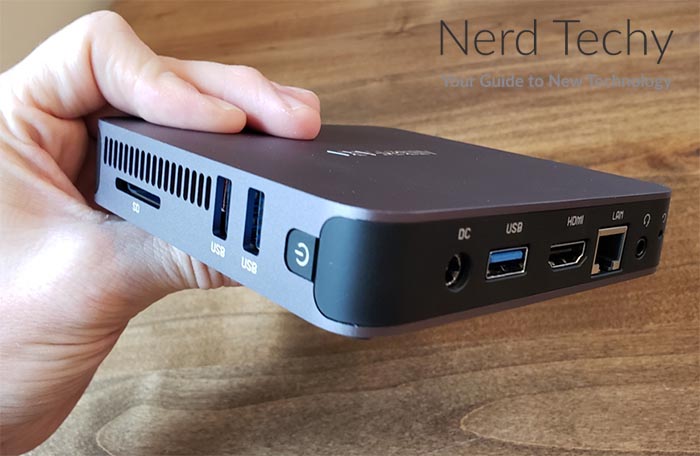 This computer comes with Windows 10 pre-installed, so you're all ready to start installing your favorite apps. It also supports Windows 11, so when the time comes to upgrade, you'll be able to. You can also wipe the hard drive and perform a Linux install if you so desire. Point being, you won't have to pay extra for an operating system. As a matter of fact, you're getting Windows 10 Pro, which is significantly more robust than the Home edition. Casual home users won't notice much of a difference. But if you're looking for a business machine, this one is very easy to configure. It comes with extra security and enterprise features that can be very helpful for companies.
But what if you want a mini PC that's good for gaming? This is a relative term; remember, you're dealing with integrated graphics. But the Beelink SER3 is significantly more powerful. Its quad core processor has a clock speed of up to 4GHz, over 33% faster. You'll also get 16GB of RAM, but you'll be paying more for the privilege.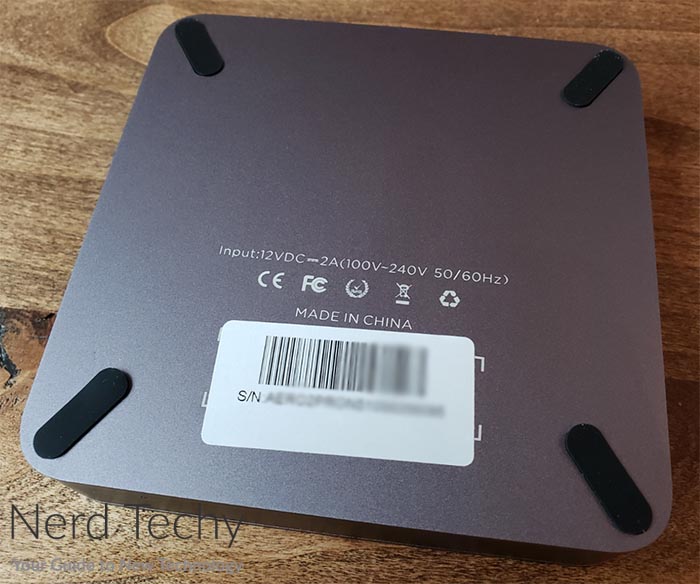 Connectivity & Extras
Ultimately, a computer is only as useful as whatever it's connected to. If you can't get online or plug in a keyboard, you've just purchased an expensive paperweight. Thankfully, the Aerofara Aero 2 gives you plenty of connectivity. In addition to Ethernet, it's also equipped for dual-band WiFi. It's compatible with the 802.11ac protocol and earlier, on both the 2.4GHz and 5GHz bands. Then again, the WiFi speed is not as fast as some machines, with a maximum bandwidth of 433 Mbps.
The three USB ports are all up to the USB 3.0 standard. This allows you to connect any USB device, even modern devices that need a lot of data transfer speed. You'll be able to read and write thumb drives just as quickly as on a top-tier computer. The SD card reader, meanwhile, allows you to upload photos from your phone or digital camera.
For video, you'll have a couple of options. On most modern monitors and projectors, you'll simply connect via HDMI. That said, you can also use the VGA port to connect to older displays. This can be helpful if your display is very old, such as if you're using an old cash register display. Otherwise, you probably won't use that port.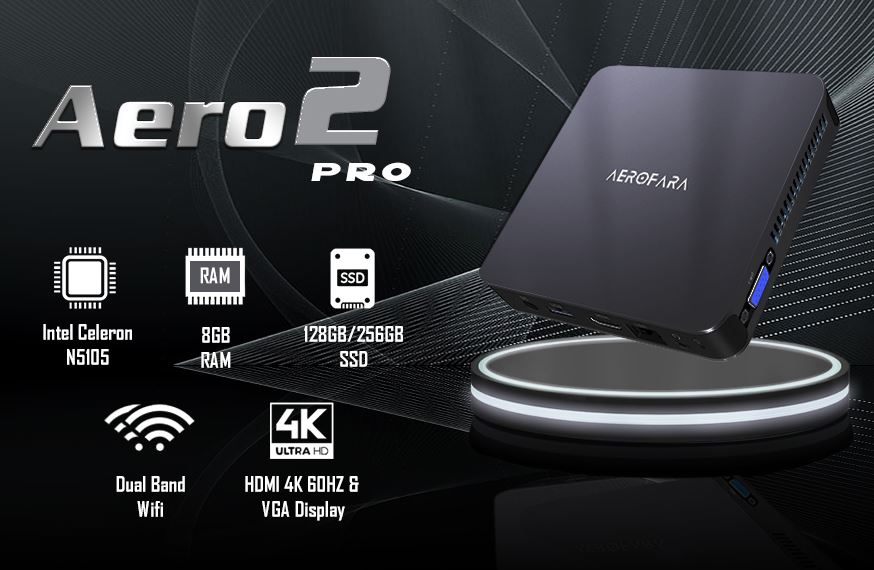 Final Verdict
The Aerofara Aero 2 Pro Mini PC is a very well-designed little computer. It's tough and durable, and small and light enough for easy transport. The processor is reasonably powerful for the price, although the integrated graphics leave something to be desired. Even so, you'll get plenty of performance for streaming, email, and basic office apps. And as far as connectivity goes, you'll have the same options you would on a full-sized PC. If you need an affordable, functional mini PC for everyday use, the Aero 2 is a solid choice!
Meet Derek, "TechGuru," a 34-year-old technology enthusiast with a deep passion for tech innovations. With extensive experience, he specializes in gaming hardware and software, and has expertise in gadgets, custom PCs, and audio.
Besides writing about tech and reviewing new products, Derek enjoys traveling, hiking, and photography. Committed to keeping up with the latest industry trends, he aims to guide readers in making informed tech decisions.