Buying a new PC is a challenge even in the best of times. You have to think about so many factors, from the processor to the RAM to the graphics card. Sometimes, you have to make compromises. Is it worth buying a computer with less RAM, since you know you can upgrade later on? That's the kind of question you're going to have to ask yourself. Above all, you'll need to think about what you plan on doing with your new PC. If it's an office machine, for sending emails and word processing, you can get away with just about anything. If you're a content creator or gamer, you're going to need better processing power and more robust graphics. Basically, there's a lot to think about before you even start shopping.
Things have only gotten harder in the past couple of years, thanks to global supply chain shortages. Just ask anyone who spent the better part of 2021 trying to buy a PlayStation 5 or Xbox Series X/S. The same shortages that have wreaked havocs on automakers and game consoles also affect PC production. So if you're in the market for a new PC, you can expect to see fewer options and higher prices. All of which made us happy to discover the Beelink SER3 3750H.
The SER3 3750H is a compact mini PC that's designed for hybrid use. What does this mean? Simply put, it's more powerful than your typical office PC. It's great for multimedia use, and it's upgradable. That said, it's also not what we'd call a gaming PC. You can play games on it, but you're not going to be playing this year's releases at maximum settings. But is this the right mini PC for you? To find out, we have to dig deeper into its design and build. We'll have to look at each of the individual components, and see how they perform. We'll also have to look at how upgradable it is, as well as what you can do with it. Then, we'll have a complete picture of what we're looking at. Let's get started!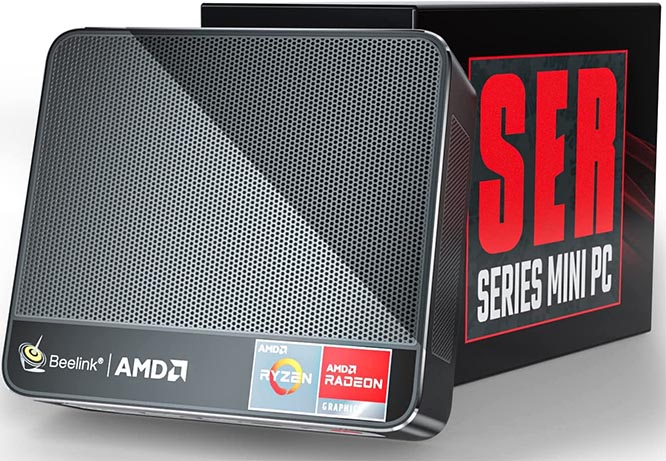 Design & Construction
The Beelink SER3 3750H is one of the smallest mini PCs you'll ever find. It measures 4.96 inches wide, 4.45 inches deep, and only 1.57 inches thick. That makes it thicker than a laptop, but with a smaller footprint than a tablet. In other words, it's small enough to position just about anywhere. The housing is constructed from black aluminum, and is quite durable. You don't have to worry about it getting bumped or banged. Of course, severe shocks could damage some of the hardware inside the case. But the case itself can handle a reasonable amount of abuse.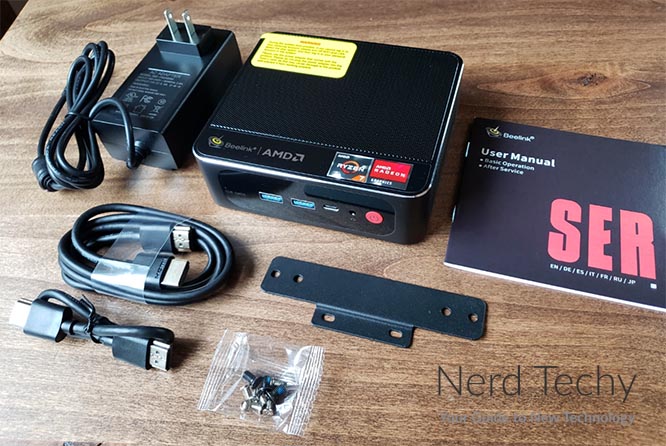 Now, let's say that hypothetically you wanted an even smaller computer? In that case, you'd want to look for a mini PC stick. Keep in mind that these sticks are basically for media streaming. They're not going to be a good choice for gaming or office work.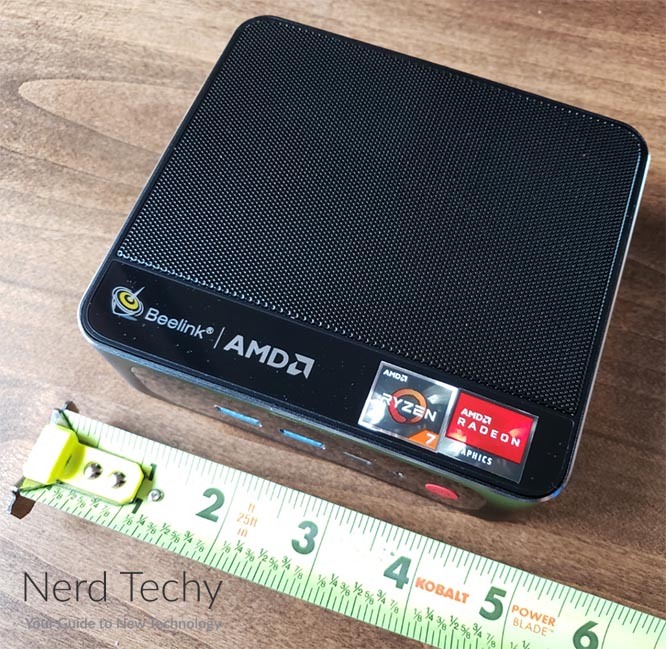 Inside the SER3 3750H, there's a large cooling fan, which is l Minisforum X35G ocate inside a U-shaped heat conduction tube. As the fan spins, air is continually drawn through the tube, which does a good job of cooling the computer. It's more effective than most mini PC cooling systems, so you can get more out of your components. That said, it's also loud. The fan produces an audible hum, even when you're not doing all that much. The air vents themselves are located on the back of the housing, in a row across the top. You'll need to keep this area clear, but you also don't have to worry about any other vents.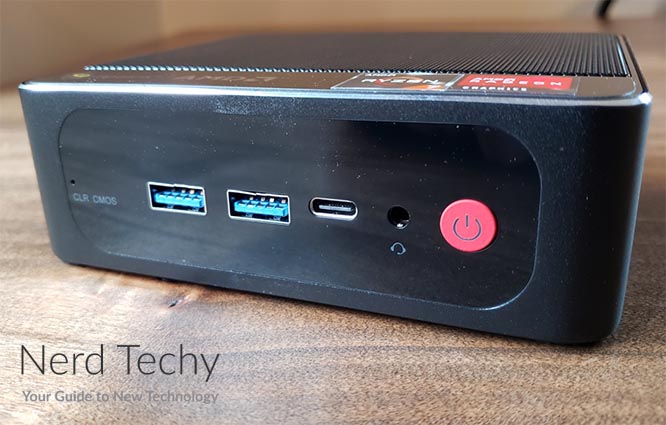 On the bottom half of the rear of the housing, you'll find several ports and connections. To the left, there's a LAN connection, for connecting to your router. Next, there's a pair of USB Type-A ports, stacked one over the other. These ports have blue inner tabs, so it's easy to know which way to orient your USB plug. To the right of these, you'll find a pair of HDMI ports, one next to the other. Finally, there's a round DC power port. An AC/DC adapter and cable are included in the package.
On the front of the housing, you'll find an additional pair of USB ports, with identical blue inner tabs. To the right of these, there's a USB Type-C port, with a 3.5mm aux jack next to that. Finally, there's a bright red power button. All the way to the left, there's an additional reset button, which you need to push with a paperclip.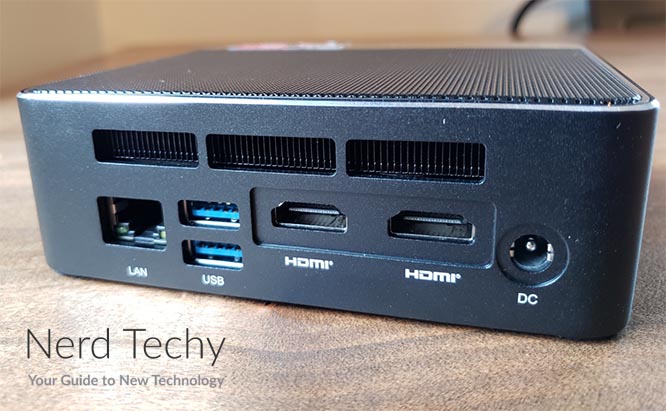 Along with the computer itself, the package also includes a metal mounting bracket and screws. This bracket attaches to the bottom of the computer, and then to your wall. It has two sets of holes, which allow it to fit most VESA-equipped TV backs. So if you have a large monitor, you can actually mount the computer on the back of it.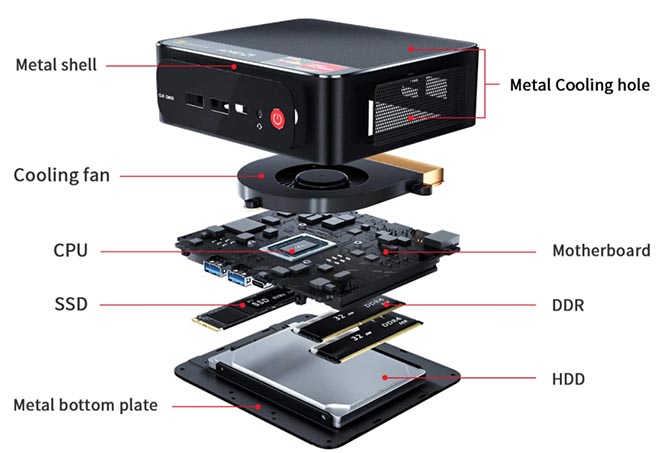 Graphics & Performance
Any computer is only as good as the parts inside it. So, what does the Beelink SER3 3750H have to offer? To begin with, it utilizes an AMD Ryzen 7 3570H processor. We should point out that the "7" here can be misleading. This is equivalent to a faster intel Core i5, not a Core i7. Still, it's reasonably fast, with four 2.3Ghz cores and eight threads. Furthermore, each core can be turbocharged as high as 4GHz. In many designs, this has led to poor results, since performance is easily affected by throttling. But thanks to the powerful fan, the 3750H processor actually works to its full potential. For all but the most demanding tasks, you won't have any issues with raw speed.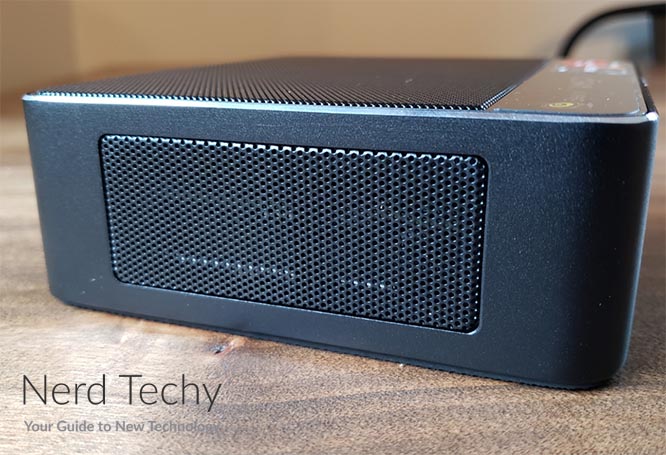 The Radeon RX Vega 10 integrated graphics are superior to what you normally think of when you hear "integrated graphics." These aren't cheap processor-based graphics. These graphics are a GPU that's built into the motherboard itself. It's comparable to the NVIDIA GeForce GTX 1050 in terms of pure capacity. That said, there's no graphics memory. In other words, you'll be forced to use regular RAM for graphics memory, which is slower and eats into your RAM. Beelink advertises this as a 4K-capable graphics card, which is technically accurate. It can play videos in 4K, and will support 4K streaming. That said, you'll find that it lacks the power for 4K gaming. Cutscenes will display just fine. But if you're playing newer games, you'll definitely need to roll back your graphics settings.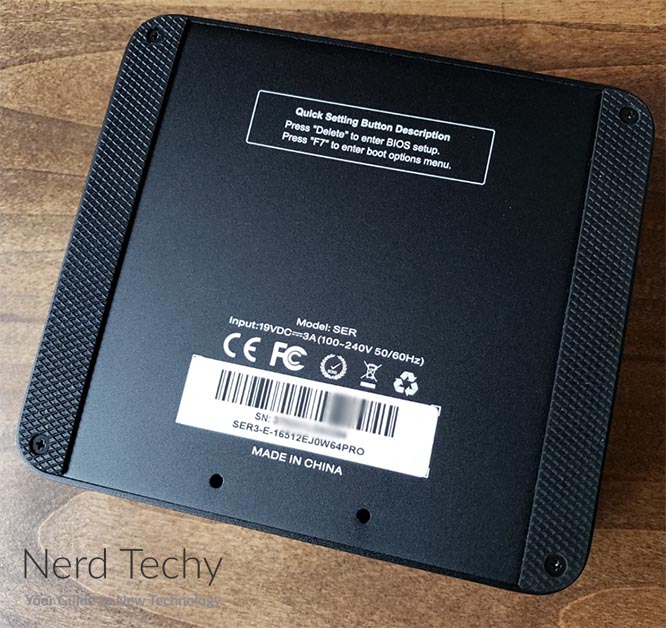 In other words, you're looking at a solid budget gaming PC, or an overpowered office PC. Either way, you're getting an excellent value for the money. Even in a "normal" market, the SER3 3750H is well worth the price. That said, if you don't need the graphics capability, consider the Minisforum X35G instead. It's even more affordable, albeit with a slower processor and only the processor's integrated graphics.
As for storage, you have a couple of different options. The SER3 3750H ships with either a 256GB or 512GB M.2 SSD, depending on your selection. This M.2 SSD drive is significantly smaller than other types of drive, which allows it to fit the small housing. The motherboard can support up to a 1TB drive, so there's also room for an upgrade. In addition, there's an empty 2.5-inch drive bay underneath the motherboard. This will support an additional SSD drive, with up to 1TB in capacity.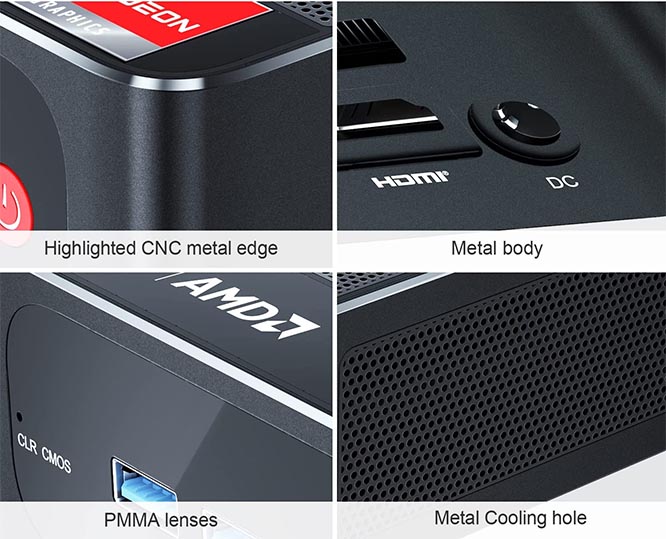 The RAM is another option you can choose. The 256GB version comes with 8GB of RAM, while the 512GB version comes with 16GB of RAM. Either way, the RAM consists of two DDR4 sticks. It's expandable to dual 32GB, for a total of 64GB, but that won't be necessary for most purposes. Considering the computer's other capabilities, 16GB is all you should ever really need.
Connectivity & Extras
The SER3 3750H, like most computers, can connect to the internet in two different ways. The first is Gigabit Ethernet, which provides the highest speed and best stability. That said, it requires a wired connection, which isn't always going to be practical. In that case, you can take of dual-band 802.11AC WiFi. This should be fine for most people, but we're puzzled why they used 802.11AC instead of WiFi 6. Then again, WiFi cards are easy to replace if you really need the upgrade.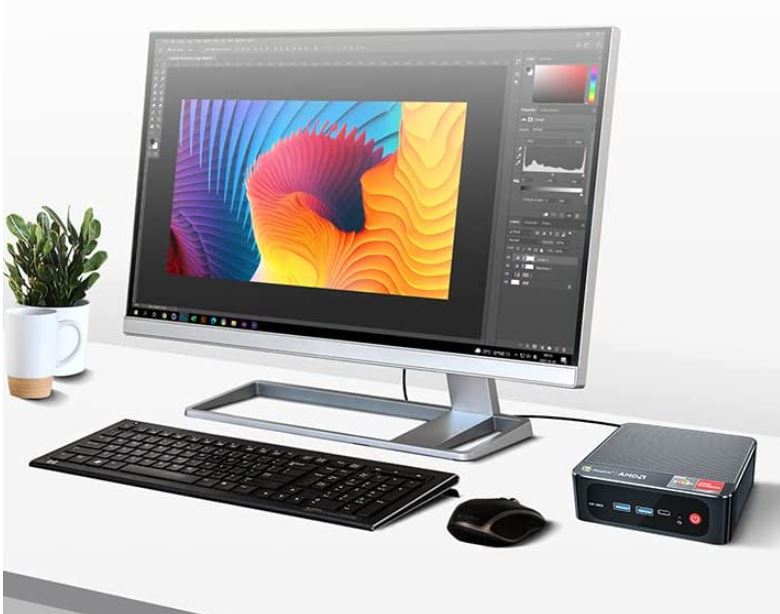 More puzzling still is the choice of Bluetooth 4.0. This is an old standard, and it has high latency for games and videos. A superior Bluetooth 5.0 card would have only added a few dollars to the price. That said, this is another part that's relatively cheap and easy to upgrade on your own.
For connecting to other devices, you have your four USB ports. They're all standard USB 3.0, with 12 watts of power apiece. This makes them just fine for charging phones and smaller devices, although they won't quick charge anything. There's also the USB Type-C port, which can be used for some newer phones and peripherals. And if you want to use external speakers, you can connect with the 3.5mm aux jack for zero latency. This alleviates a lot of our concerns with the Bluetooth card.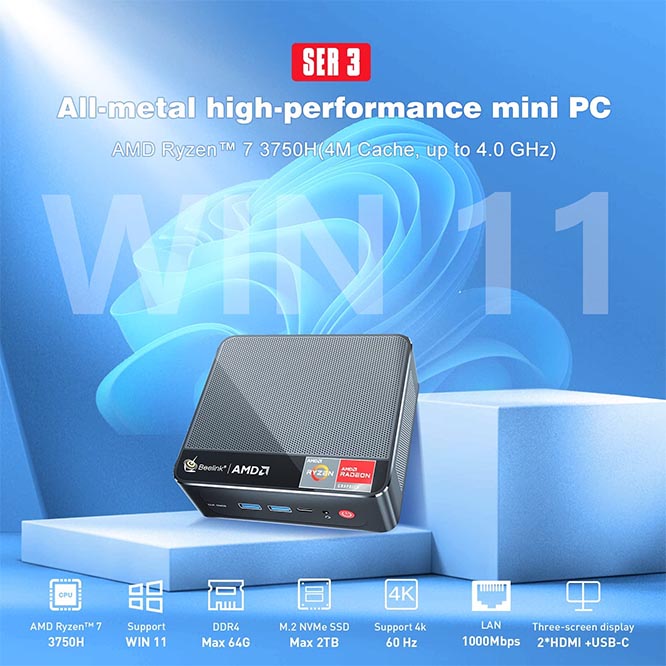 The 3750H will support up to three displays. The first two would connect via the HDMI ports. However, this computer also supports USB Type-C video. If you have a monitor that supports USB, you can use this method to create a three-monitor setup. USB Type-C is also useful on many Android phones that support use as a monitor.
Final Verdict
The Beelink SER3 3750H is just what it needs to be – a great budget mini PC. The graphics are reasonably good, but by no means cutting edge. The processor is a workhorse, but it's not the fastest on the market. It's rugged, it's well put together, and it's easy to mount. It's even capable of supporting a dual or triple display. That's pretty impressive for such an affordable little machine.
Meet Derek, "TechGuru," a 34-year-old technology enthusiast with a deep passion for tech innovations. With extensive experience, he specializes in gaming hardware and software, and has expertise in gadgets, custom PCs, and audio.
Besides writing about tech and reviewing new products, Derek enjoys traveling, hiking, and photography. Committed to keeping up with the latest industry trends, he aims to guide readers in making informed tech decisions.