GameSir T4 Mini
Pros
Compact, ergonomic design.
Compatible with Switch, iOS, Android, and PC.
Built-in programmable turbo function.
Long-lasting battery.
Cons
Not compatible with Xbox or PlayStation consoles.
Short charging cable.
If you're like most gamers, you're probably particular about your gear. When we sit down to play a game, you want everything to be as comfortable and natural as possible. For a lot of people, this means investing in all kinds of accessories. The market is full of gaming chairs, oversized monitors, and top-quality headsets. But all of these things pale in comparison to the importance of the controllers themselves. A good controller should feel like an extension of your body. If it does, you'll have an easy time getting into the flow of any game. If it doesn't, you'll inevitably make mistakes.
That said, not everybody agrees on the ideal control scheme. Take a look at the three major game consoles. They all have a few things in common – dual thumb sticks, four primary buttons, four triggers. But they also have major differences, both in the form factor and in the placement of individual controls. And in the case of a smartphone or tablet, an external controller is the only way to go. Even PC gamers may prefer a controller rather than a keyboard and mouse. It depends on what you're playing, and on what your preferences are.
GameSir is one of the most respected third-party controller manufacturers around. In fact, they create all kinds of accessories, such as keyboard and mouse adapters. We're about to review the GameSir T4 Mini Multi-Platform Game Controller. This is a controller for the Nintendo Switch, PC, and smartphones, with a compact form factor. It includes a handful of additional buttons, including a turbo function. But how well does it perform when it comes time to play? To find out, we needed to put this controller through its paces. Here's everything we've learned about the T4 Mini, and what it's capable of.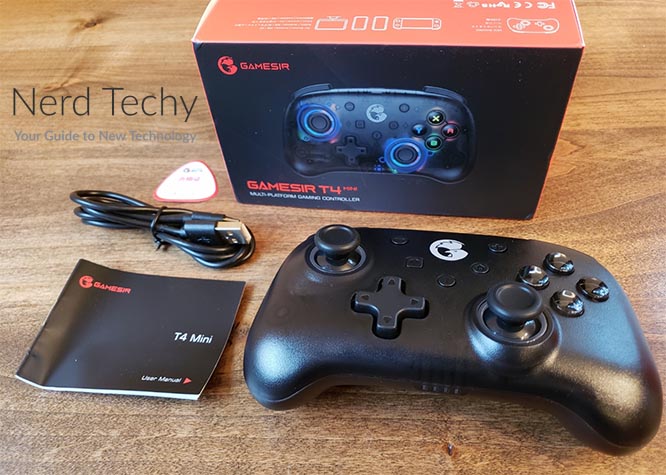 Design & Durability
The first thing you'll notice about the GameSir T4 Mini Multi-Platform Game Controller is that it is, indeed, miniature. The unit measures only 3.27 inches high by 5.63 inches wide. It also has a correspondingly slim profile, so it's ideal for people with smaller hands. On the flip side, if you have larger hands, you may want to choose a different controller. The housing is constructed from a semi-transparent black plastic, which allows you to see the elements inside. The material itself has a slightly textured feel, which provides a comfortable grip even with sweaty hands. It's not as easy to keep clean as a smooth controller, but all in all, the tradeoff is worth the while. The overall shape is oblong, but there's not a flat surface to be found. Everything is curvy, including the two fat nubs that serve as hand grips.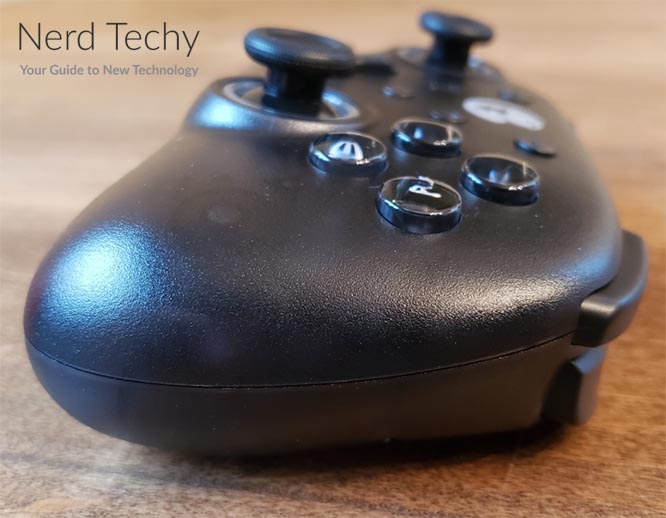 The buttons and thumb sticks are positioned the way they are on the Nintendo Switch. The right thumbstick is closer to your thumb, leaving room above it for the four primary buttons. The left thumbstick, meanwhile, is offset to the top left, to make space below it for the D-pad. The primary buttons also have a Switch-style layout, with their X-Y-B-A positioning. In point of fact, the buttons aren't actually "marked" at all. Instead, the colored letters are actually LED lights located inside the controller.
In addition to this, there are gorgeous LED light rings around both of the thumb sticks. These can be adjusted between nine different colors, depending on your preferences. You can also choose between two different breathing modes: rainbow and 8-color cycling. Or, if you want a marginal boost in battery life, you can turn the LEDs off altogether.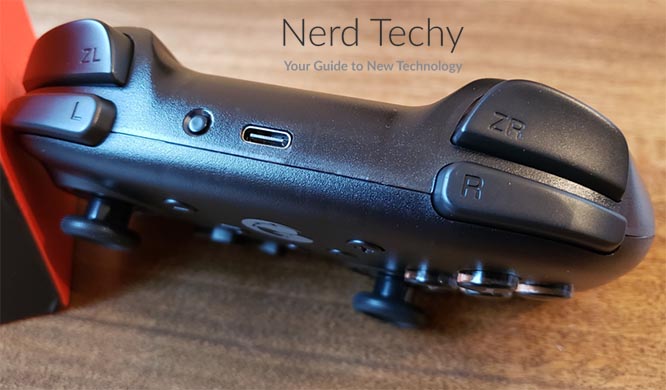 In addition to the main buttons and thumb sticks, there are also a few additional controls. To begin with, there are two sets of triggers, just like all major console controllers. These triggers and bumpers are very responsive, and easy to operate. The same is true for the main buttons, which have a satisfying tactile feel without any irritating audible click. Meanwhile, the thumb sticks have a textured ring around the outer edge, and a depression in the center. This makes them comfortable to operate wherever you prefer to position your thumbs.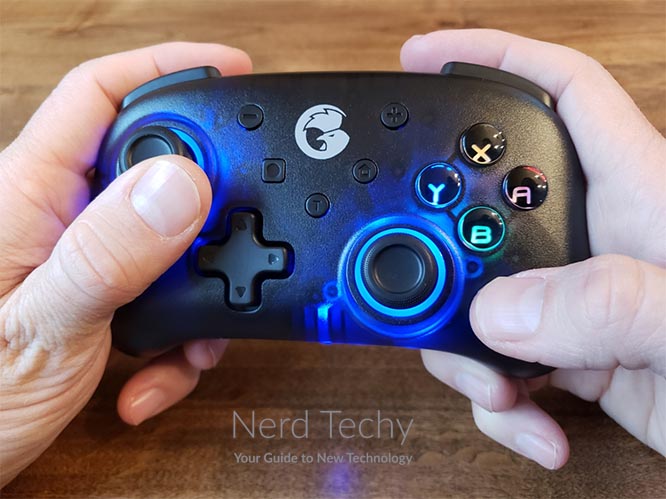 Other controls include a home button, which also wakes up your Switch if the controller has been paired. There's a screenshot button, which is more or less self explanatory. There's a turbo button, which we'll discuss later in more detail. There are also the "+" and "-" buttons you'd expect to find on an ordinary Switch controller. These are mappable on other systems, but we'll also discuss that later on. All of these extra buttons are rubbery, and slightly depressed, which makes them easy to find by touch.
If you want a different form factor altogether, check out the GameSir T4 Pro. It has many similar functions, and is compatible with all the same systems. It also has a built-in smartphone bracket for mobile gaming. On the downside, it's bulkier than the T4 Mini, and there's no LED lighting.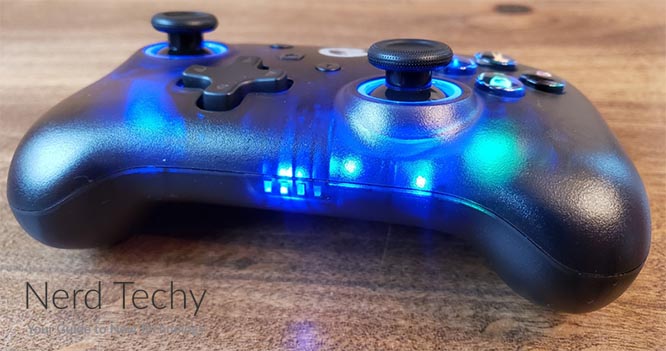 Power & Charging
Of course, no game controller is any good to you if you don't have power. So, what can you expect from the T4 Mini? The internal 600mAh battery will last for approximately 10 hours of playtime. This is a rough figure, for a couple of reasons. First, it depends on whether you're using the LED lighting or not. Second, it depends on what type of game you're playing. The more individual signals are being beamed, the faster the battery is going to run out. Even so, you're looking at battery life that's comparable to what you'd find on most other controllers. The controller also goes to sleep automatically after 15 minutes of disuse. This keeps it from wasting battery power when you've walked away from your game.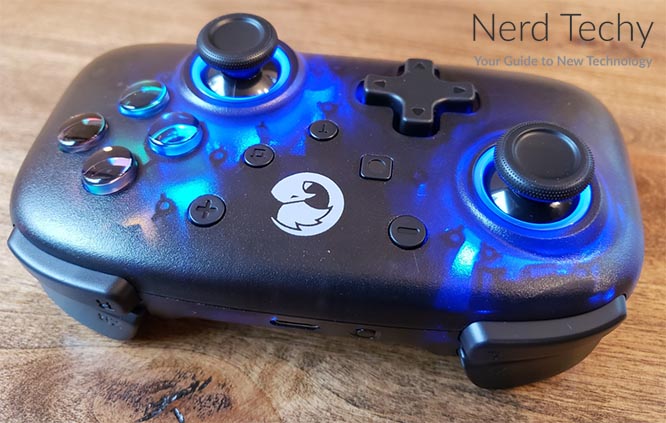 But what happens if you somehow manage to run the battery completely dry? In that case, you've got a couple of different options. First, you can charge the battery. This takes around three hours when the battery has been completely drained. That said, if you don't play for 10 hours straight, charging time may never be a concern. You can simply leave the controller plugged in whenever you're not playing your game.
Another alternative is to charge the controller while you're playing your game. This is perfectly possible, but you'll need to buy your own long USB Type-A to Type-C cable. The charging cable included in the package is very short, and not long enough to play and charge.
Features & Functionality
We've established that the GameSir T4 Mini is a highly-functional mini controller with a long-lasting battery. But what platforms is it compatible with? To begin with, this controller is primarily optimized for the Nintendo Switch. Hence the Switch-friendly layout with "+" and "-" buttons and a Switch wakeup function. That said, it can also be used as a Bluetooth controller for other devices. It's compatible with PCs, and the drivers are available for free on GameSir's website. It's also compatible with both iOS and Android smartphones. Keep in mind that with Android phones, nothing is ever guaranteed. You may or may not need third-party software, depending on the model. But the T4 Mini will work out of the box with all major models such as the Samsung Galaxy. It will not work with Xbox or PlayStation consoles.
If you want a controller that's optimized for mobile, you might consider the GameSir F8 Pro. This is a clamp-on controller that wraps around your phone, and includes a built-in cooling fan. It's exceptionally portable and compact, but it's not compatible with PCs or Switch consoles.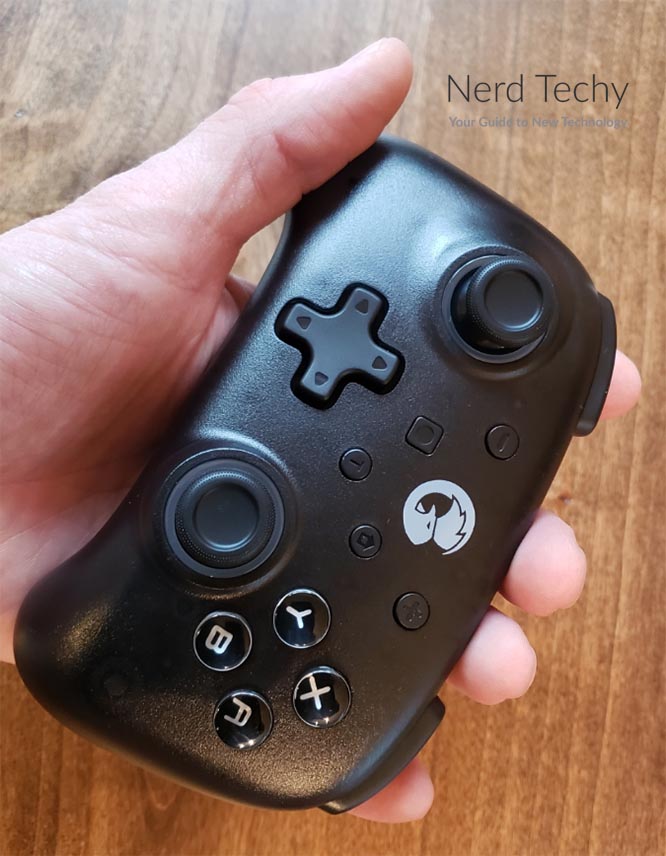 The T4 Mini contains a six-axis gyroscope, which mimics the gyroscope in the Switch and Pro Controller. In most games, this is either irrelevant, or it's an unnecessary gimmick. However, it's a core feature of several major Switch titles. For example, you won't be able to do your best Mario Kart racing without tilting the controller. Similarly, the gyroscope is essential for aiming your arrows in The Legend of Zelda: Breath of the Wild.
In addition to being compatible with all Switch games, the controller also provide enhanced support for many Apple games. It offers full support for all games in both Apple Arcade and MFi. As a result, you can get the best possible performance on many of the newer iOS 13 games. Within those services, you can even customize your button layout and functions. This allows you to create macros, program combos, and other advanced features. You can also hot-map individual functions from games with deep menus. This makes it easy to access buried controls without spending half your playtime navigating menus.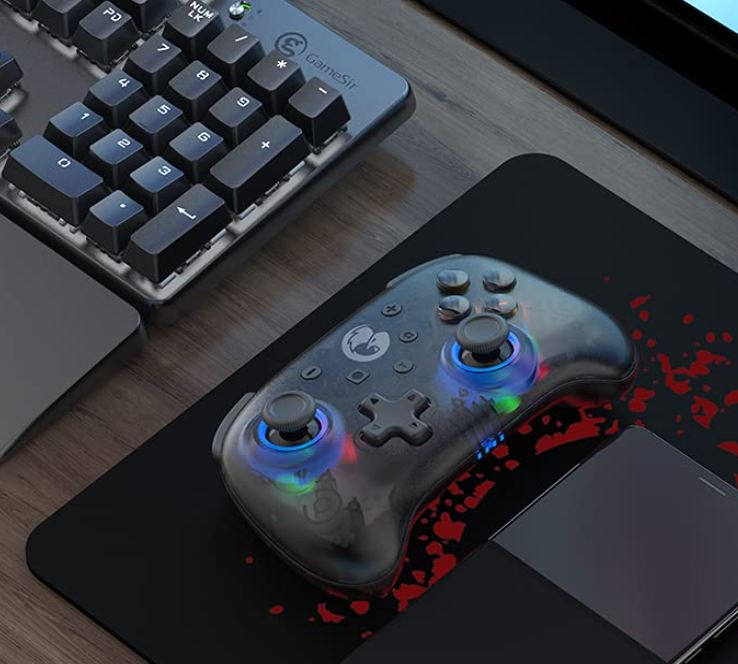 No matter what system you're playing on, you can take advantage of the turbo button. Using this button, you can toggle individual buttons into or out of turbo mode. You can also toggle entire groups of buttons. This can be incredibly helpful in fighting games, where rapid button-presses are the norm. To be fair, getting this function right takes a little bit of practice. But once you get the hang of it, you can easily switch Turbo mode on and off in the middle of a game.
In addition, the T4 Mini sports a pair of dual vibrating motors. This is something we've come to expect from modern controllers – it's universal on all major consoles. Even so, it's nice to see that GameSir doesn't overlook a single feature.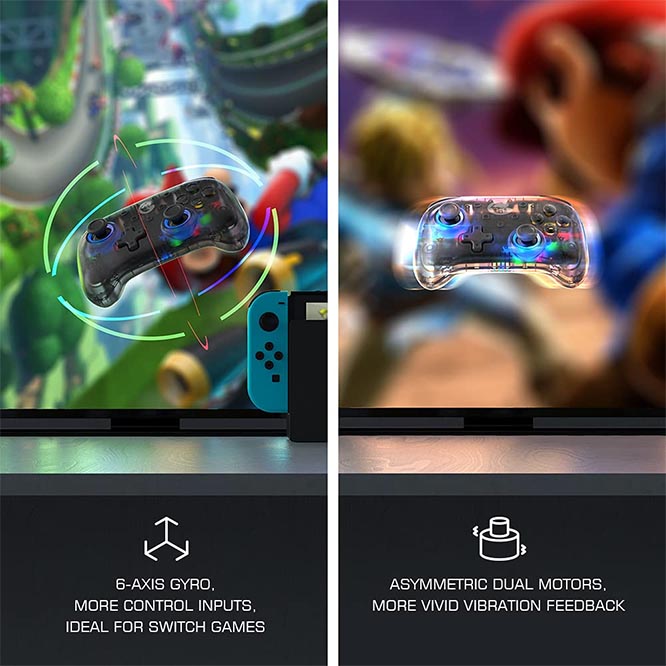 Final Verdict
The GameSir T4 Mini Multi-Platform Game Controller is one of the better third-party controllers on the market. To be fair, we should be clear that "multi-platform" doesn't include Xbox and PlayStation consoles. Those are some pretty major platforms. That said, on all other platforms, it has a lot to bring to the table. It's ideally-shaped for small hands, and the turbo function is a great value. The buttons and thumb sticks are well-constructed, and respond well to your inputs. Not only that, but the battery performs well enough to play all day. There's a lot to like here, provided you're playing on the right console.