Winter is a special time of year. It brings us the holidays, skiing, apple pie, and hot chocolate on a crisp day. But when Mother Nature gets out her paintbrush and colors everything white, it's not just beautiful to look at. It's also a pain to deal with. You can't just get up, get in the car, and drive to work. Instead, you have to wake up 90 minutes early, grab your snow shovel, and get to work. Shoveling snow is backbreaking labor, and not everyone is even capable of doing it. Not only that, but it's time-consuming. Even an efficient, easy-to-use snowblower is going to eat up precious time in the morning.
The fun doesn't end when you've cleared the snow, either. Once it's gone, you need to worry about ice. Snow around your driveway or path will melt, and the water can re-freeze. And since it's often difficult to see, this "black ice" can be far more treacherous than mere snow. The obvious solution is to salt wherever ice is a concern. Salt is effective, but it's also a double-edged sword. Because it's corrosive, it will slowly eat away at concreate and masonry surfaces. It's also toxic to plants, so the runoff can end up killing your surrounding greenery. With a snow-melting mat for your sidewalk or driveway, neither snow nor ice will be a concern anymore.
Today, we're going to review three of the best snow-melting mats for sideways, driveways, and stairs. We'll begin with the HeatTrak Heated Snow Melting Walkway Mat. This mat is available in many sizes, and is designed for paths, walkways, and stepping stones. Next, we'll look at the WarmlyYours Snow Melting Mat. This is a very large mat designed for permanent installation in a driveway or large walkway. Finally, we'll check out the HeatTrak Heated Snow Melting Mats for Stairs. These are narrower versions of the HeatTrak mat, specially designed for use on stairs. We'll look at all three of these mats, and take note of their strengths, weaknesses, and applications. After that, we'll render our final verdict. Let's begin!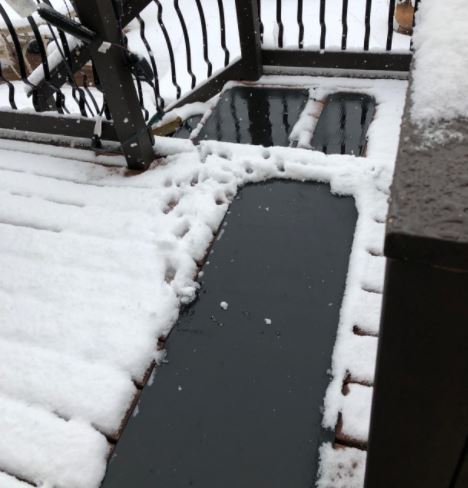 Different Types of Snow Melting Mat
When people talk about a snow melting mat, they're usually talking about one of two things. First, there are radiant heating systems, which are permanently installed. Next, there are removable mats which can be put out as needed. Both have their own strengths and weaknesses, so let's talk about what those are.
People have been using radiant heat systems for years now. These systems are often used in homes, whether for whole-house heating, or just to create heated floors. In a radiant heat system, electrical cables or hot water pipes are installed directly into the floor. Outdoor radiant heat systems are almost always electric, and are installed when the driveway or walkway is first put in. Concrete, asphalt, or mortar is poured directly over the coils, embedding them permanently in the surface. When the coils are turned on, they heat the area, melting snow and ice.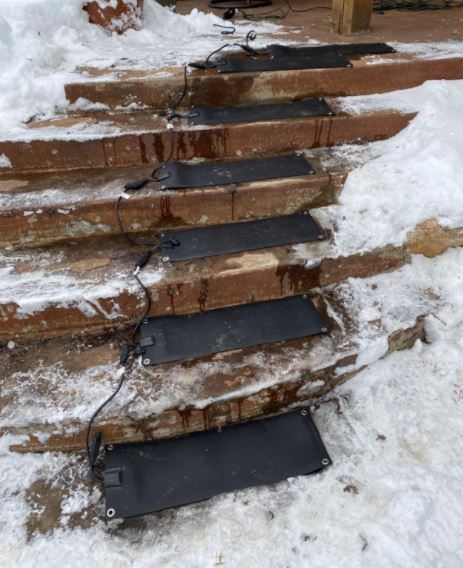 Radiant heat systems have a handful of distinct advantages. To begin with, they're invisible. They don't clutter up the landscape, and they don't distract from your home's appearance. They're also easier to use in the long term, since you never have to set them up or take them down. You don't have to worry about storing them for the summer, or plugging them in every fall. Then again, these systems also have some significant downsides. They're expensive, and we're not just talking about the coils themselves. Unless you're doing a fresh install, you have to tear up your whole driveway or walk just to install the system. Not only that, but if something breaks, even a simple repair can be complex and costly.
A removable mat can be a simpler, more affordable solution. In these kinds of mats, electric coils are embedded in a durable rubber material. You can then walk, drive, or roll a wheelchair over the top with safety. When the coils are powered, the mats will remain warm, melting any snowfall, and preventing ice from forming. These mats will typically come in many sizes, to fit different paths and walkways.
Like radiant heat systems, removable mats come with their own costs and benefits. On the plus side, they aren't just affordable; they're also easier to use. Instead of tearing up your whole driveway, you just drop them down and plug them in. And if something goes wrong, you don't have to rent a jackhammer to diagnose the issue. On the downside, removable mats need to be set up every fall and stowed away every spring. They require storage space, which can be substantial if you have a lot of mats. Finally, they're inherently unattractive, which can detract from your home's appearance. With all of that being said, let's look at some individual examples!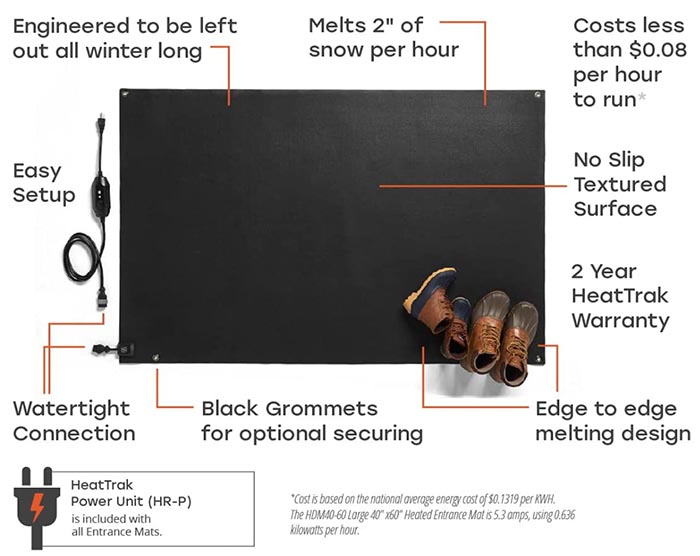 HeatTrak Heated Snow Melting Walkway Mat
The HeatTrak Heated Snow Melting Walkway Mat is a removable, replaceable mat for melting snow and ice. The material is an ultra-durable thermoplastic, that can take a serious beating. It's exceptionally rugged, and can even withstand daily traffic from heavy electric wheelchairs. The mats are black in color, and have a textured surface that's easy to walk on in slick conditions. Not only that, but each corner of the HeatTrak mat has a sturdy black metal grommet built into the material. These can be secured with rope, or even with masonry nails for semi-permanent installation. That said, the material is already quite grippy. Under most circumstances, the mat will stay in place pretty well on its own.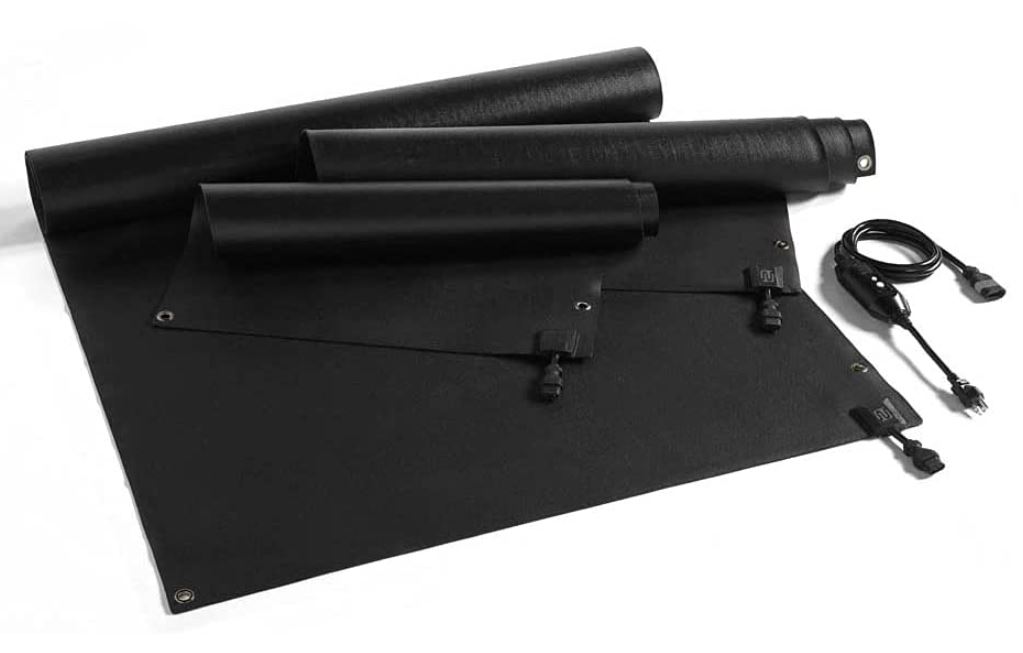 There are three mat sizes available: 24 x 36, 30 x 48 and 40 x 60 inches. This allows you to find the right fit for sidewalk sections, stoops, pavers, and stepping stones. Each individual mat can work individually, but they're designed to work as part of a modular system. Each has a pair of 12-inch pigtail cords, with proprietary watertight connections at the ends. These can be used to daisy-chain multiple mats together, up to a total of 1,500 watts. That's the maximum power draw from a standard household outlet.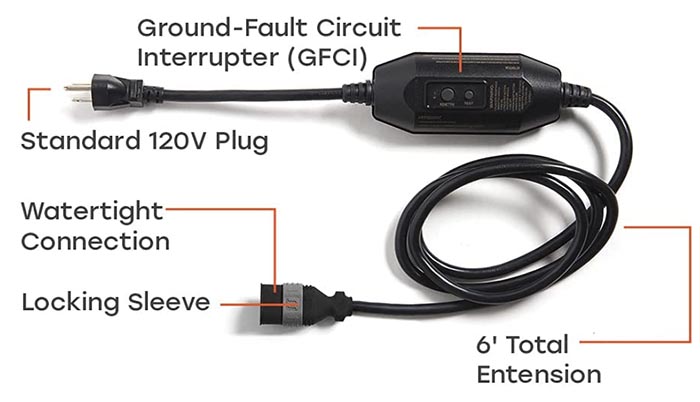 To use the HeatTrak mats, you'll need their power supply. This is sold separately, and consists of a 6-foot cord with a beefy GFCI unit near the three-prong end. HeatTrak also offers proprietary 20-inch extension cables, for further spacing out your mats. This can be useful for stepping stones, which aren't always placed close together.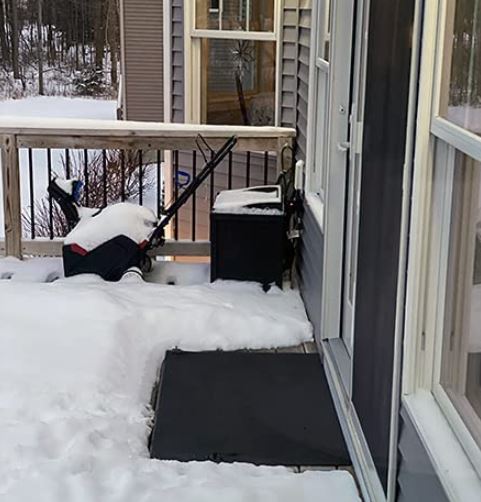 These mats are designed to be plugged in when the weather gets cold, and left on all winter. That said, if you're concerned about power use, you can always shut them off in dry weather. Whenever they're plugged in, the HeatTrak mats will monitor the air temperature. They'll then maintain a constant temperature of 40 degrees higher than that ambient temperature. In this way, they're capable of melting as much as two inches of snow per hour. In all but the nastiest blizzards, you'll experience zero snow accumulation.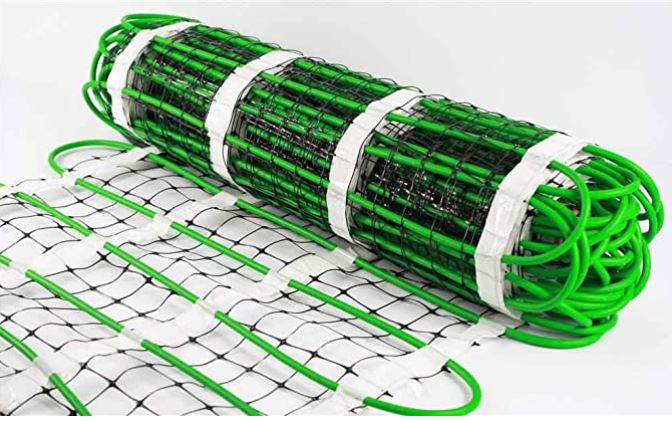 WarmlyYours Snow Melting Mat
The WarmlyYours Snow Melting Mat is a large radiant heating system designed for permanent installation. It consists of large green electric coils, set into a plastic webbing. You unroll it when you're installing a new driveway or walkway, and lay the new material over top of it. The WarmlyYours mat can be embedded in asphalt or concrete, or even in thick mortar under pavers.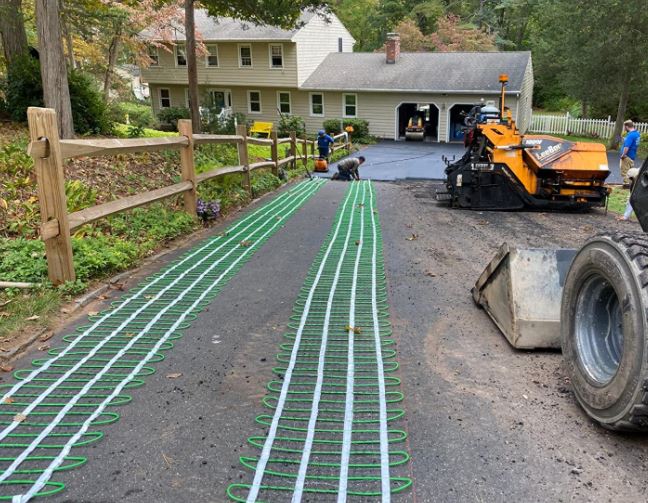 It's also flexible enough to mortar into stairs, if you're mortaring pavers over brick. The only material they're not suitable for is gravel, which can damage the coils when you drive over it.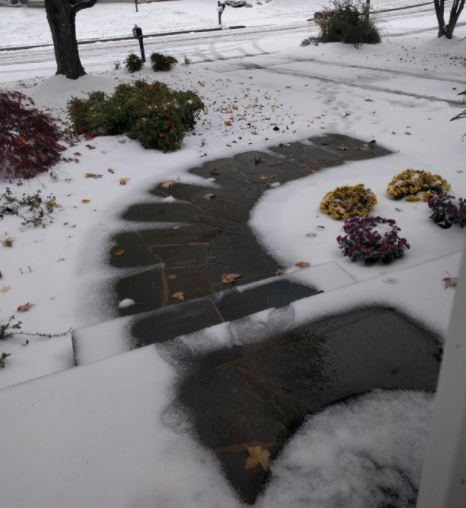 These mats are available in both 120- and 240-volt power, in many sizes. In 120 volts, it comes in 2×5, 3×5, 2×10, 2×15, 3×10, and 3×15-foot variants. In 240 volts, it's available in 2×10, 2×15, 3×10, 3×15, 2×30, 2×40, 3×30, and 3×50-foot sizes. All variants generate 50 watts of heating power per square foot, enough for even the worst conditions. Because of the variety of installation options, it's impossible to guarantee a particular level of performance. There are also many control options. You can connect the mats to a thermostat, a manual switch, or even a timer.

HeatTrak Heated Snow Melting Mats for Stairs
The HeatTrak Heated Snow Melting Mats for Stairs are similar in most respects to the basic HeatTrak mats. They're constructed from the same rugged thermoplastic, and they have the same heating performance. They'll melt two inches per hour under almost any circumstances. One nice thing about these mats is that they're interchangeable with the regular HeatTrak mats. They utilize the same proprietary power connection, power supply, and extension cords. So you can mix and match different types of mats to meet your needs.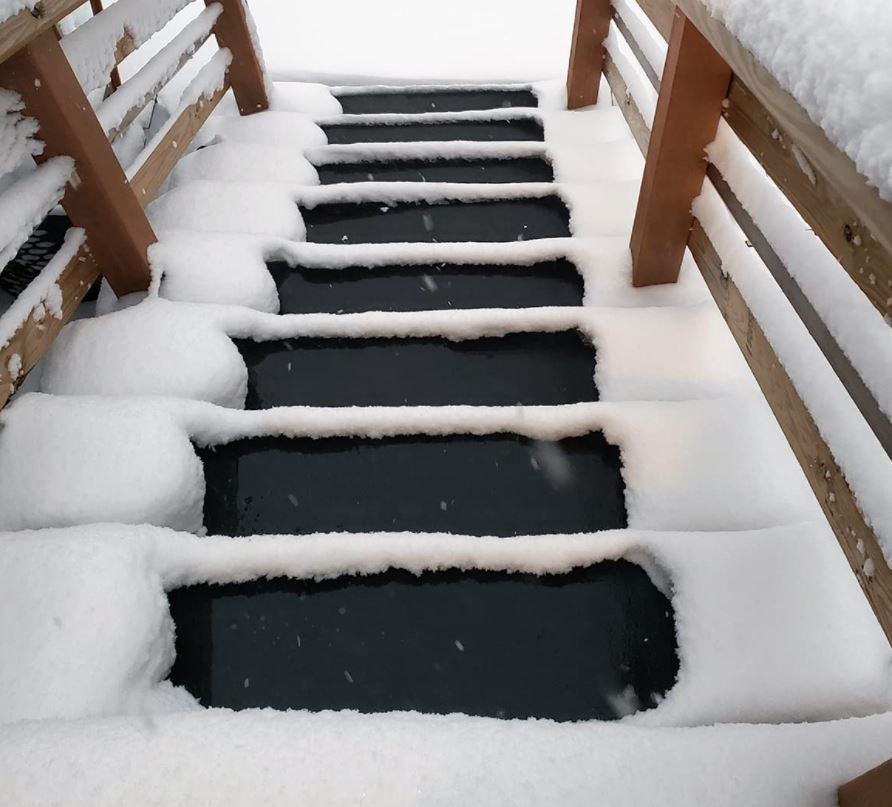 The main thing that sets these mats apart is their size. They're ultra-narrow, in either 10 x 30 or 10 x 48-inch sizes. This is ideal for steps, where full-sized mats would be too large.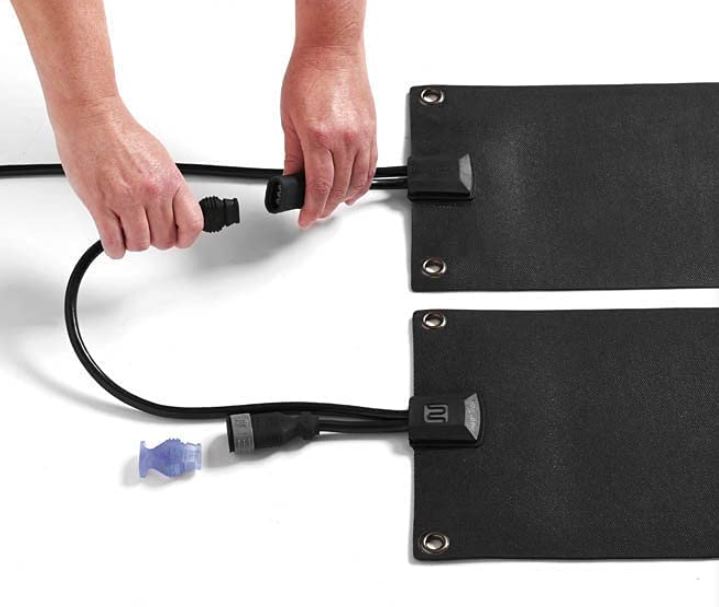 Final Verdict
At the end of the day, each of these heated snow-melting mats has its own strengths and weaknesses. The HeatTrak Heated Snow Melting Walkway Mat is the easiest to install and most affordable. Since it sits on top of your path or walkway, there's no complex installation required. It's also very effective, melting up to two inches of snow per hour. Then again, it draws a lot of power, and you have to put it away every spring.
The WarmlyYours Snow Melting Mat is a better solution for fresh installs. Once it's permanently installed in your driveway or walkway, you don't have to mess with it again. It can be controlled in a number of ways, which gives you more control over how it's operated. Then again, if you aren't installing a new walk or driveway, you won't be able to install the coils.
Last of all, we looked at the HeatTrak Heated Snow Melting Mats for Stairs. These mats are virtually identical to the regular HeatTrak mats, but they're narrower for use on stairs. Not only that, but they can be seamlessly combined with the regular HeatTrak mats for a complete heating system.