Shopping for a new pair of earbuds can be a painful experience. When you start searching, you see literally thousands of options. This might sound like a good thing. After all, the more choices you have the better chance you have of finding a pair of perfect earbuds. But that's the problem. There's actually no such thing as perfect. So when you see tons of options, it can actually paralyze your brain. For example, let's say you walk into a restaurant, and there are three items on the menu. You probably won't have a hard time choosing between them. But if there are dozens of menu options, it's easy to get stuck. Since there's no single, perfect dinner, you can end up cycling through several options, unable to decide. The same is true for earbuds.
So, how do you narrow your options? There are any number of ways. But one method is to focus on a handful of features you're trying to find. For example, let's say you're looking for workout earbuds. In that case, you'd want a pair that's water-resistant, and that has powerful bass performance. If you know what you need, you can easily eliminate most earbuds. Suddenly, you'll have a more manageable pool to choose from. At that point, you can further refine what you're looking for. Do you need great aesthetics? Longer battery life? Sooner or later, your list will be whittled down to just a couple options.
The earbuds we're reviewing today are built for fashion, high-quality audio, and low latency. These are the FIIL CC2 (2021) True Wireless Bluetooth Earbuds. They have a unique aesthetic, with long, square vertical studs and an open case design. They're also built for gaming and movies, with the latest Bluetooth 5.2 wireless technology. And on top of that, their 13.1mm drivers put out some really nice sound. But those are just a few of the features you need to look at when choosing a pair of earbuds. To render a fair verdict, we'll need to take a much closer look. We'll talk about the battery life, the water-resistance, and more. After we've considered all of these things, we'll have a much clearer picture. Let's begin!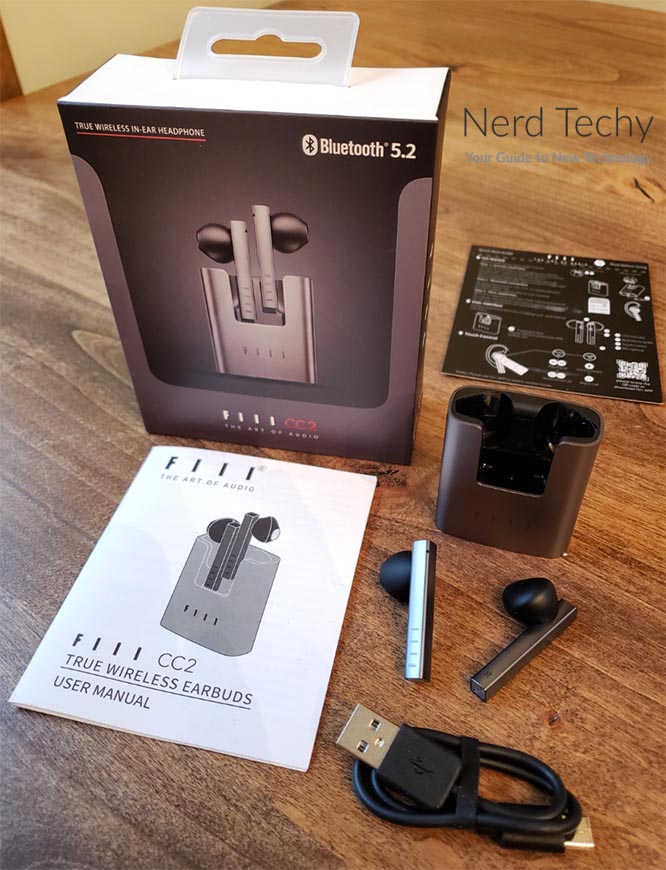 Overall Design
The first thing you'll notice about the FIIL CC2 (2021) True Wireless Bluetooth Earbuds is their unique design. It's really striking, and it's impossible to miss. These earbuds have taken the AirPod-style design and pushed it to the extreme. They have plastic tips instead of flexible silicone, and exaggerated square vertical studs. The studs are steel grey, with a black FIIL logo imprinted on the sides. At the top, there are indicator LEDs, which let you know when the earbuds are linked. The shells that fit in your ears are black, which creates an appealing contrast.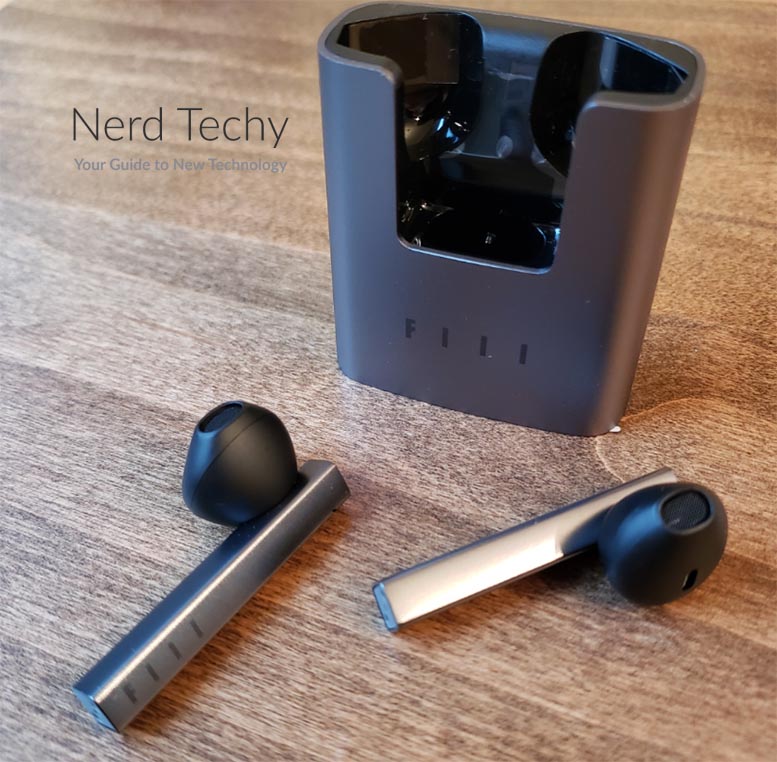 The design is very bold, but comfort may or may not be a concern. Some people prefer silicone tips for their better retention and noise isolation. On the other hand, if you have sensitive ear canals, a hard plastic tip can be better. Since it doesn't actually go "into" your ears, it's less likely to trigger any sensitivities. Regardless, these particular tips do a better job of retention than most solid tips. You shouldn't have any trouble with the earbuds coming out of your ears.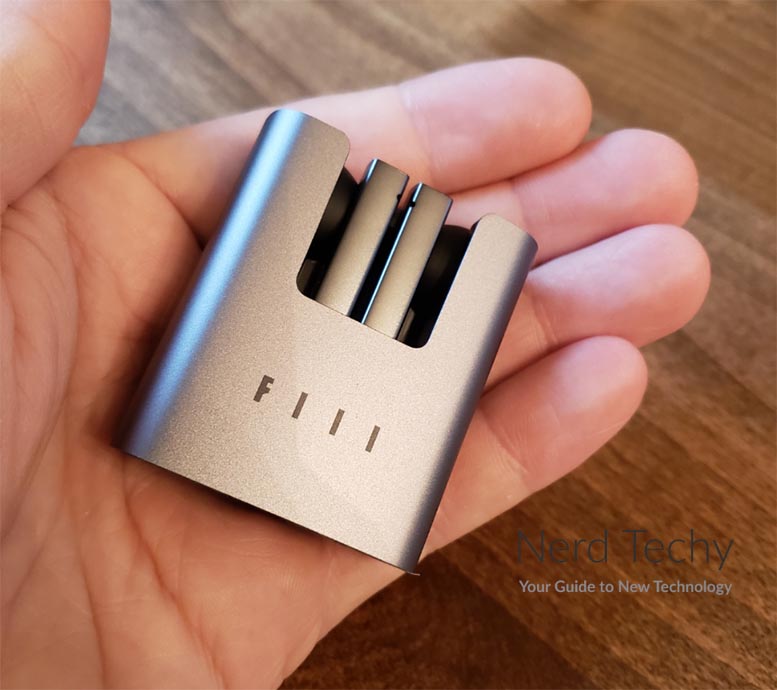 On the backs of the studs, where they meet your ears, there are a set of functional touch controls. These can be used to skip tracks, adjust the volume, and play or pause your music. They can also bring up your phone's voice assistant, so you can use your other apps hands-free. The controls work pretty well; they're sensitive enough without going off at every little touch.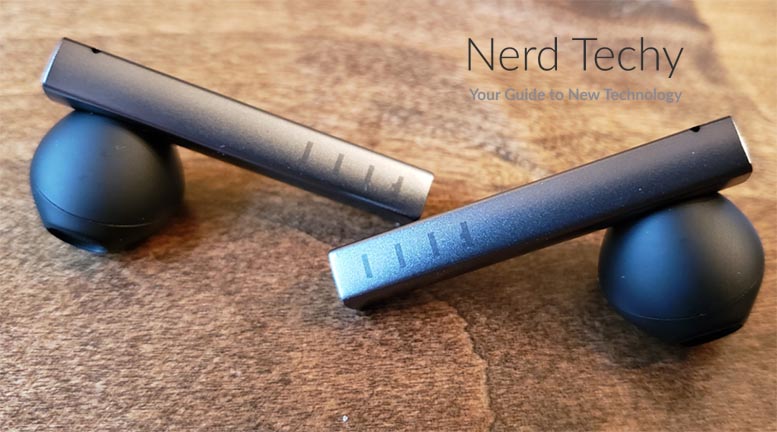 The CC2 earbuds are sweat and water-resistant. However, there's no actual IP rating; or if there is, FIIL isn't advertising is. The lack of an IP rating is disappointing, since it's a universal standard that everyone can trust. This means we can't say for sure how water-resistant these earbuds are. We know they're not submersion-proof, but we'd also avoid using them in the shower, or in heavy rain.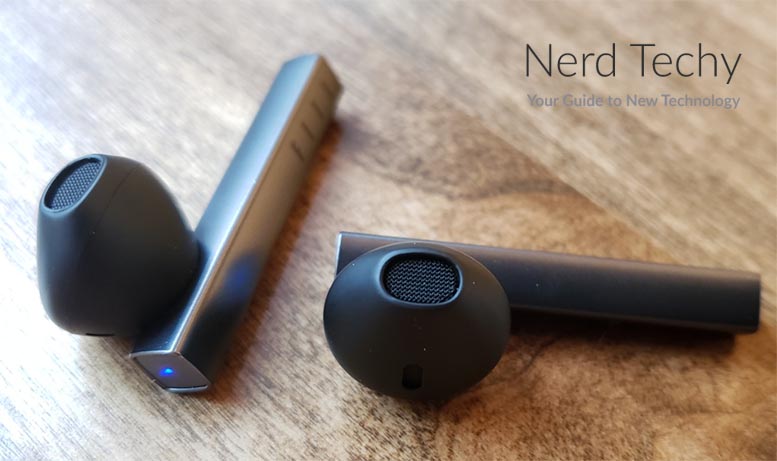 The unique aesthetic doesn't end with the earbuds themselves. In fact, they're only the beginning. The most eye-catching thing of all is actually the charging case. This case has an open design, with the top and front cut away to expose the buds at all time. When the earbuds drop into place, the vertical studs fall into place in the front center. There, they form a pair of vertical bars, which is an attractive accent. You can also clearly see the tops of the earbud shells, as well as the lights on top of the studs. This makes it easy to ensure that your buds are inserted all the way and properly charging.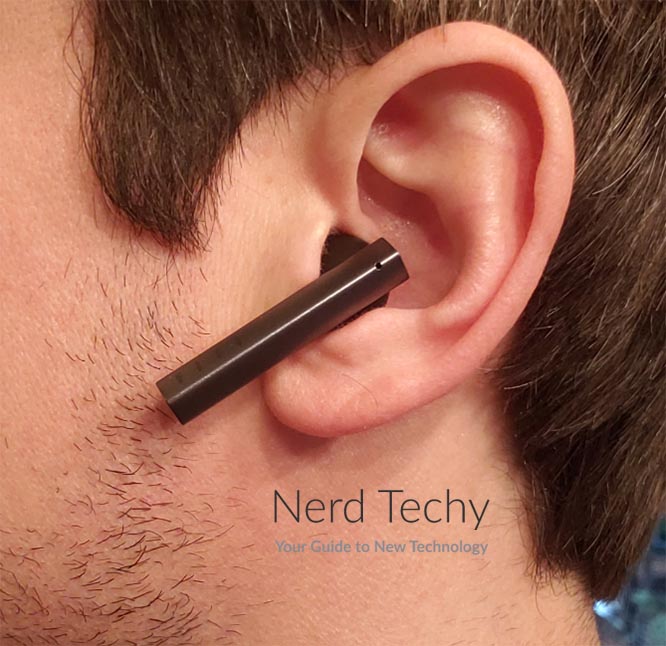 The case has an identical grey color to the buds, with a black top and interior. There's also a black FIIL logo on the front, mirroring the logos on the studs. All in all, it's very well put together from an aesthetic perspective. It's also surprisingly functional. The magnetic retention is good and strong, and you have to deliberately pull on the buds to get them out. That said, there are a couple of drawbacks to the design. To begin with, since there's no lid, there's no way to keep dust out. This means you have to be careful how you carry an empty case. Furthermore, there's no battery indicator on the case itself. You can only guess at when the charging case is full.
If you want a different design altogether, take a look at the FIIL Driifter DNC Plus. Instead of a standard bud-and-case design, these wireless earbuds are connected by a strap. This strap has a fob with the battery in it, and wraps around the back of your neck. It's great for workouts, and very secure. On the downside, you don't have as much of a battery reserve as you do with regular wireless buds.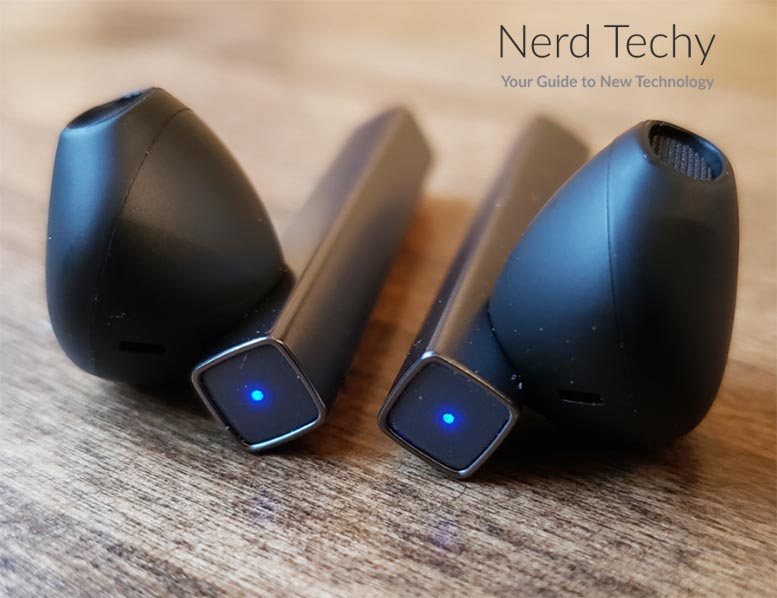 Battery & Connectivity
The CC2's internal batteries will last for around five hours on a single charge. This is as advertised, but keep in mind that rated performance is based on playback at 50 percent volume. If you've got your phone volume jacked up all the way, you'll end up getting shorter life. That said, half volume should be fine for most people under most circumstances. Not only that, but the charging case has enough juice for an additional 5 ½ recharges. That's around 32 hours of playtime before you actually have to plug into a USB port.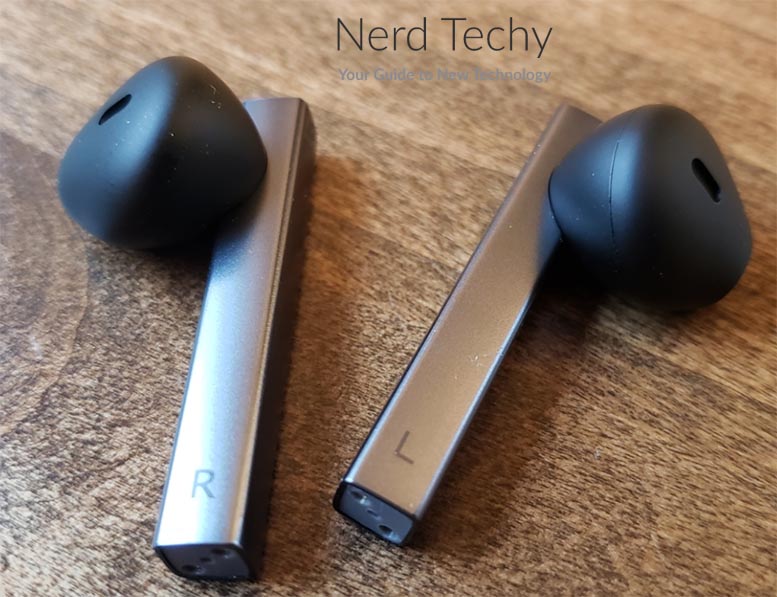 The earbuds take about 60 minutes to charge when they're inserted in the case. They also quick charge at the beginning, so you'll get two hours of playtime from a 10-minute charge. The case itself charges via USB Type-C, and a charging cable is included in the package. It also takes about 60 minutes to charge from a fully dead state.
For more battery life, consider the FIIL T1XS. It offers over six hours per charge, and has a compact, in-ear design with fitted fins. On the downside, the charging case isn't as powerful, with only 24 hours of total playtime.
The CC2 earbuds connect to your phone or other device via the Bluetooth 5.2 wireless protocol. This is the latest Bluetooth version, and has only become available in the last year. It's an upgraded version of Bluetooth 5.0, which in turn has superseded Bluetooth 4.2 as the standard. Advantages of Bluetooth 5.0 include lower latency, higher bandwidth, and a more stable signal. Bluetooth 5.2 has even lower latency, and fundamentally changes the way your earbuds connect. Instead of your phone sending both channels to a single, master earbud, each earbud gets its own signal. This cuts down on delay in the system, which is a great feature when you're gaming or watching movies.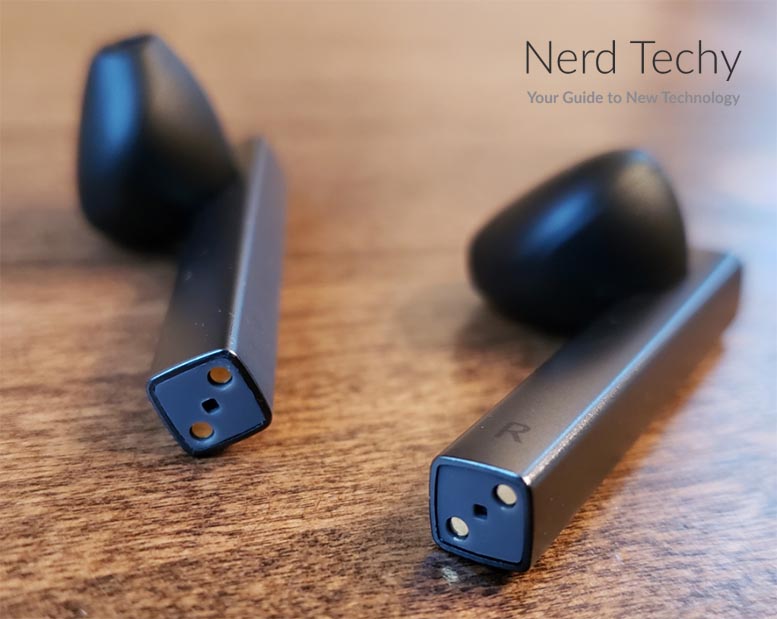 Another neat feature of these earbuds is that they pair automatically whenever the case is near your phone. When you take the buds out of the case, they'll already be paired and ready to go. Keep in mind that this will only work after you've manually paired the earbuds for the first time.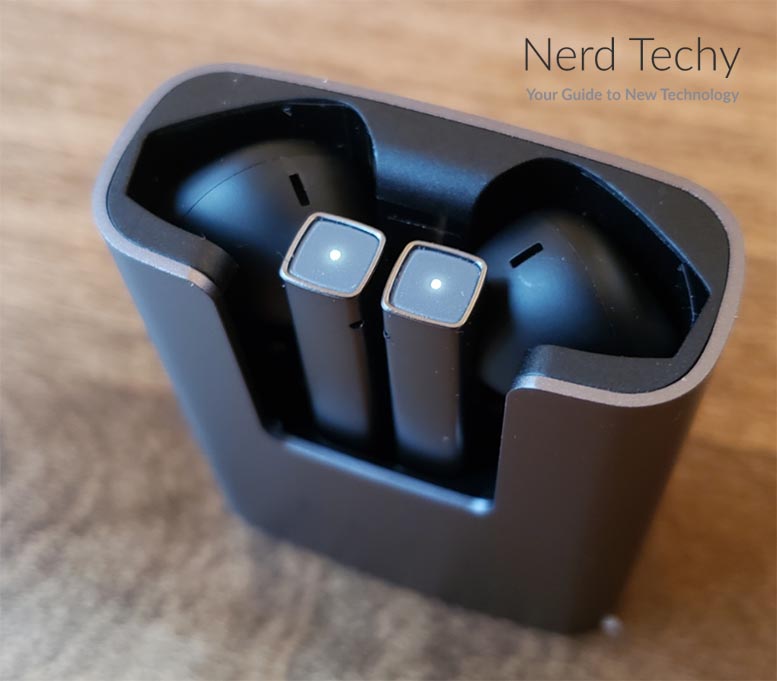 The only major feature the CC2 earbuds don't offer is wireless charging. If that's what you need, take a look at the Raycon Everyday Earbuds. These in-ear buds have powerful bass performance, in addition to wireless charging support. On the other hand, the touch controls are awkward and easy to use.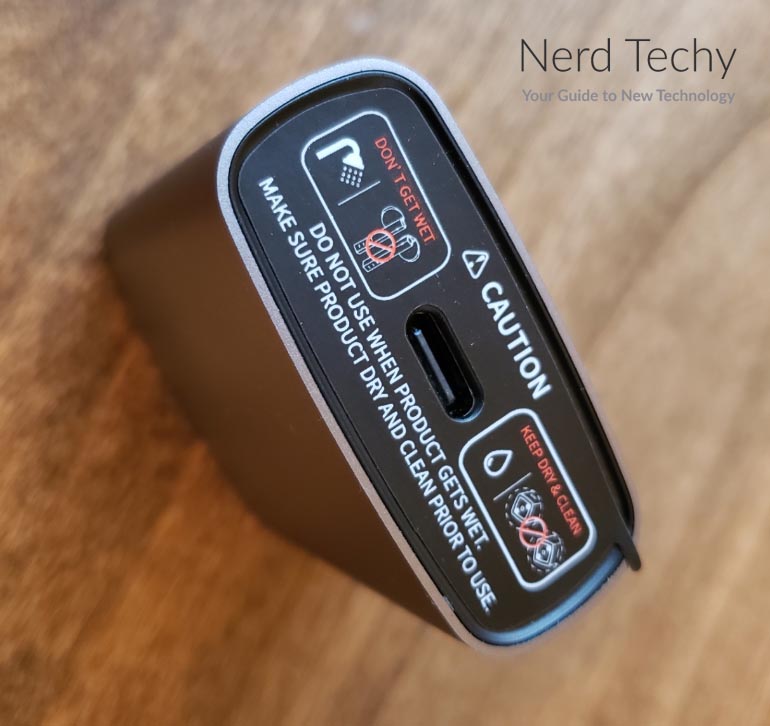 Audio Quality
The FIIL CC2's 13.1mm drivers are very large for earbuds, and produce correspondingly big sound. When you pump up the volume, you can easily drown out the world. But volume isn't the only thing you want from a good set of earbuds. You also want rich audio and a well-balanced EQ. In that regard, the CC2 earbuds do not disappoint. The audio is rich and textured from the highest frequencies to the lowest. Whether you're a classical fan or a hip hop enthusiast, you'll hear every note as the musicians intended. There's also a wide soundstage, which means there's good separation between the instruments. You don't have to worry about the guitarist drowning out the vocalist, unless the music was mixed that way.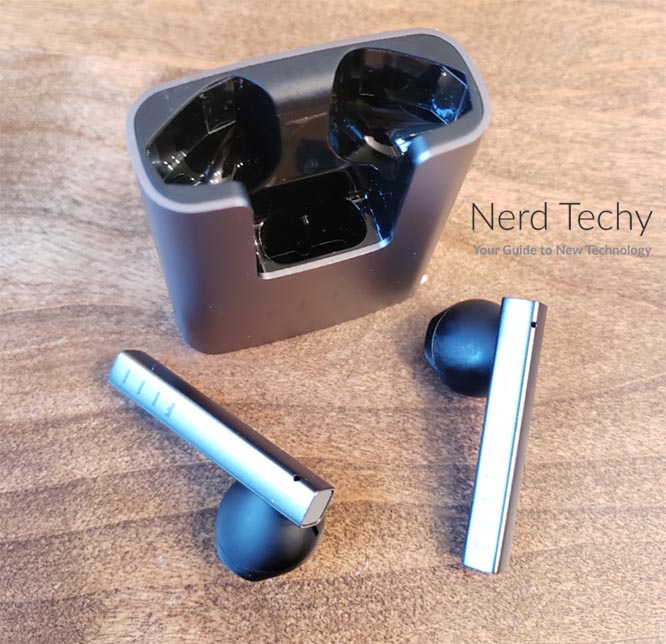 In addition to excellent audio quality, the CC2 buds also come with a companion app for Apple and Android. The FIIL+ app is free to download, and lets you choose between 15 different audio profiles. This lets you adjust the EQ differently depending on what you're listening to. There are also three low-latency modes, for music, gaming, and watching movies. You can also perform other simple tasks, like checking the battery level and resetting the auto-sync function.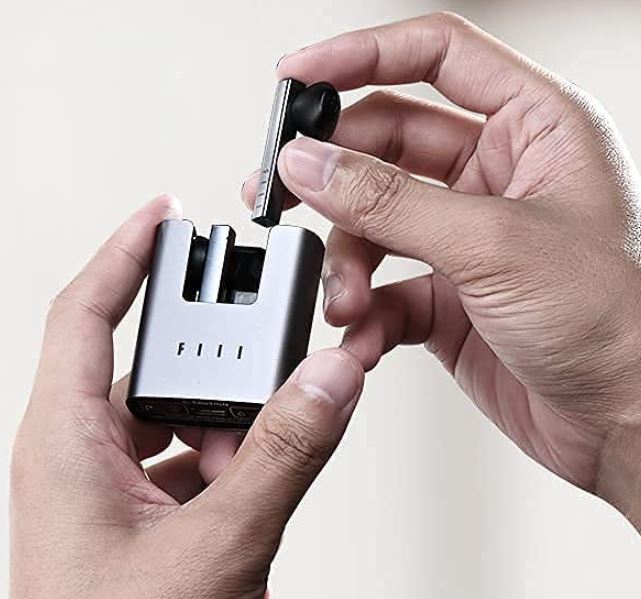 Final Verdict
The FIIL CC2 (2021) True Wireless Bluetooth Earbuds are some of the most unique earbuds we've seen. They also provide some of the best audio quality in their price range. As long as you're a fan of the open case design, they're a great choice.