The PlayStation 5 has been out for nearly a year, and we're finally starting to see true next-gen titles. This is great news for gamers, since you'll finally see a massive boost in improvement over your old PS4. But after a year of ownership, you might find that your 825GB internal hard drive is starting to get full. Now, you could just go through and start deleting games you haven't played in a while. After all, you can download them again as needed. But what if there are several games you play on a daily basis? In that case, you might want to expand your PS5's native storage instead.
Many people use external hard drives for this purpose, but external drives are inherently limiting. For one thing, you can only use drives that meet Sony's DRM standards. For another thing, even if you're using an SSD, you're bottlenecked by the USB connection. You just won't be able to get the same speeds as you will with an internal SSD. Thankfully, Sony has provided a space for adding an aftermarket M.2 SSD. These are ultra-compact, internal drives that are almost as fast as a full-sized SSD.
But not all M.2 SSDs come with their own heatsinks. If yours didn't, you'll need to buy your own heatsink to safely complete the installation. With that in mind, we're about to review three of the best heatsinks for an aftermarket PS5 SSD. Keep in mind that these are only for cooling an M.2 SSD. For general-purpose cooling of your PlayStation 5 console, use a vertical cooling stand instead.
The first heatsink on our list is the EZDIY-FAB Double-Sided Heatsink. This heatsink is specialized for size 2280 M.2 SSDs, which is the standard size for PS5. Next, we'll look at the MHQJRH SSD Heatsink. This heatsink is compatible with almost any SSD, and boasts thick silicone heat transfer pads. Finally, we'll examine the ineo M.2 heatsink. This is a versatile heatsink with a highly-efficient heat-dissipating design. But which one is going to be best for your needs? To find out, we'll need to learn a little more about M.2 SSDs in general. We'll also have to look a little closer at each individual heatsink. Only then will we truly understand what we're looking at. Let's get started!
How to Install an M.2 SSD in Your PS5
So, how do you install an M.2 SSD in your PS5, and what kinds of SSD can you use? Let's begin with the basics. The PS5 will support any SSD with a capacity of 250GB to 4TB, provided the SSD fits. SSD sizes are expressed as a series of four digits. The first two digits represent the width of the drive in millimeters, and the last two represent the length. Larger sizes tend to have a larger capacity, but that's far from a universal rule. The PS5 can fit M.2 SSDs of size 2230, 2242, 2260, 2280, or 22110.
That said, you also have to account for the size of the SSD's heatsink. The maximum width is 25mm, only 3mm wider than the SSD. This means you'll need a tight, narrow case. Length can also be a concern if you're using a larger SSD. For 22110 SSDs, in particular, it's nearly impossible to find an aftermarket heatsink that fits. You'd need to find an SSD with its own heatsink, specifically designed for the PS5. In practice, 2280 is the largest size you'll be able to use effectively. But that's not a major concern, since you can find very large capacities in that size.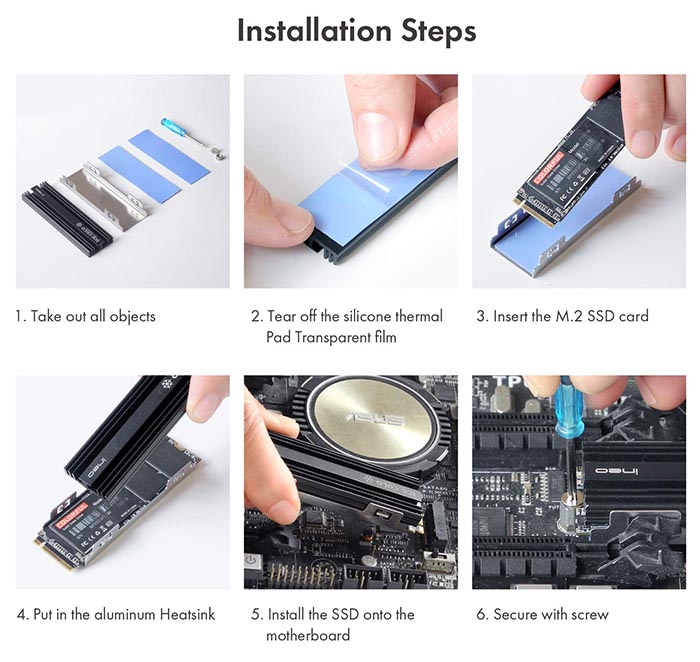 To begin the installation process, you'll first need to install your SSD in its heatsink. The whole thing will be designed to install as a unit, so follow the heatsink manufacturer's assembly instructions. With that done, shut off your PlayStation 5 console, and unplug all of your cables. If you've just been using the console, let it sit for about half an hour to cool down. You don't want to burn yourself on any hot components.
Take the console off it's mounting base, and lay it down flat on a protected surface. A table with a towel on it is ideal. With the logo facing down and the power button facing away from you, grab the top two corners of the cover. Lift it gently, so it feels loose. It won't lift out all the way, though. Instead, you'll need to slide the cover off to the right. At a certain point, it will free up completely, and you can simply lift it off.
Inside the console, you'll need to identify the storage expansion slot. This will be covered by a long, rectangular cover next to the Blu-Ray drive and beneath the cooling fan. This cover is secured by a single screw, at the left side. Remove the screw and cover, and you'll find a second screw and spacer inside the expansion slot. There are a series of grooves inside, corresponding to different M.2 SSD sizes. Find the appropriate groove for your SSD, and put the spacer in it. Retain the spacer for now.
Inserting the SSD is the hardest part. You have to start from a vertical, diagonal angle, and push the card down and into the slot. Once the contacts start to insert, the card and heatsink should swing into place like a closing door. Double-check that the drive is inserted all the way. If it's not, you could damage the drive, or even your PS5 console. You'll know it's fully inserted because the hole will be lined up flush with the spacer. If it's not, don't try to screw it in, since you'll end up breaking something. Instead, apply firm pressure while wiggling the drive to get it to fully seat. Once the screw can go through the hole effortlessly, drive it in, and make sure it goes in all the way.
Now, replace the expansion slot cover, and screw it into place. As long as your heatsink meets the size requirements, the cover will click into place easily. Now, you're ready to fire up your console. Reconnect all your cables, and turn on the power.
If this SSD has previously been used on a PS5 console, you'll be ready to start gaming. Otherwise, the console will automatically bring up a formatting wizard. It's pretty self-explanatory, and all you have to do is follow the instructions. That said, keep in mind that this is a full reformat. If you already have data saved on the drive, it's going to be gone – forever. The formatting process will only take a few minutes, although it will take longer for larger drives. Once that's complete, you can use your new drive the same way you use your original storage.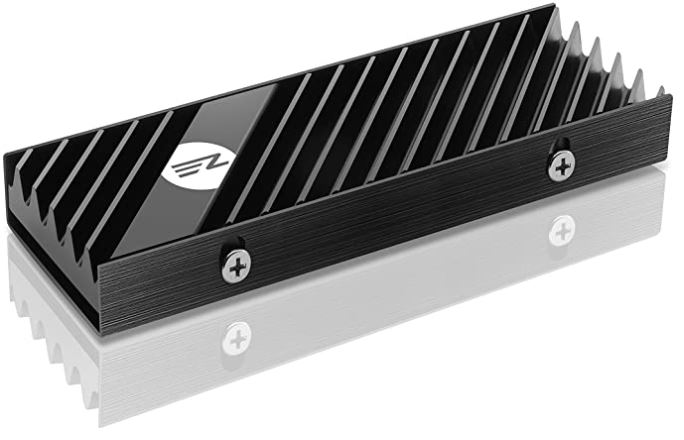 EZDIY-FAB Double-Sided Heatsink
EZDIY-FAB is a longstanding manufacturer of DIY computer components. Among other offerings, we've reviewed their PCIe riser cables for upgrading your PC. The EZDIY-FAB Double-Sided Heatsink has an anodized aluminum housing, which is available in either black or silver. The difference in color is irrelevant on a PS5, since it will be completely hidden. That said, if you were using it for a PC, it might make a difference. The top half of the housing is ribbed diagonally, which is another thing that could be a great feature on PC. But on the PS5, the air will flow through from one side of the housing to the other. For that reason, straight ribs would actually have been more efficient.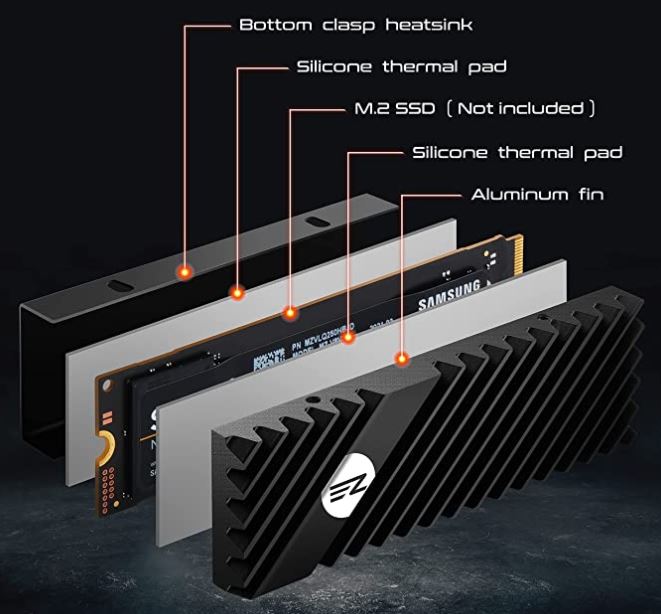 That said, there's a lot to like about this heatsink. For one thing, it has a small profile, so fitting it inside doesn't present much of a challenge. For another thing, it utilizes high-efficiency silicon wafers instead of padding, for better heat conduction. That said, this more rigid design is not without its downsides. While the EZDIY-FAB heatsink supports 2280-sized SSDs, the largest practical size for PS5, that's all it supports. If your SSD is any longer or shorter, you'll need a different heatsink.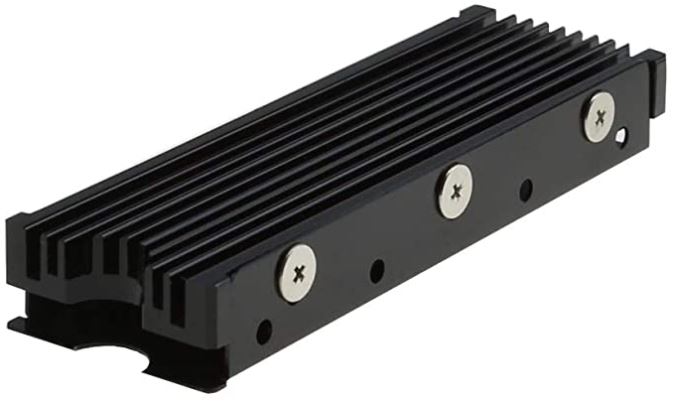 MHQJRH SSD Heatsink
The MHQJRH SSD Heatsink has a similar design in many respects. However, the top has vertical slots for improved air flow. In addition, the thermal pads are soft and rubbery, which allows for better flexibility. This heatsink will support any PS5-compatible SSD, except for size 22110. And thanks to the flexible padding, you can use pretty much any width SSD.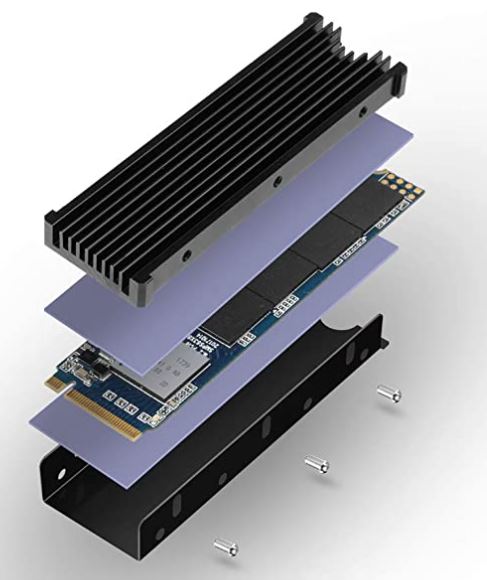 Even better, the housing is held together by six screws, in vertical slots for flexibility. You can make the heatsink fatter or thinner as needed, simply by adjusting these screws. The downside of this design is that adjusting the thickness can be a pain. If you're a novice at electronics, you might want an heatsink that's easier to install.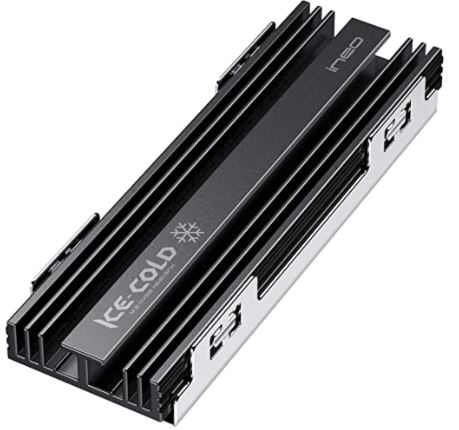 ineo M.2 heatsink
Ineo is an experienced manufacturer of heatsinks. We recently reviewed their M.2 heatsink for PCs, and we liked what we saw. The ineo M.2 heatsink for PS5 is of similar quality. The black aluminum alloy housing is beautifully built for dissipating heat. Not only are there long vertical ridges, but the T-shaped center ridge forms two channels on either side. This top housing clips into a lightweight aluminum base, with silicone thermal pads on both inner surfaces. These cradle your SSD gently, and help transfer heat outwards.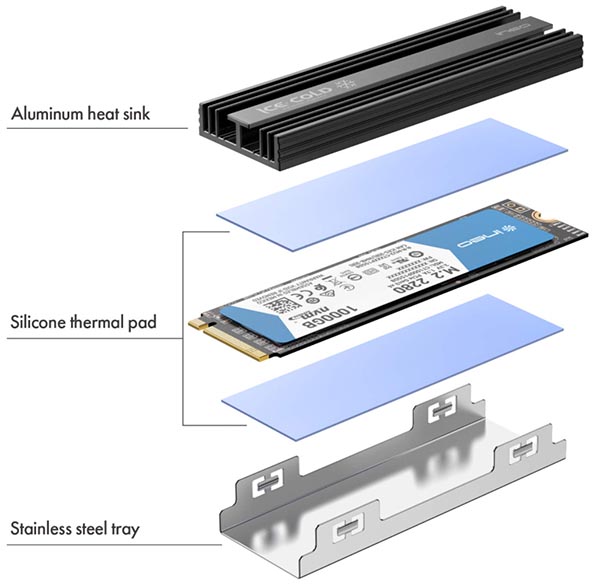 Installation is easy. Because the top housing clips in, you only need a single screw. The kit even includes a screwdriver and a spare spacer. On the downside, this heatsink will not accept 2280 or 22110 heatsinks. It will only accept sizes 2260 and smaller.
Final Verdict
So, which of these heatsinks is going to be right for you? The EZDIY-FAB Double-Sided Heatsink is compact, easy to assemble, and exceptionally durable. That said, it only supports 2280-sized SSDs, and the diagonal ridges are not ideal for the PS5. All in all, it's better for PCs than for a PS5 console.
The MHQJRH SSD Heatsink is the most versatile design. It will fit any size M.2 SSD other than the elusive 22110, and it has an adjustable thickness. It's also reasonably effective, with deep vertical cooling grooves. The only real downside is that it can be a pain to put together. The ineo M.2 heatsink is slightly less versatile, since it won't accept 2280-sized SSDs. However, it supports all smaller sizes, and it's exceptionally effective for cooling. It's also the easiest to install, with only a single screw required for assembly.