As gamers look for new and exciting ways to spruce up their cases, manufacturers have started looking for creative ways to design the layout. Just a quick scroll through your favorite PC hardware vendors case listing and it's clear to see that there is much more on the market than your average, run of the mill ATX cases.
This change didn't happen overnight. As hardware gradually improved, case manufacturers were able to find unique ways to mount this hardware. For example, take a look at internal storage. In 2005, top of the line cases had a massive rack mounted towards the front of the case, allowing users to conveniently install an array of 3.5" hard drives. Today, the king of storage is a 2.5" SSD. Now, virtually every enthusiast grade case on the market has a unique placement for your main storage drive. Some mount them right up against the front window, while others tuck them down below the GPU.
At the same time these changes were made, we started seeing more compact designs for our cases. With not as much space required for storage, this space could be removed to create a more compact case, or manufacturers could use the space for additional cooling.
The same changes can be seen with all types of hardware evolution. Water cooling systems changed the fan layout. ITX motherboards allowed for portable computer cases. SLI changed the shape of the ever popular bay windows.
Case designers have to work within the limitations of the hardware we use. Until the hardware changes, manufacturers are not going to make design changes that could alienate their customer base. But there is one piece of hardware that is stubbornly refusing to be made more compact – the graphics card.
If you're a gamer, your graphics card is probably the pinnacle of your entire computer system. When given the choice between something faster or something smaller, most users will always choose the faster option. For case makers, this is a big pain in the butt. Graphics cards are large, produce a ton of heat, and generally require a lot of space and cooling to make everything work.
This is where PCI express riser cards come in. While you can't change the card, you can certainly change where it is mounted. These cables work like extension cords for your PCI express slots. With one of these puppies, you can mount the graphics card flush against the window of your case, closer to your water block, or anywhere you want.
That being said, there are a couple things you need to consider. If you don't get the right cable, or use it incorrectly, you could seriously impact the performance of your graphics card. In this review, we'll be taking a look at the two best PCI express riser cables on the market. We'll show you the differences between them, and help you find the one that's right for your machine.
EZDIY PCI Express X16 Riser Cable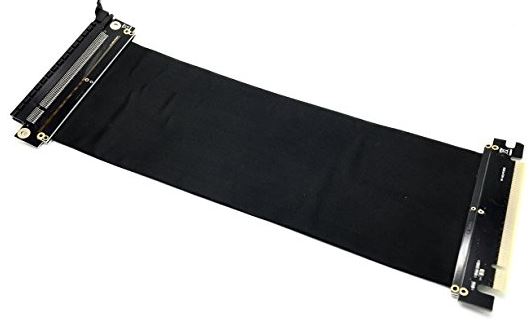 EZDIY is a company who makes products designed for those who like to build their own system. If you're the type of person who likes to slap components in a generic box, you'll probably have never come across their offerings before. But if you like to tweak, adjust, and build something that you can call your own, then they've got the resources you need. What we like about EZDIY is the quality. Some of the things they sell, such as fan controllers, port replicators, and even these riser cables, are commonly viewed as cheap. Vendors looking to make a quick buck might slap something inexpensive together and sell it in bulk, but EZDIY knows that the quality needs to be there so that your systems performance isn't impacted. With many users reporting issues with cheap riser cables, we thought theirs would be worth a shot.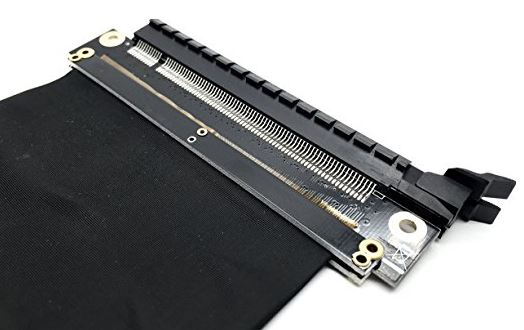 Design
There are two different versions of the EZDIY PCI Express X16 Riser Cable available. The 9 cm version is geared towards people who are looking for a quick and easy vertical mount, or who are trying to install a full size graphics card into an ultra compact case that does not have the height requirements. If you're looking for a little more control over the placement of your graphics card, then the 25 cm version is available as well These measurements are not the complete length of the unit as a whole, but just the cable itself. The sockets and PCBs add a few extra centimeters on each end, so you'll want to factor this into your calculations.
On each end of the cable, there is a fairly robust PCB. This is a surprisingly important component. The PCI express bus has a ton of tiny little leads all carrying large volumes of data and often high levels of current. On your motherboard, these tiny little leads are coming up from inside the board and being physically mounted to a rigid socket. But with one of these cables, the pins have to be converted into a signal that can travel across a solid piece of copper wire. This isn't as simple as you may think. This is the purpose of the PCBs. It gives a precision circuit that is designed to convert these signals as accurately as possible without adding any loss to the circuit.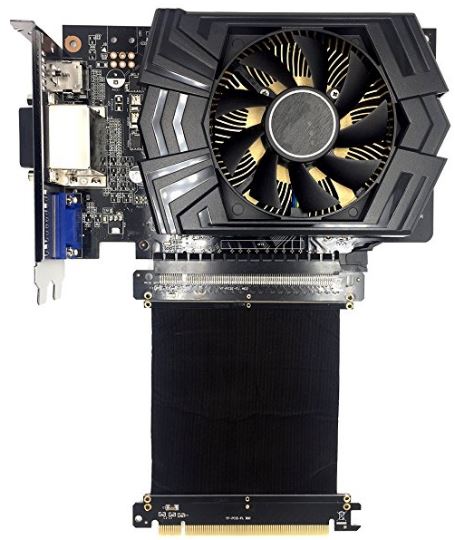 Performance
Here's the thing about these cables: they can never speed up your system. But that doesn't mean that they can't slow it down. If the signal is distorted or reduced in any way, you're going to have some performance issues. With the first card we tried, our GTX 1080 started to stutter playing games at a measly 30 frames per second. Once we encountered this, we knew that there was a pretty serious problem. After trying many different things, we quickly learned what to look for when selecting one of these cables.
The first part we inspected was the lead quality. Every contact on this cable is gold plated, which is one of the most conductive metals available. Since gold is so expensive, this is often one of the first things to go in budget priced cables, so the fact that they are included is a huge plus.
The next thing to look for is shielding. Have you ever noticed your speakers buzz when your phone is sending or receiving data? Or perhaps the FM radio gets fuzzy as you drive over a power line? This is caused by inductive current. A voltage source located close to a wire can actually cause a change of current flow inside the cables. If you're like most users, when this cable is installed it might run alongside your motherboard for a bit. And there are lots of voltage sources on the motherboard. Shielding is a metal foil that wraps around the cables. It protects it from interference, so your PCIe signal is completely unmodified. With all of these features in mind, we detected absolutely no interference or loss of performance while using this cable.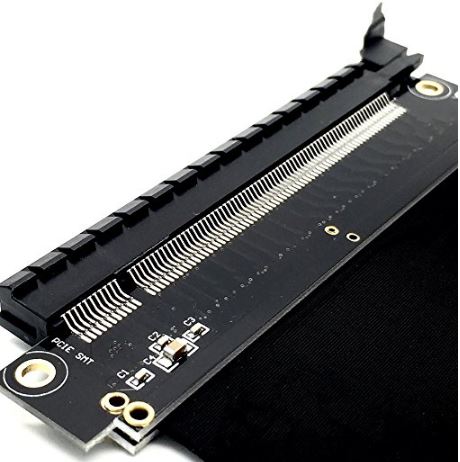 Value
How valuable this cable is depends on how you're going to use it. It's certainly not the cheapest on the market, but it's certainly one of the best. The main draw of all of it's features is the fact that this is a high-speed cable. It doesn't matter if you're running the latest graphics card on the market, or daisy-chaining multiple cables together. This thing is seriously overbuilt, and the extra money you're spending buys you rock-solid reliability.
Sintech PCI-E Express X16 Riser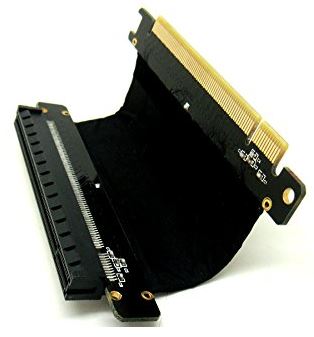 Sintech isn't so much of an enthusiast company as much as they're a tool company. They believe that hardware should serve a purpose, and this is clear when browsing through their product lines. You will, however, notice a common trend. There is a lot of PCIe hardware. From M2 SSD adapters to PCIe breakout boards, this company has a lot of experience working with this bus. The issues people have encountered with questionable 3rd party riser cables wasn't because they didn't come from a reputable company, it was because they were buying a first generation product from a company that didn't have much experience with the PCIe bus. With Sintech's track record, we knew we had to give their riser cable a shot.
Design
The Sintech PCI-E Express X16 Riser is one of the most compact riser cables that you can buy. Sintech simplified some of the hardware, allowing them to shrink the PCBs by a few millimeters. They use s single layer gold PCB, allowing all of the cables to run side by side. This means that there is no complicated connections from board to ribbon, making for an ultra-short PCB. The cable itself is only 5cm in length, allowing you to do a quick 90 degree rotation.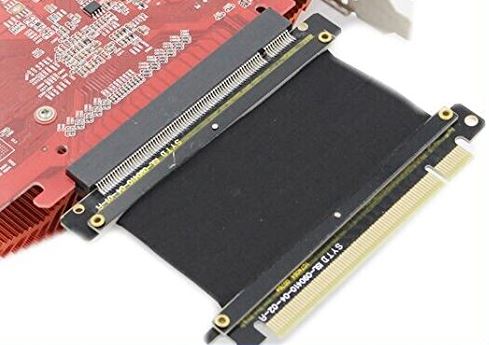 The benefit of such a short cable is that it doesn't need to be managed. You can do the entire run through the air, and it won't make contact with any part of the board. Despite it's short length, it's still highly flexible, so you can do the tight maneuvers you need to get your hardware where you want it.
Performance
Like our other recommended model, this one had zero measurable loss of signal. All of the important features are there. The connectors are gold plated, and the cable itself is shielded from induced interference. The nice thing about this cable is that it has very low impedance. This is something you'll want if you're using an extremely high throughput card. Professional grade hardware, such as Nvidia Quadro cards used for CUDA calculations or render farms are particularly challenging to run, and longer cables just won't cut it. With this model, you won't have any problems at all.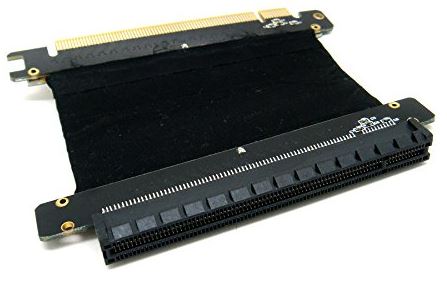 Value
Despite all of the high end features on this card, it's still one of the cheapest models on the market. For the end user, this represents incredible value. If you don't need the longer length, you can certainly save a few bucks with this cable.
Which PCIe Riser Card Cable is Right for Me?
Now that we've seen our two recommend cables, you should have a pretty good handle on which models are suitable for which purposes. But if you're still unsure of which model to buy, the answer boils down to one simple question:
How challenging is the environment where I expect this cable to work?
When we say 'challenging,' we're talking about a few different things. Do you need to place your card a long distance from the actual PCIe slot? Is it going to be running up against voltage carrying circuits (such as other PCIe slots?) Do you plan to daisy chain multiple cables together? If you answered yes to any of these questions, you'll want to get yourself an EZDIY PCI Express X16 Riser Cable. While the hardware might be a little overkill for some, the high quality design means that you can guarantee that you won't have any performance issues.
Are you just looking to make a simple 90 degree rotation? Are you using high speed cards for professional use? In this case, grab the Sintech PCI Express Riser. The longer the cable is, the harder it is to design. With this ultra short model, you can guarantee functionality of your system while saving a few bucks in the process.
Was this helpful? Please consider sharing: