Finding a good set of wireless earbuds seems like it would be easy. There are so many thousands of options that anyone should be able to find a decent pair. But for every reliable set of earbuds, there's a cheap knockoff that will only disappoint you. If you're not careful, you could end up paying full price for earbuds that live up to your standards. So, how do you find the best pair of earbuds in your price range?
The first thing to look for are features that can be objectively quantified. For example, most earbuds come with battery life ratings, water-resistance ratings, and so on. So think about which features you need. Do you want to use your earbuds in a shower? Look for a pair that's waterproof. Do you want to use your earbuds for online gaming? Look for a pair with one of the newer Bluetooth versions. Along the same lines, things like the physical design are pretty easy to figure out at a glance.
Of course, there are also some factors that are more subjective. If you're reading reviews, people will often disagree on how good the audio quality is. One person might say the bass is too strong, while another thinks the EQ is perfectly-balanced. In this case, the best you can do is look for a pair that roughly lines up with your preferences.
We're about to review the Raycon The Everyday (E25) Earbuds (2021 Edition). These are the latest in Raycon's E25 line, which has been around since 2019. However, Raycon has made several changes over the years, leading to this new 2021 edition. These buds build on the E25's already-sturdy foundation. The IPX4 water-resistance of the original has been upgraded to IPX6. The batteries last longer, and there are a handful of bonus features. For example, you can now switch between three different audio modes, so the new buds are a bit more versatile. But are they worth the investment, or would you be better off looking somewhere else? Let's take a close look at the new E25 earbuds, and see what they have to offer!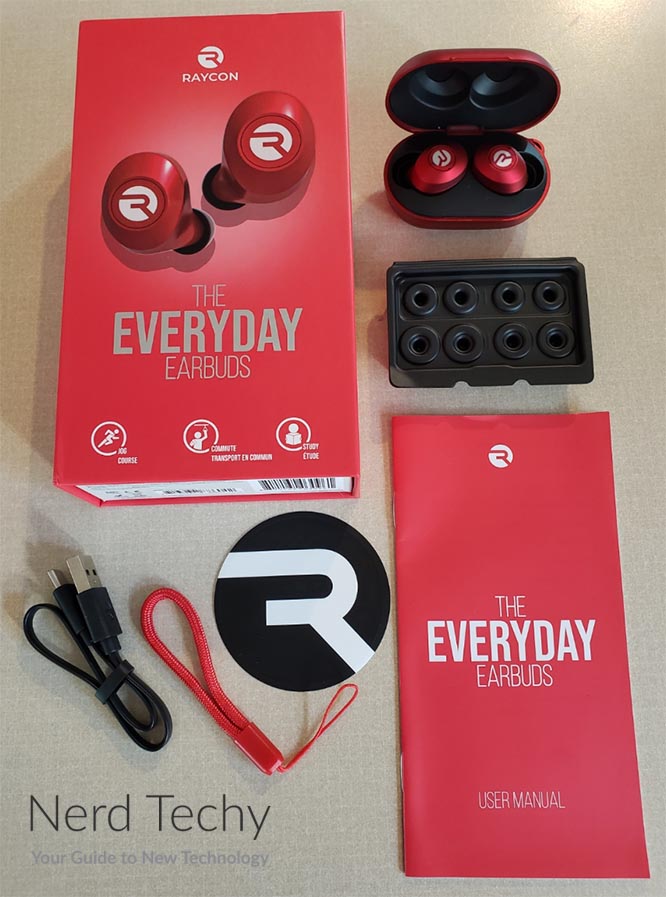 Overall Design
The Raycon The Everyday (E25) Earbuds (2021 Edition) look virtually identical to the originals. In terms of sheer cosmetics, nothing has changed at all. These are compact, in-ear buds with no protruding studs. The shells are constructed from a satin plastic, which resists fingerprints and is easy to keep clean. And unlike most wireless buds, you're not stuck with a boring black. In addition to black, you can also order these earbuds in blue, white, red, or rose gold.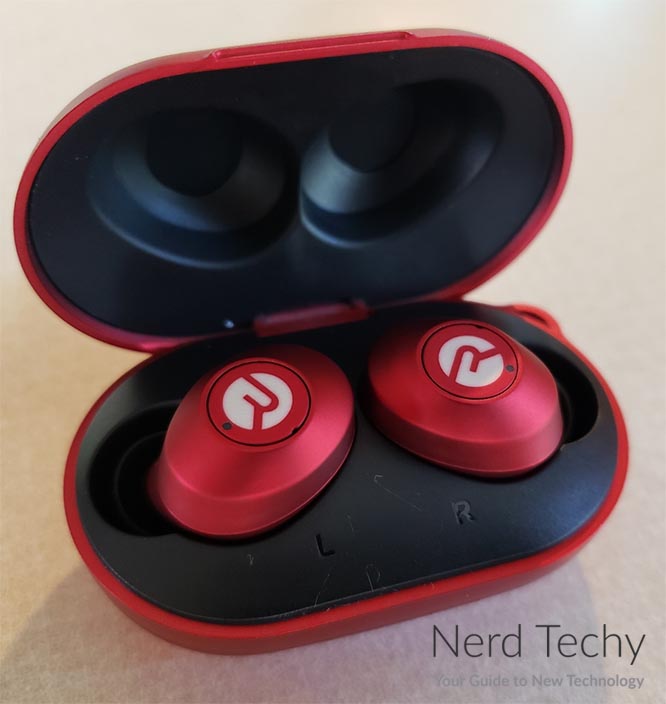 The package includes five separate sets of gel ear tips. This gel material is exceptionally soft and flexible, and comfortable to wear. As a result, the E25 earbuds are ideal if you're going to wear your earbuds for long stretches of time. On the downside, the gel material wears out faster than silicone. After about six months of use, you'll find that the buds don't stay in your ears as well as they used to. Thankfully, you'll have plenty of backups. Not only that, but all the five tip sets are in different sizes. As a result, you can find the perfect fit even if your ears are unusually large or small.
On the back of each earbud, you'll notice a grey Raycon logo. These logos roughly correspond to the earbuds' touch controls. You can tap, press, or double-tap to perform a number of functions. You can play and pause music, answer or end calls, and bring up your phone's voice assistant. Unfortunately, these controls are a bit twitchy, and don't always seem to work as designed. Not only that, but you can only play or pause with the left earbud. This can be problematic if you're only using one earbud at a time.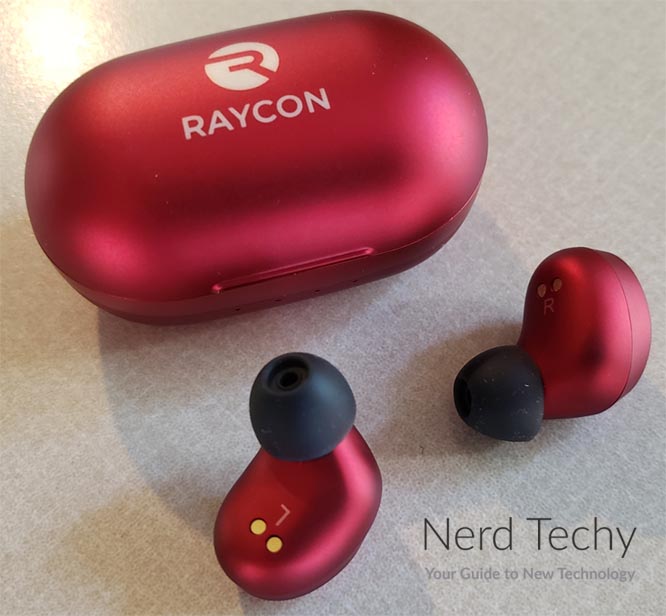 One area where the 2021 Edition has been upgraded is water resistance. The original E25 had a rating of IPX4, which is basically sweat-resistant. IPX6, on the other hand, is the highest water-resistance rating short of full submersion. If they happen to get dropped in a puddle, or if you need to wash them with water, it's not a problem. We should note that you could technically take them in the shower, but we wouldn't recommend it. If they get dropped into turbulent, soapy water, we'd have some concerns. But all in all, the IPX6 rating is a nice upgrade from the original.
Another popular Raycon alternative is the Raycon E50. These earbuds are similar to the upgraded E25 in many ways, including the audio quality. But they come with the added bonus of a beefier design, with a built-in ear fin for added security. On the downside, their battery life is significantly shorter.
The Raycon Everyday Earbuds come with a charging case that looks the same as the original's. It has a wide, oval shape, and is designed to lie flat on any surface. The shell is constructed from the same plastic as the earbuds, and comes in a matching color. So if your earbuds are blue, your case will also be blue. The lid has a clamshell-style design, and it's spring-loaded. This makes it easy to snap open, while it stays shut for as long as you need it to. Inside, there's a pair of molded wells, with little copper contacts for charging the earbud batteries. The earbuds slip easily into place, and they charge reliably whenever they're inserted.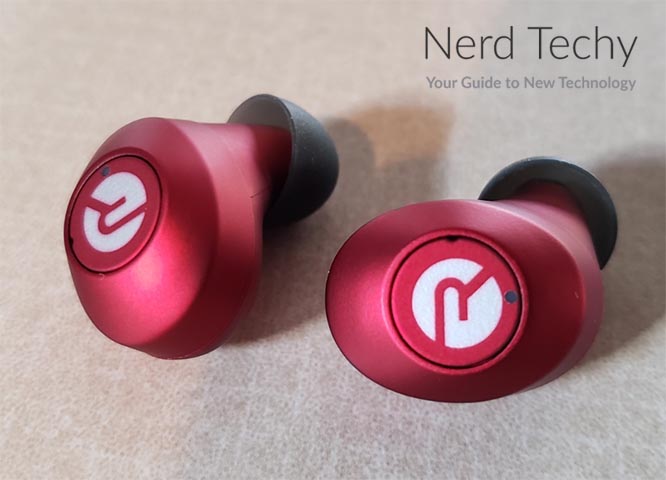 The front of the case's lid has a little lip, so you can open it with just a finger or a thumb. Just underneath this lip, you'll see a row of four LEDs. These indicate the battery status of the case itself. That way, you'll always know when you're starting to run out of juice.
Both the earbuds and the case are covered by Raycon's 12-month manufacturer's warranty. If there are any defects, or even if the buds just fail prematurely, you can get a replacement or a refund.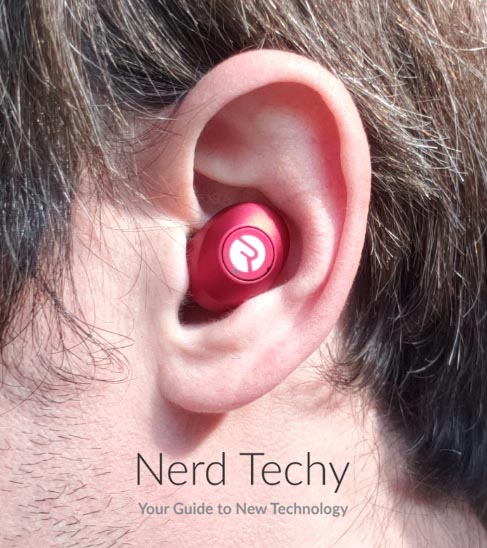 Battery & Connectivity
When fully charged, the 2021 Edition E25 earbuds will provide approximately eight hours of playback. This is a standard manufacturer rating, which means it's based on playback at half volume. At full volume, somewhere in the neighborhood of six hours is more reasonable. That said, half volume is actually relatively loud, so you can expect the buds to last for a while. Not only that, but the charging case will provide three additional charges. In total, you can get 32 hours of playback before you have to plug the case in. And you'll get even more if you're only using a single earbud.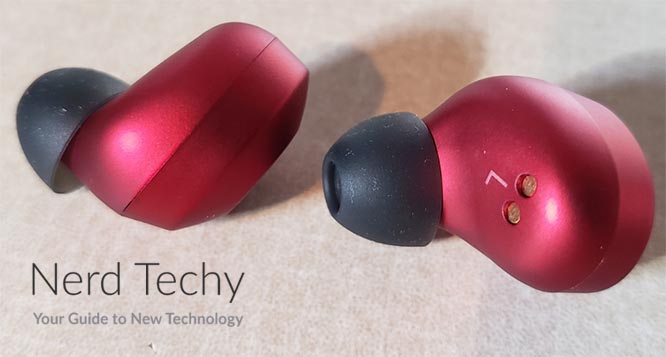 When you do need to charge, the earbuds themselves will be fully powered in less than 90 minutes. The same goes for the case when it's charged in via USB Type-C. There's a Type-C cable included in the package, so you're ready to plug in from day one. Alternatively, you can use a wireless charger, which many people find easier. It will take longer that way, but that might not be an issue. If you're dropping the case on the charger overnight, for example, it won't matter how long it takes. It'll be done in plenty of time, regardless.
The upgraded E25 earbuds utilize the same wireless protocol as the original: Bluetooth 5.0. This remains the standard for most smartphones and earbuds on today's market. Bluetooth 5.0 is an upgrade from the earlier protocol, Bluetooth 4.2. The most notable feature is a decrease in latency. There's less delay between when a signal is sent and the sound is actually produced. This makes it easier to watch movies or play video games. In addition, Bluetooth 5.0 provides a more stable signal, for fewer dropped connections. Finally, it allows for a higher bandwidth, so you can listen to music at higher bitrates.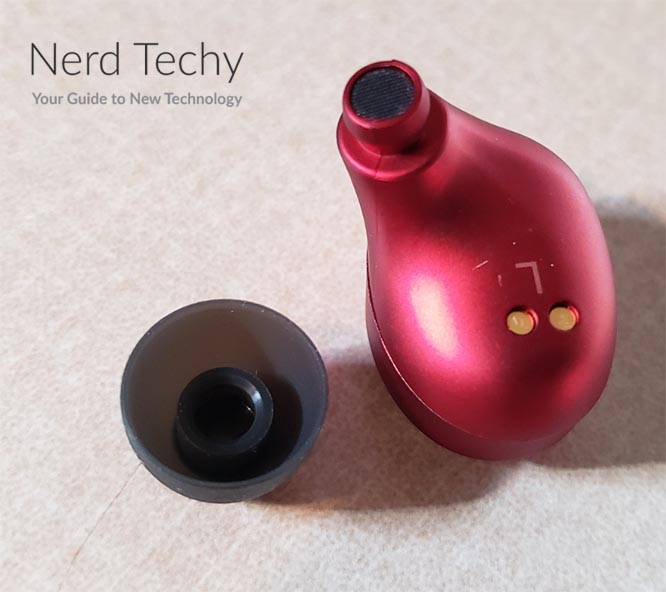 Audio Quality
The Raycon Everyday Earbuds provide similar audio quality to the original. It's not exactly studio quality, but it's reasonably rich across all frequencies. The bass is deep and punchy, the highs are clean and clear, and there's a wide soundstage. This means there's a sense of space, and real separation between instruments. As a result, the sound has a "live" feel, whether you're listening to music or watching a movie.
But in addition to having similar overall quality, the new E25 buds have three audio profiles. Without getting too far into the weeds, these are three different EQ settings. This allows you to change the feel of your music without using any fancy third-party apps. That said, the overall profile is always heavier on the bass than you'd expect. This was a major feature of the original 25, which were known for their powerful bass presence. So even when the EQ is purportedly flat, you'll still hear a lot of the lower frequencies.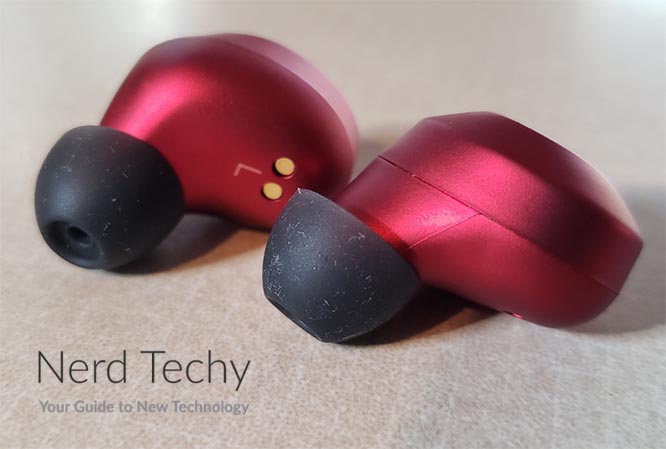 If you like the E25, but you don't want that much bass, consider the Raycon E25 Pro instead. This is yet another E25 variant, but it's designed with a flat EQ instead of with a lot of bass. Then again, it might be less bass than you actually want.
The new E25s also come with a special "Awareness Mode." In this mode, they'll amplify noise from outside. It's similar to the transparency mode on a pair of ANC buds, except these buds don't have ANC. If you do need ANC, the Raycon H50 and H100 might be a better fit. They provide extraordinarily high audio quality, as well as active noise cancellation. On the other hand, they're full-sized, over-the-ear headphones.
Call quality on the new Raycon E25 has been upgraded with their improved voice technology. The microphones are tuned to focus on your voice, and to eliminate background noise. As a result, the other person is able to hear you more clearly.
Final Verdict
The Raycon The Everyday (E25) Earbuds (2021 Edition) are a well-designed upgrade to earbuds that are already popular. With longer-lasting batteries, additional sound modes, and higher water-resistance, there's a lot to like. If you were a fan of the original E25, you'll be very pleased with the new model.