Backing up your vehicle is sometimes necessary, but it can pose unique challenges. Even in a regular sedan, you might not be familiar with your environment. Is there a small post or a rock behind you, just short enough that you can't see it over the trunk? The only way to find out is to wait for the crunch. Larger vehicles present even more challenges. Trucks, buses, and RVs have notoriously large blind spots that could hide people and vehicles. And when you're backing up with a trailer, you may even be backing around a curve or a corner. In all of these cases, a good quality backup camera can make a huge difference.
For this reason, a lot of newer vehicles come with backup cameras already installed. But your vehicle may not have this feature. Maybe it's an older vehicle. Maybe you bought the car with the navigation package instead of the one with the camera package. Whatever the reason, just because there's no backup camera built in doesn't mean you can't use one. Instead, you'll have to rely on an aftermarket camera to do the task. But there are many such cameras available on the market. To find a good one without wasting your time, it helps to stick with a reliable manufacturer, like AUTO-VOX.
Today, we're going to be reviewing the AUTO-VOX W10 Digital Wireless Backup Camera. This is a two-piece camera kit, consisting of an exterior camera and an interior dashboard monitor. When you put your car in reverse, the monitor lights up, and you can see out the back of your vehicle. But what sets it apart from other, similar third-party cameras? To answer that question, we'll need to take a deep dive into all the W10's features, benefits, and drawbacks. We'll look at the design of the camera and the quality of the display. We'll talk about how it's installed, and what your setup options are. Finally, we'll go over some of the extra features this camera offers. After that, we'll fully understand what we're dealing with. Let's begin!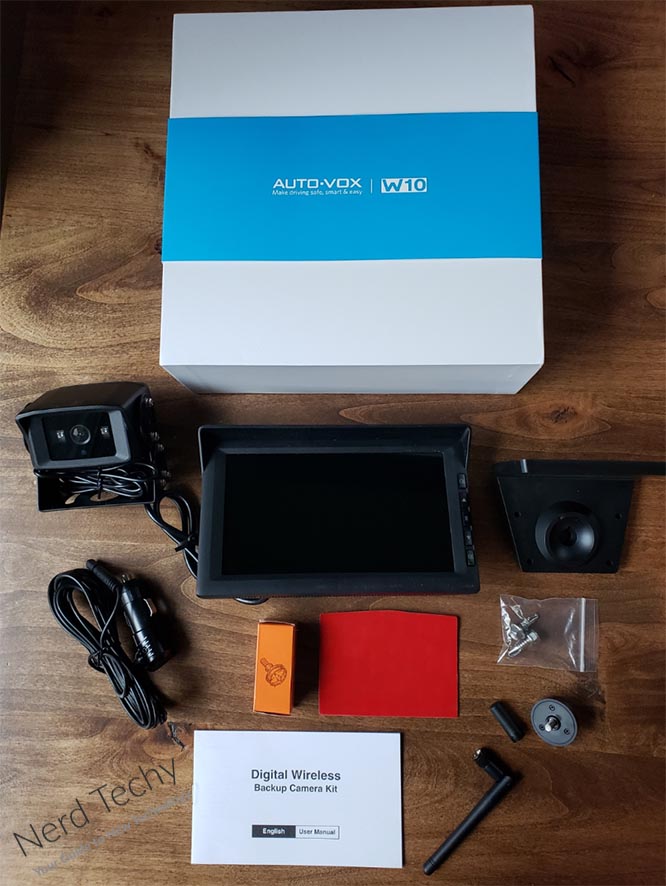 Overall Design
The AUTO-VOX W10 Digital Wireless Backup Camera consists of two main components: the camera and the display. There are also some connecting cables and installation parts, but we'll address them as they come up. For now, let's talk about the primary parts of the kit.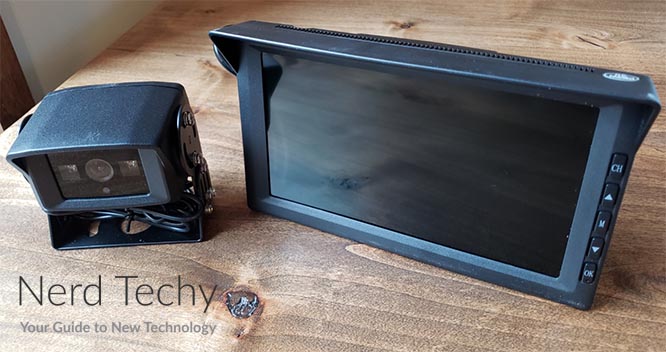 The display has a beefy black plastic housing, with a wide bezel. At the top, there's a glare shield protruding over the screen, to help keep it from getting washed out. Just behind this, to the left, a small antenna protrudes from the housing. It's made from a matching black plastic, and isn't distracting at all. The entire housing is sits on a sturdy plastic stand, and is hinged at the base so it can be tilted and aimed. The display itself measures 7 inches on the diagonal, which is fairly large for the application. This size ensures that you can see many details you might miss on a smaller display. At the same time, it's not so cumbersome that it obstructs a wide area of your view.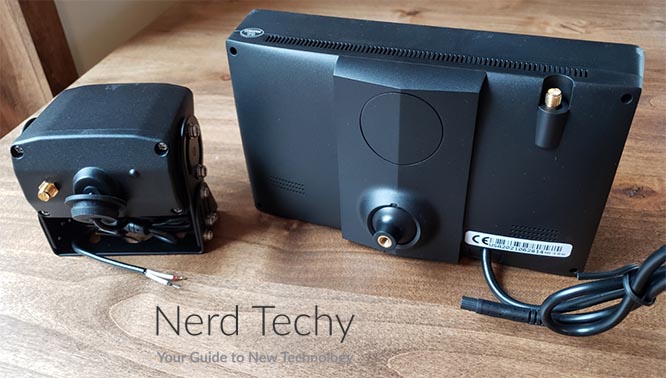 To the right of the screen, you'll find all the controls. These consist of a row of five solid plastic buttons, with an on-screen menu. The buttons control all aspects of the camera's operation; there is no smartphone app. Thankfully, the menu is intuitive and easy to navigate. You won't have any trouble finding any of the settings you need to access.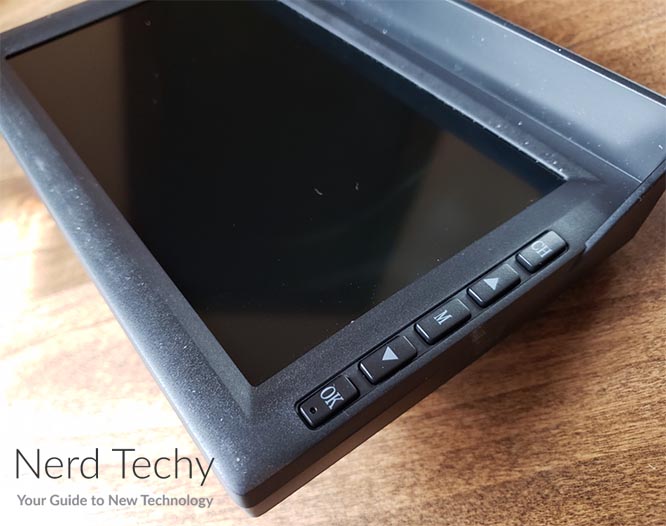 The camera unit is considerably smaller, measuring only about three inches wide and an inch and a half high. This only makes sense, since it only needs to house a camera, not a seven-inch screen. It's constructed from a similar black plastic to the display, and has a similar antenna. In the front, a tempered glass panel protects the inner lens and infrared lights. It's mounted in a metal bracket, and hinged at the mount so it can be aimed. This allows you to fine-tune your field of view even after the camera has been installed. The bracket seems to be aluminum, both lightweight and reasonably durable.
The lens has been designed with a high amount of resistance to rain and moisture thanks to its hydrophobic properties. AUTO-VOX added an extra layer of hydrophobicity to the exposed lens so water will never collect and get in the way. In fact, when it's raining or snowing, droplets of water will natually wick-away and never get in the way of your view through the camera.
Use code W8BYT2AY for 10% off when you purchase the AUTO-VOX W10 on Amazon
The W10 camera comes with a weather-resistance rating of IP68. The 6 and the 8 each have a separate meaning here. The 6 refers to the dust-resistance rating, which is the maximum rating available. Even on dusty back roads, you won't have to worry about your camera getting damaged. The 8 also indicates a maximum rating, but this time for water. In fact, we can't say exactly how water-resistant this camera is, since 7 is the highest standard rating. To earn a rating of 7, a device needs to withstand submersion at a depth of one meter for at least 30 minutes. To earn a rating of 8, you simply need to exceed the standard of a 7. But no matter how you cut it, you're looking at a very durable camera. You can off-road through creeks and other obstacles, and still not get into any trouble.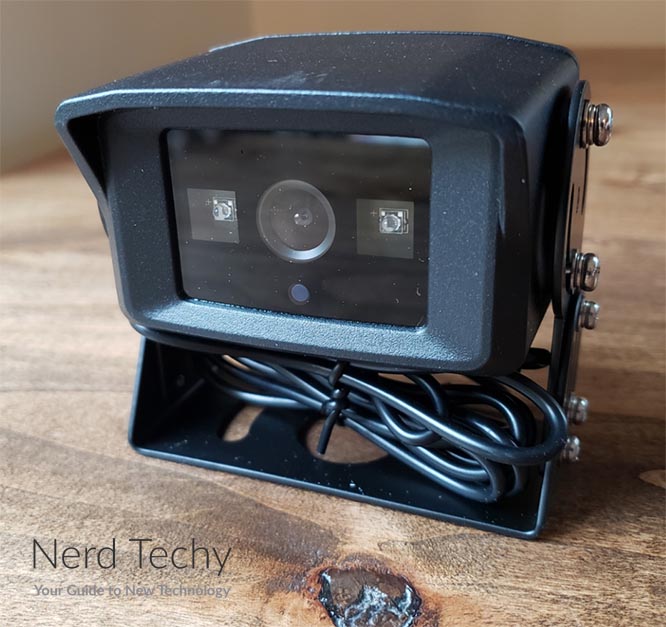 Installation & Storage
Installing the display inside your vehicle is easy. Simply find a suitable spot on your dashboard or windshield, and attach it with the adhesive pad. Make sure to properly prepare the surface, though, or it's liable to come off. Once the screen is in place, you have your choice of power options. The display already has a built-in power cord, with a 12V automotive plug on the end of it. You just plug it into your cigarette lighter whenever you get in your car. However, you can also hardwire it, by cutting off the plug and wiring it directly into your car's electrical system. If you go that route, make sure to connect it via a fuse that's only powered when the vehicle is on. Otherwise, it could drain your power when you shut the engine off.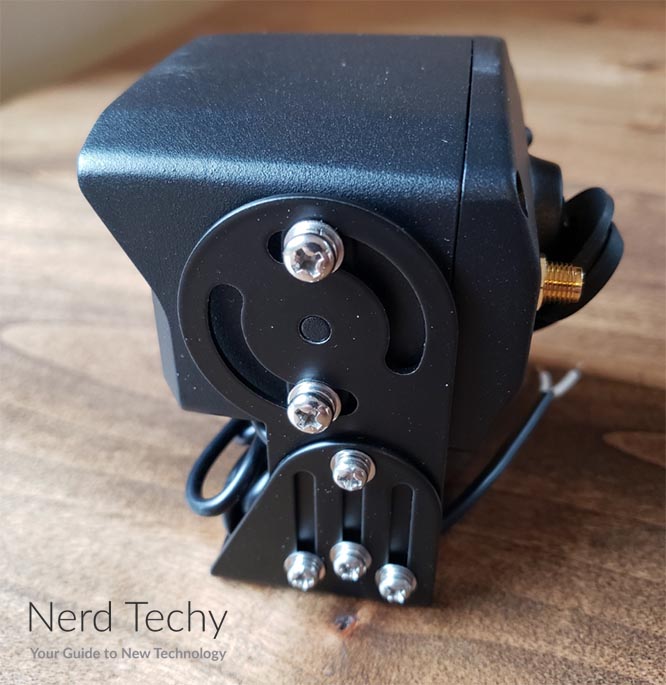 Installing the rear camera is a bit more involved. It needs to be wired into your car, so you need to drill a hole for the wire to run through. You also have to screw the bracket into place on the back of your car. Thankfully, the kit includes a hole saw, as well as a pair of self-tapping screws for attaching the bracket. All you need is a drill and you're ready to get on with the installation.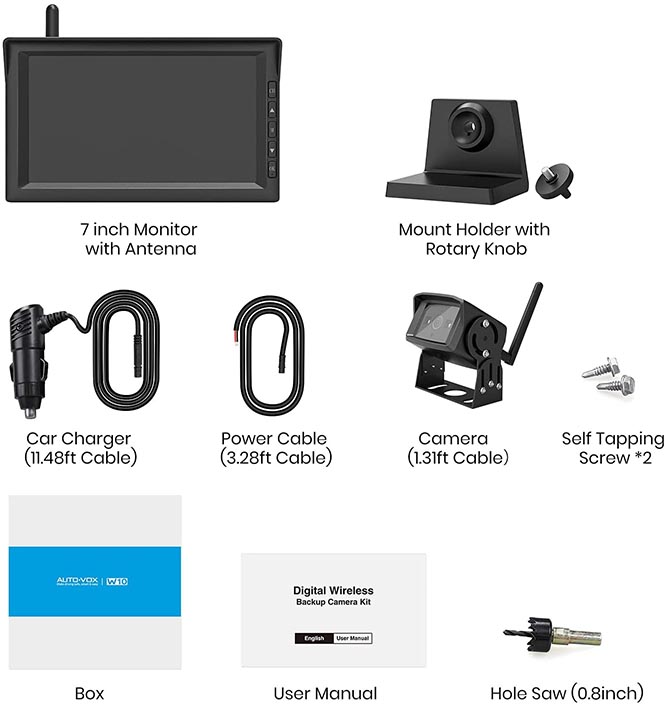 With the camera in place, you'll next need to connect the wires. There are two ways of doing this. The standard method is to splice them into the connections for your reverse light. That way, whenever you put your car in reverse, your camera will automatically come on. But you can also wire the camera into your running lights instead. When you do that, the camera will constantly be in operation whenever your engine is running.
As you can see, the W10 camera is easy to install. But you do have to drill some holes into your car or trailer to make it work. If you'd rather not do that, consider the AUTO-VOX TW1 backup camera instead. It comes with a bracket that installs over the top of your license plate, so it's very easy to set up. That said, the video tends to get shaky at highway speeds.
The W10's wireless signal has a range of up to 40 feet. It utilizes 2.4GHz rather than Bluetooth, which allows you to achieve this longer range. It's also a lag-free system, whereas Bluetooth can introduce some delay. The camera is rated for use at speeds of up to 37 miles per hour. Beyond that, the wireless signal will start to degrade. Needless to say, you'll be just fine whenever you're in reverse. The only time you'll have trouble is when you're driving at high speeds.
Although the wireless range is sufficient for most vehicles, some larger RV's and busses may need to attach the optional long range antenna for improved video transmission. It's also recommended if you'd like to view the camera at higher speeds.
But what if you want a rear-view camera for highway use? In that case, consider the AUTO-VOX T1400. It replaces your rearview mirror, which may or may not be something you want. However, the signal is exceptionally stable even at highway speeds.
One downside of the W10 is that it doesn't have any on-board storage. This is another feature that you won't normally need for a pure backup camera. It's only typically something you want on a dash cam. Then again, there are edge cases where recording might be useful. For example, what if you're backing out of a parking space and someone drives into you? In that case, the video could be valuable evidence. If you need to record, you're better off with a full-featured dash cam like the AUTO-VOX AD2. The AD2 had front and rear cameras and video storage, but it costs more than the W10. The installation is also more involved.
Use code W8BYT2AY for 10% off when you purchase the AUTO-VOX W10 on Amazon
Video Quality & Extras
The W10 camera captures video in 720p resolution at 25 frames per second. The display is bright and vibrant, with no motion blur. And with a wide, 135-degree viewing angle, you can easily see the entire area behind your car or trailer. The video even looks great at night, with infrared night vision that lights up the whole viewing area.
Within the display menu, there are a couple of essential features you should be aware of. First, you can flip the video four different ways. Depending how the camera is positioned, you'll need this function to get an accurate view. Second, you can choose between six sets of on-screen guidelines. Take the time to find a set that works best for your car's width and turning radius.
In addition, the display can actually support two cameras simultaneously, in split-screen mode. This can be useful for buses and vans, if you want to monitor a side door. It's also useful if you want to have separate cameras on your vehicle and your trailer.
Final Verdict
The AUTO-VOX W10 Digital Wireless Backup Camera is a well-engineered backup camera that's easy to use. It comes with everything you need for installation, and the video quality is good. We especially appreciated the large size of the screen, which allows you to see plenty of detail. If you need a backup camera for your vehicle, the W10 is a solid choice.