A good router can make all the difference between a satisfying WiFi experience and a disappointing one. But what exactly makes a good router? Like most aspects of technology, this is constantly changing over time. As technology advances, we expect our routers to do more and more things. Take an early WiFi router from the year 2000, when 802.11b first rolled out. There were no smartphones or smart devices. There were no streaming services, game subscription services, or online voice chat services. A family might have one PC for the family, and the parents might each have a work laptop. On top of that, internet service was slower to begin with. So a router had to provide a relatively slow signal to a handful of devices at most.
Nowadays, we put a lot more demand on our WiFi networks. We stream Netflix videos on our smartphones while waiting for Steam games to download. Our appliances, tools, and household electronics are connected to the web. For many people, the internet has replaced cable and telephone as their lifeline to the outside world. But all of this extra demand requires a more robust router. You could take the fanciest router from 10 years ago, and it would be sluggish compared to today's discount models. If your home's internet is painfully slow, you might not need a faster internet plan. Instead, the problem could be your router.
We're about to review the Connectize G6 AC2100 Gigabit WiFi Router. This is an affordable router that comes with a number of features we'd expect from a more premium device. It has parental controls, a firewall, and the option to set up a separate guest network. It also has a reasonably large coverage area, as well as a surprising amount of bandwidth. But what else does it have to bring to the table? We're about to take a close look at all aspects of the router's design. We'll talk about the physical build, the signal strength, and all the various user features. Then, we'll be ready to render our verdict.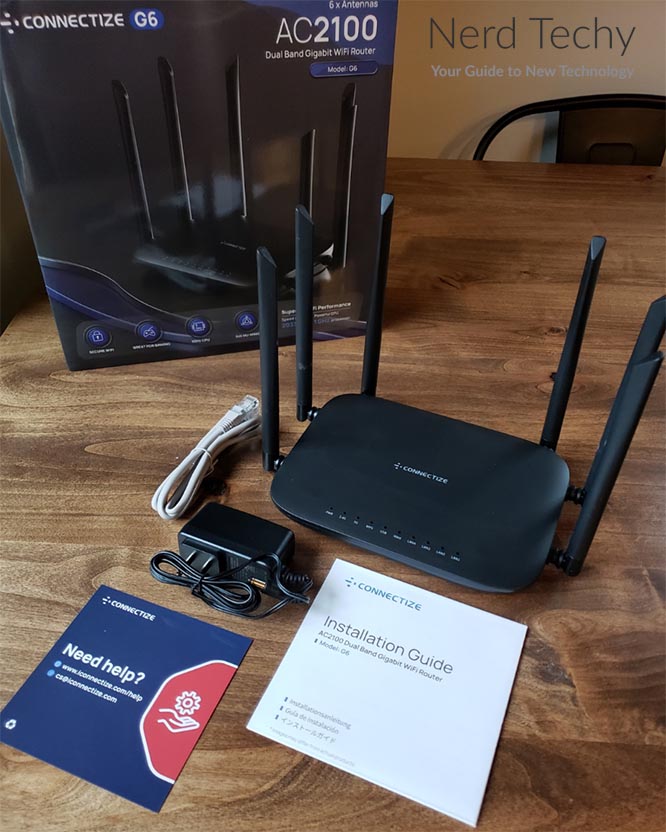 Design and Installation
The Connectize G6 Gigabit WiFi Router is roughly rectangular in shape, but with rounded edges and corners. This gives it a contemporary appearance, as opposed to the faux-futuristic look favored by many router manufacturers. The housing is a matte black plastic, which is easy to keep clean. The only real decoration is the word "Connectize" printed in grey on the top center. In total, the size is 11.57 inches wide, 11.46 inches deep, and 2.05 inches thick. This gives it a relatively large footprint, but not so large as to present any problems.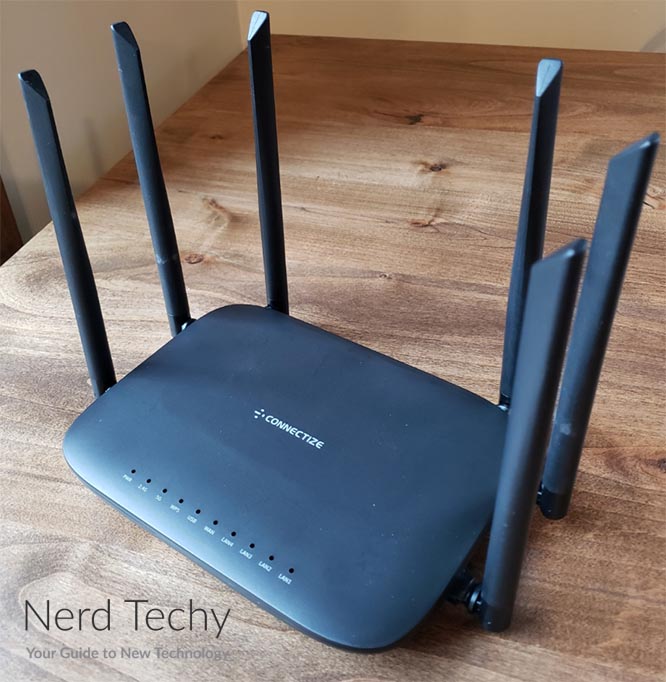 That said, this size does not include the six antennas, which are nearly a foot long. There's a lot of debate around external antennas, with some people who love them and others who find them gimmicky. Here's the thing. Manufacturers love to boast about how their antennas give you a huge boost to performance. This isn't true. But at the same time, external antennas do work. Where they tend to be helpful is on the margins. For example, let's say you're right at the edge of your signal range. In that case, pointing an antenna your way can get you a few extra feet of signal. So antennas aren't magical, and six of them is probably excessive, but they do serve a purpose.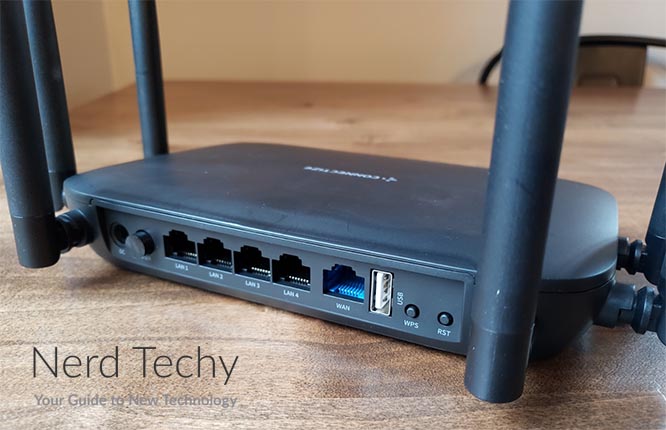 On the front of the router housing, there's a row of indicator lights. These let you know everything you need to know about the router's status. The first is a power light, which is self explanatory. The next two indicate whether the 2.4GHz and 5GHz channels are active. The WPS light indicates that your router is secure, and the USB light tells you when a drive is connected. The WAN light tells you you're actively connected to the internet. The last four lights correspond to the Gigabit Ethernet ports, where you can connect your wired devices.

All of the router's various ports are located on the back of the housing. On the left side of the back, there's a round DC power port. An AC/DC power adapter is included in the package, so you can plug into your wall. Next, there's an on/off button which can be used to temporarily shut off your WiFi. In the middle, there's a row of four plain black Gigabit Ethernet ports, for your wired connections. The fifth, blue Gigabit port is for connecting to your cable modem. At the right end, there's a USB port, where you can plug in a thumb drive or external hard drive. Finally, there's a small reset button, which you need a paperclip to push.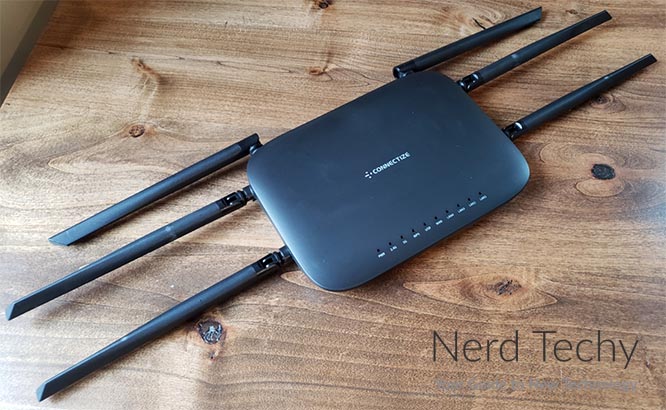 Speed and Coverage
The Connectize G6 Gigabit router provides a total bandwidth of 2.1Gbps. This is split between two different channels. The first is a high-bandwidth, 5GHz channel, and the second is a slower, 300Mbps 2.4GHz channel. This dual-channel design is almost universal on modern routers, and for good reason. While the 2.4Ghz channel is slower, it has significantly longer range. And when you get closer to the router, you can get even faster speed thanks to the 5GHz channel. Keep in mind that the entire 2.1Gbps bandwidth needs to be shared between all your devices. It's more than twice as fast as Gigabit, but it's not infinite. Even so, it's more bandwidth than most wireless routers, particularly at this price point.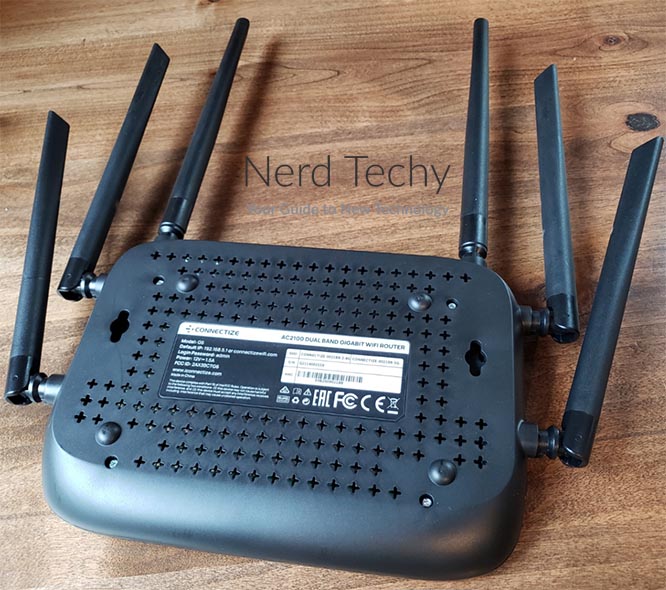 Of course, the golden rule of internet connections still applies. If you want the lowest latency and fastest speed, you'll want to use a wired connection. There's a good reason most gamers prefer Ethernet to WiFi. However, the same is true for streaming. If you're plugged in, you don't have to worry about sharing the WiFi bandwidth.
Use code MQ6LTK64 to save 10% on the Connectize G6 on Amazon
Then again, a wired connection is inherently limiting. You can only be as far from your router as a cable can reach. That's why people invented WiFi to begin with! By contrast, the Connectize router provides 2,300 square feet of coverage. This is a rough estimate, but it seems to be accurate. Keep in mind that your actual results will depend on how your house is laid out. You'll get more coverage in two-story houses, since the signal travels vertically as well as horizontally. Along the same lines, brick walls and other major obstructions can shorten your range significantly.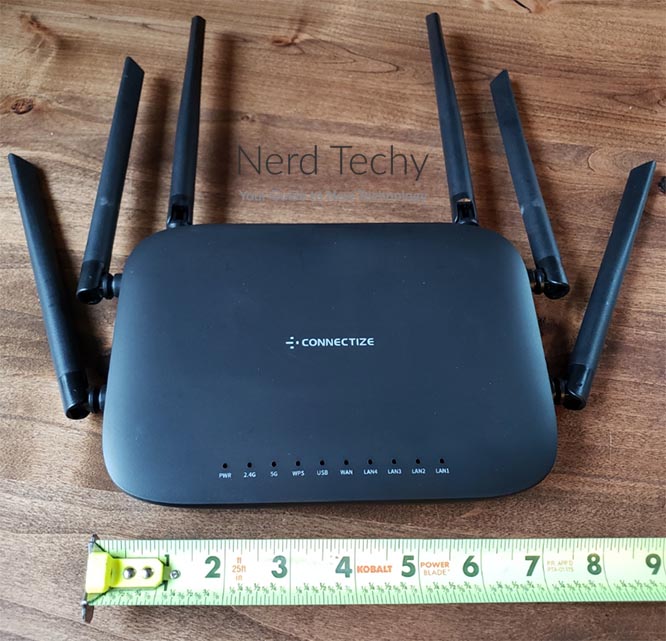 This router supports all wireless internet protocols up through 802.11ac. This is still the current standard, and you'll be able to connect with almost any device. That said, WiFi 6 devices have coming out this year, as have WiFi 6 routers. WiFi 6 is the latest and greatest WiFi protocol, designed for the next generation of smart home devices. Rather than aiming to improve overall speed, WiFi 6 aims to support a larger number of devices. The Connectize router supports 4×4 MU-MIMO, which is short for "multiple input, multiple output." As a result, it will support up to 30 devices simultaneously.
That said, you'll need a WiFi 6 router if you want to push past 30 and into the multiple dozens. If that's what you need, consider the Speedefy KX450 instead. It's a powerful WiFi 6 router that supports a large number of devices. However, with 1.8Gbps of maximum bandwidth, it's a bit slower than the Connectize G6.
Control and Extras
To change your settings on the Connectize AC2100 router, you need to use the web interface. On the one hand, this is easy to use, since it can be accessed from any device, even a game console. On the other hand, there's no smartphone app. For many people, this may be a disappointment, since web interfaces are inherently clunky on mobile. It won't be an issue if you're using a PC to configure your network. But if you need a mobile app, check out the Speedefy K7W. It has comparable speed and features, along with a companion app. The only downside is the Ethernet connection, which is on the slow side.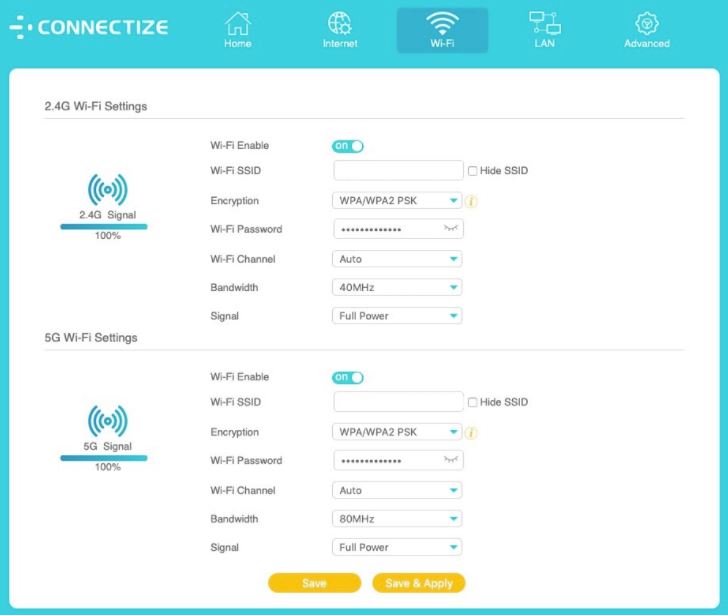 With all of that being said, the control panel is actually pretty powerful. To begin with, you can take advantage of parental controls to keep your kids safe online. You can set different internet permissions for children's devices, and block different categories of website. This is a great feature for families, or even if you want to keep elderly relatives safe from scammers.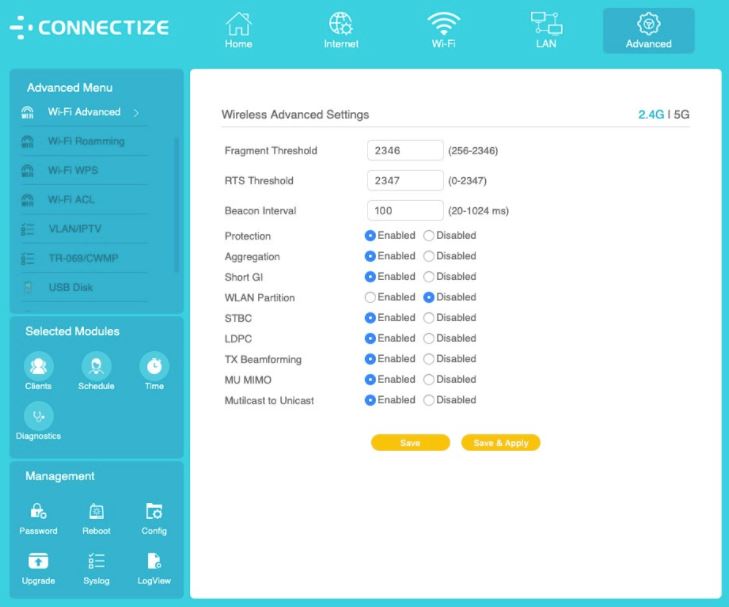 The network is protected by a WPA/WPA2 mixed encryption, which is the strongest currently available. We're not saying it's hack-proof, because nothing is; but it's the next best thing. To further improve your security, you can set up a separate guest network with its own password. This allows guests to access the internet, but on a different network. They won't be able to "see" your devices or access shared media on your private network. Finally, there's a built-in firewall to protect you from known online threats. And you can add sites to a blacklist if you want to block individual ones.
If that's not enough, the Connectize G6 can be configured to function as a wireless access point (WAP). A WAP is designed to extend an existing network, rather than creating a new one. So if the coverage of a single Connectize router isn't enough, you can link two of them together. Set the second one up as a WAP, and you'll effectively double your coverage.
Use code MQ6LTK64 to save 10% on the Connectize G6 on Amazon
Of course, if you're going to go through all that, why not get a purpose-built mesh router system? The TaoTronics AC3000 Mesh Router has a total range of 5,000 square feet. It can even be expanded to 6,000 square feet, and can support literally hundreds of devices. Then again, it's a lot pricier than a single standalone router.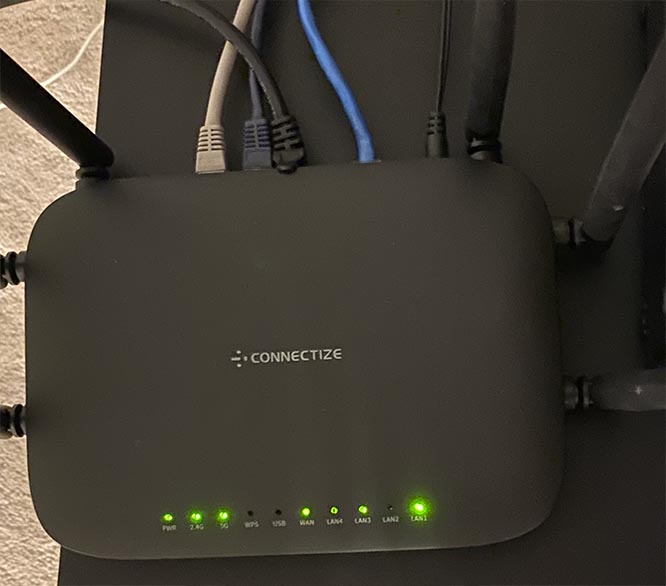 Final Verdict
The Connectize G6 AC2100 Gigabit WiFi Router is a surprisingly powerful router for its price point. It's well-engineered, with an attractive, contemporary design. It has a long range, a lot of bandwidth, and plenty of security features. For most homes, it's all the router you're going to need.