Speedefy K7W
Pros
Fast wireless speeds.
Easy setup.
Parental controls, guest network, and other security features.
Can manage via app or browser.
Cons
Ethernet speeds are sluggish.
Less coverage than many comparable routers.
Does not support WiFi 6.
Nowadays, we almost take it for granted that internet will be available wherever we go. If you're standing in line for coffee, for instance, you simply expect there to be free WiFi. This is also becoming increasingly true in our own homes. It used to be that the average family had one computer. Then, we all started getting laptops. Then came smartphones, followed soon after by streaming video services. By the time the Internet of Things (IoT) arrived, we were already connecting several devices per household. Now that our fridges, smoke detectors, and washing machines are going online, we need connectivity more than ever.
For many of us, this means ditching the old router and ushering in the new. Older routers can offer surprisingly capable speeds. A 10-year-old router, for instance, should be able to handle HD streaming without any trouble. Where older routers suffer is the number of devices they're required to support. A smart sprinkler controller, for instance, won't use a ton of bandwidth. But if you have six different moisture sensors connected via WiFi, that's a lot of extra connections. If your router can't multitask well, you're going to run into trouble.
The solution is to upgrade to a router that supports the latest AC2100 protocol. Now we're going to review one such router, the Speedefy AC2100 (Model K7W) Smart WiFi Router. This router is designed with full AC2100 coverge, as well as 4×4 Mu-MiMo for connecting multiple devices. But does it live up to our expectations? Or does it fall flat on its face? To find out, we'll need to take a look at everything this router has to offer. We'll look at the connection speed, the setup process, and the coverage. We'll also talk about the security features and app controls. After that, we'll sum up what we've learned, and you can be the judge.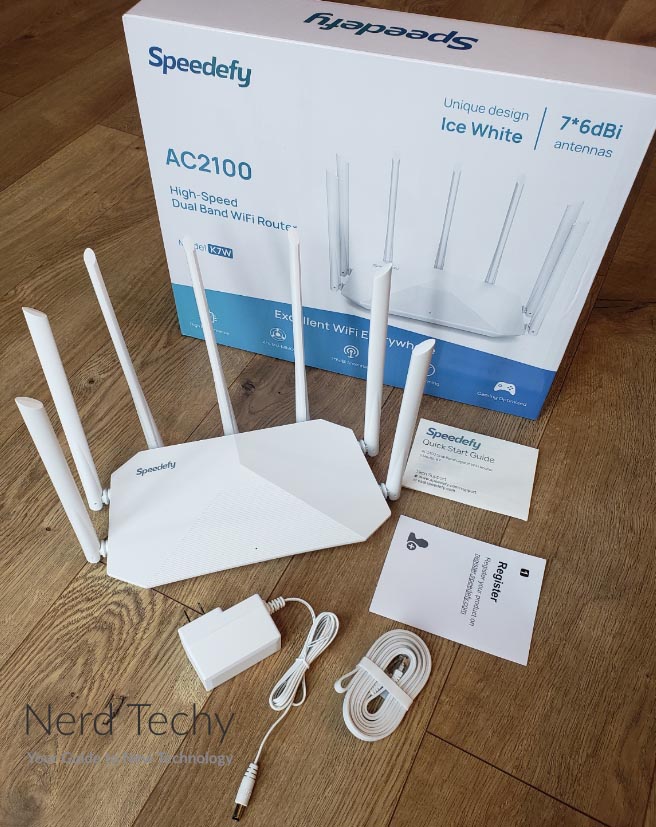 Design and Installation
The first thing we noticed about the Speedefy AC2100 (Model K7W) (10% Discount Code: MQFRC6V4) was its forward-looking, futuristic appearance. It's constructed from white polymer, with grooves in the front panel that lend it a somewhat aggressive appearance. The top has a peaked shape, with panels sloping to the front and sides. The finish is mostly blank, but does sport a silver "Speedefy" logotype in the top right. In total, there are an impressive seven antennas attached, two on each side and three in the back. These can be pivoted any direction, so you can improve your coverage wherever it happens to be needed.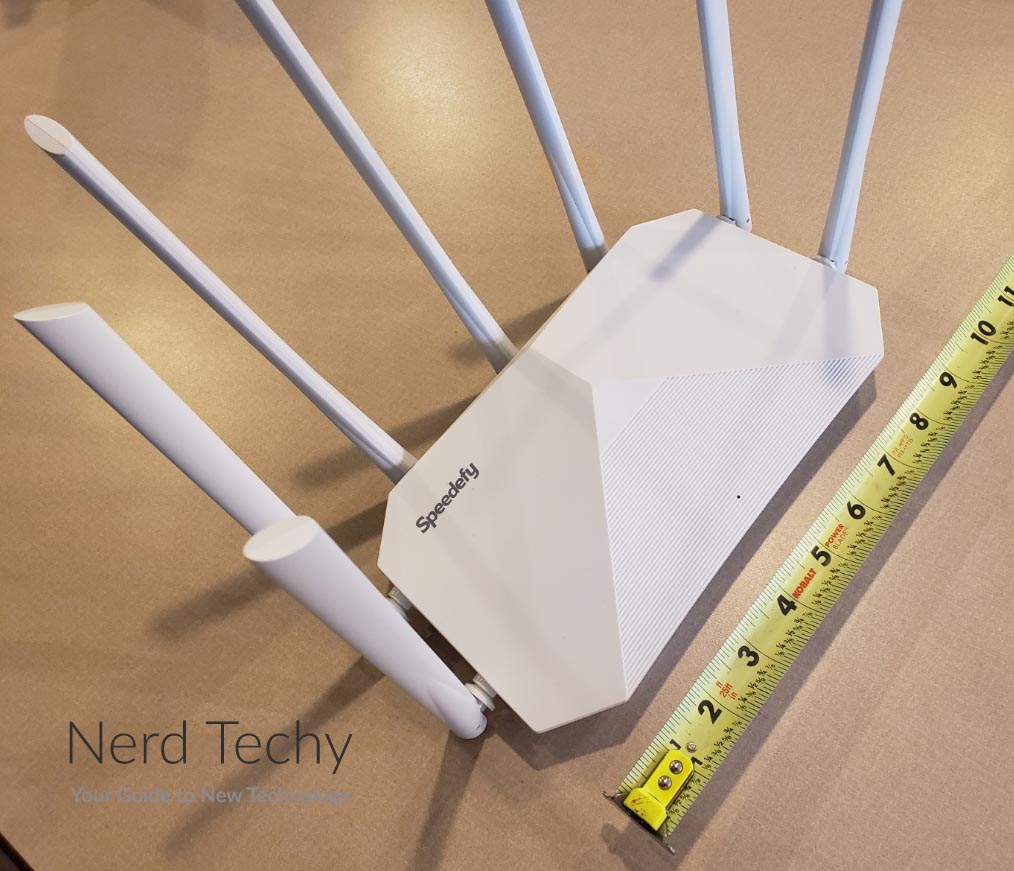 This is a router, not a modem, and needs to be connected to a modem in order to get internet access. Installation is quick and painless, and can be done either via the smartphone app or your browser. Connect the router to your modem, follow the instructions, and everything should go smoothly. The router connects to your modem via Ethernet, and has an additional three Ethernet ports on the back. As a result, you can form two wired connections as well as a large number of wireless connections. This makes it easy not only to plug in your PC, but also to connect a network printer or wireless access point.
If you do want an all-in-one modem and router combo, there are a few options on the market. The Netgear Nighthawk CAX80 is a powerful combination unit that's built specifically for gaming. This means virtually zero latency, which is also ideal for streaming. That said, because it's a combo unit, you'll probably need to call your internet provider to have it set up.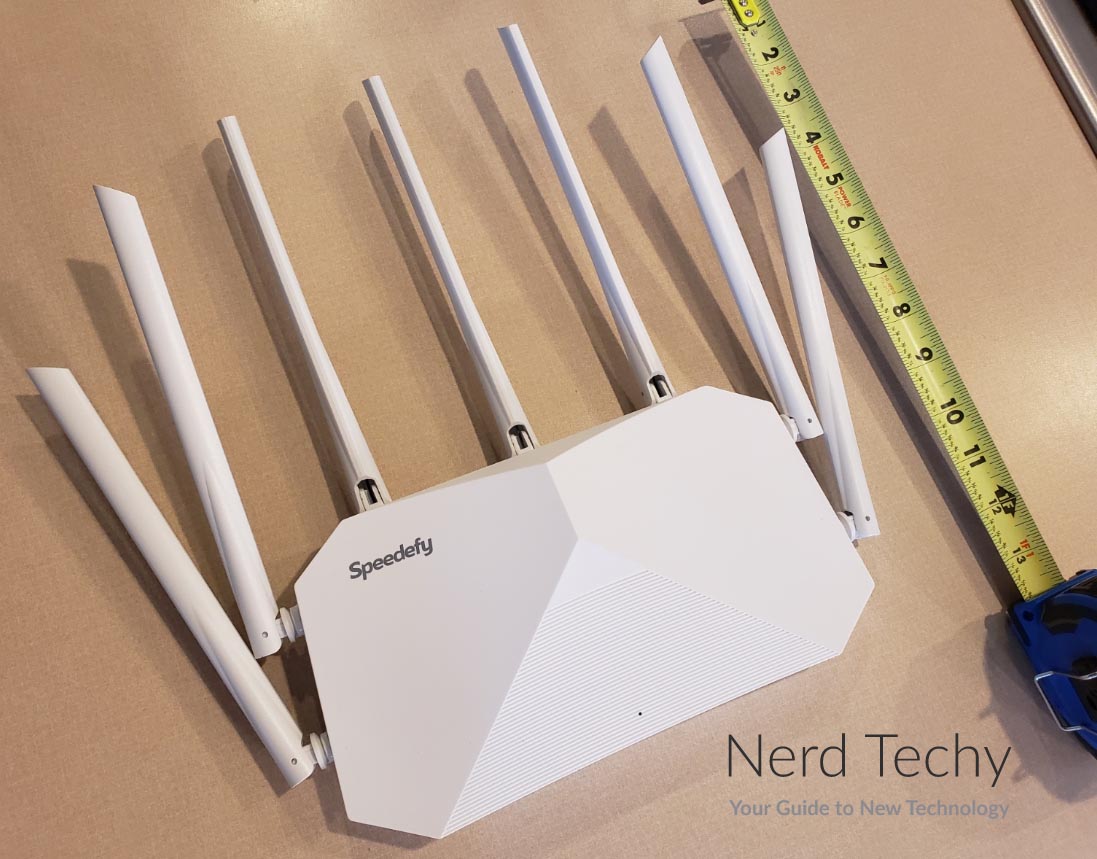 Speed and Coverage
The Model K7W has a maximum bandwidth of 2,100Mbps, or more than double Gigabit speeds. This is split between dual 5GHz and 2.4GHz channels. The 5GHz channel has a bandwidth of 1,733Mbps, and the 2.4Gbps is slower, at 300Mbps. The reason for the dual-band configuration is that the 5GHz channel is much faster, but also shorter-range. The 2.4Gbps channel, on the other hand, will always be slower, but can reach a lot further. By combining the two, a well-designed router can provide the best of both worlds. Even the slower channel is perfectly suitable for most purposes, although gaming performance definitely suffers at longer range.
In terms of WiFi coverage, you're actually getting a bit less than we expected. In total, you can reach a maximum of around 2,500 square feet, depending on the layout of your home. Brick walls and other obstacles can shrink this, while performance is better in open areas. The antennas make a marginal difference at best. Pointing one directly at a particular device can sometimes work in an edge case, but that's about it. That's not to say that the coverage is terrible. Depending on your needs, it may be more than adequate. But if you need to cover a large home, you'll need a bigger router or a range extender.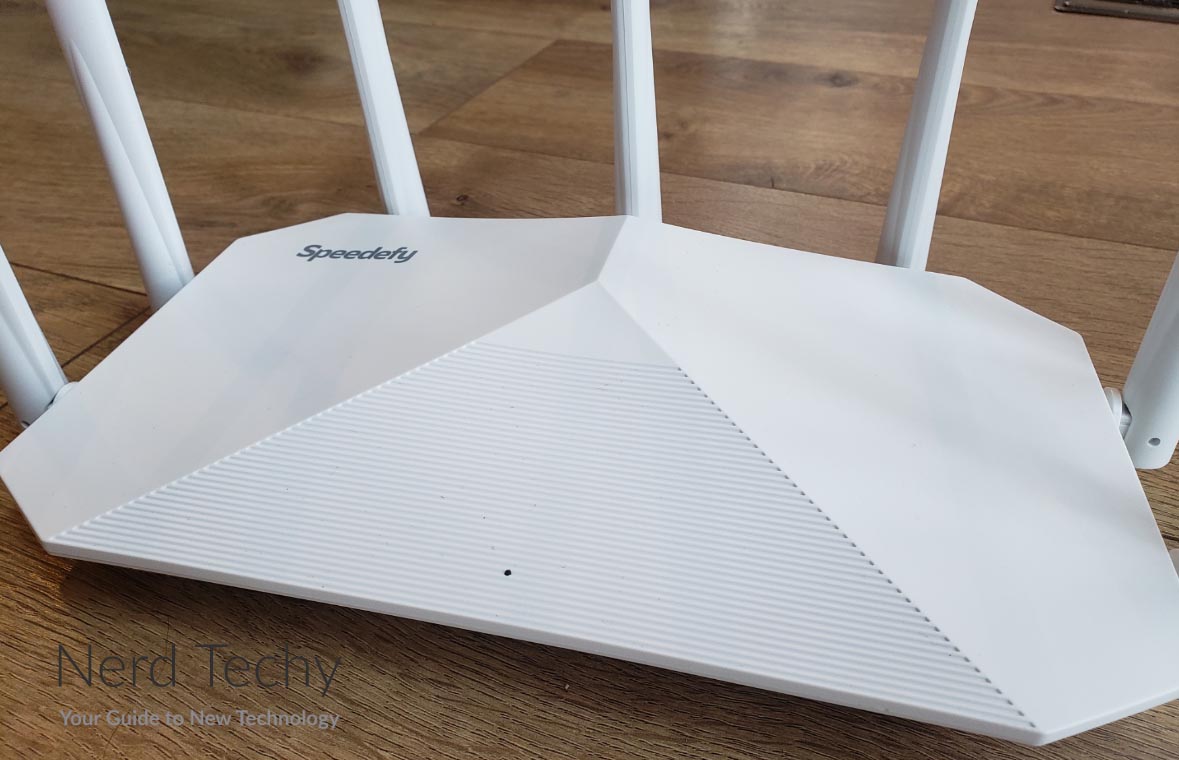 Another potential solution is to use a mesh router. Mesh routers, like the TaoTronics AC3000, connect multiple routers together to form an overlapping "mesh" network. This allows you to cover very large areas, albeit at a higher cost, and with more complicated installation.
One way to improve your wireless performance is to wire in devices that are close enough for wiring. For one thing, this takes some bandwidth out of the air and frees it up for remote devices. For another thing, Ethernet connections are usually faster to begin with. We say "usually" because the Ethernet ports on the K7W don't ever seem to deliver Gigabit speeds. 600 to 700Mbps is more the norm, which isn't terrible, and is more than you'll normally need. Still, this makes the router less future-proof than it otherwise would be. Then again, it's also very affordable, so it's not as if you're investing a small fortune on a top-tier router.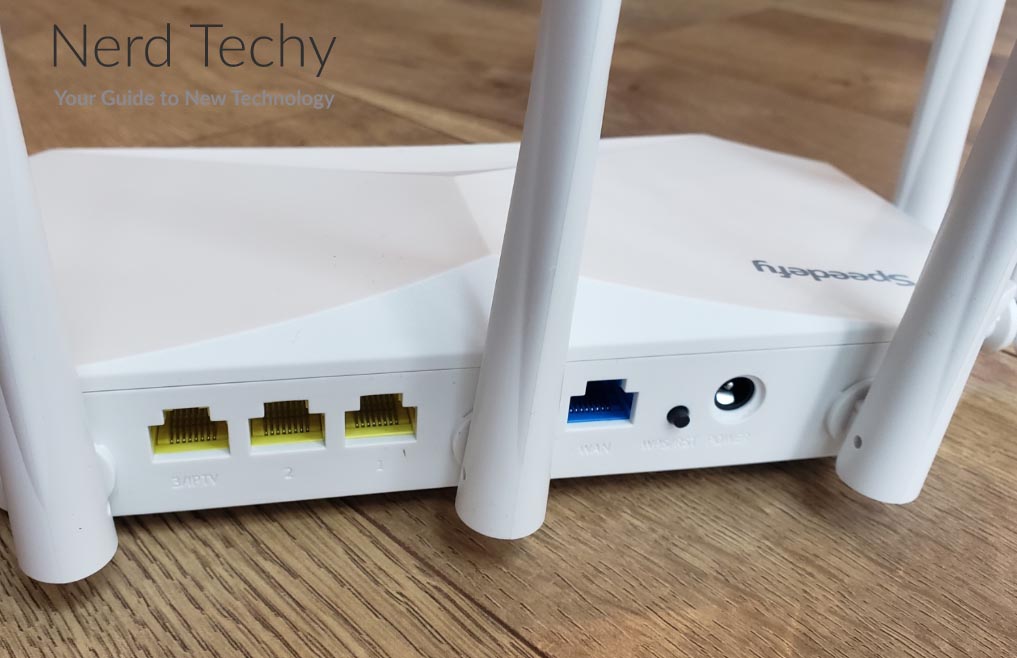 Under the hood of the K7W, there are some extra features that make it ideal for smart homes. First off, it supports all versions of the 802.11 protocol, other than WiFi 6. This will allow you to take advantage of bleeding edge smart home devices that require multitasking. To further aid with multitasking, the router also has 4X4 Mu-MiMo support. In a nutshell, this means that at any given time, four devices can be uploading, and four can be downloading. By switching rapidly between tasks, you can connect far more devices than that.
To aid with this, the K7W boasts a dual core CPU to enable fast processing. This means less buffering, less lag, and near-zero latency for gaming and streaming.
App and Extras
There are two different ways of controlling the K7W. First, you can use the smartphone app, available for free on iOS and Android. The app will walk you through the process of setting up your router when you first configure it. After that, you can use the app to change your settings, such as your password and security options. As an alternative, you can use the Speedefy web interface. This requires you to connect the router directly to a PC via Ethernet in order to get it set up. Follow the instructions, and you'll be able to connect to the web in no time.
The K7W utilizes the WPA2 protocol for encrypting your network. This is the latest version of network encryption, used by almost all manufacturers. So far, so good. But does it go above and beyond to help you secure your network? In fact, there are a couple of bonus security features.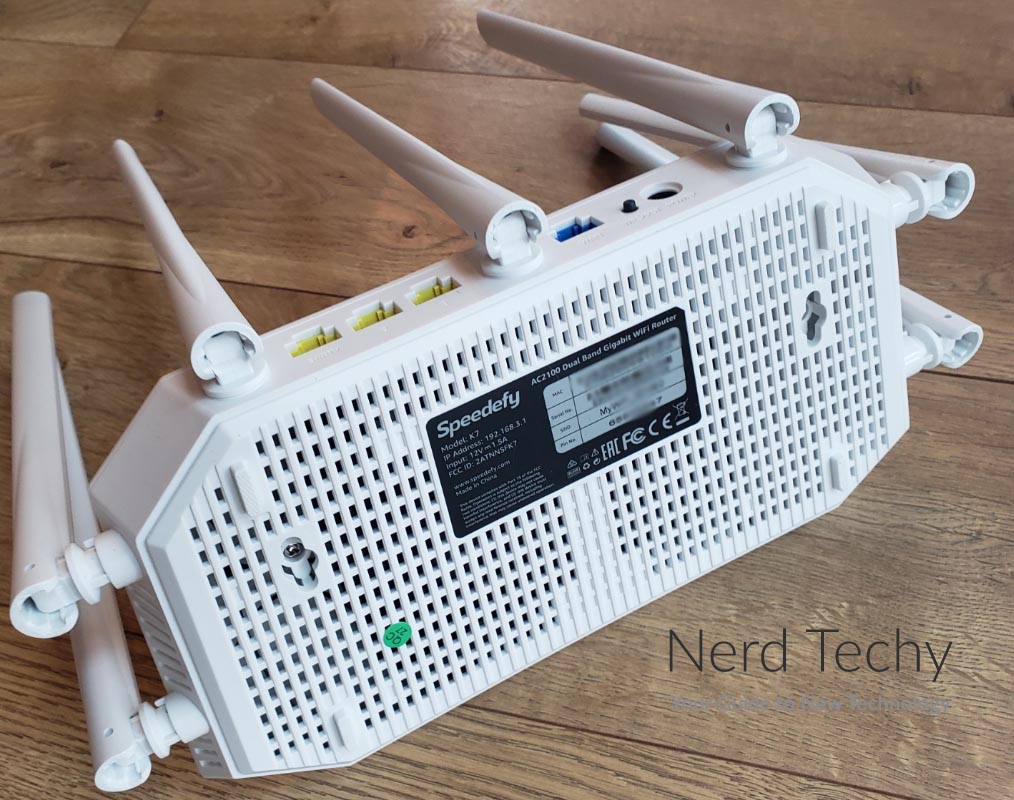 To begin with, you'll have a separate guest network with its own password. This network shares your home's internet connection, and works just like any other WiFi network. However, it's separate from your personal network, where all your devices are connected. Even if your guest network password is compromised, hackers won't have access to your smart home devices.
In addition, the Speedefy K7W comes with a parental control suite to help keep your kids safe online. You can designate specific permissions for specific devices, so all family members have age-appropriate access. You can block specific websites and apps, and even limit the time of day specific devices can go online. No more worrying if your kids are staying up half the night chatting on social media.
If security is first and foremost in your mind, but you want to save a few bucks, there are other options. For instance, we've recently reviewed the Rock Space AC2100. It has similar security features to the K7W, and keeps you and your family safe on the web. However, it's also not as fast, so you won't be able to connect as many devices.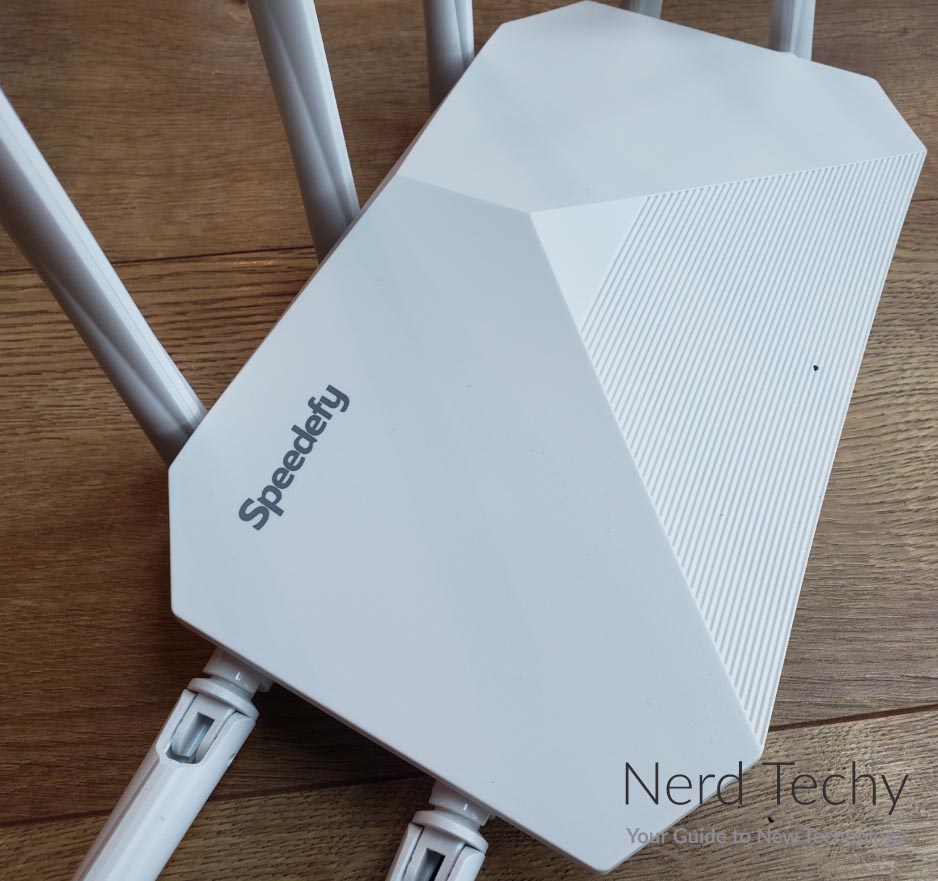 Final Verdict
For most applications, the Speedefy AC2100 (Model K7W) (10% Discount Code: MQFRC6V4) is one of the better routers on today's market. To begin with, it's very easy to setup. Unlike a lot of third-party routers, it doesn't require you to install any firmware or complete any exotic steps. Everything is more or less plug and play, once you've set up your basic network profile. This makes it easy to install, even if you're a relative novice. The option for both app and web controls is appreciated, as is the attractive physical design. We also liked the multiple antennas. Even though they're only marginally effective, they're a nice aesthetic touch on an already-slick router.
To be fair, the Speedefy K7W isn't perfect. The Ethernet performance is a bit slow, and the range isn't as wide as some other routers. That said, it's blazing fast when you are in range, and can support a large number of devices. It's suitable both for modern, IoT-rich homes as well as for people who do a lot of gaming or streaming. The CPUs and other internal features do a great job of pulling their load, and keeping lag to a minimum. When all is said and done, this router is going to make a lot of people happy.