When most of us think about modern technology, we think about technologies that are fun or cool. For example, millions of people who have never driven a Tesla are nonetheless fans of the electric car company. Similarly, when a new game console drops, everyone knows about it, even people who have never owned a console. But some advanced devices aren't nearly as exciting. Take, for example, the humble cordless vacuum.
Up until a few years ago, it was impossible to find a cordless vacuum with any significant power. The problem was battery technology. Either you had a low-wattage battery that lasted a while, or a powerful battery that lasted five minutes. But now, battery technology has advanced, and we have batteries that are compact, powerful, and long-lasting. With this trifecta, manufacturers are now capable of producing cordless vacuums with real suction power. Nowadays, you don't even need a corded vacuum to clean up 90 percent of messes. A quality cordless stick vac will get the job done.
That said, not all cordless vacuums perform equally well. Some are true stalwarts, and will clean up just about any mess. Others are no better than their older counterparts, and aren't really worth buying. We're going to review the Proscenic P11 Cordless Vacuum Cleaner, which is one of the more powerful models available. But power isn't the be-all and end-all of a quality vacuum cleaner. A good vacuum also needs to be comfortable to use, and it needs to have well-engineered attachments. We'll look at all this, as well as the battery life, the filter performance, and any other features we encounter. Let's begin!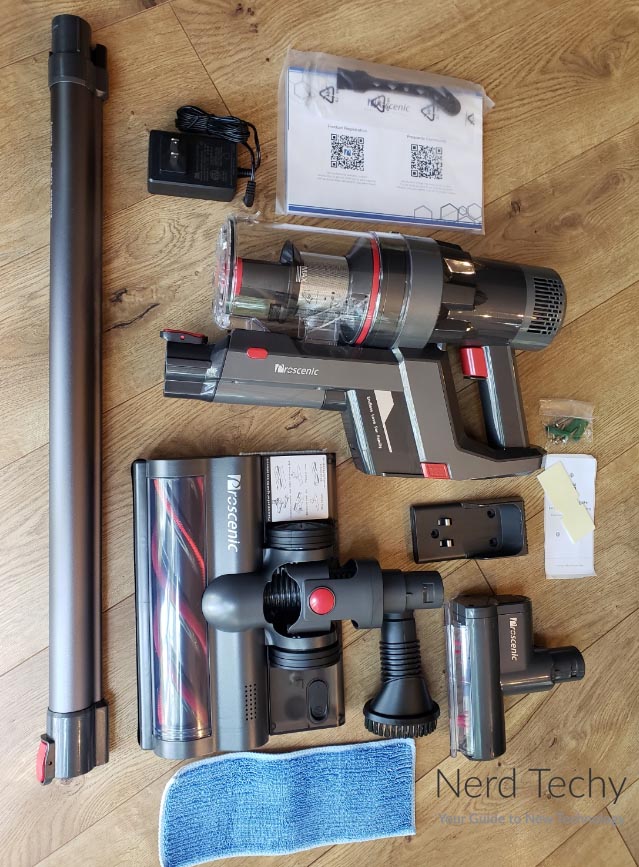 Physical Design
Like many stick vacuums, the Proscenic P11 Cordless Vacuum Cleaner is built around a motor with a pistol grip. This is a tried-and-true design, similar in many ways to a cordless drill, and it just plain works. The main reason the design is so effective is because the weight is well-balanced. For example, the battery is located at the bottom of the grip. This puts the heaviest component at the back and the rear. The next heaviest part, the motor, is housed just above the grip, but still all the way to the back. This back-heavy design ensures that even with the heaviest attachment, the vacuum is easy to manage. In addition, the 450-watt motor has a brushless design. This makes it both quieter and more durable than an ordinary electric motor.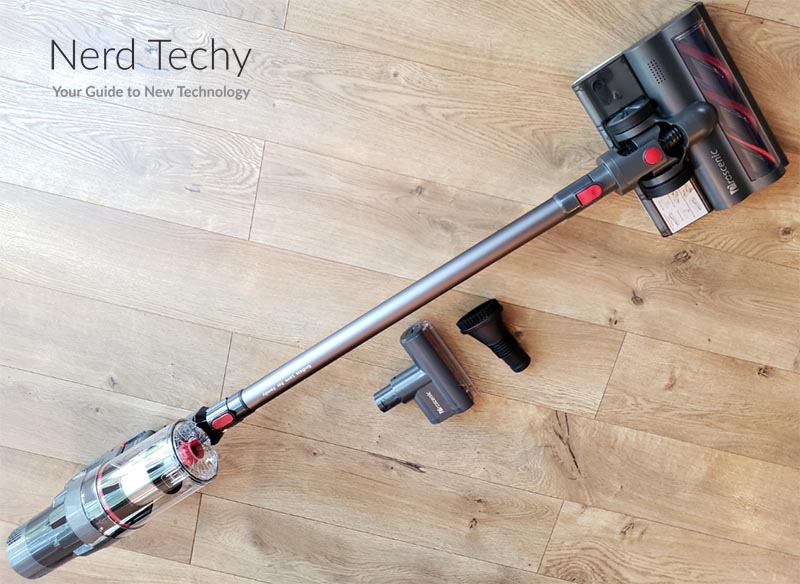 The housing is charcoal grey, with an attractive, glossy finish. On the sides of the motor, air vents are visible behind the heel of your hand to keep the motor cool. The controls are located on the back of the motor, in a round touch display. This display shows the current status of the vacuum, including the battery meter and any faults. The fault display is a nifty function, since it helps you diagnose simple problems. For example, if you didn't plug the roller attachment in all the way, you'll know. The display also allows you to change the power setting, which we'll discuss more in a second. Simply hold in the trigger on the pistol grip, and the vacuum starts running.
This design is very common, and works well for most people. But if you have arthritis or other issues with your grip, you might want a locking trigger. In this case, consider the DreameTech T20. It's similar to the P11 in most ways, but with a trigger that locks in place so you don't have to hold it down.
The P11 sports a large dust bin with a 650ml capacity. This is nearly a third larger than your typical 500ml dust bin, so you can keep vacuuming for longer. It's also transparent, which makes it easy to know when you need to dump out your dirt. The canister releases with the push of a button, and dumps out easily. However, the filter inside can also fall out easily. Make sure to put a finger on it to hold it in place so it doesn't fall out in your trash.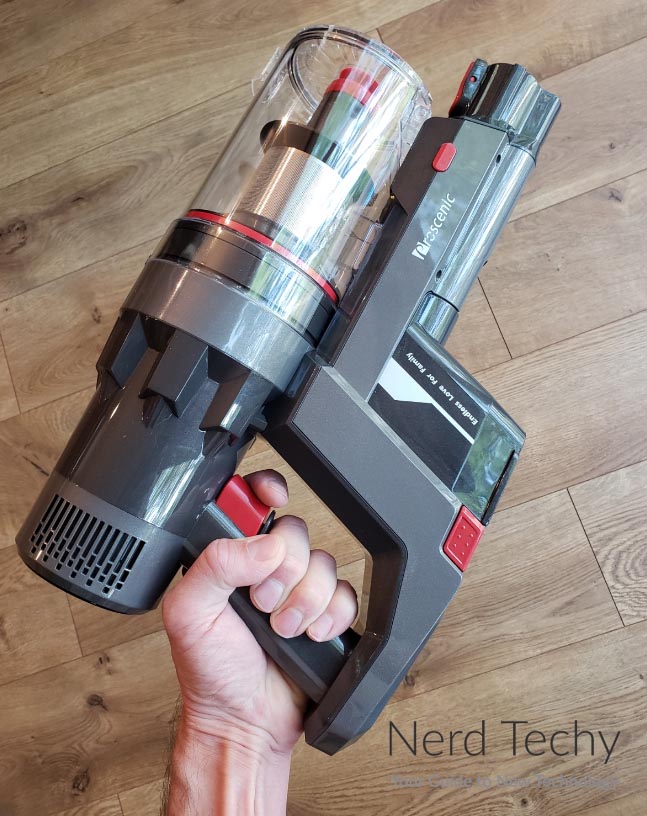 Along with the vacuum itself, you also get a wall mount for when it's not in use. This mount holds the vacuum itself, but doesn't have any brackets for the attachments. Typically, you'll want to store the main roller attached to the vacuum, and shelve the rest of the attachments nearby. The wall mount includes a power adapter that you can plug into the nearest wall outlet. This adapter will keep your battery charged whenever the vacuum is idle. That way, you'll always have a full battery when it comes time to clean your floor.
Cleaning & Accessories
The Proscenic P11 can be set to two different power settings. The lower setting pulls at 8.5Kpa, and is relatively weak. It's designed for smooth floors, delicate surfaces, and lightly-soiled carpets. This is what you'll typically want to use for everyday vacuuming. For badly soiled floors or heavily trafficked areas, the higher, 25Kpa setting is a better choice. This is exceptionally powerful, comparable with some shop vacs, and can clean just about anything. Alternatively, you can just set the vacuum to automatic mode, and it will adjust the suction level as needed. The noise level of 70 to 78dB is about the same as an electric drill. It's not excessively loud, but it's definitely loud enough to wake you up.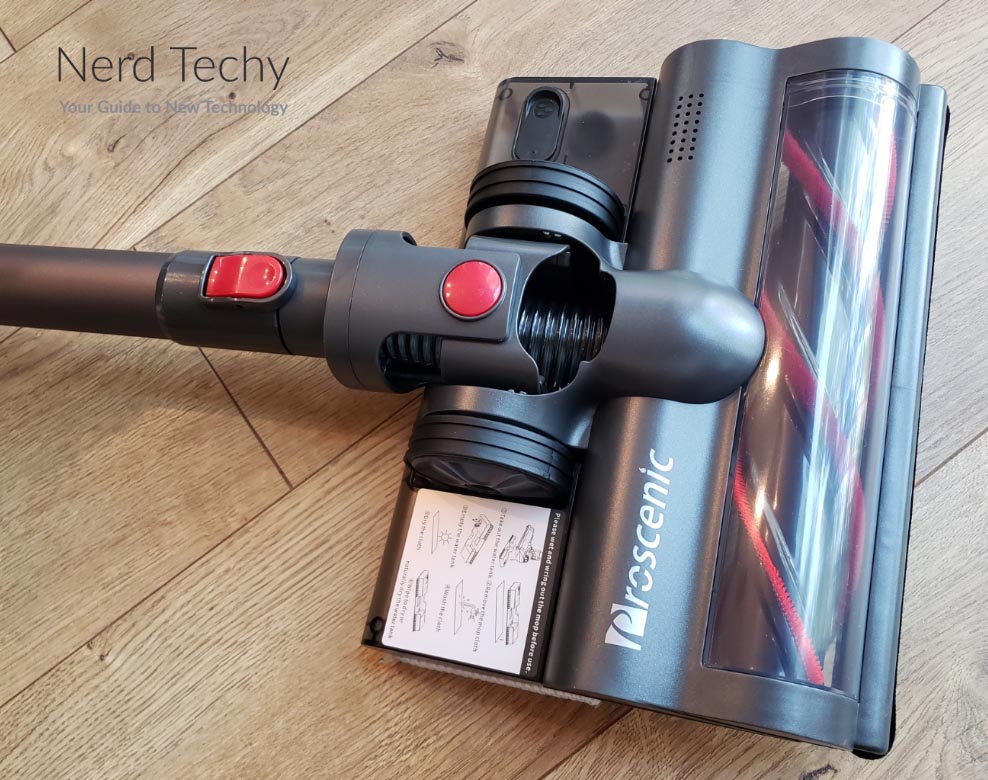 The main attachment is a roller brush, which is designed for carpets. There's a serrated area along the brush, engineered for cutting through hair to prevent snags. As with most anti-snag methods, this is not 100 percent effective. But if you have long hair, you'll definitely notice the difference. There are also four LEDs on the front of the roller, which help you see under sofas, shelves, and other obstructions. This roller brush can be attached via an extension pole, or mounted directly on the motor if you're working up close.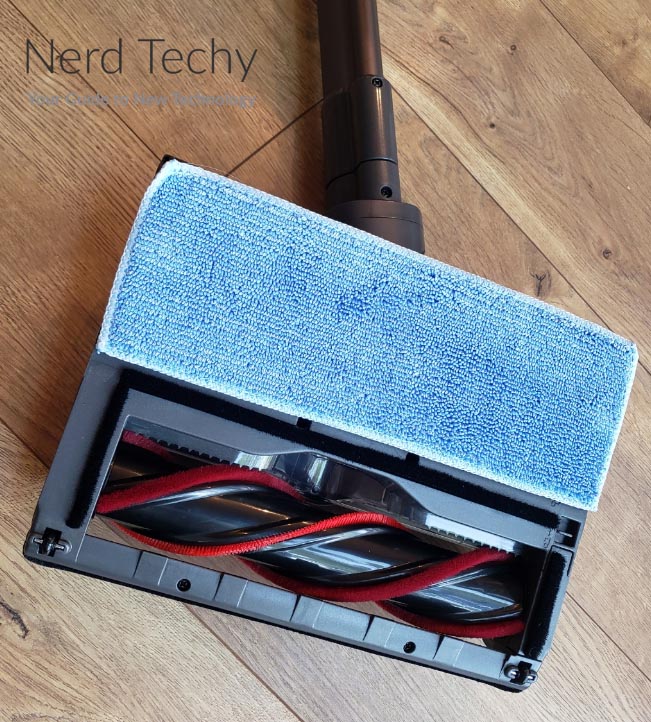 In addition to the main brush, the same primary attachment also sports a removable water tank. The tank attaches with a pair of magnets, which can easily be removed to save weight. Attach the tank and a pair of pads, and the P11 functions as an electric mop. You can clean caked on messes off your tile and hardwood floors. This makes it significantly more versatile than your average stick vac.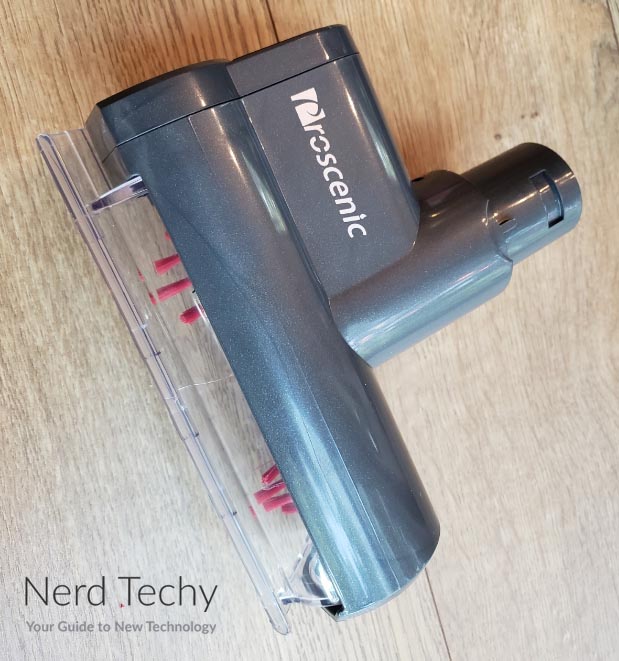 If you like the overall design but don't need a mop, take a look at Proscenic's earlier model, the Proscenic P10. This vacuum doesn't have a mop attachment, which saves you a bit of money. However, the battery is about a year older, so it only lasts about 10 minutes shorter.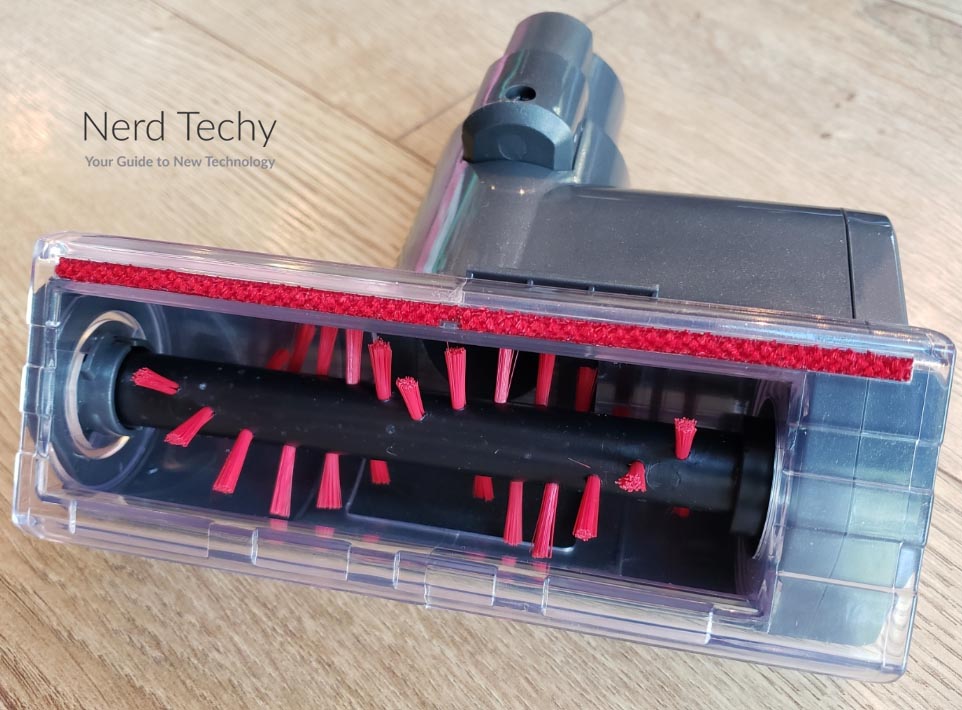 Along with the main roller brush, you also get a mini roller brush for cleaning upholstery, door mats, and even cars. The mini roller is fully powered, so it cleans just as well as the main one. That said, there are no LEDs, and no tank for mopping.
There are two additional attachments that make the P11 even more versatile. First off, there's a brush attachment for delicate surfaces. It's great for cleaning curtains, valences, and other areas that require a soft touch. The brush is similarly useful for cleaning electronics. Finally, there's a crevice tool. This is nothing but a slim, molded piece of plastic. But that's all it really needs to be. It lets you reach into small spaces, like between your couch cushions. It's especially useful for cleaning the spot where your carpet meets your baseboard.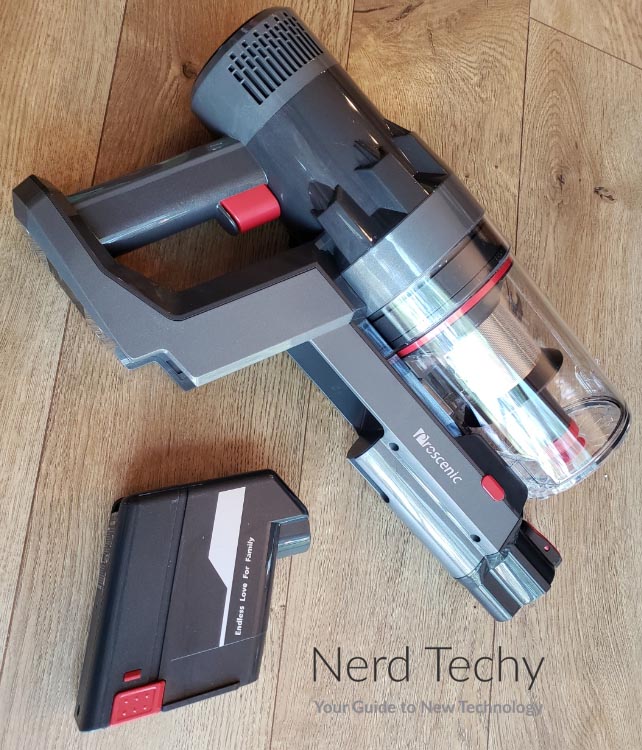 Battery & Filter
As you might expect, the P11's battery will last for a shorter or longer period of time depending on the setting. On the highest setting, it can run between 15 and 35 minutes. Exactly how long depends on how much resistance it's getting. Running the vacuum in open air uses less power than sucking through a deep pile carpet. On the lower setting, you can expect between 45 and 55 minutes of battery life. As for automatic mode, it entirely depends on conditions. Use it on a lot of dense carpets, and the battery will last shorter, and it will last longer on easier-to-clean surfaces.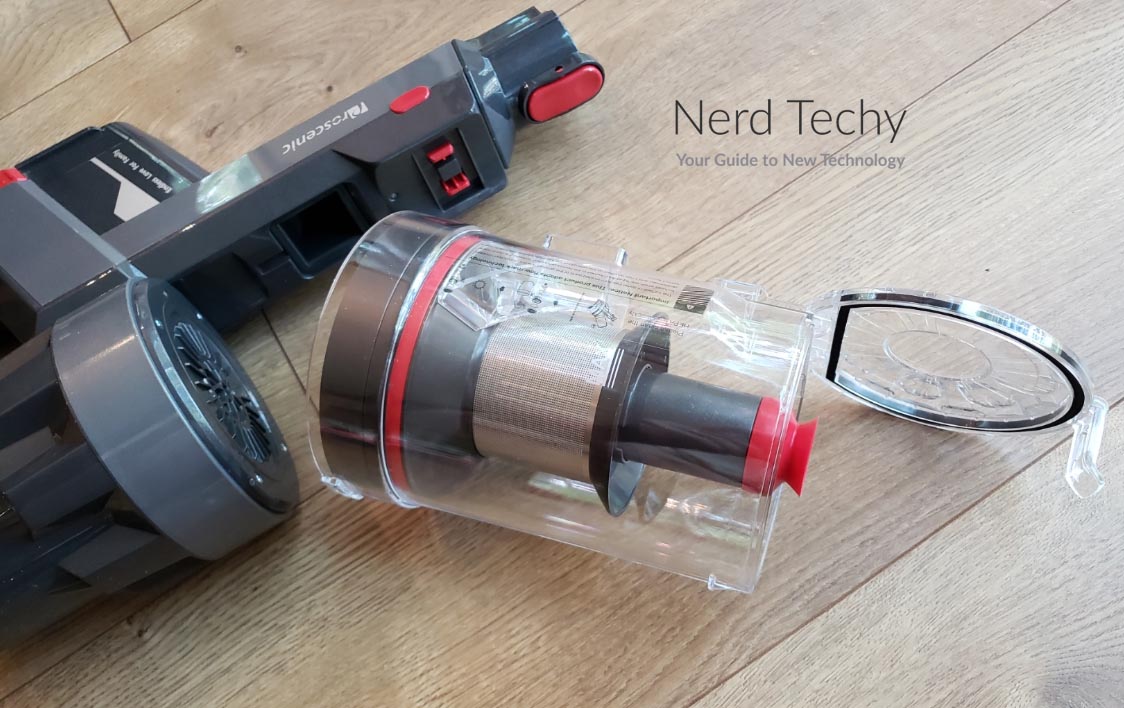 One thing we appreciated was the HEPA filter inside the dust bin. This is a cut above your average vacuum filter, and cleans even the finest of particulates. It will remove particles as small as 0.3 microns, including mold spores and dust mites. In fact, there's even an optional pet-safe attachment for vacuuming your dog or cat to remove dander. This seems like a great idea in theory, especially if you're allergic. In practice, good luck getting a cat – or most dogs, for that matter – to sit still while they're being vacuumed.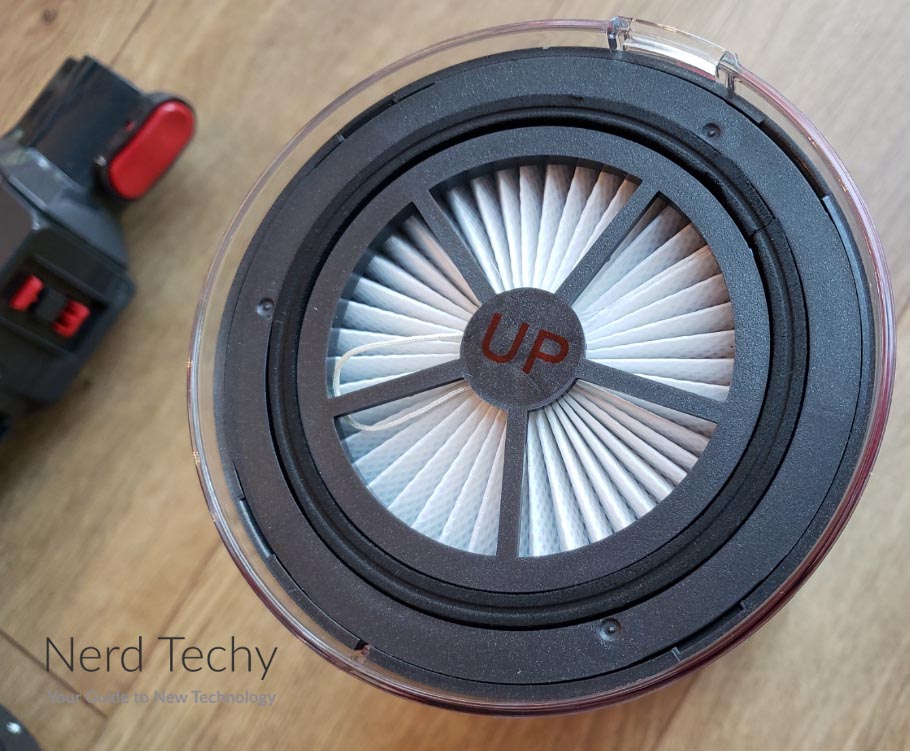 About the only thing the P11 won't do is vacuum your home for you. For that, you'll need a fully automated robot vacuum like the Proscenic M7. The M7 is a powerful smart vac that maps your home and finds the most efficient route, but it's a bit pricey.
Final Verdict
The Proscenic P11 Cordless Vacuum Cleaner is one of the most powerful cordless vacuums on the market. With 25KPa of suction, there's not much it can't keep clean. It can even tackle thick shag carpets, which are simply too dense for ordinary stick vacuums to handle. This comes with a correspondingly short battery life, despite the powerful battery. That said, the lower setting gets much more battery life, and can clean many surfaces easily.
We appreciated the overall ergonomic design, as well as the high quality of the attachments. The filter could have mounted a little more firmly, since it's a pain to hold in while emptying the hopper. But this is a minor complaint about a tool that's already very well designed. The main brush was particularly impressive, both with its LEDs and serrated roller. This truly puts the P11 on par with heavier-duty corded vacuums. It's one of the first cordless vacs to achieve this level of performance.
Meet Derek, "TechGuru," a 34-year-old technology enthusiast with a deep passion for tech innovations. With extensive experience, he specializes in gaming hardware and software, and has expertise in gadgets, custom PCs, and audio.
Besides writing about tech and reviewing new products, Derek enjoys traveling, hiking, and photography. Committed to keeping up with the latest industry trends, he aims to guide readers in making informed tech decisions.