If you're in the market for a new PC, good news! There's never been a time to buy. Of course, that's a loaded statement. As technology continues to improve, we're always living in the best possible time for PCs. Nonetheless, there's a significant difference between buying a PC today and buying one 20 or 25 years ago. Then, you could expect your brand new PC to be obsolete in 2 or 3 years. For light office use, you might be able to squeeze another year or two out of it. By that point, you'd need a new system to handle all the modern features you need.
Nowadays, things have settled down a bit. For instance, if you own a PC from 10 years ago, it probably still runs. To be sure, you won't have newer USB ports, and you probably won't even have HDMI. But the system will still run for basic everyday applications. We can expect more of the same going forwards. In other words, if you're buying a brand-new PC today, it's not a two or three-year investment. It's a ten-or-more year investment.
Obviously, this depends on what you want the PC to do. If you want to play the latest AAA video games at maximum quality, you'll obviously need the latest system. But for an office PC, or even watching videos, you can squeeze several years out of a fairly basic system. We're about to review one such basic system, the Minisforum X35G. This is a mini PC, designed to pack as much functionality as possible into a small package. So, how well does it actually perform? Let's take a closer look, and see what we discover!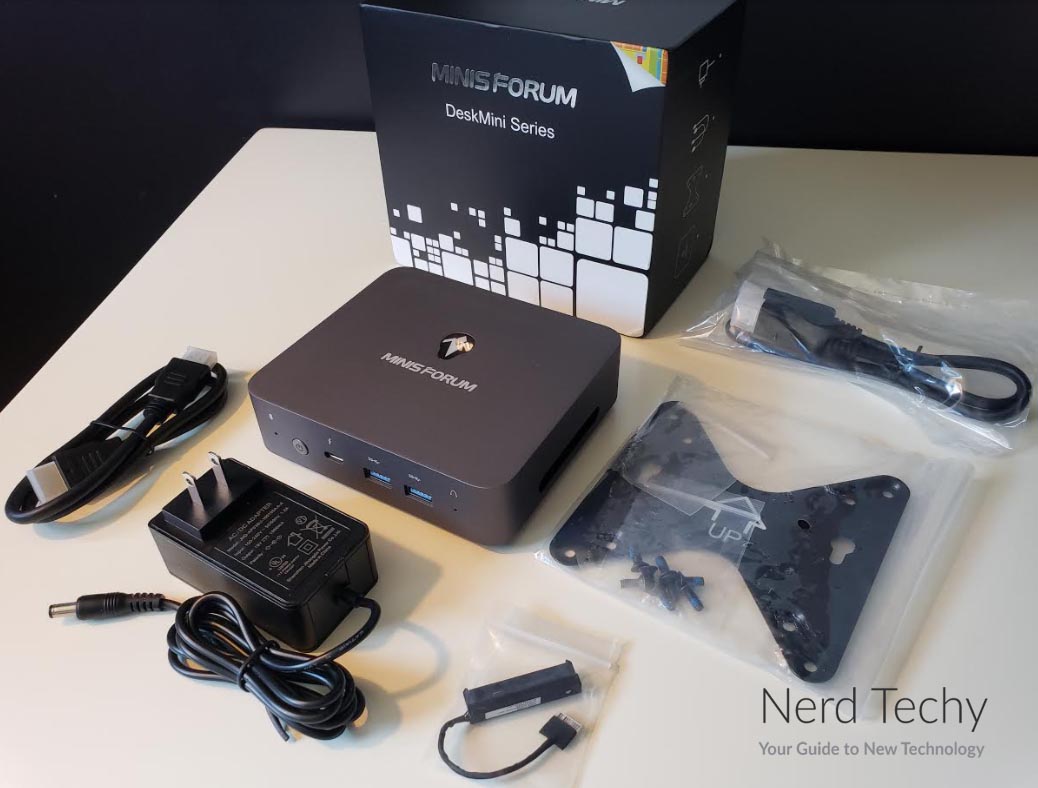 Design & Construction
The most striking feature of the Minisforum X35G is its size. At just over six inches to a side, it's a flat square that measures a hair over 2 inches thick. The corners are slightly rounded for elegance, but other than that the unit maximizes its size. There's no wasted space inside the case, and there's even room for expansion. We'll talk more about your expansion options in a second. The case itself is constructed from a charcoal-colored anodized aluminum. It's shock and drop-resistant, including all the internal components.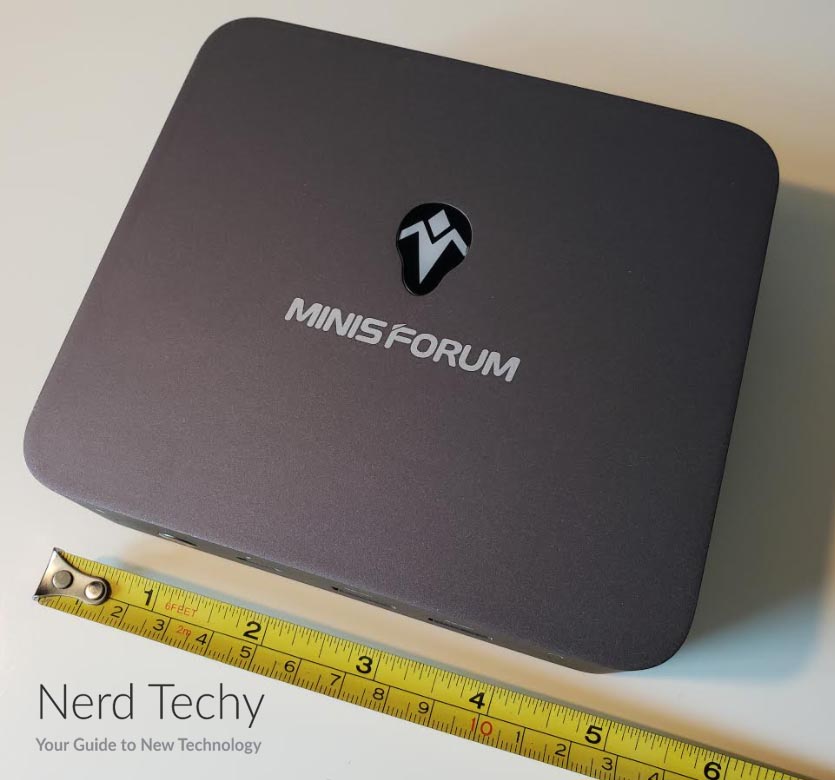 Not only that, but the small size of the case is a major benefit. Simply put, it minimizes the amount of space required for a PC tower. This is a great feature if you're trying to use a multi-monitor setup. With all the desk space required for monitors and other accessories, the last thing you need is a big tower. To complement this, the X35G is VESA-mountable. It even includes a mounting plate and a set of screws. With this hardware, you can attach the computer directly to the back of a monitor or stand. Not only that, but there's an internal metal frame for attaching the mount to.
With this small size, you'd think the X35G would run hot, but that's not a problem. The sides are vented, which allows for a generous amount of air flow. Inside, there's a set of dual hopper heat pipes and a powerful heat sink. These are allowed to dissipate the heat from up to a 25-watt CPU. That's more than sufficient for the X35G's purposes. Even during demanding tasks, it stays cool and reasonably quiet.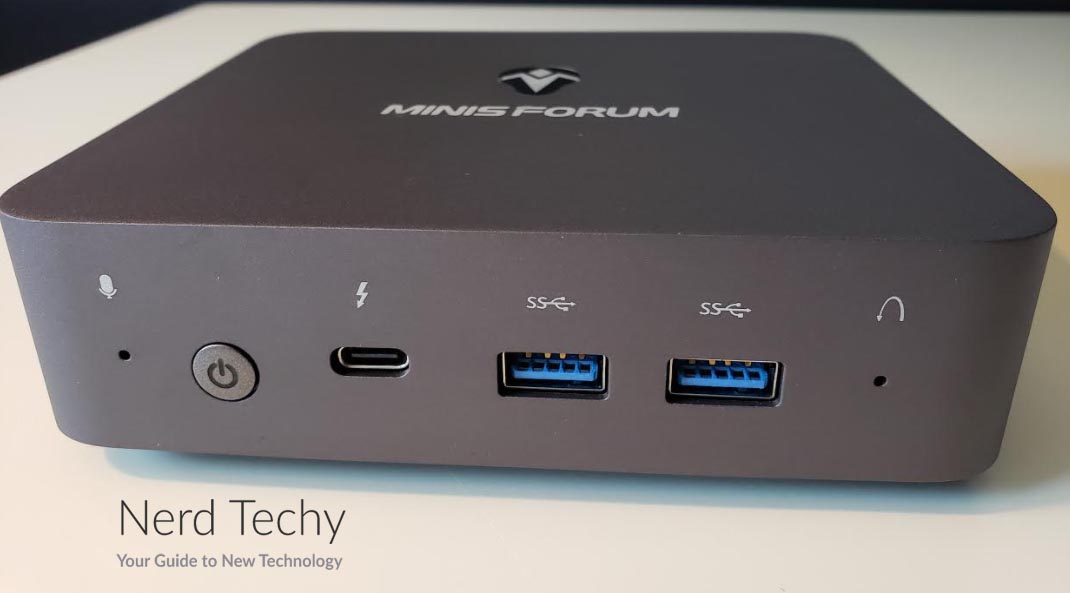 There are two ways it does this. First, the motherboard sports an intelligent temperature control system. This ensures that if the board gets to hot, two things will happen. First, the CPU will throttle back, reducing the amount of heat it releases. Secondly, the fan will speed up, increasing air flow.
The front of the case has a power button to the left side, which features a blue LED indicator. Next to this button, there's a small pinhole mic for hands-free audio. On the opposite side, there's another pinhole for resetting the PC. In-between, there are three ports for connecting your peripherals and thumb drives. There's a Thunderbolt 3 port that can handle 5K video at 60Hz. There are also a pair of USB 3.0 ports. On the left side of the case, there's a 3.5mm aux jack for connecting a pair of headphones. Alongside it, there's an SD card slot for transferring pictures and other device data.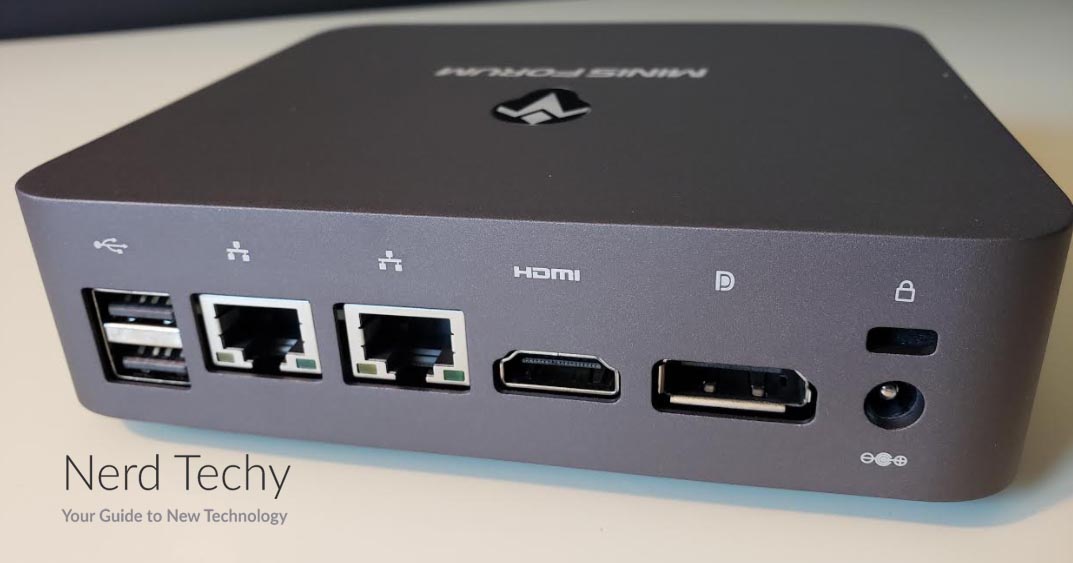 On the back of the case, you'll find even more ports. To the left, there's a pair of stacked USB 3.0 ports. Next to those, you'll see a pair of Gigabit Ethernet ports. Moving on down the line, there's an HDMI port and DisplayPort output, as well as a Kensington lock slot. No Kensington lock is included with the package. There is, however, a DC power adapter for plugging in. You also get HDMI and DisplayPort cables, so you can get started computing on day one.
On top of everything else, the X35G is protected by Minisforum's 24-month manufacturer's warranty. If anything happens, it will be repaired or replaced. Not only that, but they offer a 30-day return window. During this time, you can send it back for any reason, even if it's just that you don't like the computer. Finally, Minisforum provides free shipping everywhere in the world.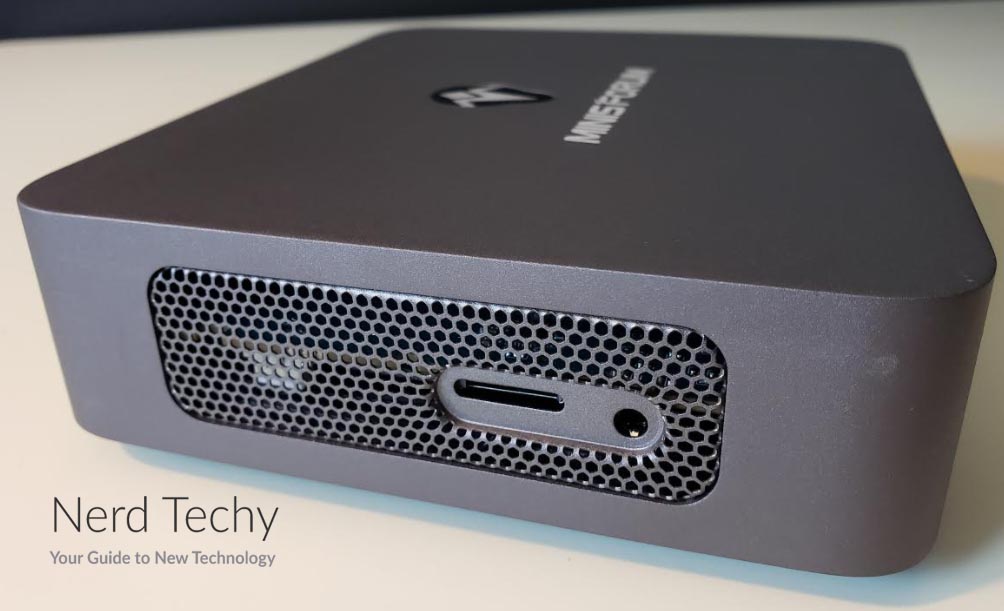 Graphics & Performance
The Minisforum X35G is an office computer, not a gaming PC. It's not built to handle demanding tasks like running modern video games. In fact, you'll have trouble running even some older games. The processor is an Intel Core i3-1005G1, which has a max turbo frequency of 3.4GHz. Not bad, right? Unfortunately, the base frequency is only 1.2GHz. Without getting too far off into the weeds, this means that most of the time, the system runs fairly slow. This is fine for emails, spreadsheets, presentations, and other everyday purposes. You can even run an older video game like Civilization V. Just don't expect top of the line performance.
As you might expect in a mini office PC, the X35G doesn't have a graphics card. Graphics are handled by the dedicated intel processor graphics. This gives you a base frequency of 300MHz and a maximum burst frequency of 900MHz. In other words, it's fairly slow. Once again, this isn't a problem for everyday computing. It just means you're not looking at a gaming PC.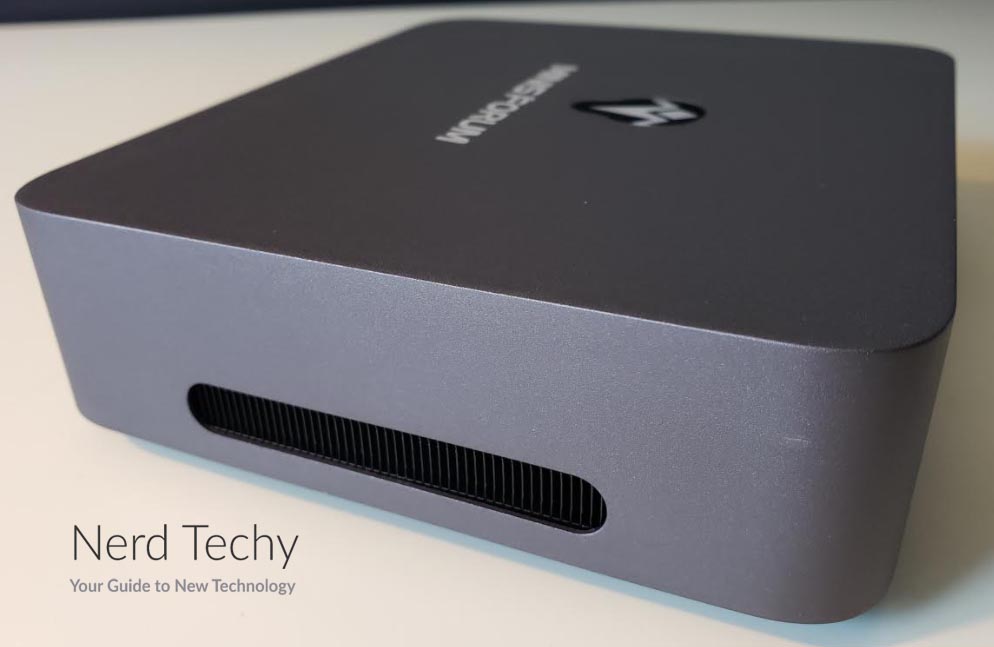 The base version of the Minisforum X35G comes with 16GB of RAM in a dual-channel configuration. The motherboard will support up to 64GB of RAM. It will also support advanced Intel Optane memory. Intel Optane memory is designed to adjust to your personal preferences. Basically, an AI learns what tasks you perform most often, and keeps those programs ready in RAM. Best of all, it's adaptive. As your usage habits change, the memory will continue to adapt.
For storage, you get a pair of M.2 SSD slots. One of these is a standard SATA channel, while the other is a more advanced PCIe channel. There's also a standard 2.5-inch SATA slot that can be used for either an SSD or an HDD. The basic version of the system doesn't have any storage whatsoever. You'll need to install your own drive. This can be beneficial if you're trying to save money by recycling an old drive. On the other hand, if you're not confident with PC parts, it can be a pain. As an alternative, Minisforum offers a mid-tier version with a 256GB SSD. They also offer a top-tier version, with a 1TB HDD and 16GB of Intel Optane memory.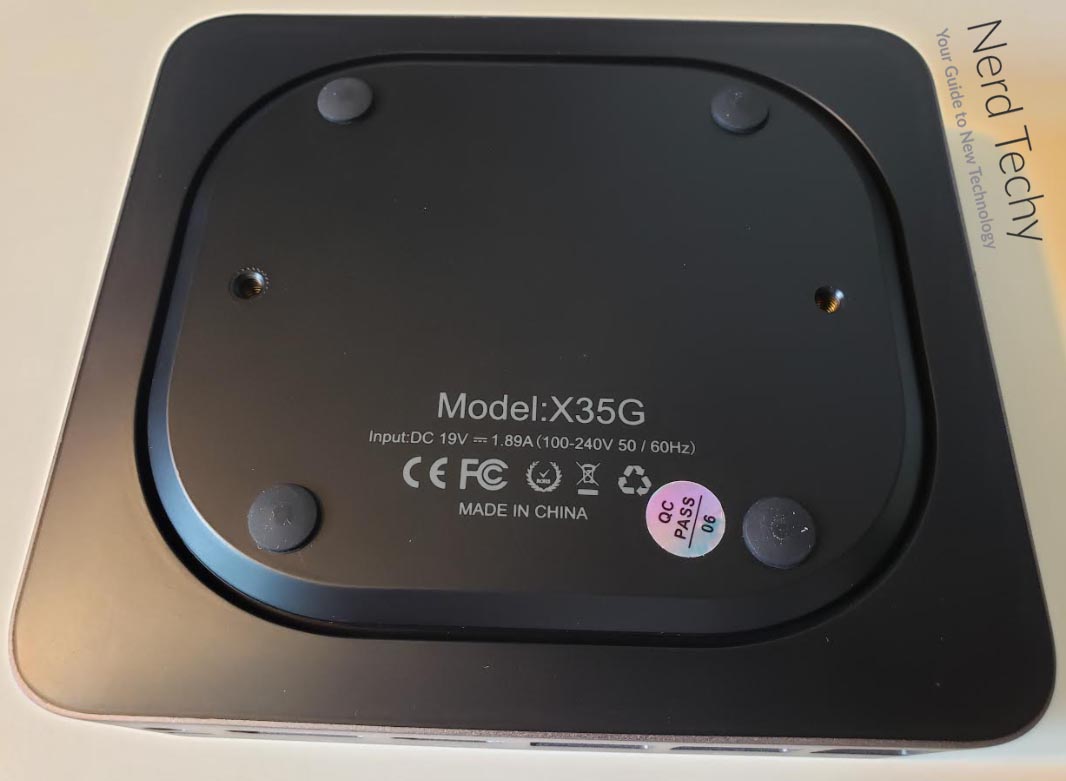 Connectivity and Extras
The dual Ethernet ports will be your fastest way to connect to the internet. With the second port, the X35G can function as a soft router. Plug it in, then daisy chain another device you want to connect. If you prefer a wireless connection, the X35G supports WiFi 6. This is the latest WiFi protocol that's designed to work with all the newest internet of things (IoT) devices. You'll be able to take advantage of the highest speeds on the latest routers, so the connection is future-proof.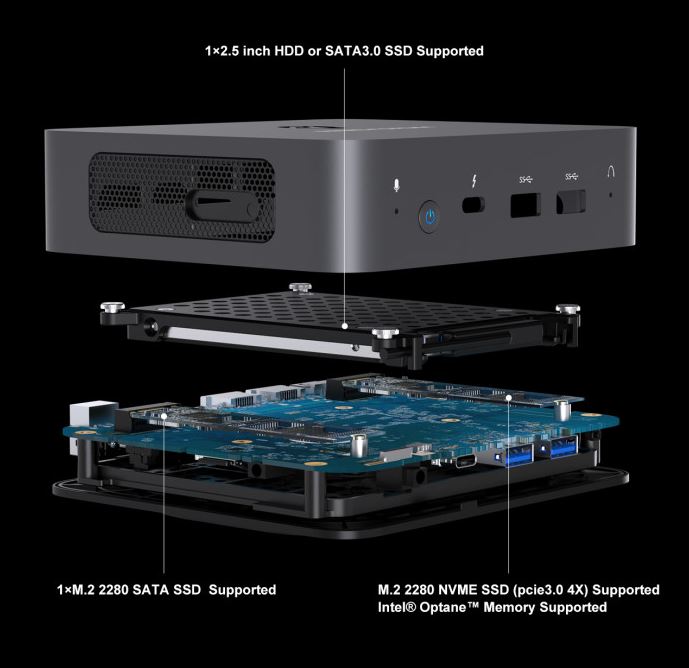 When it comes to connecting peripherals, you've got the ports we already talked about. That said, the X35G supports the latest Bluetooth 5.1 protocol. This version of Bluetooth is lower-latency, more stable, and higher-fidelity than older versions. If you're watching a movie on the PC, some wireless gaming earbuds will give you a latency-free viewing experience. If you prefer a pair of wired headphones, you can still use the 3.5mm aux jack without any trouble.
The Minisforum X35G comes with Windows 10 pre-installed. All you have to do is plug it in and follow the setup process. Admittedly, we're not sure how this works on the base version of the system. The X35G doesn't ship until September, so all we have to go on are some prototypes. For what it's worth, they've more than met their funding goal on Indiegogo, so the project is good to go. And if you're getting the mid or higher-tier version, you'll already have a drive for your operating system.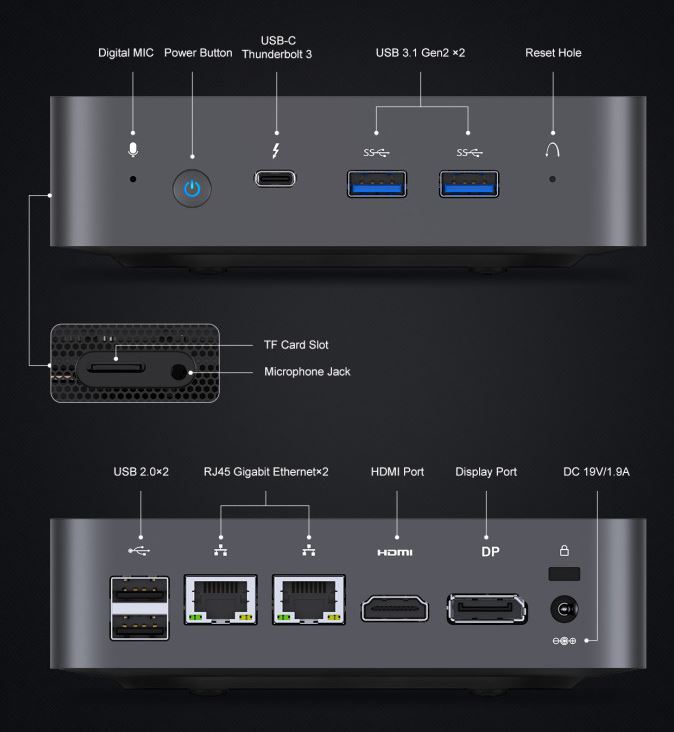 Final Verdict
So, should you pre-order a Minisforum X35G? It all depends on what you want. If you're looking for a gaming PC, you'll want to look elsewhere. The graphics capabilities just aren't up to even the most minimal of modern standards. That said, there are plenty of reasons to use a PC besides gaming.
The X35G is an excellent office PC for several reasons. For one thing, the compact size makes it easy to position. It can even be mounted on the back of a monitor. This makes it a great choice for cramped setups, or for public computers in a library or other facility. Moreover, besides the lack of a graphics card, the performance is actually quite good for the price. You can run office apps, watch movies, read PDF documents, and do everything else you want from an office PC. It's also a great choice as a light-duty home PC if you don't need one for gaming.