Streaming has come a long way over the past several years. If you go back to the mid and late 2000s, sites like YouTube were basically home video quality. But as time has gone on, the top streamers have been upping their game. Even simple interview shows with a few thousand fans are often filmed in elaborate home studios. And if you're gaming in particular, people want to see you against an interesting background.
One way to improve the production value of your videos is to use a Chroma-Key green or blue screen. Just like professional filmmakers, you can use a green screen to put yourself into any environment you want. Of course, a physical screen isn't always required. Nowadays, you can achieve a similar effect with artificial green screen software. Software isn't quite as effective as a real, physical screen, but it doesn't take up floor space, either.
Another option is simply to paint one of your walls with Chroma-Key paint. This is certainly effective, but it's inherently limiting. You'll effectively be locked into recording in one space. If you want to take your show on the road, that's a non starter. You need a portable green screen instead.
Today, we'll be looking at three of the best portable chroma-key green (and blue) screens that money can buy. We'll start with the Valera Explorer 90. This is a massive, 90-inch screen for wide angle shots. After that, we'll look at the Fotodiox 5'x7′ Collapsible Green/Blue Screen. This is a more compact screen with a two-tone green and blue design. Last, we'll review the Emart Green Screen. This is a nifty, collapsible screen with its own built-in stand. Which one is the best? Let's take a closer look, and see what each of them has to offer!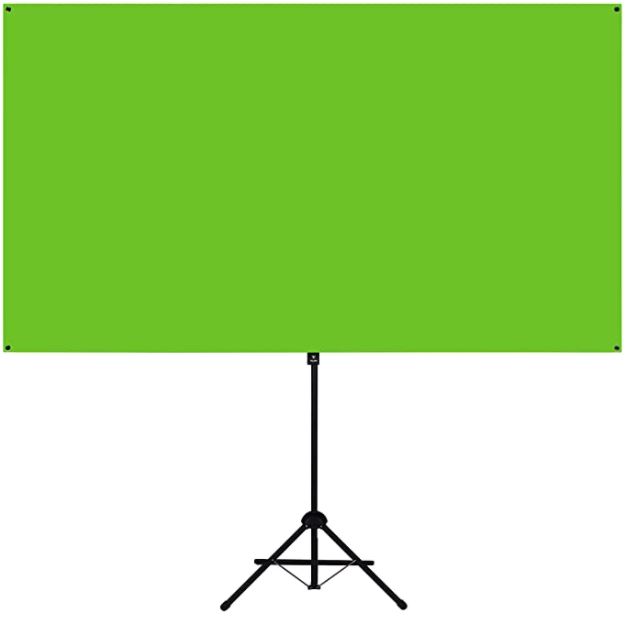 Valera Explorer 90
The Valera Explorer 90 is a large screen that can be used for a variety of purposes. It measures 90 inches on the diagonal, 80 inches wide, and 46 inches high. Not only is this a large area, but it's also a wide, 16:9 aspect ratio. This makes it suitable for wide-angle applications, where more than one person is on camera. Alternatively, it's big enough to get your whole body into the shot, not just your head and shoulders. The bottom line here is versatility. The more real estate you have to play with, the more options you ultimately have. You can even switch between portrait and landscape mode without any trouble.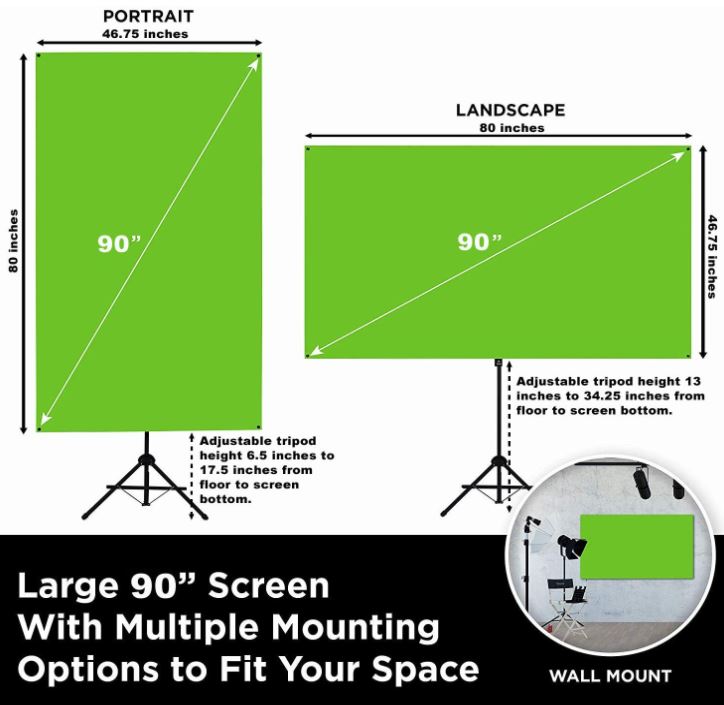 At that size, you might expect the Explorer 90 green screen to be heavy. As a matter of fact, it weighs only 8.5 pounds, so it's easy to carry around. This weight includes the tripod, which comes with the screen. The tripod is lightweight and collapsible, and takes just a few minutes to set up. The tripod can even be angled somewhat to get the screen perfectly into frame. As an alternative, you can mount the Explorer 90 screen directly on your wall. This eliminates the tripod and saves space. However, it also makes the screen less portable. Either way, it's good to have options.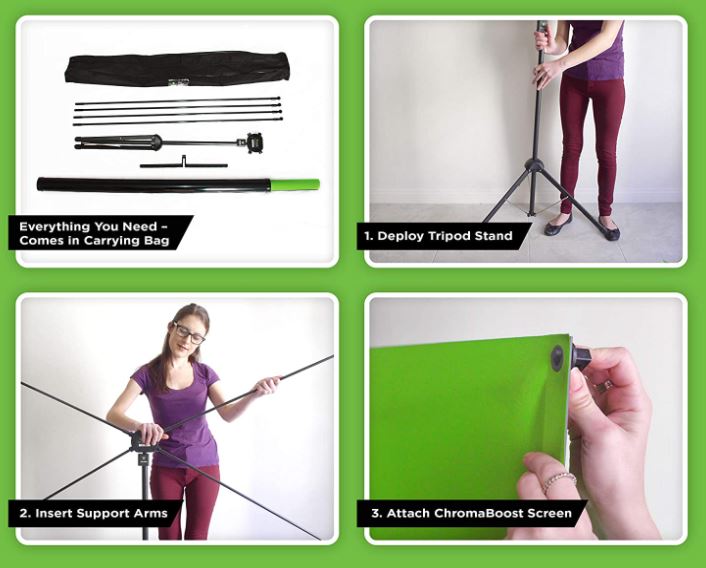 Transporting the Explorer 90 is easy. It comes with a 46-inch carrying bag that holds both the screen and the tripod. The screen itself rolls up for transport, and doesn't need to be folded. Even if the edges get a bit rumpled, the fabric is wrinkle-resistant. Any small wrinkles will disappear within just a few minutes of hanging the screen. Setup is simple, and takes just a few minutes. Once you know what you're doing, you'll spend less time setting up your screen than any other part of your shoot.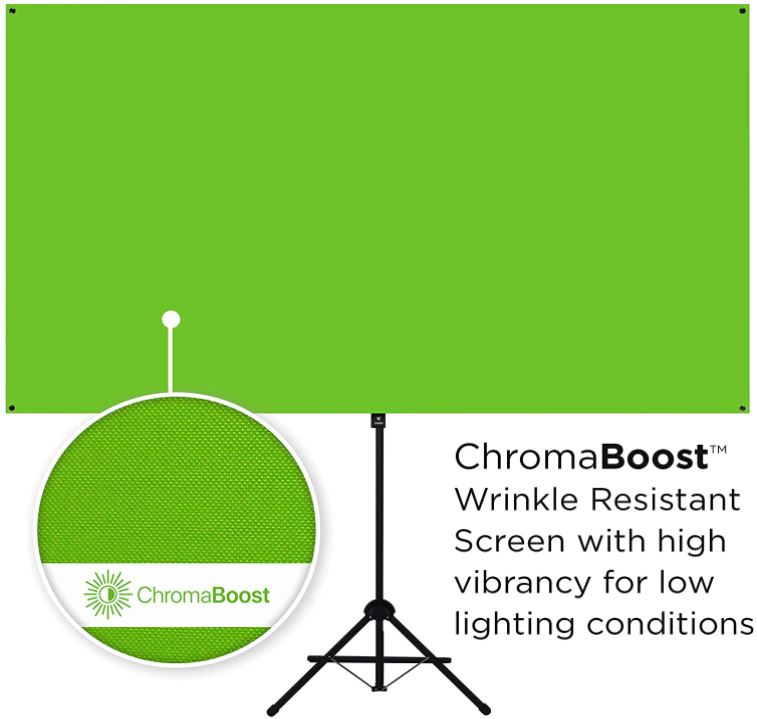 Filming is easy under a wide variety of lighting conditions. The Chroma-Key green surface has high vibrancy, so it will work well even in low lighting conditions. And if your recording is bright and cheery, the color will remain consistent. You don't have to worry about any glossy artifacts sneaking their way into your video. Finally, the Explorer 90 has been factory tested with most major recording software. It works with iMovie, OBS, PS4 Chroma Key, XSplit, Zoom Virtual Background, WeVideo, and Doink. That covers just about any video software you're likely to use.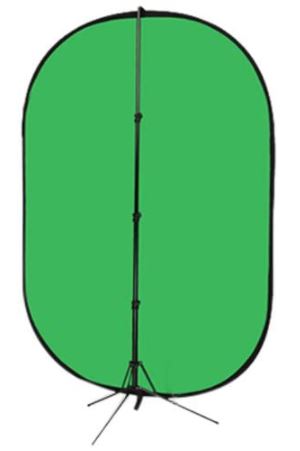 Fotodiox 5'x7′ Collapsible Green/Blue Screen
The Fotodiox 5'x7' Collapsible Green/Blue Screen is a different animal altogether. Instead of rolling up, it has a semi-rigid frame that can be folded in half. When collapsed, it forms a 30 x 30-inch disc that can easily fit in narrow spaces. It also slides easily into the flat carrying case that's included with the kit. The weight of the screen itself is only one pound, making it easy to carry. One benefit of the semi-rigid design is that it does a great job of preventing wrinkles. When the frame is opened up, the material will be fully stretched out. This means you're ready to start filming the moment you first set up.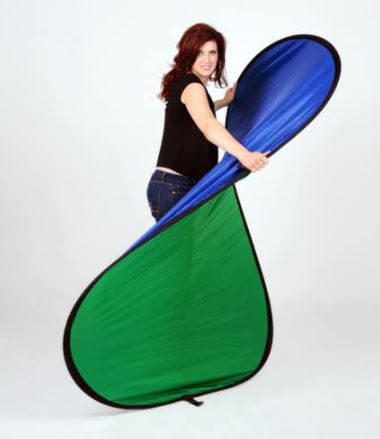 As the name implies, the panel has a total measurement of five by seven feet. This works out to 60 x 84 inches, which is technically larger than the Explorer 90. However, the corners are all rounded, which reduces the useful screen area. It's still fairly big, but it's better suited for filming a single person than for filming multiple people.
The kit includes a tripod allows for either portrait or landscape placement. It can also be adjusted between six and eight feet of height. This point would be the top of the screen, either in portrait or landscape mode. The stand itself is as lightweight and portable as the screen. It's made of aluminum, so it's surprisingly sturdy for the form factor. Even better, the entire kit is covered by Fotodiox's 24-month manufacturer's warranty. If there are any defects in material or workmanship, you'll be covered.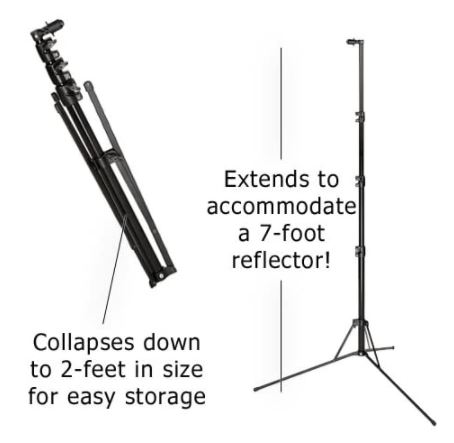 The main benefit of the Fotodiox screen is its two-tone design. One side of the fabric is Chroma-Key green, while the other side is Chroma-Key blue. Why would you want both colors? Well, suppose there's something you want on camera, and it's close to Chroma-Key green. Let's say you're showing off a fancy new game accessory with a lot of that color. In that case, it's going to cause issues with an ordinary green screen. With the Fotodiox screen, you would simply flip it around and switch to blue. Switch your software to blue accordingly, and you're ready to start filming.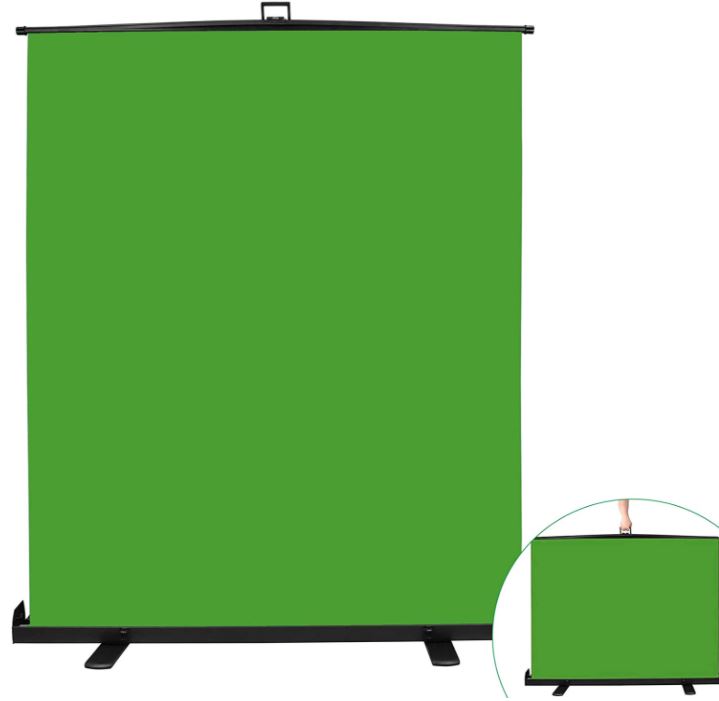 Emart Green Screen
The Emart Green Screen is built like a projector screen. It comes collapsed into a long tube, about four by five inches across and just over five feet in length. There are a pair of wide plastic feet that mount on the bottom of the tube, allowing it to function as a base. The screen is then pulled out upwards. It has a scissor-style extension frame on the back that supports it at any height. This frame is no slouch. It's pneumatic, so it can be locked into place at any height. When fully extended, the screen measures 60 inches wide by 72 inches high. This is slightly smaller than the overall stated product dimensions. But keep in mind that this model essentially has a frame at the top and bottom.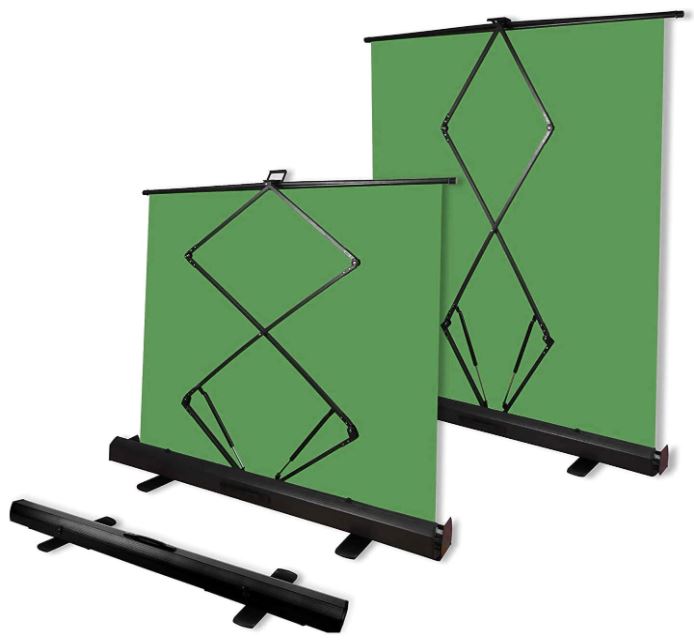 When the screen is locked into the storage base, the handle on top can be used as a carry handle. This makes the Emart Green Screen relatively easy to transport. That said, it's a bit heavier than the other two screens we've looked at. At 19 pounds, you'll definitely notice you're carrying it. Even so, it's fairly easy to move, and it's compact enough for easy storage when not in use.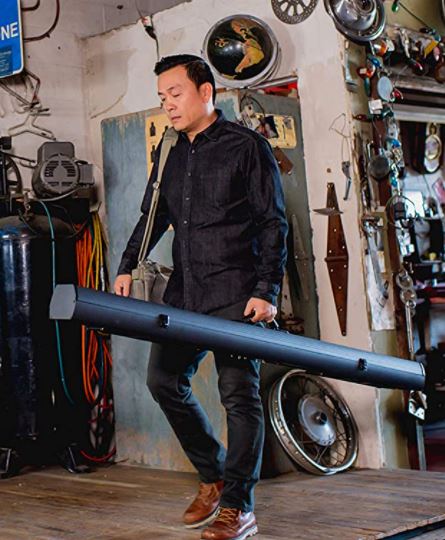 There are a couple of major benefits to the Emart's unique design. First off, the pneumatic frame ensures that the material is always held taut. You don't have to worry about wrinkling, even when the screen is first unrolled. Second, the base actually takes up less depth than most tripods. This makes the Emart screen easy to position between your back and the wall behind you. So whether you're setting up in a tight space or an open one, you'll be well prepared. Finally, the whole thing is just plain tough. We were very impressed with the sturdiness and ruggedness of the design.
Final Verdict
So, which one of these Chroma-Key green screens is the best choice? Let's recap what we've learned! We started off by looking at the Valera Explorer 90. The Explorer 90 is exceptionally large, with a 16:9 aspect ratio and 90-inch diagonal measurement. Even so, it remains highly portable. It rolls up and stows in a 46-inch carrying case, along with its tripod. The entire package weighs only 8 ½ pounds, so it's easy to carry wherever you want to go. The only real drawback is that the large size might not work well in small spaces.
The Fotodiox 5'x7′ Collapsible Green/Blue Screen offers a couple unique benefits of its own. To begin with it has a semi-rigid frame. This makes it easy to collapse and quick to set up without any wrinkling. Not only that, but it has a two-tone, blue and green design. This allows you to film with either a blue or a green screen, without investing in a second screen. The kit also includes an adjustable, lightweight tripod, so you've got everything you need to get started. Our only complaint is the rounded corners. To be fair, they're necessary for the semi-rigid frame to work properly. But they reduce the useful screen area by a significant amount.
Last but not least, we looked at the Emart Green Screen. This is a big, beefy screen that's built like a tank. It comes rolled up in a storage case, and has a pneumatic frame that locks into place at any height. The downside here is obvious. All this metal adds a fair bit of weight to the Emart screen. On the other hand, the relatively slim design makes it easy to fit in narrow spaces. And the pneumatic design means wrinkles are simply not a concern. It pops up, and the screen is instantly smooth.