Outdoor wireless remote outlets can be put to a lot of good purposes. You might hook them up to seasonal holiday lighting. They might be used for controlling sprinkler systems or humidifiers. And once they're setup, you can save a lot of time and energy while micromanaging your outlets. But before you can get there, you will need to understand a few things about how to pick the right remote outlet.
Choosing the Best Outdoor Wireless Remote Outlet
Fortunately, it's not that tough to pick some great outdoor wireless remote outlets. It helps to have a good idea about the sort of application you have in mind for the outlet. But even with only a vague idea of what you want to power remotely, keeping your eye on the following factors can help guide your search towards success.
Number of Sockets
This criterion is probably the most straightforward. How many AC sockets do you want on the remote outlet? The most basic wireless remote outlets will typically require you to use one AC socket on a wall outlet, and then offer you two controlled AC sockets in exchange. Some outlets are made to provide three or more sockets, but more sockets will invariably cost more money.
Quality of Build
If you're planning on using the outlet outdoors, then you're going to want a remote that has some basic waterproofing. However, unless you're literally working in an aquatic environment, you probably don't need extreme levels of waterproofing. Going overboard with waterproofing can actually get expensive pretty quickly, which makes it worth avoiding unless you actually need those higher levels of protection.
Most models are designed with at least enough protection to stave-off high levels of humidity, rainfall, and so forth. But for outdoor installations, it often helps if there is additional protection for the outlets themselves. That might include built-in or separately included AC outlet plugs that can help plug-up unused outlets.
Type of Remote
You want to use your outlet remotely. Great. But how do you want to manage the remote? For many people, the most straightforward options will be a traditional remote control. Between different RF remotes, you'll find some significant differences in transmission distance. But most remotes will be able to provide connectivity for at least 50ft, assuming you have line of sight between the remote and the outlet.
But sometimes you don't have line of sight with the thing you want to control, right? Which is where RF remotes feel a little bit old fashioned. Fortunately, as people are getting more accustomed to using voice assistants, or controlling things through apps, it's also possible to find that support for a wireless remote outlet. Provided only that the outlet can connect through Wi-Fi.
Control Options
So you've managed to connect your wireless remote outlet. But how do you want to control it? Would you like to be able to activate or deactivate each control module independently? Or would is it okay if all the AC sockets on the outlet are activated as one?
Getting more control over your outlet is typically the kind of thing that will ease-up the price you pay. So it's worth avoiding if you don't actually need it. If you do need that level of control, you might look for remote control outlets which not only can be used independently, but can also be scheduled in advance.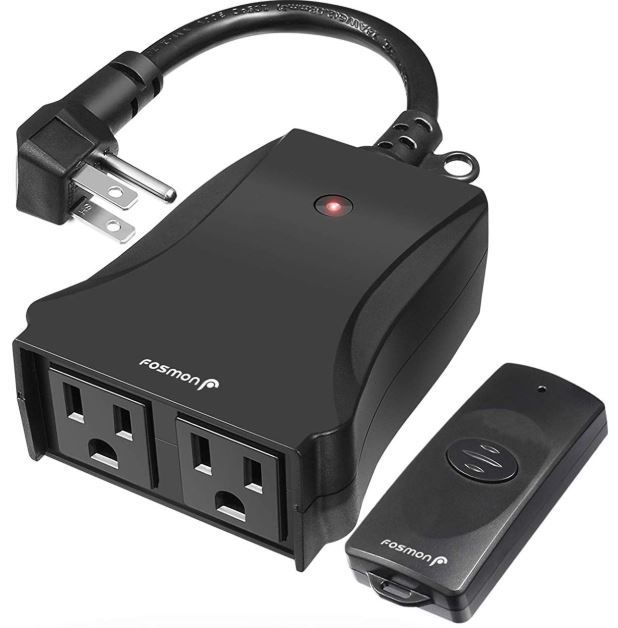 Fosmon Wireless Remote Control Outlet
Like you would probably expect, the Fosmon Wireless Remote Control Outlet allows you to remotely turn your outdoor and indoor lighting on and off. It does this with the aid of Fosmon's analogue RF remote control. And though this device was rather specifically with seasonal lamps and lights in mind, it could actually be put to a lot of different purposes.
Properly installed, it would be very convenient to be able to activate outside exterior lights near your home as you left for your vehicle, or as you approached your place at night. The effective distance of the remote is about 80ft. Potentially quite useful for TVs, sprinkler systems, aquariums, humidifiers, and so forth.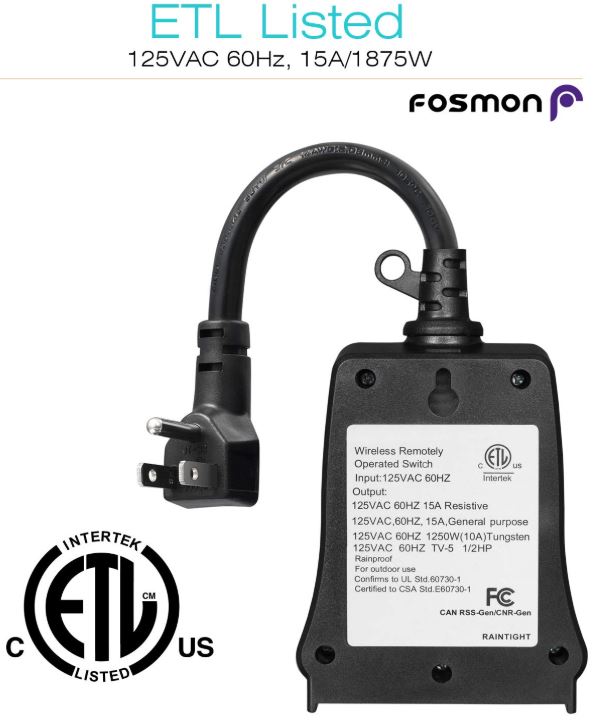 Design & Layout
The Fosmon outlet measures 7.5 x 4.1 x 1.8 inches, and weighs about half of a pound. Reasonably small and straightforward. The simple black chassis is made from ABS plastic, which was molded with a matte finish. It's not the moist stylish outlet you'll ever see, but it's quite generic and should work anywhere without standing out too much.
The weather resistant construction of the remote control outlet makes it quite durable. You can use it outdoors in most situations. You wouldn't want submersion obviously. Outlet's you operate two lighting elements at the same time with the aid of three grounded prong AC plug. It's a six-inch flexible cord that's heavily protected with a thick jacket, and it connects with any standard American outlet.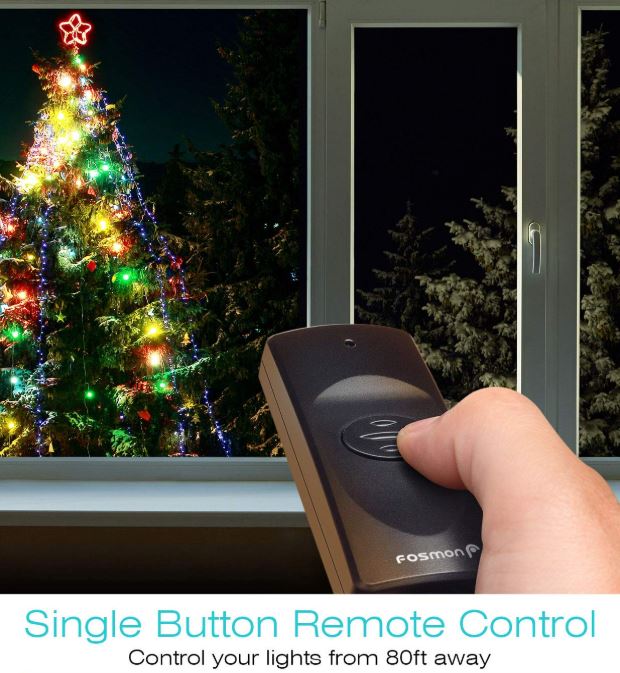 Other Considerations
The Fosmon Wireless Remote Control Outlet carries 125VAC at 60Hz and 15A. It's FCC certified for being safe for both inside and outside use. The remote is powered by a single CR2032 battery, which is included. Those batteries tend to last for ages. Additionally, Fosmon incudes a lifetime warranty.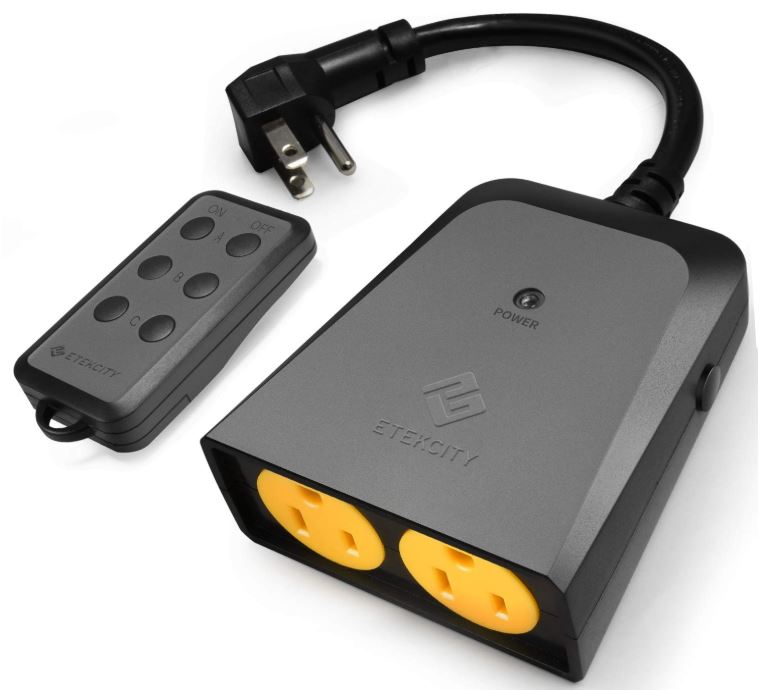 Etekcity Outdoor Wireless Remote Control Outlet
The Etekcity Outdoor Wireless Remote Control Outlet is basically a more advanced version of the Fosmon outlet. Used in the simplest way, it allows you to use the RF remote to control over lights in a room, various household appliances, fountain pumps, and so forth. However, this outlet lets you move beyond the simple and into more advanced setup options.
For instance, the two outlets on this build can be individually controlled. Moreover, the Etekcity Outdoor Wireless Remote Control Outlet allows you to pair several ZAP 1FX outlets into a single remote.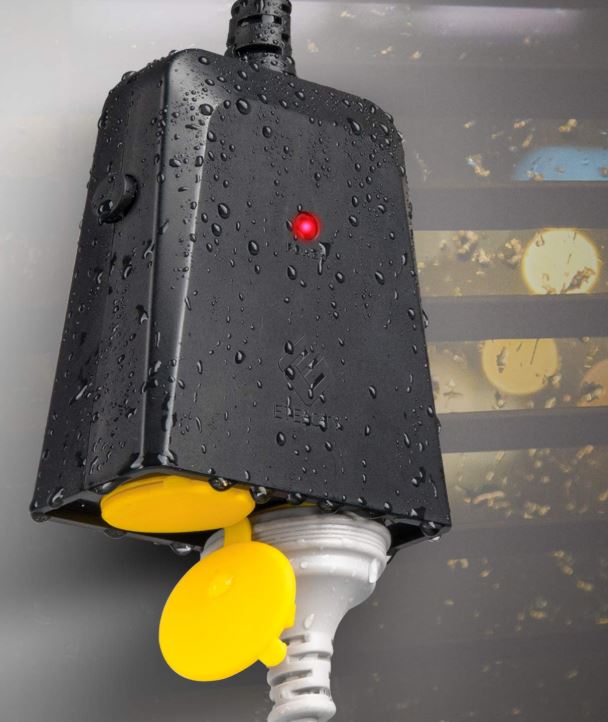 Design & Layout
With a design that's almost physically identical to the Fosmon outlet, this outlet measures roughly 6.8 x 5.8 x 2 inches. It weighs about eight ounces. There's not much special or outstanding about its physical design, with the exception of the AC outlets using bright yellow highlights, which make it much easier to connect things to the outlet while operating it in the dark.
The remote is pretty impressive in its simplicity. Even though this is basically just a six button remote, it lets you get quite a bit done. And without becoming large or burdensome. In fact, the remote is about the size of any other keychain remote. Small enough to fit in your hand. Additionally, the remote is powered by a single 12V battery, which is included.
Like any outdoor wireless remote outlet ought to, the Etekcity outlet was built with IPX4 waterproof certification. But in addition to being protected from water, it was also built with a UV-proof design. That basically means it holds up equally well against the sun and against the rain. But you wouldn't want to put this in a truly aquatic environment without extra protection.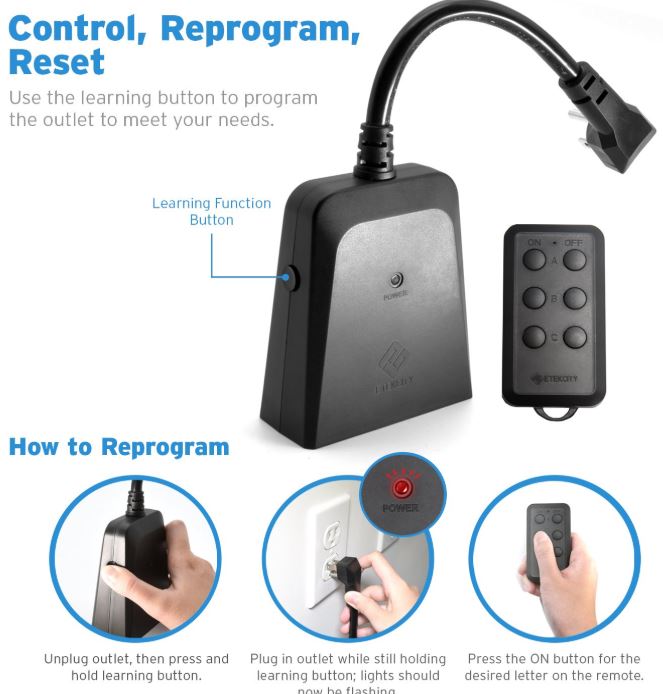 The Etekcity outlet uses a remote that broadcasts out a massive 150ft signal. You would think that signal would be great for blasting through doors, walls, furniture, and other obstacles. However, like any other RF remote, you do pretty much need line of sight with the outlet you're trying to control. Especially if you actually want to reach 150ft.
Other Considerations
As mentioned earlier, the Etekcity is pairing friendly, which allows it to work alongside other outlets and other remotes. If you truly need to control several sets of devices, that can be extremely handy. Additionally, this outlet is FCC and ETL certified, providing protection for appliances with its short circuit protection, overload protection. At numerous places, this model is listed as having a one-year warranty. But it actually has a two-year warranty from Etekcity.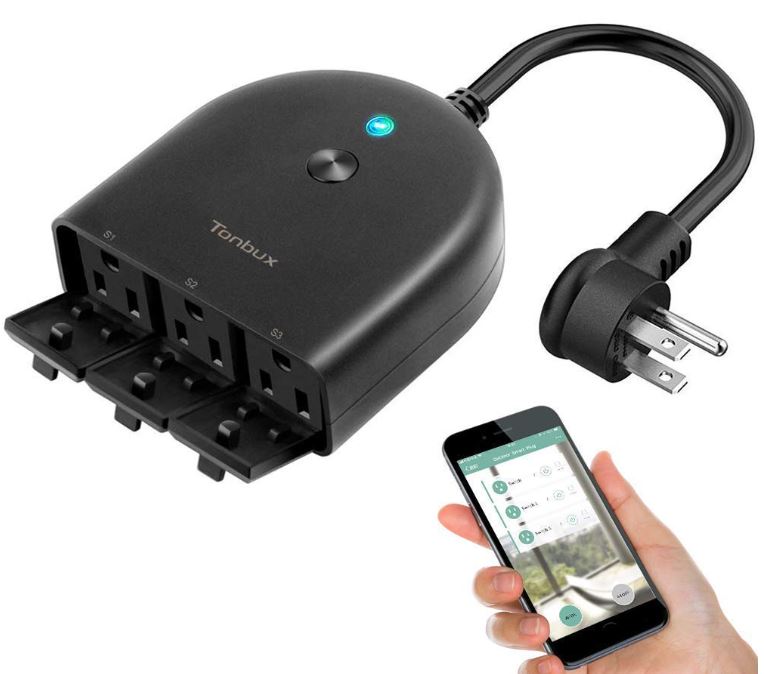 Tonbux Outdoor Smart Outlet Plug
The Tonbux plug is available in both a two-plug and three-plug design. Because the two cost nearly the same, it's probably a wise choice to pick the three plug design. Unless you happen to need the outlet fixture to be as small as possible, then you may have a reason to go with the two-plug option. And the 15A/1875W maximum provides a tall ceiling for controlling appliances and other large electronics.
Apart from the obviously high-value of a 3-plug piece, it's worth noticing that true to its name, this is a Wi-Fi based smart plug. The Wi-Fi portion of this device is quite easy to setup, and it works with Amazon Alexa and Google Home. That means you can setup several independent schedules or timers that can work autonomously.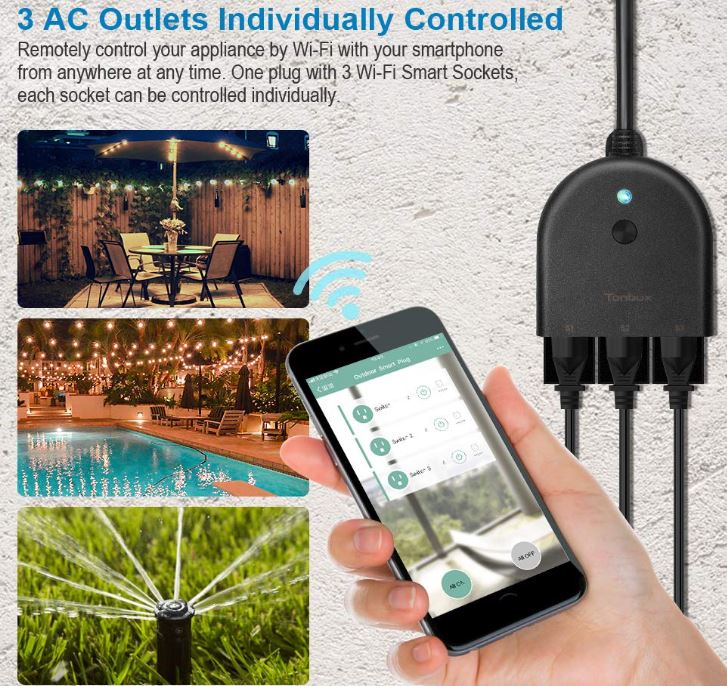 Design & Layout
Trying to grow some plants in your greenhouse that require a special balance of light and darkness? It would be no problem to setup something like that in only a couple of minutes. And you can use app control or voice control for all the stuff connected to the outlet. Amazon Alexa or Google Assistant can be used to help initiate yard decorations, start watering your yard without having to step outside.
The Tonbux Outdoor Smart Outlet Plug measures 5.8 x 5.5 x 1.4 inches, and weighs a fairly hefty 12 ounces. This plug is constructed from ABS, which is fireproof and generally a smart decision for an outdoor product. As mentioned, this design provides up to 3 AC plugs, but each of those plugs is complete with waterproof button-caps.
Those caps protect the unit from dirt and debris, too. But by far, the Tonbux Outdoor Smart Outlet Plug is the most waterproof design of the outdoor wireless remotes outlets on this list. The IP44 waterproof rating basically means you're protected against everything except submersion in water.
If you end up picking one of the other wireless remote outlets on this list, and plan on using it in a wetter environment, it might be worth picking up a few plastic plugs you can use to fill-up any unused AC sockets on the outlet you select.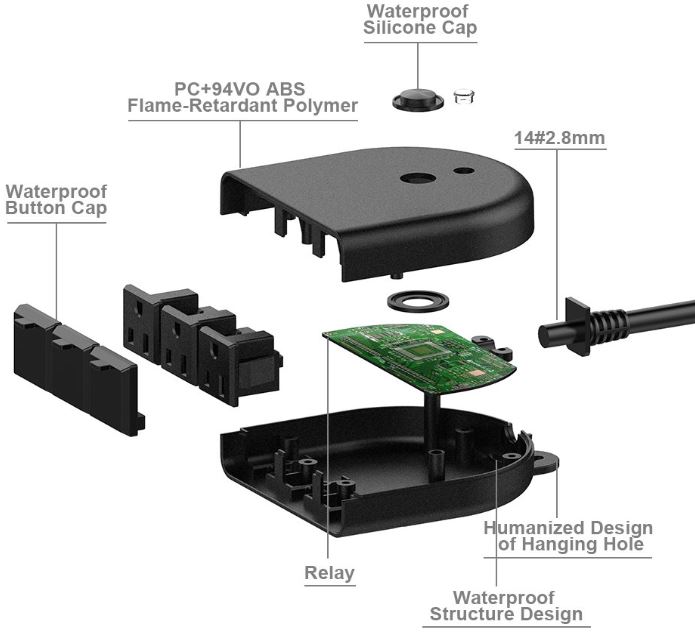 Other Considerations
This outlet is FCC and ETL approved. It includes overvoltage and leakage protection; to prevent the stuff you connect to the outlet from becoming damaged in the event of some kind of electrical incident.
After you identify the deice on your Wi-Fi router, you basically just connect it to your network and you're good to go. That makes you ready to handle plugs, switches, bulbs, surge protectors, and so forth. Again, each outlet can be managed individually. But the Tonbux plug can only connect across the 2.4G band, not the 5G band. But that's a minor limitation, but something to keep in mind depending on how your network is setup.
Choosing Between the Best Outdoor Wireless Remote Outlets
The Fosmon Wireless Remote Control Outlet is a good choice for someone who's looking for a highly affordable and simple remote outlet. It provides two AC sockets, it provides a simple one button remote, and it works effectively for someone who stays within the 80ft range. The lifetime warranty doesn't hurt, either.
The Etekcity Outdoor Wireless Remote Control Outlet is a great choice for someone who wants their remote to be a little more customizable. You can control the two outlets separately, unlike the Fosmon outlet. And you can even start connecting with multiple Etekcity remote units, if you happen to need to control up to three outlets from their remote, each with independent plug operation.
Finally, the Tonbux Outdoor Smart Outlet Plug is a good choice for someone who wants app integration or voice integration. It connects through a wireless signal to collaborate with Google Assistant or Alexa to give you total control over the three sockets. Having that kind of depth of control over your sockets is pretty impressive, and very handy for people who already have a number of smart-home devices.