In the world of remote work, a lousy microphone can be a pain to work with. This is bad enough when it's just you on the mic. But the more people there are on the line, the more problematic things can become. On a low-quality microphone, people's voices can sound similar, which makes them tougher to distinguish. You can also get a lot of noise, whereas a higher-quality mic will sound nice and clear. If you want to sound as professional as possible on your next call, it makes sense to invest in a quality mic. That way, the other party will be able to hear you clearly, with minimal confusion.
But there are many types of microphones, with their own benefits and drawbacks. Even a top-tier mic can be a terrible choice if you're not using it for the intended purpose. For example, some mics pick up noise in all directions, while others are directional. Some mics are designed for the human voice, while others are optimized for different frequencies. They use different inputs, depending on what the mic is designed to be plugged into. Before you make a decision, you need to do your research, and find a mic that works for your purpose.
DigitalLife is well known for their digital audio technology. Among their other offerings, we've reviewed their USB Type-C MIDI cable. Given its excellent performance, we were excited to check out one of their microphones.
We're about to review the DigitalLife ME1 USB Boundary Microphone. This is an omnidirectional microphone that's designed specifically for conference calls. It can also be used in many other situations where there are multiple speakers. But how well does it actually perform, and what is it capable of? How does it connect to your computer, and what control options do you have? To find out what this mic is capable of, we'll have to take a much closer look at all of its features. We'll talk about the sound quality, the build, and all the other aspects of the design. After that, we'll be able make a fair judgement. Let's begin, and see what we discover!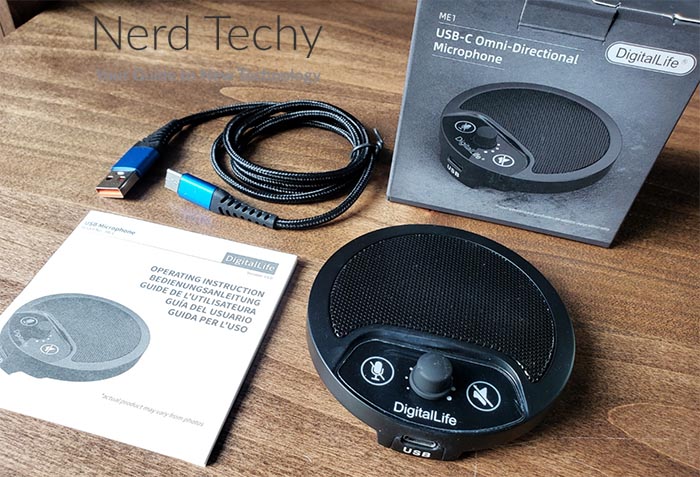 What Is a Boundary Mic?
To begin with, let's talk about what a boundary mic is. What makes it different from another type of microphone? The main thing that makes it different is the way it's designed to be positioned. Most microphones are meant to be placed directly in front of the user. With a dynamic mic, for instance, the microphone just points at your mouth. With a condenser mic, you could pick up a wider area, but the principle is still the same.
Boundary microphones are designed to take advantage of the fact that sound waves bounce off solid objects. These are condenser microphones with small diaphragms and a special housing design. The housing holds the mic clement parallel to the floor or wall. Then, when sound hits the surface, it bounces back up into the mic. If you've ever been to a play, you've probably seen some boundary microphones on the front of the stage. They're also frequently used at conferences, where they can lie flat on a desk or a table. The main advantage of this design is that they can pick up sounds from multiple sources. If a sound hits the floor in front of the mic, it's going to be picked up!
There are two common designs for boundary mics: directional and omnidirectional. Directional mics, as you might expect, pick up noise in one direction. They'll pick up anything in front of them, typically within a vertical angle of 120 degrees. 60 degrees of this will be above the surface, and 60 degrees will be below (on) the surface. The result is that half of the sound will be picked up directly, while the other half will be collected via reflection. When the same sound is picked up via both methods, the 60-degree angle ensures that the waves will are sync. This is what's called Phase Coherent Cardioid (PCC), and it's a must-have feature on any decent boundary mic.
An omnidirectional boundary mic works similarly, with a 120-degree vertical angle of pickup. However, instead of picking up only from the front, it picks up from all directions. This kind of mic is useful for conference rooms, or for recording other kinds of meetings. Because you're recording multiple people from multiple directions, you'll be able to capture every word. Omnidirectional mics are also commonly used in churches, as part of the overall sound system. They're even used by musicians. Drummers love them because they can capture the visceral thump of a bass drum. And small ensembles can record an entire piece in a room with good acoustics.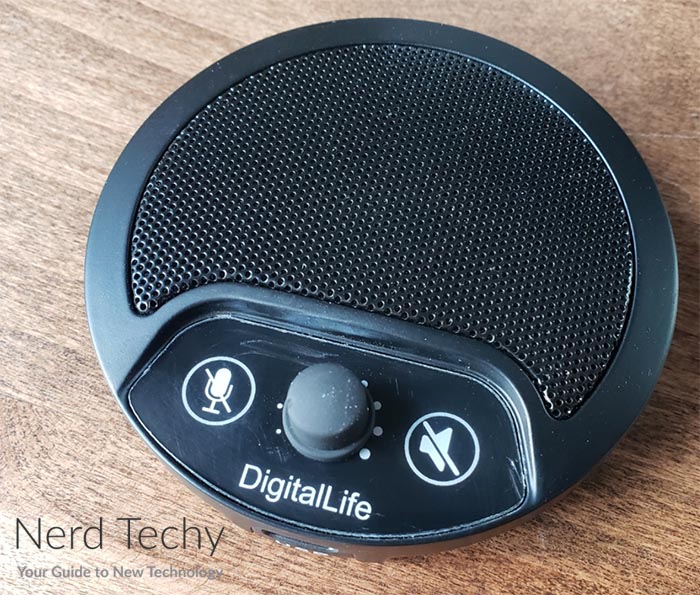 Overall Design
The DigitalLife ME1 USB Boundary Microphone is constructed from a zinc alloy material. This material is very durable, and can take a beating if it needs to during travel. It also has a matte black finish, which matches well with most office décor. The overall shape is round, with a low, disc-shaped profile. Most of the top is occupied by a black steel grille, which covers the top of the mic. The bottom is partially exposed underneath, where the sides of the unit are cut away. At the very bottom, you'll find rubbery pads, which keep the mic from slipping and sliding around.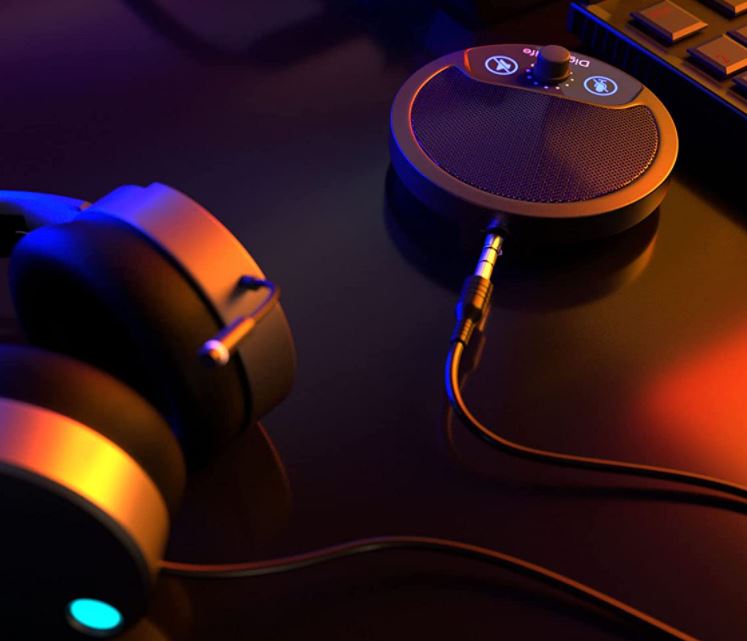 At the top front, there's a set of simple controls. The knob in the center controls the microphone volume, and adjusts smoothly and easily. There are two touch buttons on either side. The left mutes the microphone itself, while the one on the right controls your speaker. These are soft touch controls that don't require any pressure. They're also backlit, and appear blue when audio is active. When the mic is muted, the light will turn red instead. One feature we liked is that the mute function is "hidden" to your conferencing software. So if you're on Zoom, everyone else will still see the mic as active, even when it's muted.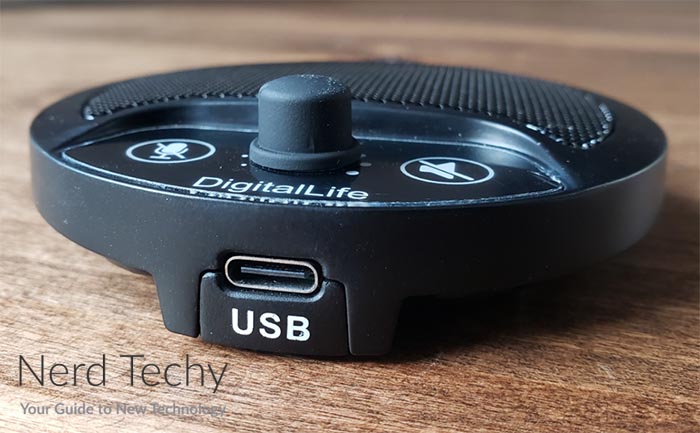 The kit includes a USB Type-C to Type-A cable for connecting to your computer. It's well-engineered, with a durable nylon sheath that keeps it safe and tangle-free. On the downside, it's only three feet long, so you might need to invest in a longer cable.
Sound Quality
To clarify, this is a mic only. While you can connect a speaker, there's none built into the housing. Since this is a speaker and not a speakerphone, there's also no built-in echo cancellation. If you're using an external speaker, you'll need hardware or software that's designed to remove the echo.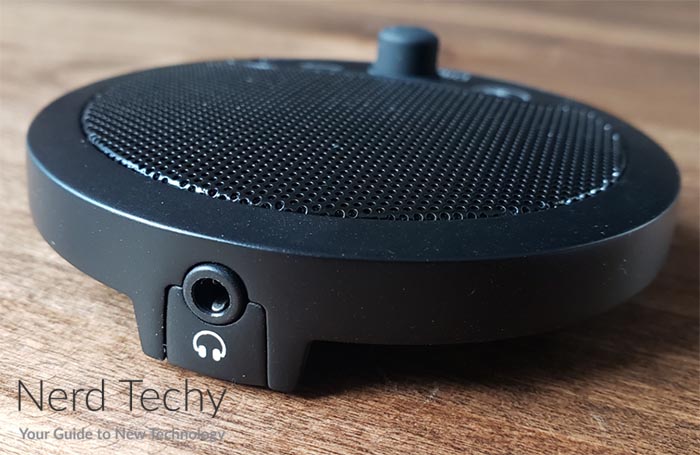 That said, as a bare mic, it works very well. The audio quality is excellent, with a CD-quality 16-bit, 48kHz output. This is incredible for a standalone mic, and it's thanks to the internal hardware. A built-in converter functions as an external soundcard, so you don't need any extra components. This is far better quality than you'll get from most conference mics. In fact, you could even use the ME1 for podcast interviews, or for recording live music. Meanwhile, the omnidirectional pickup pattern ensures that you're not missing a single sound. If this mic is in the middle of the room, it will pick up everyone at your meeting.
One minor downside we should note is that there's no noise attenuation. This means that along with everybody's voice, you'll be picking up a lot of other noises. Mouse clicks, squeaky chairs, and typing will all come through as clearly as speech. And if there's a habitual pen clicker in your group, everyone on the other end of the call will hear it.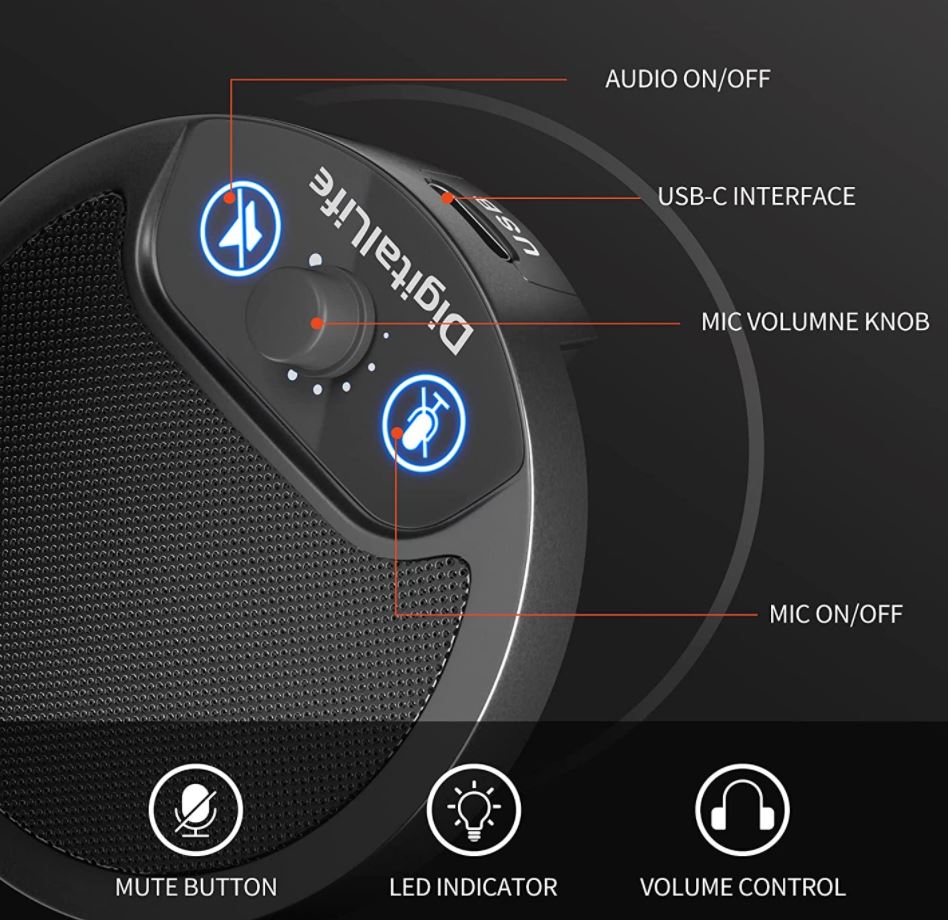 If you like the idea of CD quality audio, but you want a more directional mic, there are several good options. For example, the Maono PM500S is a high-quality directional condenser mic that's ideal for solo recording. Then again, because of its directional nature, it's not a good choice for groups.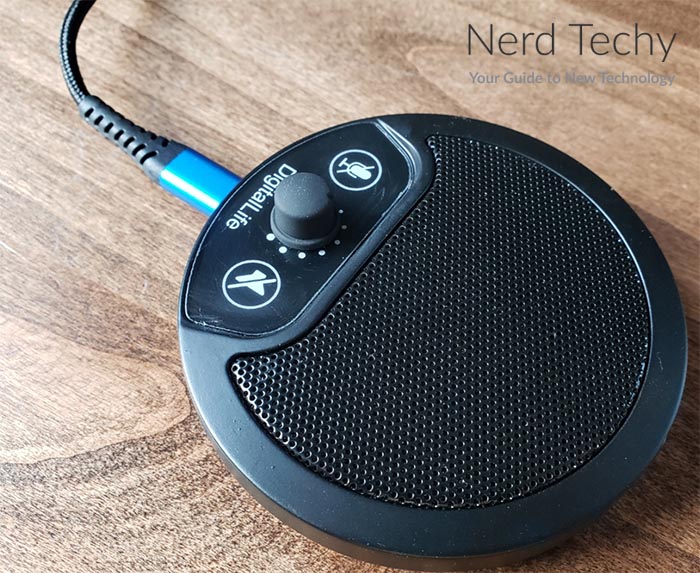 Compatibility
So, what can you use the ME1 with? The short answer is "Just about anything." It's plug and play on PC and Mac, and there's no external power supply required. All you need is the power delivered by your computer's USB port. It's compatible with all versions of Windows starting with Windows 7, as well as MacOS 9.2 and up. You don't have to install any drivers, and you can work with almost any software. The only systems you won't be able to work with are smartphones, tablets, and Chromebooks.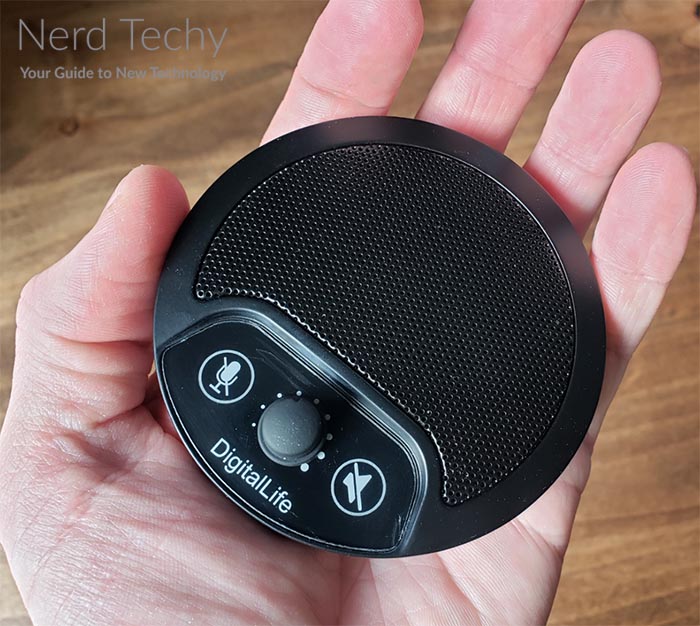 As we discussed, this microphone has no built-in speaker. However, there's a 3.5mm aux port on the bottom that can be used to connect to one. Just keep in mind what we mentioned earlier. There's no echo removal, so you'll need to find our own solution to that. As an alternative, you can connect a set of 3.5mm headphones. True, this only really works for one person at a time. But it's an easy way to get audio if you're the only one on a call.
The ME1 is already pretty portable, but what if you need wireless microphones? In that case, the Maono WM820-A2 could be a better choice. This is a pair of wireless wearable mics, which connect so a single wired receiver. It's super-portable, and it's great for two people. Then again, the audio isn't as good, and it's not suitable for larger groups.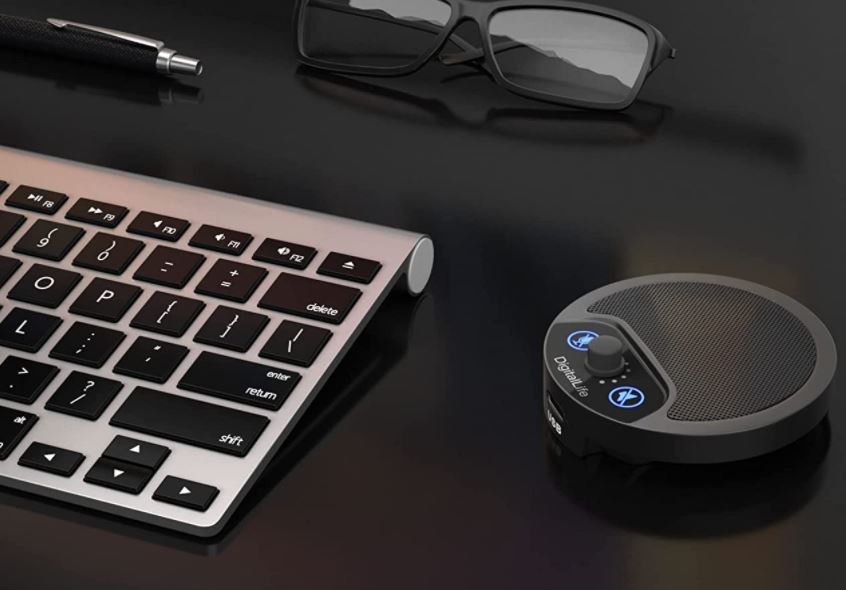 Final Verdict
So, is the DigitalLife ME1 USB Boundary Microphone worth your investment? If you need a high-quality conference room mic, the answer is yes. It's better for recording than for two-way audio, because there's no echo removal. But even so, you're getting CD-quality audio and near-universal compatibility. With its driverless, plug-and-play operation, you can get started in minutes on most modern computers. And with its rugged design, it's easy to take with you on the road. As boundary mics though, this is one of the better ones you'll find.