Autumn is in the air. If the leaves aren't already falling in your area, they soon will be. And with those falling leaves come falling temperatures, which can put a serious dent in your budget.
This isn't just a minor inconvenience like it was in years past. The Russian invasion of Ukraine has triggered an international energy crisis, pushing prices up. This winter, you can expect to pay far more for your heating than you're accustomed to.
Thankfully, there are ways to keep those costs down. A smart thermostat or better insulation can save you a bundle on your energy bill. But you can save even more money by strategically heating only certain areas of your home.
If you're like most people, you probably spend most of your time in one or two rooms. By taking a space heater with you, you can warm the immediate area without paying to heat your entire house. Set your thermostat to 50 degrees, use a space heater, and rake in the savings.
Today, we'll be reviewing the BEYOND BREEZE Space Heater. This is a compact, portable space heater with three heating modes. It heats up in just a few seconds, and it has several safety features to prevent fires. But is it the right choice for you? Let's take a closer look, and see what it has to offer!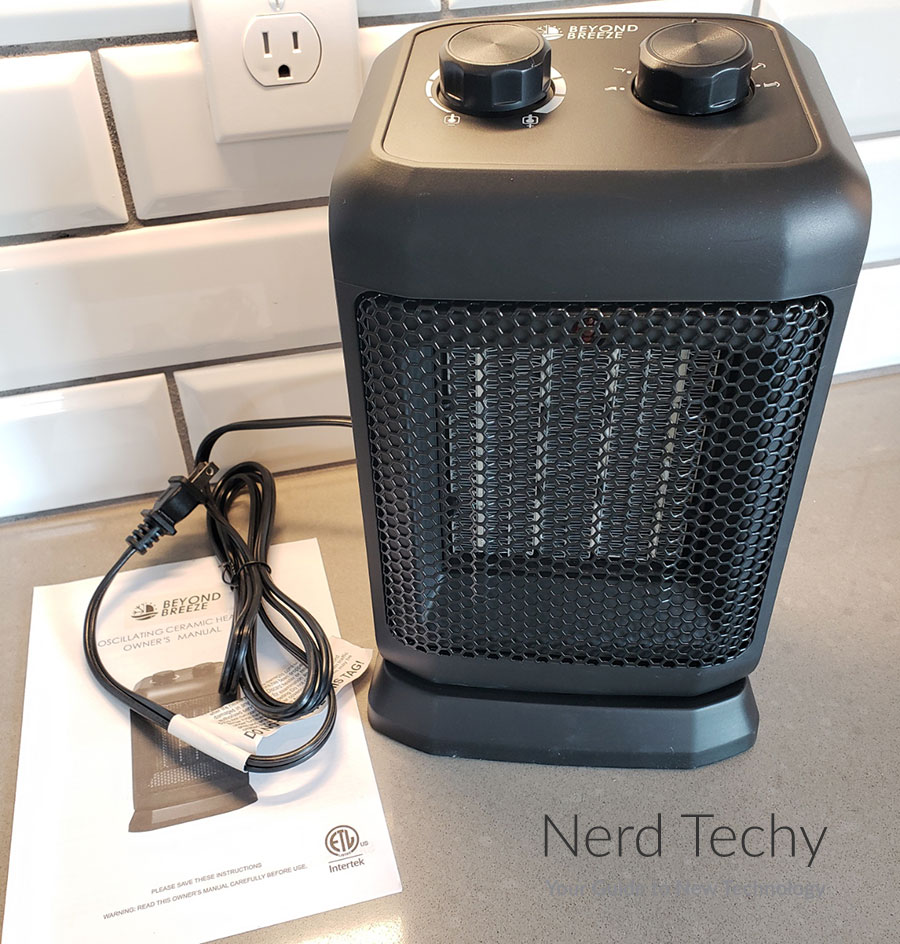 Overall Design
The first thing you'll notice about the BEYOND BREEZE Space Heater is its size. It's exceptionally compact, measuring just 9.1 inches tall, with a footprint of 5.5 by 7.8 inches. It also weighs just 2.81 pounds, and has a horizontal cutout in the back. This cutout acts as a convenient carrying handle, so you can move it from room to room. Many space heaters are large, and are designed to sit in one place. This one is designed to take with you throughout your home.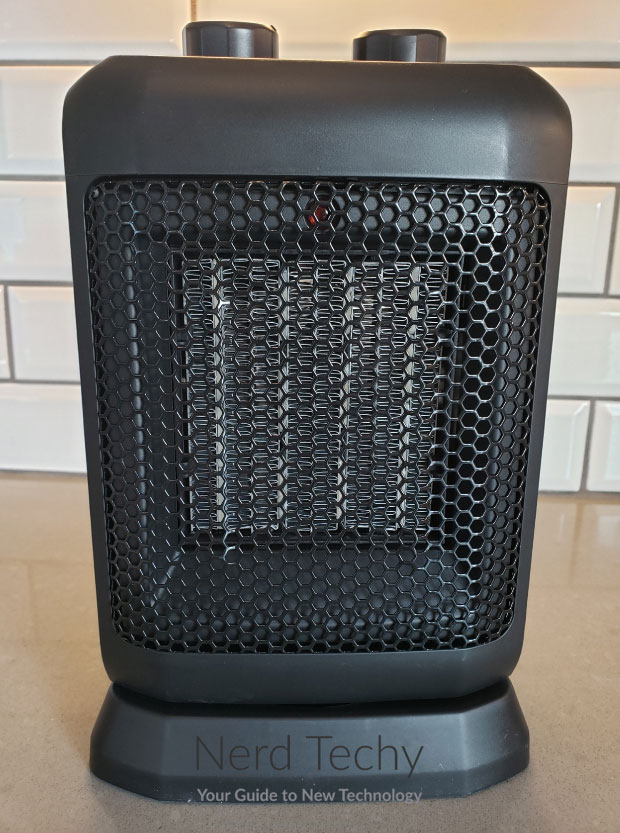 The housing is constructed from a flame-retardant black plastic. It has a matte finish, which makes it very easy to keep clean. It also has rounded corners and edges, which makes bumping into it less painful than it otherwise would be. The general shape is rectangular, with the main housing mounted on top of a flared base. This design ensures excellent stability, so it's tough to kick over the heater by mistake.
Between the flared base and the main housing, you'll notice a slight gap. They're actually separate parts, joined near the center on a motorized set of bearings. The motor can oscillate the main housing across an 80-degree arc, or the heater can remain fixed. The oscillation function is important, though. Instead of blowing all your hot air in one direction, it gets evenly dispersed throughout the room. This helps to prevent the development of hot or cold air pockets in your living space.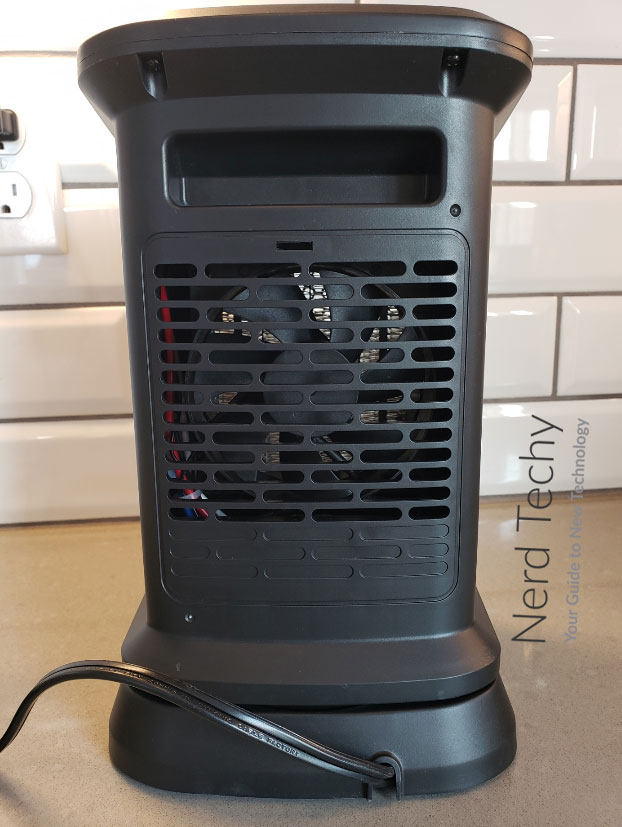 The back of the housing is vented, which allows air to flow through across the entire height of the unit. The front consists of a metal grille, which can withstand the blast of hot air coming off the heating elements. It gets hot during operation and could cause a minor burn if you grabbed it. But an accidental brush won't be enough to cause any burns.
Space Heater Controls
The BEYOND BREEZE Space Heater is pretty simple to operate. There are a pair of large dials on the top which you use to control the heating functions. Both have flattened, angled edges for an easy grip, and feel smooth as you adjust them.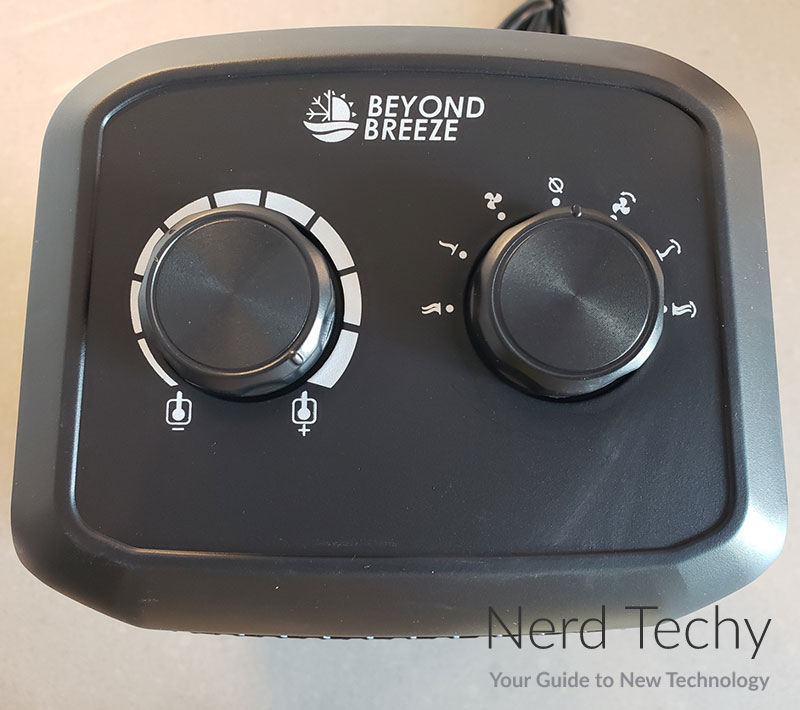 The left dial controls the thermostat. Many space heaters have a built-in thermostat, so this is a run-of-the-mill feature. Unfortunately, BEYOND BREEZE doesn't seem to have put much thought into it.
Instead of temperature markings, it just has a graphic that indicates low to high temperatures. Are you setting your heater to 60 degrees? 70? Who knows! That said, it's not like you have no idea what the temperature is. Chances are you'll play with the dial for the first few days to find a comfortable setting. After that, you'll probably never touch it again.
At the right is a power and mode dial with a bunch of confusing symbols. The center symbol represents the "off" position, where the space heater will not run. To the left is a fan, which represents the blower only.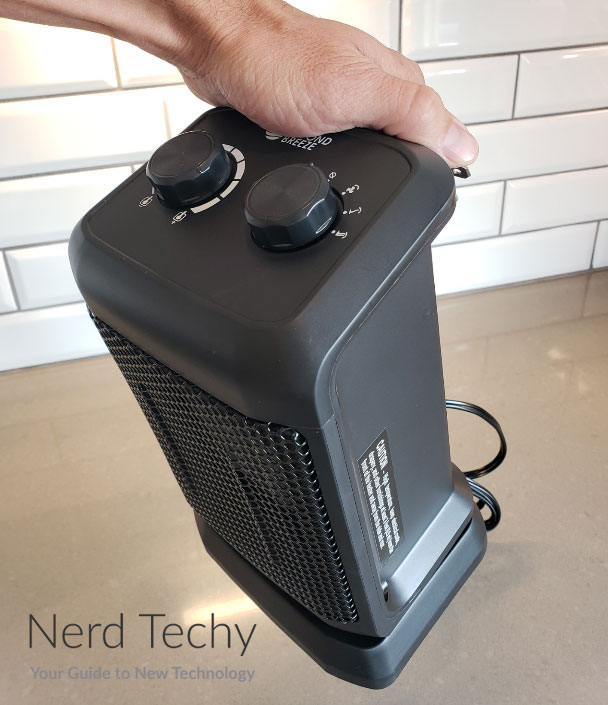 Following that are two heat wave symbols, indicating the two power settings. The first will feed 750 watts to the heating element, while the second will provide the maximum of 1,500 watts. The symbols to the right of the off setting are similar, but with an arc above them. This indicates that you're using the oscillation mode, whereas the leftward settings keep the heater stationary.
These dials are intuitive and easy to operate, but what if you want a more modern control scheme? In that case, check out the Paris Rhone Heater. It has soft touch buttons with LED backlighting, which will match all your modern electronics. On the downside, the controls can be confusing, and the settings return to the default when you restart the heater.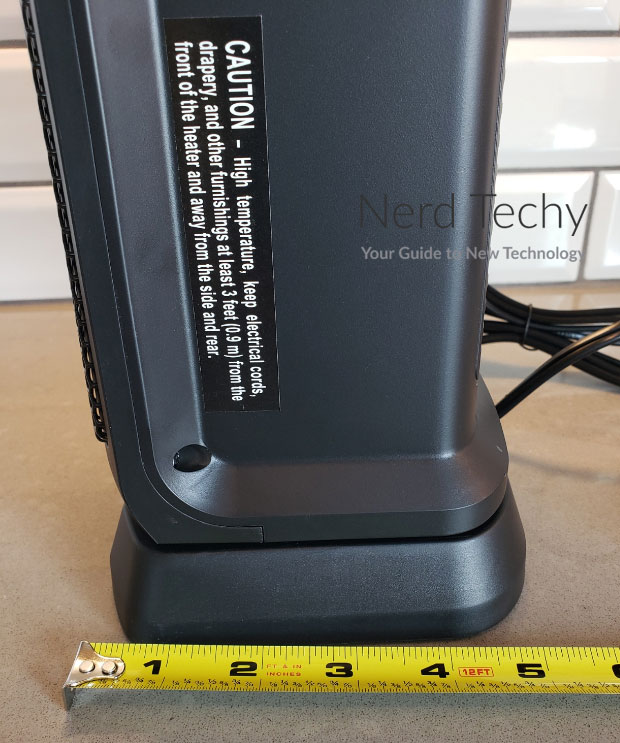 Heating Performance
The BEYOND BREEZE heater utilizes a set of ceramic heating elements. These heating elements have a few advantages over ordinary metal heat coils. To begin with, they heat up more evenly. Metal coils develop hot and cold spots, which makes them less efficient at heat distribution. At the same time, they're less susceptible damage. Because they heat up evenly, there's less stress from expansion and contraction. Due to these forces, metal coils can crack and even break after extended use.
For another thing, ceramic is very efficient at transferring heat. Unlike metal coils, these heating elements will heat up to full temperature in only three seconds. Now picture your electric stove, and think about how long it takes to heat up the metal coils. There's simply no comparison. This is particularly useful for a space heater that's designed to be portable. If you had to wait for it to heat up every time you moved it, it would be far less useful.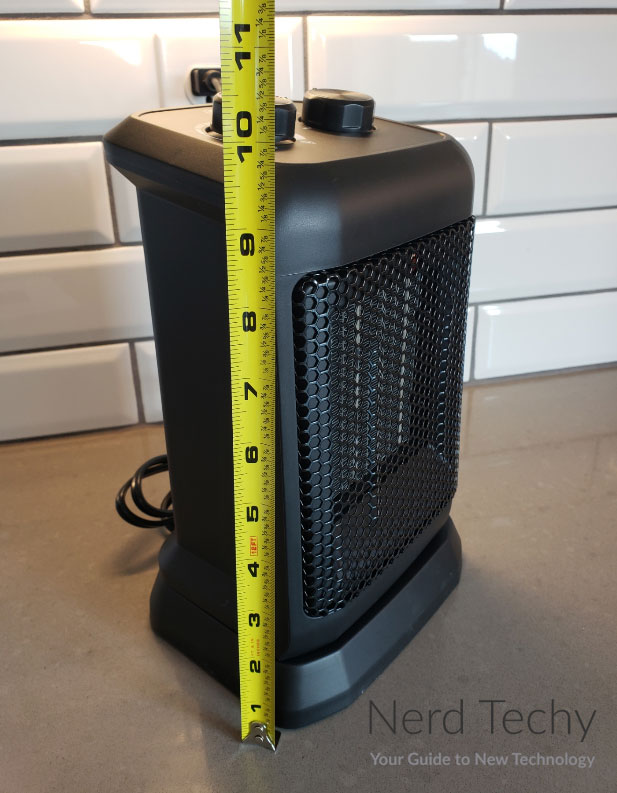 As for the noise level, it's a bit of a mixed bag. On the lower settings, the fan produces less than 40dB of noise. That's literally whisper-quiet. But on the higher settings, it gets fairly loud. It's not loud enough to disrupt conversations, but it's similar to the sound of a large box fan. It will almost certainly get annoying if you're trying to sleep. Then again, you can just turn the fan down when you go to bed.
This is all well and good if you're trying to keep warm around the house. But what if you're heating a car, RV, or truck? If that's what you need, take a look at our list of the best 12-volt "Chinese" diesel and unleaded gas air heaters. They're an ideal way to keep warm when you're sleeping in your vehicle.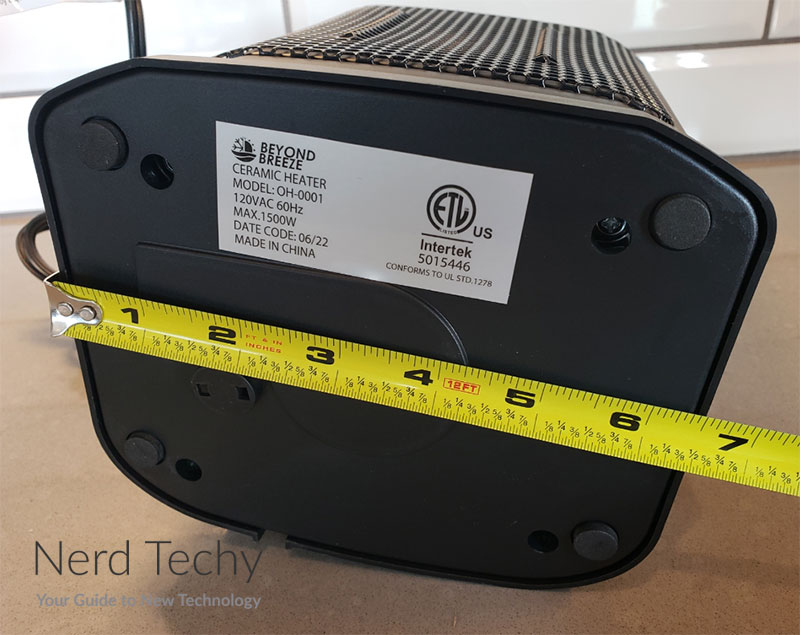 Safety & Extras
The BEYOND BREEZE Space Heater has a handful of safety features built into the design. When you're talking about a 1,500-watt heater, safety features are important! Here are a few ways the heater keeps you safe:
Automatic overheat protection – This is a no-brainer. Under some circumstances, your space heater could get hot enough that the housing could combust. This most often happens because the air flow has been blocked and the heat has nowhere else to go. However, it can also happen due to mechanical failures. Whatever the reason, the overheat protection will shut off the heater if it reaches a critical temperature. If that happens, just unplug it, make sure the air vents are clear, and plug it back in after a few minutes.
Tip-over switch – Tip-overs are a major cause of space heater-related fires. A heater falls over, hot metal touches carpet or a house plant, and it catches fire. The next thing you know, your house has burned down and you've lost all your worldly possessions. If the BEYOND BREEZE heater starts to tip over, the heating element will automatically shut off, preventing any fires.
Power indicator light – The last thing you want is to accidentally grab a hot space heater grille. The BEYOND BREEZE heater's light lets you know when it's operating, so you won't get any nasty surprises.
ETL certified – ETL, short for Edison Testing Laboratories, is an independent testing service owned by Intertek. It's one of only a handful of private organizations authorized by OSHA to conduct safety testing. This means you can use the BEYOND BREEZE space heater in a workplace environment without violating any rules.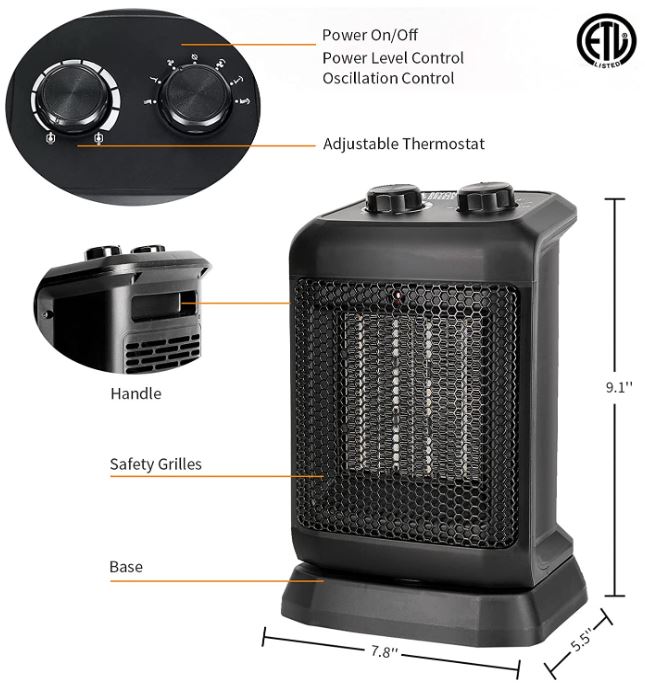 Final Thoughts
So, is the BEYOND BREEZE Space Heater right for you? Here's what we've learned.
The size and physical design are very well thought out. The heater is lightweight and compact, which makes it easy to move from room to room. The handle cutout on the back is also a nice touch, since you won't have to grab any hot surfaces. The base is wide and stable, and the oscillating function does a good job of spreading hot air around the room.
The control scheme is simple and straightforward. You might have to spend a few minutes deciphering the symbols on the settings dial. But the learning curve is pretty shallow, and dials are just about the simplest controls out there. As for the settings, we would have preferred a quieter "high" settting, but that's our only serious complaint.
The heating performance is as good as it gets. With 1,500 watts of power, the heating element produces the maximum possible heat from a standard household outlet. The ceramic element heats up quickly, and is engineered to last for years of use without serious damage. And with multiple safety features, fire and injury are less likely than with most space heaters.