When you run a business, it's your responsibility to maintain the safest possible facility. This means adhering to a laundry list of rules and regulations. You need doors that are wide enough for wheelchairs, and visibility stripes on stairs. If you have outdoor facilities, you need to keep snow and ice clear away to prevent slips and falls. And of all potential concerns, fire is probably the worst. That's why businesses install sprinkler systems, along with a system of handicap-accessible emergency exits. The faster people are able to get out of a burning building, the less likely anyone is to get hurt.
For this reason, emergency exit signs aren't just a wise investment. In most parts of the world, they're mandatory for most businesses and public buildings. They're even used in apartment buildings and dormitories, where hundreds of people might have to evacuate quickly. So whether you're constructing a new building or refitting an older one, it's important to use good exit signs. This means taking the time to figure out how you're going to install your signs, and what type you need. After that, you'll be in a better position to know which sign is right for you. You also want to look for signs with other useful features, like emergency lights and battery backups.
We're about to review three of the best LED emergency exit signs with battery backup. We'll begin with the OSTEK LED Exit Sign. This is a simple, flush-mounted sign that comes in red or green, with side-mounted LED lights. Next, we'll look at the AmazonCommercial LED Emergency Exit Sign. This sign has no extra emergency lights, but it can be mounted in almost any configuration. Last, we'll check out the LFI Lights Thin LED Exit Sign. This is an ultra-durable sign with LED lights that can swivel in any direction. Which one of these emergency exit signs is right for you? Let's take a closer look at all three, and see how they stack up!
Choosing the Best LED Emergency Exit Signs
Before we start talking about any particular signs, let's talk about the broader picture. What is it that makes one emergency exit sign better than another? Probably the most important thing to look for is the brightness. Imagine the power is out, and the room is starting to fill with smoke. Do you want a dim sign, or do you want one that stands out from 100 feet away? Of course, you don't want your exit light to be blindingly bright. But a good quality LED sign will be easily visible, even when visibility is poor. You should also look for an exit sign of standard size. Most locations have minimum requirements for the letter height.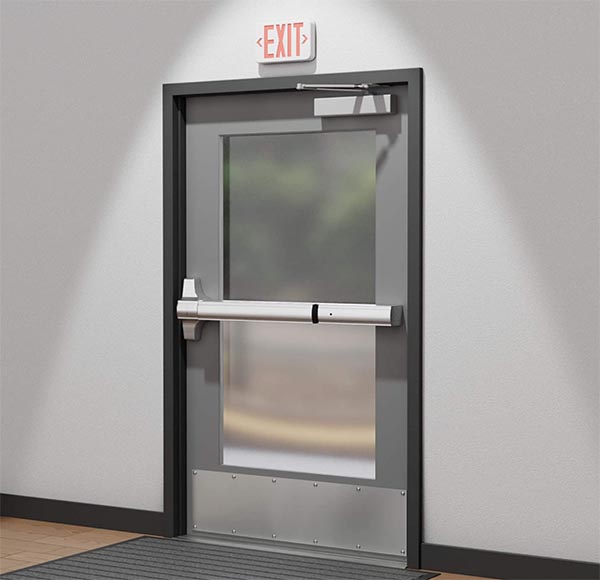 The next most important thing to consider is what kind of battery backup you're going to have. Yes, the power often goes out during a fire. But the most common reason people need an emergency exit light isn't even fire-related. It's because the power's out and they're in an unfamiliar building. A good battery backup ensures that your emergency exit signs stay lit regardless of the situation. It might be tempting to go cheap and opt for a shorter-lasting battery, but that's probably not wise. Think of how long the power might be out, and how long it might take people to start leaving. Then add some time to that for safety, and you'll realize how important a long-lasting battery is.
Even the best light isn't going to do you much good if you're not able to put it in the right position. This will be somewhere where it's visible to the most possible people. For example, suppose your exit is on the side of a long, narrow hallway. It would make sense to mount the sign by its side, directly over the door. That way, people coming from either direction could see it. On the other hand, if it's at the end of the hallway, a sign could be flush-mounted over the door. That way, it would be easily visible from the far end of the hall. Signs can also be ceiling-mounted, or even hung from a set of chains. This last option can be useful in areas with high ceilings, such as large retail stores.
Another thing to think about is the build quality. Old-school exit signs were made with aluminum, which gave them a measure of strength and rigidity. Modern signs, by and large, are made of plastic, so they're a bit less durable. Then again, in most situations, this shouldn't matter, since you aren't beating on your exit lights. The more pertinent concern is whether the signs are heat-resistant. In the event of a fire, the last thing you want is for your fixtures to add fuel to the flames. A good emergency exit sign can still be made of plastic, but it at least needs a good heat-resistance rating.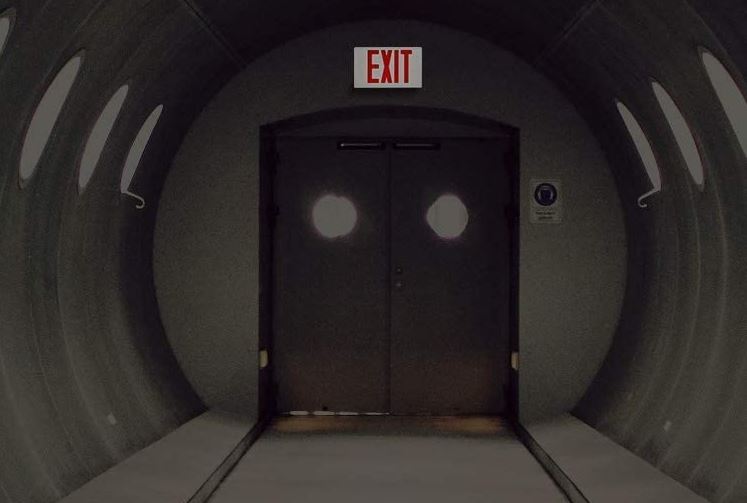 Further Considerations
In some situations, that's all you'll need to worry about. That said, there are many scenarios where you'll also want some built-in emergency lighting. Think of it this way. If the power goes out, how do people get to your exit sign without tripping over everything? A sign with built-in emergency lights can resolve this issue by providing visibility in the immediate vicinity. Depending on the environment, you might want to add additional emergency lighting in other areas. But if there are lights built into your signs, at least the area around your exits will be illuminated.
The last question you need to ask yourself is what color of light you want to use. It's actually a common misconception that fire exits have to be red or green. While it's true that these are the most popular colors in the United States, that's not an OSHA requirement. In fact, OSHA simply requires that the letters be brightly-colored, and at least six inches in height. Any regulations beyond that are up to state and local regulators.
Red letters have traditionally been the most popular choice, and there are a couple of reasons for that. To begin with, red is highly visible on a white or black sign background. Not only that, but red stands out more in dark or smoky environments. So, the thinking goes, it's the easiest color for people to use to identify an exit.
That said, green signs have long been more popular in Europe, and they're becoming more popular in the US. This is particularly true in public buildings and newer construction. Green doesn't create as much of a contrast, and it's not as highly-visible in low-visibility conditions. However, there's a psychological effect that many people think outweighs these factors. Our brains equate red with danger and green with safety. Traffic lights are red for stop and green for go. By marking exits with green emergency signage, you send the subtle message that this is a safe place to go.
Whichever color you use is normally a matter of preference. Most US jurisdictions allow either color signage, but it's wise to check your local laws to be sure.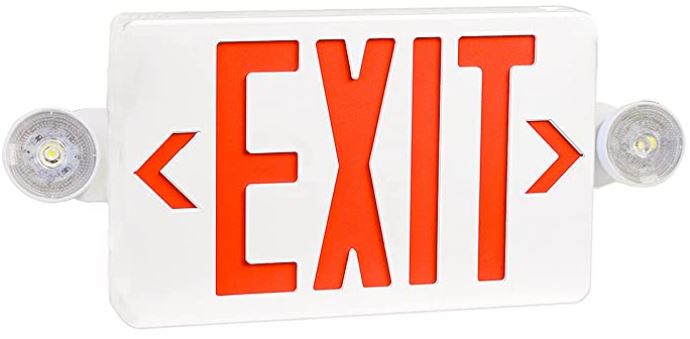 OSTEK LED Exit Sign
The OSTEK LED Exit Sign is constructed from durable white ABS plastic, with an attractive glossy finish. The material has a flame-resistance rating of UL-94-5VA, which makes it highly flame-retardant. The overall size of the main housing is 11.77 inches wide, 7.26 inches high, and 1.76 inches thick. That's nice and compact, while still large enough to sport the requisite six-inch letters. You can order the sign in red or green, so you can match any preference or local building code requirement.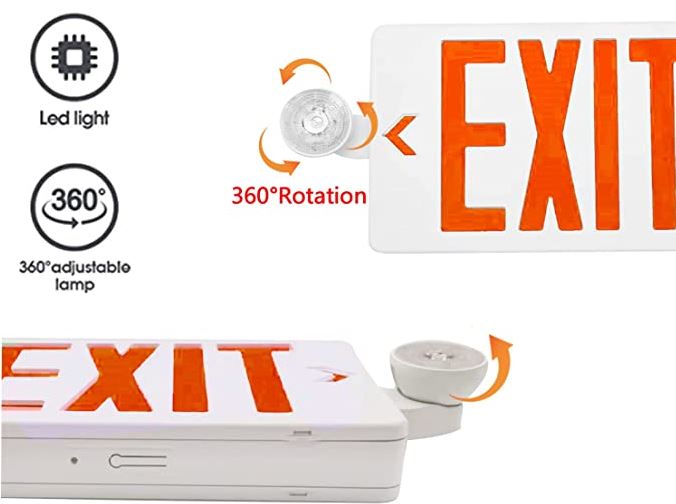 Built into the sides of the sign are a pair of circular LED lights in hemispherical housing. These lights can be freely rotated 360 degrees, which slightly changes their angle. In practice, you can turn them a little towards the front, bottom, or sides. These lights are less than three inches in diameter. Combined with the main housing, the total width comes out to 16.92 inches.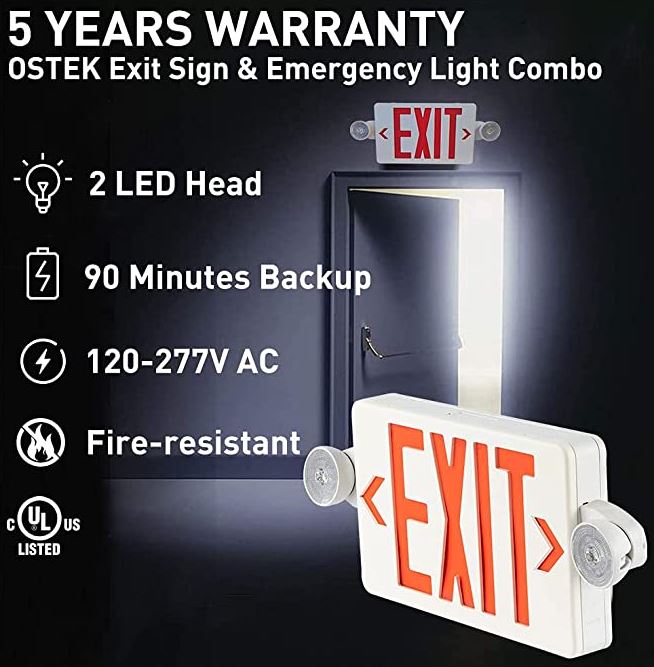 The OSTEK sign is designed to be flush mounted to a wall, and all the mounting hardware is included. You get a little mounting plate, along with screws and drywall anchors. The kit also includes a set of tabs, which can be used to block out the directional arrows. If you want your sign to point left, right, both, or neither, you can configure it that way.
This sign can be wired into residential or commercial power systems, at 120 or 227 volts. This gives you wide compatibility, and the ability to install in just about any building. Regardless of what you're wired into, ordinary usage will charge the sign's internal battery. When the power goes out, the emergency lights will automatically turn on, and draw from the battery. This can continue for up to 90 minutes, which is more than enough time to evacuate most buildings. And if you run into any issues, you'll be able to take advantage of a five-year warranty. That's one of the longest in the business, and it says a lot about OSTEK's faith in their product.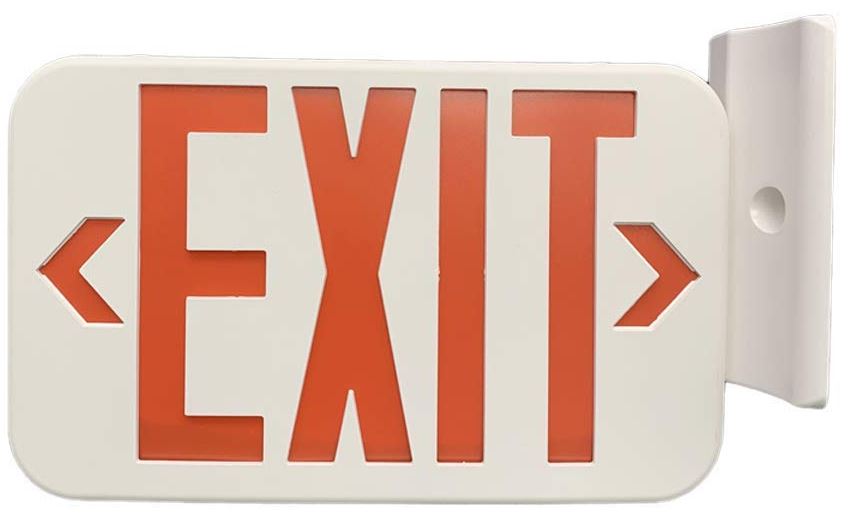 AmazonCommercial LED Emergency Exit Sign
AmazonCommercial, as you might expect, is a commercial version of AmazonBasics. While AmazonBasics focuses on consumer goods like rechargeable batteries, AmazonCommercial focuses on more business-oriented offerings.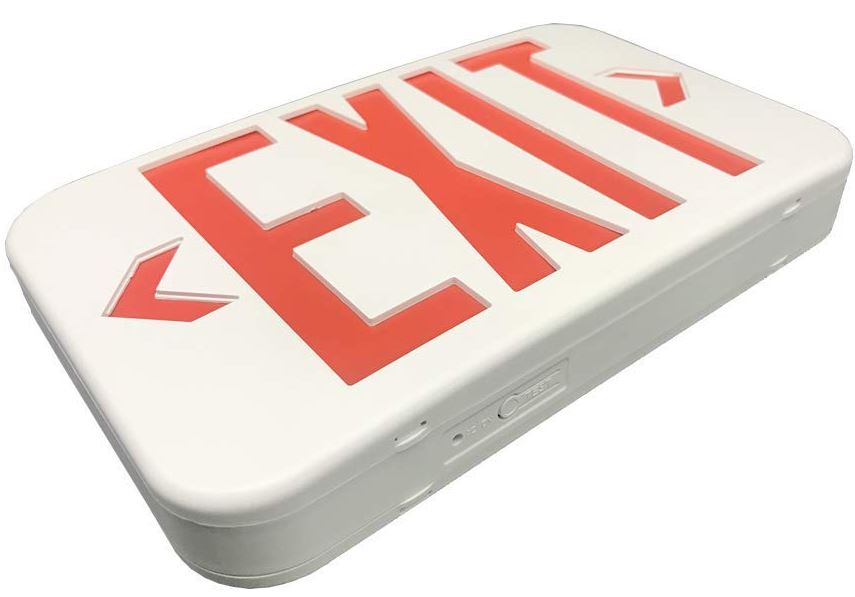 The AmazonCommercial LED Emergency Exit Sign has a white plastic housing that's superficially similar to the OSTEK's. It's even more or less the same size, at 11.8 inches wide, 7.3 inches high, and 1.8 inches thick. And the flame rating of UL-94-5VA provides the same measure of safety. You also get the added benefit of built-in overcharge and over-discharge protection for your battery. The battery lasts for 90 minutes, so you have plenty of power and durability. On the downside, you don't get any option for green letters.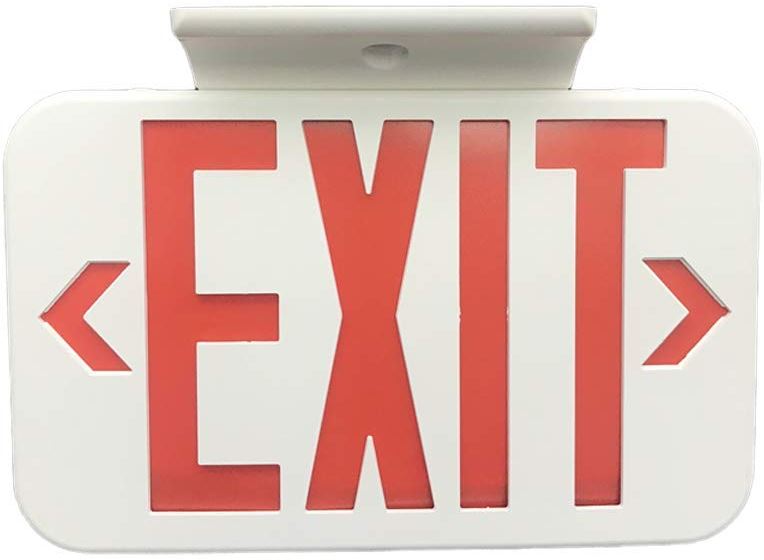 More pertinently, you don't get any built-in emergency lighting. This keeps the overall weight down, since the battery doesn't need to be as large. It also allows for more versatile mounting options. In addition to a flush mount, the kit includes brackets for ceiling-mounting and side-mounting. And just like the OSTEK, you can use either 120-volt residential or 277-volt commercial power. Regardless of your building's wiring, you'll be all set.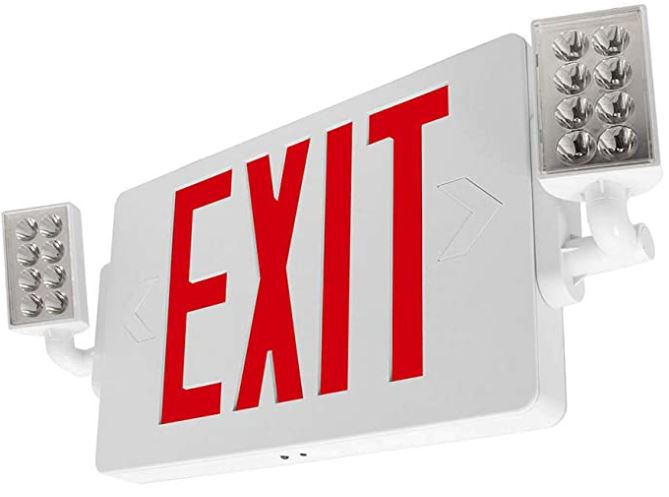 LFI Lights Thin LED Exit Sign
The LFI Lights Thin LED Exit Sign is a bit more robust than the last two. With a fire-resistance rating of UL-94V-O, it fares even better than the others in extreme heat. And at 17.5 inches wide, 8.5 high, and 2 inches thick, it's also the biggest. To be fair, a lot of this size consists of the oversized LED lights, but that's still a large sign. There's only one color option, and it's red.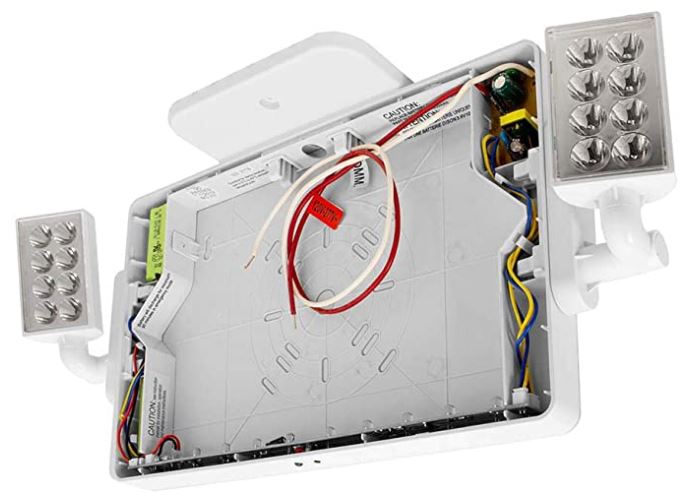 The LEDs, though, are pretty impressive. They're big and rectangular, and they can pivot and swivel on their mounting arms. This allows them to be pointed in literally any direction. Despite this, you aren't only limited to a flush mount. While a side mount wouldn't work, a ceiling-mount bracket is included in the package. You also get a set of tabs to cover up the arrows if you need to. This sign is compatible with any power system, just like the last two. Along the same lines, it has a similar 90-minute battery backup.
Final Verdict
So, which one of these emergency exit lights is the right choice for you? We started out with the OSTEK LED Exit Sign. This is the only one that's available in green, and flush mounting is quick and painless. Then again, it doesn't come with any extra mounting hardware.
The AmazonCommercial LED Emergency Exit Sign has the most mounting options. It's easy to flush mount, or to mount on a ceiling, or for a sideways wall mount. It maintains the same battery rating, but the lack of built-in lighting holds it back.
The LFI Lights Thin LED Exit Sign has the most versatile lights, since they can be pointed in any direction. They're also the brightest of the bunch, and you still get a 90-minute battery life. The mounting options are more limited, though, since the large lights preclude a side mount.