DCK 20V Hammer Drill
Pros
All-in-one drill, driver, and impact driver.
Powerful drilling performance.
Long-lasting brushless motor.
Includes a full set of bits and drivers.
Carrying bag included.
Cons
Motor is loud at full power.
Chuck could stand to be tighter.
Even at its most basic, home improvement can be stressful. Take your average kitchen remodel. You're tearing out your walls and disrupting your everyday routine. And for at least some of the time, your fridge and stove are going to be out of commission. Remodel any other room in your home and you'll face similar inconveniences.
There's no silver bullet to solve this problem. No matter what you do, your job is going to take some time. But you also don't want to waste time needlessly. You want to order your supplies ahead of time and make sure you're ready to go. And you need to have the right tools, so you can reliably work through the project without delay.
To that end, we're about to review the DCK 20V Hammer Drill. This is an all-in-one drill, driver, and impact driver that comes with a set of bits and drivers. But is it the right tool for your project?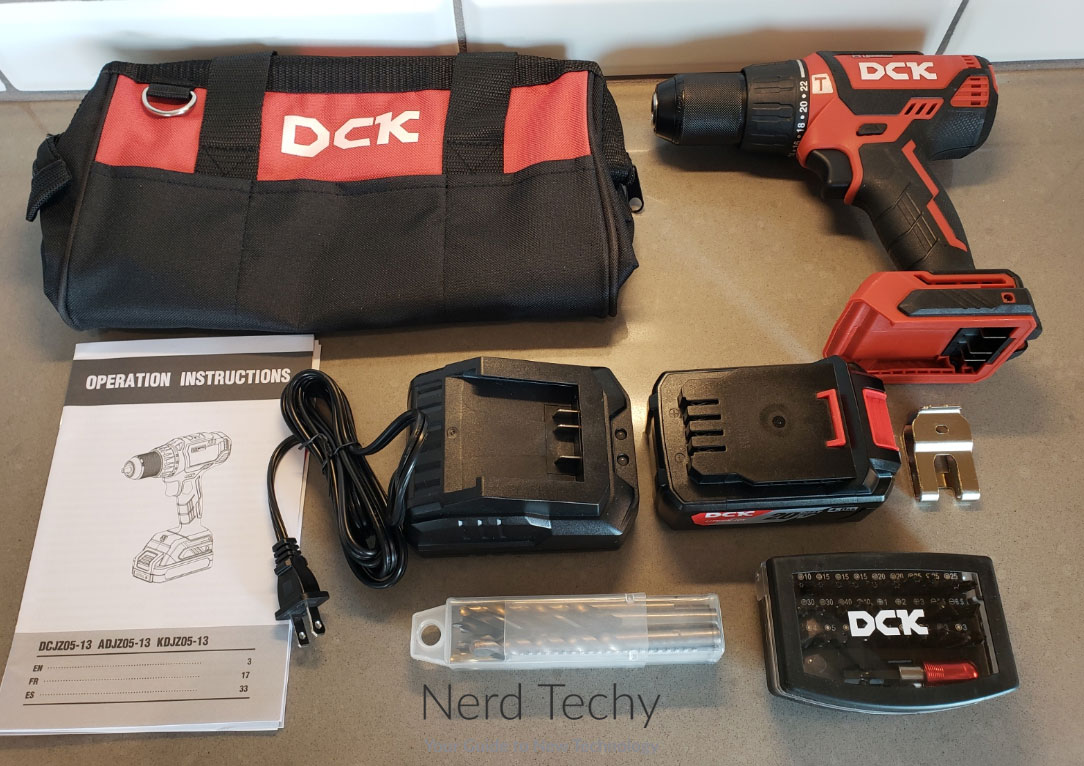 To find out, we're going to have to take a much closer look. We're about to take a deep dive into the DCK drill's features, benefits, and drawbacks. After that, we'll be ready to deliver a fair verdict. Let's begin!
Overall Design
The DCK 20V Hammer Drill looks and feels like the high-quality tools you get from brand name manufacturers. The housing is constructed from a red plastic, which is capable of withstanding bumps, drops, and other everyday abuse.
It's reinforced with black rubber at likely impact points, as well as around the hand grip. It has a standard pistol-style design, and is reasonably compact. It measures only six inches long, six inches tall, and less than five inches wide including the battery pack.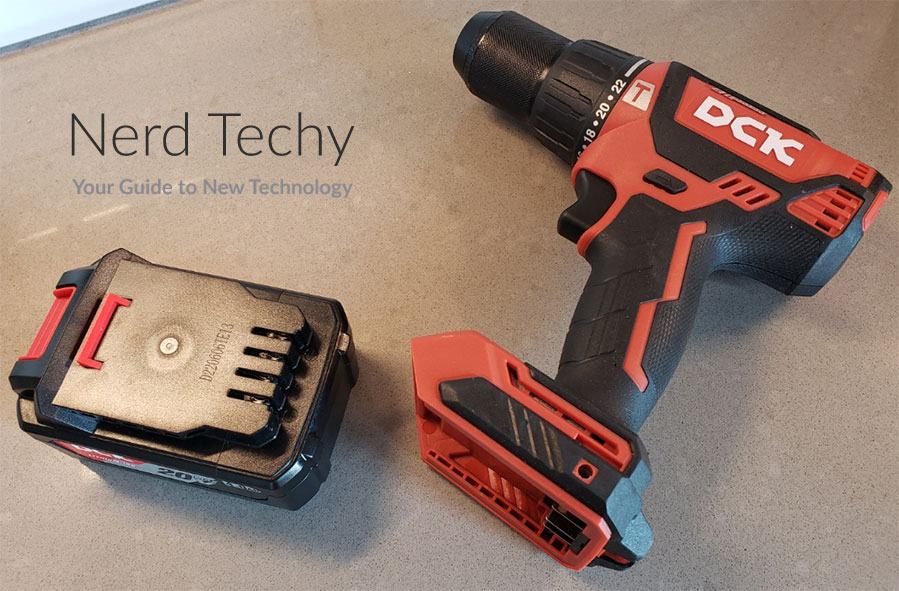 At the front of the housing is the chuck, which retains the bit during operation. The chuck is all-metal, so there are no plastic parts to wear down and fail on you. It has a keyless design, which means you can attach and remove bits without the need for extraneous tools.
It's pretty straightforward, but it can be tough to get a 100% secure grip when attaching your bits. The easiest method is to turn the speed and torque up to maximum and hold the collar while running the motor. You'll want a pair of gloves so as not to scuff up your hands. But using this method, your bits will remain very secure.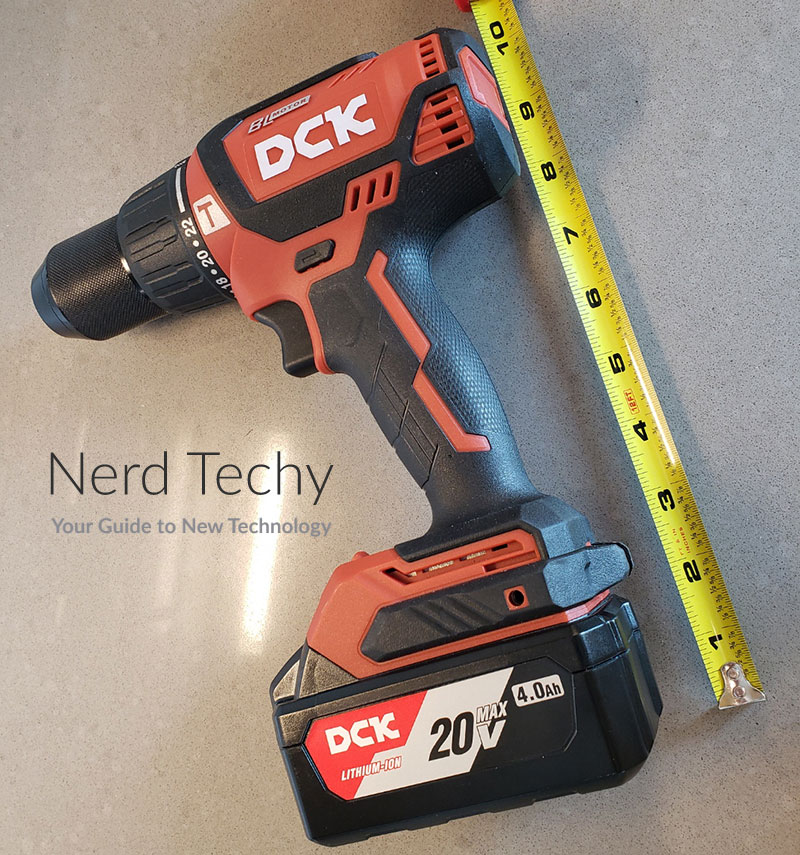 Below the grip, there's an LED light on the base of the drill. It points upwards and forwards, with its focal point just in front of the chuck. This provides good visibility in any working environment. If you're drilling in a small nook or a dark corner, you won't have to hold a flashlight in your mouth. The LED will provide enough illumination to see what you're doing.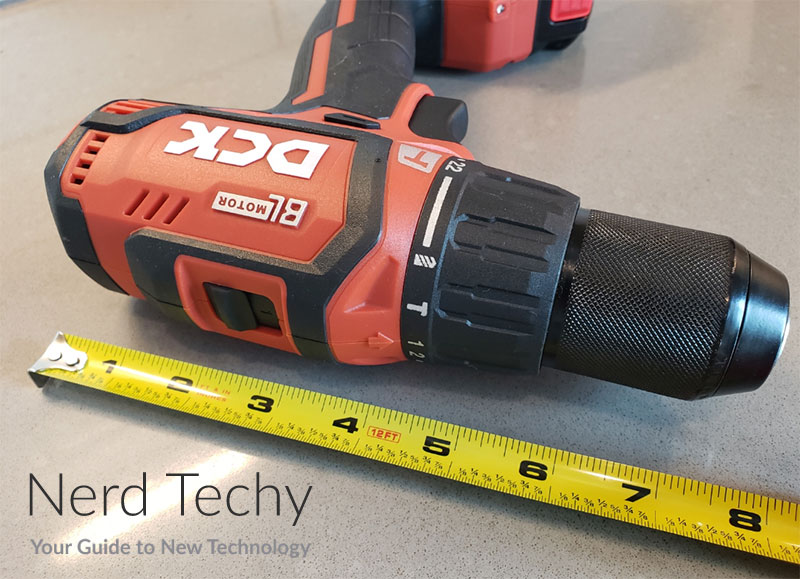 The battery mounts underneath the grip, which is a good thing. It's the heaviest part of the device, so putting it on the bottom makes the drill nice and bottom-heavy. You can set it down on a table or workbench without worrying that it will tip over. It's also easy to monitor your battery life. There's a set of four indicator lights on the front, which light up when you press a small rubbery button. That way, you can get a heads-up before you run out of juice.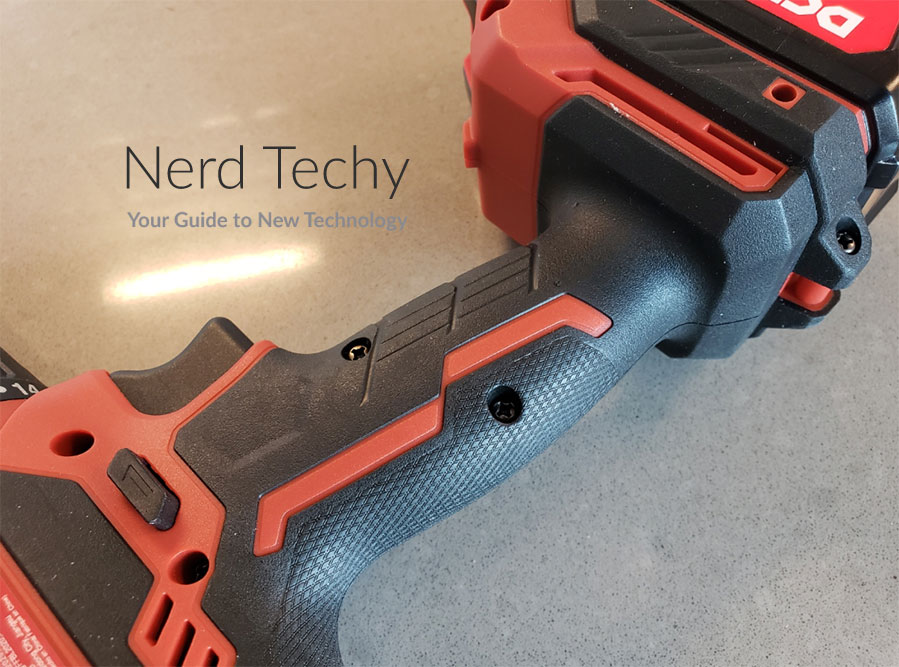 Accessories
The DCK hammer drill isn't just a standalone drill. It's a complete kit, with all the pieces you need to complete most projects. To begin with, there's a hard plastic carrying case packed full of bits and drivers.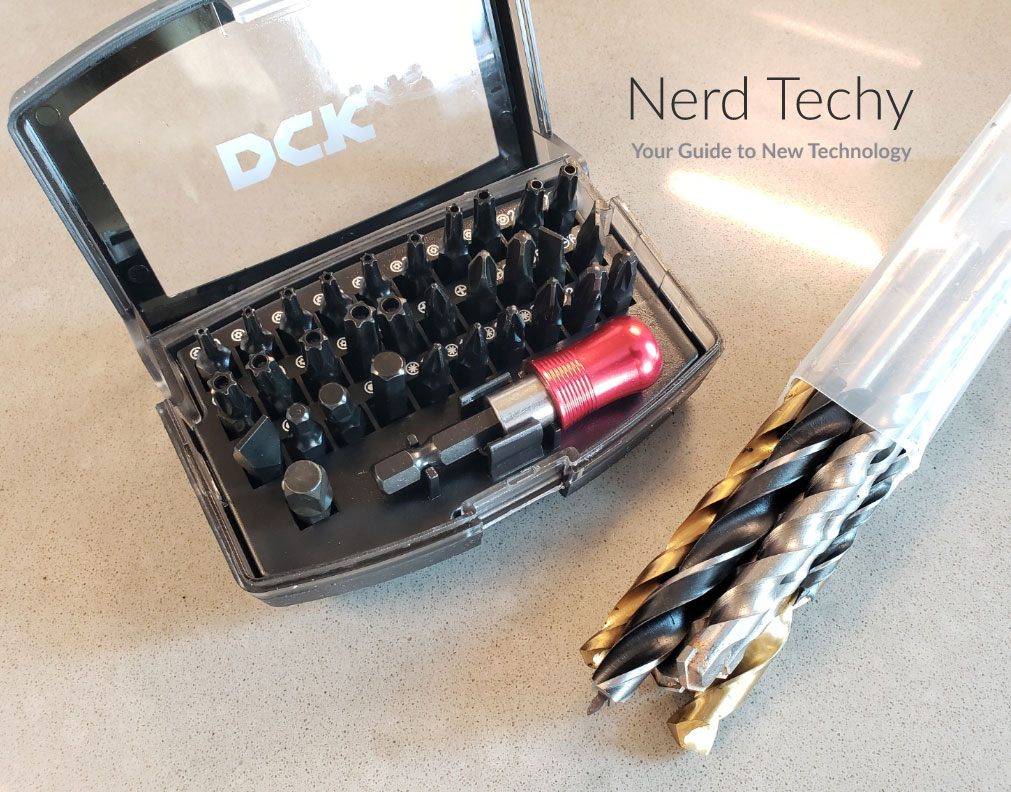 The driver set includes an impressive 32 pieces. This includes all sizes of Philips drivers, along with standard drivers and an impressive array of Torx drivers. They're not bulletproof, but they're durable enough to get through a few jobs as long as you don't abuse them. They also have standard hexagonal bases, which allow them to be used in many different tools. For example, you can pop them into a manual screwdriver with a hex-shaped socket.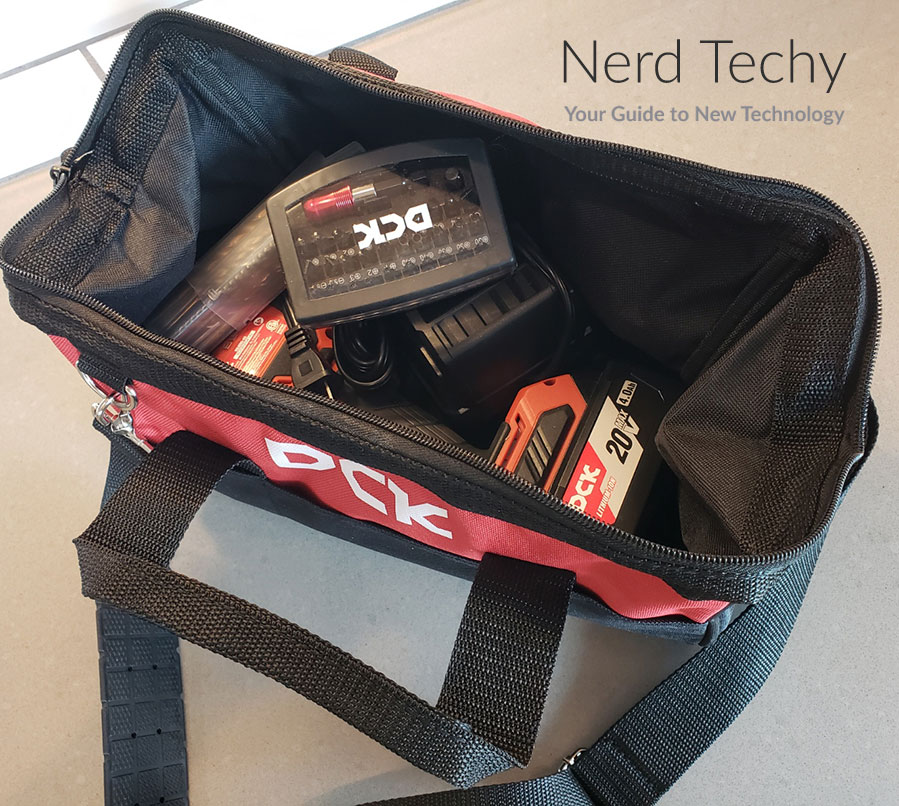 The drilling bits are more of a mixed bag. On the one hand, the 15 pieces only come in five sizes, so you're likely to need aftermarket bits. On the other hand, each size comes in three varieties. There are five standard bits for wood, five broad-tipped bits for masonry, and five carbide bits for metal. As long as you're drilling common hole sizes, you'll be able to drill through almost any material.
The kit also includes a small metal belt hook. This hook has a slot on the side for a screw, and is easy to attach near the base of the drill. On the one hand, a drill is a bit heavy to carry on your belt at all times. On the other hand, it's a convenient way to free up your hands for a couple minutes during a job.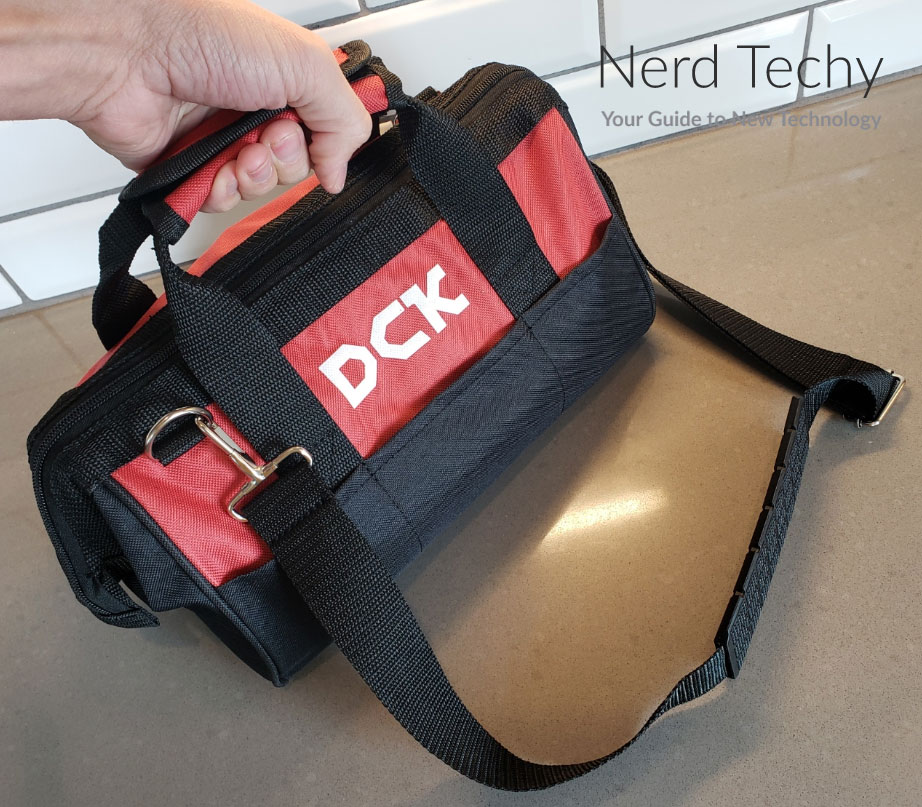 In addition, you get a sturdy nylon carrying bag. Like the drill, it's a combination of red and black. There's double-stitching where panels meet together, and the straps seem very sturdy. They also velcro together at the top to provide an easy grip. The case is just fabric, and it's not a replacement for a sturdy metal tool chest. But for toting your drill around, it's more than good enough.
Controls
The DCK hammer drill is simple and straightforward to use. To begin with, it has a variable trigger. Instead of a simple on/off control, the speed will slowly ramp up as you squeeze down harder. This allows you to perform small, delicate tasks as well as heavy-duty jobs. Work the trigger gently, and you can easily turn your screw a quarter turn or less. Squeeze it all the way, and you can drive or extract screws in a hurry.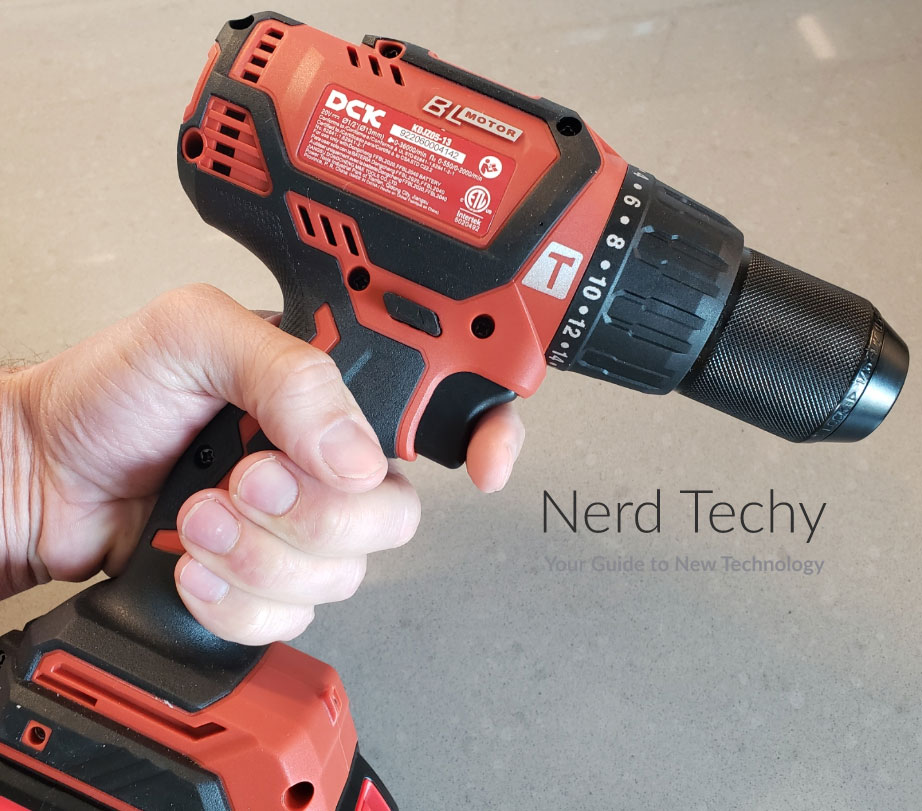 The trigger isn't the only way to control the speed. On top of the housing is a slider switch that you can use to adjust the motor. In the slow position, the speed will range from 0 to 550 RPM. In the fast position, the speed tops out at 2,000 RPM. In general, slower speeds are better when you're facing more resistance, while higher speeds are best for easy jobs.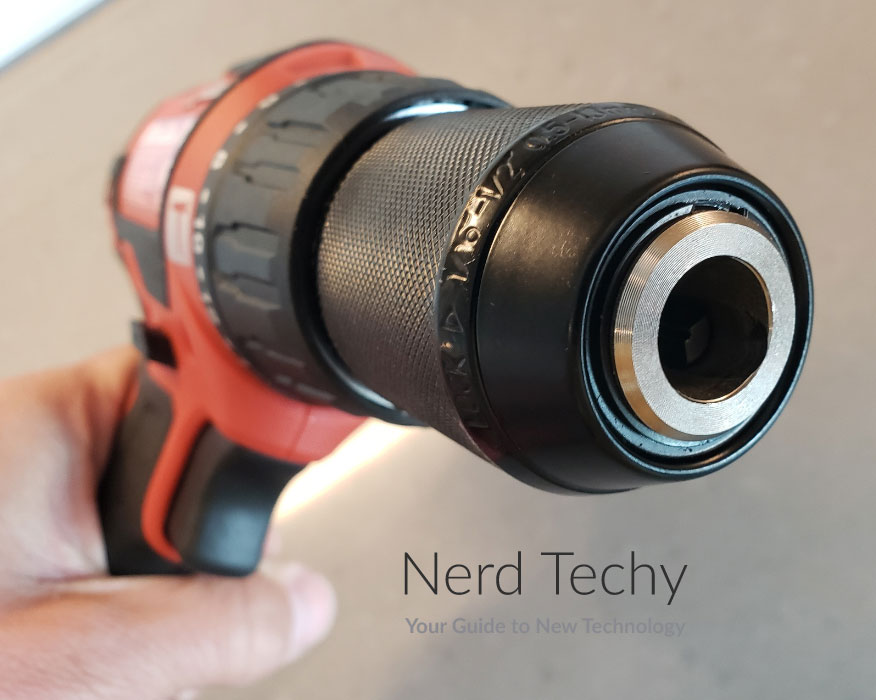 In addition, there's a collar behind the chuck, which you can use to change between different drill settings. You can change between regular drilling and impact driving, which gives you lots of versatility. And there are a whopping 22 torque settings, so you can select the exact level you require. Crank it down for delicate work, or turn it all the way up for more challenging jobs.
Reversing the drill is easy. There's a toggle built into the housing right in front of your thumb. Press it one direction, and the drill will run in a forward direction. Push it the other way, and your drill will reverse. In the middle position, it will lock out the trigger entirely. This is useful for transport, when you don't want to accidentally activate the drill and drain the battery.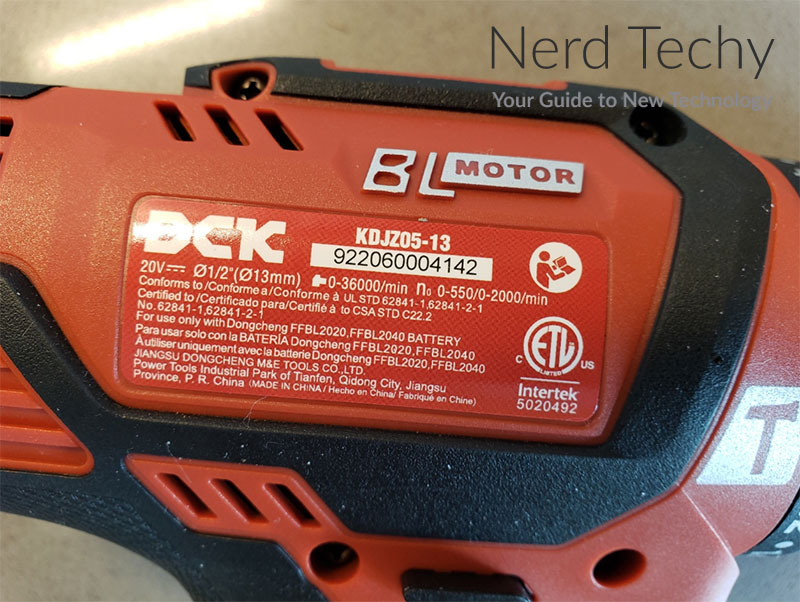 Performance
So, what is the DCK drill capable of? At maximum power, it can drive up to a 1.5-inch wood bit through all but the sturdiest of woods. For larger holes, you can even attach a hole saw, which is essential for doorknobs, pipes, and other big cutouts. If you're drilling through steel or reinforced concrete, you'll be able to manage a half-inch hole. That's not enormous, but it's on par with what you'll get with most name brand hammer drills.
The motor itself is very powerful, and can provide 531 foot-pounds of torque. That's enough to power through very tough materials like reinforced concrete or granite. The brushless design should last for years without requiring any repairs, since there are no brushes to replace. It's also more energy-efficient than a traditional motor. On the downside, the drill is very loud. At high speed settings, it produces a high-pitched whine that you won't hear from other drills.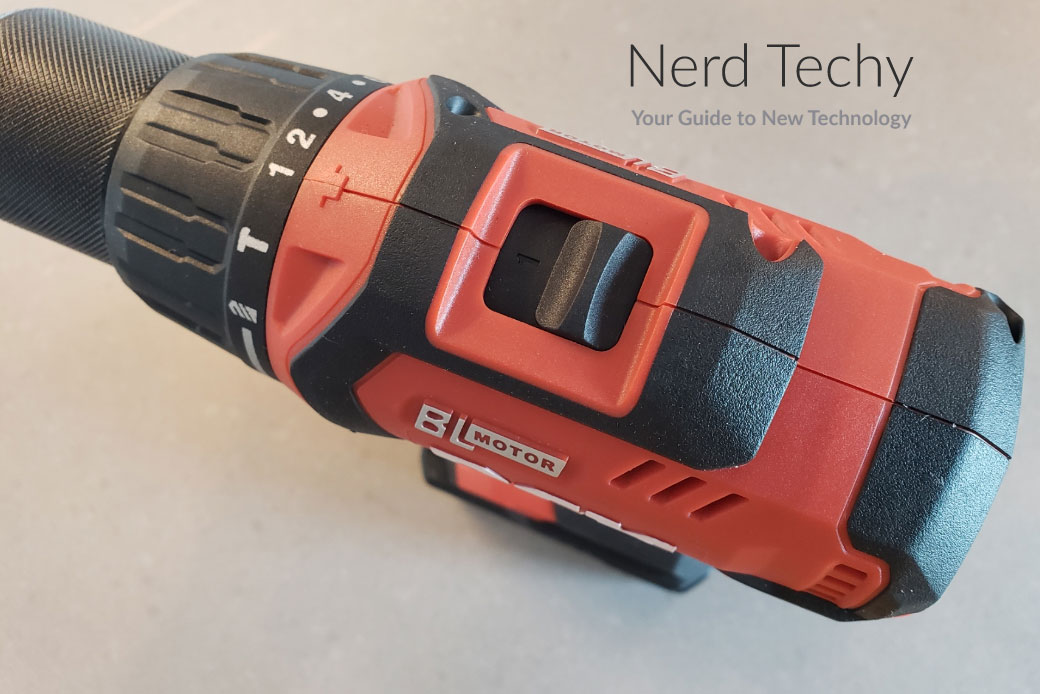 Battery Life
The kit includes a single battery, which has a capacity of 4.0Ah. That's on par with the batteries you'll get from manufacturers like DeWalt or Milwaukee. It's very powerful, and can last through most projects without an issue. That said, the life cycle is highly variable. It depends entirely upon how hard you're working the drill. It will last much longer driving drywall screws than it will drilling ½-inch holes into concrete.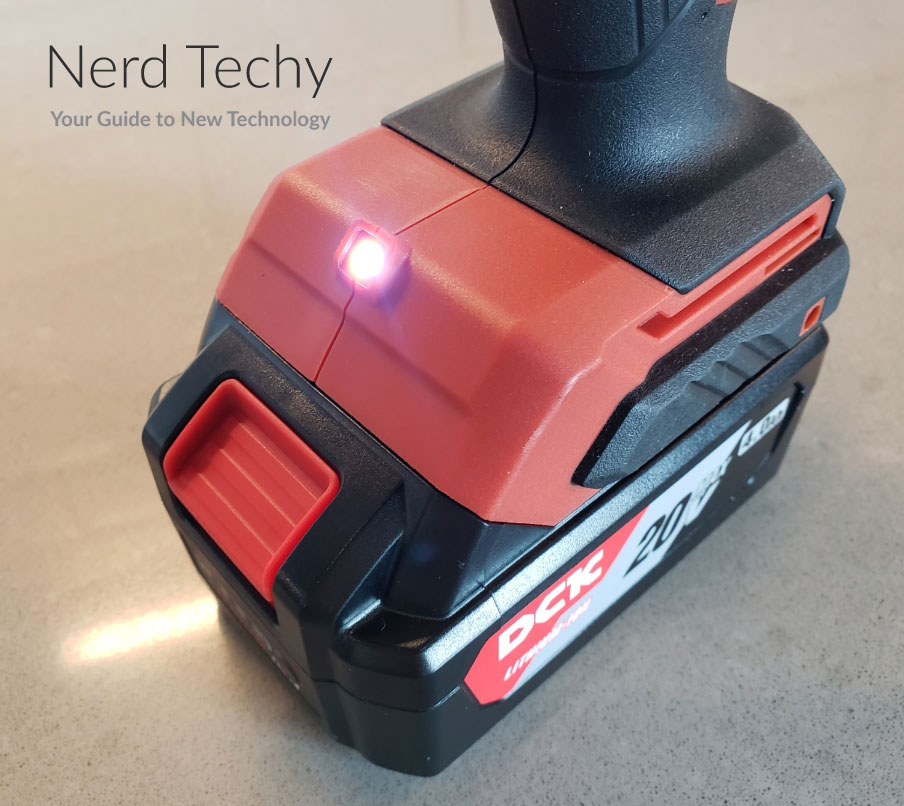 When the battery is drained, you can recharge it in about two hours. There's a charging block included, with a sliding track where you slip the battery into place over the contacts. It plugs into a standard power outlet, and has a long enough cord for easy placement. And if you need a second battery, they're readily available. With two batteries, you can effectively power the drill 24/7.
A drill is a useful tool, but it's just one thing in your chest. If you're framing a wall or running wires, you'll also need other tools to get the job done right. Take a look at these self-leveling cross-line lasers. They'll help you keep everything square and level.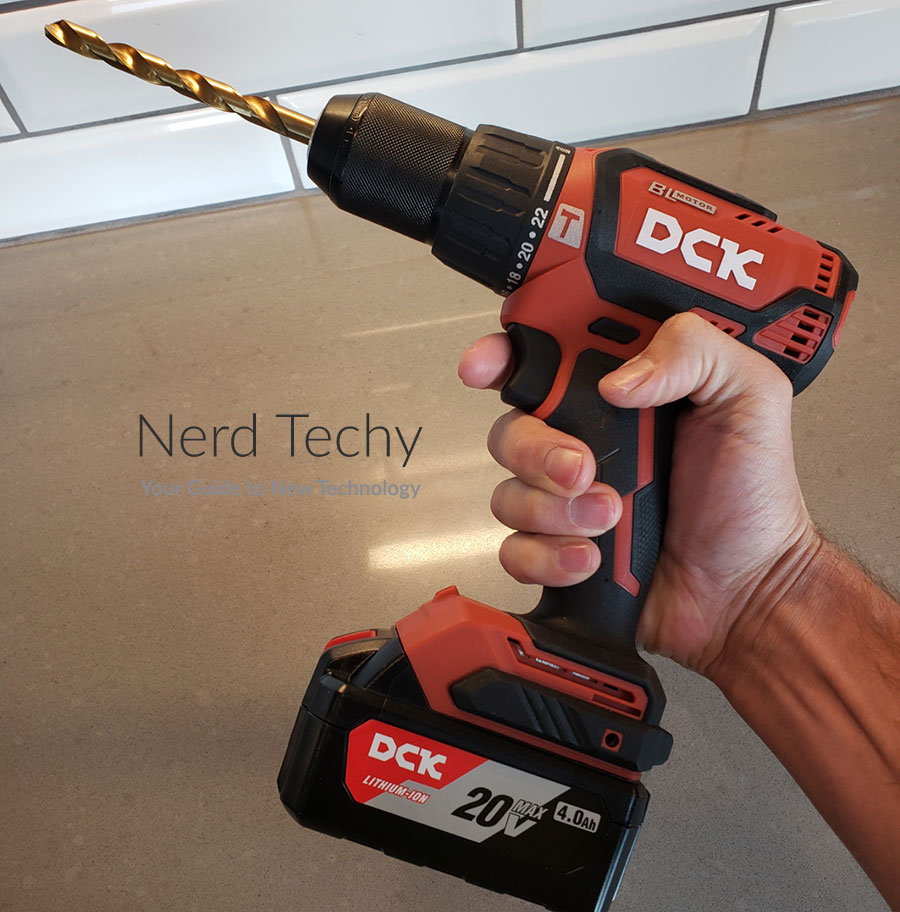 Final Verdict
The DCK 20V Hammer Drill is a powerful home improvement tool. Its brushless motor can power through not just wood, but also steel and masonry. It's easy to operate, with a variable trigger and 22 torque settings. And you can switch freely between hammering and drilling modes to complete various tasks.
The battery is long-lasting and easy to charge, and the rest of the accessories are also good quality. And with a comfortable hand grip and belt loop, it's easy to handle and carry. All things considered, we were pleased!