If you're a long-haul trucker, or if you frequently sleep in your car, you know how cold it gets in winter. There's nothing like bundling up warmly, only to wake up and realize that it's 15 degrees inside the cab. If you want to stay warm while you're parked, you'll waste a lot of fuel idling. Not only that, but many states and most truck stops have rules against excessive diesel idling. If you want to stay warm during the night, you need a diesel air heater. We've reviewed other heaters in the past, such as indoor electric space heaters for home use. Now, we're going to review the best 12-volt diesel air heaters on the market.
Today's first offering is the maXpeedingrods 5KW 12V Air Heater. This is a compact heater that's suitable for vehicles of any size. Next, we'll look at the Anbull 8KW All-in-one Air Heater. This is a larger heater with a beefy housing and built-in LCD display. Finally, we'll examine the Bestauto 12V 8KW Air Heater. This is another compact heater, and it includes a wireless remote. Which one is the best? That depends on what you're looking for. Let's take a closer look at each of these diesel heaters. After that, we'll be better-equipped to render our final verdict.
Why Use a Diesel Heater?
A diesel heater is a great way to keep your cab warm when the engine isn't running. This is an essential feature if you're sleeping in the cab overnight. However, a diesel heater can also have other advantages. When installed in a car, it can preheat the vehicle before you turn it on. This won't just make you more comfortable. It will also ensure that your windshield and other surfaces are defrosted before you leave. You won't spend the first five minutes of your drive struggling to see.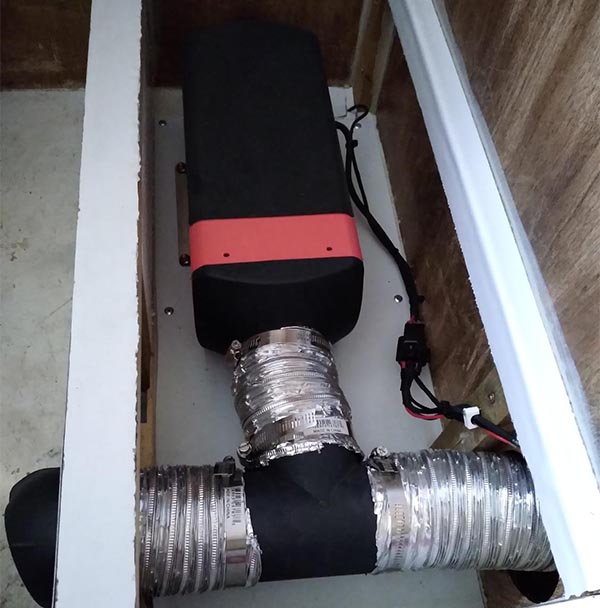 Parking heaters aren't only useful for cars and trucks. They're also a great choice for boats, RVs, and any other 12-volt power system. You can even use them in an off-grid cabin or hunting blind. Throw in a few quarts of fuel, connect a 12-volt battery, and you'll be warm for the whole day. The heaters we're reviewing today all have fuel tanks that can be filled in this fashion. As a result, they're more than versatile enough for a variety of purposes.
That said, some parking heaters connect directly to your vehicle's fuel tank. This can be more convenient, since you only have one tank. However, it requires more complex installation, since you have to tap into a fuel tank. Not only that, but you won't be able to use this kind of heater on anything other than a vehicle. If you do, you'll need to provide your own fuel tank, which defeats the purpose.
What Fuel Can I Use for These Air Heaters?
As you may have guessed, diesel heaters are designed to run off of diesel fuel. This makes operation easy for truckers. When you fill up your fuel tanks, you fill up your heater tank as well. Easy peasy. But diesel has some disadvantages. Most notably, if you're burning a lot of diesel fuel, it can foul the heater ignition element. Diesel is cheap and easy, but it also leaves a lot of carbon behind. This means you'll need to maintain and clean your heater regularly. The vast majority of diesel heaters will also work with unleaded fuel.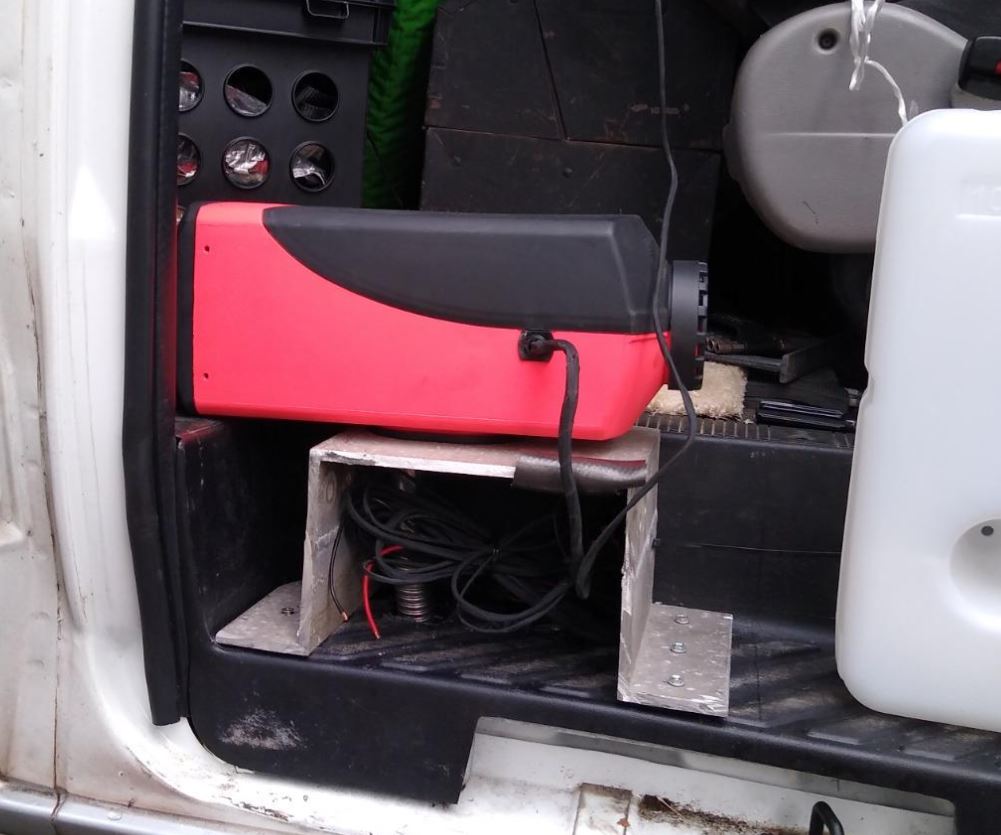 As a cleaner alternative, most diesel heaters will also work with kerosine. Kerosine leaves virtually zero residue behind after it burns, so maintenance is at a minimum. That said, you'll have to find a gas station with kerosine to top off your heater. Either that, or you'll need to buy pre-filled cans of kerosine at your local home improvement store. That can get expensive very quickly, especially compared to diesel.
Finally, many heaters support cooking oil, motor oil, and other types of oil. This can save you money, but it's very dirty and requires regular cleaning. You should also dilute oil somewhat with kerosine to make it flow better through the fuel pump. Keep in mind that these are general guidelines. Every heater is different and has its own requirements. Always read and follow the manufacturer's instructions! If they say not to use cooking oil, don't use it. It doesn't matter how cheap it is or how much your friend swears it's okay.
Diesel Heater Exhaust and Safety
Regardless of what fuel you use, a diesel heater is going to produce exhaust. Not only is this exhaust smelly, but it contains deadly amounts of carbon monoxide. As a result, it's extremely important to follow your manufacturer's instructions for running the exhaust line. If this is done improperly, it's an extreme safety hazard. You might as well cut your own brake lines before getting on the road. We should note that you can buy special kerosine that's safe to burn indoors. However, it's still smelly, and it's designed for homes, not vehicles. Just stay safe and run the exhaust line as per your instructions.
Another thing to consider is that exhaust systems are noisy. To combat this, most manufacturers use an exhaust line that's ribbed to absorb vibrations. Not only that, but a ribbed tube is easily flexible. If you see a smooth exhaust tube, steer clear. The heater is going to be noisy, which is not a good thing when you're trying to sleep.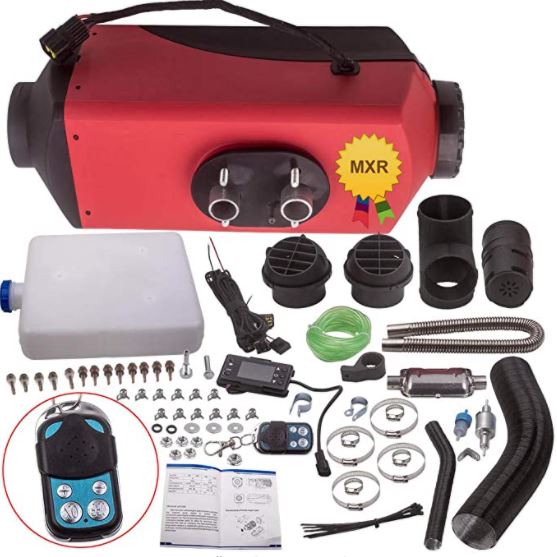 maXpeedingrods 5KW 12V Air Heater
The maXpeedingrods 5KW 12V Air Heater is a powerful heater that's designed for all types of vehicle. It measures 15.3 inches long, 5.5 inches wide, and 5.9 inches thick. This form factor makes it easier to position than most heaters, because it's small enough to fit in tight spaces. It connects to a standard 12-volt power supply, and includes a wiring harness. As a result, it can quickly be hardwired into just about any vehicle. We should point out that the unit in the advertising is red, but it actually comes in red or black. Currently, you don't get to choose the color. MaXpeedingrods sends you one at random when you place your order.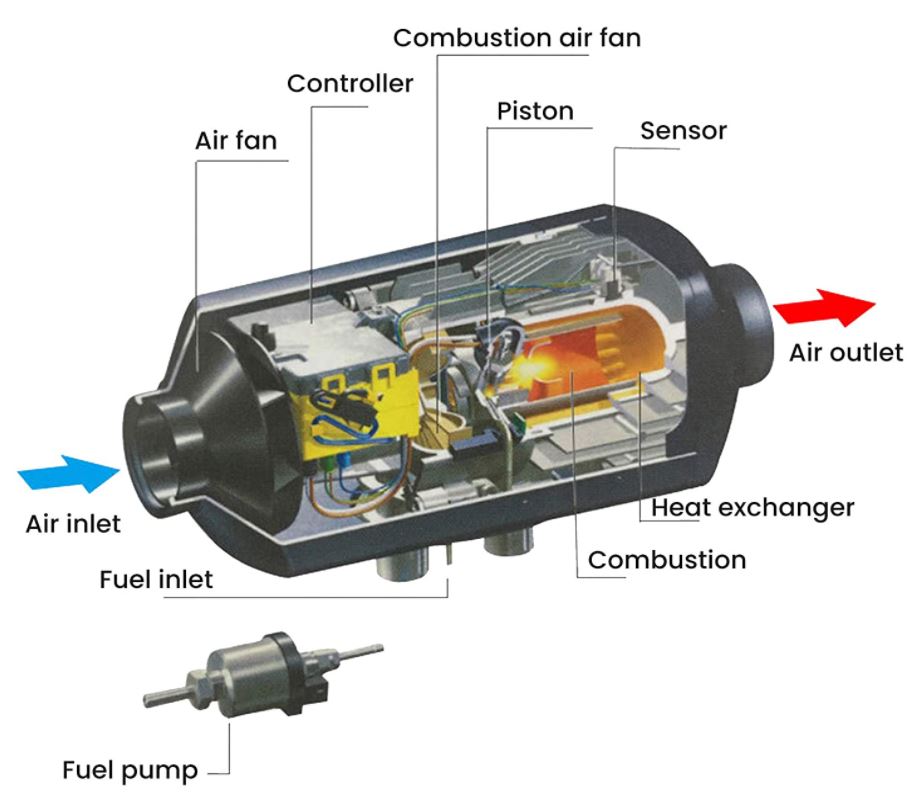 The maXpeedingrods heater is designed primarily for diesel, but can also burn gasoline or fuel oil. The heater has a wide working range, and can operate as low as 40 degrees below zero. Colder than that, and the fuel will start to gel, so you'll need an electrical overnight heater. The working temperature goes as high as 122 degrees, which should never really be necessary. But if for some reason you want to go this high, you'll be able to.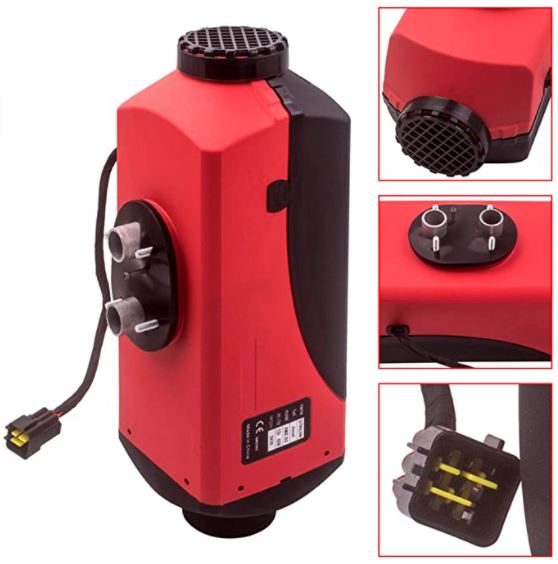 This heater has a built-in overheating sensor, which will shut everything down if the housing gets too hot. It also has a fuel level sensor, and will automatically shut off when fuel runs dry. This shouldn't be an issue, for a couple of reasons. First, the 10-liter fuel tank has enough capacity for several nights of operation. Second, you'll always know how much fuel is remaining. The current fuel level is displayed on an LCD display, which is wired into the unit. This display can also be used to adjust the temperature and perform other basic functions. Unfortunately, the display cord is only about 18 inches long. This makes it tough to position if the heater isn't right under your dashboard. There's also a remote control fob for turning on your heater before you go outside.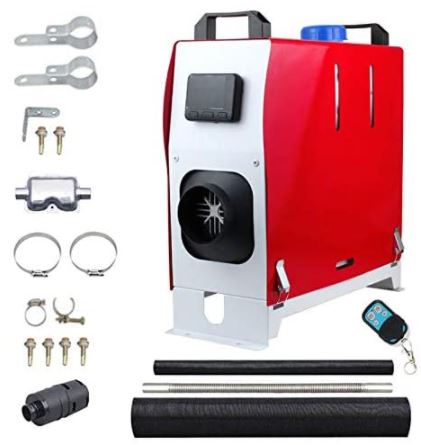 Anbull 8KW All-in-one Air Heater
The Anbull 8KW All-in-one Air Heater is a big, beefy unit that's designed for larger vehicles like semi cabs. The housing is engineered from aluminum, and measures 15.3 inches high, six inches wide, and 16.3 inches deep. Even at this size, the six-inch width is enough to fit into tight spaces. The frame also has a bracket built into the bottom, so you can bolt it to your floorboard if you so desire. Not only will this keep the heater in place, it will also reduce noise from motor vibration. There's also an LCD display built into the front top of the unit, which makes it very easy to operate.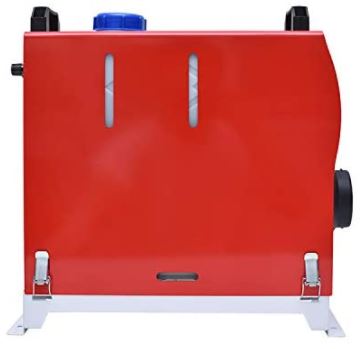 The overall heating capacity is 8KW, which is more powerful than the last heater we looked at. This is sufficient for applications like delivery vans, which are constantly getting opened and closed. You don't have to worry about losing all your heat every time you open up the back of the van. 8KW is also sufficient for a small cabin or hunting blind. It will operate on diesel, gasoline, kerosine, fuel oil, or even cooking oil. That said, it will run most efficiently with diesel or kerosine, like most gas heaters.
The working temperature on the low end is the same as the last heater, at -40 degrees. It can also operate at up to 176 degrees. In a pinch, it can be used to kill bedbugs and perform other heat treatments. Be aware that this isn't really what it's made for, but the high heat is available if you need it. The fuel tank is actually a bit small, at only five liters. This is enough for about 10 to 12 hours of operation, so expect to refill it regularly. On the other hand, given how big the unit already is, using a smaller tank was probably a wise choice.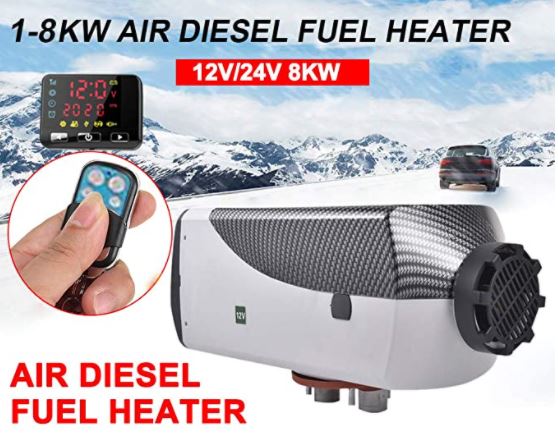 Bestauto 12V 8KW Air Heater
The Bestauto 12V 8KW Air Heater is another pint-sized heater. At only 15.5 inches long, 5.5 inches wide, and 5.9 inches thick, it will fit just about anywhere. Part of this versatility is that the 9-liter fuel tank is separate, and can be positioned in a different location. The Bestauto is built for diesel, but can handle kerosine or gasoline if the situation requires it. The tank supplies enough fuel for about 18 to 20 hours of operation, depending on temperature.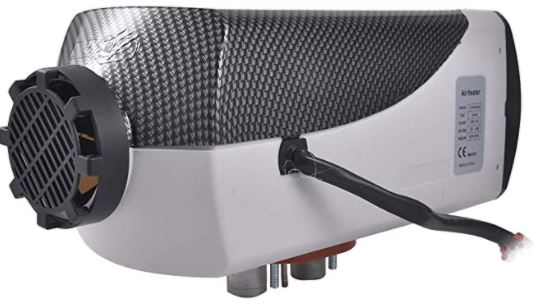 Like the Anbull heater, the Bestauto heater has a heating capacity of 8KW. This makes it suitable for large or high-traffic applications where a smaller heater might not be enough. It has a wide working range, from -40 to 176 degrees, comparable with the Anbull.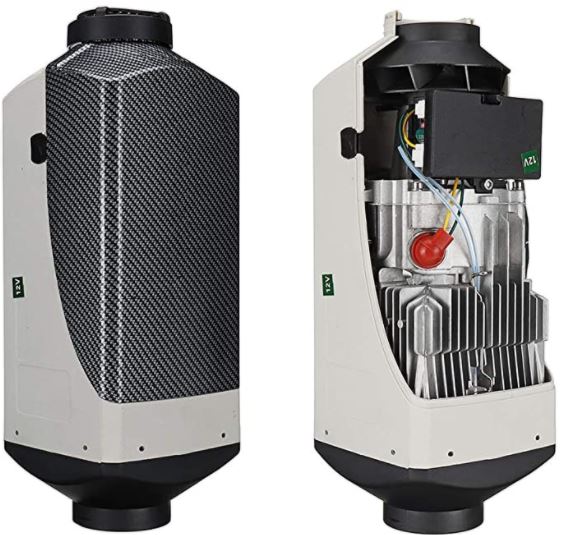 One thing we liked about the Bestauto heater is how easy it is to control. The LCD panel is separate, and can easily be adhered to your dashboard or control panel. There's also a handheld remote that you can use to turn on your heater from indoors. Once it's installed, the Bestauto heater works as easily as any stock part of your vehicle.
Final Verdict
All three of these diesel heaters have their own strengths, weaknesses, and benefits. Before we conclude, let's quickly recap what we've learned. We started out by reviewing the maXpeedingrods 5KW 12V Air Heater. This compact heater is suitable for a wide variety of vehicles, which is a significant plus. In addition, it handles a variety of fuel types. It can operate on diesel, gasoline, or fuel oil, which gives you plenty of options. The LCD screen is well-designed, but is mostly crippled by a short connector cable. That said, the heater works very efficiently and safely. And with the remote control fob, you can turn your heater on from the warmth and comfort of your home.
The Anbull 8KW All-in-one Air Heater is a mid-powered unit that's suitable for larger trucks and vans. We liked that you can bolt it to the floor, since this will secure it firmly in place. We also appreciated the high running temperatures, as well as the slick built-in display. If you've got the space for it, the Anbull heater is a solid choice.
Last but not least, we reviewed the Bestauto 12V 8KW Air Heater. The Bestauto can match the Anbull blow-for-blow with its 8KW heating element and motor. However, it's a bit smaller, and is meant to be built into the side or center console. Of all the heaters on our list, it was the easiest to control. The wireless LCD panel and remote make operation as natural as possible.