Reolink RLC-1212A
Pros
12-megapixel camera with wide aspect ratio.
Can record to SD or Reolink NVR.
Customizable motion sensing zone.
Two-way audio and automated alerts.
Excellent build quality.
Cons
Power supply not included - PoE required.
Color night vision uses a bright, visible spotlight.
When it comes to the safety of your home and family, it's impossible to be too careful. So if you have the opportunity to monitor your home remotely, why wouldn't you? Until a few years ago, the answer would have been "It's a pain, and it's too expensive." And for most people, this would have been perfectly valid.
Old-school security systems cost a small fortune. And you needed a dedicated TV and VCR for recording and monitoring. This meant constantly changing tapes, and finding somewhere to store them. Most importantly, there was no such thing as remote monitoring. Unless you had private, round-the-clock security, a camera was only useful after the fact, to identify an intruder.
But in the past few years, a lot has changed. The cameras themselves have gotten significantly more affordable, and the video quality is better. Storage technology has advanced a lot as well. A single VHS tape only holds a few hours worth of video.
But nowadays, you can store dozens of hours or more on a little SD card. Perhaps most importantly, high-speed internet has made remote monitoring far more practical. Now, you don't need an expensive security service to keep tabs on your camera. You can do it yourself by using a smartphone app. That's a game changer, since you can take personal control of your own security.
Now, we're going to review the Reolink RLC-1212A Intelligent 12MP PoE Camera. This is a powerful camera with ultra-sharp resolution, so you can see fine details that other cameras miss. It's designed with an adjustable motion-sensing zone, so you can prevent a lot of false alerts. And with color night vision, you see a lot more detail than a grainy black-and-white.
But there are other features we need to look at to perform a fair evaluation. How does the camera mount, and where can it be used? How do you save your videos, and how can you adjust your settings? We'll look at these features along with a number of others, to get a picture of what we're looking at. Let's see how this camera performs!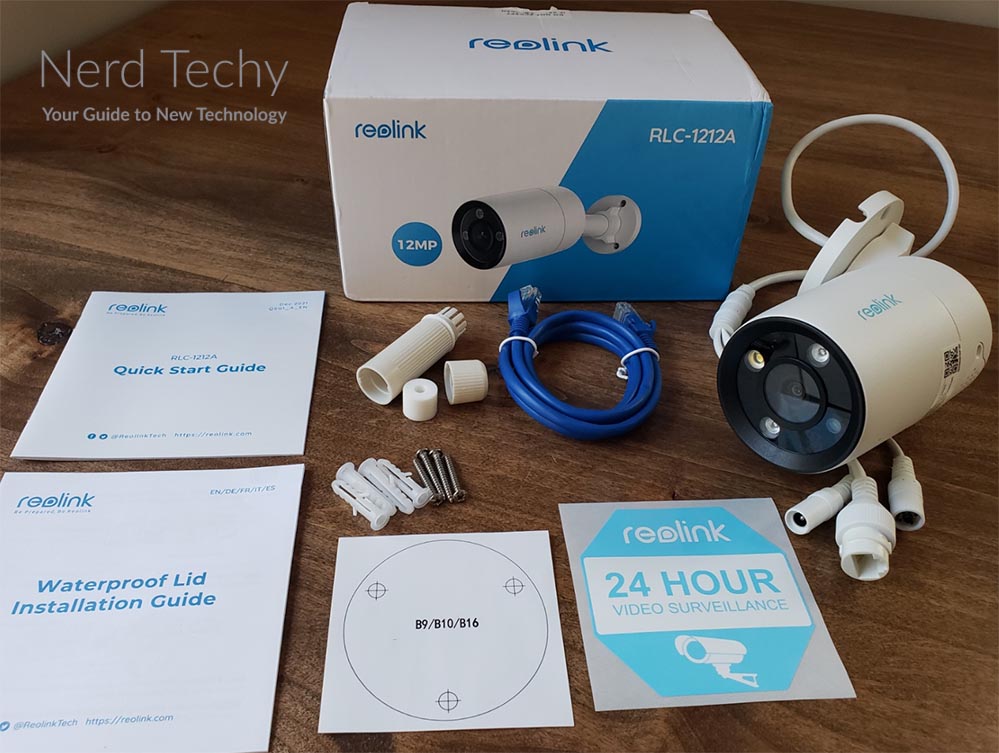 Design & Construction
The Reolink RLC-1212A has a cylindrical housing that's constructed from a durable matte white metal. It's slightly tapered towards the end, and has a decorative gold band around the outside.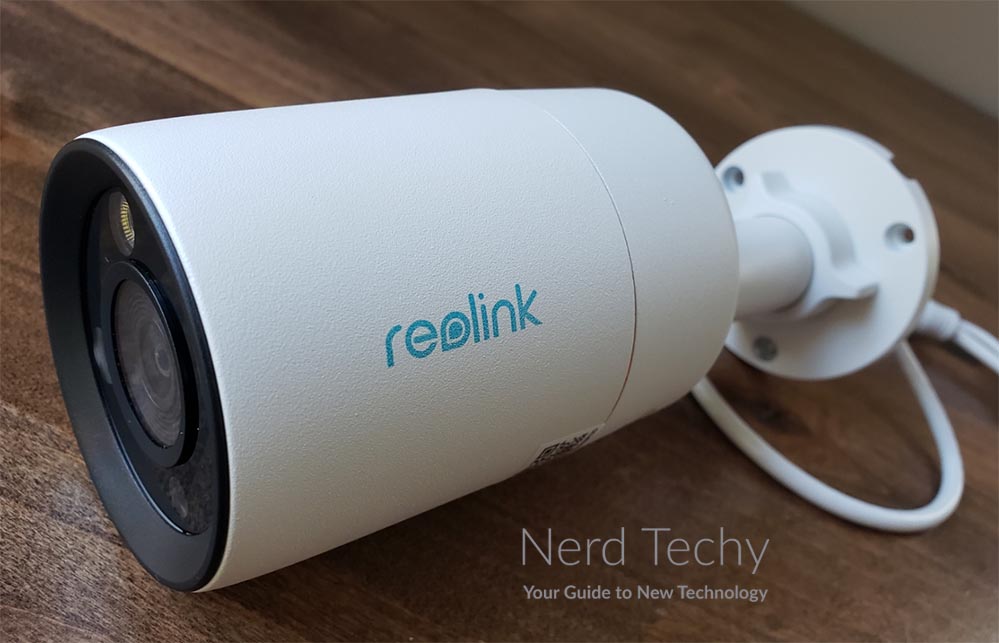 Just in front of the band, there's a blue Reolink imprint on both sides. On the bottom, towards the back, there's a little perforated area that covers the mic and speaker. There's a smaller panel on the back that's held in place by a pair of screws. This covers the SD card slot, and keeps it sealed when the screws are fully tightened.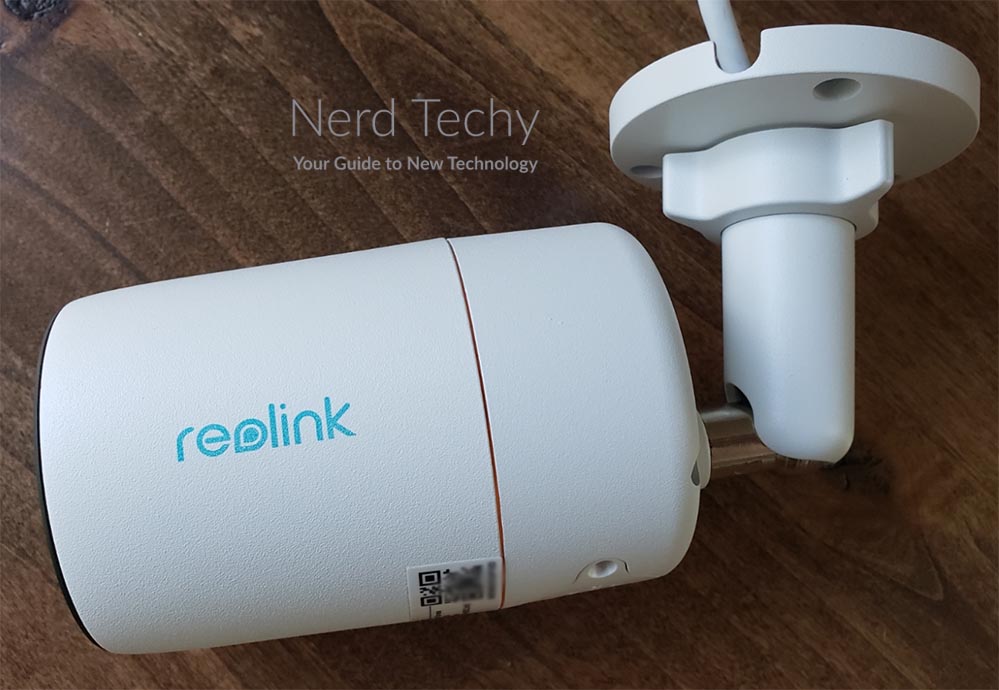 As you might expect, the lens is located directly at the front. This area is black, with a glass cover that protects the lens and other electronics. The lens itself is fairly large, and you can see it right in the center. Above the lens, there's a bright spotlight that's used for night vision mode. To the sides and underneath, there's a set of motion and daylight sensors. We'll discuss how all of this works in a little bit.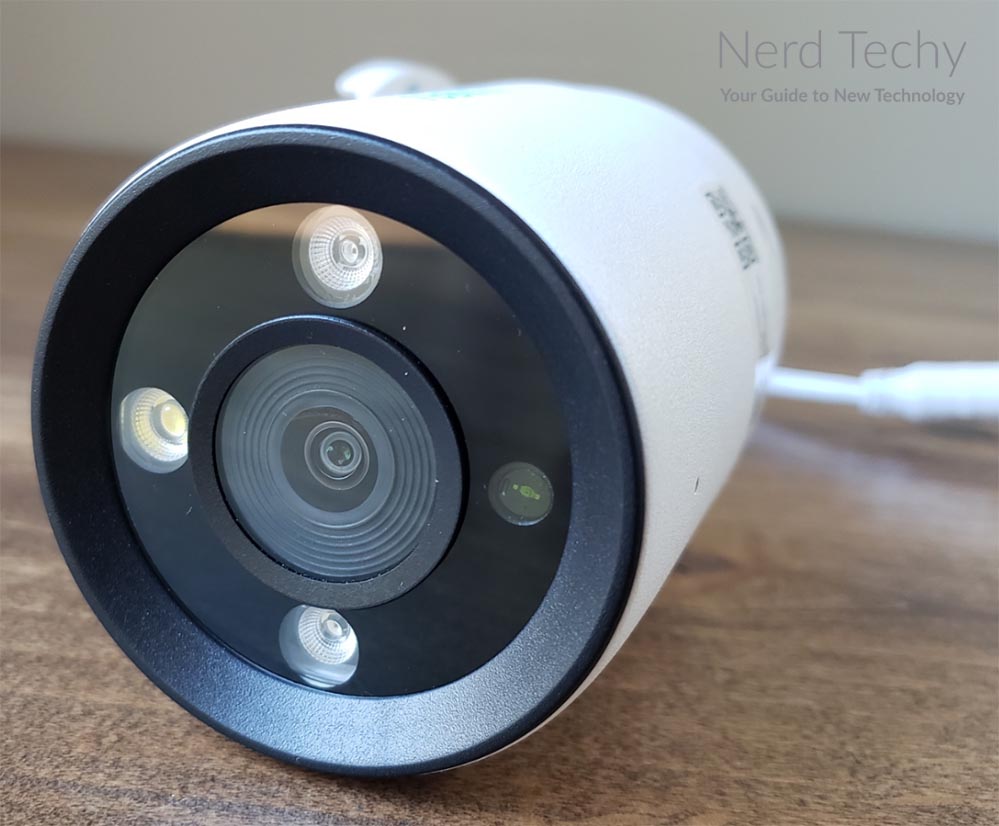 This camera has a weather-resistance rating of IP66. The first 6 is a measurement of dust-resistance, and it's the highest rating available. Even the tiniest particles can't infiltrate the housing, so dry conditions are not a concern. The second 6 defines the camera's water-resistance level.
It's not quite submersion-proof, but it's close. Not only can it stand up to rain, but you can use your hose's jet setting to wash it off. This is a great feature if your camera is mounted high up in the air. Instead of having to get up on a ladder to clean it off, all you have to do is hose it down.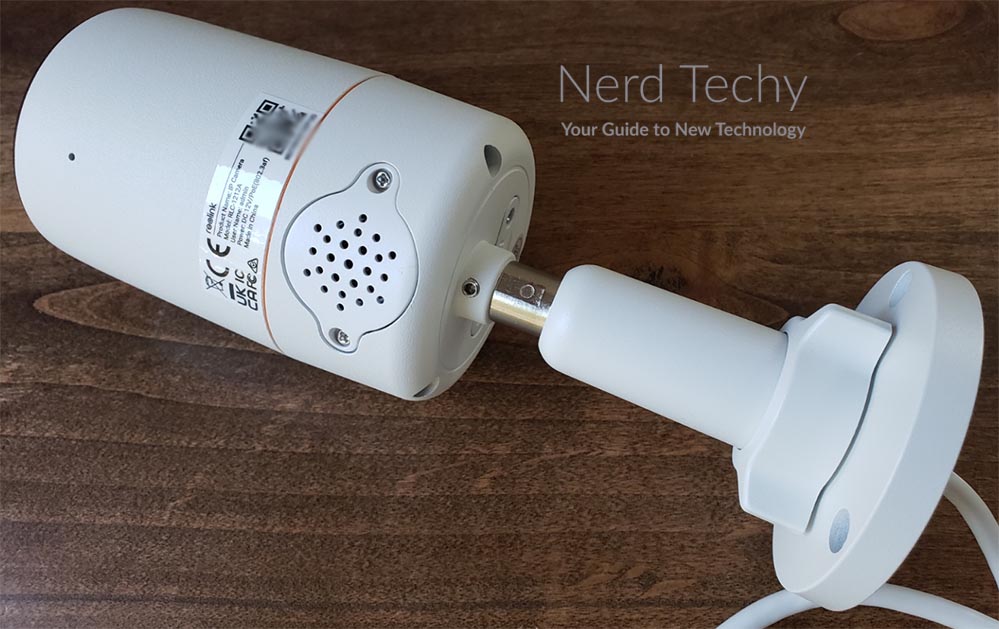 Mounting the RLC-1212A is quick and painless. The package includes a mounting template, so you know where to drill your holes. Just put the template where you want the camera, use a pencil to fill in the dots, and drill away. The mounting plate comes with three screws and drywall anchors for easy mounting. If you have to mount on brick or masonry, though, you'll need to provide your own masonry anchors.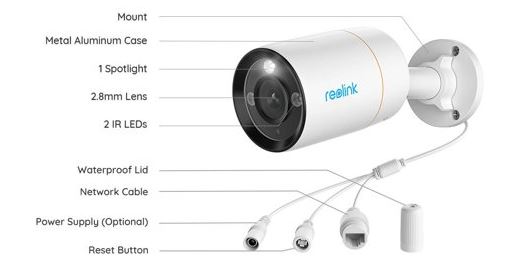 The camera attaches to the base via a metal ball joint, which can be tilted downwards if need be. Be aware, though, that it doesn't pivot from side to side. Make sure you like where the camera is pointed before you actually mount it.
If you need a security camera but prefer a different design, check out the Reolink RLC-842A and RLC-542WA. These are turret-style cameras with, panning, tilting, and zooming capabilities. On the other hand, they don't offer nearly as high a resolution.
Power & Connectivity
The Reolink RLC-1212A connects via Power over Ethernet (PoE). This technology allows you to transmit both the power and the video signal via a single Ethernet cable. You can run the cable up to 330 feet, so you can install the camera anywhere on your house.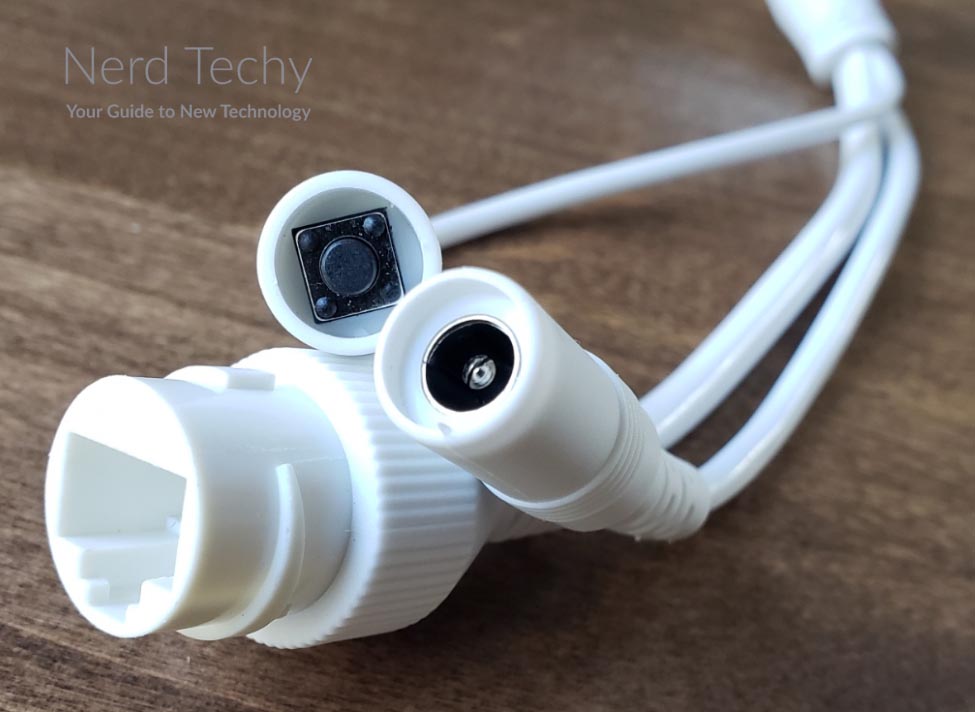 Since the signal is wired, it's a lot more secure and difficult to hack. And because you have wired power, you don't have to worry about constantly charging your battery. That said, you have to run a wire, which can be challenging for some people. Not only that, but you need a specialized PoE router or PoE injector to provide the electrical current.
To use the camera, you'll first need to install the smartphone app. When the app is installed for the first time, you'll have to be on the same home network as the camera. This will allow you to pair your phone, and configure your initial settings.
Once the initial pairing is complete, you can view the camera feed from anywhere in the world. You will no longer have to be on the same network. In addition, you'll get push alerts with snapshots whenever the motion-sensor is activated. If you prefer not to get push alerts, you can always turn these off.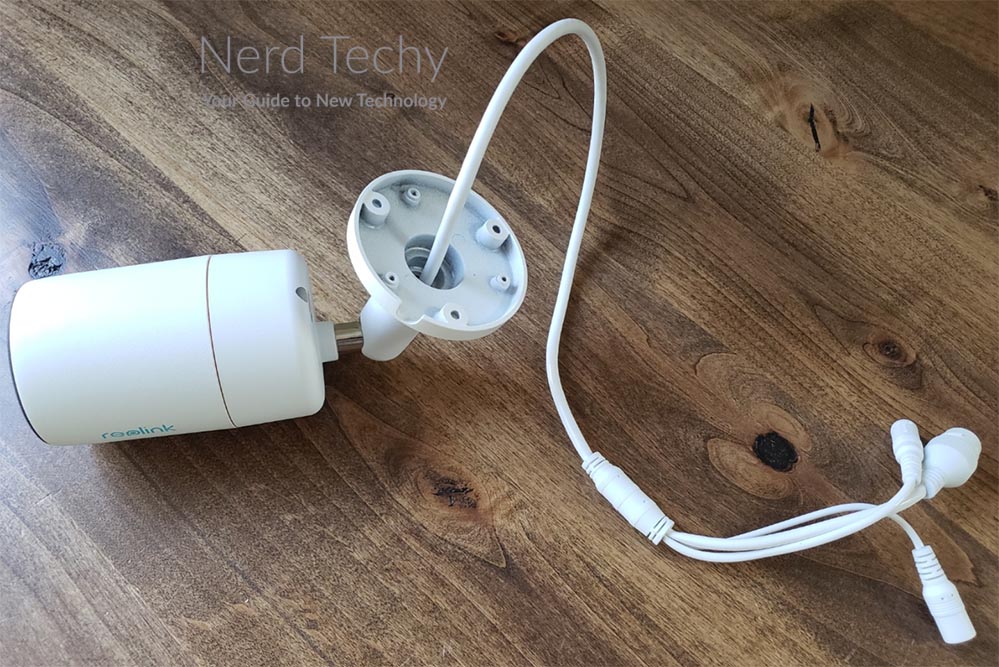 The camera uses an AI algorithm to identify people and vehicles. This does a good job of preventing false alerts. For example, you won't get alerts because a cat or a squirrel ran past your camera. That said, depending on where your camera is facing, there may be a road or a sidewalk.
To prevent getting an alert for every passing vehicle or pedestrian, you can customize the motion zone. Using the app, you can outline areas for the camera to ignore. That way, you'll only get alerts when someone is actually on your property.
When you get an alert, you don't just have to watch passively. You can actually take action. If you want to scare off an intruder, you can activate a loud built-in siren. Or, you can take advantage of the RLC-1212A's two-way audio feature. This is less useful for intruders. But for visitors or delivery drivers, it's a very handy feature.
If your hands are busy when you get an alert, you can even interact with the app via Google Assistant. Amazon Alexa support is "coming soon," but as of March, 2022, it's not yet available.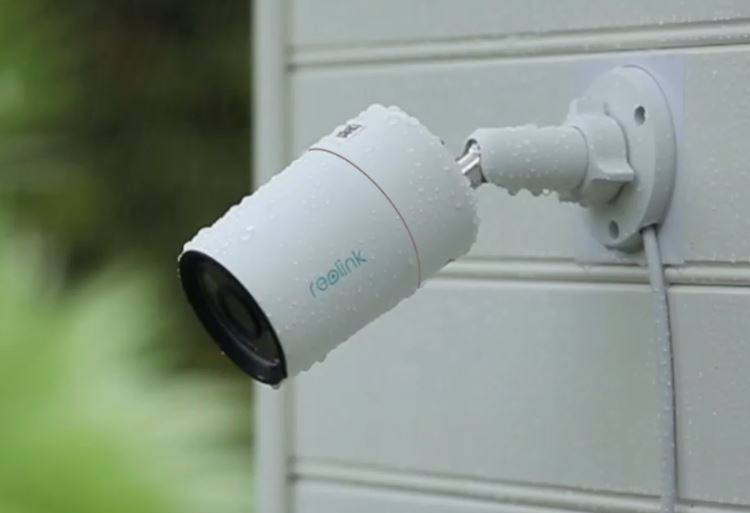 Video Quality & Storage
The Reolink RLC-1212A has an incredible 12-megapixel camera. This resolution is better than 4K, with 4,000 pixels from left to right. You'll get an incredibly detailed view of everything that's going on, and you can spot fine details. For example, if there's someone at your door with your nametag, you can read the tag. Not only that, but you get a reasonably wide field of view.
But what if you need to cover a very large area? In that case, the Reolink Duo is an excellent choice. It sports dual 2K lenses, which creates an ultra-wide video with excellent coverage. That said, it's fairly large, and can stand out too much for some people's tastes.
The RLC-1212A boasts color night vision, which provides a ton of extra detail. You just can't get the same information from a green video, or even from black-and-white footage. Videos look excellent at any hour, even if its pitch black outside.
Then again, the color night vision relies on a big, bright spotlight above the lens. If you don't mind people noticing your camera, this isn't a big deal. But if you want your camera to be discreet at night, you're going to be disappointed.
This camera can be used for entertainment as well as for security. There's a time lapse mode, which allows you to compress hours of video into just a few seconds.
As far as storage goes, you've got a couple of options. To begin with, you can record your footage to an SD card. There's none included in the kit, but the camera supports cards with up to 256GB capacity. That's enough for 72.8 hours of recording, at least in theory.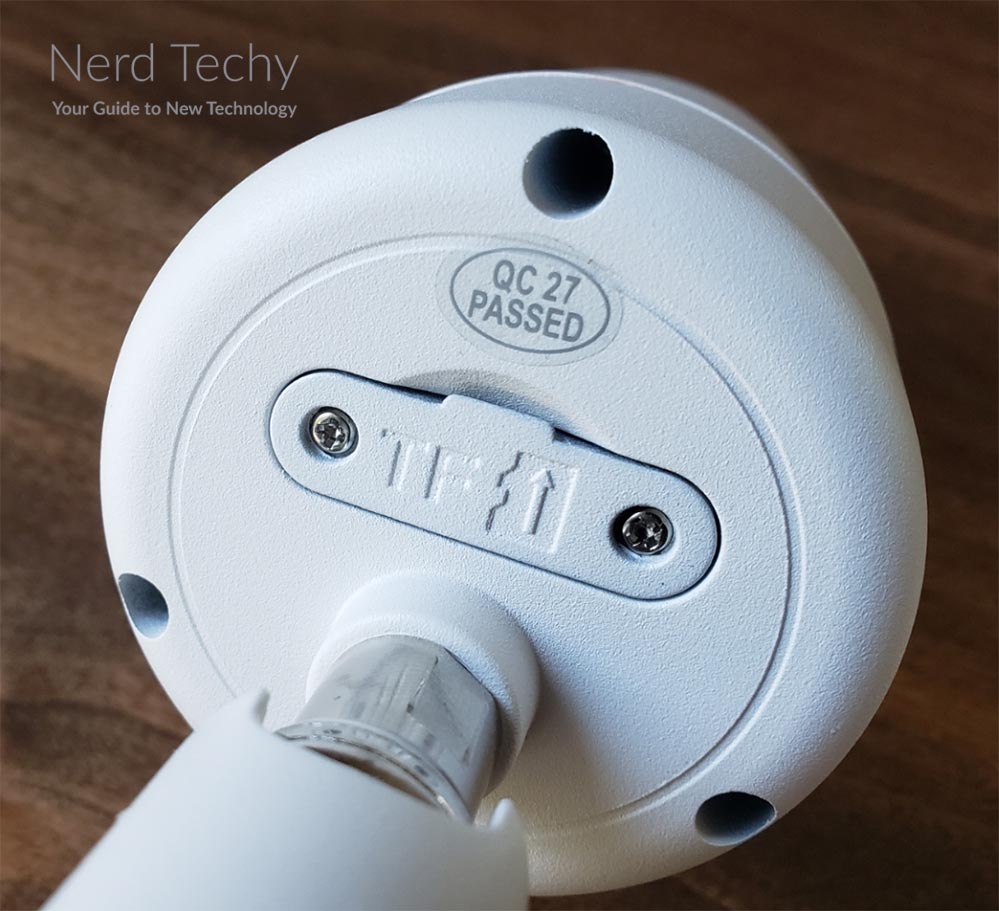 This assumes that you're using the camera at its default bitrate of 8,192kbps. You'll get less footage with a higher bitrate, and more with a lower one. Either way, you don't have to wipe your data. As new footage is recorded, it will automatically overwrite the oldest footage. And if you've saved any clips for future reference, they won't be overwritten. Alternatively, you can record to a Reolink network video recorder (NVR).
If you're looking for more storage options, consider the Reolink Argus PT 2K. It's a wireless camera with free cloud storage, so recording is easier than ever. Then again, it has short battery life, and it needs to be taken down to recharge.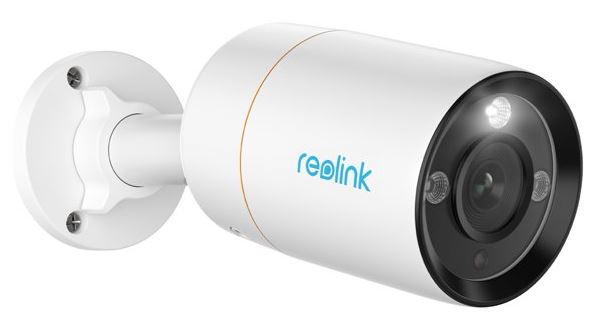 Final Verdict
The Reolink RLC-1212A is a well-engineered security camera that can stand up to the elements. It records video in very high resolution, so you can see fine details. Color night vision provides round-the-clock visibility. And with customizable motion zones, you don't have to worry about any false alerts.
Meet Derek, "TechGuru," a 34-year-old technology enthusiast with a deep passion for tech innovations. With extensive experience, he specializes in gaming hardware and software, and has expertise in gadgets, custom PCs, and audio.
Besides writing about tech and reviewing new products, Derek enjoys traveling, hiking, and photography. Committed to keeping up with the latest industry trends, he aims to guide readers in making informed tech decisions.