When it comes to your home's security, there's no such thing as being too careful. One great way to do that is to keep track of who's coming and going. Until recently, this was only really practical if you spent all your time at home. Otherwise, how were you going to keep an eye on things? You could buy a security system with door sensors and a monitoring service. But even then, you'd need a camera to know who was walking through. And old-school camera systems were absurdly inconvenient. You needed a VCR for each camera, and off-site monitoring was not an option.
Nowadays, modern technology has given us far better options. Today's home security cameras record their video digitally, not to bulky cassette tapes. They're also easier to wire, and some can even connect via WiFi. Perhaps the biggest improvement, though, has been the advent of remote monitoring. With a smartphone app, you're able to check in on your home from anywhere in the world. This has revolutionized how people think about security cameras, and it's made them more popular than ever. Of course, you still need to choose carefully when you're selecting your camera.
We're about to take a look at two of the best home security cameras available on today's market. To start with, we'll examine the Reolink RLC-842A. This is a powerful 4K camera with Power over Ethernet (POE) connectivity and a ton of app features. Next, we'll check out the Reolink RLC-542WA. This is a 5-megapixel camera with WiFi connectivity and many of the same awesome features. But which one is going to be ideal for your needs? To answer that question, we'll have to take a closer look at how both cameras operate. We'll have to discuss their video quality, night vision function, and other aspects of their design. Then, we'll have enough information to make a fair comparison. Let's begin!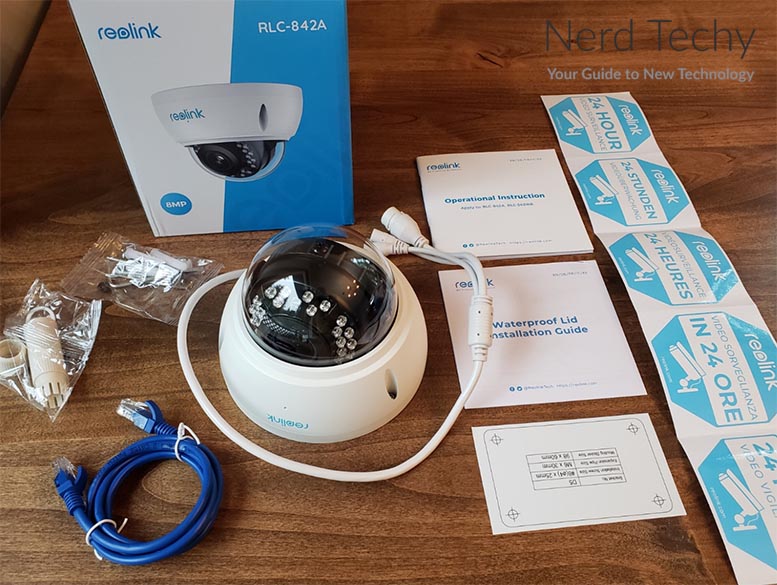 Reolink RLC-842A
The Reolink RLC-842A is a compact security camera with a round metal base and housing. The housing has a matte white finish, which is both attractive and easy to keep clean. Not only that, but the material is significantly tougher than your average plastic security camera housing. The actual lens unit is located in the center, protected by a transparent dome. It looks fragile, but it's actually surprisingly sturdy. The dome is made of a vandal-proof plexiglass that will even withstand a blow from a hammer. If you're worried about someone destroying your cameras, worry not.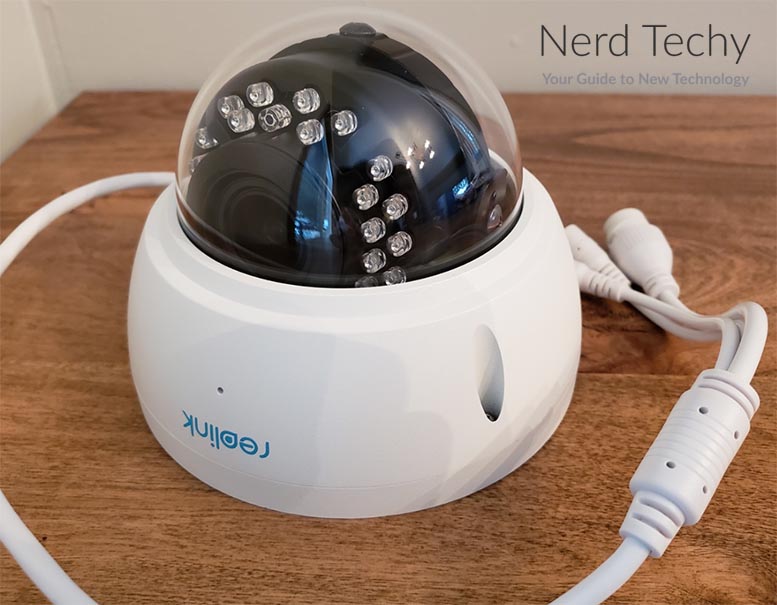 In addition, this camera has a weather-resistance rating of IP66. The first 6 indicates the maximum possible level of dust resistance. Even in the driest environments, you won't have to worry about dust getting into the camera housing. The second 6 indicates a high level of water-resistance. This isn't a submersion-proof camera, but it can hold up to the worst of rainstorms.
The lens is easily visible inside the bubble, a large black ring in its own little sub-housing. It's surrounded by an array of 24 infrared bulbs, which are required for the night vision function. These are invisible at night, since they don't give off any rays that are visible to the naked eye. During the daytime, though, they catch the ambient light, and can sparkle a little bit.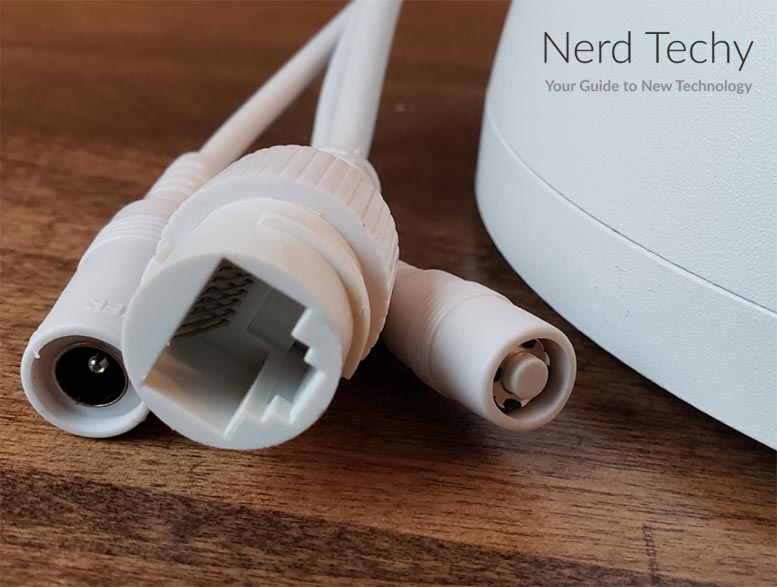 The RLC-842A connects to power and the internet via Power over Ethernet (PoE). This allows you to use a single PoE cable to make a run of up to 330 feet. Just keep in mind that PoE doesn't work on all networks. Unless you have a PoE router, you'll need to buy a PoE injector to provide power.
If you want a similarly well-designed camera with different functionality, Reolink has many offerings. Take the Reolink RLC-523WA. It comes with the added benefit of a motorized pan and tilt function, so you get more versatility. On the other hand, the 5-megapixel resolution is not quite as high.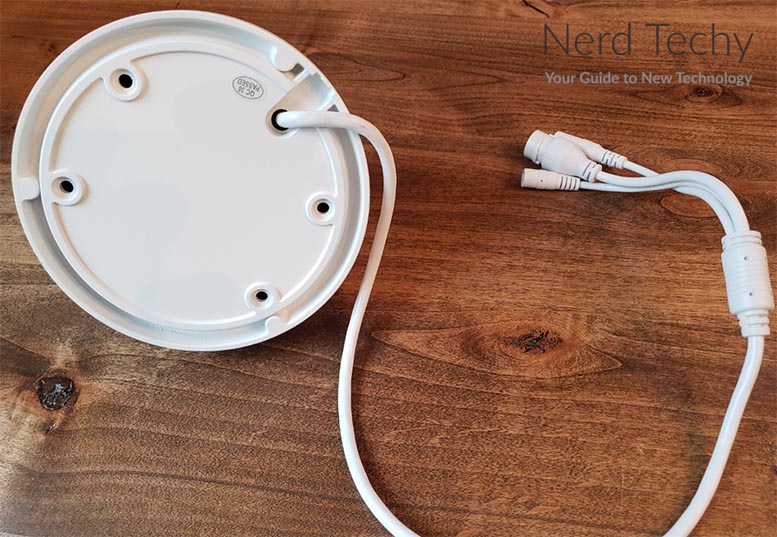 Camera Quality and Performance
The RLC-842A provides a video resolution of 4K. That's 3,840 x 2,160 pixels, or four times as many pixels as 1080p HD. This allows you to see incredibly fine details that you simply can't make out with most cameras. Admittedly, there's only so much detail you'll really need to see. But 4K resolution is excellent, and it won't leave you wishing for more. Visibility remains good as night. While the image changes to black and white, it's incredibly crisp and clear. Not only that, but the infrared LED's are exceptionally bright. You can see objects as far as 100 feet away, even in pitch black conditions. Not only that, but you get audio recording, which provides even more detail.
Beyond its high resolution, this camera is also capable of optical zooming, to as high as 5x. Optical zoom means that the hardware is doing the zooming, not the software. This is different from cheaper digital zoom technology, where the image is electrically magnified. With a digital zoom, you lose resolution as you zoom in. With an optical zoom, you'll maintain the full 4K resolution even at 5x magnification. Keep in mind, though, that the viewing angle will change depending on your zoom level. When you're zoomed out, you get a 96-degree viewing angle, perfect for corner installation. When you're zoomed all the way in, that tightens to a mere 27 degrees.
If you want a wider angle, there are plenty of options, but the Reolink Duo is one of the best. Instead of a single fisheye lens that distorts the image, it uses dual 2K lenses. This provides an ultra-wide video without any distortion. On the downside, the Duo's night vision only has a range of 40 feet.
With the Reolink smartphone app, you can view video from your RLC-842A remotely. You have to pair the camera first, and that can only be done when you're at home. But once the app has been paired, you can check in on your video feed from anywhere, at any time. You can also set up push alerts. The camera has built-in person and vehicle detection software. When a person or vehicle is detected, the camera will automatically start recording and send an alert. This way, you know immediately when someone is on your property.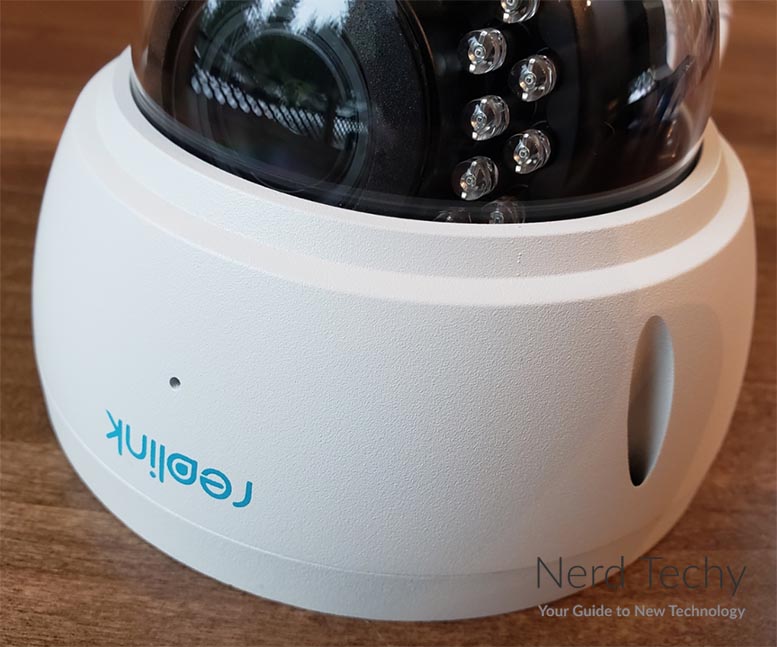 Storage and Extras
When it comes to video storage, the RLC-842A gives you a few different options. The first is a micro SD card, which isn't included. That said, it supports up to a 256GB card, which is unusually large. That's sufficient for capturing 97 hours of footage. When the card has gotten full, the oldest footage will be overwritten first. That way, if you need to access your most recent footage, it will still be available.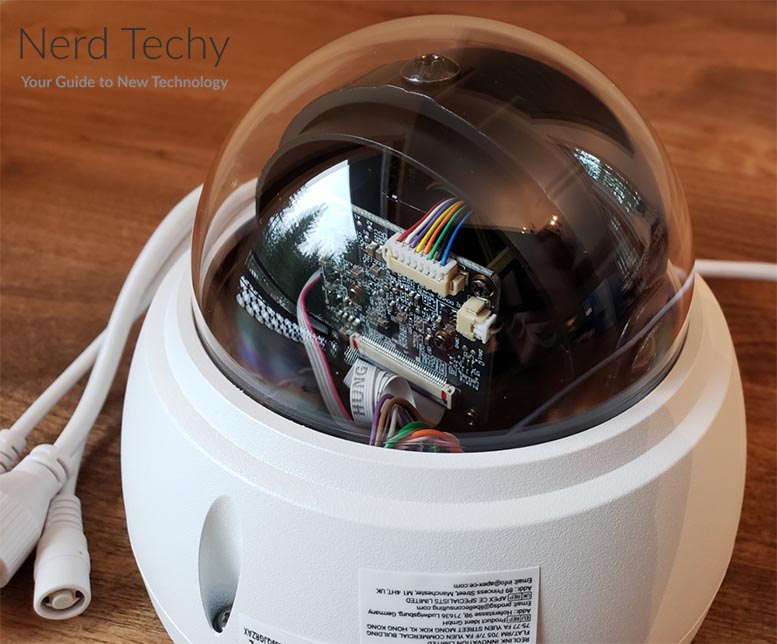 In addition to using an SD card, you could also connect to a Reolink Network Video Recorder (NVR). An NVR works a lot like DVR, but it records what your cameras are showing. The nice thing about an NVR is that you can simultaneously record multiple cameras to a single drive. On the other hand, it's also a significant added expense. If you'd rather not go through all that, you could just record your videos directly to an FTP server. You'll have to set up your own server, but you'll get more flexibility than you would with an NVR.
The app offers a few extra features that are worth taking into consideration. To begin with, you can adjust the motion-sensing zone. This can be used to prevent false alerts; for example, from pedestrians passing on a sidewalk. You can also set up your camera to work with Alexa or Google Voice. So if you like to use voice controls, you can knock yourself out. Finally, there's a time lapse mode. It doesn't serve any practical purpose, but it's great for making some beautiful videos.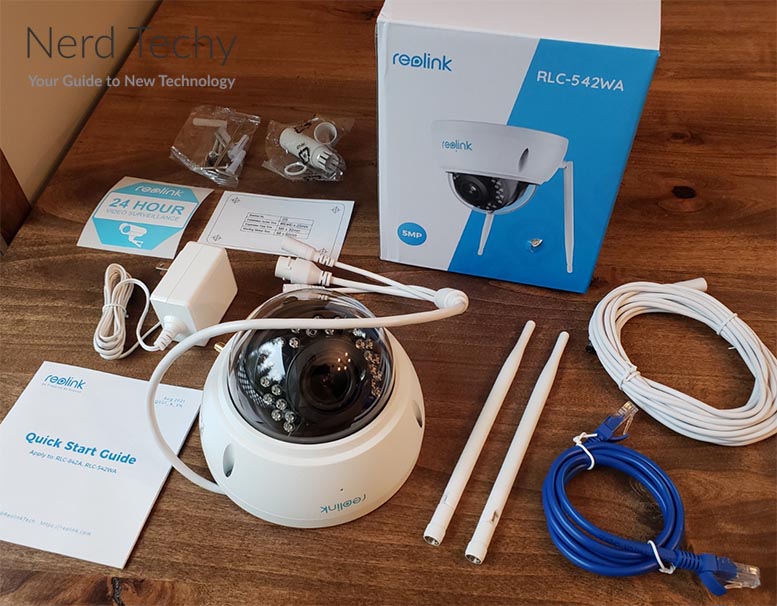 Reolink RLC-542WA
The Reolink RLC-542WA is visually similar to the RLC-842A. In fact, it's nearly identical in most respects. It has the same white metal base and housing, with the Reolink logo on the front. The lens looks identical, and is surrounded under an identical array of 24 infrared LEDs. It's also housed under the same nearly-indestructible plexiglass dome. And you get the confidence of IP66 weatherproofing.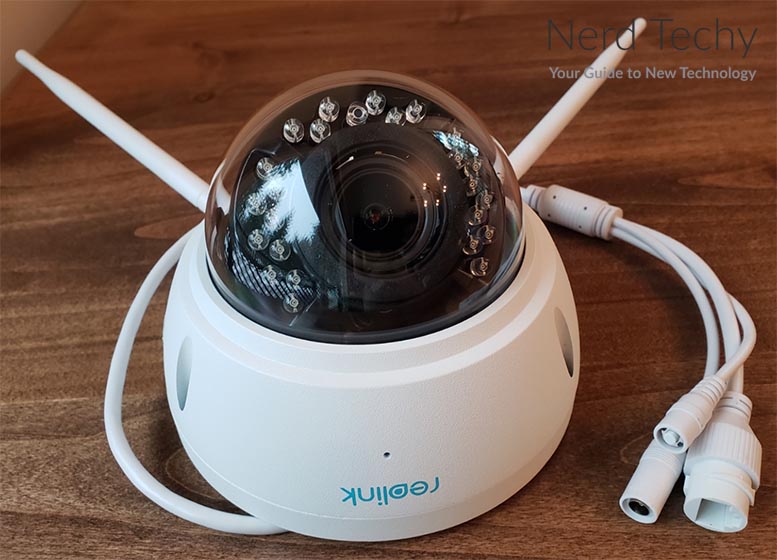 That said, there's one noticeable difference in the build. The RLC-542WA connects via dual-band WiFi, rather than via Ethernet. As a result, there are a pair of visible antennas, which can be freely swiveled around. There's also a DC power adapter, so you can plug into the nearest power supply.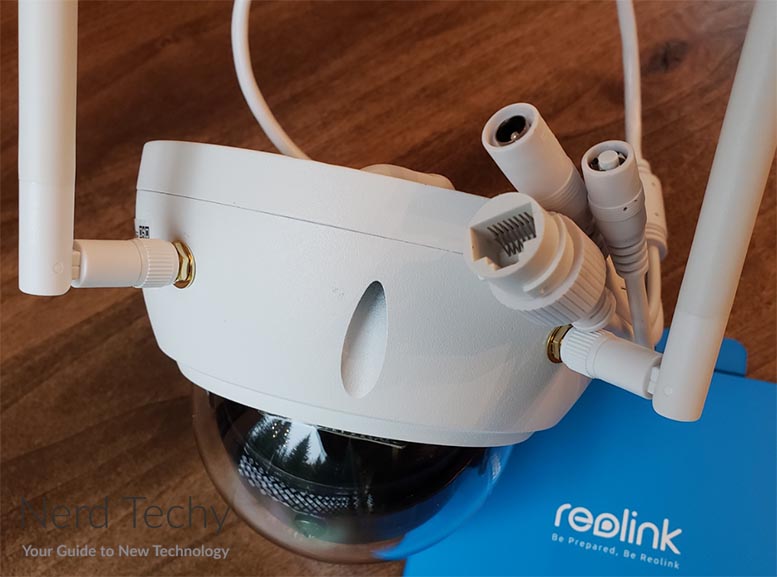 Camera Quality and Performance
The RLC-542WA has a resolution of 5 megapixels, which works out to a resolution of 2,560 x 1,920. That's almost 90% as many vertical pixels as 4K. However, it's a narrower image, with a 4:3 aspect ratio. That said, you still get 100-foot night vision with a nice, crisp image. And you can record audio with your video, just like with the other camera. Other features are more or less identical. You get 5x optical zoom, and a 27 to 96-degree viewing angle. You also get Reolink's powerful companion app, with push alerts for motion and vehicle detection.
The Reolink E1 Outdoor is another excellent 5-megapixel camera. It has a motorized pan and tilt function, and an attractive design. That said, it's made of plastic, so it's not as durable.
Storage and Extras
When it comes to video storage, the RLC-542A and 842A are identical. You get the same three options of a micro SD card, a Reolink NVR, or an FTP server. That said, because the 5-megapixel video takes up less space, you get more bang for your buck. Instead of 97 hours, a 256GB card will store more than 145 hours of footage.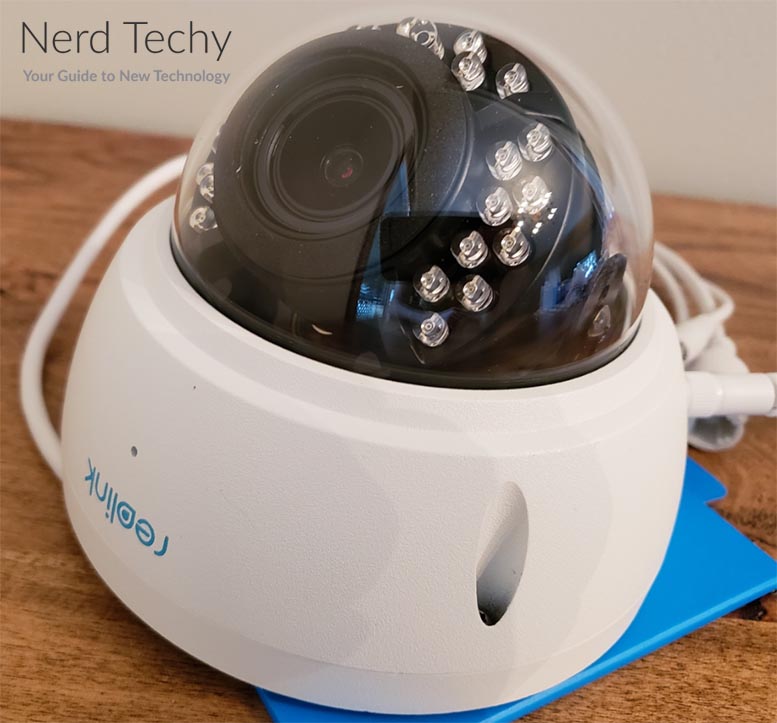 The app extra features are also the same. You get a customizable motion-activation zone, voice assistant compatibility, and a time lapse mode. You're using the same app, so there's literally no difference here.
Final Verdict
So, which one of these cameras is best for your needs. The Reolink RLC-842A has the better video quality. However, many people won't want to mess with PoE installation. If 5-megapixel video is good enough, the Reolink RLC-542WA's wireless connection is very attractive.