Tilswall M1 Spin Scrubber
When you're planning your week, there are some tasks you look forward to more than others. And if you're like most people, scrubbing and cleaning is pretty far down the list. Sure, it's important to keep your tub clean. If your car's dirty, you need to clean it. And if the laundry room floor is covered with grime, you've got to scrub it off. So how do you keep things as painless as possible? It helps to use the most advanced tools. Take a scrub brush, for example. Sure, you could use a simple handheld brush for any of these tasks. People have been using them for thousands of years! But they're inefficient, manual technology. If you want to clean your hard surfaces as quickly as possible, an electric scrubber makes more sense.
There are many different kinds of electric scrubber, and not all of them are suitable for all tasks. For example, there are big commercial scrubbers for cleaning large industrial floors. But those are way too big for your house, and you couldn't use them on a tub or a car. There are smaller, handheld brushes, but these don't give you a ton of reach. There are also corded brushes, but you can only use them near a power outlet. We wanted to find a small household scrubber with a rechargeable battery and plenty of reach. That way, you'll get plenty of versatility to perform a variety of everyday cleaning tasks.
Today, we're going to review the Tilswall M1 Cordless 360 Electric Spin Scrubber. This is a rotating scrub brush with an adjustable, telescoping handle. It's designed for all kinds of cleaning jobs, and comes with four brush heads for added versatility. And with a large internal battery, you get plenty of power for even your bigger tasks. But what kinds of jobs are we talking about, and how well does the brush perform? How is it operated, and how long can you expect it to last? To answer those questions, we'll need to take a much closer look at this scrubber. We'll go over the design, the controls, and the cleaning performance. We'll talk about all the different brush heads, as well as the battery performance. After that, we'll be ready to sum up what we've learned. Let's get started!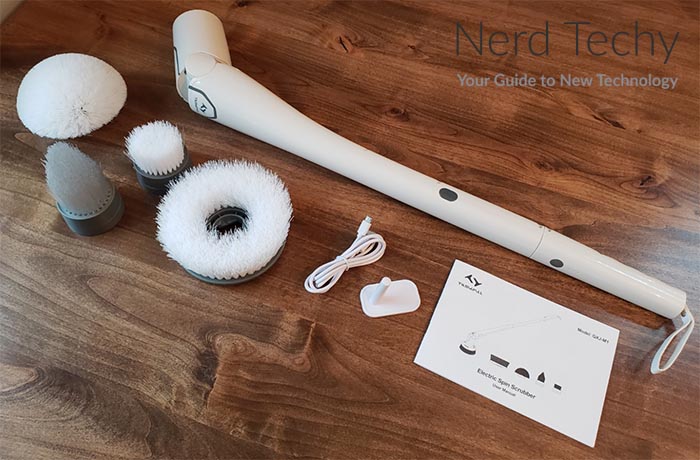 Overall Design
The Tilswall M1 Cordless 360 Electric Spin Scrubber is shaped similarly to a traditional broom. The brush head mounts on the bottom of a wide motor housing, which tapers down to a slender handle. The housing is constructed from a white plastic, which seems to be reasonably durable. It also has a glossy finish, so it's easy to wipe down whenever it inevitably gets dirty. The handle itself has a telescoping design, with a grey release button and stepless adjustment. In total, the length can be anywhere from 27 to 43 inches. At its longest, this is a stand-up scrubbing brush. At its shortest, it's easy to use overhead, or in tight quarters. It's exceptionally light, so anyone can handle it with ease.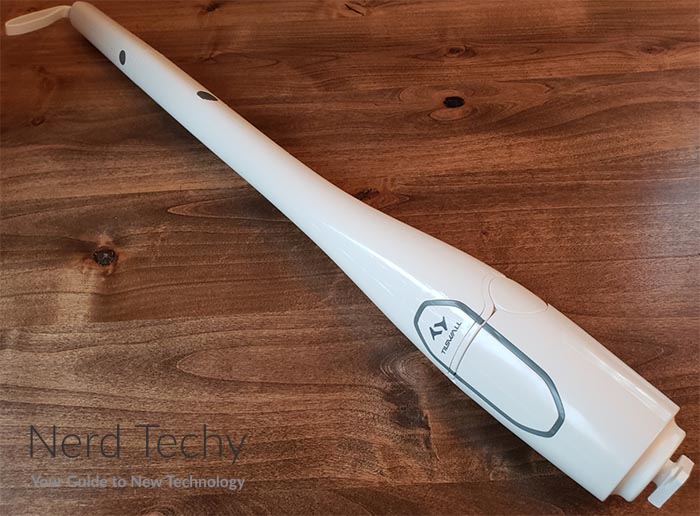 When the handle is extended, you'll see the internal rectangular metal frame. This is what gives the Tilswall M1 scrubber its rigidity and durability. The plastic top portion of the handle is fashioned as a rectangular grip. There are no curved cutouts or anything like that, but it's reasonably comfortable, and it's well-sized. Right under your thumb, there's a rubber power button. This is easy to actuate, and it's the machine's only control. Press it to activate the scrubbing brush, and press it again to power down. When the motor is activated, a row of white LEDs on the handle will illuminate. These indicate the battery level, and you'll see three lights when the battery is fully charged. At 80 percent, you'll only see two lights. At 30 percent, you'll only see one light.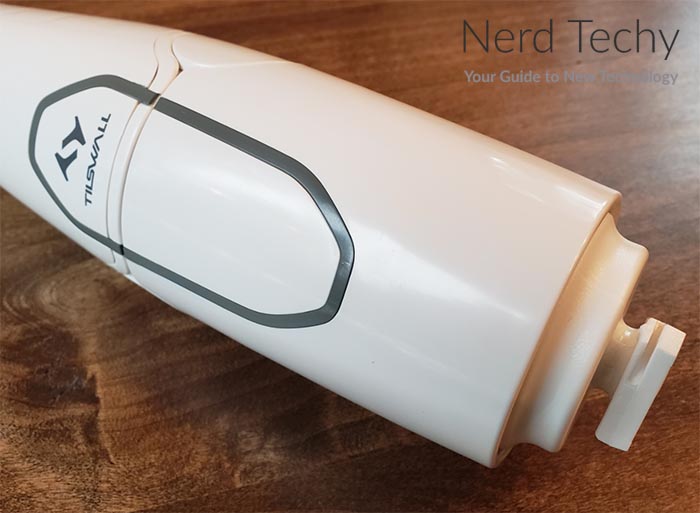 The handle isn't the only part of is scrubber that's adjustable. The brush head can also be rotated. It's mounted on a hinge, and can be swiveled 80 degrees downwards from its straight vertical position. Like the handle adjustment, this is stepless, so you can position the brush at literally any angle. There's also an easy to use release button. This is big and chunky, and it's built into the plastic frame at the front of the hinge. A second, similar button is used too release the mopping head when you want to change it out.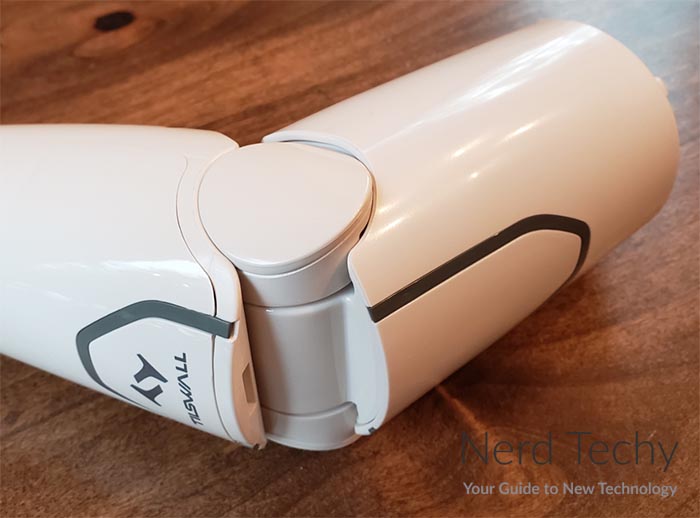 Storage is simple and straightforward. There's a leather loop on the back of the handle that can be used for hanging. The kit also includes a simple plastic hanging hook, which attaches to your wall with an adhesive. Because the scrubber is so light, this is all you really need to hang it. Unfortunately, there's no convenient way to store the extra brushes. You'll need to keep a basket or bucket nearby to keep them organized. Along with the hook, the kit also includes a USB to Micro USB charging cable.
If you were looking for something a little more floor-oriented, take a look at the Easine ILIFE W100. This is a smart handheld vacuum and mop, and it's great for cleaning any kind of solid flooring. Then again, it's not very useful for cleaning other kinds of surfaces.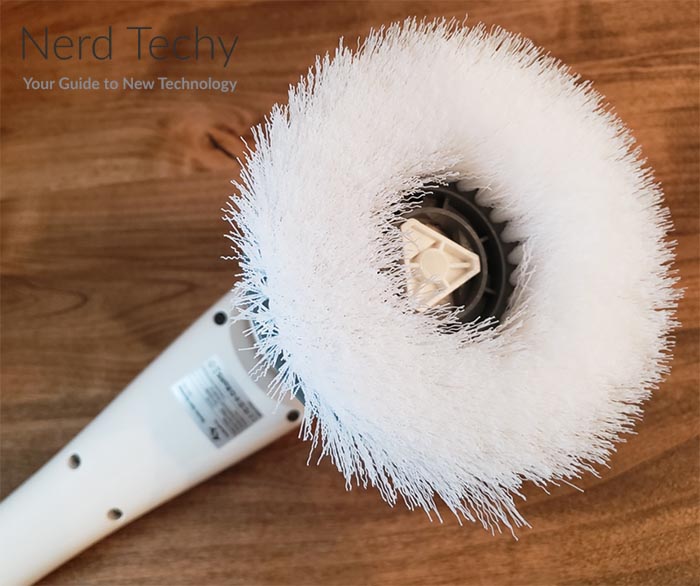 Use coupon code "scrubber30" for a 30% discount when you order from the official Tilswall website.
Cleaning and Attachments
So, how well does the Tilswell M1 spin scrubber perform? Let's start with the motor. It spins at 300 RPM, which works out to five brush rotations per second. That's a reasonably fast rate of rotation, and the motor has plenty of power. It doesn't stall easily, unless you're applying a ton of pressure on a firm surface. This helps you to scrub away stubborn dirt and grime, which can be tough to do with a weaker motor.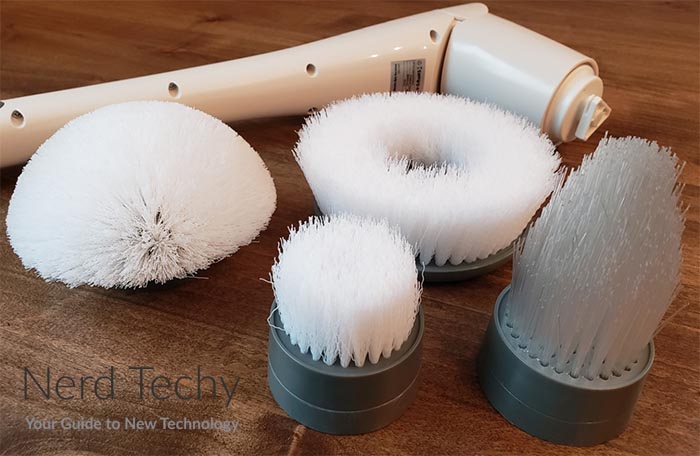 Now, let's talk about the brushes. The first is a wide, flat brush that's a little over six inches in diameter. It's round in shape, with nylon bristles that are loosely packed for a slightly softer feel. This is your workhorse brush for cleaning large surfaces such as shower walls and patio doors. Because of its size, the outside of the brush is actually moving around pretty fast while you're cleaning. This makes the large brush a bit more aggressive than you might expect, given the relatively soft feel.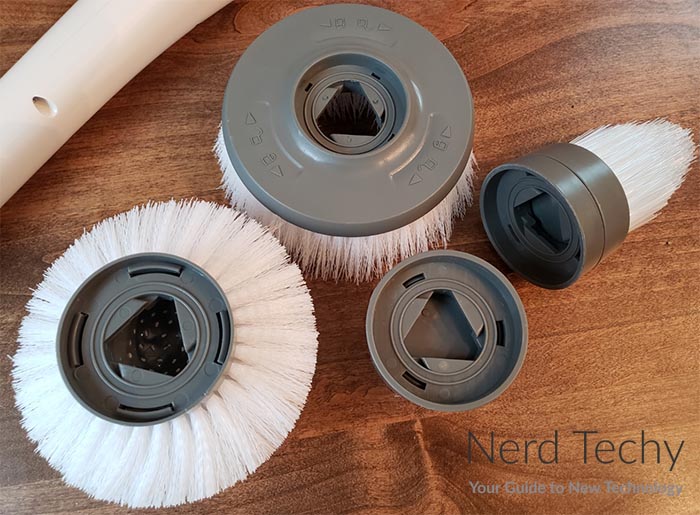 The second brush you'll receive is also round and flat, but it's significantly smaller. At only around 2 inches in diameter, it's about the same size as the mounting plate. The bristles are more tightly packed, so they feel a bit stiffer. Then again, the diameter is smaller, so the outside of the brush isn't moving as fast as the large one. So in terms of aggressiveness, this brush is roughly equivalent. It's great for applications where you wouldn't want to use a larger brush. You can easily get between your stove burners, or scrub around fixtures on your sink.
The third brush is a round brush that Tilswall calls a "corner brush," but it's more like a bowl brush. It's almost a full hemisphere, with the same diameter as the larger flat brush. It also has similar bristles, with a looser placement that makes the brush feel a bit softer. The curved shape is actually a bit broad for most corners. But if you need to scrub out the inside of a toilet, the round brush is going to be the perfect shape. It's also great for bowl-shaped sinks, or for any kind of concave surface.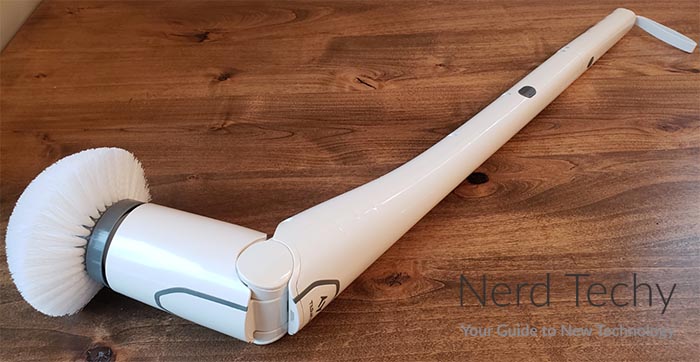 The fourth and final brush is a pointed brush, with the same diameter as the smaller flat brush. Like the flat brush, the bristles are tightly-packed and stiff. This is a great detail brush, for getting into all kinds of awkward spaces. You can clean out the corners of your shower stall, or the gaps in your hubcaps. Pretty much any kind of detail work you need to do, the pointed brush will be your go-to.
The default kit includes one of each of these brushes. That said, you can also order a larger kit, with two of each brush. And if your brushes wear out, you can order a standalone set of four brushes, sans the motor and handle.
If you're looking at various brushes and cleaners, there are plenty of other options, such as the Redkey W12. It's a wet/dry floor cleaner with a built-in water tank that makes scrubbing easy. Then again, it's not very useful for tubs, or for anything else that isn't a floor.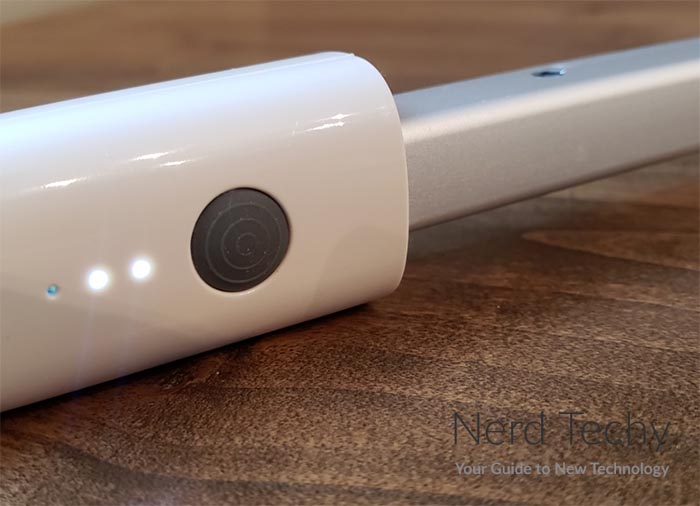 Battery and Extras
The Tilswall M1 has an internal battery with a capacity of 4,000mAh. That's enough for about 2 ½ hours of use, which is more than you should ever need at once. This can vary a little depending on how hard the motor needs to work, as well as the ambient temperature. But 2 ½ hours is a pretty good estimate.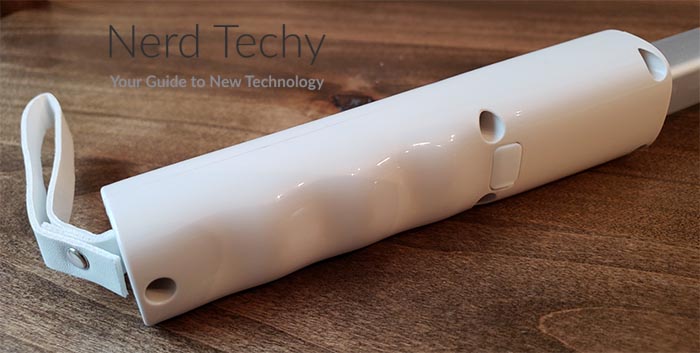 Assuming you manage to run the battery totally dead, recharging takes around 4 hours. This is a bit disappointing, and it's largely due to the fact that Tilswall chose Micro USB. We would have liked to see USB Type-C charging, which is faster. Then again, you should rarely have to deal with a totally drained battery. And charging is very safe, with built-in circuitry that protects you from overcharging and short-circuits.
Use coupon code "scrubber30" for a 30% discount when you order from the official Tilswall website.
One thing this brush won't do is clean anything automatically. The Dreametech W10, on the other hand, is entirely automatic. It's an intelligent robotic mop and vacuum, which can clean your entire home by itself. It even empties itself. Then again, it's a dedicated floor cleaner, and it's fairly pricey.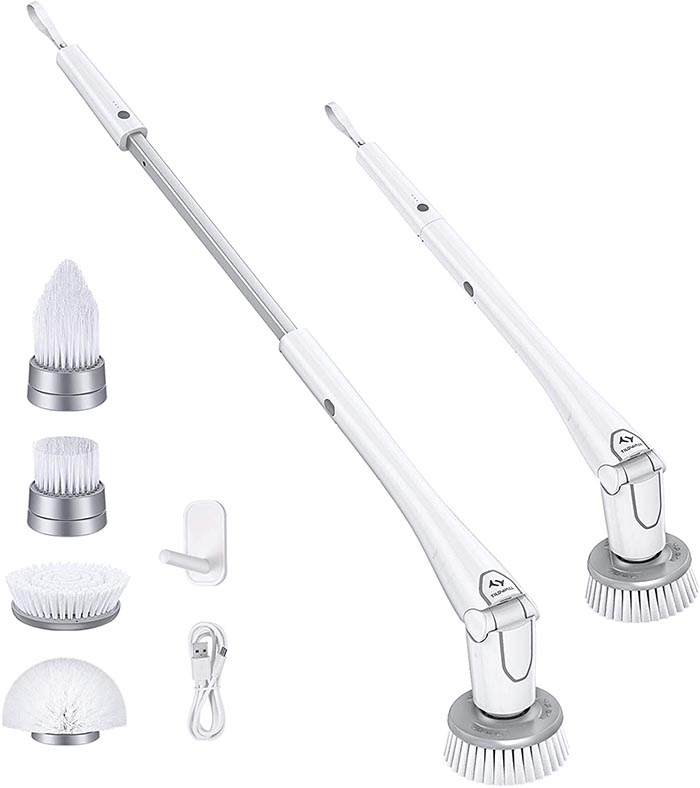 Final Verdict
The Tilswall M1 Cordless 360 Electric Spin Scrubber is a great tool for cleaning all types of surfaces. It can clean showers, sinks, counters, cars, windows, and numerous other areas. It's easy to manage, lightweight, and comfortable to operate. It also has a long-lasting battery, enough to tackle almost any challenge. Compared to all the benefits, our only complaints were minor. Don't forget to use code "scrubber30" for a 30% discount when you order using the link above.