If you're looking for a slick new piece of electronics this holiday season, there are plenty of options. It's easy to get wrapped up in the latest smartphone, or the still-elusive next-gen gaming systems. Instead, why not give the gift of something more practical? A good robot vacuum might not be exotic or exciting. But what a robot vacuum does do is save you time. Instead of cleaning your floors once or twice a week, you just let the robot do it. Then you can spend more time doing the things you love, like enjoying that new game system. So when you think about it, when you invest in a robot vac, you're actually buying time.
Time savings is actually a major part of most technology. Microwave ovens allow you to make a meal in five minutes instead of forty-five. Delivery apps let you shop without all the driving around. The automobile replaced the horse primarily because you can get around faster. So the main mark of a good robot vacuum is how much time it can save you. For this reason, many modern robot vacs are self-emptying. Instead of emptying a small inner hopper after every cleaning, you dump out a larger bag every month or so. This means less time spent on your part. It also means the vacuum can continue working for long periods when you're out of town.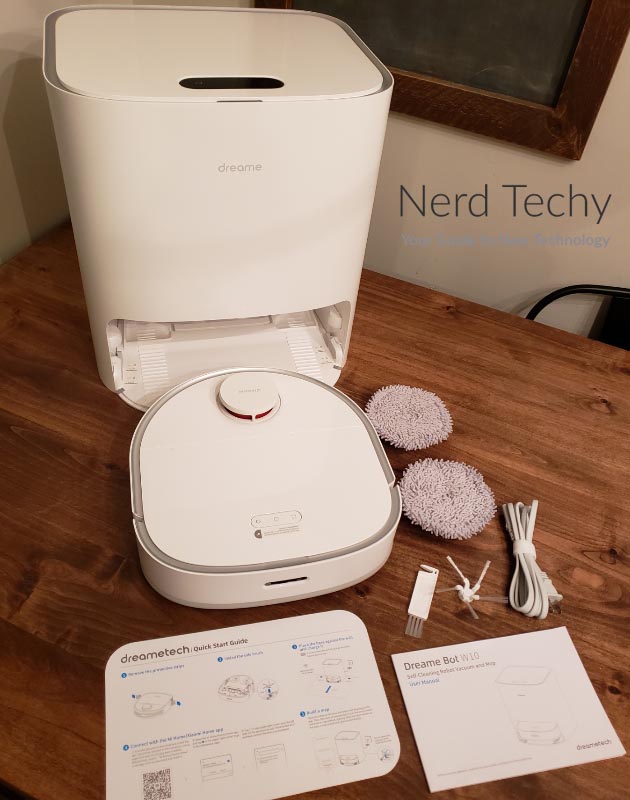 The Dreametech W10 is one such vacuum. But self-emptying is just one of many different functions a robot vac might offer. To truly understand the W10, we need to look at all aspects of the design. We'll start with the physical build, and how the vacuum is constructed. We'll talk about the brushes and buttons, as well as the docking station. Then, we'll move on to the vacuum motor and suction performance. Finally, we'll talk about the app and the mapping functions, and how the vacuum is used. After we've examined all of those things, we'll have a complete picture. At that point, we'll sum up what we've learned, and deliver our verdict. Let's begin!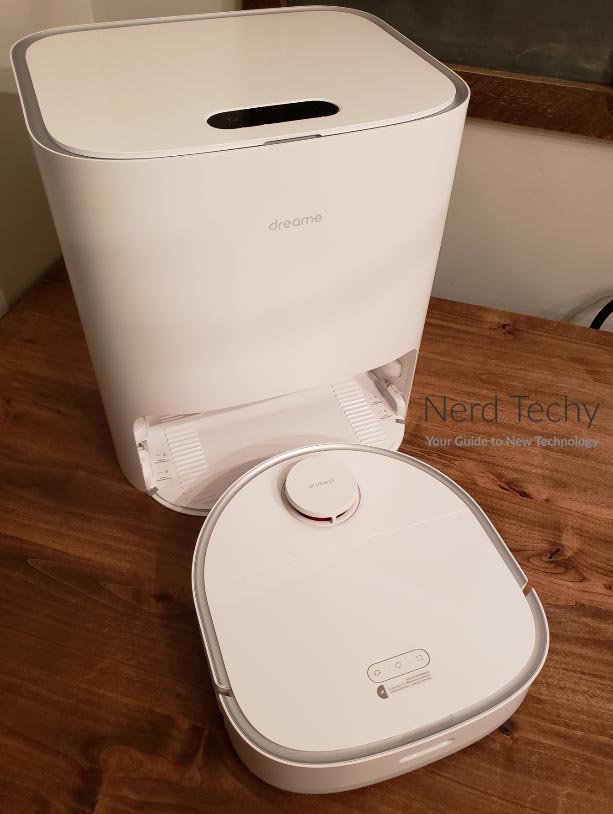 Overall Design
The first thing we noticed about the Dreametech W10 is the shape. With most robot vacuums, it goes without saying that the shape is going to be circular. The W10, on the other hand, is shaped like a capital D, with the flat end faced towards the front. The housing is constructed from a glossy white plastic, which is easy to wipe off and keep clean. The advantage of this design that the brush can sit all the way at the front of the vacuum. Even in this position, it will be the full width, which wouldn't be possible on a circular robot vac. The result is a more balanced design, with more pressure on both the roller and the mopping heads. Another, added advantage is that the brush can get closer into corners than it can with a circular vacuum.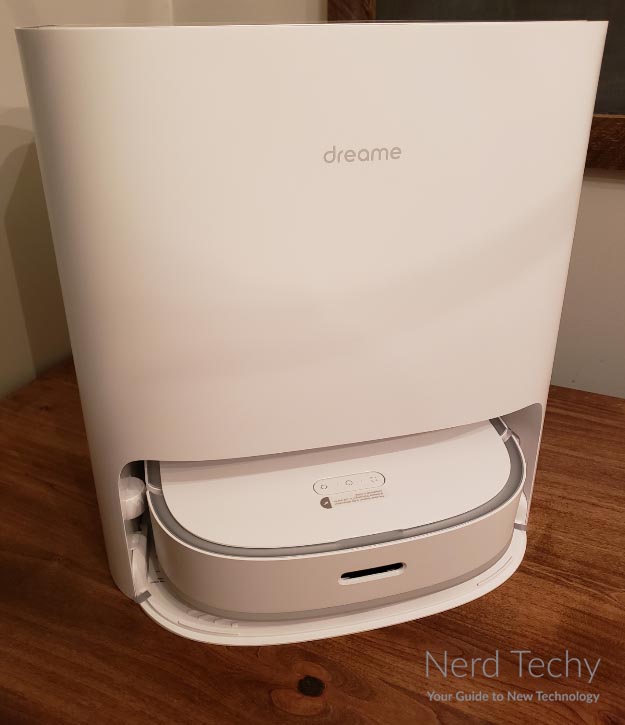 Use code "DREAMEYF59" for a 23% discount when you purchase the Dreametech W10 on Amazon
The drive wheels are located in the middle of the bottom of the housing. They're big and beefy, with a deep texture for going over transitions. In fact, you can cross a transition as high as 0.7 inches. This is mildly disappointing, since it can't cross a ¾-inch transition. But that's a big transition, and you can easily traverse anything smaller. A third, smaller wheel is located towards the front. This wheel isn't for power, it's for steering. It has its own miniature housing, with a motor inside that can pivot it in any direction. This allows it to direct the vacuum where it's supposed to go.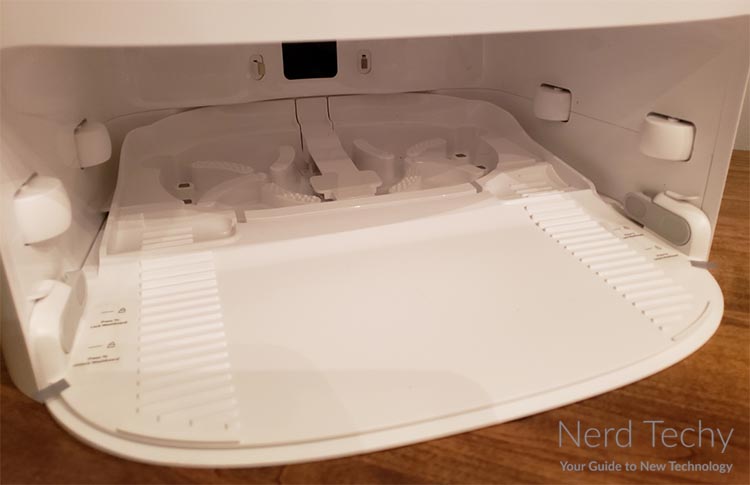 Towards the back of the housing, there are a pair of mopping pads. These are round, and they're superior to many other robot vacuum mopping pads. For one thing, instead of simple microfiber, they're a fluffier, shaggier material. This makes for more efficient, more effective cleaning. Secondly, they rotate independently. So instead of just being dragged across your floor, the pads are actually scrubbing as they go.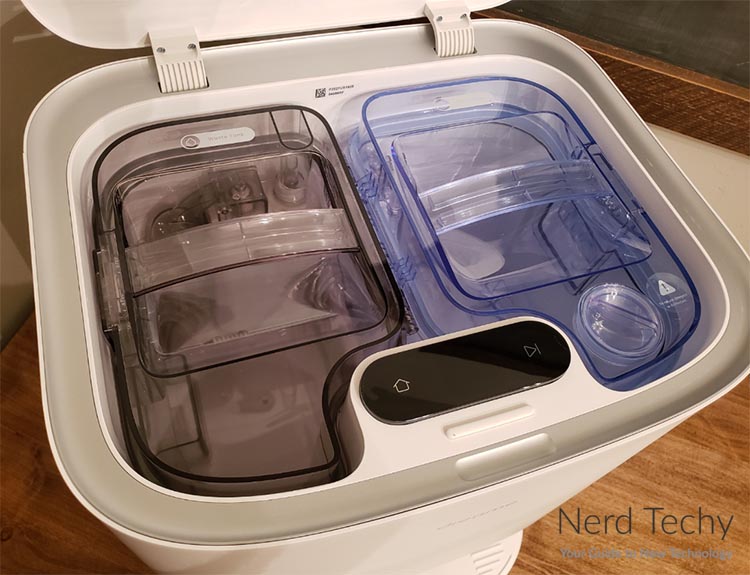 On the top of the housing, towards the front, there's a row of three control buttons. These have a soft touch design, and are easy to actuate with a tap. The first is a power button, which will begin a cleaning cycle. The second is a home button, which returns the vacuum to the base station. The last is a cleaning button, which is used for cleaning the mop heads. We'll talk more about that function in a few minutes. Towards the back of the top, there's a round "lookout tower," which houses the LiDAR sensor.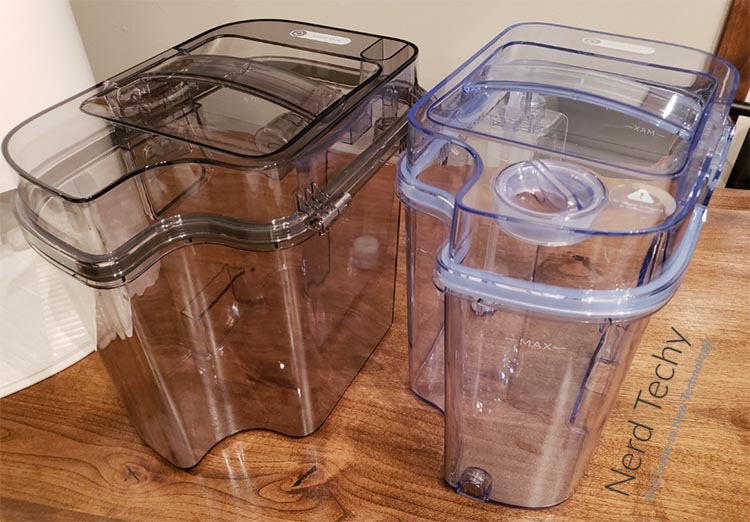 You'll recognize that the base station is bigger than most robot vacuum docks – a lot bigger. In fact, it's big enough that the entire W10 vacuum can back into the bottom half. It goes into a wide opening, so you can reach inside and press the buttons while it's docked. The top is actually a lid, which opens to reveal a pair of water tanks. These need to be filled and changed from time to time depending on your usage.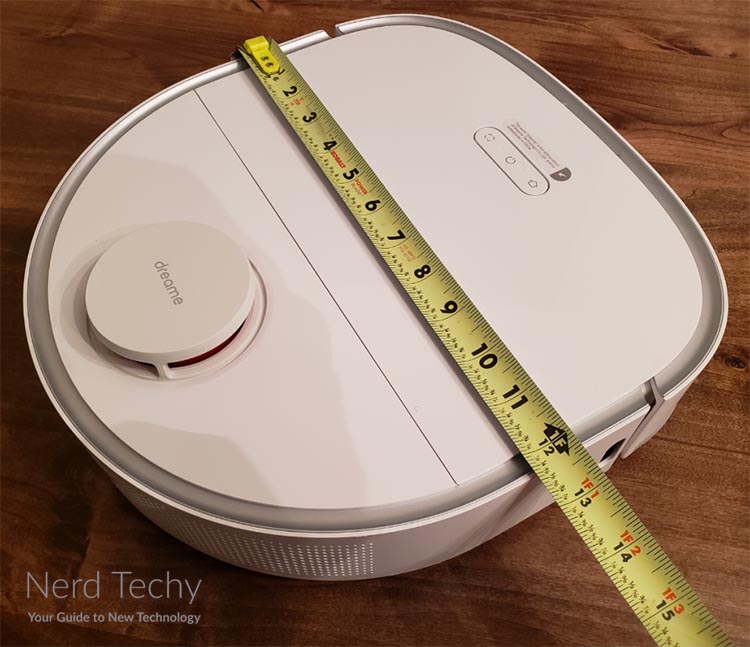 Vacuum Performance
The Dreametech W10 has a suction power of 4,000 Pascals (Pa). That's more than twice as much suction as the average robot vac, and you can tackle serious messes. Even tougher debris like dried beans will be easy to clean up. The exact suction power will vary depending on your surface. The vacuum detects the amount of resistance, and adjusts as needed based on the surface. On a smooth floor with little debris, the W10's motor will run slower to save battery life. When it runs onto a carpet or a lot of debris, the motor will speed up in order to clean up the mess.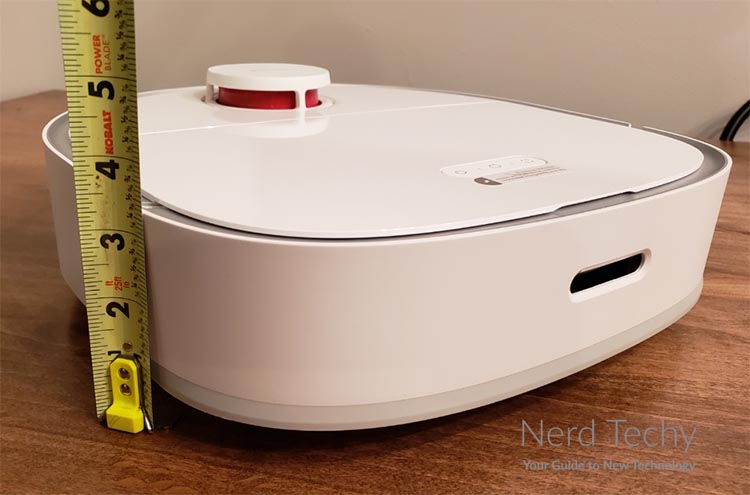 No matter how you cut it, this is a popular robot vacuum. But what if you need a lot more suction power? In that case, you might want to consider the Dreame T10 instead. The T10 is exceptionally powerful, with a maximum suction of up to 20,000Pa. On the downside, it's an upright vacuum, with no mopping function.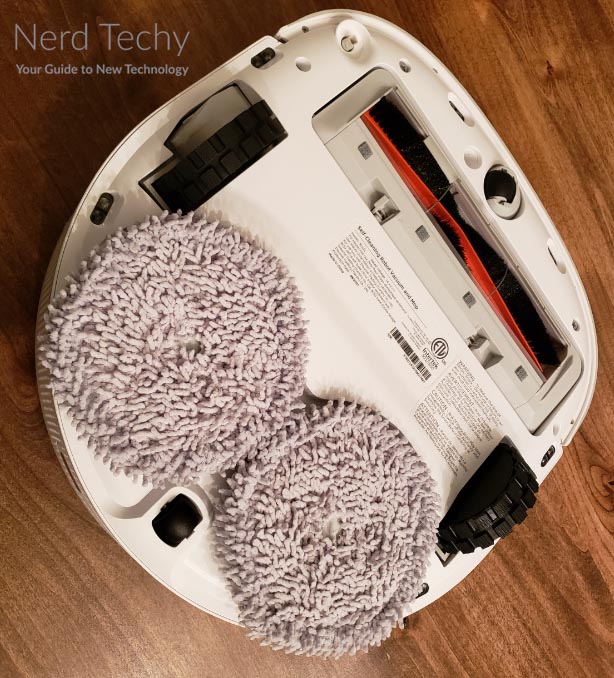 When you start a cleaning cycle, you can choose your method of operation. You can mop, vacuum, or do both at the same time. If you're mopping or doing both at once, the vacuum will sense when it hits a carpet. At that point, the mops will stop spraying, to keep your carpet dry. Keep in mind, though, that you're still dragging a wet mop over your carpet. There will be a bit of dampness, but so little that it dries on its own in a couple of minutes.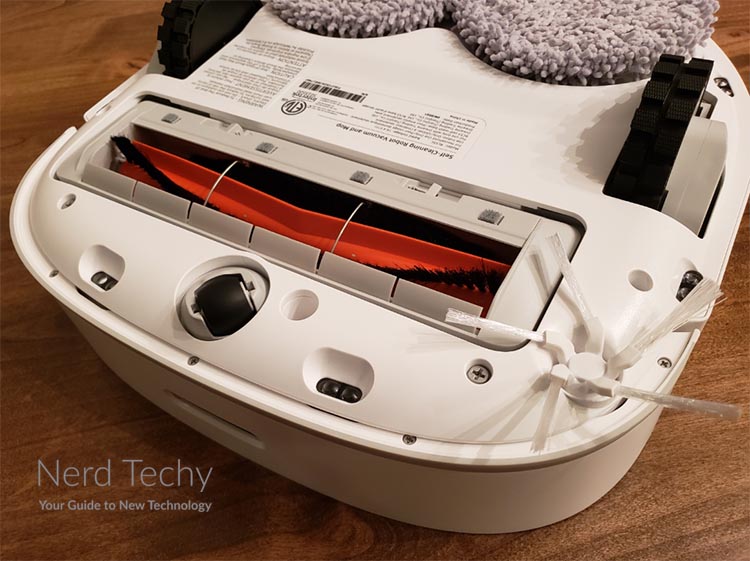 The internal battery is large, with a capacity of 6,400mAh. Dreametech states that the battery life is 210 minutes, or 3 ½ hours. This is fudging it a bit, since you won't get that performance when running at full power. But for light-duty work, more than three hours of performance is not out of the question. That's enough time to cover a 3,000 square foot area, larger than most people's homes. When the battery is dead, the vacuum will automatically return to the base. If for some reason it still hasn't finished it's cycle, it will automatically resume once it's recharged.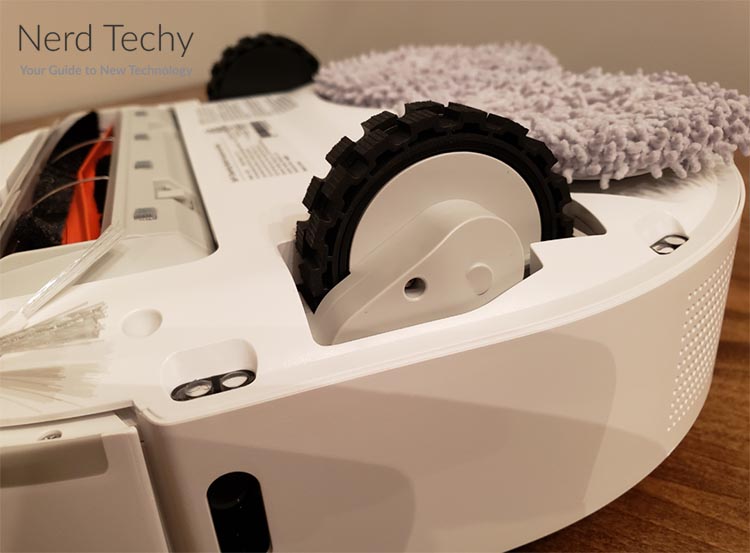 Use code "DREAMEYF59" for a 23% discount when you purchase the Dreametech W10 on Amazon
Another reason the vacuum might return to base is if its dirty water tank is full. When that happens, it will go back, and that tank will drain into a large, 4-liter dirty water reservoir. Meanwhile, the vacuum's inner clean water tank will be replenished from the base's 4-liter clean water reservoir. This allows you to mop for weeks on end without having to touch the vacuum. Not only that, but the mop pads are self-cleaning. When a cycle is done, the base will shoot them with jets of water, and they will spin around in the streams. They'll then get hit with a blast of hot air, completely drying them. This keeps your heads clean, so you don't have to constantly take them off and clean them separately.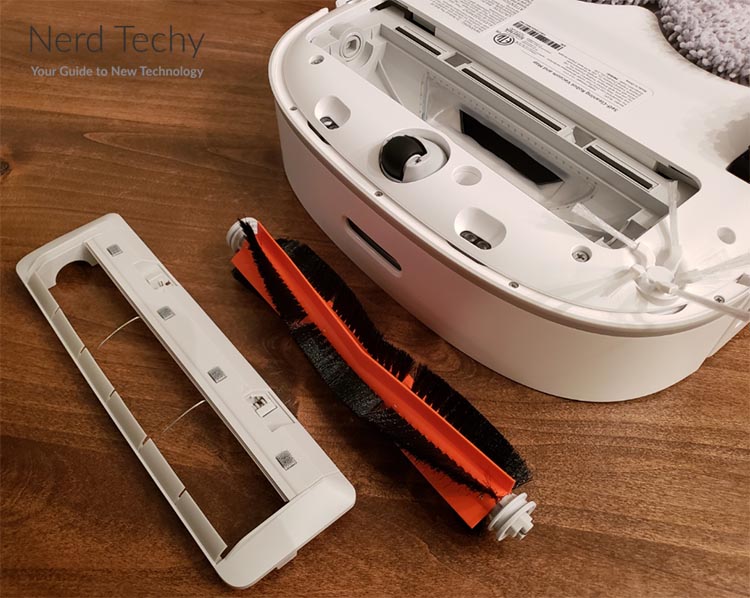 The downside of this design is that the dry dust bin isn't self-emptying. It's big enough to last for a couple of cleaning cycles, but you'll have to empty it every few days. If you want a vacuum with a self-emptying dust bin, try the Dreame Bot Z10 instead. It's similar in most respects, although it has a round profile, and you have to change your own mop water.
Setup & Everyday Use
The Dreametech W10 uses LiDAR navigation to map out your home. The first time it runs, it won't seem very "smart," since it hasn't built its map yet. After it's mapped out your floor plan, it will settle down and run in a normal, back-and-forth pattern. In total, you can store up to three separate maps. This means you can move it from one floor of your home to another without any issues. Just keep in mind that it can't traverse stairs. If the vacuum is upstairs and the base is downstairs, it won't be able to go home without intervention.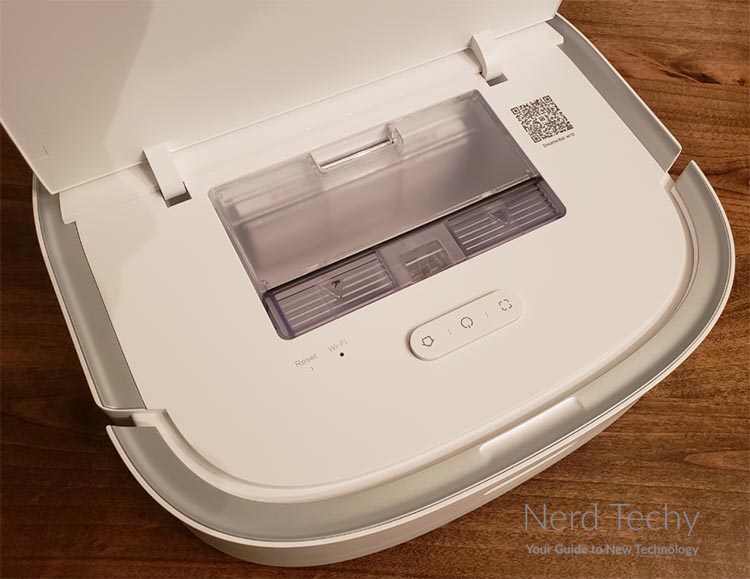 To get the most out of this vacuum, you'll want to download the Dreametech app. Through the app, you'll have much more control over your vacuum than just the physical buttons. You can view a visual map of your home, and specify specific cleaning areas. You can also set your vacuum to run on a schedule, or outline no-go zones to avoid. It can even be paired with Alexa, and controlled with voice commands.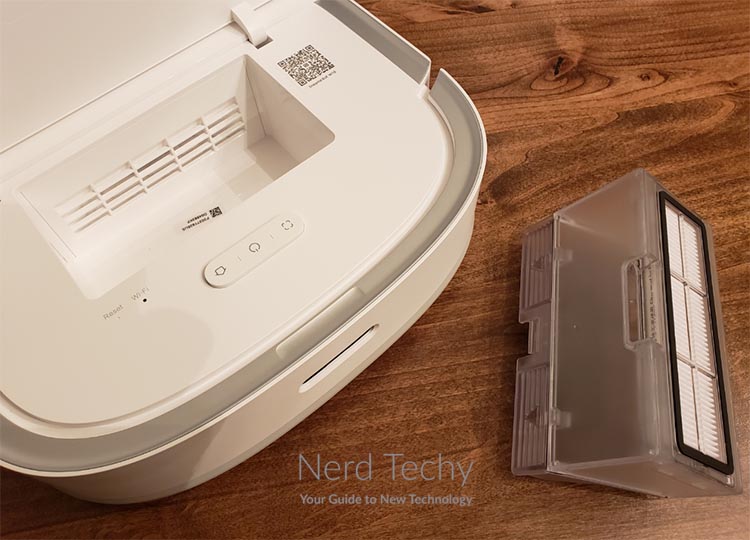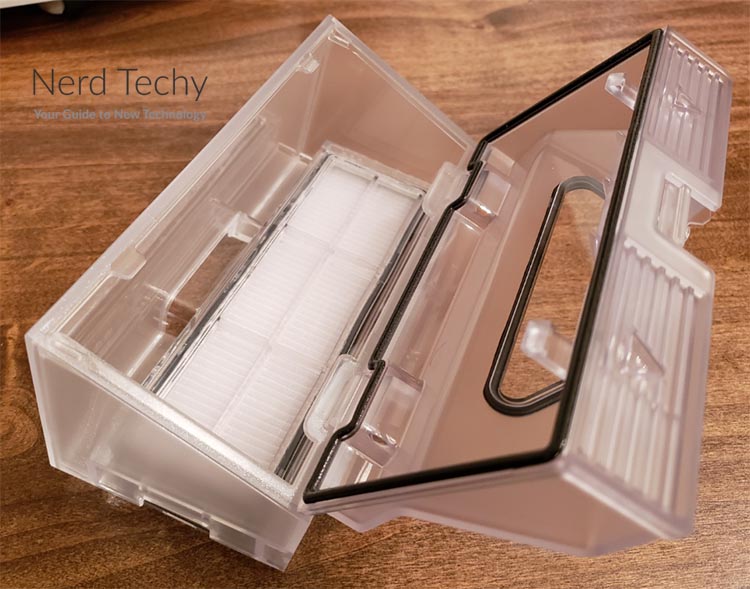 That said, all of these great features come at a price. The W10 is more expensive than most other robot vacuums, even most premium models. If you're looking for something that's almost as good, take a look at the Dreame Bot L10. It has similar power, mapping, and mopping capabilities to the W10, for a much lower price. On the downside, it's not self-emptying, so operation is more hands-on.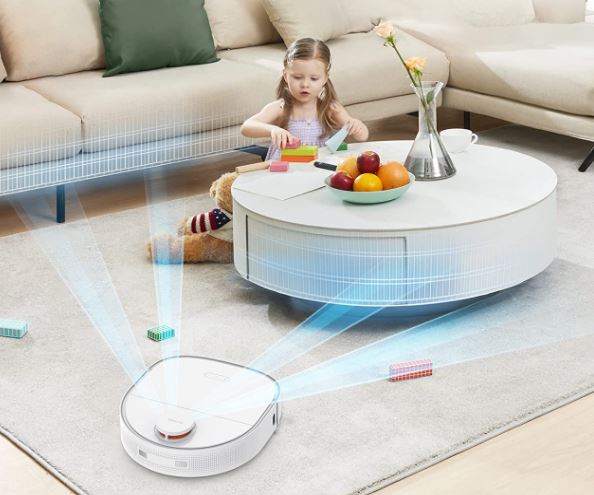 Final Verdict
The Dreametech W10 is one of the most capable robot vacuums on the market. It's obviously geared towards the mopping function, with the rotating heads and huge reservoirs. The self-cleaning function is also a great plus. The vacuum function is nonetheless extremely powerful, so it works great wet or dry. If you're willing to pay top dollar for the absolute best robot vacuum, you'll be pleased.
Meet Derek, "TechGuru," a 34-year-old technology enthusiast with a deep passion for tech innovations. With extensive experience, he specializes in gaming hardware and software, and has expertise in gadgets, custom PCs, and audio.
Besides writing about tech and reviewing new products, Derek enjoys traveling, hiking, and photography. Committed to keeping up with the latest industry trends, he aims to guide readers in making informed tech decisions.