Dreame Bot L10 Pro
Pros
Mopping and vacuuming in one package.
Exceptionally powerful suction.
Smart mapping and voice controls.
Battery lasts for over two hours.
Cons
Tends to miss areas when object detection is turned on.
Expensive.
If you're trying to think of the latest advanced devices, a number of things may come to mind. You might think of the new iPhone or Samsung Galaxy. You might think of the latest game console, like the Xbox Series X or PlayStation 5. You might even think of nifty security devices like motion-tracking cameras. But the last thing that comes to mind is probably a vacuum. Let's face it, vacuums are pretty mundane. Every adult should own one, but few of us get excited about using one. At best, vacuuming is a chore you want to get done with as quickly as possible.
There are plenty of good vacuums on the market. For instance, we've reviewed a large number of cordless stick vacs. But you know what's even better than using an efficient vacuum? Using a vacuum you never even have to touch. And a robot vacuum is as close as you'll ever get to that kind of experience. After initial setup, a good robot vacuum will take care of your floor all by itself. Just clean out the dust hopper once a week or so, and the vacuum takes care of the rest. But not all robot vacs are equally worth buying. Some perform very well, while others seem to roam around randomly and don't actually do much.
Today, we'll be reviewing the Dreametech Dreame Bot L10 Pro. We've looked at a handful of Dreametech vacuums in the past, and we've generally been impressed. But as the saying goes, past performance is no guarantee of future success. To find out if the L10 is actually worth your while, we had to do a little digging. First, we had to look at the physical design, both of the vacuum and of the charging dock. Next, we had to see how the vacuum performs in everyday operation. We'll talk about all those things, as well as all the various smart options you can access via the app. Let's see how this vacuum stacks up to the others on the market!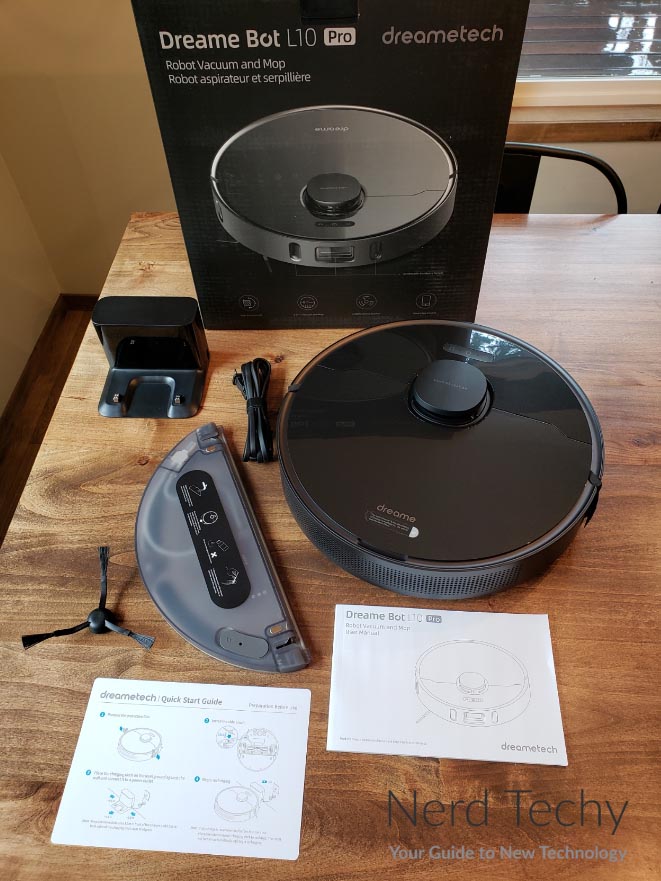 Overall Design
The Dreame Bot L10 Pro is built in a similar way to most robot vacuums. It's circular, so it can easily avoid obstacles without getting caught. It also sits low to the ground so it can navigate beneath most furniture. The housing is a glossy black plastic, with stiff, matte bumpers around the outside perimeter. On top, you'll find a row of three buttons. These are used for WiFi pairing, powering the vacuum on and off, and sending it to the base station. If that sounds a bit basic, don't worry. There are plenty of other, advanced control options to be found in the app. Also on the top, you'll notice a protrusion at the center, like a little lookout tower. In fact, that's basically what this is. It houses the Lidar sensor, which we'll discuss more shortly.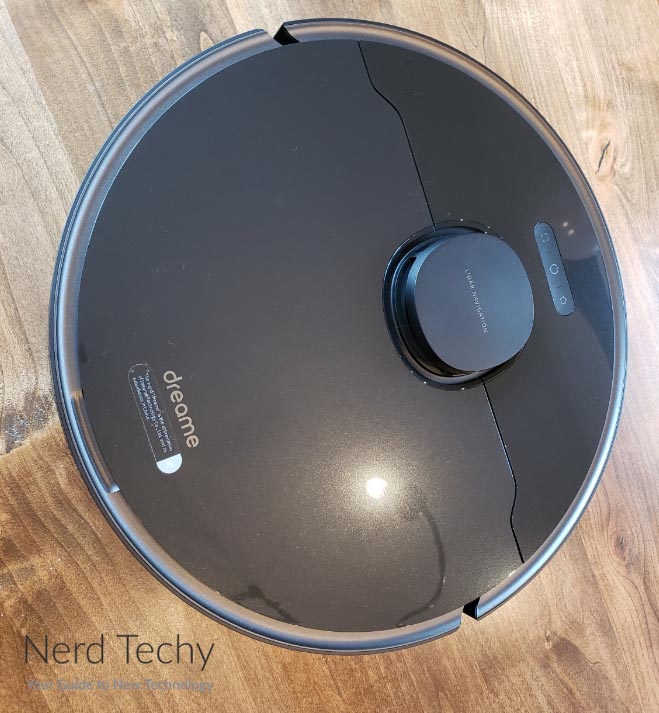 On the front and sides of the housing, there are additional sensors to aid in navigation. The bottom is home to a pair of wheels, which are used for propulsion. There's a large roller brush towards the center, similar to the carpet brush on an upright vacuum. However, there are also a pair of additional, horizontal brushes that protrude from the sides. These aren't much use on a carpet, where they'll skip across the surface. Instead, they're designed for solid floors, to help keep dirt contained and sweep it towards the center roller.
In addition to the brushes, there's also a mopping surface located on the bottom. This allows you to attach the wet mopping pad, which is included in the kit. In mopping mode, this pad will be moistened by a 9.13-ounce water tank, which you need to keep filled. Finally, the bottom of the unit contains a removable dust hopper. This bin will fill in about a week of light use, or less if you're cleaning heavy messes. When it's full, the vacuum will stop operating, and you'll get a smartphone alert via the app.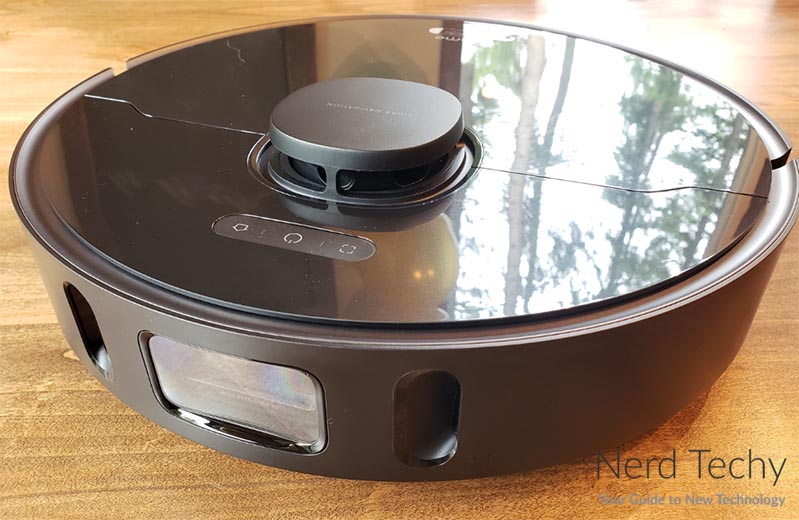 The kit also includes a charging dock. The dock sits low to the ground and tight against your wall. As a result, it doesn't take up a whole lot of space. With the vacuum in place and charging, it will protrude less than 18 inches. The power cord is removable, and is long enough to reach an outlet in most circumstances. Finally, Dreametech throws in an extra side brush in case one gets snagged or otherwise damaged. All of this is protected by a 12-month manufacturer's warranty, which covers defects in materials and workmanship.
That said, the Dreame Bot L10 Pro is on the cutting edge of vacuum technology. As such, it's a bit pricier than most of the alternatives. If you want to spend a bit less, consider the MOOSOO R3 Laser Robot Vacuum. It has a lot of the same features. However, the electronics aren't as compact, and the fat profile won't fit under most sofas.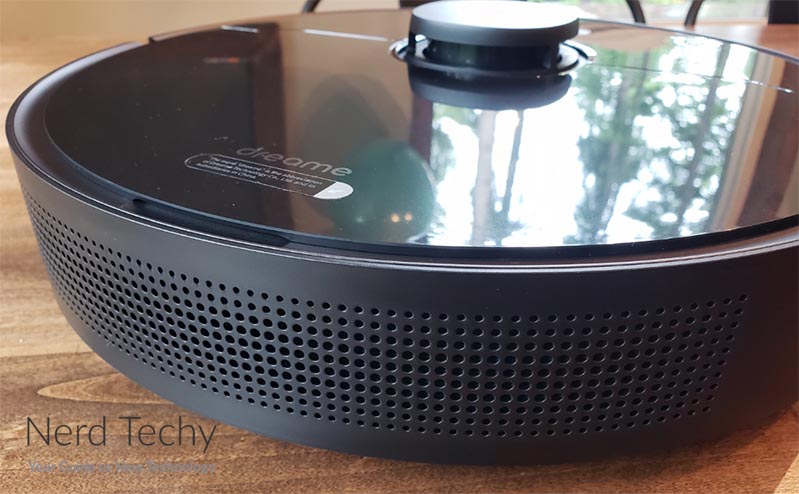 Vacuum and Mopping Performance
The Dreame Bot L10 Pro provides a remarkable 4,000 Pascals (Pa) of suction power. To put that in perspective, most robot vacuums average around 2,000Pa of suction. On the other hand, the average upright vacuum has a suction power of 14,000Pa, significantly higher. This is because robot vacuums have significantly smaller motors when compared to their upright brethren. As far as robot vacuums go, the L10 Pro is the most powerful we've looked at. For all but the toughest messes, you'll have more than enough cleaning power. You'll even be able to tackle deep pile carpets that can pose a challenge to most robot vacs.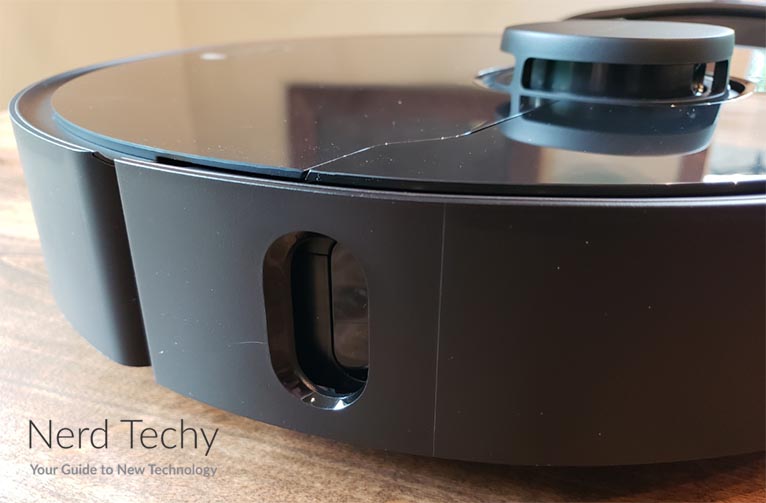 The wheels are large and rubbery enough to help this vacuum tackle steps of up to 0.79 inches. At this height, you'll be able to handle pretty much any transition in a modern home. Even a ¾-inch hardwood to tile transition won't pose any issues.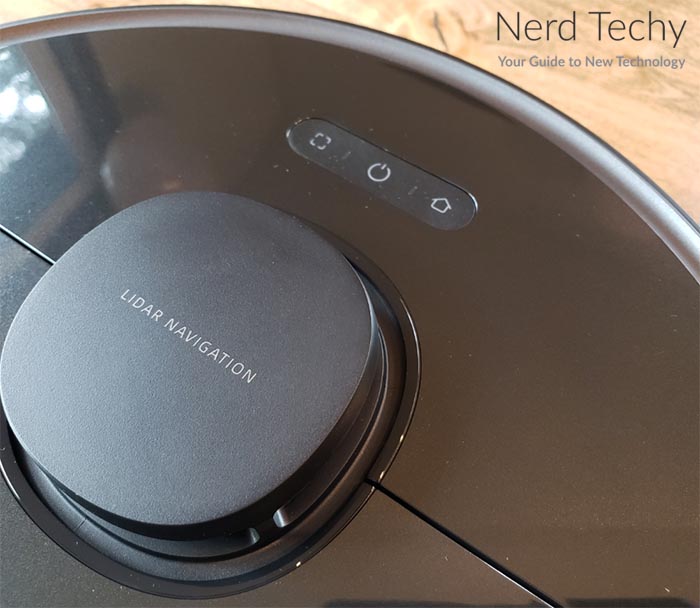 The L10 Pro's mopping function is surprisingly effective. It can even clean heavily-trafficked hardwoods near your back door. That said, it's best not to rely on the mom for any kind of heavy duty work. The reason is that you're working with a small amount of water and a small mop pad. After it gets soiled, the pad will spread your dirt around instead of cleaning it. If you're cleaning up a bunch of horrible messes, you'll find yourself constantly needing to wash the pad. We're not saying the mop function is bad. It's just not a heavy-duty system. Stick to everyday dust mopping with the robot vacuum, and use an ordinary mop for tougher jobs.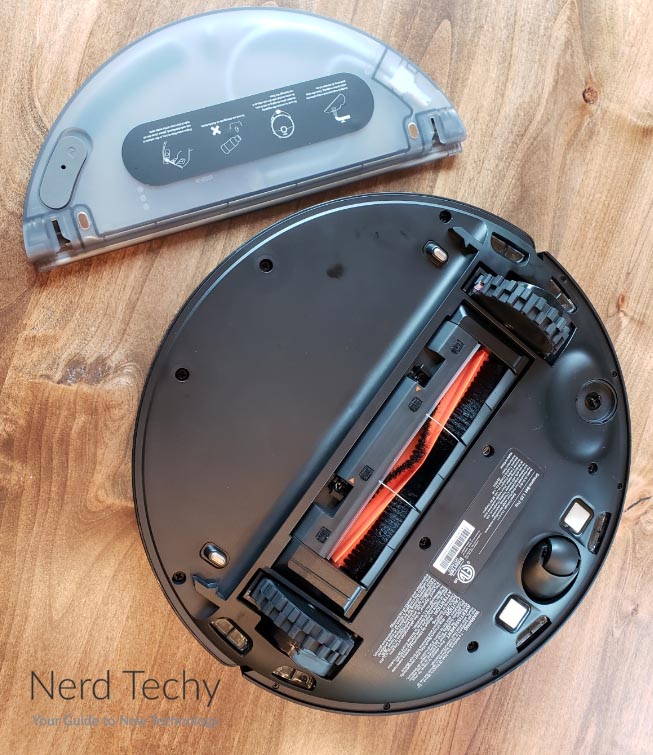 Setup and Everyday Use
Just as we were impressed with the L10 Pro's suction power, we were also impressed with its battery life. With its powerful, 5,200mAh internal battery, it's capable of working for 2 ½ hours without a break. To put that in perspective, at typical speeds, you'll be able to vacuum 2,690 square feet on a single charge. Considering the fact that a robot vacuum can only handle one level of your home at once, you're well covered. In all but the most massive of homes, you'll have more than enough coverage. Even the mop function goes a long way, with the ability to cover 2,152 square feet. This will vary somewhat based on how soiled your floor is and other factors. But no matter how you cut it, that's a lot of floor space.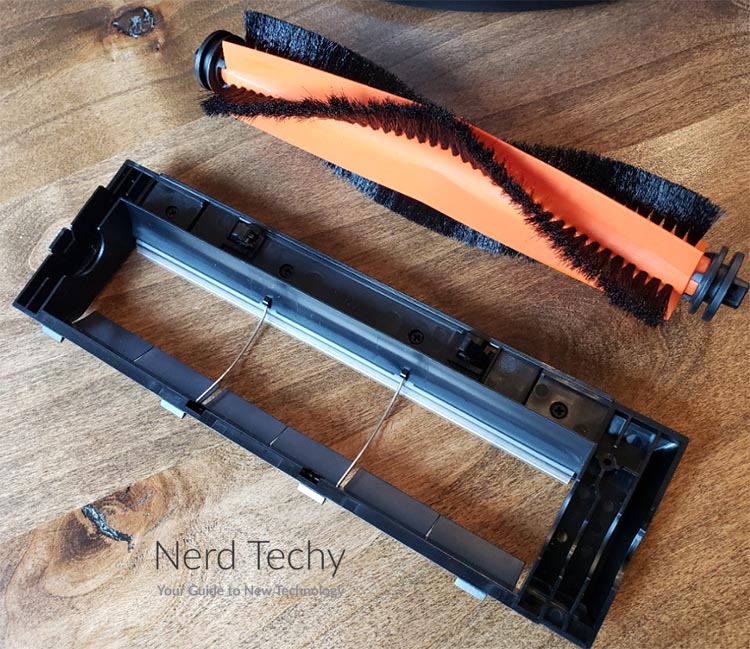 When you first turn the L10 Pro on, the Lidar sensor goes to work. The vacuum will roam around your home, creating a virtual map of your entire floor plan. Within the smartphone app, you'll then be able to interact with that map to change your settings. You can set aside different zones for cleaning on different days, or apply labels to rooms for your reference. You can schedule cleanings on a daily or weekly basis, and even create zones that are off-limits altogether. Finally, you can tell the vacuum which areas are to be vacuumed and which ones are to be mopped. Moreover, you can perform many of these functions via voice control. The vacuum can be paired with Alexa in just a few minutes within the MI App.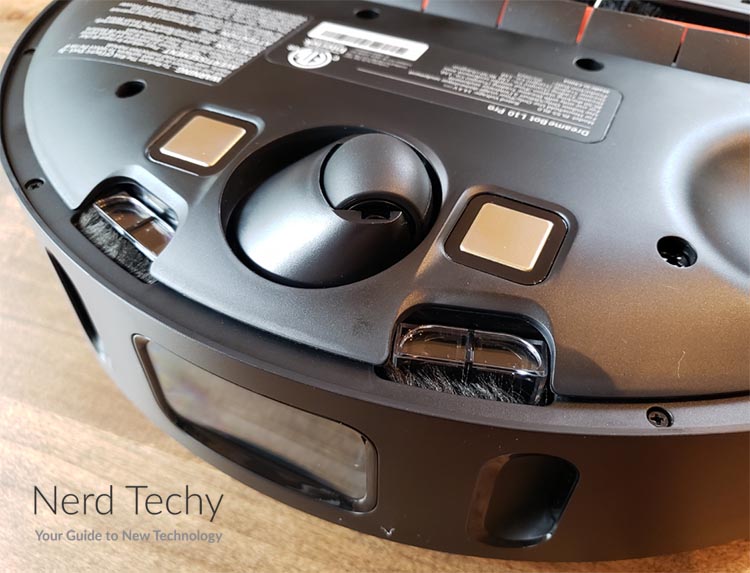 In addition to all this, the L10 Pro sports a set of laser sensors on the front and sides. Many robot vacuums rely on touch sensors to evade obstacles. In other words, they bump into everything, including children and pets. Now, is a robot vacuum going to hurt your baby? No. But would it be better if the vacuum went around them instead? Using the laser sensors, the L10 Pro will do just that. That said, it will give everything a wide berth, far more than is necessary. If your kid has dropped a few toys on the floor, they may wall the vacuum off from half the room. Thankfully, this feature can be deactivated, which is something we recommend doing.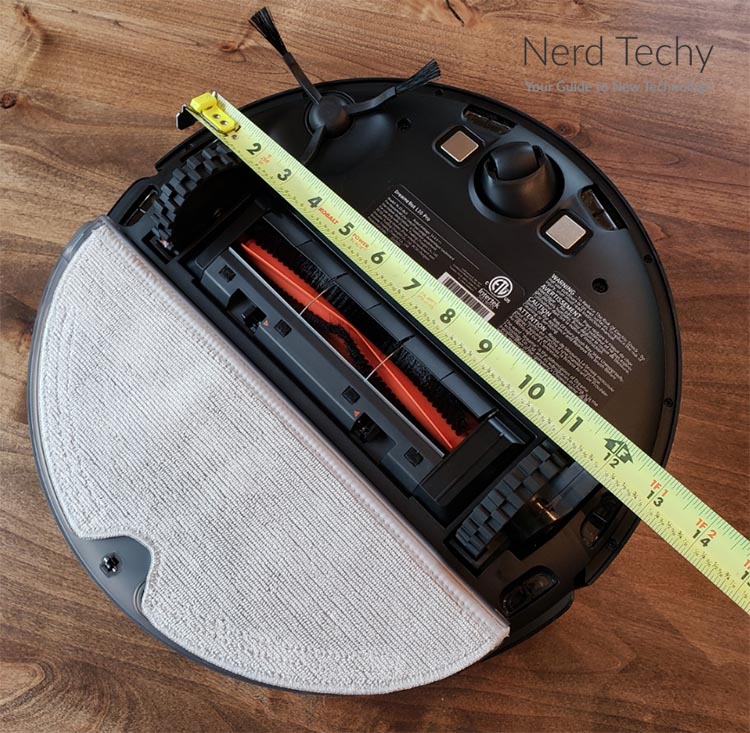 Within the app, you can save multiple floor plans, and switch freely between them. If you want to use the vacuum on multiple floors, you can. That said, if you have a ranch, or if you only need to clean one floor, the Dreametech D9 may be better. It's an earlier model, and a more affordable one, and comes with similar functions. However, it can only map a single floor plan.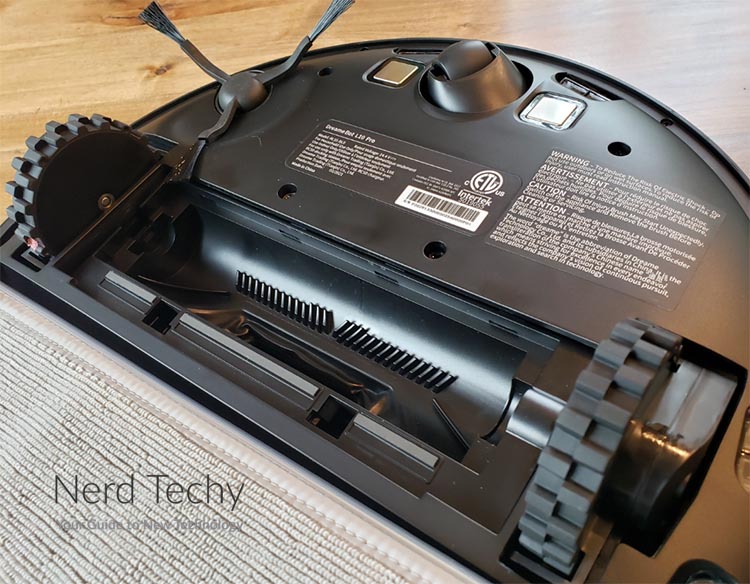 Final Verdict
All in all, the Dreametech Dreame Bot L10 Pro is an impressive machine. It has some of the best suction power you'll find on any robot vacuum, anywhere. It has a mopping function as well as a vacuuming function, so you can clean any floor. Finally, it has both a Lidar mapping function and a real-time object detection laser. Those are all valuable features, along with a long-lasting battery. However, we also appreciated the ability to use voice controls, and to navigate steep transitions. This robot vacuum is the real deal.