Reolink Argus PT 2K
Pros
High-quality video by day or night.
Easy installation and setup.
Local or cloud-based storage.
Convenient app monitoring.
Durable build-quality; completely weatherproof.
Cons
Short battery life.
Can only download videos in 30-minute clips.
Whether you're protecting your home or your business, security is no laughing matter. But for homes in particular, security cameras have traditionally been a rich man's game. For one thing, they needed to be hardwired, which could make installation expensive. But the main issue was the problem of monitoring and recording. Unless you had private, on-site security, no-one was watching your cameras in real time. And if you wanted to save recordings, you needed to have a dedicated VCR, and a TV for reviewing footage. For all of this trouble and expense, you'd get grainy, black-and-white footage at a low frame rate.
But digital technology has changed the way we think about home security cameras. Instead of a bulky VCR, you can record video to a thumb drive, or even to the cloud. And instead of low-quality black-and-white video, you can get full HD or even better. Most importantly, though, you can access your camera and footage via the cloud. This gives you the ability to see what's going on at your home, no matter where you are. A generation ago, you would have needed to hire a full-time security guard to get that kind of monitoring. Now, all you need is your smartphone and an affordable, internet-connected camera.
Today, we're going to review the Reolink Argus PT 2K security camera. This is a compact, wall-mounted camera that's suitable for interior or exterior use. It records full 2K video, and you can monitor the feed directly through a smartphone app. But those are just a few of the things we need to take into account if we're going to give it a fair evaluation. To truly understand what we're dealing with, we'll have to take a much closer look at the physical design. We'll have to look at the power situation, and how it connects to your phone. We'll also have to think about things like night vision quality and video storage. At that point, we'll be fully prepared to render our verdict. Let's get started!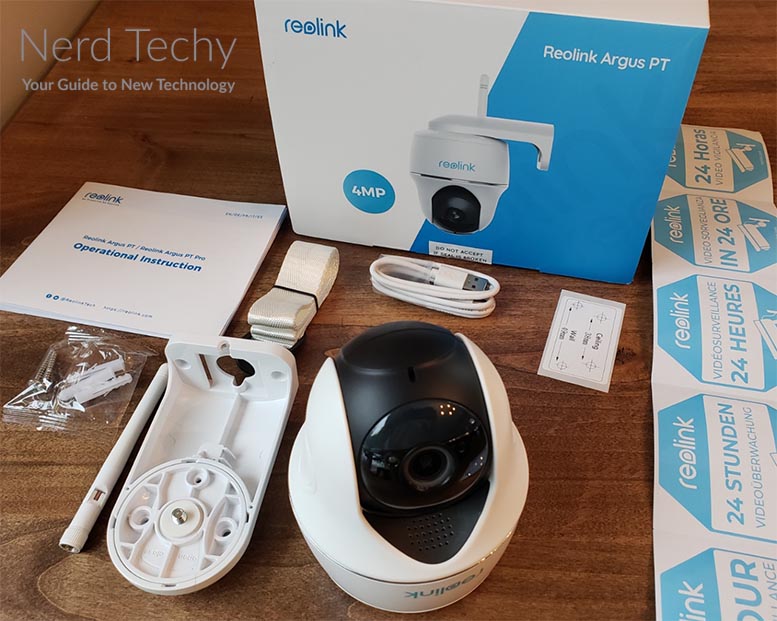 Design & Construction
The Reolink Argus PT 2K has a round, vertical housing that's constructed from durable ABS plastic. It has a white satin finish, which stands up well to dirt and is easy to keep clean. The top portion of the housing is mostly plain, although there's a blue Reolink imprint on the front. An adjustable WiFi antenna is located at the back right, just next to the mounting bracket. Underneath the bracket, there's a removable cover, with the SD card slot underneath. There's also a tiny reset button, and a deftly-concealed speaker. At the bottom of the upper housing, about halfway down the total height of the unit, there's a silver ring. This separates the upper and lower housings.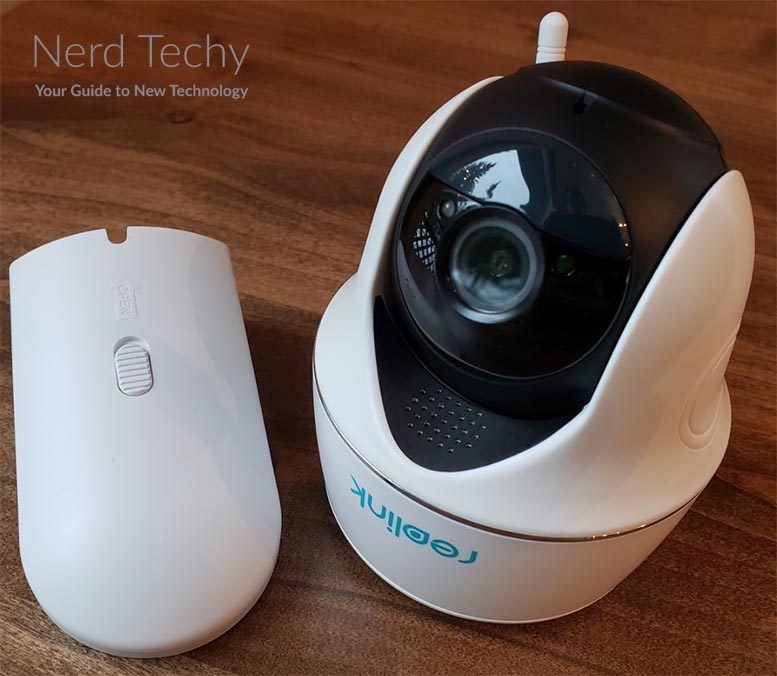 The upper housing has a width of 3.9 inches. From there, the lower housing tapers inwards to a width of 1.9 inches. The total height is 4.8 inches, including the wall mounting bracket, which attaches at the top. The lower housing is designed to rotate horizontally, and it's made of the same white plastic as the upper housing. It's completely plain, with a forked design to support the lens housing in-between.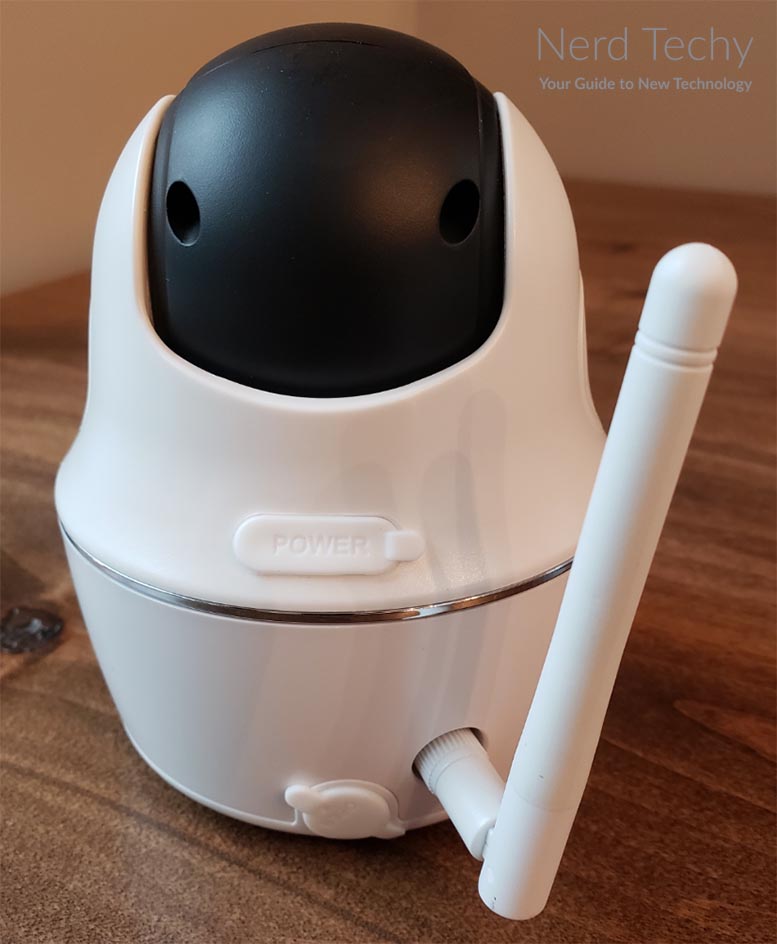 The lens housing itself is a black sphere, and sits in the bottom middle of the camera. It's designed to rotate vertically, from completely horizontal to almost straight downwards. You can clearly see the lens in the middle of this housing, where it's protected by a glass cover. There's a small motion sensor element visible to the side. In this general area, there are also infrared bulbs for the night vision function. These don't give off any visible light, so they won't attract attention in the dark.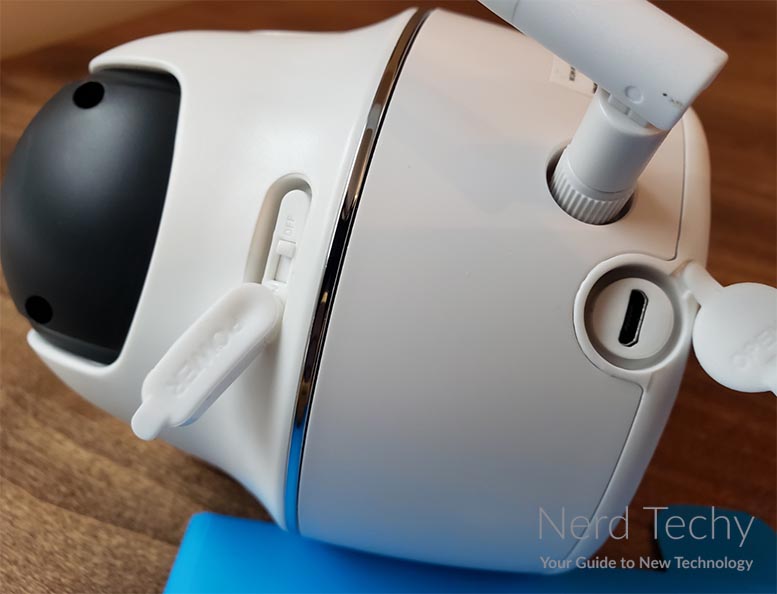 The Argus PT 2K has a weather-resistance rating of IP64. The 6 refers to dust protection, which is the highest possible level. You can use this camera even in the driest, dustiest environments, and it won't infiltrate the housing. The 4 indicates a moderate level of water-resistance. You won't have to worry about rain, but if the camera were to be immersed, it would get damaged.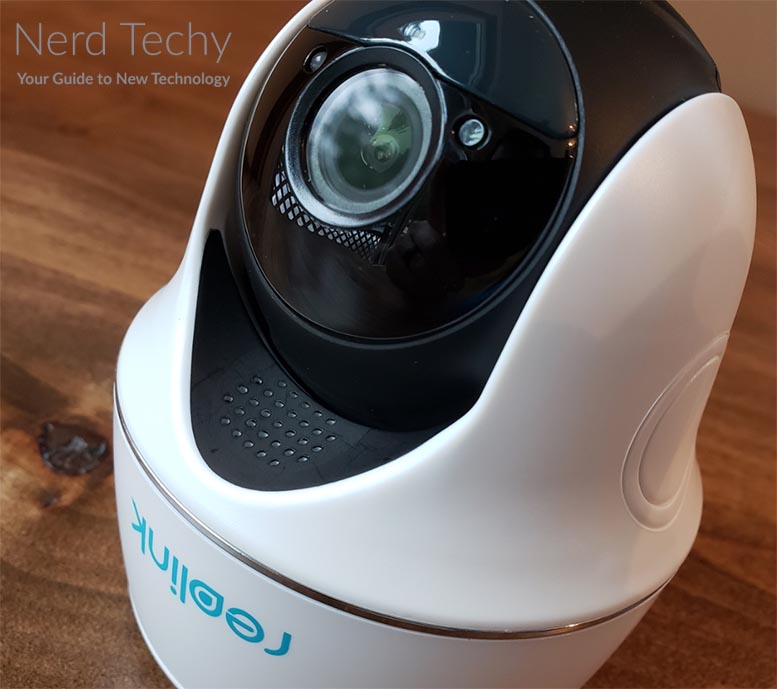 Along with the camera, you get everything you need to get it installed. There's a drilling template, so you can plan out where to drill your holes. You get screws and anchors, although if you're installing into masonry, you'll have to buy masonry anchors. There's also a USB charging cable, so you can easily charge the battery. All of this is covered by Reolink's 2-year manufacturer's warranty. This protects you from defects in workmanship, as well as from premature material failure. In addition, they provide 24/7 technical support, in case you need help setting up your camera.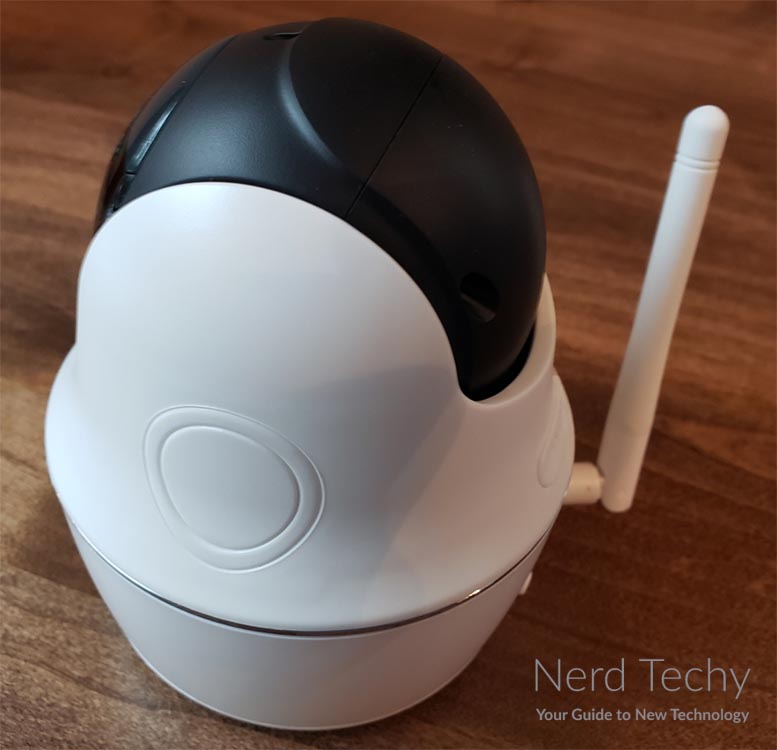 Power & Connectivity
The Argus PT 2K is powered by a 6,000mAh battery. Exactly how long it lasts will depend on a number of factors. Most importantly, it will depend on how much it records versus how much time it's in standby mode. But factors like the temperature will also affect its performance. The colder the temperature, the faster the battery will run out. That said, with normal use, you can expect about one to four weeks of operation. If you were in standby the entire time, you'd get around two months. If the camera is continuously recording, you can get about 18 hours.
No matter how you cut it, that's not a ton of recording time. The camera is easy to unmount for charging, but a lot depends on where it's located. If you have to get out a ladder to access it, you might want to avoid using the battery. In that case, this camera can be paired with a USB solar panel. That way, you can stay charged under almost any circumstances.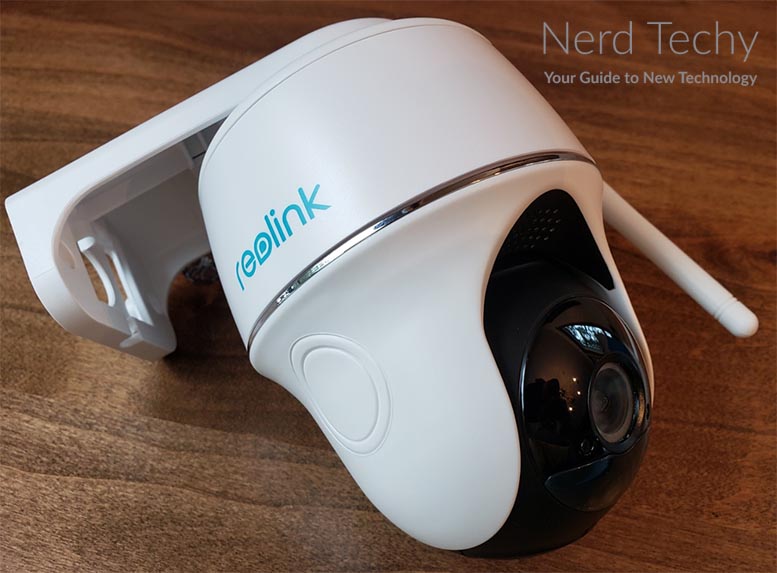 Another alternative is to use a camera that runs on wired power. The Reolink E1 has a similar design to the PT 2K in most respects. But it runs on PoE (Power over Ethernet) power. If you have a compatible router or PoE injector, you'll never have to worry about your camera's power supply. On the downside, this kind of camera is also tougher to install.
Once you've installed the Argus PT 2K, you'll be able to access and control it through the smartphone app. The app is free and easy to install, and works equally well on Android and iOS. Once you've installed the app, you can use it to set up your camera on your WiFi network. Follow the instructions, enter your password, and you'll be able to reconnect remotely at any time. First and foremost, this means you can check in on your video feed whenever you like. Bring up the app, and you'll see whatever your camera sees, in real time.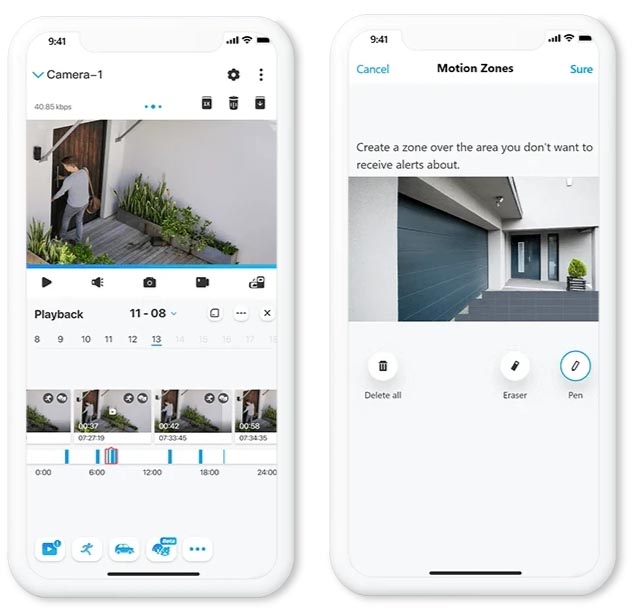 This camera has intelligent person and vehicle detection capability. When it sees a person or a vehicle, it will send a push alert to your phone. Tap the alert, and you'll view a live feed. The camera will also start recording automatically, and save a record of the event. If you want, you can turn the push alerts off, or subscribe to email alerts instead. With email alerts, you'll get a 30-second video every time your camera is activated. Unfortunately, the PT 2K saves all its videos in 30-second clips. Even if you record for a full five minutes, the video will be saved as 10 30-second clips.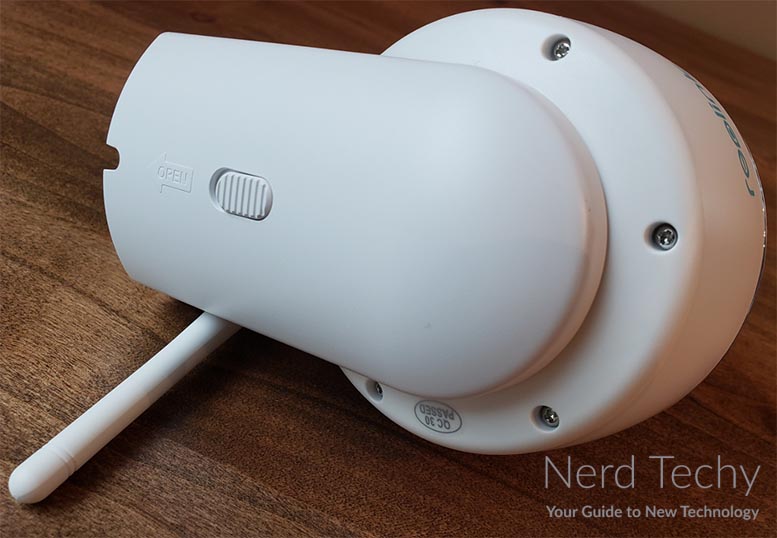 Within the app, you can customize the motion sensing zone. Let's say there's a public road in the right side of your field of view. You don't want to get a push alert every time a car drives down the road. So you could exclude that area from your motion sensing zone, but still get alerts for activity on your property. You can even adjust which way the camera is pointed. With 355 degrees of motorized panning and 140 degrees of motorized tilt, you can point it almost anywhere. If you want to look at something that's barely out of view, you can simply move the camera.
The app also has a few extra features that are worth considering. It works with Amazon Alexa and Google Assistant, and you can record in time lapse mode. You can also take advantage of two-way audio, or activate a siren to scare off intruders. If you like all these features, but you want more capability, check out the Reolink RLC 523WA. It's similarly powerful, with better video quality and 5K optical zoom. On the other hand, it doesn't have cloud storage, and it requires PoE power.
Video Quality & Storage
Ultimately, none of this matters if the video quality isn't up to par. Thankfully, the Argus PT 2K has beautiful video quality. With a resolution of 4MP (2,560 x 1,440 pixels), you get twice as many pixels as 1080p. That allows you to make out fine details you can't see on most cameras in this price range. The night vision is also very good. The image is crisp and clear, although it's black-and-white, and the range is limited to 33 feet. But inside that range, you'll get all the detail you could ask for.
If you want even more pixels, take a look at the Reolink Duo. It sports dual 2K cameras for an ultra-wide field of view. On the downside, it needs to be hardwired via PoE.
For video storage, the PT 2K gives you a couple of options. First off, you can insert an SD card, up to 128GB. Older footage is continuously overwritten, unless you've marked the clips as saved within the app. As an alternative, you can subscribe to the Reolink Cloud storage service. This gives you access to unlimited storage, but you have to pay a monthly fee.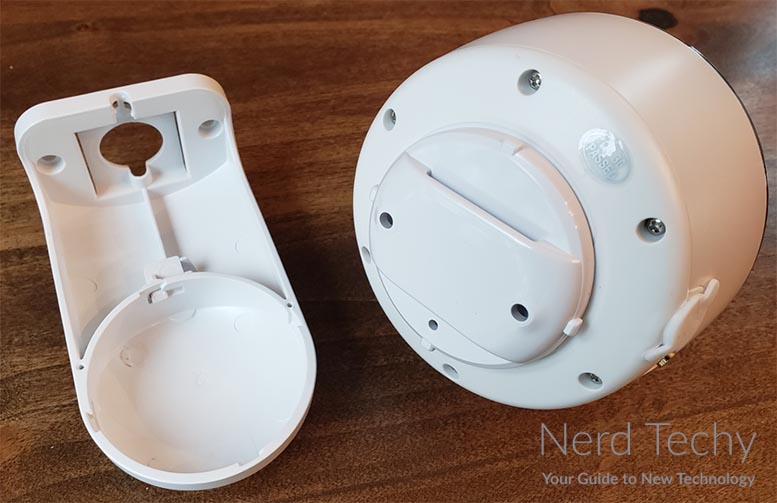 Final Verdict
As you can see, the Reolink Argus PT 2K is a powerful camera with a ton of useful features. You get motorized panning and tilting, a customizable motion zone, and crisp, clean video. You also get a physical design that's well-engineered and easy to install. We would have liked to see better battery life, but depending on location, that may not be an issue. And considering the low price, you're getting a great value.
Meet Derek, "TechGuru," a 34-year-old technology enthusiast with a deep passion for tech innovations. With extensive experience, he specializes in gaming hardware and software, and has expertise in gadgets, custom PCs, and audio.
Besides writing about tech and reviewing new products, Derek enjoys traveling, hiking, and photography. Committed to keeping up with the latest industry trends, he aims to guide readers in making informed tech decisions.