When we need to physically move data between computers, most of us turn to our trusty flash drive. When you're looking to add some internal storage to your home computer, you're likely to purchase a solid-state drive. It's well known that solid state drives provide better reliability and faster transfer rates than any other storage technology on the market. In fact, USB flash drives and internal SSDs use the exact same technology. But why is that internal SSD drives offer unparalleled performance, while standard flash drives tend to be laggy and unreliable?
Even though both devices use the same technology, it's the implementation that makes the difference. Internal SSDs use extremely high quality memory chips. They have advanced controllers that allows data to be transferred at an extremely fast rate, and durable chip design that allows the memory to be written to billions of times. Flash drives are generally designed to be inexpensive to produce and compact, and manufacturers are willing to sacrifice speed and reliability in favor of these qualities.
What many people don't realize is that it's possible to get SSD-like performance in the flash drive form factor. In this article, we're going to take an in-depth look at the best portable solid state drives on the market. We'll find out if the performance can justify the additional cost, and help you understand what kind of operations can benefit from drives like these.
SanDisk Extreme Pro
SanDisk is an American manufacturer that makes all things memory. From SD cards to USB Flash drives to Internal SSDs, they've got their memory chips inside virtually every possible application of the technology. Sandisk chipsets are known for their reliability and adaptability. For this reason, they're one of the first brands we'd turn to when we're looking for something that offers more than the average drive.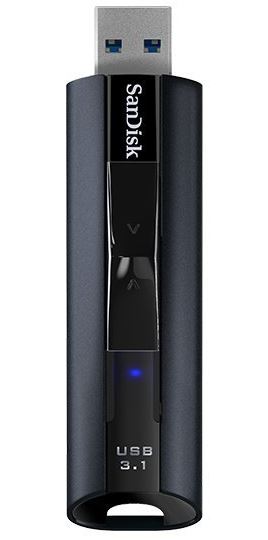 Design & Durability
Even though the SanDisk Extreme Pro is in the upper echelon of USB storage devices, it doesn't look too out of the ordinary. It's a little longer than budget minded flash drives, but SanDisk compensates for this by allowing the USB connector to be retracted into the body of the drive while not in use. If you're planning to carry the drive around with you at all times, this makes it a little more durable. You're unlikely to accidentally bend the connector and debris in your pocket won't plug it up. Retracting it is a simple motion, you just drag your thumb along the switch on the front. The movement is light and smooth, making it easy to do.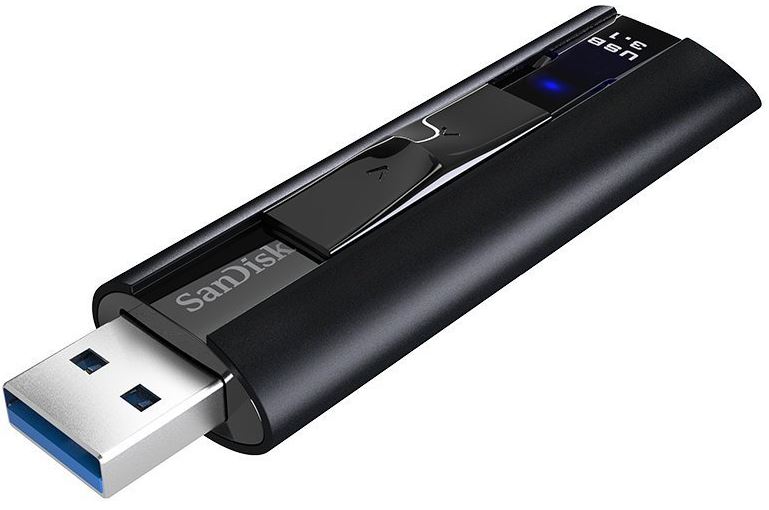 While the strip in the center is made from a smooth plastic, both of the edges of the flash drive are made from a high-quality aluminum. It's brushed to a matte finish, and feels cool and smooth in the hand. But best of all, this drive can stand up to constant daily use without any signs of wear. While it's not exactly bomb proof, it's still one of the most durable SSDs we've used.
Capacity & Performance
The SanDisk Extreme Pro is available in both 128GB and 256GB sizes. The internal components are nearly identical to the ones used in the internal SSDs that go by the same name. The only difference is the controller, which has been modified for low power draw and USB connectivity.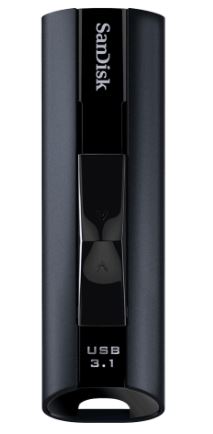 One of the things they've changed since the last iteration of this product is the inclusion of support for USB 3.1. Previously, the high-speed flash memory was bottle-necked by bandwidth limitations. If you have USB 3.1 ports, you should be able to realize the full potential of the high-speed flash memory.
The drive is rated for read speeds of 420 Mb/s, and write speeds of 380 Mb/s. In or tests, we found these to be pretty accurate. With single large files we were seeing 395 Mb/s average and 347 Mb/s respectively. With smaller files, these speeds averaged down to about 386 Mb/s and 324 Mb/s.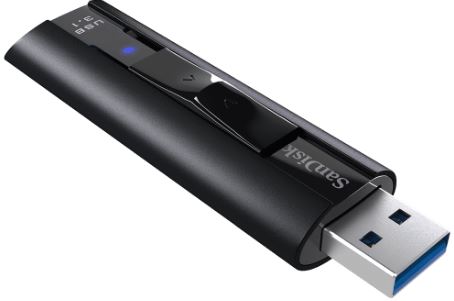 Suitability
With the SanDisk Extreme Pro, you're getting true SSD speeds in a portable package. Since it's compatible with both PC and Apple operating systems, you're able to use this drive just as you would a standard drive, even if you wanted to boot off of it or run portable software.
PNY Elite
Although PNY doesn't manufacture the memory chips themselves, they've got purchasing agreements with almost all of the most popular brands. They leverage this to engineer products that are always unique. Some focus on affordability, while others on performance.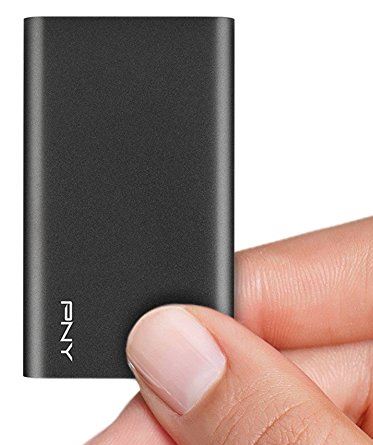 Design & Durability
We didn't realize how small the PNY Elite actually was until we opened the box. It's roughly 30% of the size of a standard credit card, just slightly thicker but shorter than the average flash drive. Looking from the top down, even the micro-USB port on the side takes up half the width!
When you're holding it between your two fingers, you can appreciate how well made the drive is. The majority of it is made from aluminum. In fact, the entire case is a single piece of extruded metal that is gently rounded on the edges. All the components are shoved inside and two plastic caps placed on each end. If you need somewhere to keep it, it fits very well in the coin pocket of your jeans.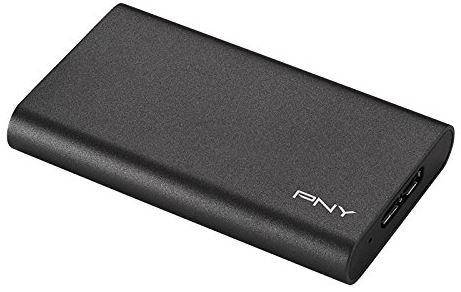 Regardless of where you keep it, the last thing on you mind will be concerns about damaging it. It's extremely solid, and you likely wouldn't be able to break it if you tried. That being said, one area of concern for some users is the heat. Just like the Macbook Pro laptops, the memory chips are bonded to the aluminum frame. They use this as a heatsink to keep them cool. The end result is that the drive can get surprisingly warm when under heavy load. We tested the temperature and found that it is within spec for NAND flash, so it's nothing to worry about.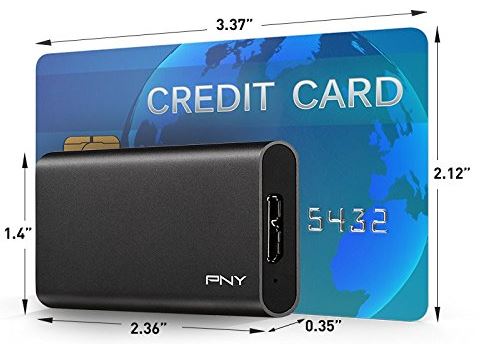 Capacity & Performance
Despite it's incredibly compact size, The PNY Elite comes in two high-capacity options: 240 GB or 480 GB. It's rated speed is 430 Mb/s read and 400 Mb/s write. In our tests, we achieved 356 Mb/s and 315 Mb/s. But the one thing that really stood out was that there was very little performance decrease between many small files and a single large file. In fact, we found that this drive performed in a very similar fashion to a standard internal SSD.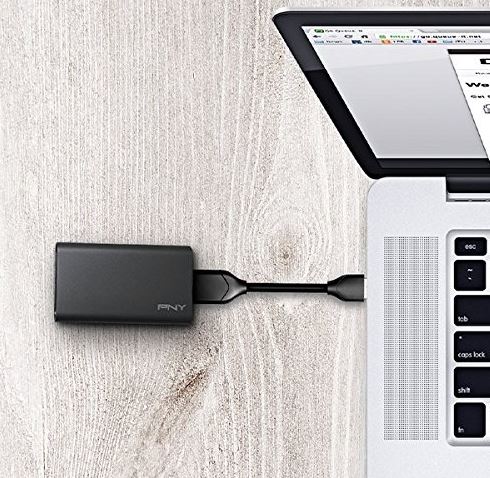 Suitability
Because of its compact size, large capacity, and high performance, this drive is best suited for those of you who want to expand a mobile device. If you're regretting picking up the 128 Gb version of the surface pro or the 500 GB Xbox One, this drive is a great way to expand your storage with very little performance decrease.
Corsair Flash Voyager GTX
Corsair was actually one of the first companies to release solid state style drives. At the time, they were known as RAM drives and used volatile computer memory to store data. They required power at all times, as a reboot could wipe the memory. Although we have come a long way since then, Corsair has continued to be on the cutting edge of technology.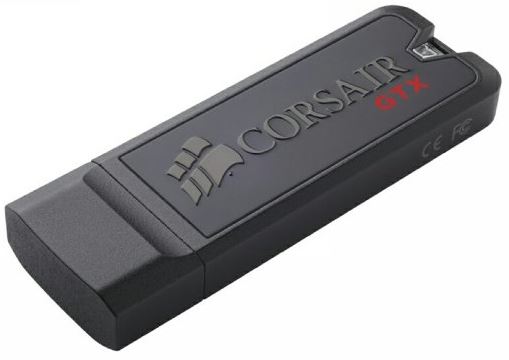 Design & Durability
Of all the drives we've looked at today, the Corsair Flash Voyager GTX is the one that looks most like a typical thumb drive. Internally, the entire drive is housed in an aluminum frame with plastic end caps. But they've wrapped the drive in a rubber surround that makes it both stylish and durable. Many of Corsairs products are targeted at the gaming market. Although the design of the GTX is a little more subtle, the red logo adds just the little bit of flare necessary to indicate that this is a performance drive.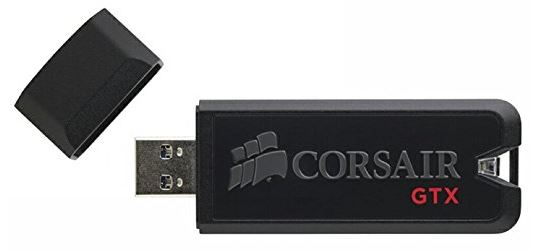 Just from holding it in your hand, you likely won't feel like this drive is any more durable than a standard model. But the build quality is there, it just remains hidden. If that doesn't instill confidence, Corsairs 5 year warranty surely will.
Capacity & Performance
This drive offers a good balance between capacity and price. Available in either 256 GB or 128 GB sizes, it's enough to store a significant amount of multimedia, software, or other files. But it's not the capacity that's the stand out feature of the drive, it's the fully functional SSD controller that takes the performance beyond what's possible with a standard flash drive. The drive can read data at 450 Mbps, and write it at 350 Mbps. We found these numbers to be pretty accurate, although you do need to allow roughly 10% for overhead.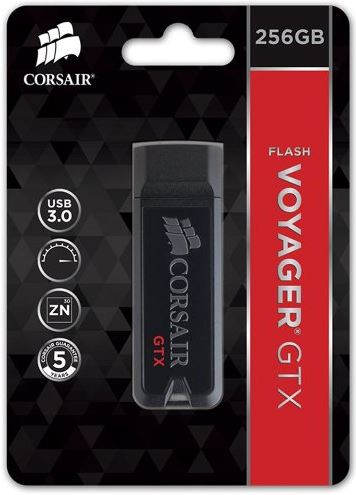 Suitability
The Voyager GTX isn't the largest drive on the market, but it makes up for it with excellent read and write speeds. This drive is ideal for storing large files like video or audio. It's especially useful for professionals who need to use software that can edit these files on the fly.
Which Portable Solid State Flash Drive is Right for Me?
Depending on how you intend to use this drive, some will work better than others. The PNY Elite is ideal for those of you who want a portable drive that can be used as a drop-in replacement for an internal drive. Many consumers are using it with their game consoles, tablets, or laptop computers for a quick and easy way to improve storage capacity without taking up an internal slot. The drives performance is ideally suited for activity with a lot of random read and write IOPS, making it a great boot drive.
If you're working with multi-media, the Corsair Flash Voyager GTX is the ideal candidate. Although it has the fastest throughput of any drive, you can only take advantage of this in sequential operations. This means that activities like editing video, audio, 3D models, or any other type of large files will work best on this drive.
If you want something that offers a good balance between the two, consider the SanDisk Extreme Pro. You can use it as a boot drive or store large amounts of files. No matter which option you choose, you're certainly going to notice a large improvement over standard USB flash drives.
Not sure if any of these drives are right for you? Even though they all offer SSD grade performance, that doesn't mean that you can't find a faster drive. Internal PCIe M2 NVMe SSDs are the current performance kings, and don't require a SATA port. M2 slots are common on most modern computers, and many consumers aren't even aware that they have one available.
Another option is to expand your internal storage with a PCIe Raid Controller Card. These handy little devices add a large array of SATA ports to your computer, so you can add extra drives if you like.
If you still want to go with an external drive but need something that's a little more rugged, consider picking up a Rugged, Waterproof USB Flash Drive. While they won't necessarily perform quite as well as the drives we looked at today, they should stand up to years of even the most challenging environments.