Reolink RLC-523WA
Pros
Better than 2K resolution.
Pan, tilt, and 5x optical zoom.
Intelligent person and vehicle detection.
Can record to SD card or Reolink NVR.
Cons
No cloud storage option.
Needs to be plugged in for power.
If you're concerned about your home's security, you're probably already considering a security camera. But it wasn't all that long ago that a camera was unrealistic for most people. For one thing, they were expensive. With professional installation, you could spend a thousand dollars or more per camera. And to add insult to injury, monitoring could be a nightmare. You needed a big CRT TV, a VCR for recording, and a bunch of tapes for storage. Not only that, but there was no such thing as remote monitoring. So the best you could hope for was to capture footage after the fact. And for all that trouble and expense, you got grainy, low-quality recordings.
Modern security cameras have come a long way. To begin with, the video quality is far better. Even cheap cameras record in 1080p these days, and you can get even higher quality if you want. For another thing, they no longer cost an arm and a leg. Just about anyone can afford a decent security camera. Installation is also easier, with wireless technology increasingly replacing hardwired systems. And as a homeowner, you don't actually have to be in your house to keep an eye on things. Remote monitoring allows you to check in on your property from anywhere. For all these reasons and more, home security cameras are a far better deal than they used to be.
Now, we're going to review the Reolink RLC-523WA Smart 5MP PTZ WiFi Camera. This is part of a new generation of security cameras that incorporate artificial intelligence into their design. With advanced human and vehicle detection, it can determine when people are coming and going. And with its high-resolution camera, you can see fine details that most other cameras would miss. But how well-engineered is it, and how does it store your videos? What can you do with the app, and how easy is it to set up? Most importantly, does all of this add up to a worthwhile addition to your home? We're about to find out. Let's look closer, and see whether this camera is up to snuff!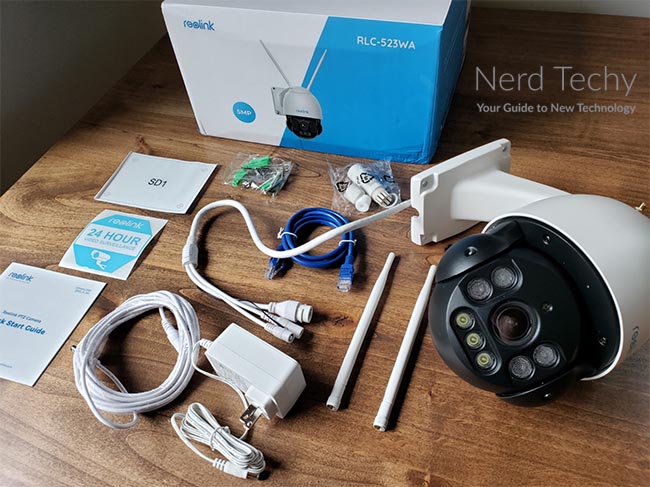 Design & Construction
The Reolink RLC-523WA Smart 5MP PTZ WiFi Camera is a two-part unit. The first part consists of a mounting bracket that connects into an upper housing. This is all white, with a powder-coated matte finish that's easy to keep clean. It's shaped roughly like the top half of an egg, and it's big enough to contain the camera's motor. The mounting plate itself has four screws, which are all included in the kit. There's also a set of anchors if you're mounting in an interior drywall wall. That said, they're not designed for masonry. If you need to install on brick or stonework, you'll want to provide your own masonry anchors. There are also two antennas in the back of the upper housing. You can adjust these as needed for a better signal.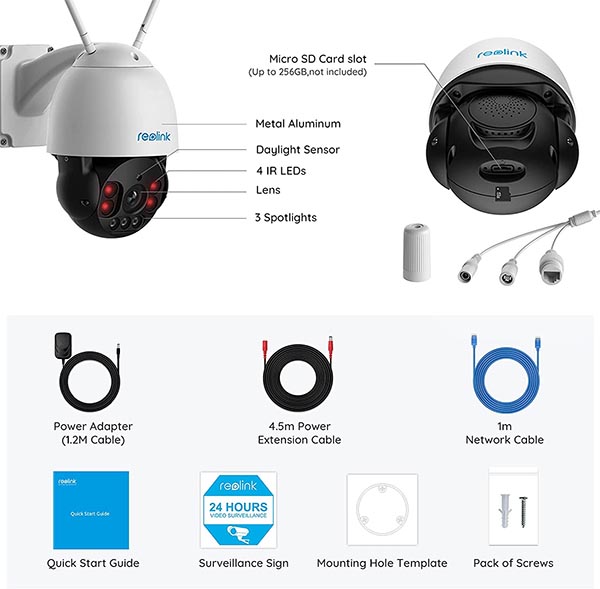 The lower half of the unit is black in color. It consists of the main camera housing, sandwiched between two brackets that extend down from the upper housing. The brackets are slightly rounded, with an attractive, curvy profile that fits the camera's overall aesthetic. The camera itself has the main lens in the center, with the small motion detection pinhole above it. Beneath the camera, there's a bright spotlight, which takes the form of a wide oval. To the sides of the lens, there are also four infrared spotlights.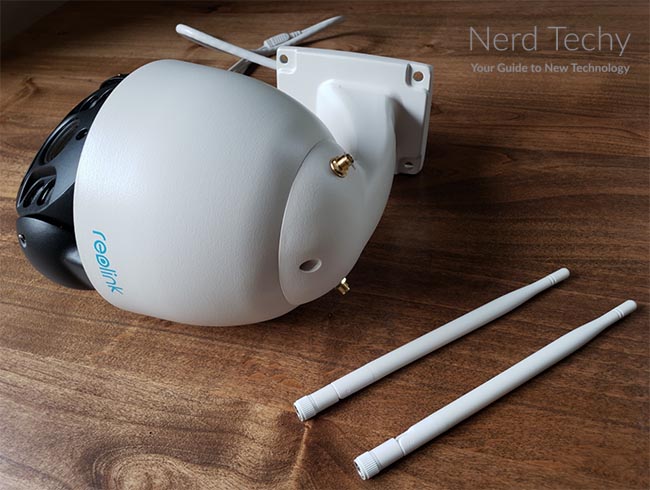 The camera unit is engineered to be weather-resistant, with a rating of IP66. The first 6 indicates the highest possible level of dust-resistance. You could put the RLC-523WA on the surface of Mars, and the dust wouldn't ruin it. The second 6 indicates one of the higher levels of water-resistance. It's not quite submersion-proof, but it's the next best thing. The camera can even withstand a jet of water spray, so you can hose it off when it starts looking dingy.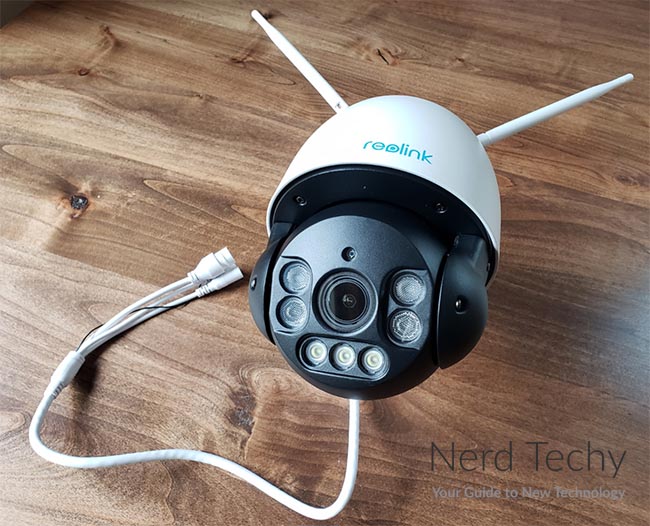 Of course, you're going to have to supply power somehow. Many cameras run on a battery, which makes installation simpler. But then you have to keep taking the camera down to charge, which is a pain in the long run. Some other cameras use solar power, which is sustainable, but not suitable in all locations. This camera uses an ordinary AC power connection. To plug it in, you run the main cord from the base of the unit towards a power outlet. At the end of the main cord, there's a three-way tip. The first tip connects to the power extension cable, which is almost 15 feet long. This cable terminates in an ordinary AC plug, so you can plug into your wall outlet. The other two tips consist of an Ethernet socket and a reset button. We'll talk about the Ethernet connection more in a minute.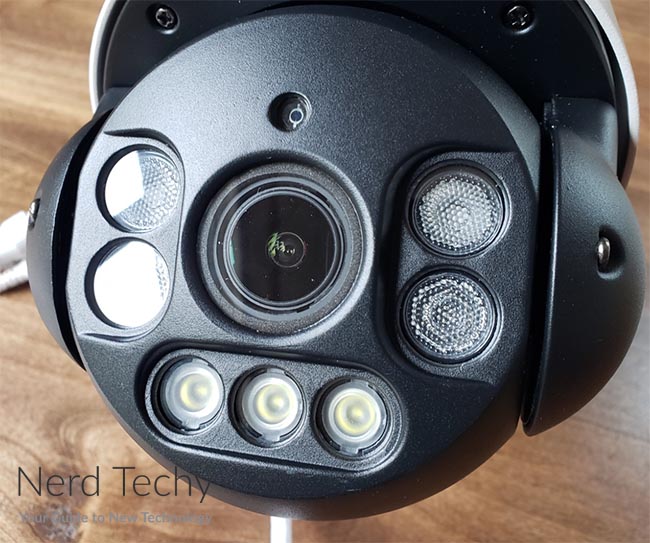 If you prefer a different installation option, Power over Ethernet (PoE) is a good alternative. The Reolink RLC-822A and RLC-1220A cameras get their power directly from your PoE router. They also provide highly detailed, ultra HD resolution, albeit only with one-way audio.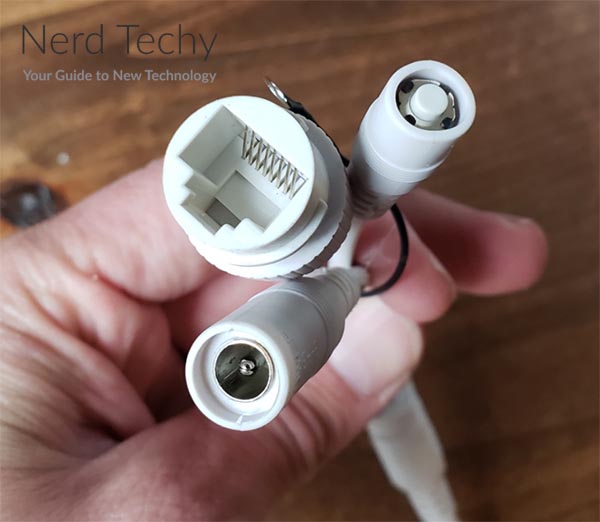 Video & Audio Quality
The RLC-523WA camera has a resolution of 5 megapixels. That's equivalent to 2,560 x 1,920 pixels. In other words, you're looking at quality better than 2K, but not quite as good as 4K. No matter how you cut it, the video looks fantastic. You can see even the finest details, such as package labels on your doorstep. If you're monitoring a large area, you'll also be able to identify individuals at a long distance. Color clarity is good, too. We're not saying you're about to take any Pulitzer Prize-winning photos with this camera. But for security purposes, you're getting more than enough quality.
Reolink advertises full-color night vision, which is technically accurate. However, this requires a bit of explaining. The standard night vision mode is infrared, and relies on the IR spotlights. These have a range of 60 feet, and produce a black and white video. It's still good quality – you can see fine details just as well as you can by day. It's just in black and white. It also won't alert anyone that they're being watched. However, when the spotlight kicks in, the camera automatically goes back into color mode. You won't be able to see clearly for as far as you can with the IR lights. This mode is for identifying individual people at close range, in the middle of the night.
In addition to night vision mode, this camera comes with an optical zoom mode. A lot of cameras have a digital zoom mode, which isn't really a zoom. It just blows up a section of the same digital image, without increasing the quality. An optical zoom, on the other hand, provides the same resolution no matter how far you're zoomed in. This preserves your image quality when you want to zoom in and see tiny details. In total, the RLC-523WA can zoom to a magnification of 5x. As it zooms in, the viewing angle will become correspondingly narrower. At its widest, the angle is 96 degrees, but at full zoom, it's only 27 degrees.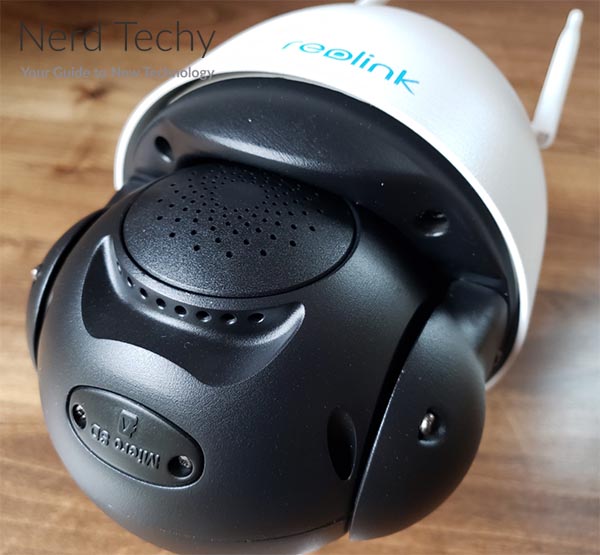 Connectivity & Storage
The RLC-523WA can connect to the web in two different ways. To begin with, you can use the Ethernet port on the connection wire. But that's not going to be convenient unless you're very close to your router. Most people will prefer to use the dual-band WiFi connection instead. This will work for any on-grid application. For an off-grid camera, you'll need one with its own connection. A good example is the solar-powered Reolink Go, which uses its own 4G data connection. Just keep in mind that this will require you to sign up for a data plan.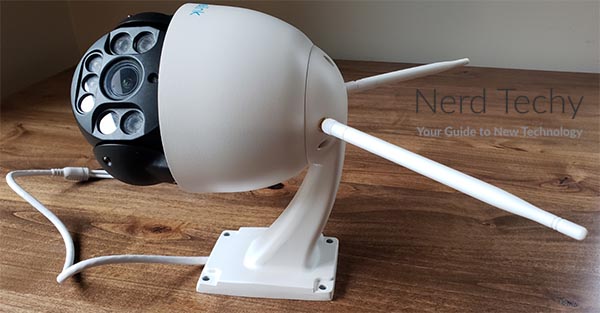 Once your camera is online, the next step is to connect it to your phone via the Reolink app. Within the app, you can view live footage, review saved footage, and receive push alerts. You can also tweak different options, including the motion detection zone. For example, if you're near a sidewalk, you can set alerts not to trigger for motion in that area. Alternatively, you can perform most tasks with Google Assistant. Alexa support is "coming soon," but not available yet.
For storage, you have two different options. First, you can use a micro SD card, with up to 256GB of storage. At the default video quality, that's enough for 96 hours of footage. As an alternative, you can also use a Reolink NVR (Network Video Recorder).
Unfortunately, the RLC-523WA doesn't have any cloud storage option. The Reolink Argus 3 Pro does, though. It also provides a crystal clear 1440p resolution, but it only runs on battery power. This means it has to be chaged from time to time.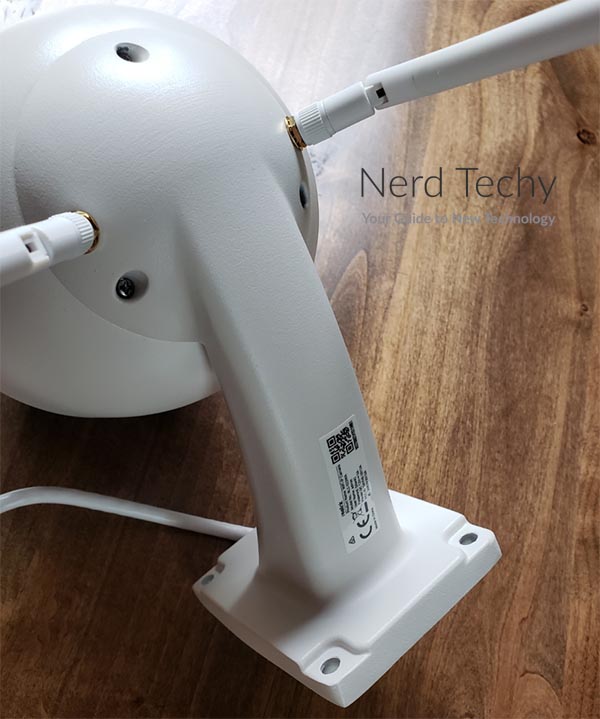 Extra Features
The Reolink RLC-523WA will automatically detect people and vehicles that come into its view. When it sees one, it will send a push alert to your smartphone. It will even tell you what it's detected; a person or a vehicle. Once an object is detected, the camera will automatically follow it as long as it's in view. It can pan a full 360 degrees, and tilt 90 degrees. Unless you're worried about intruding birds, you'll have a full field of view. You can also pan and tilt the camera manually via the app.
When you spot an intruder, you can do a couple of things. To begin with, there's a siren and spotlight option. That's bound to scare the living daylights out of any intruder. Alternatively, you can use the speaker for two-way audio communication. This is better for family members, delivery drivers, and other welcome guests.
Final Verdict
As you can see, the Reolink RLC-523WA Smart M5MP PTZ WiFi Camera is a high-quality camera. It provides top-tier video quality, along with easy connectivity, control, and setup. Our only concerns were minor – for example, the lack of a cloud storage option. The upsides were significant: panning, tilting, and other advanced features. Color us impressed.