Foscam DBW5
Pros
High-quality 2K video, by day and night.
Works with your existing doorbell wiring.
Easy to set up and adjust.
Supports cloud and SD card storage.
Cons
Requires you to use a less secure WiFi password.
Alerts sometimes trigger for no reason.
If you're looking to improve your home's security, you're not the only one. Over the past few years, smart devices have enabled people to make their homes safer than ever. Surveillance cameras are a good example. They used to clunky, and prohibitively expensive for ordinary people. Unless you were wealthy, or needed to protect a business, they weren't an option you'd consider. But nowadays, anyone can put an internet-connected camera on their porch or in their living room. Another great place to have a camera? Inside your doorbell, which is conveniently located right next to your front door.
A good doorbell camera has several benefits. For one thing, it helps you monitor for thieves and other intruders. But security is just one of its features. It also lets you know who's at your door. For example, let's say you're at work, and your doorbell rings at home. With a doorbell camera, you can see who dropped by, even if you missed them. And of course, you can keep an eye on any packages that you're expecting. But how do you choose a good doorbell camera?
One way is to choose a manufacturer who's already known for their well-engineered cameras. That's why we decided to review the Foscam DBW5 2K/4MP Video Doorbell Camera. We've already seen their mini IP camera, and we liked what we saw. So it made sense to explore some of their other offerings.
But just because it comes from a reliable manufacturer doesn't automatically make this doorbell camera a slam dunk. To find out whether or not it's worth owning, we need to take a deep dive into its features. We'll start by talking about the basic design and installation process. We'll go on to evaluate the quality of the video and the night vision, and the camera's storage capabilities. Finally, we'll get into the app and the other online features. Once we've taken a close look at all aspects of the design, we'll be ready to render a verdict. Let's get started, and see what the Foscam doorbell camera has to offer!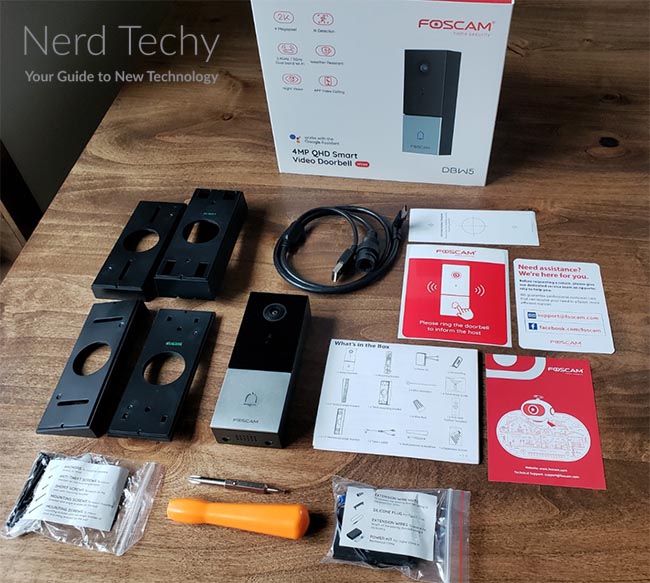 Overall Design
The Foscam DBW5 2K/4MP Video Doorbell Camera is a compact device that's easy to mount. At 1.77 inches wide and 4.53 inches high, it's small enough that you can install it just about anywhere. And at less than an inch thick, it doesn't protrude overly far from your mounting surface. The housing is divided roughly into thirds. The top two thirds are black, and enclose the bulk of the components. Towards the top, you'll see the lens, which is actually fairly small. Beneath that, there's a motion detector, as well as a pinhole for the built-in microphone. It's fairly plain, so it can match just about any paint scheme.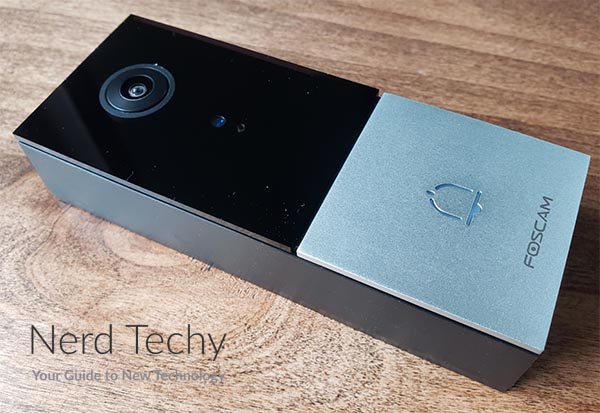 The bottom third of the housing is grey in color, and it's the most noticeable part. This is the doorbell half of the doorbell camera, and there's a blue LED bell Icon in the middle. Tap that, and the doorbell rings inside your house. There's also a grey Foscam logo in this general area. Other than that, there's not much else to say about the physical design. It's a plain doorbell camera with a utilitarian build.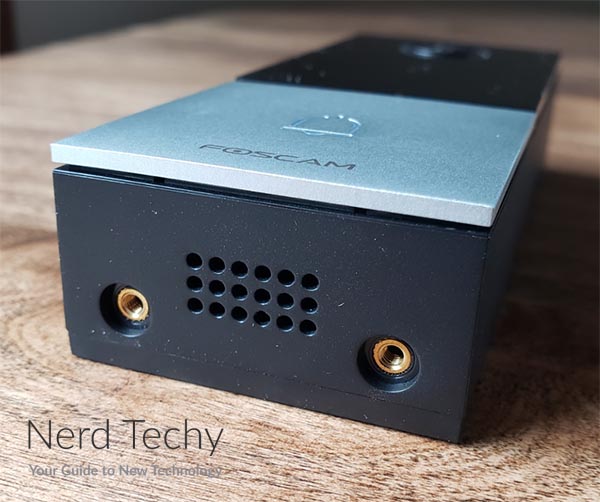 The package includes everything you need for installation. There are mounting screws and anchors, so all you need is a drill and a screwdriver. In addition, there's also a set of wedges included. These wedges install between the back of the doorbell camera and your wall. They're designed to change the angle of the camera to give you a better view. There are vertical and horizontal wedges, between five and 15 degrees. This gives you the flexibility to point the camera up at people's faces – or down to see packages. Either way you go, it's a nice touch, and it's something we haven't seen before.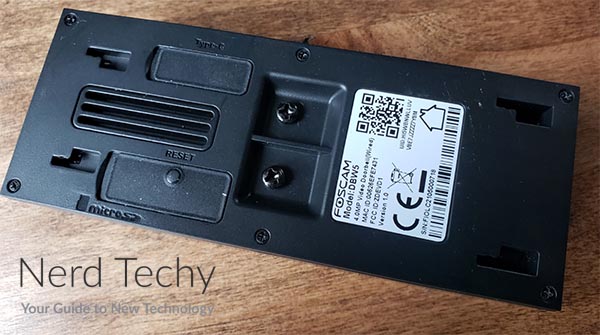 Video Quality
The DBW5 camera captures video in crisp 2K. This equates to a resolution of 2,688 x 1,520 pixels, so you can see plenty of details. At this resolution, you can read the label on a package sitting nearby, and read a license plate at the curb. The 25 FPS frame rate means you won't have to deal with a lot of motion blur or similar issues. The color quality is also good. Greens come out green, reds come out red, and so on. You're not getting the vibrancy of a photography camera, but you're getting great quality for a security camera.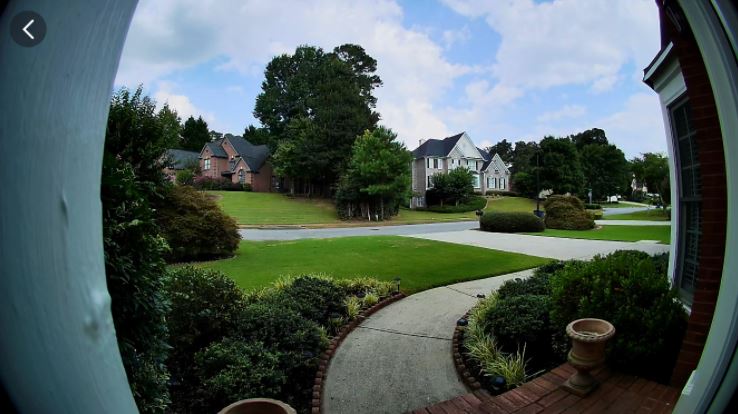 Quality continues to be good, even in low light conditions. When it starts getting darker, the camera will automatically transition from normal daytime operation to night vision mode. The night vision uses an active infrared system, which overs an area of 16 feet in front of the camera. It's black and white, but the video still remains nice and sharp. You can make out plenty of details.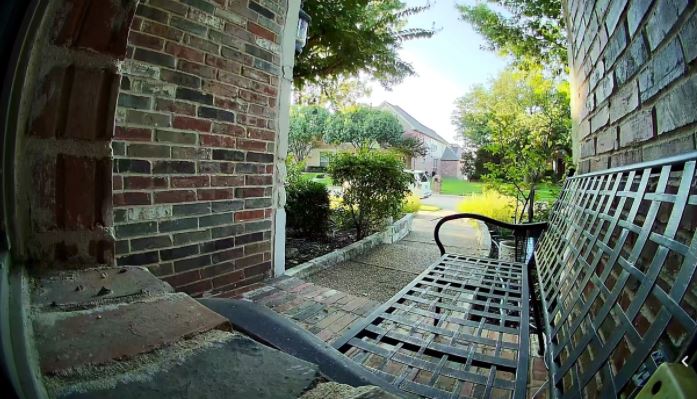 For most people, 2K is going to be more than good enough, at least for a doorbell camera. For most purposes, you're using it to look at people who are standing two feet away. It's not like you need the Hubble space telescope. But what if you need sharper footage to see down a long path, or for other reasons? In that case, you might want to consider the 360 Video Doorbell X3. It has even sharper video, with a resolution of 2,496 x 1,920 pixels. On the other hand, it's also a bit pricier.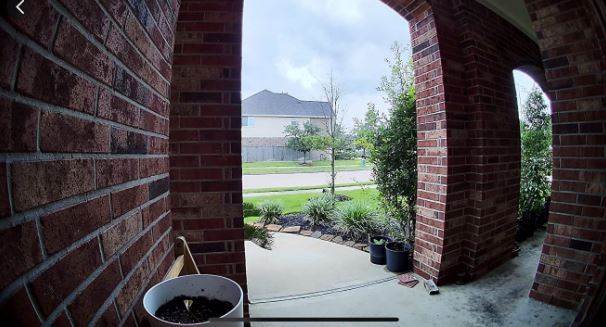 The DBW5's lens has an ultra-wide angle of 170 degrees. This isn't quite a true fisheye lens, but it's close. It's certainly wide enough that no-one could sneak up on either side of it. There's simply not enough gap between the field of view and the wall.
In addition to capturing video, this camera also supports two-way audio communication. You can do this either with the smartphone app, or with a smart home device like Alexa. We'll look at the other app features in a little bit.
Power and Storage
One thing we appreciated about the Foscam DBW5 is that you don't need to worry about running any wires. You also don't have to charge any batteries. Instead, this device wires directly into your existing doorbell wiring. All you have to do is leave the wires in place when you remove your old doorbell. If you don't have any existing wiring, you can also use USB Type-C power. There's a cable included in the kit, but you'll still need to run it. You'll also need to provide your own USB power adapter, as there's none included.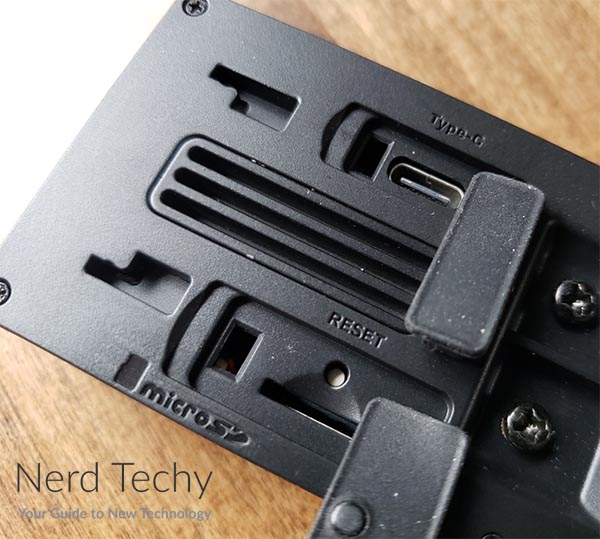 For video storage, you get a couple of different options. First, there's cloud storage. With cloud storage, your last seven days of recordings are saved automatically. This occurs on a rolling basis. So on day eight, the footage from day one is overwritten. You can go through at any time and save clips permanently, or download them to your computer for personal use. The camera comes with three months of cloud storage for free. If you decide you like the service, you can subscribe on a monthly or annual basis. You can also get more than seven days of storage, although that will cost extra.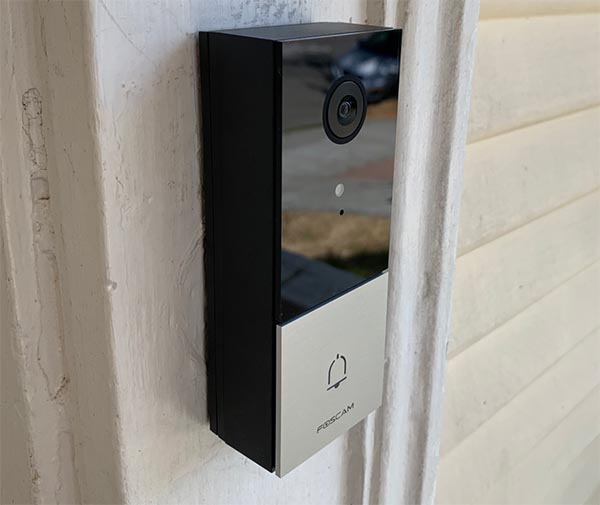 Your other storage option is a Micro SD card. There's none included, but they're affordable enough. The camera will support up to 128GB, which is enough for about four days of footage. Make sure to format it in the camera, so it will work without any hitches.
Connectivity and Online Features
In order to use the DBW5's online features, you'll need to connect it to your home's WiFi network. It can connect via either the 2.4GHz or 5GHz band, which means it can be used at close or long range. That said, in order to view 2K video in a live feed, you'll need to be close enough for a 5GHz connection. You can still view live at lower quality, or review recorded video at full quality with a 2.4GHz connection.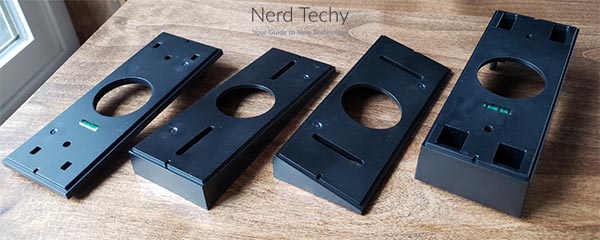 This is convenient, since you don't have to worry about router placement as much as you do with other cameras. On the downside, the setup wizard doesn't let you type any special characters. If there's an "@" or a "%" in your WiFi password, for example, you won't be able to enter it. This means you have to set your password to something that only uses letters and numbers, which is disappointing.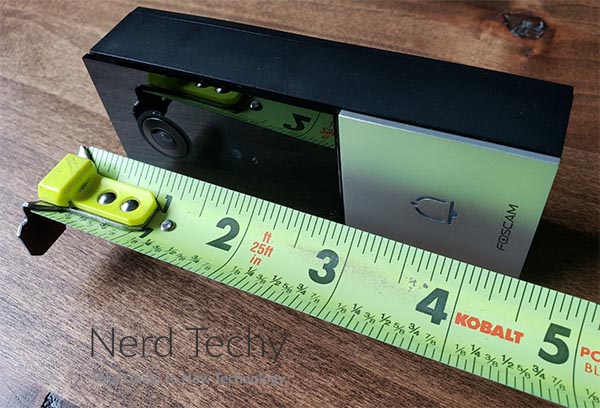 Once you're online, you can customize the tones you hear on your phone. Or, you can turn phone alerts off, and use the DBW5 more like an ordinary doorbell. You can also set up a WiFi-connected chime at this time. Alternatively, if you're using original wiring, you can just connect to a standard wired doorbell chime.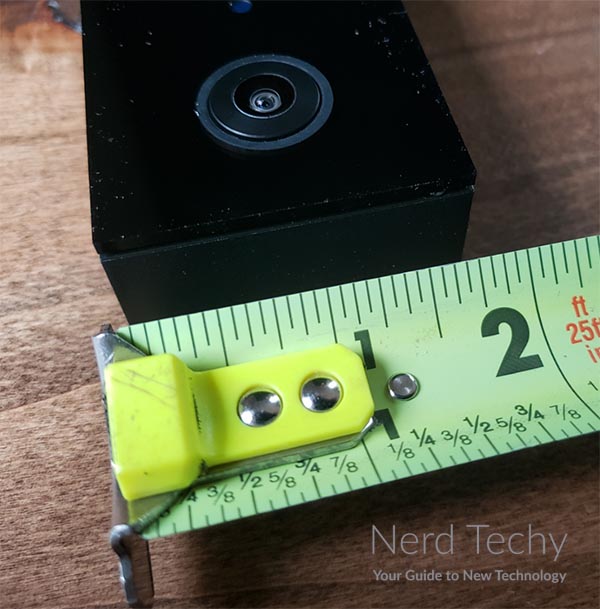 In addition to getting doorbell alerts, you can also get push notifications from the camera. The camera will automatically detect when a person is in front of it, and send an alert to your phone. You can choose to upload your footage, take screenshots, or email your footage. You can also adjust the sensitivity, which you'll probably want to do. On the default setting, you'll get many false alerts. Finally, you can integrate your doorbell with Amazon Alexa or Google Assistant.
One thing this camera doesn't do is lock your door. For that, you'd need the Lockly Video Doorbell, which is a combination doorbell, camera, and deadbolt. It's very secure, but it has fewer online features.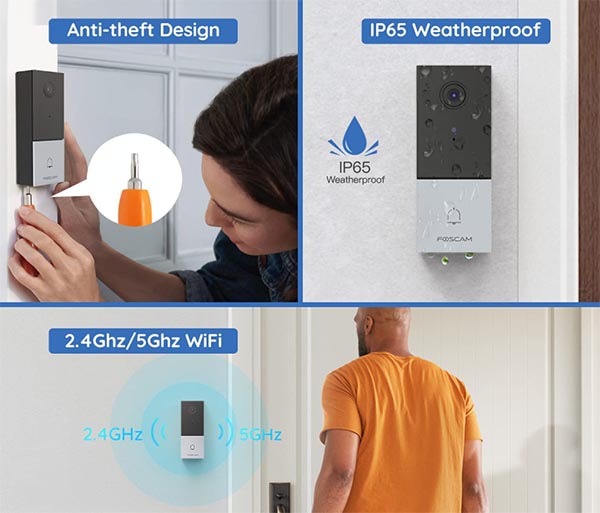 Final Verdict
The Foscam DBW5 2K/4MP Video Doorbell Camera is a well-engineered piece of home security equipment. It provides excellent video quality, and a powerful app for monitoring your front porch. To be fair, the WiFi setup is a bit of a headache. But once it's set up, it works very well. It's also designed to draw attention to the doorbell button, so people will know where to press.