The PlayStation 5 has been out for almost 10 months now, but they've been hard to get ahold of. Due to supply chain shortages and a global pandemic, Sony has struggled to keep up with demand. This, along with similar issues with the Xbox Series X/S, led to many developers putting off their new releases. It also means that many games are coming out for both the PlayStation 4 and the PlayStation 5. If you're a PlayStation 4 owner, you won't be missing much until 2022 rolls around. All of this to say that the PlayStation 4 is still a hugely relevant console, and will be some time. Oh, and those shortages? They're starting to get better. If you keep your eyes open online, it won't be long before you find a PS5 at retail price.
But whether you're playing a PS4 or a PS5, you want to get the fastest possible internet connection. It doesn't matter how much processing power your system has when multiplayer games turn into endless lag-fests. Let's get the basics out of the way: all Ethernet connections are more reliable than WiFi. Even an old-school Cat5 cable is better than the latest and greatest WiFi routers. Yes, newer routers are getting better, and yes, they may even offer faster speeds. But you still have to deal with dropped packets and a bunch of other devices competing for bandwidth. So which is the best Ethernet cable for the job?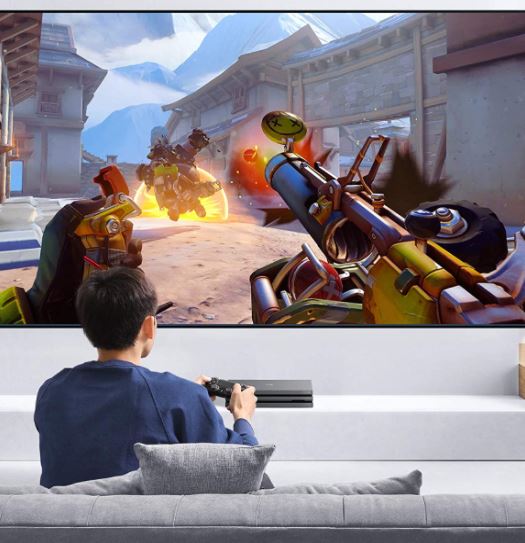 We're about to review three of the latest and greatest Ethernet cables for PlayStation players. To begin with, we'll take a look at the UGREEN Braided Ethernet Cable. As its name implies, this cable has a braided design; it also supports Power Over Ethernet (PoE). Next, we'll review the Smolink Ethernet Cable. This cable is tough and double-shielded, and is even suitable for outdoor use. Last but not least, we'll examine the Deegotech Ethernet Cable. This cable is flat rather than round for easier routing, and boasts a set of corrosion-resistant gold tips. Once we've reviewed all three, we'll recap what we've learned, and render our verdict. Let's get started!
Cat5e vs Cat6 vs Cat8
Before we talk about any one cable, let's talk about Ethernet cables in general. What are the standards, and what are they capable of? In general, there are three types of cable in popular use: Cat5e, Cat6, and Cat8. There's also Cat7, but it's mostly for data center use. Cat5e and Cat6 are the most popular standards, and you'll find them in the vast majority of homes. They're also used in many businesses, since they are capable of running very long distances. Some use foil wrappings for insulation, others use multiple layers, and some wrap each individual inner wire.
Cat5e cables are what you'd call standard Gigabit Ethernet cables. They have a bandwidth of 1,000 Mbps, and a maximum frequency of 350MHz. The frequency can be slightly higher or lower, depending on the type of shielding. Cat 6 – as well as its 6a variant – is 10-Gigabit Ethernet. It's capable of speeds of up to 10,000 Mbps. In addition, the frequency is increased to 500MHz in order to support the higher bandwidth. These cables can run as far as 328 feet, but there's a major caveat. Beyond 180 feet, you'll be capped at Gigabit speeds. You'll rarely have a run that long in your home, so these are 10-gigabit cables for residential use. Cat6 and 6a cables are also a bit beefier than Cat5e cables.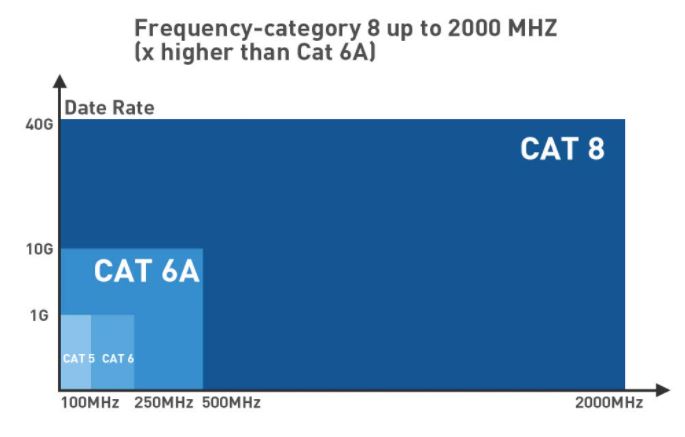 In addition to residential use, Cat6a is now the standard cable type for data center backbones. For runs longer than 180 feet, fiber-optic cable is usually used instead. Another alternative for commercial users is Cat7. Cat7 cables are fatter than Cat6, with better shielding and a higher frequency. The tips are compatible with standard Ethernet ports, but they're actually proprietary. They work better with the proprietary ports, which you can't get on a residential router. There's really no reason to use Cat7 cable at home; if you want 10-Gigabit speeds, use Cat6 or 6a instead.
Cat8 is the latest and greatest type of Ethernet cable. It offers insanely fast speeds of between 25,000 and 40,000 Mbps, or 25 to 40 Gigabits. To transmit this signal, it requires a frequency of 2,000 watts, which makes it harder to go long distances. Due to this limitation, Cat8 cable can only be run for a maximum of 98 feet. That said, this isn't much of an issue for residential use. In practice, you're probably using a lot of 6 to 20-foot cables around your home right now.
To maintain this high frequency, Cat8 cable needs extreme amounts of shielding. Otherwise, there will be crosstalk between the different wires, and even other cables in the environment. You need heavy gauge inner wires, with separate insulation on each, as well as an outer shield. There's an added benefit to all of this wire and shielding; Cat8 cables can support a PoE signal. This allows you to use them to power devices like PoE cameras. Not all Cat8 cables support PoE, and you'll also need a compatible router.
What does this mean for gamers? Let's be honest, you don't need Cat8 speeds inside your home. Ordinary Cat5e will get you Gigabit speeds. And if you're lucky enough to have a 2GB connection, you'll get all you need with a Cat6 or Cat6a cable. That said, there are two benefits to using a Cat8 cable. First, the shielding makes the connection more stable and reliable. If you're having trouble with interference, Cat8 might be a good choice. Second, you're future-proofing your build. Business leaders are already talking about 10-Gigabit home connections as the standard of the future. Why not buy a cable you won't have to replace?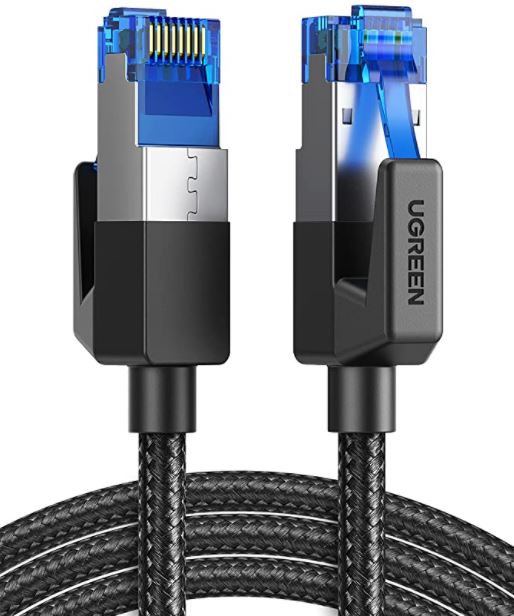 UGREEN Braided Ethernet Cable
The UGREEN Braided Ethernet Cable is wrapped in braided nylon, so it's very durable. The nylon sleeve is black in color, and attaches to black plastic tips with stiff shields over the release tabs. These shields make it difficult to snap the tabs off, even if you move your cable around a lot. All of this makes for one of the tougher Ethernet cables on the market. It's rated for 10,000 bends, which is impressive. That said, the nylon sleeve is stiff, and can make it tough to route. This is more or less universal for nylon braided cables. The UGREEN cable comes in lengths of 6, 10, 15, 30, 50, and 65 feet.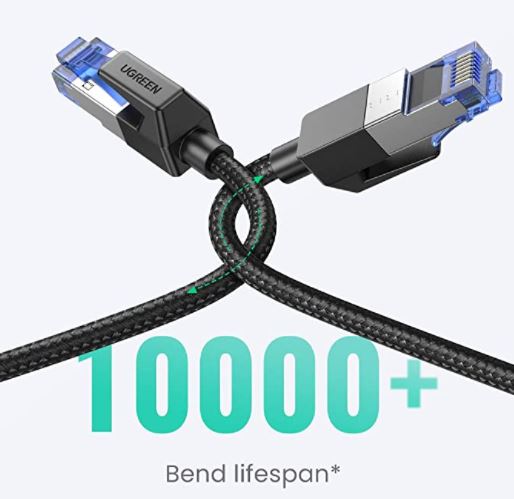 Inside the cable, there are four different twisted pair wires. These are all independently shielded, so you don't have to worry about cross-talk. In addition, the entire bundle is wrapped in aluminum foil shielding. This shielding provides even more protection from interference from other devices.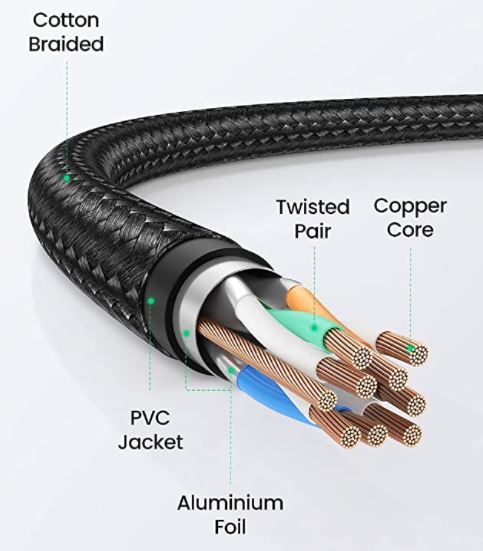 In all, you get speeds of 40Gbps and a frequency of 2,000MHz, the maximum for Cat8. Finally, the UGREEN cable supports PoE on all lengths other than 65 feet. This won't do anything for your PlayStation, but it makes your new cable more durable. If you decide to repurpose it later, you can.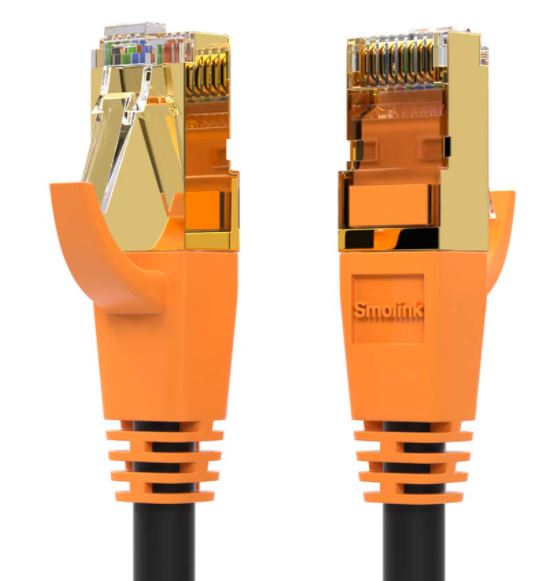 Smolink Ethernet Cable
The Smolink Ethernet Cable is a more traditional, rubber-insulated able that's designed for both indoor and outdoor use. A lot of PVC-shielded cables deteriorate over time when they're exposed to the sun for awhile. Eventually, the material becomes stiff, and loses its flexibility. The material is also resistant to heat, cold, and even water. Keep in mind that we're talking about the cable itself, not the connectors. Like the UGREEN connectors, these have well-protected release tabs that don't snap off easily.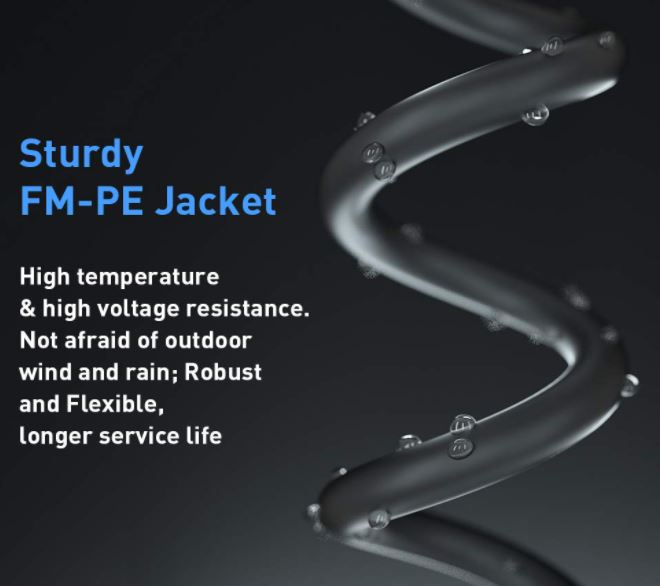 This attention to design extends to the inside of the cable. The wires are 26-gauge instead of 24-gauge, and are made of 100% oxygen-free rubber. This ensures that they won't degrade over time due to oxidation. Each twisted pair is protected by a wrap of copper tape, along with a layer of conducting polymer braid. All four pairs are individually protected, as is the bundle as a whole. All of this ensures that you don't have to worry about interference. Also, gold tips help to provide a more stable signal. The maximum bandwidth is 40Gbps at up to 2,000MHz.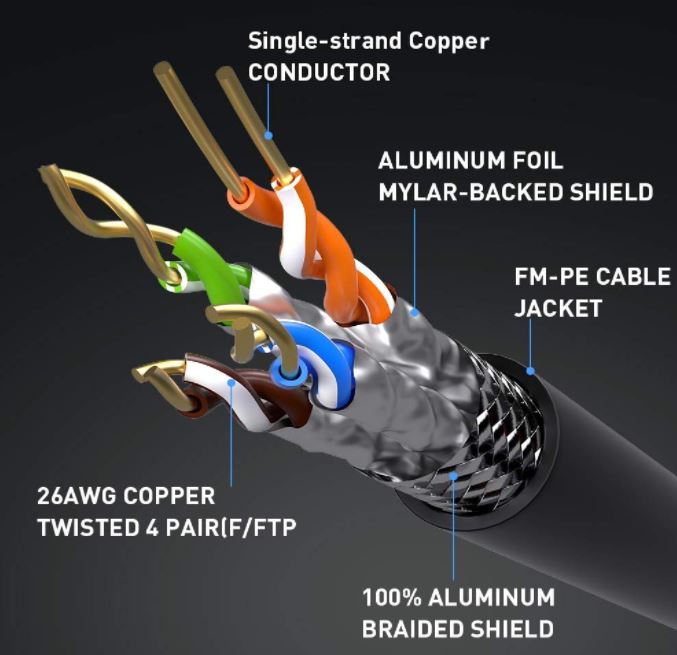 All of this is protected by a 30-day no-questions-asked return policy. Even better, Smolink offers a lifetime warranty against any defects. This cable is available in 3, 6, 10, 15, 20, 25, 30, 35, 50, 75, and 100-foot lengths.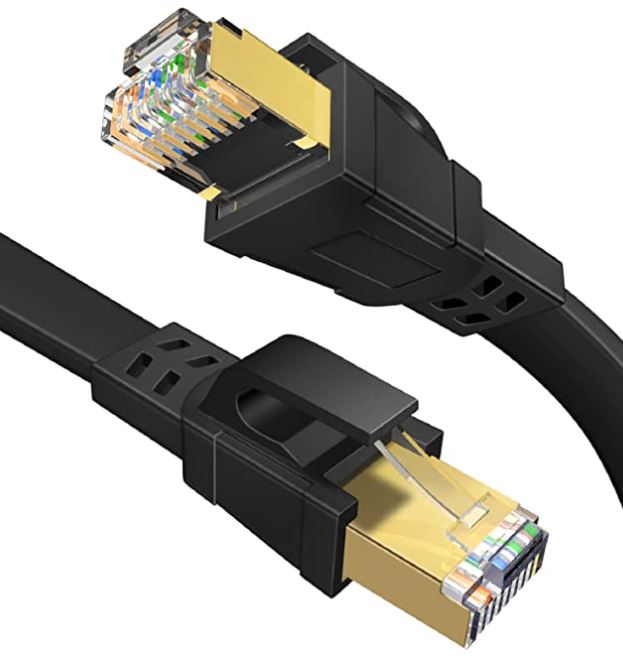 Deegotech Ethernet Cable
The Deegotech Ethernet Cable is similar in many respects to the Smolink cable. It has a PVC sleeve that resists heat, cold, humidity, water, and other environmental factors. It can be used indoors and out, and all four twisted-pair wires are individually protected.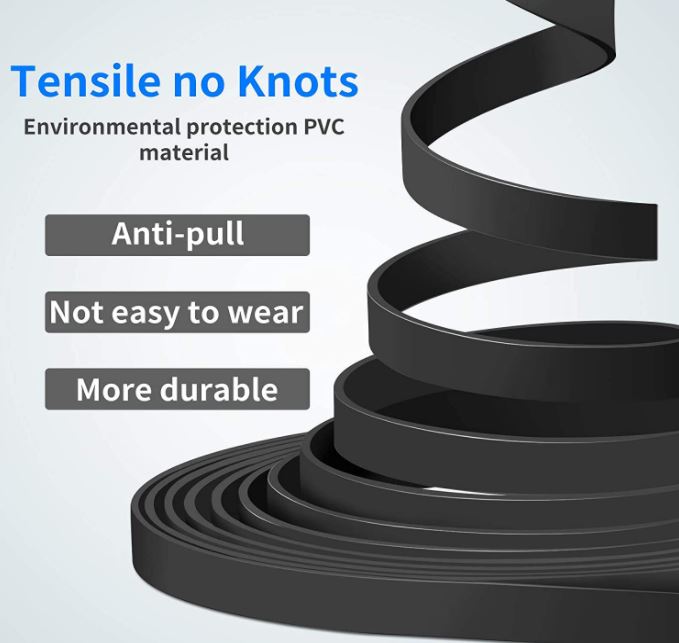 Even the heads are similar, with a protective guard over the release tabs, and gold pins on the tips. You shouldn't have to worry about them snapping by accident while you're handling the cable. The speeds are identical, with a bandwidth of 40Gbps, and a frequency of 2,000MHz. It's available in lengths of 6, 10, 30, and 50 feet.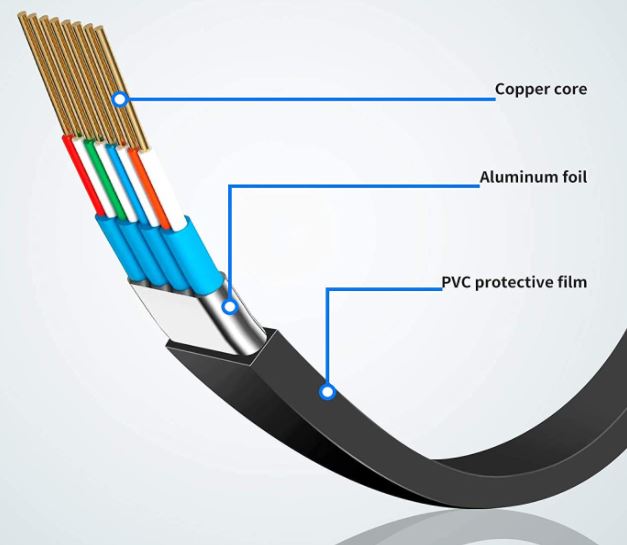 There's one big difference, though. The Deegotech Ethernet Cable has a flat profile, rather than round. This can be easier to route in some setups, and more difficult in others. It really just depends on your needs.
Final Verdict
So, which of these cables is the best of the bunch? If you want a cable that can take a beating, consider the UGREEN Braided Ethernet Cable. Its nylon shielding protects it from almost any type of damage, although it's not water-resistant. It's also not very flexible, which can make it difficult to route. On the plus side, you get PoE support, which makes the cable more versatile. It's a solid choice if you need a physically-durable cable and aren't too concerned about pristine routing.
The Smolink Ethernet Cable is the best-shielded of the bunch. Its multiple layers of protection keep out almost any interference, ensuring a stable signal. It's also rubberized, so it's a bit easier to route, and it comes in 10 different lengths. In addition to that, it's environmentally protected, although that's rarely a concern for gamers. The Deegotech Ethernet Cable is equally well-engineered, and has a flat profile. If you want a flat cable, it will work very well.